The 7th Annual Busch Gardens Tampa Bay Food & Wine Festival is now underway, running each Friday, Saturday, and Sunday from noon until close through April 25, 2021. The event combines over thirty sample-sized culinary creations, nearly 100 different wines, cocktails, & brews, headline concerts on select dates, and other entertainment. Below is our complete guide to this year's event, including links to more detailed guides with menus and pricing for all of the food and drink cabins!
The park is continuing with its enhanced safety guidelines, including physical distancing and requiring face coverings for all employees and guests ages 2 and above. In addition to your admission, be sure to make a free reservation online before your visit, and be prepared for a mandatory temperature check along with the normal security check before entering the park.
While we've attempted to provide the most accurate information possible, all of the details, pricing, and item availability are subject to change without notice. Last update: March 18, 2021.
Be sure to check out all of our Busch Gardens Tampa 2021 Food & Wine Festival guides:
---
Festival Basics
The 2021 Busch Gardens Tampa Food & Wine Festival takes place each Friday, Saturday, and Sunday through April 25, from noon to park close. Access to the festival area and concerts is included in any park admission. Food, beverages, and optional upgrades like VIP Seating for the concerts are all available for purchase. While nearly all of the beverages available as part of the festival contain alcohol, the food options are able to be enjoyed by guests of all ages.
The festival is held within the Bird Gardens section of the park, not too far from the entrance. Head past Iron Gwazi to find all of the fun.
In addition to all of the food & beverage options, there is also entertainment to enjoy including local bands on the Coca-Cola Stage and other performers and artists throughout the festival area. Concerts will be held on the main stage each Saturday evening beginning in March, plus select Fridays & Sundays. The Festival Walkway and Gwazi Field area are only accessible on event days beginning at noon. See the full concert lineup and seating options in our 2021 Food & Wine Festival Concert Guide.
Busch Gardens offers a digital guide for the Food & Wine Festival which you can download here. You can also access it in the park by scanning the QR code on the festival map boards. It has a listing of each of the booths and some other festival information, but does not include pricing (see our Food & Beverage Guide for that information).
Here is the map of the festival area: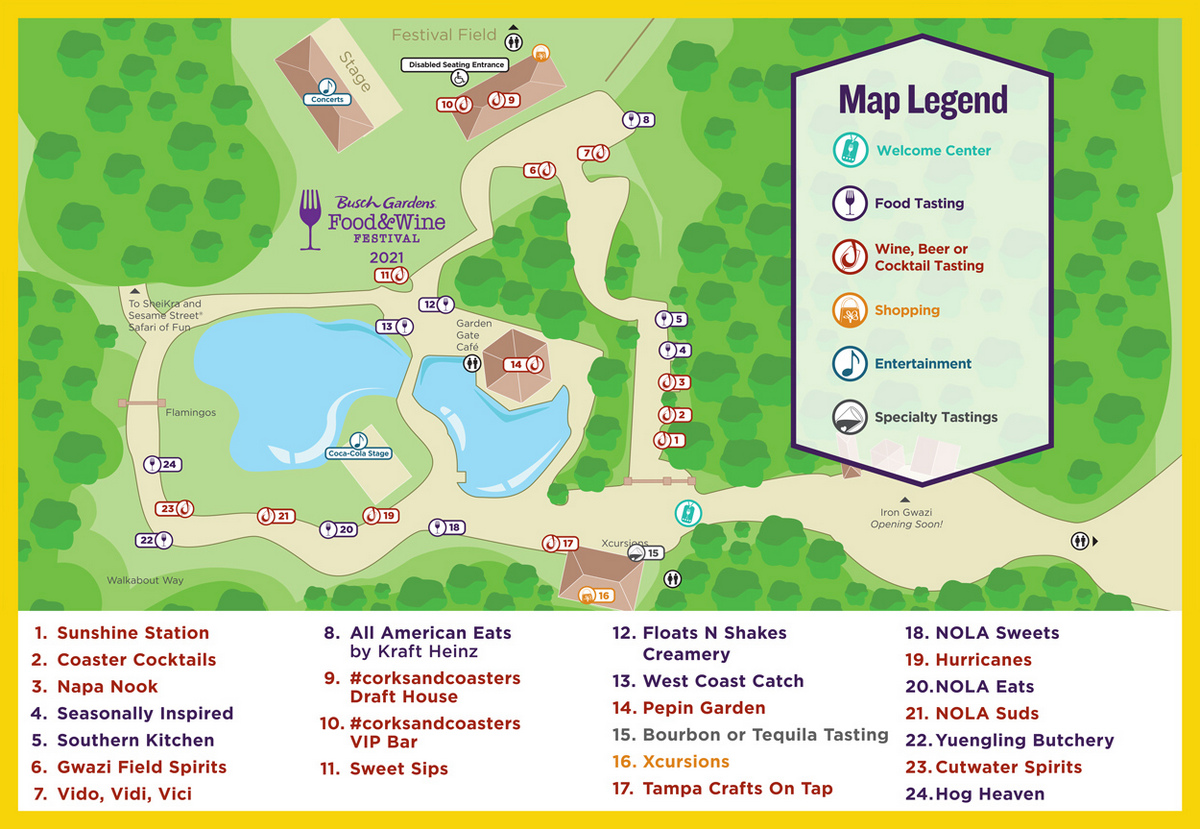 ---
Food & Beverages
There are over 100 culinary options at 24 locations as part of the Busch Gardens Tampa 2021 Food & Wine Festival, including sweet & savory appetizer-sized dishes, wines from around the world, local craft brews, and specialty cocktails. Each item can be purchased a la carte or by using a 2021 Food & Wine Festival Sampler Lanyard (see the section below for more information). The booths open at noon on each event day.
For the full listing of all culinary items, prices, pictures, and reviews of items we tried, check out our comprehensive Busch Gardens Tampa 2021 Food & Wine Festival – Food & Beverage Guide.
---
Sampler Lanyards
Available for purchase at the Welcome Center or at any of the festival cabins, the Sampler Lanyards can save you money if you're planning on purchasing multiple festival food & beverage items. The best part is the lanyards can be shared among your party, and are good throughout the duration of the festival, so no need to buy one for every person or feel you need to use all the punches in one visit. Just note that the lanyards expire when the festival ends, April 25, and there are no refunds for unused punches.
There are three price points for the lanyards – $34.99 for a five-item lanyard, $49.99 for an eight-item lanyard, and $64.99 for a 12-item lanyard. Annual pass members can also get a special 15-item lanyard for the price of a 12-item lanyard. Unlike past seasons, annual pass member discounts do not apply to the 5, 8, and 12-item lanyards. However, pass member discounts do still apply to a la carte purchases of the food & beverage items at the booths.
The lanyards are valid at nearly every booth for food and beverage items. The sizes for the food items are the same whether using a punch on the lanyard or paying out of pocket. If you use a sampler lanyard punch on a beverage item (other than bottled soda/water) you will receive a smaller size than if you pay out of pocket. This can be both a good and bad thing – it allows you to sample more alcoholic beverages as you make your way around the festival, but some find it to be less of a value. If you know you love a particular beer, wine, or cocktail, it may make more sense to pay for the full-size version (and remember pass member discounts apply).
How much you can save will vary depending on which lanyard you purchase and what items you choose, but assuming you get a 12-item lanyard and stick to the more expensive food items, you can easily save $20 or more compared to the full prices of the menu items.
---
Concerts
Headline concerts return on Saturdays beginning in March plus select Fridays & Sundays as part of the Food & Wine Festival. Just as in the past, the performances will be held on the main stage in Festival Field (also known as Gwazi Field). Concerts are included in any park admission, with the option to purchase a VIP Seating upgrade to sit front and center. There will be two shows each concert evening at 5 and 7 p.m.
The bleacher-style seating, both in the VIP and regular areas, have been spaced out to promote physical distancing. There are also markers every three feet on each row to allow space between groups. There are also stickers reminding guests enjoying the concerts to keep face coverings on at all times unless actively eating or drinking.
For the full lineup and more details on concert seating including the VIP option, see our Busch Gardens Tampa 2021 Food & Wine Festival – Concert Guide.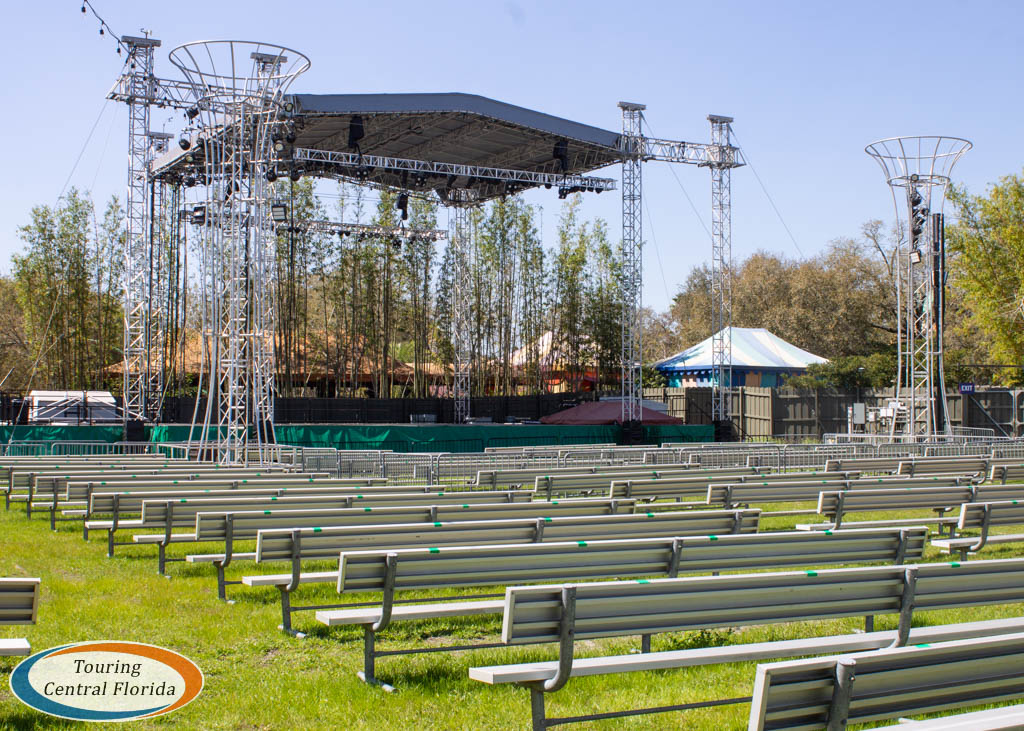 ---
More Festival Fun
The food, beverages, and concerts are the focus of the event, but there is also additional entertainment and art to enjoy as part of the festival.
Look for a band playing several times each event day under the Coke Canopy, and keep an eye out at the #CorksAndCoasters Draft House (#9) for additional entertainers.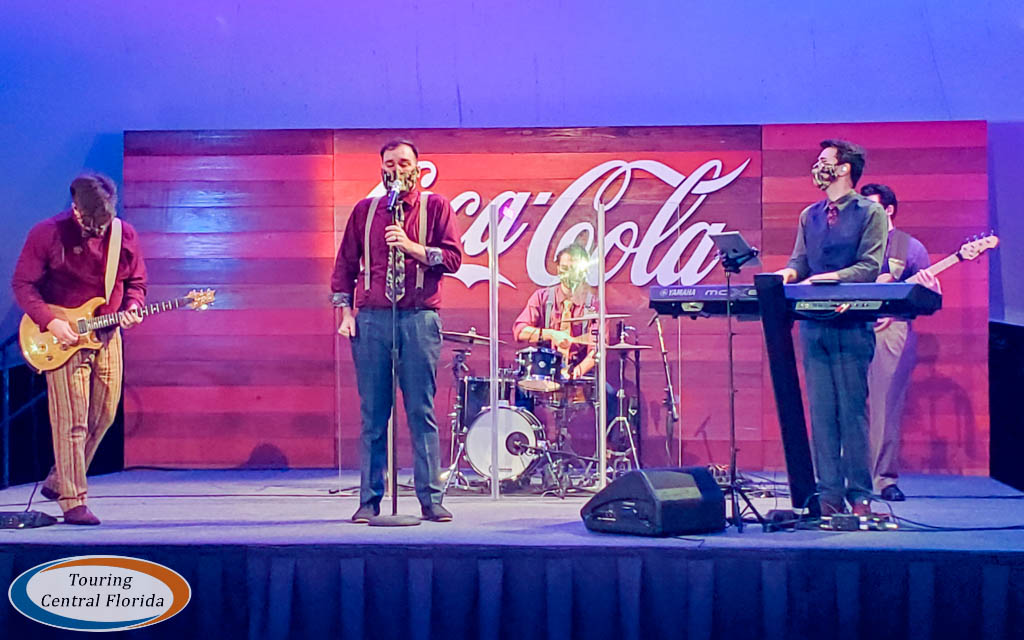 The popular Living Fountain returns as well in the "Corkyard" near booth #20. It's worth a stop by to see the artist in action, full of grace.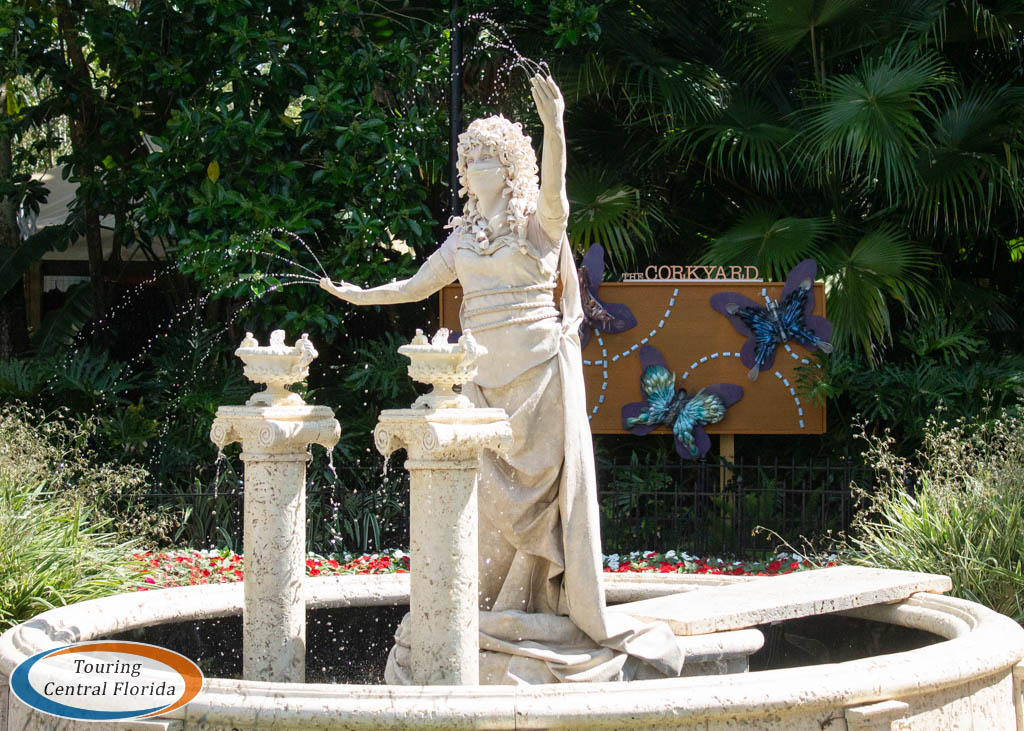 Keep an eye out for the Living Topiary as well, vine line creatures that wander and might be available for socially distanced photographs in the grassy area across from the Coke Canopy.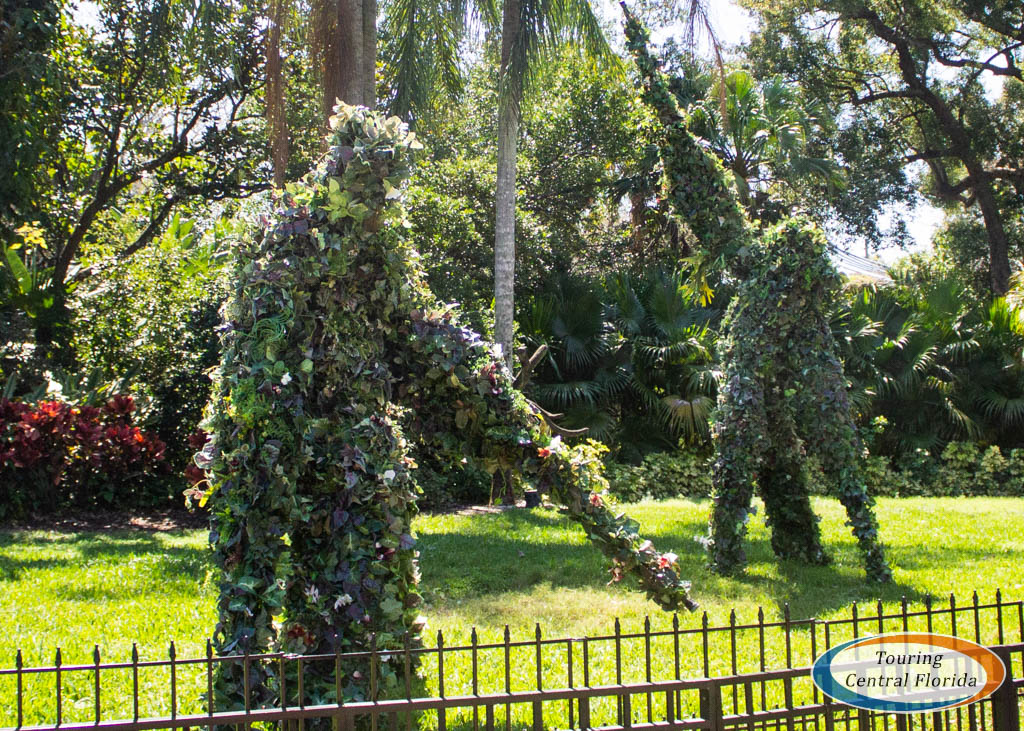 There are also several photo-ops around the festival area and just inside the main entrance featuring the Food & Wine and park logos, plus murals painted by local artists.
The festival area at night is also particularly pleasant, especially with Iron Gwazi lit up nearby.
---
Tips
Get a sampler lanyard. If you're planning on eating or drinking more than a handful of items, get a lanyard, especially if you'll be visiting multiple times during the festival. Stick to the higher price items and you'll be saving a good chunk of change versus buying each item separately. Plus no need to keep digging in your pocket or purse for cash or a credit card at each booth.
Enjoy lower crowds on Fridays. If you're looking for a festival experience with fewer people, visit on a Friday where crowds will generally be lower than the weekend following it. Expect Saturdays to be the busiest, especially just before or after the concerts.
Hit your must-haves early. If there is an item to two you know you have to try, make sure to visit those cabins earlier in the day – for two reasons. First, when the festival area opens right at noon, crowds generally aren't as big, so you'll wait less in line. And second, it's not uncommon for some things to run out toward the end of the day, especially after the concerts.
Ask for the Allergy Guide. Located at each cabin should be an Allergy Guide, which will have information on each dish and what it contains, including common allergens. Just ask an ambassador for assistance.
---
If You Go…
7th Annual Food & Wine Festival
at Busch Gardens Tampa Bay
Fridays, Saturdays, and Sundays from February 20 through April 25, 2021
Noon to close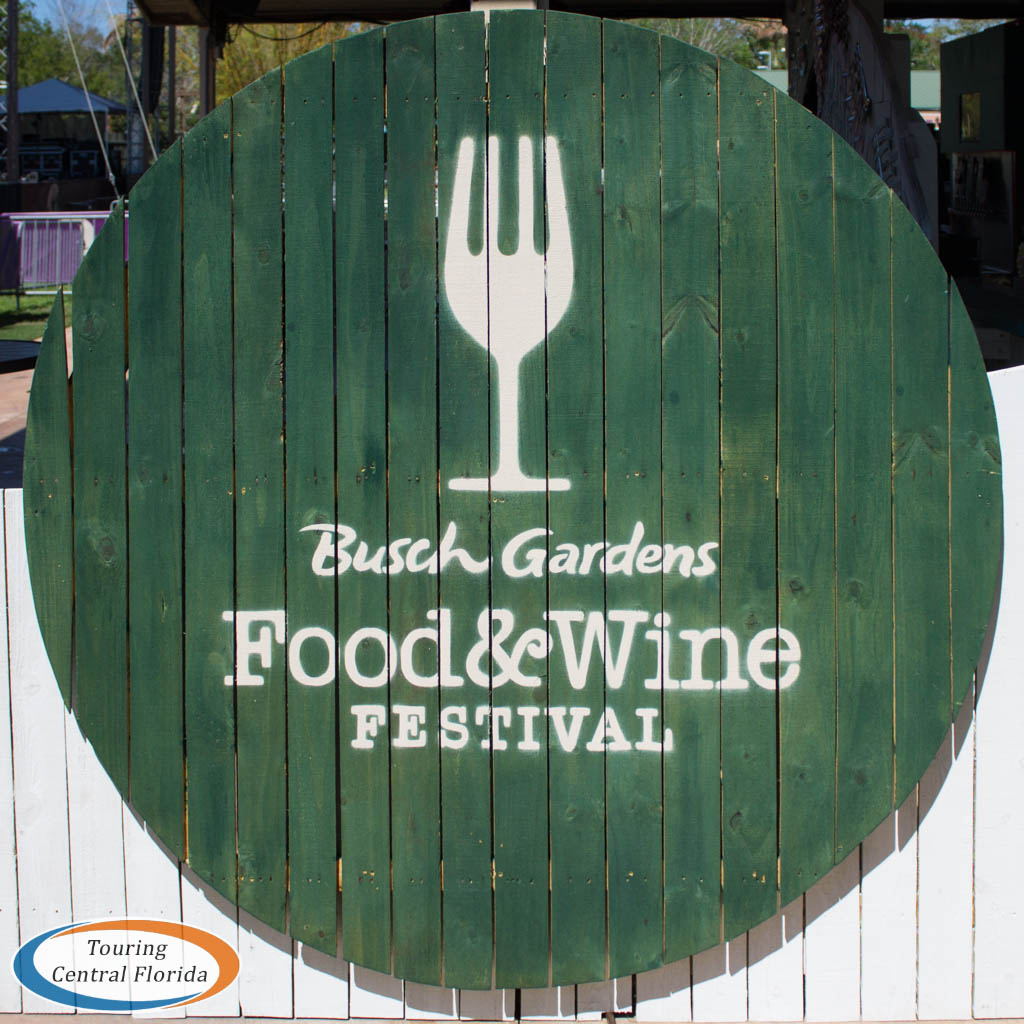 Be sure to check out all of our Busch Gardens Tampa 2021 Food & Wine Festival guides:
---
Join in the conversation online by using #CorksAndCoasters. For the latest on Busch Gardens Tampa and other theme parks, attractions, and more across the region, be sure to follow Touring Central Florida on Twitter @androckb & @TourCentralFL, and like our Facebook page.