Welcome to our Busch Gardens Tampa Crowd Calendar page, with a monthly look at estimated crowd levels, park hours, and general tips on crowds throughout the year.
Our crowd calendar for Busch Gardens Tampa is meant as a guide and is only an estimate of anticipated crowd levels. The calendar does not take into account weather, which can have an impact on attendance since most of the attractions at Busch Gardens Tampa are outdoors. Please verify operating hours directly with the park before you visit, as they can change without notice.




---
General Crowd Info
In general, Saturdays are the busiest day of the week at Busch Gardens Tampa. Sundays, holiday weeks, and event days also tend to draw in larger crowds than weekdays through the rest of the year. On those days, avoid arriving at the park between 10 a.m. and 1 p.m. Instead, arrive earlier (lots open at about 9:30 a.m.) or come in the early afternoon and you won't waste time waiting in lines to get in.
Mid-week visits, regardless of the season, typically will have the lowest crowds compared to the surrounding weekends. Summer season along with Spring break and the weeks around Christmas are generally the busiest times of the year; weekdays in winter, late spring, and fall typically have the lowest crowds.
Because most of the attractions at Busch Gardens Tampa are outdoors, a day with extended inclement weather will often reduce crowd levels. It's worth keeping an eye on the weather in the days leading up to your visit – a few rainy days in a row will often mean the following day (especially if it's a Saturday) could end up being busier than normal as guests who put off their visit all come on the same fair weather day.
All of the above still applies even under the present circumstances, though predicting exactly how busy each day will be is a little more difficult as there isn't much crowd history to use as of yet. Overall, crowd levels in the park are significantly lower compared to an average day for the same time last year. However, due to reduced capacity, closures, social distancing, and increased cleaning on attractions, wait times have not always been much lower.
---
"We would not have been able to see everything at the parks in the few days we visited without Bill's help"
– Liz E. from Pennsylvania
Book your Private VIP Guided Tour with Touring Central Florida today!
---
October 2020 Crowd Calendar
Busch Gardens Tampa Bay continues to adjust operating hours and days making it difficult to provide a complete crowd calendar that remains accurate. Operating hours, days, and events have been added (or removed) sometimes with a week or less notice. Guests are strongly encouraged to double-check the park's operating hours for the day they plan to visit several times before actually going.
Weekdays in October should continue to have low crowds overall, with the exception of Columbus Day and Fridays which may see more moderate crowds. Saturdays will likely remain the busiest day of the week, with fair weather Sundays also drawing in moderate to heavy crowds.
Avoid arriving at the park between 10 a.m. and 1 p.m. on Saturdays & Sundays, as long (socially distanced) lines for temperature check and security screening have been reported. Arrive earlier (parking lots open at approximately 9:30 a.m.) or wait until early afternoon to miss the crowded entry process.
Weekends this month will also see increased crowds due to Bier Fest (runs Fridays, Saturdays & Sundays) and Sesame Street Kids' Weekends (Saturday & Sunday afternoons). Late afternoons on Fridays, Saturdays & Sundays will actually see attendance increase as guests start coming in before Howl-O-Scream.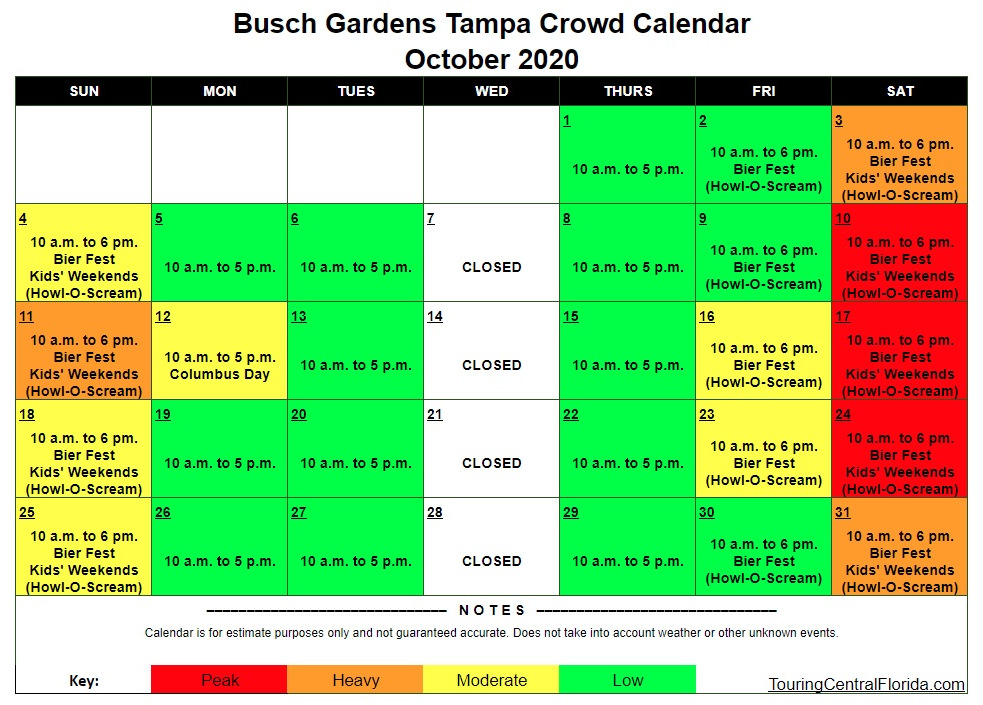 Not everything at the park is open. Many of the park's shops, concession stands, and even a couple of the larger restaurants have either reduced their operating hours or are closed completely.
Beginning September 18, 2020, the following attractions have reduced operating days/hours:
Sesame Street Safari of Fun closes at 3 p.m. on weekdays
Congo River Rapids operates on weekends only
Zagora Cafe is generally only open on weekends
Zambia Smokehouse may be closed on Tuesdays & Thursdays
Additional attractions may have reduced operating hours on weekdays
As of October 15, 2020, here are the attractions listed as temporarily closed on the park's website:
Cookie Monster Canopy Crawl
Cookie Monster Cloud Bounce
Elmo's Treehouse Trek
Stanley Falls Flume
Skyride
Slimey's Sahara Sand
Telly's Jungle Jam
Treetop Trails (including water play area)
Ubanga Banga Bumper Cars
Wild Surge
---
Howl-O-Scream 2020 Crowd Calendar
Howl-O-Scream returns to Busch Gardens Tampa Bay in a modified format for the 2020 season on Fridays through Sundays from September 25 until November 1. Featuring 10 outdoor scare zones and no traditional haunted houses, the annual haunt event will also see the popular Fiends show move to the open-air Festival Field stage.
Just like during the day, Howl-O-Scream also has reduced capacity, so crowd level predictions are all relative. In theory, even the peak nights this year shouldn't be as crowded as past seasons, but without the haunted houses (and their long queues), the pathways may still feel relatively busy in spots. Two of the scare zones – The Junkyard and The Shortcut – will be one-way only and may have a socially distant queue in use.
Howl-O-Scream is a separately ticketed event and is not included in any daytime admission or annual pass. A Howl-O-Scream ticket allows entry beginning at 5 p.m.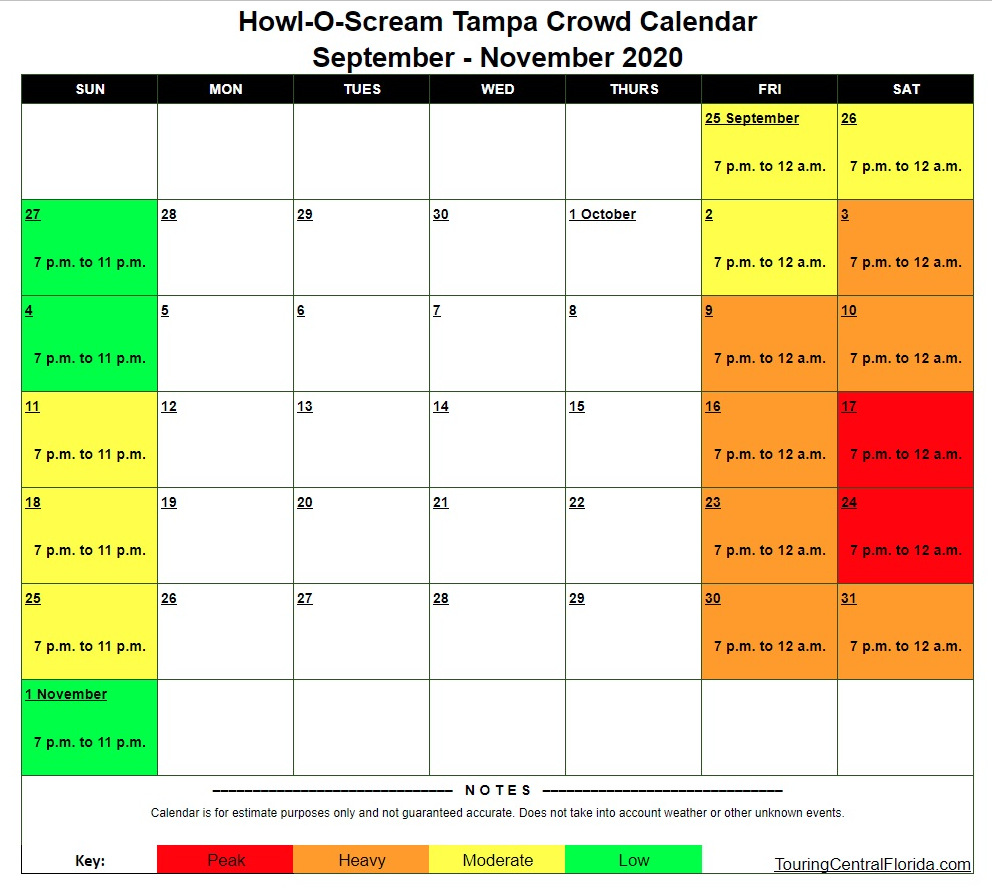 ---
For the latest on Busch Gardens Tampa and other theme parks, attractions, and more across the region, be sure to follow Touring Central Florida on twitter @androckb & @TourCentralFL, and like our Facebook page.