The 7th Annual Busch Gardens Tampa Bay Food & Wine Festival is now underway, running each Friday, Saturday, and Sunday from noon until close through April 25, 2021. The event combines over thirty sample-sized culinary creations, nearly 100 different wines, cocktails, & brews, headline concerts on select dates, and other entertainment. Whether you choose to purchase items as you go or get a Sampler Lanyard, check out our full food & beverage guide below with prices, reviews of items we tried, and more.
The park is continuing with its enhanced safety guidelines, including physical distancing and requiring face coverings for all employees and guests ages 2 and above. In addition to your admission, be sure to make a free reservation online before your visit, and be prepared for a mandatory temperature check along with the normal security check before entering the park.
In the interest of full disclosure, some of the items we tried below were purchased using a sampler lanyard the park provided at a media preview of the event. Others were purchased out of our own pocket. As always, all opinions are our own. While we've attempted to provide the most accurate information possible, all of the details, pricing, and item availability are subject to change without notice. Some of the images are from past events, and the dishes may look slightly different this season. Last update: March 4, 2021.
Be sure to check out our other Food & Wine guides:
---
Sampler Lanyards
Available for purchase at the Welcome Center or at any of the festival cabins, the Sampler Lanyards can save you money if you're planning on purchasing multiple items. The best part is the lanyards can be shared among your party, and are good throughout the duration of the festival, so no need to buy one for every person or feel you need to use all the punches in one visit. Just note that the lanyards expire when the festival ends, April 25, and there are no refunds for unused punches.
There are three price points for the lanyards – $34.99 for a five-item lanyard, $49.99 for an eight-item lanyard, and $64.99 for a 12-item lanyard. Annual pass members can also get a special 15-item lanyard for the price of a 12-item lanyard. Unlike past seasons, annual pass member discounts do not apply to the 5, 8, and 12-item lanyards. However, pass member discounts do still apply to a la carte purchases of the food & beverage items at the booths.
The lanyards are valid at nearly every booth for food and beverage items. The sizes for the food items are the same whether using a punch on the lanyard or paying out of pocket. If you use a sampler lanyard punch on a beverage item (other than bottled soda/water) you will receive a smaller size than if you pay out of pocket. This can be both a good and bad thing – it allows you to sample more alcoholic beverages as you make your way around the festival, but some find it to be less of a value. If you know you love a particular beer, wine, or cocktail, it may make more sense to pay for the full-size version (and remember pass member discounts apply).
How much you can save will vary depending on which lanyard you purchase and what items you choose, but assuming you get a 12-item lanyard and stick to the more expensive food items, you can easily save $20 or more compared to the full prices of the menu items.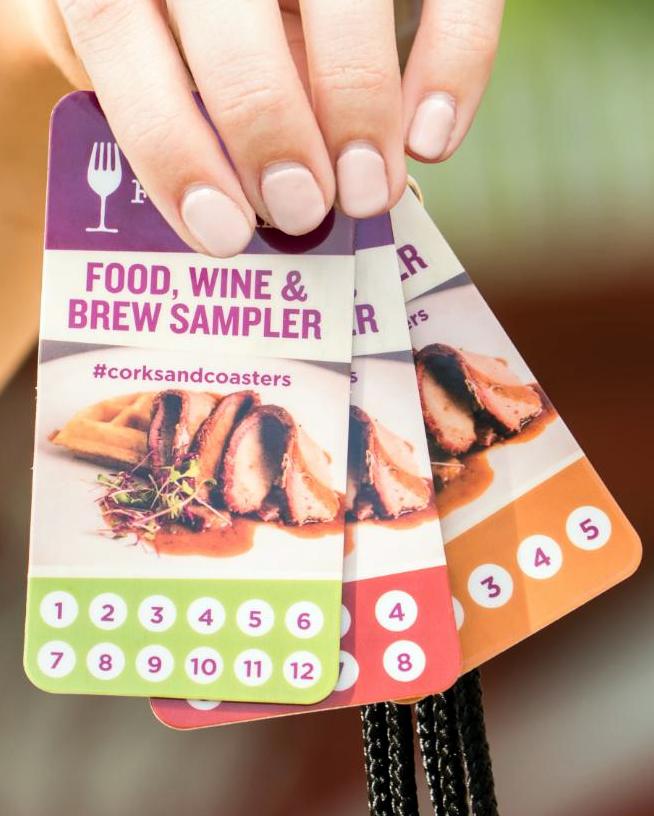 ---
Food & Beverage Cabins
A mix of new, reimagined, and festival favorite dishes & drinks are available at this year's Food & Wine event locations around the Bird Gardens section of the park. The cabins are open from noon to park close on event days.
While all cabins feature a few adult beverages in the form of beer, wine, or cocktails, about 10 of the locations also feature appetizer-sized dishes. Some of the food cabins offer a mix of savory & sweet items for purchase, and others focus on just savory or just sweet options. You can pay out of pocket (annual pass member discounts apply) or use your sampler lanyard punches at any of the cabins.
Below is the map for the 2021 Busch Gardens Tampa Bay Food & Wine Festival. There are a total of 24 food & beverage locations.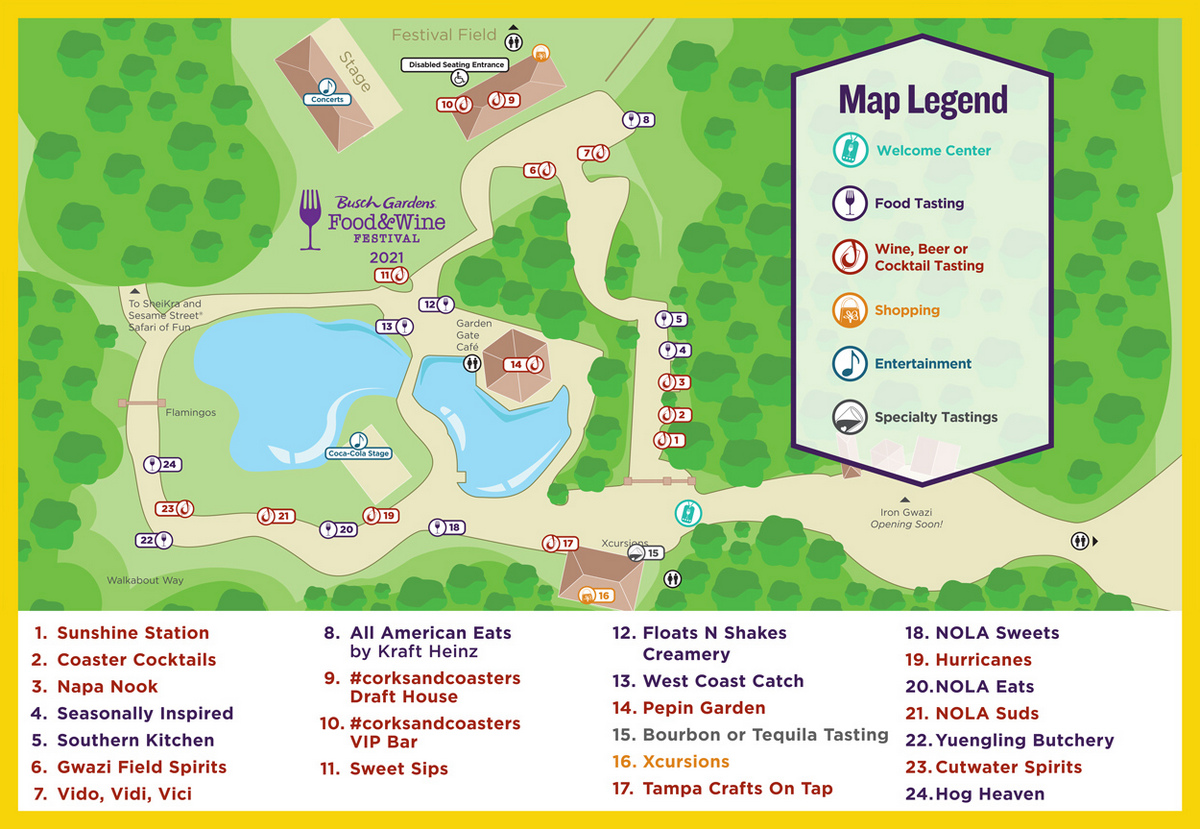 Keep an eye out for signage and markers on the ground designating entrances & exits for each of the booths and six-foot spans to keep socially distant from other guests. There are regular tables with chairs and standing high-top tables throughout the Food & Wine Festival area. Please drink responsibly and remember to keep your distance from other guests while enjoying the festival and the rest of your visit to Busch Gardens Tampa. When not eating or drinking, don't forget to keep your face covering over your mouth and nose as a courtesy to all of the other guests and hard-working ambassadors!
The festival locations are listed below in numerical order. You'll find a complete listing of all items, including pictures and our thoughts on the dish or drink when available.




---
Giraffe Bar (#1)
The first stop at Food & Wine Festival 2021 is a bit of a preview for a new full-service bar across the park. Giraffe Bar will be the name of the location set to open inside of Serengeti Overlook this spring. The former bar area on the second floor (where the counter service dining location is) has been behind walls since mid-January. While the park hasn't released any more specifics on the project, it appears the old wooden bar and wall behind it have been completely removed to make way for a whole new setup.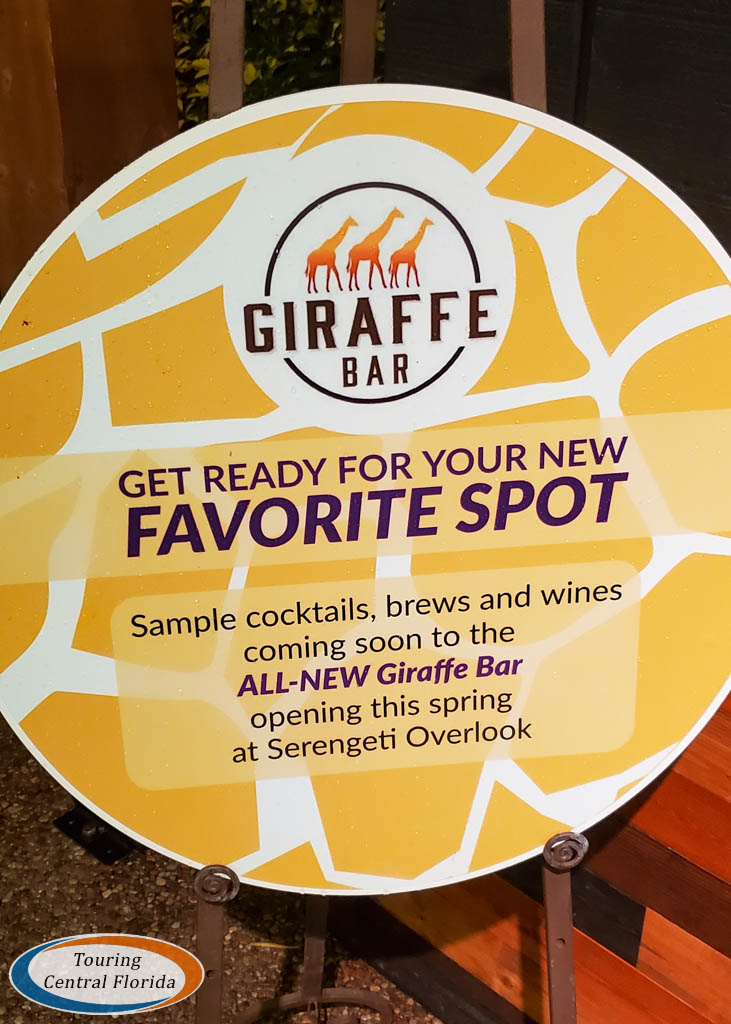 Until the new Giraffe Bar opens, guests can sample some of the new drinks here at the Food & Wine Festival.
Cocktail – $11.99

Hungry Elephant – Amarula African Cream Liqueur, Kula Dark Rum, Coconut, Pineapple
The Posh Puffin – Reyka Icelandic Vodka, Watermelon Juice, Lavender, Lime

Wine – $9.99

"Save the Bees" Pinot Noir – Proud Pour, Oregon
"Save the Oceans" Sauvignon Blanc – Proud Pour, California

Draft Beer – $10.99

Graffiti Orange – 7venth Sun Brewery – 5.9% ABV
Reef Donkey – Tampa Bay Brewing Co. – 5.5% ABV, IBU 36
---
Coaster Cocktails (#2)
Featuring some thrill ride named drinks, Coaster Cocktails is the place to get your Iron Gwazi fix – at least until you can ride the real thing when it opens.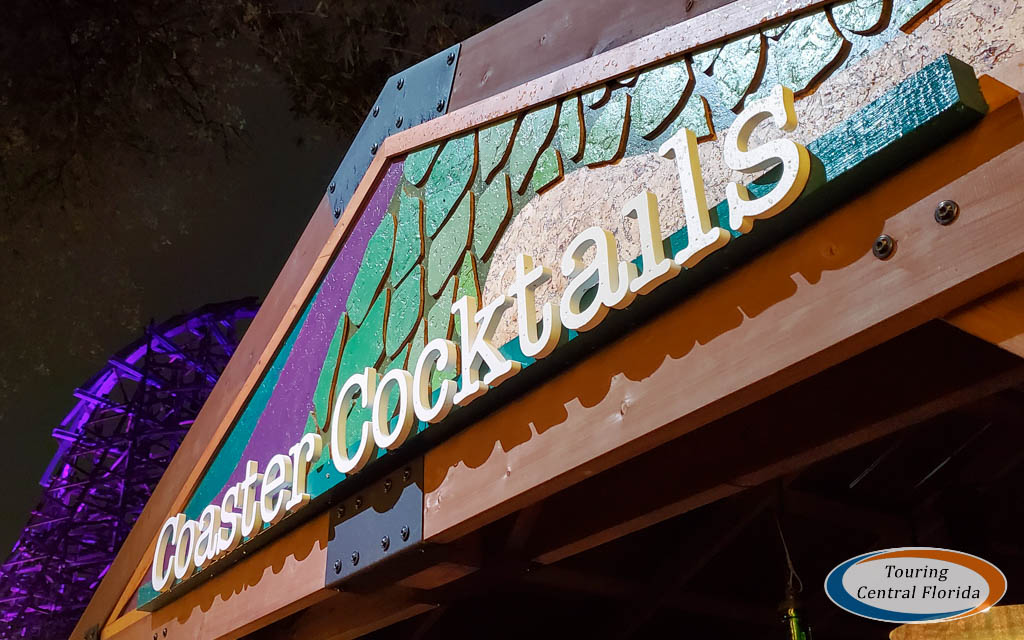 Cocktail – $11.99

Iron Gwazi Gimlet – Hendrick's Gin, Pomegranate, Pineapple
Kumba Cool Aid – Kula Hawaiian Coconut Rum, Grapefruit Juice
Falcon's Fury Lemon Drop – Tito's Handmade Vodka, Vanilla, Lemon, Lime
Tigris Tea – Tito's Handmade Vodka, Flor de Caña Rum, Hendrick's Gin, Lemon, Lime, Cranberry
We tried the Iron Gwazi Gimlet, Kumba Cool Aid, and Tigris Tea. All three were good, but we have to give the edge to the Gwazi Gimlet for best taste in our opinion. The Tigris Tea, however, was probably the strongest of the options at this cabin.
---
NAPA Nook (#3)
The next stop is all about wine, both sparkling and still, including both red and white options.
Wine – $9.99

Chandon Sparkling Brut
Chandon Sparkling Rose
Provenance Sauvignon Blanc
Beringer Chardonnay
BV Merlot
---
Seasonally Inspired (#4)
The first cabin offering some food options is Seasonally Inspired, with three dishes and two cocktails rounding out the menu.
NEW – Five-Spice Duck Lettuce Wraps – $7.49 – Asian Pear Slaw, Plum Sauce Drizzle
Impossible Slider – $8.49 – Caramelized Balsamic Onions, Fried Crispy Jalapeños, Fresh Herbs
Roasted Brussel Sprouts – $5.49 – Spiced Peanuts, Tahini Dressing
Cocktail – $11.99

Rum Punch – Flor De Caña Rum, Fruit Juices, Orange, Cherry
Lime Margarita – Milagro Tequila, Fresh Lime Juice
I tried the duck dish and enjoyed the warm spice flavor it had. The nuts give a bit of texture to the otherwise soft base. It's served over a bed of lettuce and while you might be able to try to roll it up and eat it with your hands, I recommend sticking with a fork. This dish is also featured at SeaWorld's Seven Seas Food Festival this season.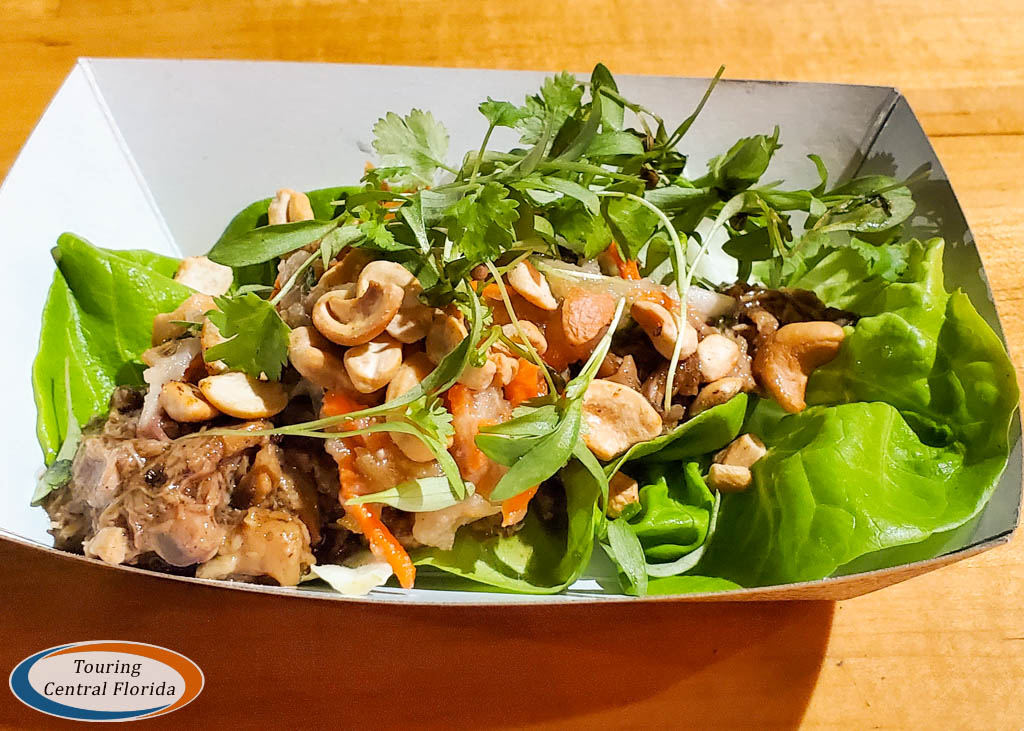 We didn't try this season's version of the Impossible Slider, but the park has served a variation of this meat-free choice at several past culinary events. The Impossible patty is honestly the most meat-like of any meat substitute we've tasted – it's honestly worth a try even if you've never considered going meatless before. The crispy jalapenos will give this variation a bit of a spicy kick but should be easy enough to order without if you prefer.
After the poor performance of the Brussel sprouts we had at last year's Bier Fest, we're not sure if we're willing to try this "reimagined" dish. While the flavor combination was part of the issue we had last year, the inconsistency of the cook on the sprouts (some were rock hard while others were almost mush) was the bigger problem. If anyone tries this festival's version, we'd love to hear your opinions in the comments below!
---
Southern Kitchen (#5)
Right next door is Southern Kitchen, featuring a few comfort food inspired dishes and a frozen cocktail.
NEW – Lollipop Chicken Drum – $7.99 – Sticky Honey Whiskey Glaze
Shrimp 'N' Grits – $8.49 – Shrimp, Andouille Sausage, Stone Ground Grits
Fried Chicken & Biscuit Slider – $7.99 – Crispy Fried Chicken, Bourbon Blackberry Jam
Cocktail – Stone Fruit Frosé – $11.99 – Beso Del Sol Sangria, Fresh Fruit
The Fried Chicken & Biscuit Slider makes a return this season and remains a favorite for its simple but delicious comfort-food taste.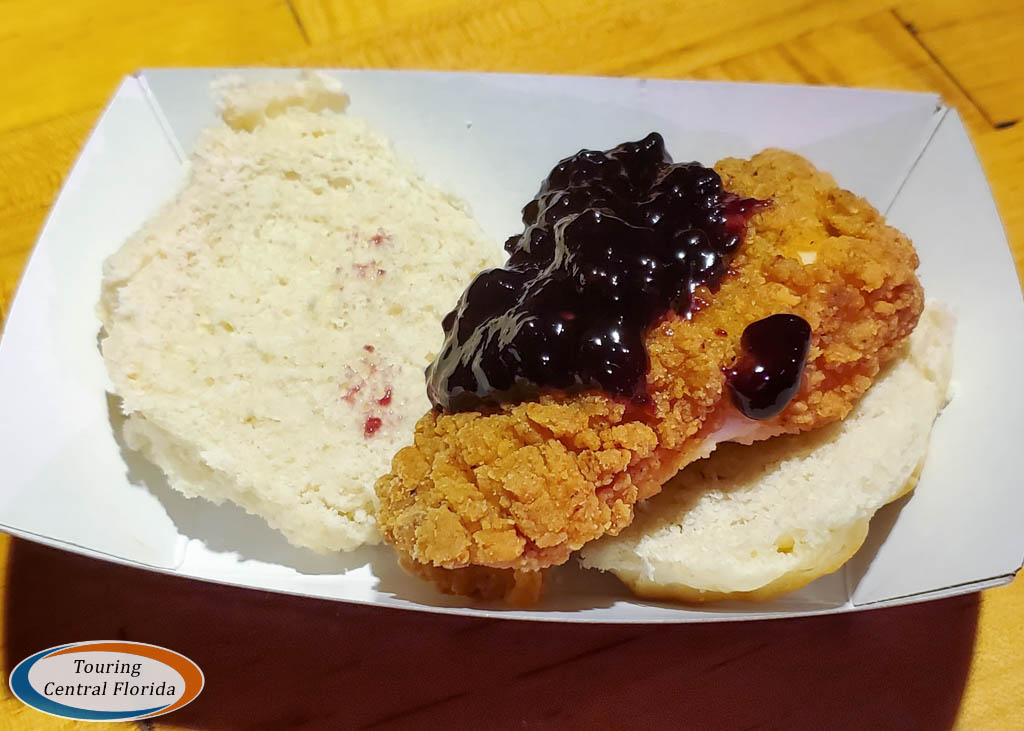 The new item at this booth is the Lollipop Chicken Drum, which is actually a couple of mini-drums. Not something expected with the description was the pretty potent spicy kick these little chicken lollipops have. Unfortunately for us, the good flavor of the glaze was quickly overpowered by the afterburn effect left on our tongues. If you don't like spicy foods, you may want to skip this one.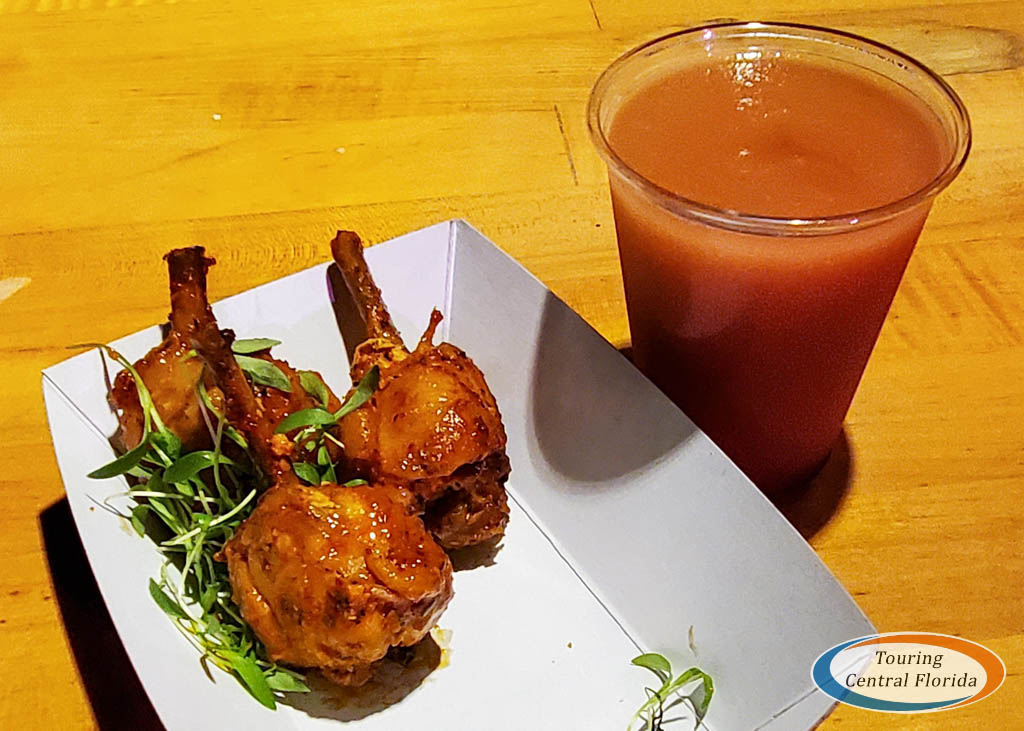 I also sampled the Stone Fruit Frosé and enjoyed this returning frozen adult beverage. With a lot of the frozen cocktails being more on the sweet side, this one was milder in terms of tasting sugary.
---
Gwazi Field Spirits (#6)
Moving from the Festival Walkway onto Gwazi Field, the first stop is Gwazi Field Spirits.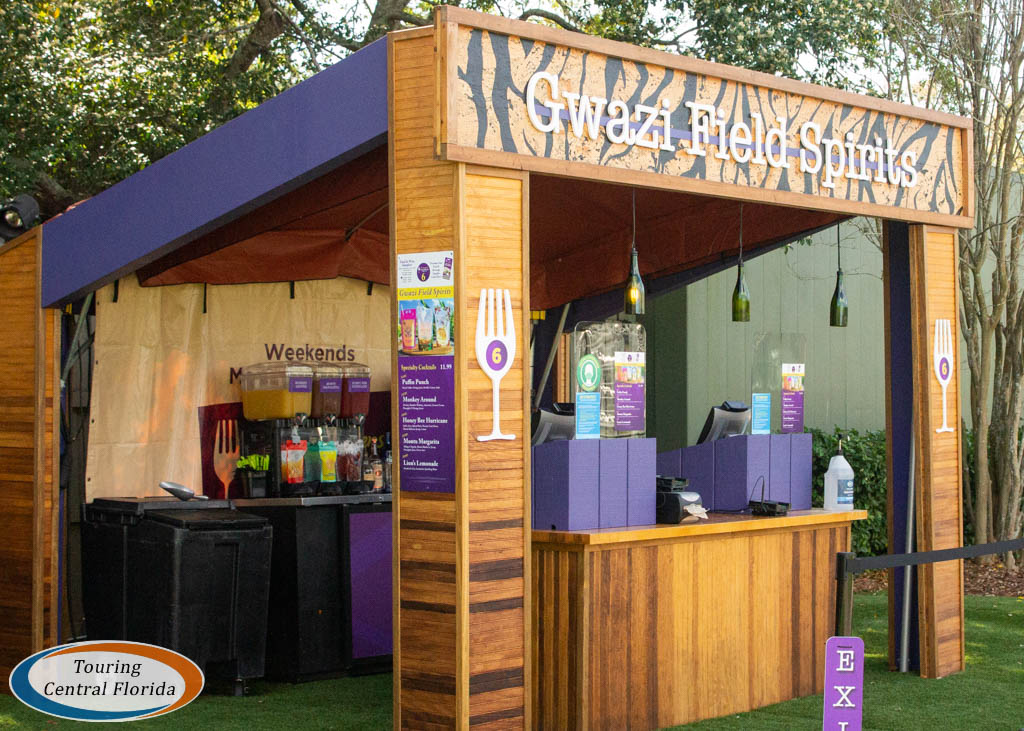 Cocktail – $11.99

Puffin Punch – Reyka Vodka, Orange juice, Vanilla, Lemon, Soda
Monkey Around – Monkey Shoulder Whiskey, Amaretto, Coconut Cream, Pineapple & Orange Juices
Honey Bee Hurricane – Sailor Jerry Spiced Rum, Passion Fruit Puree, Monin Hibiscus syrup, Lemon
Montu Margarita – Milagro Tequila, Monin Blueberry Syrup, Pineapple Juice, Citrus Sour
Lion's Lemonade – Hendrick's Gin, Lemonade, Sparkling Water
We recently tried the Montu Margarita at SeaWorld's Seven Seas Food Festival (it's named Manta Margarita there) and enjoyed the novelty of it being served in a sort of adult version of a Capri Sun pouch. If you wear it around your neck with the provided lanyard, be prepared to let others know where you got it, as it seems to pique people's curiosity. Note that you only get the pouch with the full-price drink. If you use a sampler lanyard punch, it's served in a smaller plastic cup like at other festival locations.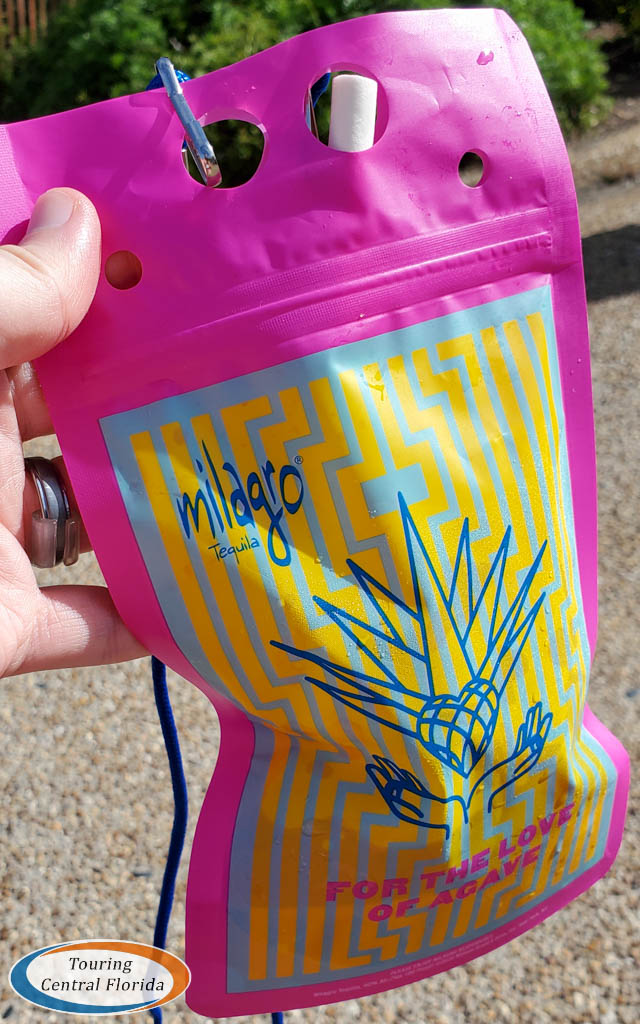 ---
Vino, Vidi, Vici (#7)
Serving more than just vino, this stop also has wine spritzers and an imported Italian beer.
Wine – $9.99

Riondo Prosecco Rose – Veneto, Italy
Cavaliere d'Oro Gabbiano Pinot Grigio – Tuscany, Italy
Cavaliere d'Oro Gabbiano Chianti Classico – Tuscany, Italy

Wine Spritzers – $7.99

Main & Vine Cucumber Watermelon
Main & Vine Blood Orange Mango

Draft Beer – $10.99

Peroni Nastro Azzurro – Pale Lager, Peroni Brewery, Italy – 5.1% ABV, IBU 18
---
All American Eats by Kraft Heinz (#8)
Sponsored by the Kraft Heinz brand, All American Eats features two new dishes plus a returning favorite, all featuring the company's products. There are also a pair of wines available here. You'll find the booth in the corner beneath Iron Gwazi.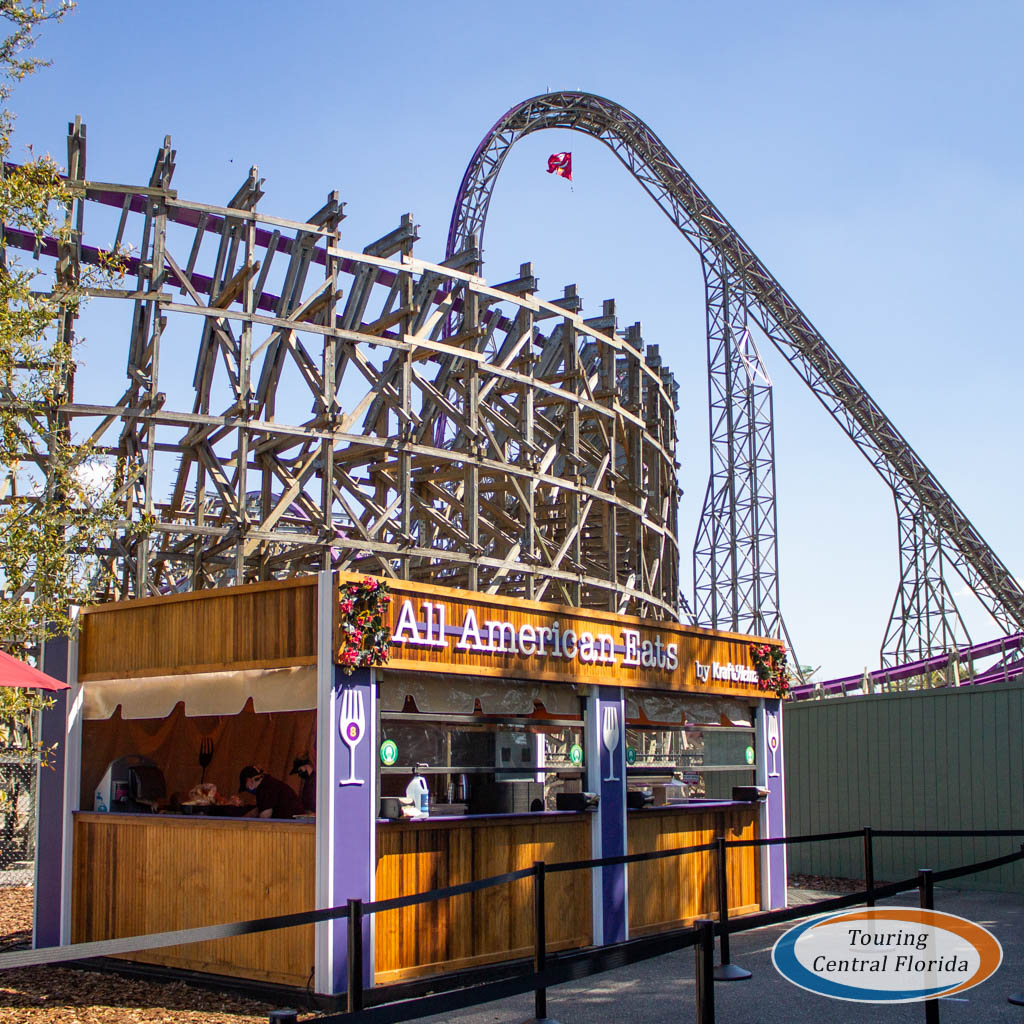 NEW – Lobster, White Cheddar Kraft Mac 'N' Cheese – $9.49
Bison Slider – $7.99 – Bacon Onion Jam, Vintage Cheddar, Kraft Heinz MAYOCHUP, Brioche Bun
NEW – Seasoned Brisket Pub Chips – $7.99 – Slowly Smoked Brisket, Crispy Pub Chips, Kraft Heinz MAYOCHUP
Wine – Benziger Sauvignon Blanc, North Coast – 8.99
Wine – Benziger Pinot Noir, Monterey County – $8.99
We had a chance to sample the mac 'n cheese dish at SeaWorld Orlando's Seven Seas Food Festival (this is one of several items that is featured at both events). It's rich, creamy, and delicious, but if it's served here like at SeaWorld, it could probably use just a bit more actual lobster in the dish.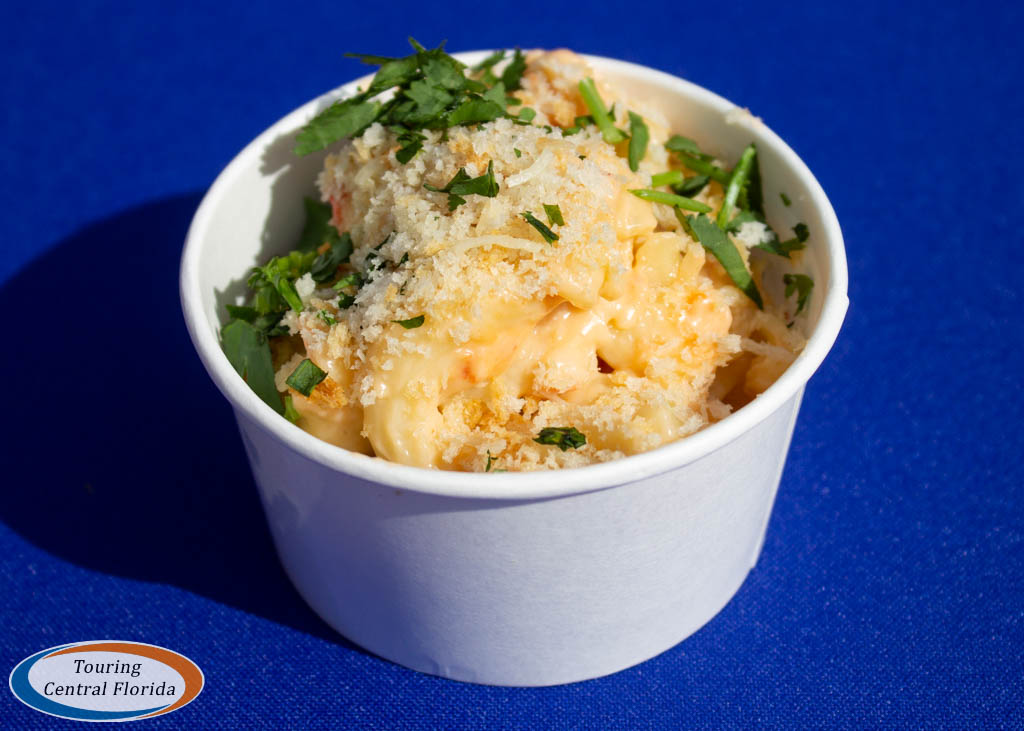 One of our favorite dishes from a few different culinary events at Busch Gardens recently has been the Bison Slider. Featuring MAYOCHUP as the savory sauce, the rest of the slider's components remain largely unchanged from Bier Fest where it was most recently offered. Once again, this item does not disappoint with its tender patty and mix of sweet & savory toppings.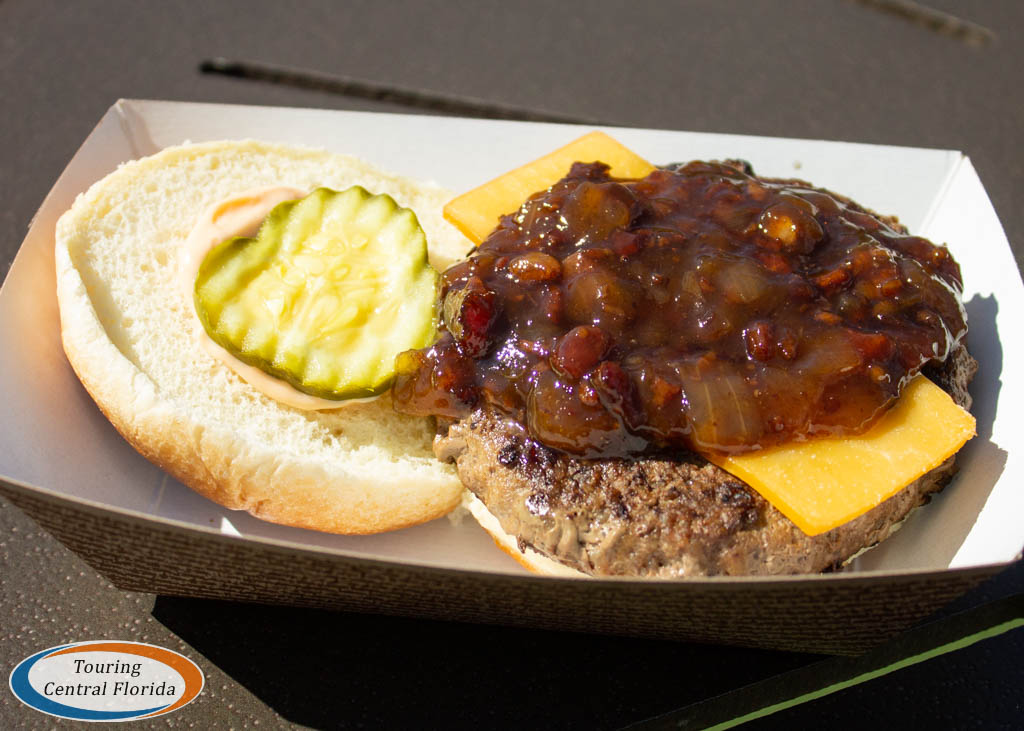 I also tried the Seasoned Brisket Pub Chips, which was a hearty serving of both the meat and chips. This is easily a shareable snack, but since my second visit to the festival was a solo one, I managed it on my own. I couldn't stop eating them, mostly due to the great flavor of the brisket and the crispiness of the freshly fried chips.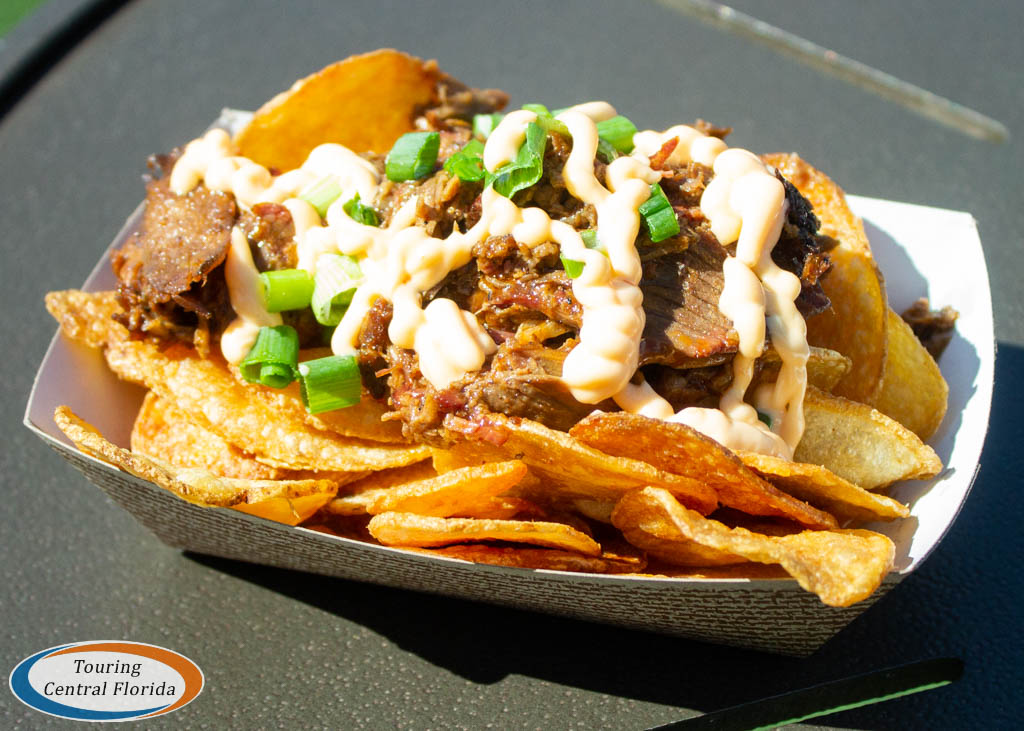 ---
#CorksAndCoasters Draft House & VIP Bar (#9 & #10)
Two bars lined up back to back, these stops share the same menu. All guests can walk up and order on the #9 side, while only those guests with VIP seating before and during concerts (coming Saturdays in March & April) will be able to order from the #10 side.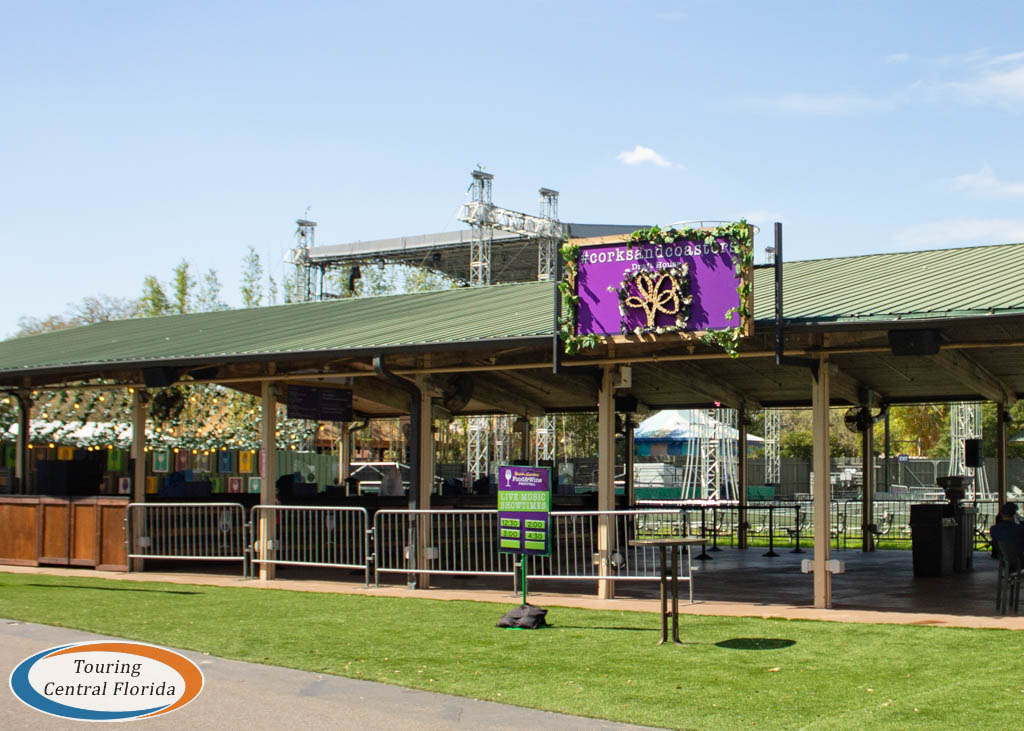 Draft Beers – $10.99

Mango Cart – Golden Road, California – 4% ABV, IBU 10
You're My Boy, Blue! – Brew Bus, Florida – 5.3% ABV
Postcard Pilsner – Green Bench Brewing Company, Florida – 4.7% ABV, IBU 35
Raspberry Cider – Green Bench Mead & Cider, Florida – 6.5% ABV

Hard Seltzers – $8.49

Bud Light Seltzer

Michelob Ultra Cactus Lime Seltzer

Cocktail – Frozen Jack & Coke – $11.99 – Jack Daniels Tennessee Whiskey & Frozen Coca-Cola ICEE
I visited on the first Friday and found the bar to be basically deserted with no ambassadors behind the counter in the early afternoon. While this will surely be a happening place on Saturday afternoons before, during, and after the concerts, it may not be an option for Friday visitors. There was a solo musician playing under the pavilion at several different times, and a local artist was painting in another corner of the pavilion. Even if the bar isn't serving, it may be worth a stop with a dish or beverage from another stop.
---
Sweet Sips (#11)
Heading away from Gwazi Field and back into the Bird Gardens section of the park, the first cabin you'll arrive at is Sweet Sips. Despite this cabin's name, it does serve a few treats in the form of cupcakes and donuts in addition to several seltzers & wines. The Food & Wine Cupcakes are also available at stop #16 inside Xcursions, so if the line is long here or you want to get a 4-pack instead, check there.
NEW – Hummingbird Donuts – $6.99 – Apple Cider Red Velvet Dough, Sweet Bourbon Caramel, Pecans
NEW – Food & Wine Cupcakes (2 pack) – $5.99 – Margarita Madness, Baileys Bliss, Boujee Bacon & Bourbon, or Señorita Sangria
Wine – Cupcake Vineyards Moscato – $8.99
Wine – Cupcake Vineyards Rosé – $8.99
Hard Seltzer – High Noon – $8.49
Hard Seltzer – Funky Buddha – $8.49
Hard Seltzer – Bon & Viv – $8.49
---
Floats 'N' Shakes Creamery (#12)
More sweet treats are available at the Creamery, including this season's Thrill Shake variety featuring strawberries.
NEW – Chocolate Covered Strawberry Thrill Shake – $9.99 – Served in a Buttercream Sugared Rim Souvenir Cup, Topped with Whipped Cream, Strawberry Cupcake, Strawberry Drizzle, and a Strawberry

Add a Whipped Vodka Shot – $3.50

NEW – Kahlua and Cream Strawberry Waffle Cone Sundae – $7.99 – Kahlua and Vanilla Swirled Ice Cream, Glazed Strawberries, Sugar Cookie Crumbles, Whipped Topping, Chocolate Syrup and Sugar Sprinkles
NEW – Creamery Float – $7.99 – Kahlua Ice Cream Swirl, Coca-Cola
Fresh Baked Strawberry Cupcake Delight – $5.99 – 2 pack
Fresh Baked Cookie – $3.49 –

Fresh Baked Sugar Cookie, Food & Wine Sprinkles
We tried the Kahlua and Cream Strawberry Waffle Cone Sundae. It was as delicious as it looks, with a variety of sweet flavors.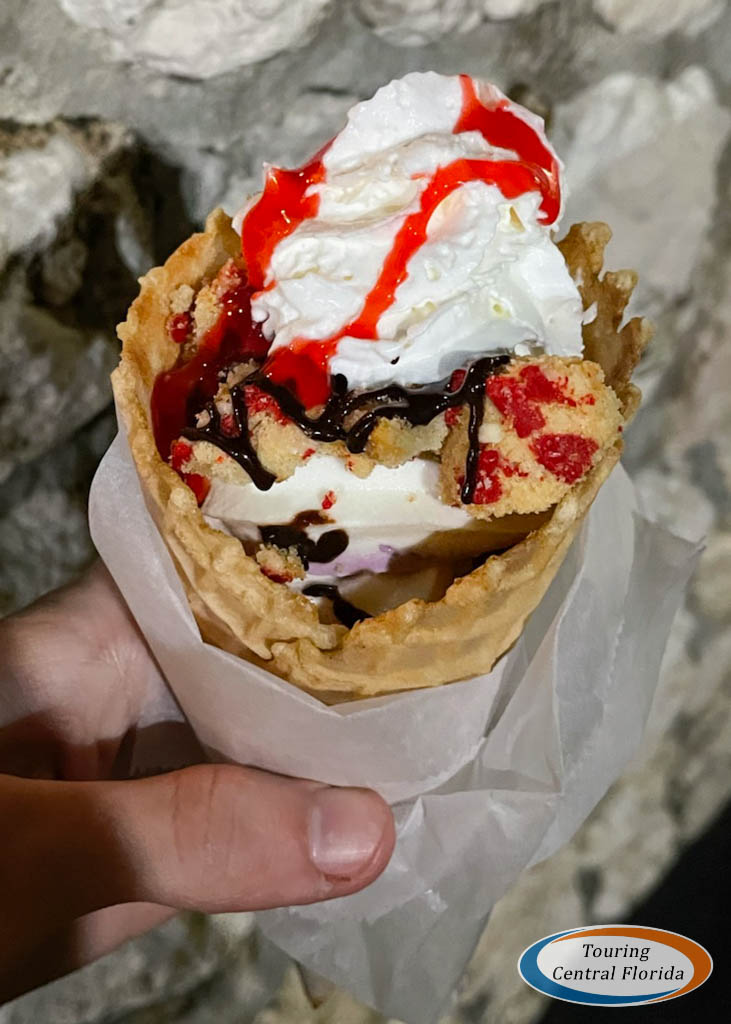 ---
West Coast Catch (#13)
Also in the little plaza is the West Coast Catch cabin with some Mexican inspired dishes and beverages.
NEW – Drunken Shrimp Tostada – $8.99 – Beer Battered Shrimp, Citrus Slaw, Mexican Crema, Cotija Cheese
NEW – Pork Tamales – $7.99

–

Soft Masa, Seasoned Pork, Cabbage, Avocado Crema, Cotija Cheese
Elote Street Corn – $5.99 – Street Corn, Tajin Spice, Queso Fresco, Mexican Crema, Crispy Corn Chips
Beer – Modelo Especial – $10.99
Hard Seltzer – Corona Hard Tropical Lime or Mango – $8.49
The Drunker Shrimp Tostada was the choice from this location on media night. The flavors from the slaw and cheese were both good, and while the shrimp were cooked perfectly, they didn't add much in the way of taste to the dish. We've been told they switched to a more traditional tostada after the first night, so your dish may look a bit different than the one photographed.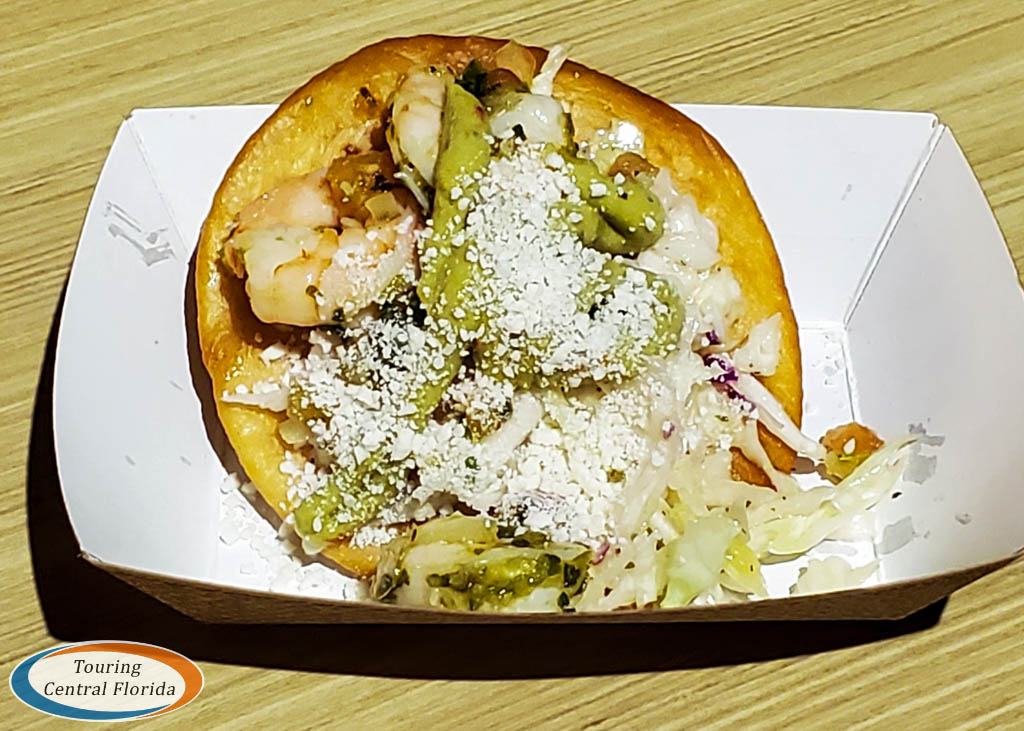 ---
Pepin Garden (#14)
Head inside of Garden Gate Cafe for the next location, Pepin Garden. Pepin is one of the local beer distributors in the Tampa area. Here you'll find a bar with several drink options along with a few culinary creations for the festival.
NEW – The Smokey Dog – $6.99 – All-Beef Dog, Brisket Chop, Honey Mustard BBQ Sauce, Cotija Cheese, Pickle Chips
NEW – The Cuban Dog – $6.99 – All-Beef Dog, Pulled Pork, Bourbon BBQ Sauce, Manchego Cheese, Pickle Chips
NEW – Drunken Bread Pudding – $5.99 – Woodford Reserve Bourbon, Caramel, Drunken Cherries, Fresh Berries
Draft Beer – $9.99 to $10.99 

Add – Souvenir Pilsner – $2
Pilsner Refills – $9.99

Frozen Cocktail – $11.99

Piña Colada – Flor De Caña Rum, Coconut Cream, Pineapple
Strawberry Daiquiri – Flor De Caña Rum, Fresh Strawberries
Tampa Vice – Blend of Piña Colada & Strawberry Daiquiri
Frozen Watermelon Margarita – Milagro Tequila, Watermelon, Lime
Frozen Stingray – Tito's Handmade Texas Vodka, Melon Liqueur, Pineapple, Coconut, Lime
While advertised as "new" for Food & Wine, both The Smokey Dog and The Cuban Dog were part of Bier Fest 2020, though the sauces are different. We sampled the Cuban Dog at the media event and though it was a good hearty snack option, although a bit messy. The fact it's an all-beef hot dog and has several savory toppings raises the quality level beyond what you would normally expect for a theme park frank.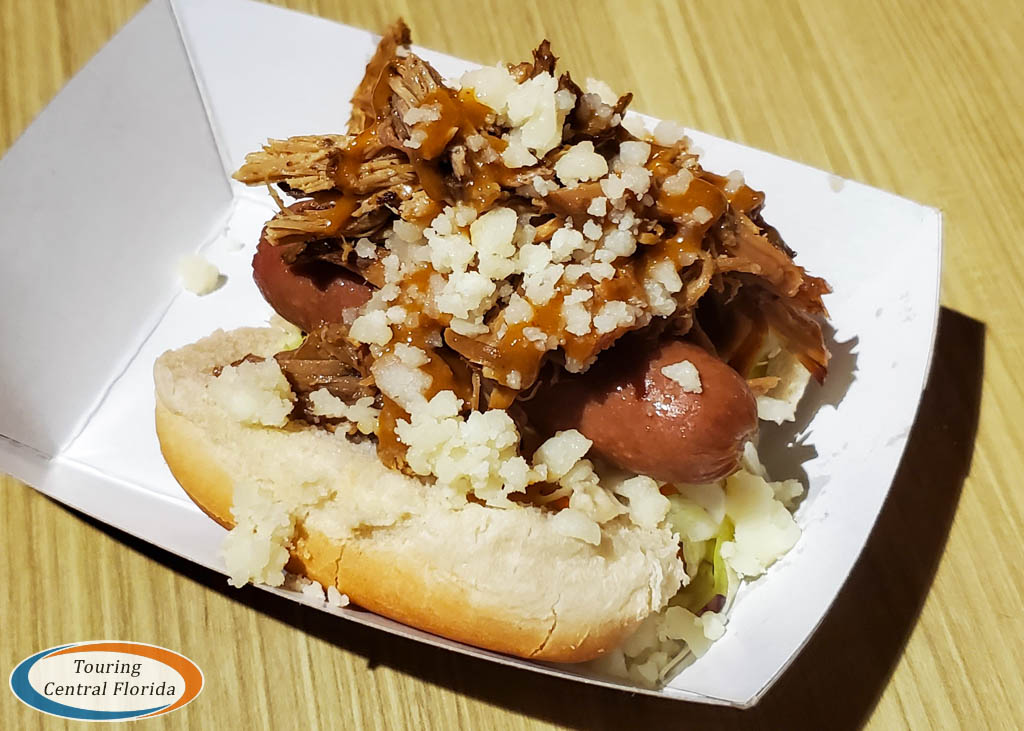 Here's a pic of a similarly messy but tasty Smokey Dog from last year's Beer Fest: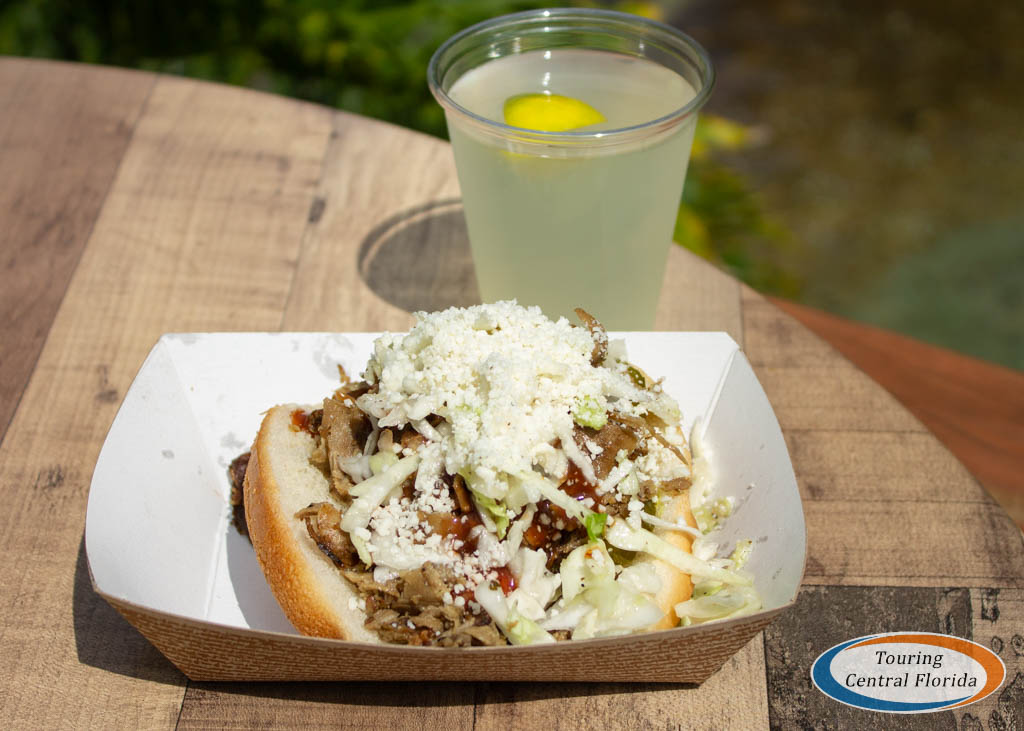 We also tried the sampler Strawberry Daiquiri, and you could tell it was made with some fresh strawberries as opposed to it being an overly sweet strawberry-flavored mix.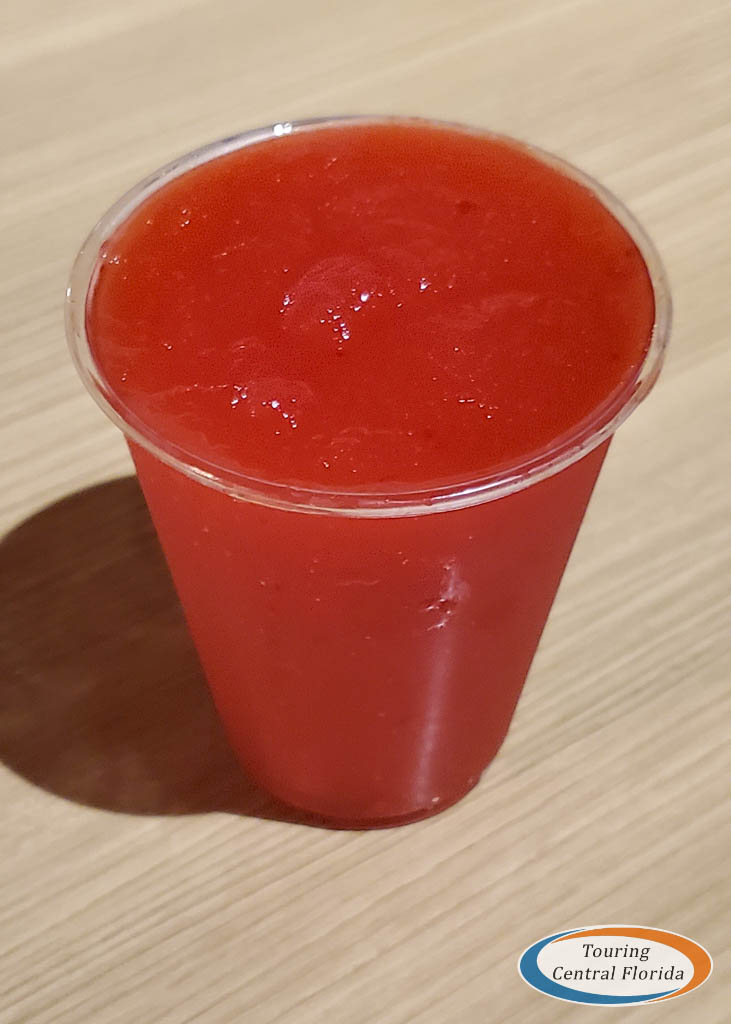 ---
Bourbon & Tequila Tastings (#15)
Exiting Garden Gate Cafe and heading back out towards the entrance of the Festival Walkway, the next Food & Wine Festival location is outside Xcurisons. The Bourbon & Tequila Tasting cabin allows guests of age to sample some harder liquors. A single 1 1/2 ounce pour of any bourbon or tequila is $9.99 or one sampler lanyard punch. A tasting featuring 1/2 ounce shots of either the four bourbons or the four tequilas is $16.99. The sampler lanyard is not valid for the tasting experience.
Bourbon

Clyde May Straight Bourbon
Devils River Coffee Bourbon
St Augustine Florida Straight Bourbon
I.W. Harper Bourbon

Tequila

Corazón Reposado
Salt Citrus
Espolòn Añejo
Volcan De Tierra
Here is more information on the bourbon offerings: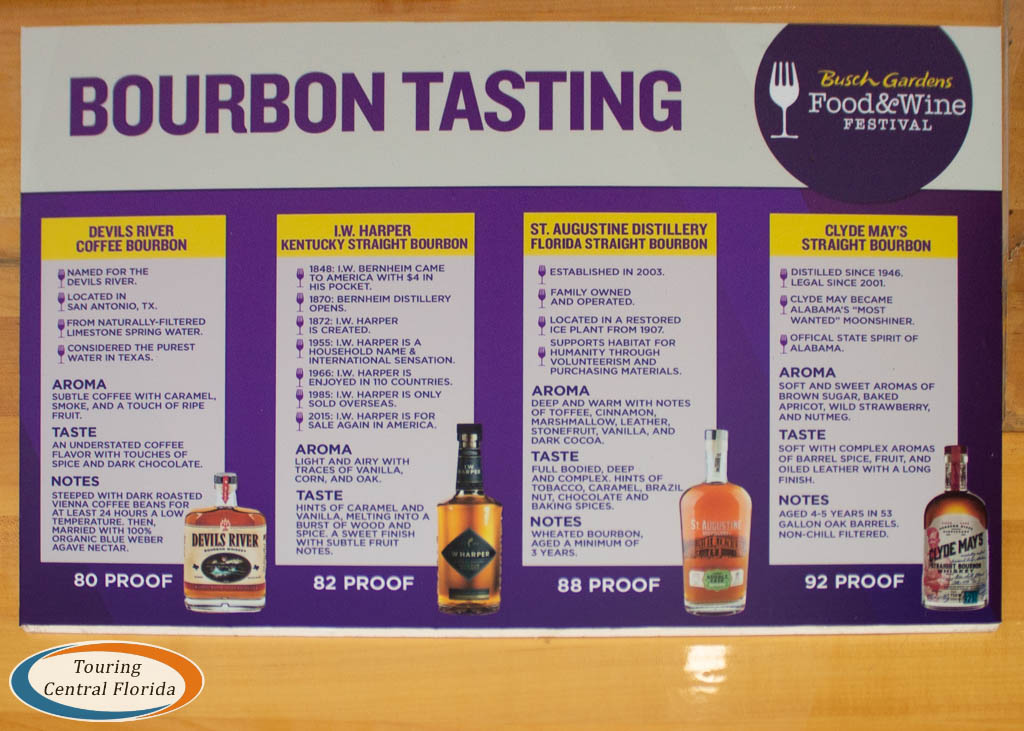 And here are the details on the tequila being served: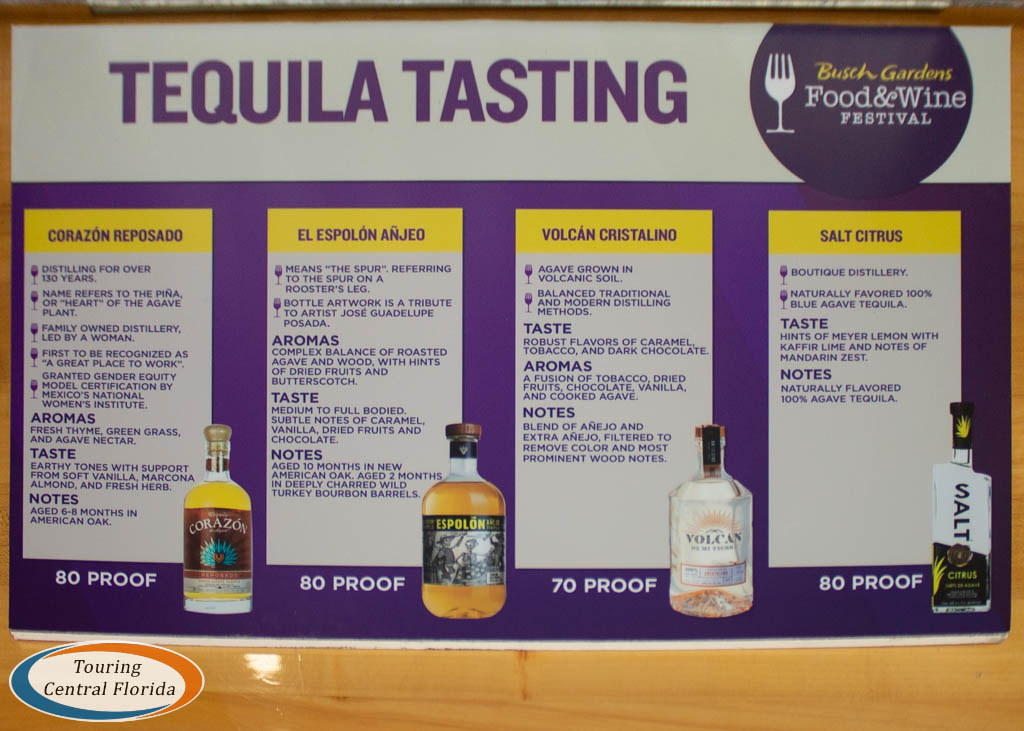 ---
Xcursions Cupcake Corner (#16)
Inside of Xcursions, the large gift shop across from the Festival Walkway entrance, you'll find the four varieties of cupcakes (the same varieties are available at Sweet Sips, cabin #11) and some drinks.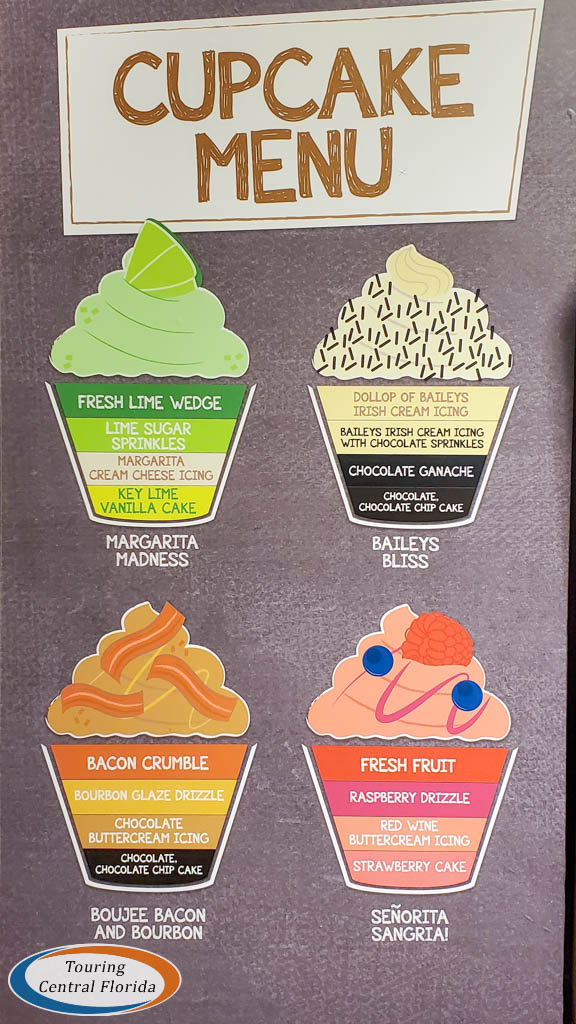 Food & Wine Cupcakes – Margarita Madness, Baileys Bliss, Boujee Bacon & Bourbon, or Señorita Sangria

2-Pack – $5.99  /  4-Pack – $9.99

Cocktail – Smoked Bourbon Peach Sour – $11.99 – Woodford Reserve Bourbon and Peach Sour served over ice
Cocktail – Spiced Vanilla Old Fashioned – $11.99 – Woodford Reserve Bourbon and Vanilla Bitters served over ice
Jell-O Shot – The Bacchus Shot – $6.99 – Tito's Vodka with Grape Jello in honor of the vine that is so divine!
I tried the sampler size of the Smoked Bourbon Peach Sour on my second visit to this year's festival. Just as the name implies, it has a light peach flavor along with smokey notes and bourbon. While I previously would not have called myself a big fan of bourbon, I've found recently that when mixed in a cocktail I do actually enjoy it quite a lot.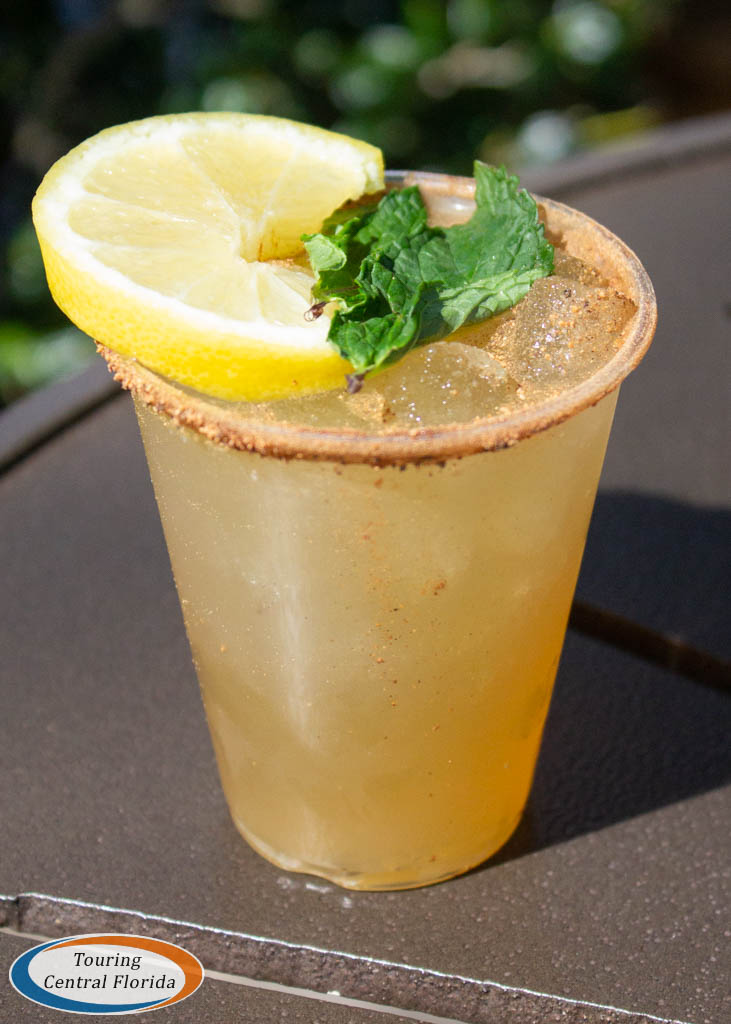 Just like during Mardi Gras, the sampler lanyard is not valid on the Jell-O shots or 4-packs of cupcakes. But the lanyards are valid on the 2-packs of cupcakes, and they are a great treat that is pre-packaged and ready to go home with you if you find yourself with an extra punch or two at the end of your visit.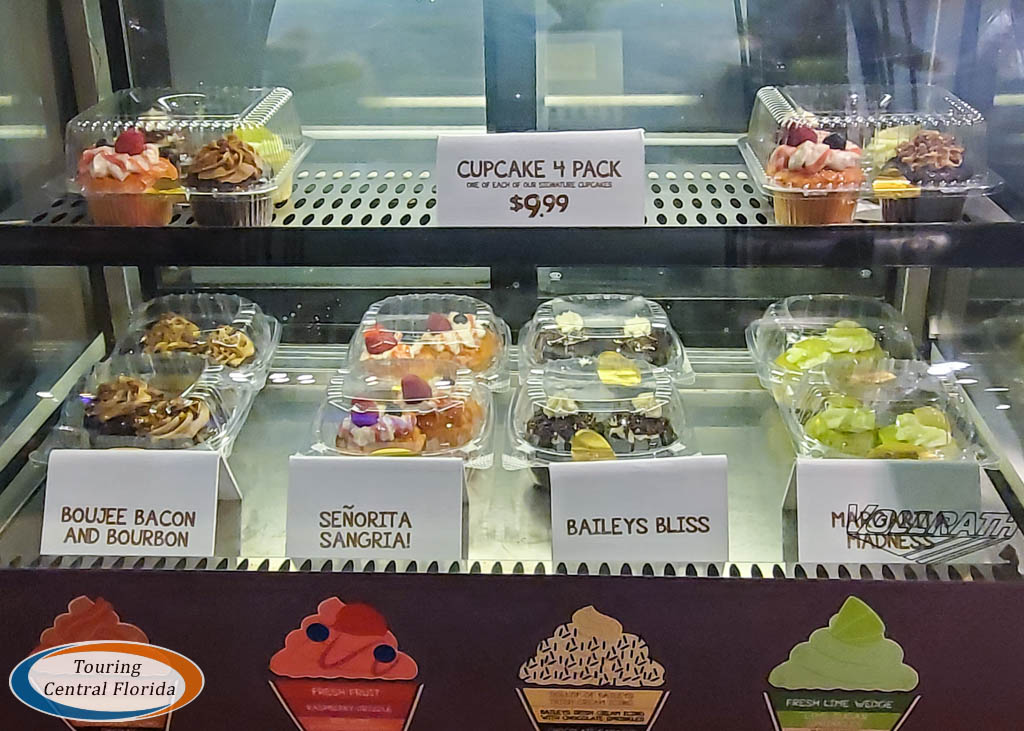 Since they make such a good take-home item, that's exactly what I did on my second visit to the festival. I chose Boujee Bacon & Bourbon and the Senorita Sangria! varieties. The Boujee Bacon and Bourbon cupcakes were a nice blend of sweet chocolate and salty bacon flavors. The bacon crumbles were a bit soggy and would have been better with a crunchier texture, but not a deal-breaker for us enjoying them again.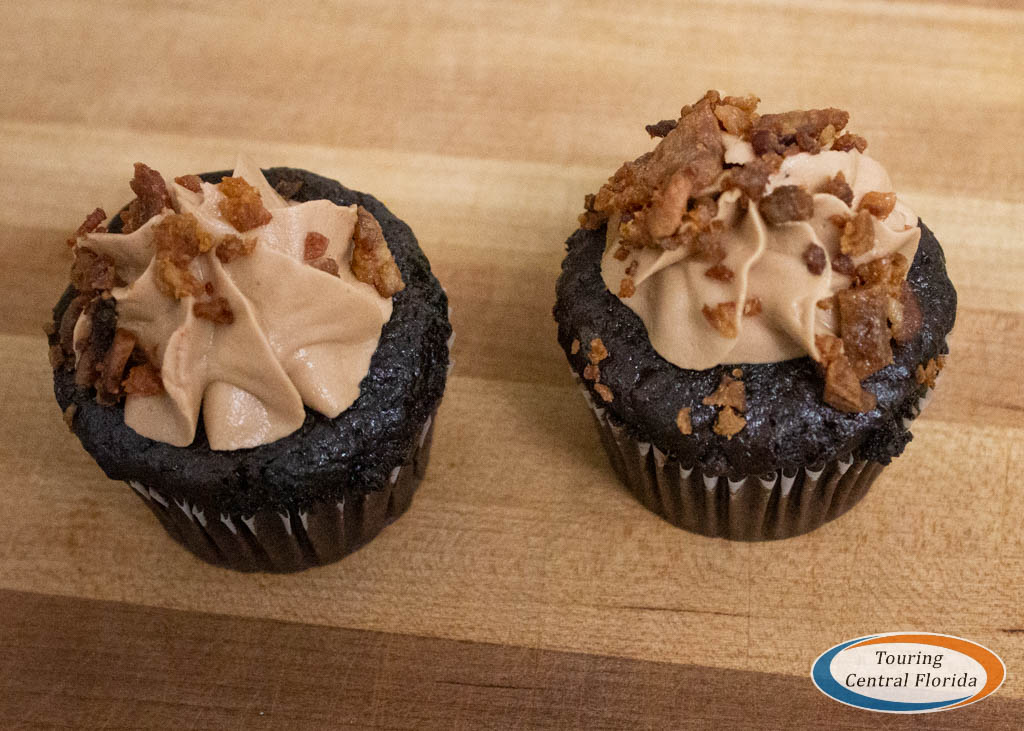 A nice non-chocolate option, the Senorita Sangria had a fair but not overwhelming berry flavor and pretty sweet icing. The berries on top were a nice extra boost of fresh flavor for these moist cupcakes. With the raspberry drizzle, we found them to be a bit messy by leaving us sticky fingers, but as long as you have a napkin, you're all set.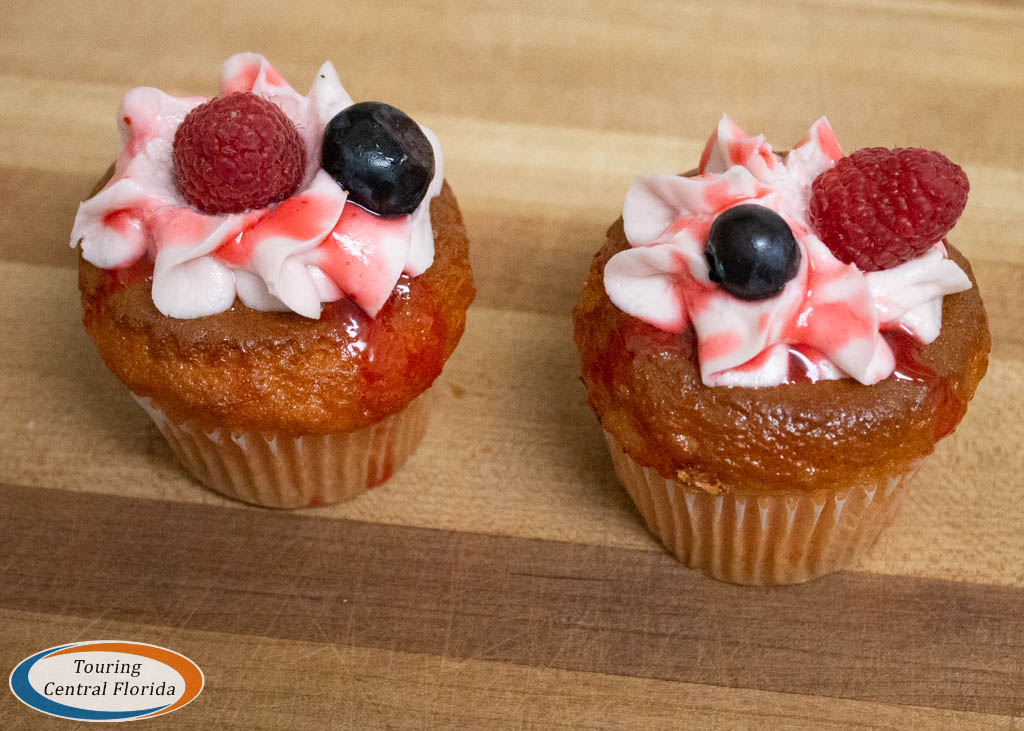 ---
Tampa Crafts on Tap (#17)
Located just outside to the right of Xcursions is the next stop, serving up several local beers on tap.
Draft Beer – $10.99

Florida Avenue Lager –  Florida Avenue Brewing, Wesley Chapel, FL – 4.9% ABV
Tangerine Splash – Brew Bus, Tampa, FL – 5.0% ABV
You're My Boy Blue – Brew Bus, Tampa, FL – 5.3% ABV
---
NOLA Sweets (#18)
A few of the booths set up for Mardi Gras Weekends will continue to feature some of the items from that event's menu, like the beignets here at NOLA Sweets (despite the park listing them as "new" for Food & Wine).
Beignets – $6.99 – NOLA Style Beignet with Powdered Sugar or Woodford Bourbon Caramel
NEW – Waffle Cone White Chocolate Raspberry Cheesecake – $6.49
Cocktail – Frozen Espresso Martini – $11.99 – Absolut Vanilla Vodka, Kahlua, Chameleon Cold Brew Coffee
Draft Beer – Purple Haze Raspberry Wheat – $10.99 – Abita Brewing, Louisiana – 4.2% ABV, IBU 13
If you missed the beignets during Mardi Gras Weekends, you've got another chance. Note that the serving size has been reduced since Mardi Gras – beignets are now a trio instead of a quartet. Here's a look at the traditional powdered sugar variety from Mardi Gras Weekends: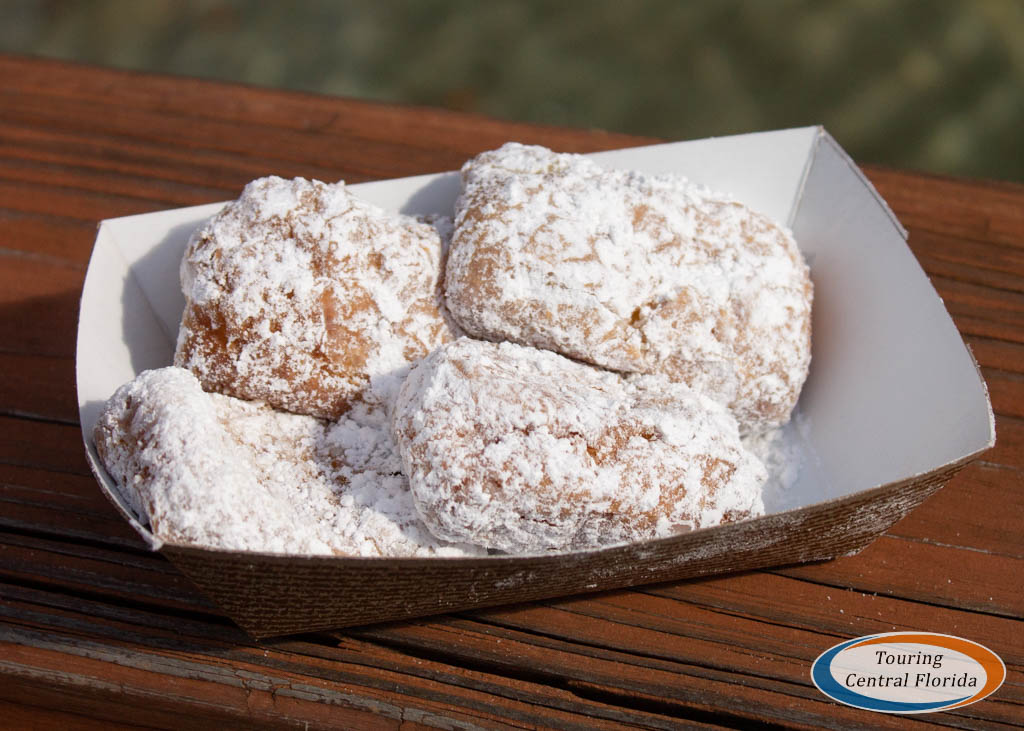 And here's a look at the bourbon caramel variety, which was incredibly delicious (and also incredibly sweet)!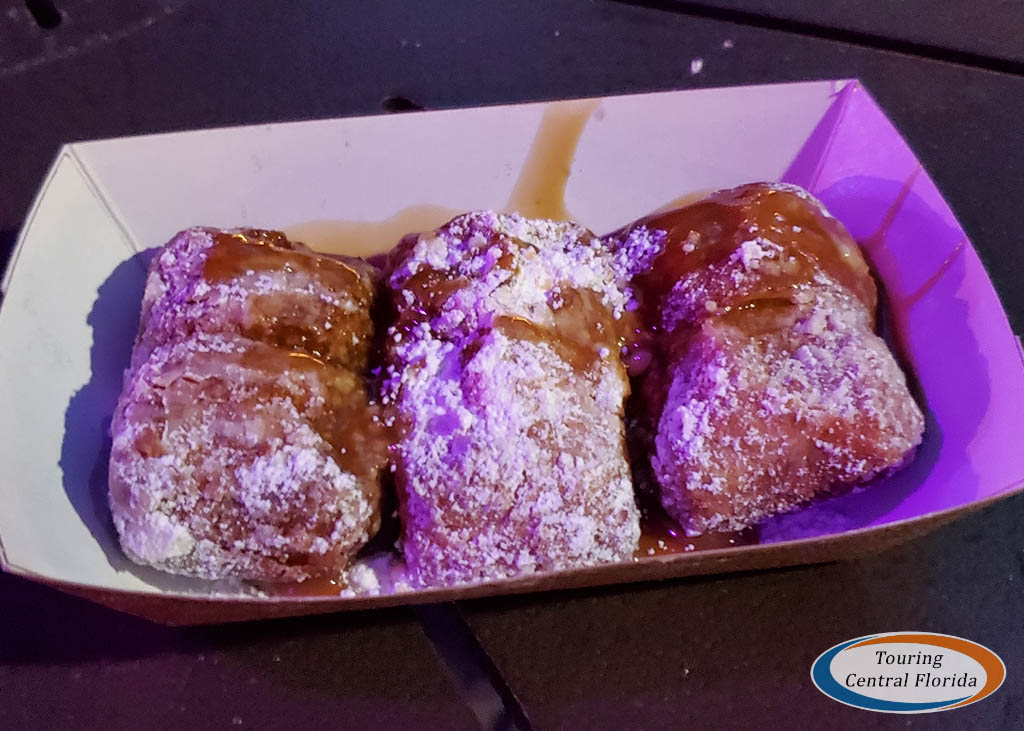 Another offering also available as part of Seven Seas Food Festival at SeaWorld Orlando, the Waffle Cone White Chocolate Raspberry Cheesecake is a good dessert option. The white chocolate flavor isn't very pronounced, but the cheesecake is tasty. The raspberry sauce and crunchy cone make you feel like you're eating ice cream without the actual ice cream.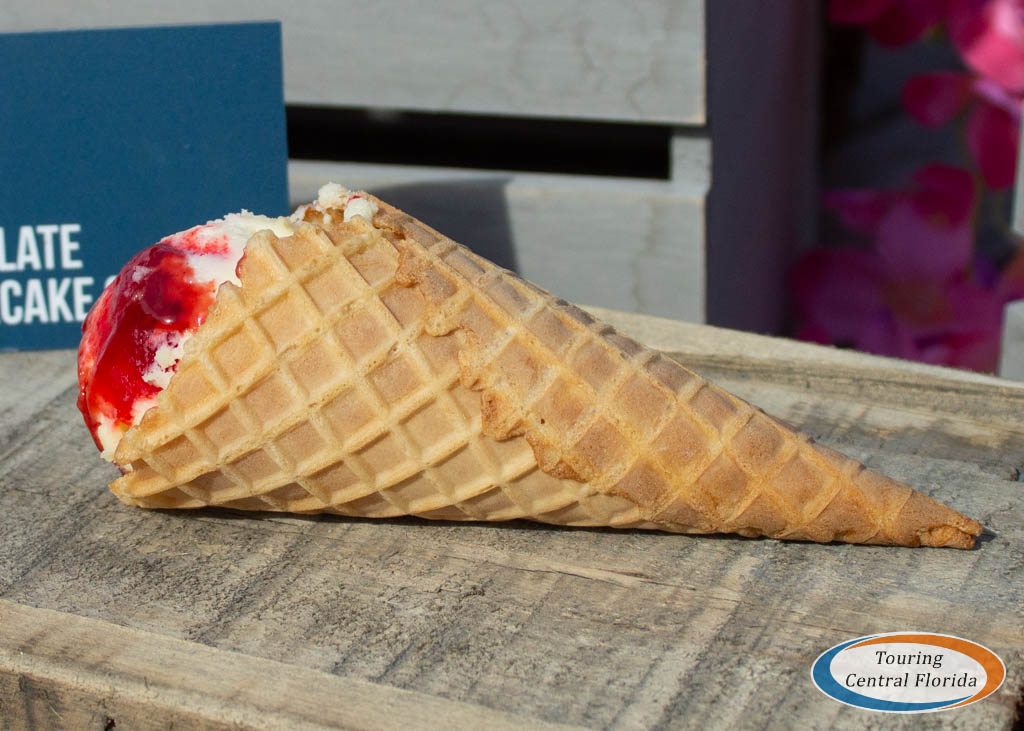 ---
Hurricanes (#19)
A great stop before or after enjoying the live entertainment under the Coke Canopy, Hurricanes gives you the choice of an iced or frozen variety of the drink, plus a chance to pick up a Jell-O shot. Just as at stop #16, the sampler lanyards are not valid for the Jell-O shot.
Cocktail – Mardi Gras Hurricane (Frozen or Iced) – $11.99 – Flor de Caña Rum, Myers Dark Rum, Fruit Juices
Jell-O Shot – Signature Tito's Vodka Jell-O Shots – $6.99
Busch Gardens was kind enough to provide guests at their media event a hurricane as a welcome drink, and it did not disappoint as a sweet, fruity way to kick off the evening.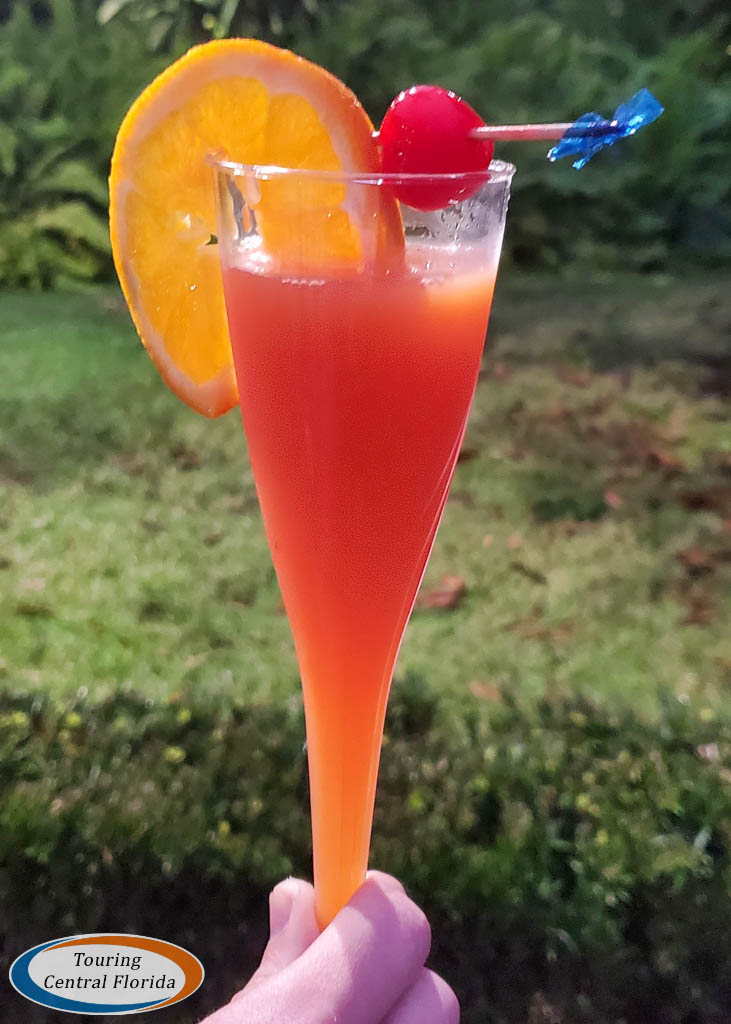 ---
NOLA Eats (#20)
Another of the Mardi Gras Weekends booths, this one gets a new name and the addition of a beer, but the two po'boys and cocktails are basically the same as before (although here again the park is advertising them as "new" for Food & Wine).
Shrimp Po'boy Slider – $8.99 – Crispy Shrimp, Tabasco Pepper Remoulade, Cabbage, Pickle Chips
Spicy Chicken Po'boy Slider – $7.99 – Habanero Glazed Chicken, Celery Remoulade, Cabbage Pickle Chips
Cocktail – Smoked Bloody Mary – $11.99 – Tito's Handmade Vodka, Tomato Juice, Lemon, Fresh Olives & Hot Pepper
Draft Beer – Southern Pecan Nut Brown Ale – $10.99 – Lazy Magnolia Brewery, Mississippi – 4.4% ABV, IBU 19
Both po'boys were good, but neither especially interesting compared to other food choices. If you are looking for a drink that will wake you up, however, the bloody Mary fits the bill with a bit of a spicy kick.
---
NOLA Suds (#21)
One final New Orleans themed location, NOLA Suds offers up four Gulf Coast based brews.
Draft Beer – $10.99

Purple Haze Raspberry Wheat – Abita Brewing, Louisiana
Strawberry Lager – Abita Brewing, Louisiana
Big Easy IPA – Abita Brewing, Louisiana
Southern Pecan Nut Brown Ale – Lazy Magnolia Brewing Co, Mississippi
---
Yuengling Butchery (#22)
Just outside of the kangaroo habitat is Yuengling Butchery, featuring a few savory dishes and two of the brewer's beers.
Hand Carved Espresso-Rubbed Tenderloin – $8.99 – White Truffle Mash
NEW – Palermo Fontina Cheese Meatballs- $7.49 – Homemade Meatballs with Fontina Cheese and Fresh Herbs in Pomodoro sauce
NEW – Hummus & Parmesan Garlic Fries – $5.99 – Hummus, Chili Oil, Duck Fat Fried Garlic Fries
Draft Beer – Raging Eagle Mango Lager – $10.99 – Yuengling, Florida – 4.7% ABV, IBU 23
Draft Beer – Flight Light Lager – $10.99 – Yeungling, Florida – 4.2% ABV, IBU 12
The tenderloin is one of the few items returning from last year's Food & Wine Festival with no major changes. And that's for good reason, it was delicious, and as the saying goes, don't fix what isn't broken.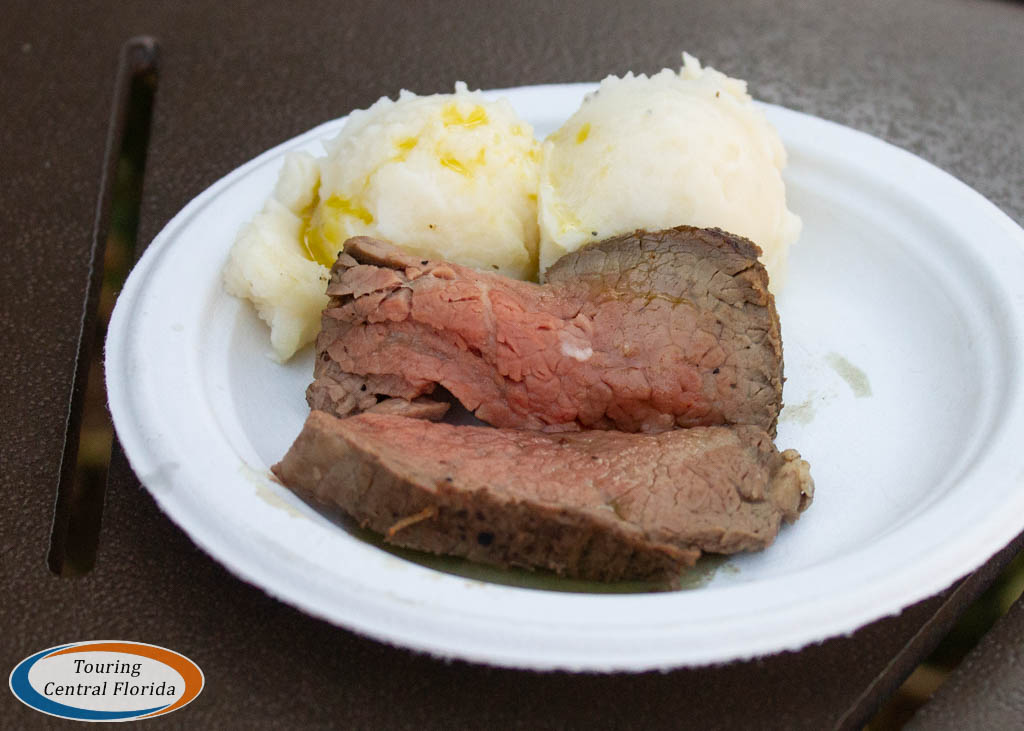 For several seasons the Duck Fat Truffle Fries was one of our favorite dishes at the Food & Wine Festival. This season sees a new variation on those fries with the addition of hummus and chili oil. We look forward to trying this new creation, but will certainly miss the old one.
---
Cutwater Spirits (#23)
Featuring Cutwater Spirits products, you can grab a cocktail in a couple of forms, including as a popsicle.
Cutwater Frozen Margarita Popsicles  – $4.99 – Lime, Pineapple, Mango, and Strawberry
Cutwater Canned Cocktails – $9.99 – Tequila Margarita, Vodka Mule, Rum Mint Mojito, or Tiki Rum Mai Tai
Cocktail – Frozen Rum Mai Tai – $11.99 – Cutwater Bali Hai Tiki Gold Rum, Triple Sec, Orgeat, Lime Juice
---
Hog Heaven (#24)
Rounding out the Food & Wine Festival booths is Hog Heaven, located around the corner from the flamingo habitat. Two returning dishes and one new addition are served up at this location.
NEW – Korean BBQ Pork Ribs – $7.99 – Slow Roasted, BBQ Sauce, Daikon Slaw
Boujee Bacon – $5.99 – Applewood Smoked Bacon, Spicy Maple Glazed Seasoning
Maple Bacon Cinnamon Roll – $4.99 – Fresh Baked Cinnamon Roll, Icing, Crumbled Boujee Bacon
Cocktail – Frozen Hawaiian Pineapple Express – $11.99 – Ocean Organic Hawaiian Vodka, Pineapple, Mint, Lemon, Honey
Draft Beer – Night Swim Porter – $10.99 – Coppertail Brewing, Florida – 6.2% ABV
One last item that's also available at SeaWorld Seven Seas Food Festival is the Korean BBQ Pork Ribs. The flavor was good, but as is the case with any ribs the quality depends on how well it's cooked and how fatty a piece you get. Wouldn't call this one a miss, but it wasn't our favorite item from this year's choices. The Boujee Bacon and Maple Bacon Cinnamon Roll are both returning from last season. Each item is a mix of salty and sweet with bacon as the featured ingredient. If you like your bacon a bit gooey and slathered with maple syrup, the Boujee Bacon will be a delight. It is a bit messy though, so grab a few napkins and enjoy.
---
Tips
Get a sampler lanyard. If you're planning on eating or drinking more than a handful of items, get a lanyard, especially if you'll be visiting multiple times during the festival. Stick to the higher price items and you'll be saving a good chunk of change versus buying each item separately. Plus no need to keep digging in your pocket or purse for cash or a credit card at each booth.
Enjoy lower crowds on Fridays. If you're looking for a festival experience with fewer people, visit on a Friday where crowds will generally be lower than the weekend following it. Expect Saturdays to be the busiest, especially just before or after the concerts.
Hit your must-haves early. If there is an item to two you know you have to try, make sure to visit those cabins earlier in the day – for two reasons. First, when the festival area opens right at noon, crowds generally aren't as big, so you'll wait less in line. And second, it's not uncommon for some things to run out toward the end of the day, especially after the concerts.
Ask for the Allergy Guide. Located at each cabin should be an Allergy Guide, which will have information on each dish and what it contains, including common allergens. Just ask an ambassador for assistance.
---
If You Go…
7th Annual Food & Wine Festival
at Busch Gardens Tampa Bay
Fridays, Saturdays, and Sundays from February 20 through April 25, 2021
Noon to close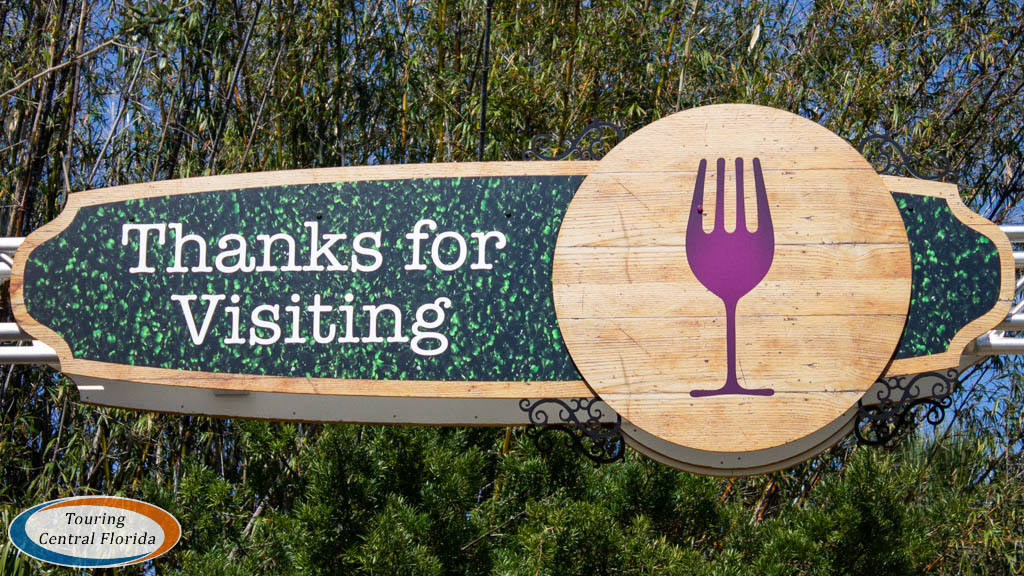 Don't miss our other Food & Wine guides:
---
Join in the conversation online by using #CorksAndCoasters. For the latest on Busch Gardens Tampa and other theme parks, attractions, and more across the region, be sure to follow Touring Central Florida on Twitter @androckb & @TourCentralFL, and like our Facebook page.