NOTE: See our Food & Beverage Guide for the 2021 Busch Gardens Tampa Food & Wine Festival here!
---
UPDATE: Due to the park's closure, this and the other Food & Wine Festival guides will not be updated or completed unless the event is extended once the park reopens.
With the 6th Annual Busch Gardens Tampa Bay Food & Wine Festival getting underway, it's time for a look at all the culinary creations available! There are over 40 sampler size portions available at 14 food cabins, including over 25 new items this season. Whether you choose to purchase items as you go or get a Sampler Lanyard, check out our full food guide below with prices, reviews of items we tried, and more.
The event runs each Saturday and Sunday from noon until close through April 26, 2020. In the interest of full disclosure, some of the items we tried below were purchased using a sampler lanyard the park provided at a media preview of the event. Others were purchased out of our own pockets. As always, all opinions are our own.
While we've attempted to provide the most accurate information possible, all of the details, pricing and item availability are subject to change without notice. Last update: 2/29/2020.
Be sure to check out our other Food & Wine guides (coming soon):
Festival Guide  —  Drink Guide  —  Concert Guide
---
Sampler Lanyards
Available for purchase at the Welcome Center or at any of the festival cabins, the Sampler Lanyards can save you money if you're planning on purchasing multiple items. The best part is the lanyards can be shared among your party, and are good throughout the duration of the festival, so no need to buy one for every person or feel you need to use all the punches in one visit.
There are three price points for the lanyards – $32 for a five-item lanyard, $42 for an eight-item lanyard, and $57 for a 12-item lanyard. Annual pass members can also get a special 15-item lanyard for the price of a 12-item lanyard, but no further discount is applicable. Annual pass member discounts do apply to the 5 and 8-item lanyards.
The lanyards are valid at every booth for every food and beverage item. The sizes for the food items are the same whether using a punch on the lanyard or paying out of pocket. If you use a sampler lanyard punch on a beverage item (other than the bottled sodas/water) you will receive a smaller size than if you pay out of pocket. This can be both a good and bad thing – it allows you to sample more alcoholic beverages as you make your way around the festival, but some find it to be less of a value. If you know you love a particular beer, wine or cocktail, it may make more sense to pay for the full-size version (and remember pass member discounts apply).
How much you can save will vary depending on which lanyard you purchase and what items you choose, but assuming you get a 12-item lanyard and stick to the most expensive food items, you can easily save $20 or more compared to the full prices of menu items.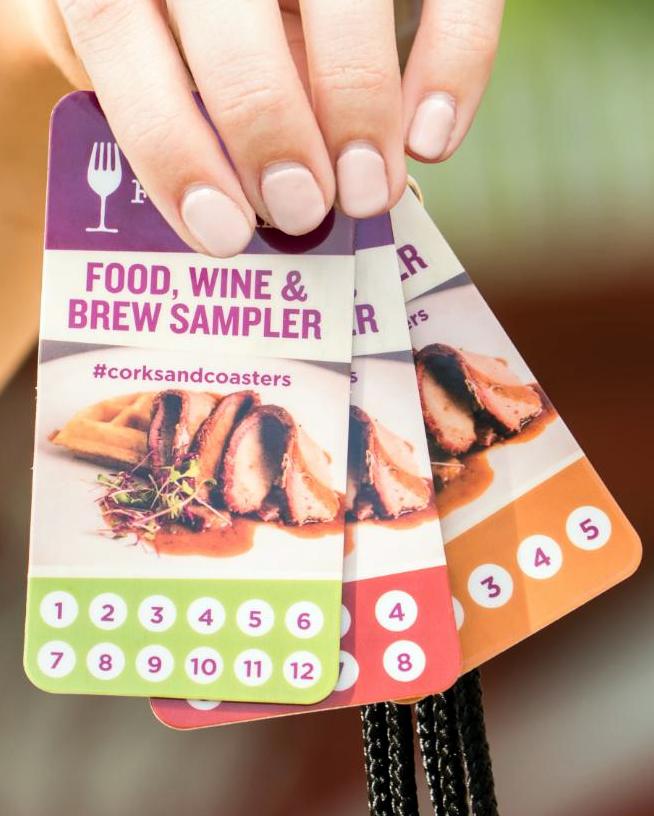 ---
Food Cabins
For 2020, Busch Gardens continues to reinvent the festival menu with a majority of dishes being new offerings. However, more than a dozen favorites from last year and previous seasons are returning as well. The cabins are open from noon to park close on event days, but individual items can begin to run out later in the day since so many things are made fresh each weekend.


Most cabins offer three sample size items. Some of the cabins offer a mix of savory & sweet items for purchase, and others focus on just savory or just sweet options. You can pay out of pocket (annual pass member discounts apply) or use your sampler lanyard punches at any of the cabins.
Below is the map for the 2020 Busch Gardens Tampa Bay Food & Wine Festival. There are a total of 31 food & beverage locations (plus four alcohol tasting booths that aren't numbered, and additional gift & game spots).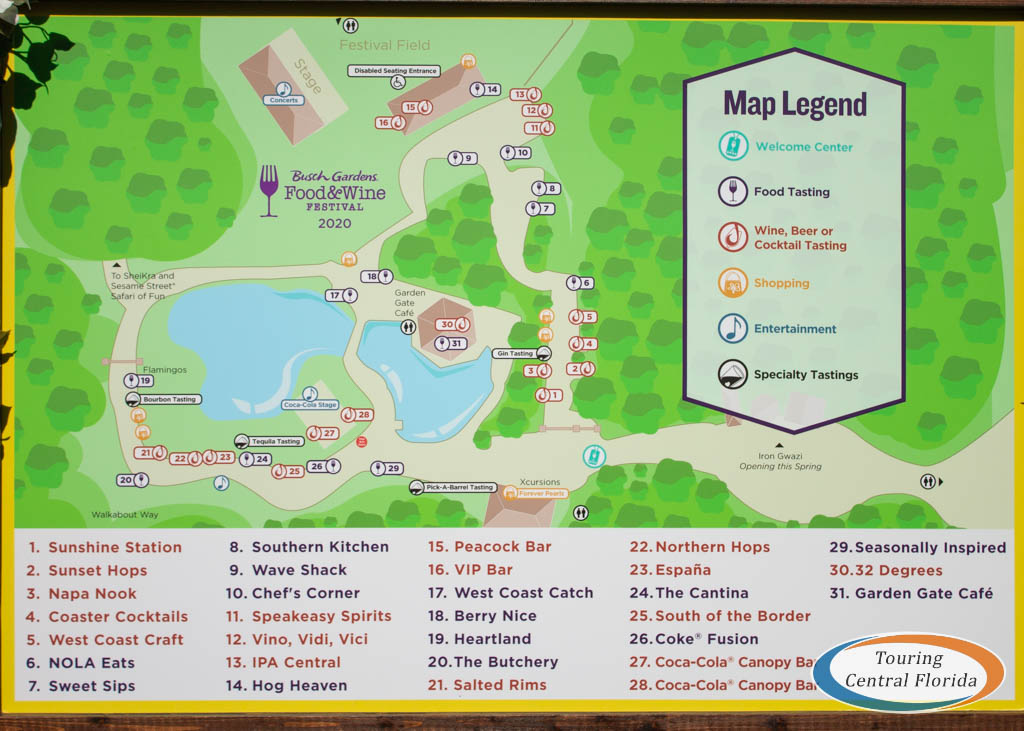 At most of the food tasting cabins, a limited assortment of bottled Coca-Cola products ($3.99) and bottled water ($3.49) are available. Most food cabins also feature a paired wine, cocktail or beer – those items are listed with each specific cabin below. For more on the various wines, beers, cocktails and other beverages available, see our in-depth Busch Gardens Tampa 2020 Food & Wine Festival Drink Guide (coming soon).
The 14 food locations are listed below in numerical order. You'll find a complete listing of all items, including pictures and our thoughts on the dish when available. Items marked (V) are vegetarian, items marked (GF) are gluten-free, and items marked (PB) are plant-based.
---
Nola Eats (#6)
NEW – Red Beans & Rice – $5.99 – with Sausage (GF)
Chicken Gumbo – $5.99 – Creole Flavored Stew with Chicken and Andouille Sausage over Rice
Bananas Foster Cheesecake – $4.99 – Sweet and smooth Banana Cheesecake made with Infused Bananas and a Rum Caramel Sauce and Whipped Cream (V)
Cocktail – Hurricane – $14.99 – Bacardi Rum, Myers Rum, Lime Juice, Orange Juice, Passion Fruit, and Grenadine
Beer – Abita Purple Haze – $10.99 – ABV 4.2% / IBU 13
Nola Eats is back at the event this year with one new item and two returning. We got a taste of the Bananas Foster Cheesecake at last year's media event. The dessert cup was rich, with creamy cheesecake and chunks of bananas mixed in.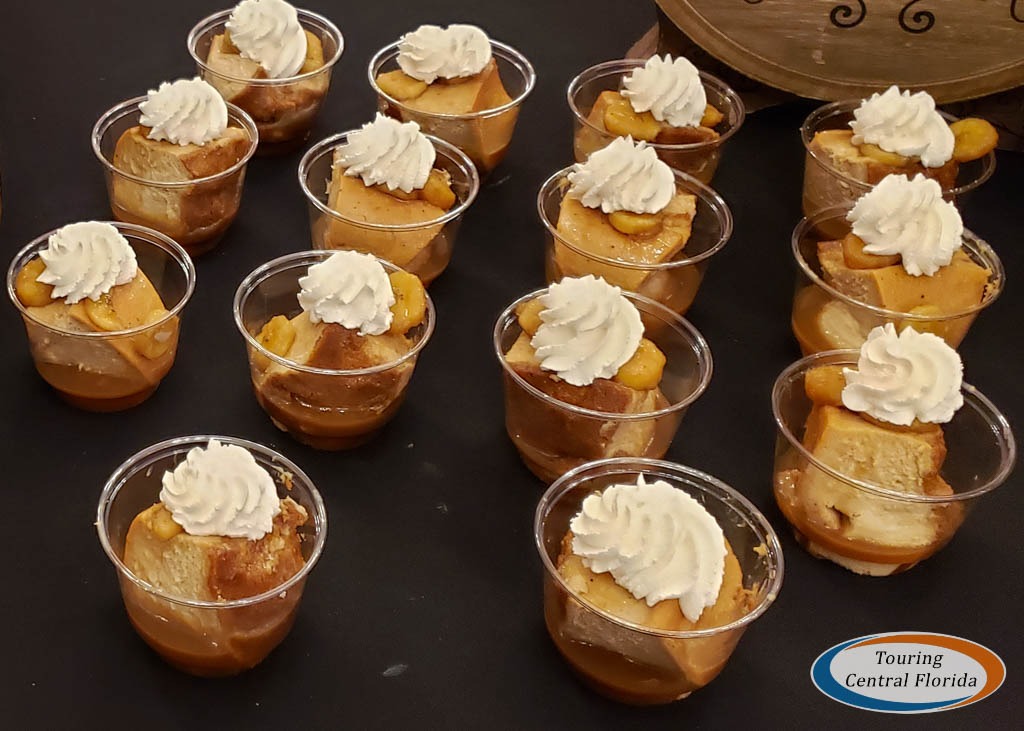 ---
Sweet Sips (#7)
NEW – Hummingbird Cupcake – $4.99 – Traditional Southern Cupcake with Pineapple, Banana, and Nuts (V)
NEW – Handmade Cannoli – $4.99 – Italian pastry, filled with handmade Cannoli Cream, Chocolate Chips, and Pistachios (V)
Wine – Stemari Moscato – $8.00
Wine – Villa Pozzi Pinot Grigio – $8.00
A new cabin for this year's festival, Sweet Sips features two brand new items as well.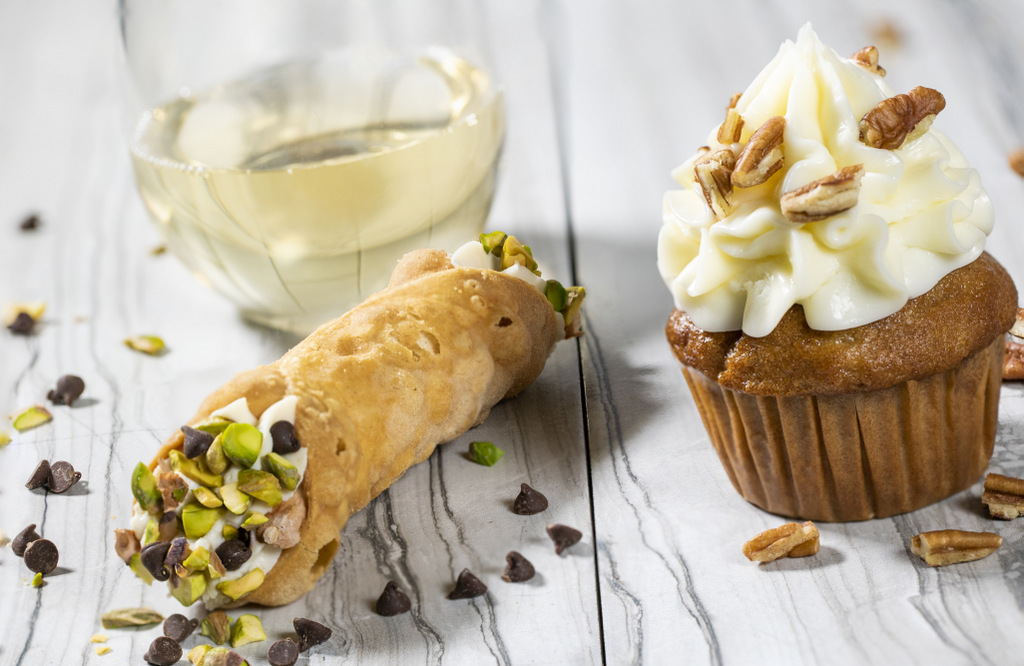 ---
Southern Kitchen (#8)
NEW – Blackened Catfish – $5.99 – Pan-Seared Blackened Catfish served over Sweet Corn Pudding
NEW – Shrimp & Grits – $4.99 – Shrimp sautéed in Seasoned Butter, over Southern Style Cheese Grits (GF)
Southern Fried Chicken & Biscuit – $5.99 – with Bourbon Blackberry Jam
Cocktail – Spiked Southern Tea – $14.99 – Tito's Vodka, Bombay Sapphire Gin, Jose Cuervo Tequila, Bacardi Rum, Triple Sec, Cranberry Juice, and Lemon Juice
---
Wave Shack (#9)
NEW – Shrimp Bacon Fritters – $5.99 – Fluffy Fritters fried to a golden brown with Key Lime Aioli
NEW – Fried Clams – $5.99 – Crispy and tender Fried Clams with Tangy Yuzu Remoulade
NEW – Key Lime Pie Waffle Cone – $4.99 – Key Lime Filling, drizzle with Raspberry Sauce and finished with Whipped Cream (V)
Beer – Beach Blonde Ale – 3 Daughters Brewery – $10.99 – ABV 5% / IBU 24
Another new cabin at this year's event, Wave Shack features two new savory dishes and one new sweet option.
---
Chef's Corner (#10)
NEW – Pork Belly Taco – $6.99– Crispy Pork Belly, Kimchi Slaw and Mango Salsa
NEW – Arroz Con Pollo – $6.99 – Sautéed Adobo-Seasoned Chicken with Sofrito, Avocado and Platanutres (GF)
NEW – Pork Tenderloin – $6.99 – Seared Pork Tenderloin with a velvety Champagne Watercress Sauce
The new Chef's Corner cabin features dishes created by the park's own culinary team.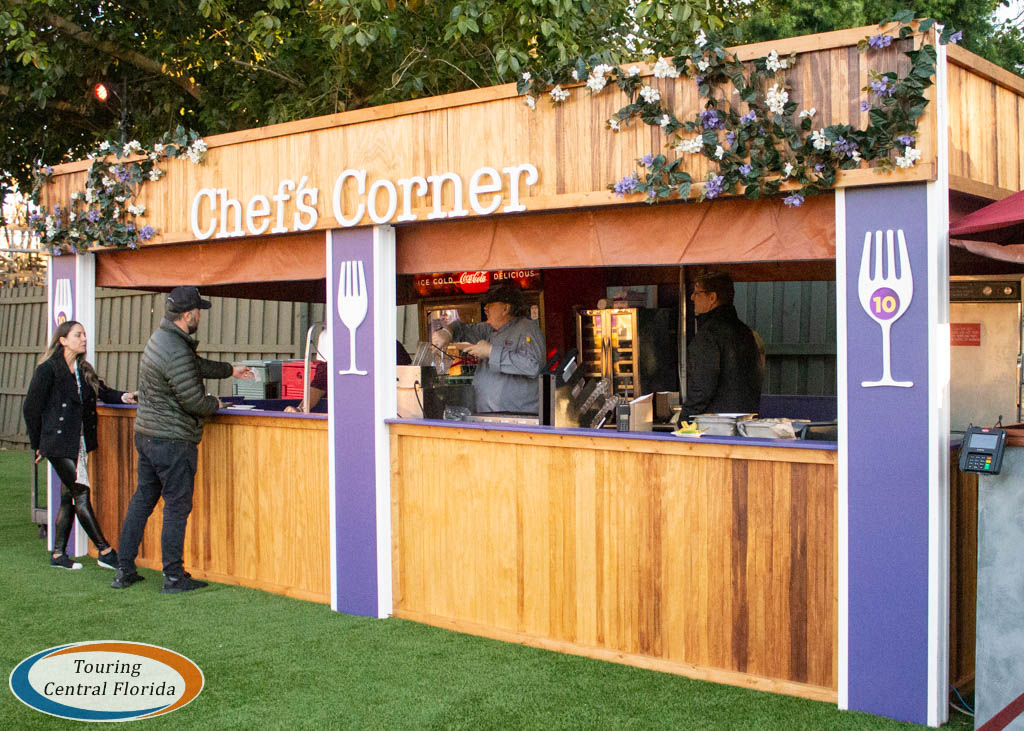 Having worked at Busch Gardens for 30 years, Chef Richard Shepherd has helped create every Food & Wine menu since its inception. This year, he is excited to present what is sure to be a new event favorite, an all-new pork belly taco features a fusion of flavors with crispy pork belly, crunchy kimchi slaw, and zesty mango salsa, offering layers of flavors, temperature, and texture.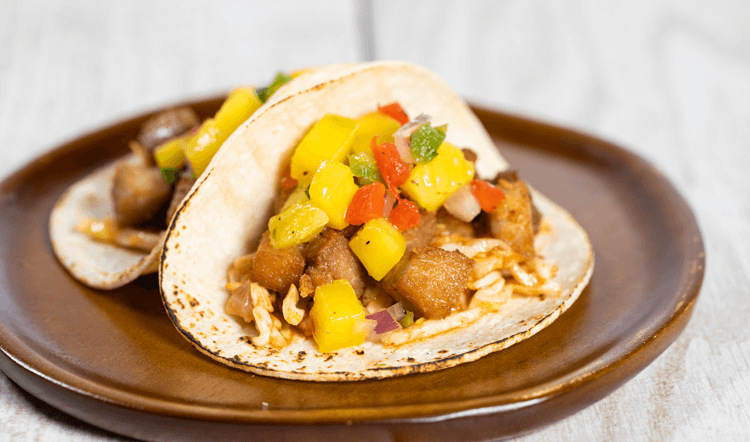 Chef Stuart Morton reintroduces his award-winning pork tenderloin with champagne watercress sauce. This classical French dish is made with simple ingredients but features complex flavors. Inspired by history, Chef Morton leans towards classic dishes but enjoys the challenge of making high-end food for the festival atmosphere.
The third dish being featured is Arroz Con Pollo. This golden yellow rice dish is not only a classic favorite among Hispanic cultures but is also widely featured throughout Tampa Bay. Using authentic flavors, our team tapped into the city's roots with this family recipe.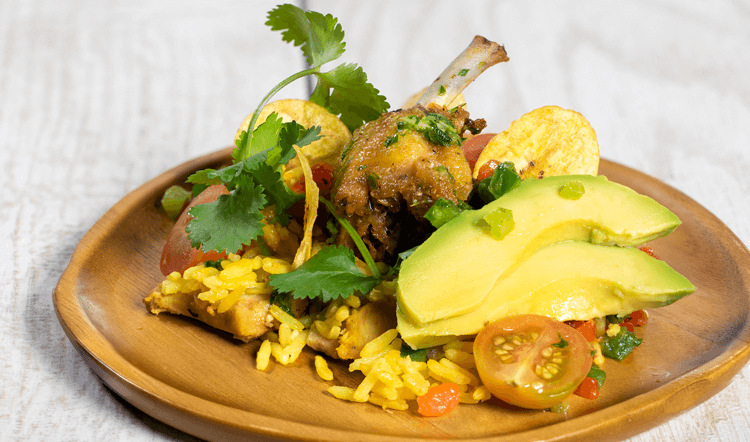 ---
Hog Heaven (#14)
NEW – Kung Pao Ribs – $6.99 – Slow Roasted Ribs, tossed in Kung Pao Sauce
NEW – Charred Brussel Sprouts – $4.99 – With a Warm Bacon Vinaigrette
NEW – Maple Bacon Cinnamon Roll – $5.99 – Soft, sweet Cinnamon Roll with crispy and sweet Crumbled Bacon and topped with Maple Cream
NEW – "Boujee" Bacon – $4.99 – Applewood Smoked Bacon brushed with a Maple Season Blend
Cocktail – Maple Pig – $14.99 – Bulleit Bourbon, Maple, Bacon Bitters, Lemon Juice, Muddled Maraschino Cherries
Another all-new entry, Hog Heaven features four new culinary creations and will be the food booth closest to the festival field where the concerts are held.
The "Boujee" Bacon is an interesting mix of sweet and savory. If you like your bacon a bit gooey and slathered with maple syrup, this will be a delight. It is a bit messy though, so grab a few napkins and enjoy.
---
West Coast Catch (#17)
NEW – Shrimp Salad Stuffed Avocado – $7.99 – Avocado filled with Seasoned Shrimp, Red Onions, Celery, Peppers and Cilantro-Lime Aioli (GF)
NEW – Sesame Crusted Tuna – $6.99 – Wakame Salad with Sweet Thai Chili and topped with Peach Sauce and Crispy Wonton
Baja Fish Tacos – $6.99 – Beer Battered Fish topped with Citrus Slaw, Crema Fresca and Cotija Cheese
Beer – Corona Extra – Groupo Modelo – $10.99 – ABV 4.5% / IBU 19.3
The Baja Fish Taco returns this season with a slightly different preparation. Last year, we found the taco to be light and fresh, though one of the more simple dishes in the festival's lineup.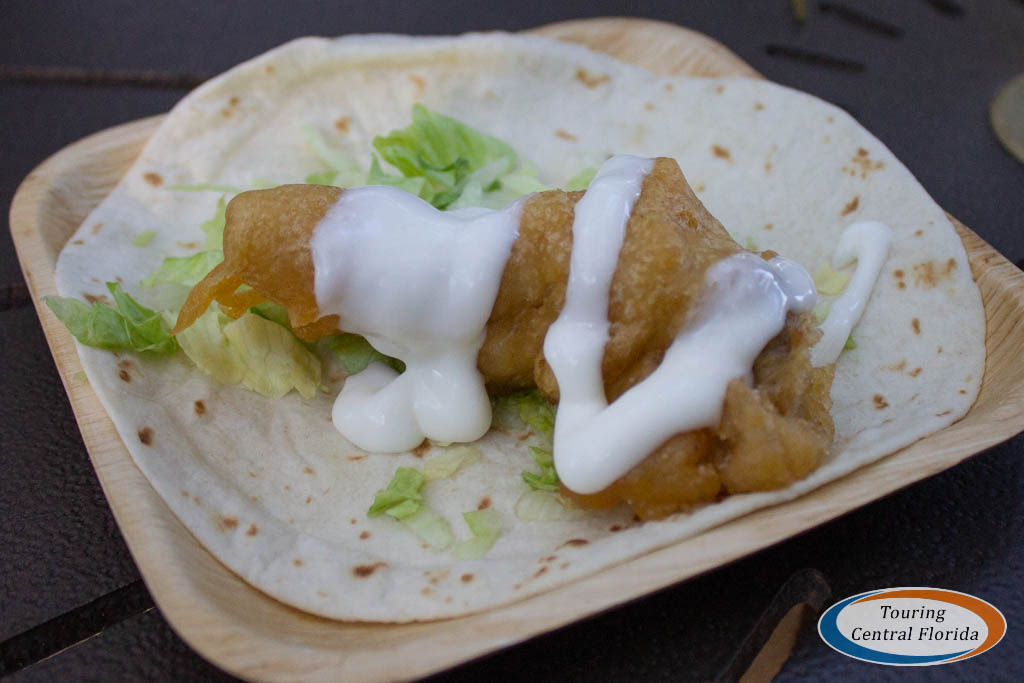 ---
Berry Nice (#18)
NEW – Strawberry Shortcake Sundae – $6.99 – Vanilla Ice Cream served with Pound Cake and fresh Strawberries in glaze (V)
NEW – Strawberry Shortcake Thrill Shake – $13.99 – Strawberry Shake topped with Pound Cake, Strawberry Sauce, Whipped Cream and a fresh Strawberry (V)
Cocktail – Strawberry Berryoska – $14.99 – Tito's Vodka, Muddled Strawberries, Lemonade
Cocktail – Strawberry Basil Lemonade – $11.99 – Smirnoff Vodka, Lemonade, Basil, Strawberry
Located in the small concession stand on the corner outside of Garden Gate Cafe, Berry Nice features several strawberry creations in sweet and adult beverage form. With it being Florida strawberry season, this location should fit in well in the festival lineup.
---
Heartland (#19)
Homemade Bacon Mac & Cheese – $5.99 – Four-Cheese Sauce topped with Bacon
Bison Slider – $6.99 – With a sweet and spicy Bacon Onion Jam
Griddled Cheese Cake Handheld – $4.99 – Griddled Pound Cake with Cream Cheese filling and topped with Raspberry Coulis (V)
Wine – William Hill Estate Chardonnay – $8.00
Wine – Fess Parker Riesling – $8.00
Some of the festival's most loved dishes are all located at Heartland this year. This booth had quite the line during the pass member preview event, and will likely be the same during much of the festival.
The Bacon Mac & Cheese this season has the bacon already mixed in with dish, unlike previous versions where it was sprinkled on top. This change means you lose the crunch of the bacon, but none of the flavor. While it's described as homemade, the cheese flavor is more of a rich sauce as opposed to what you might make with freshly grated cheese in your own home.
---
The Butchery (#20)
NEW – Hand Carved Espresso Rubbed Beef Tenderloin – $6.99 – served over White Truffle Mash (GF)
NEW – Achiote-Rubbed Pork Tenderloin – $5.99 – served over Sweet Plantain Mash and Chimichurri
Artisan Fries cooked in Duck Fat – $5.99 – Sprinkled with Parmesan and White Truffle Aioli (GF)
Beer – Sweet Baby Java – DuClaw Brewing Company – $10.99 – Espresso bean infused chocolate peanut butter porter ABV 6.5% / IBU 53
One of our favorite items, the Artisan Fries, thankfully returns this season (picture below is from a previous season). Simply put, they are delicious. I always suggest you ask for a little extra aioli, as that's the real star of this dish. They are using waffle fries this year instead of the traditional cut ones, but if anything it only makes them even better! Joining this guest favorite are two new items.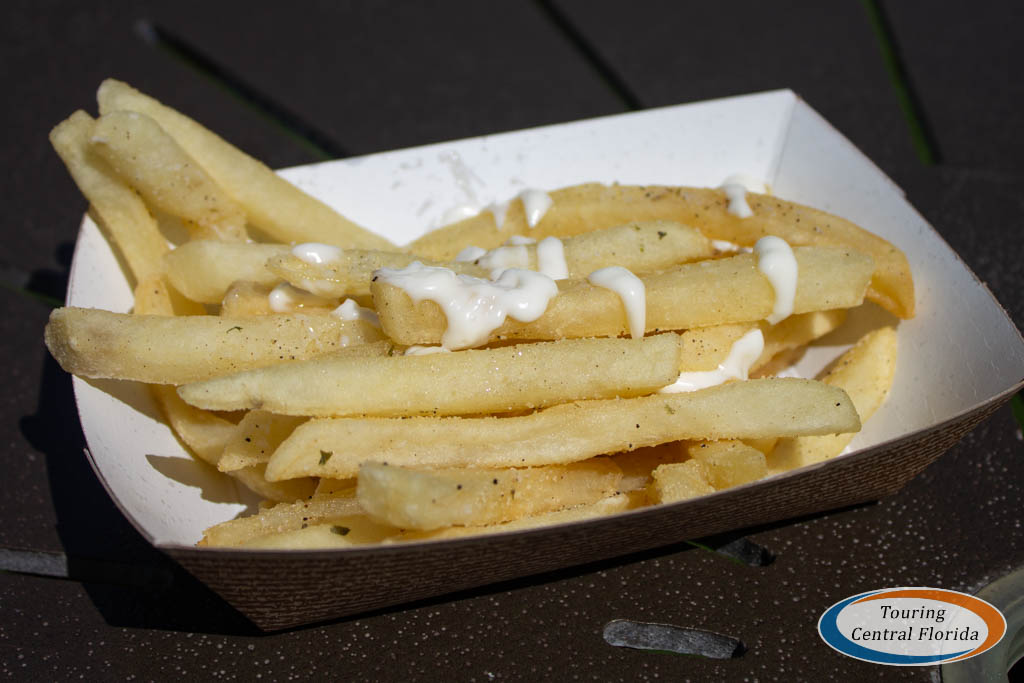 ---
The Cantina (#24)
NEW – Short Rib & Cheddar Tostadas – $6.99 – Tender Braised Short Rib with Peppers, Onions, Fresh Pico and Sour Cream
NEW – Grilled Shrimp Elote – $5.99 – Shaved off the Cob, Fire-Roasted Street Corn, Lime Shrimp, Spicy Crema and Cheese (GF)
NEW – Pork Tamale – $5.99 – Soft "Masa", Perfectly Seasoned Pork, Salsa Roja, Crema and Cotija Cheese
Beer – Pachanga – Sun King Brewery – $10.99 – ABV 4.2% / IBU 24
---
Coke Fusion (#26)
Cherry Coke BBQ Sauce Pulled Pork Slider – $6.99 – Slow-Braised BBQ Pulled Pork, Fried Onions and Slider Bun
Sticky Coke Wings – $5.99 – Fried Chicken Wings tossed in a sweet & savory Coke Sauce
Coke Infused Cupcake – $4.99 – Topped with Pop Rocks Candy (V)
Traditional Jack & Coke – $14.99 – Jim Beam Gentleman Jack mixed with Cola-Cola
All three dishes return to Coke Fusion this season, although the wings come with a new Coke sauce as opposed to the Mr. Pibb based creation last year. Assuming they're prepared the same way, you'll want to gran an extra napkin or two, because they are indeed sticky, and like a good wing, they are messy.
The cupcake has been available for the last couple of seasons and has been moist with a strong chocolate flavor. What really makes the cupcake is its topping, the Pop Rocks, which add a unique sensory experience to an otherwise standard (but tasty) treat.
Last year, we enjoyed the pork slider with a sweet sauce, packing a noticeable Cherry Coke flavor.
---
Seasonally Inspired (#29)
NEW – Avocado Toast – $4.99 – Thick-Cut Ciabatta Bread with Fresh Smashed Avocado, Red Radishes, Green Onions and Marinated Tomatoes (V)
Impossible Slider – $6.99 – with Fresh Pico de Gallo and Guacamole (V) (PB)
Charcuterie Salad – $5.99 – Roasted Tomatoes, Country Olives, Cured Meats & Cheeses (GF)
Wine – Terrazas Altos Chardonnay – $8.00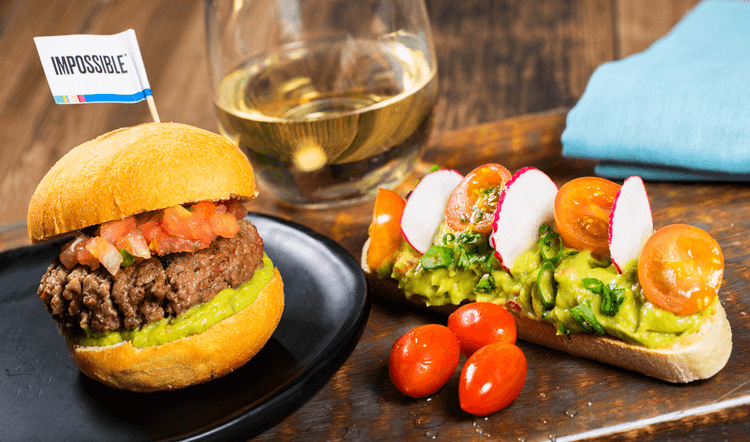 ---
Garden Gate Cafe (#31)
NEW – Grilled Skirt Steak Flatbread – $6.99 – Tender marinated Steak, house-made Chimichurri Sauce, Mozzarella, and fresh Grape Tomatoes
NEW – Fig and Cheese Flatbread – $6.99 – Fig Preserves, Baby Arugula, Caramelized Onions, Goat& Mozzarella Cheese (V)
NEW – Caprese Salad – $5.99 – Baby Heirloom Tomatoes with Bocconcini Cheese, Basil, Balsamic Glaze and Extra Virgin Olive Oil (V)
The final food booth is actually located inside of Garden Gate Cafe. Along with the three new items for the festival, you'll also be able to purchase a variety of other snacks and beverages at the main bar.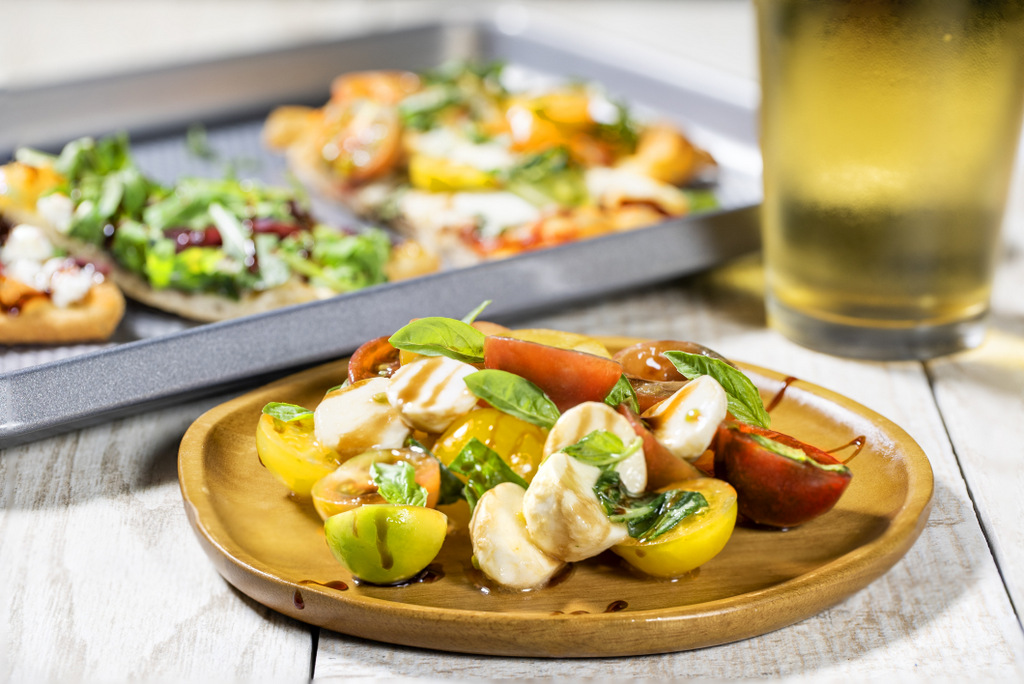 ---
Tips
Get a sampler lanyard. If you're planning on eating or drinking more than a handful of items, get a lanyard, especially if you'll be visiting multiple times during the festival. Stick to the higher price items and you'll be saving a good chunk of change versus buying each item separately. Plus no need to keep digging in your pocket or purse for cash or a credit card at each booth.
Hit your must-eats early. If there is an item to two you know you have to try, make sure to visit those cabins earlier in the day – for two reasons. First, when the festival area opens right at noon, crowds generally aren't as big, so you'll wait less in line. And second, since many of the items are made fresh daily, it's not uncommon for some things to run out toward the end of the day, especially after the concerts.
Ask for the Allergy Guide. Located at each cabin should be an Allergy Guide, which will have information on each dish and what it contains, including common allergens. Just ask an ambassador for assistance.
---
If You Go…
6th Annual Food & Wine Festival
at Busch Gardens Tampa Bay
Saturdays & Sundays from February 28 through April 26
Noon to close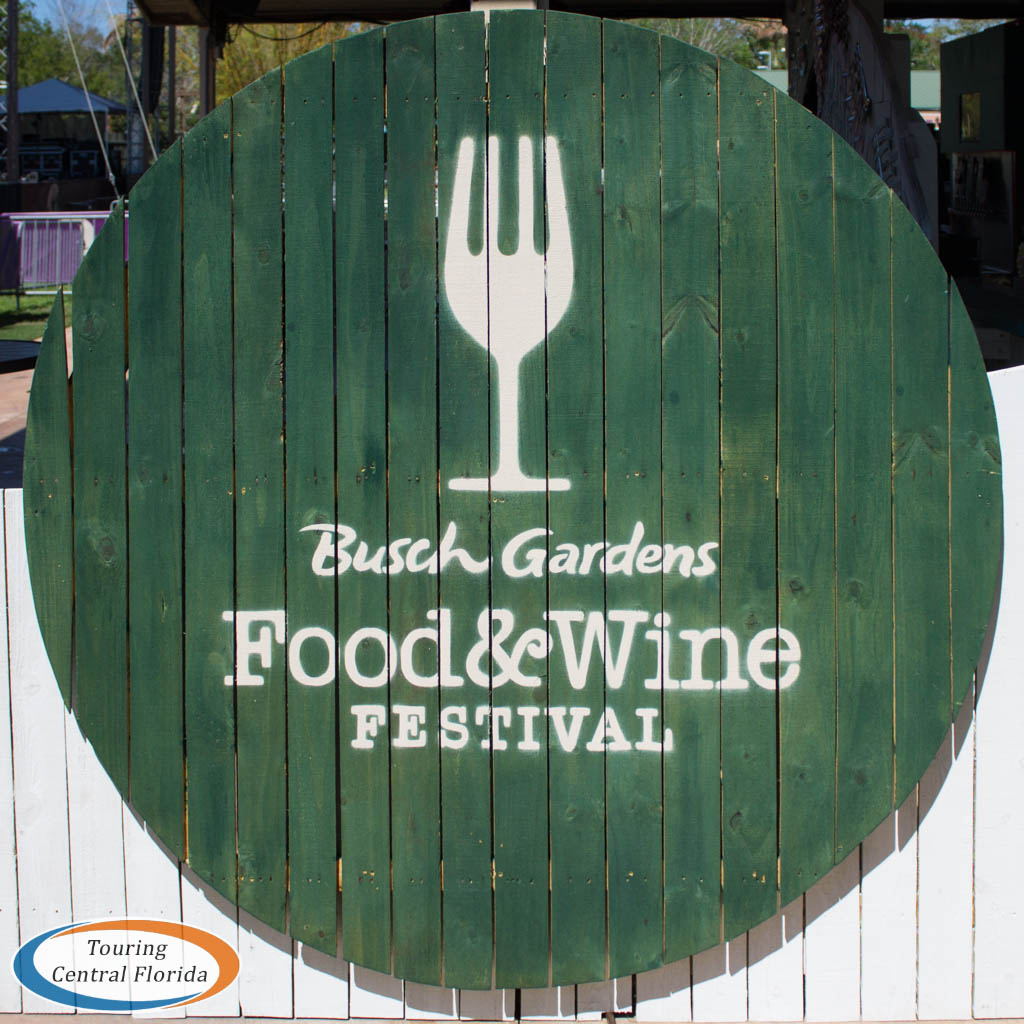 Don't miss our other Food & Wine guides (coming soon):
Festival Guide  —  Drink Guide  —  Concert Guide
---
Join in the conversation online by using #CorksAndCoasters. For the latest on Busch Gardens Tampa and other theme parks, attractions and more across the region, be sure to follow Touring Central Florida on twitter @TourCentralFL & @androckb and like our facebook page.