NOTE: Be sure to check out our 2020 Busch Gardens Food & Wine – Food Guide!
---
With the 5th Annual Busch Gardens Tampa Bay Food & Wine Festival now underway, it's time for a look at all the culinary creations available! There are nearly 40 sampler size portions available at 13 cabins, including 35 new items this season. Whether you choose to purchase items as you go or get a Sampler Lanyard, check out our full food guide below with prices, reviews of items we tried, and more.
The event runs each Saturday and Sunday (plus Friday, April 19) from noon until close through April 28, 2019. In the interest of full disclosure, some of the items we tried below were purchased using a sampler lanyard the park provided at a media preview of the event. Others were purchased out of our own pocket.  As always, all opinions are our own.
While we've attempted to provide the most accurate information possible, all of the details, pricing and item availability are subject to change without notice. Last update: 4/19/2019.
Be sure to check out our other Food & Wine guides:
---
Sampler Lanyards
Available for purchase at the Welcome Center or at any of the festival cabins, the Sampler Lanyards can save you money if you're planning on purchasing multiple items. The best part is the lanyards can be shared among your party, and are good throughout the duration of the festival, so no need to buy one for every person or feel you need to use all the punches in one visit.
There are three price points for the lanyards – $29.99 for a five-item lanyard, $39.99 for an eight-item lanyard, and $54.99 for a 12-item lanyard. Annual pass members can also get a special 15-item lanyard for the price of a 12-item lanyard, but no further discount is applicable. Annual pass member discounts do apply to the 5 and 8-item lanyards.
The lanyards are valid at every booth for every food and beverage item, and the sizes for the food or beverage items are the same whether using a punch on the lanyard or paying out of pocket. How much you can save will vary depending on which lanyard you purchase and what items you choose, but assuming you get a 12-item lanyard and stick to the most expensive food and beverage items, you can easily save $30 compared to the full prices of menu items.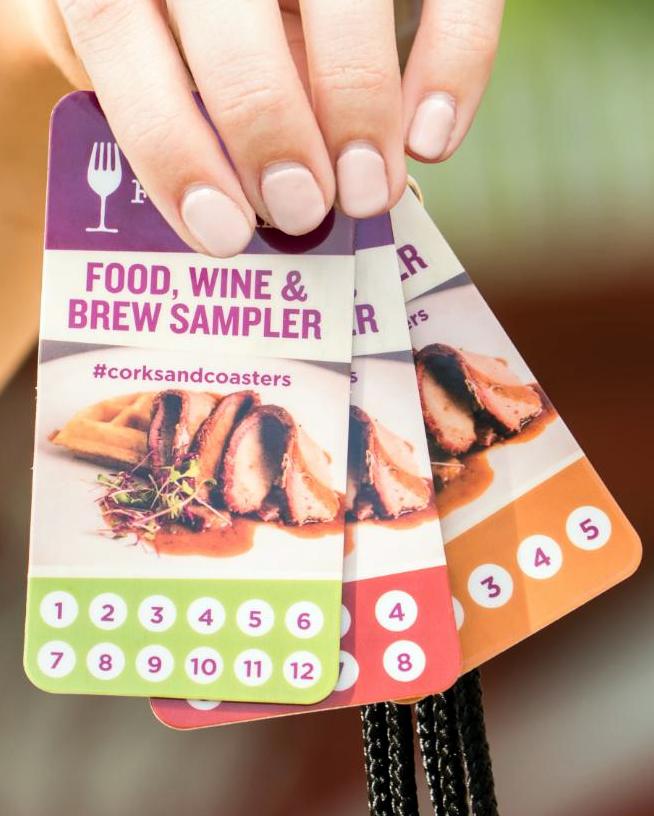 ---
Cabins
For 2019, Busch Gardens is advertising the menus as receiving the biggest makeover since the festival's inception. In fact, returning guests will see an almost completely new set of menu items, with only four dishes coming back from last season.
The theme this year is dining across America, with booth names and dishes representing regions across the nation. The cabins are open from noon to park close on event days, but individual items can begin to run out later in the day.


Most cabins offer three sample size items. About half of the cabins have two savory options and one sweet/dessert item. You can pay out of pocket (annual pass member discounts apply) or use your sampler lanyard punches at any of the cabins.
Below you'll find a complete listing of all items, including pictures and our thoughts on the dish when available. Items marked (V) are vegetarian, and items marked (GF) are gluten free.
At most of the cabins an assortment of Coca-Cola products, bottled water and beer is available. Some cabins also feature a paired wine, cocktail or beer – those items are listed with each specific cabin below. For more on the various wines, beers, cocktails and other beverages available, see our in-depth Busch Gardens Tampa 2019 Food & Wine Festival Drink Guide.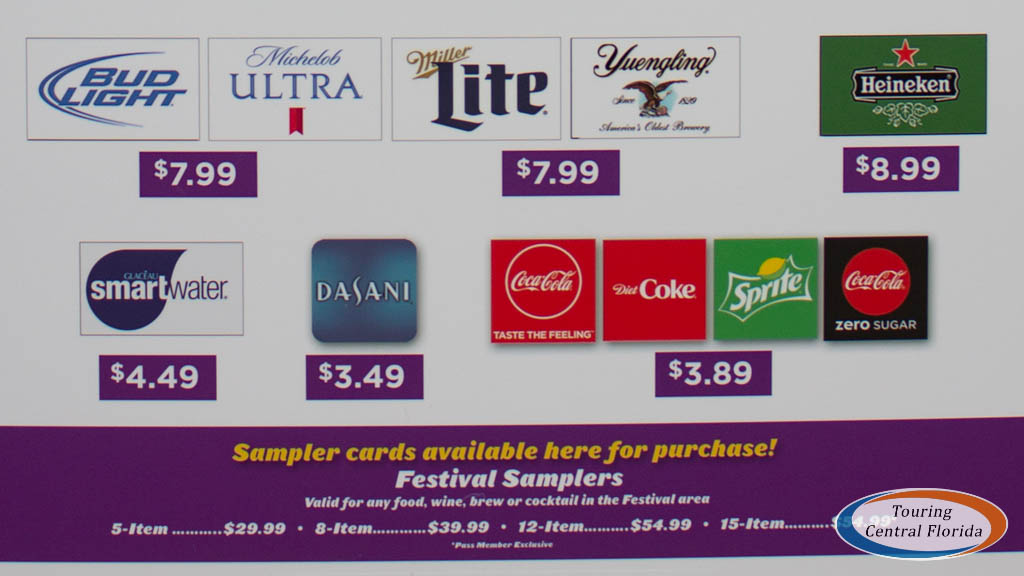 Be sure to check back to the guide throughout the festival for additional pictures and reviews of the items we try.
---
Below is the map for the 2019 Busch Gardens Tampa Bay Food & Wine Festival. There are a total of 31 food & beverage locations (plus five alcohol tasting booths that aren't numbered, and additional gift & game spots). The food cabins are listed below in numerical order.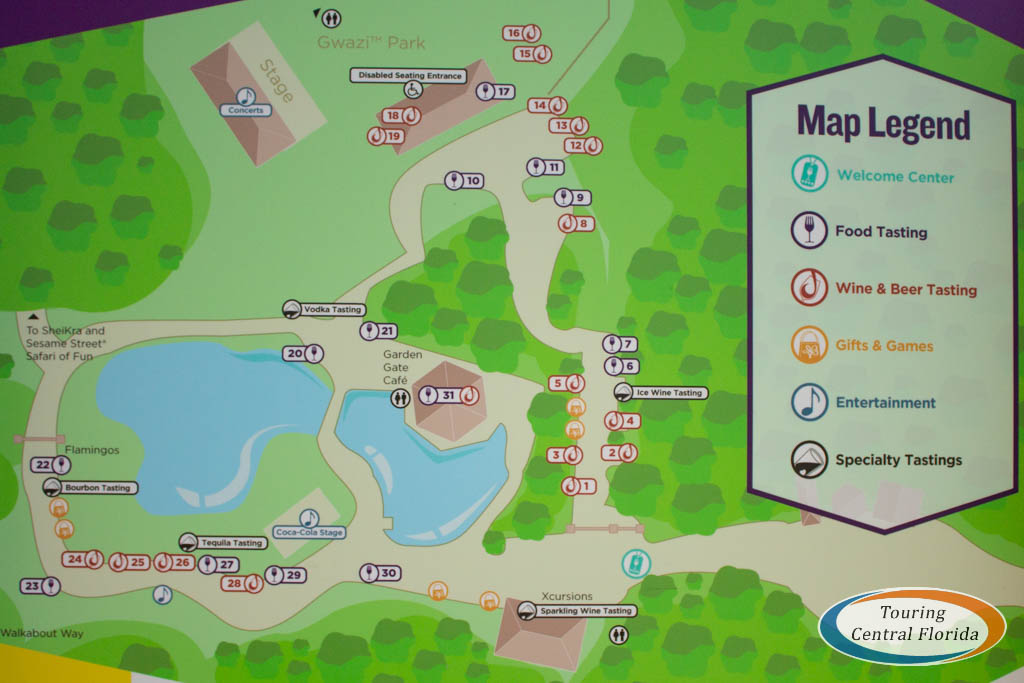 ---
Northern California (#6)
Lollipop Lamb Chop – $7.00 – with 10-Year Aged Balsamic Drizzle (GF)
Duck Fat Fries – $7.00 – with Parmesan & Truffle Oil Aioli
Charcuterie & Cheese Cone – $5.00 – Meats, Cheeses & Olives (GF)
Cocktail – Frozen Grape Berry Bramble – $8.50 – Monin Wild Grape Syrup mixed with Monin Wildberry Puree, Pineapple Juice & Fresh Lemon Sour
The Duck Fat Fries return this season, one of just four items across the festival to make it back from last year. Simply put, they are delicious. I always suggest you ask for a little extra aioli, as that's the real star of this dish. It's a decent portion making it shareable.
Those who enjoyed the lamb chops from previous seasons will likely enjoy the new take with balsamic drizzle. The lamb chop we tried was tender but a bit fatty, though that's really just luck of the draw. The balsamic is quite fragrant, but taste-wise did not overpower the lamb, but rather complimented it nicely.
The Charcuterie & Cheese Cone was a mixed bag in our opinion. The presentation is visually appealing, with the meats being the real stars of this dish. The cheeses were underwhelming, with the chunks of one variety being too large, and the other variety was almost tasteless. Definitely a shareable item, as there were two of each type of meat, cheese and olive inside the cone.
---
SoCal (#7)
Baja Fish Taco – $7.00 – Beer Battered Fish topped with Pineapple and Cilantro Slaw
Blistered Shishito Peppers – $7.00 – with Lemon Aioli (V)
Cheeseburger Slider – $7.00 – with Fresh Pico and Guacamole
Impossible Slider – $7.00 – with Fresh Pico and Guacamole (V)
Wine – Prophecy, Pinot Noir – $8.50
All four food items at this booth are advertised as new for Food & Wine, but the inaugural Bier Fest held in late summer 2018 featured both a beef and Impossible slider.
The Impossible Slider, unlike its cheeseburger counterpart, is a meatless substitute designed to replicate the same texture as ground beef. When we tried it during Bier Fest, we agreed it did have a very similar texture as ground beef, but wasn't nearly as juicy or flavorful as the real deal.
This season, the Cheeseburger Slider we tried was quite good, being cooked a medium well. The guacamole kept the slider from being dry. The Baja Fish Taco tasted fresh, with a crispy light fry, although it's not the most complicated or elaborate dish.
---
NOLA Eats (#9)
Grilled Oysters – $7.00 – topped with Creamed Spinach, Andouille Sausage & Toasted Garlic Panko (GF)
Chicken Gumbo – $5.00 – Creole Flavored Stew with Chicken and Andouille Sausage over Rice
Bananas Foster Cheesecake – $7.00 – Rich Cheesecake smothered in Gooey Banana and Rum Glaze (V)
Cocktail – Hurricane – $8.50 – White & Dark Rum with Lime Juice, Orange Juice & Passion Fruit Juice
We got a taste of the Bananas Foster Cheesecake at the media event for the 60th Celebration Kickoff. The dessert cup was rich, with creamy cheesecake and chunks of bananas mixed in.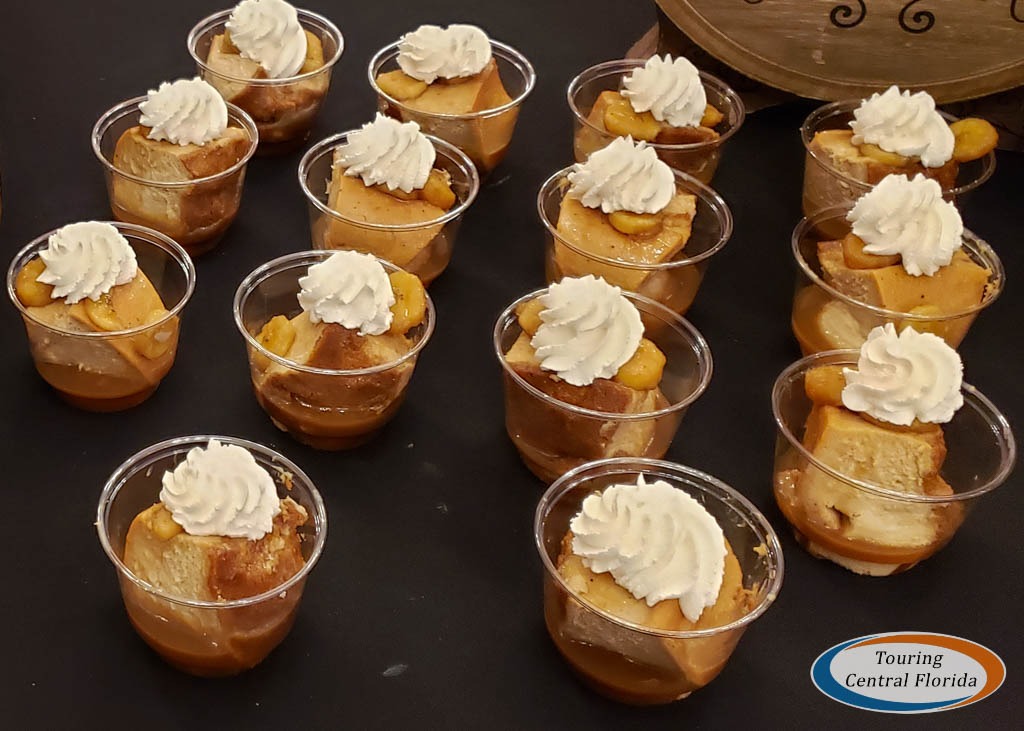 ---
The Heartland (#10)
Potato & Cheese Pierogies – $5.00 – with Sour Cream and Chive Dip (V)
Italian Hot Beef Sandwich – $6.00 – Chi Town's Slow Roasted Shaved Roast Beef coupled with Giardiniera
St. Louis Ribs – $6.00 – with Kansas City Style BBQ Sauce
As someone who grew up with amazing handmade, homemade pierogies, they aren't by any means an exotic choice. The version here are a simple dish, too, and in fact look like standard Mrs. T's pierogies. That's not to say they're bad, but compared to other dishes with great flavor combinations, this one is far more basic. The deep dry makes them crispy, which does add a bit of texture compared to a standard pan fried pierogi.
Haven't yet tried them, but photos of the Italian Hot Beef Sandwich and St. Louis Ribs are also included below.
---
The Boardwalk (#11)
Taylor Ham Mac N Cheese – $7.00
Griddled Cheesecake Handheld – $7.00– Griddled Pound Cake with Cream Cheese Filling, Topped with a Raspberry Coulis (V)
Maryland Style Crab Cake – $7.00 – with Mustard Sauce
This cabin features the second returning item from the past – the famous Griddled Cheesecake Handheld. The image below is from the park promoting this year's event.
While technically a new entry, the Taylor Ham Mac N Cheese definitely has its roots in the previous bacon version of the dish that was popular for several seasons. This new variation was rich and creamy, with small diced Taylor Ham. Hearty serving and satisfying comfort food.
---
Tex Mex Cantina (#17)
Short Rib & Cheddar Quesadilla – $7.00 – Tender Braised Short Rib with Peppers, Onions, Fresh Pico and Sour Cream
Grilled Elote – $5.00 – Mexican Style Street Corn, Chargrilled & Shaved Off the Cob,

with Cotija Cheese, Chili-Lime Crema (V)

Chorizo Queso Fundido – $6.00 – 

Monterey Jack Cheese, Sweet Onions & Shishito Peppers with a side of Crisp Tortilla Chips

Cocktail – Pepper Melon Margarita – $8.50 – Watermelon Margarita with a hint of Spicy Jalapeno
Beer – Corona Extra – $8.99 – Pale Lager ABV 4.6% / IBU 19.3
The Short Rib & Cheddar Quesadilla was great, with a fresh flavor from the peppers and onions mixed in with the meet and gooey cheese.
We grabbed a shot of the Grilled Elote at the 60th Celebration Kickoff event. While we didn't get a chance to taste the dish, it is certainly one of the more colorful options this season.
---
Tampa Tavern (#21)
Cuban Egg Roll – $7.00 – with Mustard Dipping Sauce
Crispy Snapper Sandwich – $7.00 – with Lemon Aioli & Pickles
Key Lime Pie – $6.00 (V)
Wine – Blackberry Sangria – $8.50 – Freshly prepared Sangria made with Red Wine & Brandy
Beer – Cigar City Jai Alai – $8.99 – IPA ABV 7.5% / IBU 70
Beer – Brew Bus You're My Boy, Blue! – $8.99 – Blueberry Wheat Ale ABV 5% / IBU 12
Special thanks to Misfits Unmanaged for the image of the Cuban Egg Roll.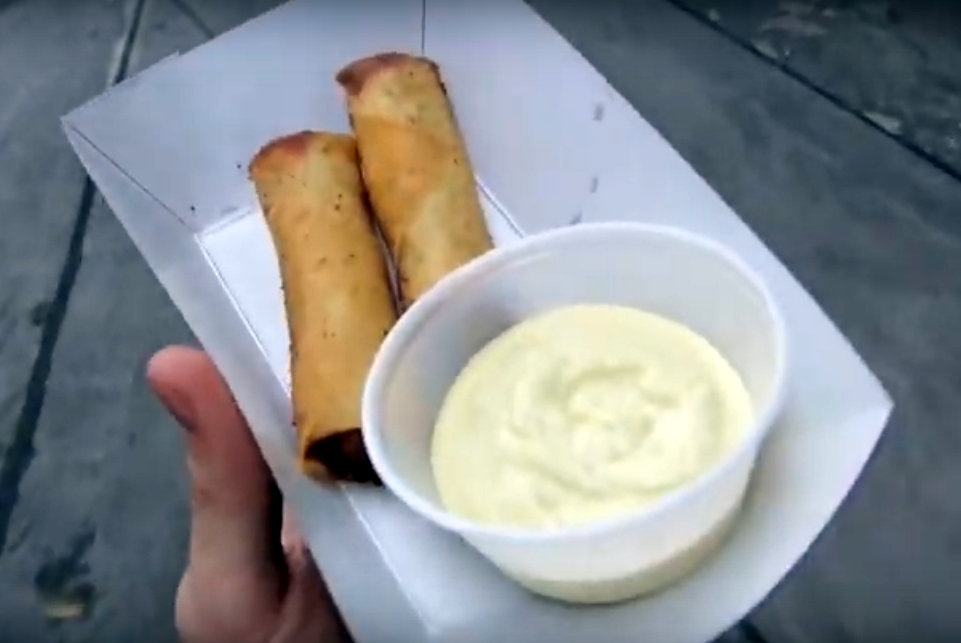 ---
Vivi's Fried Chicken (#21)
Vivi's Fried Chicken – $6.00 – Busch Gardens' Signature Fried Chicken with a Spicy Honey Drizzle
60th Celebration Cupcake – $5.00
Two new items round out the menu at the last booth of the festival, and both pay homage to the park's past. The fried chicken is the park's special recipe, available on the buffet at Serengeti Overlook Restaurant (currently serving on Fridays through Sundays).
A large, sweet treat is the best description of the 60th Celebration Cupcake. It's easily shareable, and makes for a fun photo to share on social media. The vanilla rainbow colored cake and sweet icing is topped with a chocolate version of the Busch Gardens coaster tree logo.
Special thanks to Misfits Unmanaged for the image of Vivi's Fried Chicken.
---
Southern Cuisine (#22)
Southern Fried Chicken & Biscuit – $7.00 – with Bourbon Blackberry Jam
Bacon & Cheddar Hushpuppies – $5.00 – Served with House-Made Dipping Sauce
Fried Green Tomatoes – $6.00 – with Pimento Cheese Spread & Jalapeño Pepper Jelly (V)
Cocktail – Bourbon Peach Sweet Tea – $8.99
---
Aloha Eats (#23)
Kona Crusted Filet Mignon – $7.00 with Maui Onion Butter & Mashed Potatoes (GF)
Kahlua Pulled Pork Slider – $7.00 – on a Hawaiian Sweet Roll with Pineapple Agro dolce
Pineapple Upside Down Cake – $5.00 – Buttery Yellow cake, Golden Ripe Pineapple and Rich Caramel (V)
At the 60th Celebration Kickoff event, we had the opportunity to sample the Kona Crusted Filet Mignon, and were impressed with how tender it was. The butter and potatoes complimented the filet quite well. It was so tasty, we sampled it again once the festival opened. The portion is decent for such a good cut of meat, with either two smaller medallions or one bigger piece served.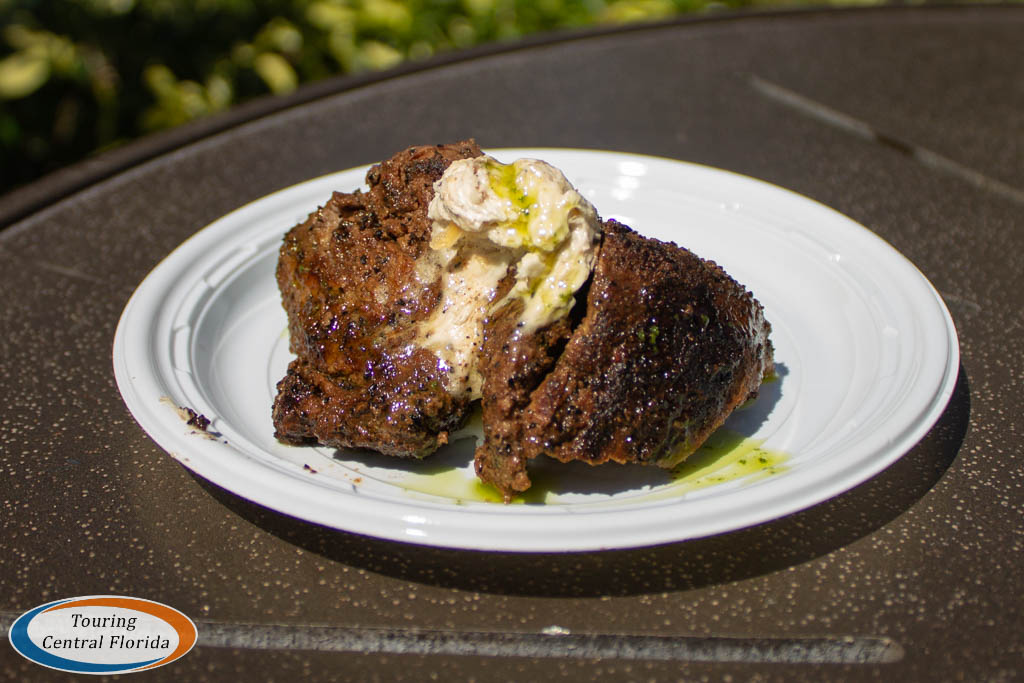 ---
New England Tavern (#27)
Lobster Roll – $7.00 – served on a Buttered Split Top Roll
New England Style Clam Chowder – $5.00
Maine Blueberry Rhubarb Crisp – $5.00 – Topped with Whipped Cream (V)
Beer – Samuel Adams, Boston Lager – $8.99 – ABV 5% / IBU 30
Perhaps the best out of pocket value of the food items we've tried, the lobster roll was a generous portion of the crustacean on a Hawaiian sweet roll. It had a light and fresh taste, and like many of the items at the festival, could be split between two for a nice snack. Sometime over the second weekend of the festival, the decision was made to change to serving size to a half roll, no longer making this item shareable. It's still loaded with a fair amount of lobster, so it remains a good use of a sampler punch, but certainly doesn't have quite the same value it did as a full roll (shown as originally served in the second image).
---
Pacific Northwest (#29)
Cedar Plank Alaskan Salmon – $7.00
Bison Slider – $7.00 – with a Sweet and Spicy Bacon Onion Jam
Dungeness Crab Croquettes – $7.00 – with Lemon Aioli
Wine – Joel Gott, Pinot Gris – $8.50
A little different than the standard beef patty, the Bison Slider was a nice change of pace. Although the menu listed it coming served with a jam, ours was topped with pickles when ordered on the third weekend of the festival.
The salmon was fresh and had a nice flavor, but this dish doesn't have the same value as many of the others at the festival. The portion size is much smaller than anticipated for the $7.00 price tag, so definitely use a sampler lanyard if you want to try this item to make it worth it.
---
Coke Fusion (#30)
Sticky Pibb Wings – $5.00 – Fried Chicken Wings, Tossed in a Sticky Sweet and Savory Mr. Pibb Sauce
Cherry Coke Pulled Porker Slider – $7.00
Coke Infused Chocolate Cupcake – $5.00 – Topped with Pop Rocks Candy
The only true returning cabin at this year's festival, Coke Fusion brings back the pulled pork slider and cupcake and is joined by the new Sticky Pibb Wings.
Those Sticky Pibb Wings are an interesting dish. Grab an extra napkin or two, because they are indeed sticky, and like a good wing, they are messy. The Pibb sauce gives them an unusual sweet flavor, most closely resembling the taste of a Tootsie Pop in our opinion. That wasn't a negative, it just made for an interesting flavor combination with the underlying barbeque tones.
The cupcake has been available the last couple of seasons, and has been moist with a strong chocolate flavor. What really makes the cupcake is its topping, the Pop Rocks, which add a unique sensory experience to an otherwise standard (but tasty) treat.
We were a little underwhelmed last season by the puller pork slider, noting the sauce wasn't as sweet and flavorful as the previous year. The good news is this season, the sweeter sauce is back, and it packs a noticeable Cherry Coke flavor.
---
Garden Gate Cafe (#31)
As sort of a "bonus" location, along with offering free beer to guests of age (2 free samples per day), Garden Gate also offers flatbreads and several brews for sale. The flatbreads can be purchased a la carte as a full serving, or you can get half a slice for one punch on a sampler lanyard.
Flatbread – $9.99 – Cheese, Pepperoni or Chicken Alfredo
---
Tips
Get a sampler lanyard. If you're planning on eating or drinking more than a handful of items, get a lanyard, especially if you'll be visiting multiple times during the festival. Stick to the higher price items, and you'll be saving a good chunk of change versus buying each item separately. Plus, no need to keep digging in your pocket or purse for cash or a credit card at each booth.
Hit your must eats early. If there is an item to two you know you have to try, make sure to visit those cabins earlier in the day – for two reasons. First, when the festival area opens right at noon, crowds generally aren't as big, so you'll wait less in line. And second, since many of the items are made fresh daily, it's not uncommon for some things to run out toward the end of the day, especially after the concerts.
Ask for the Allergy Guide. Located at each cabin should be an Allergy Guide, which will have information on each dish and what it contains, including common allergens. Just ask an ambassador for assistance.
---
If You Go…
5th Annual Food & Wine Festival
at Busch Gardens Tampa Bay
Saturdays & Sundays from March 16 through April 28, plus Friday April 19
Noon to close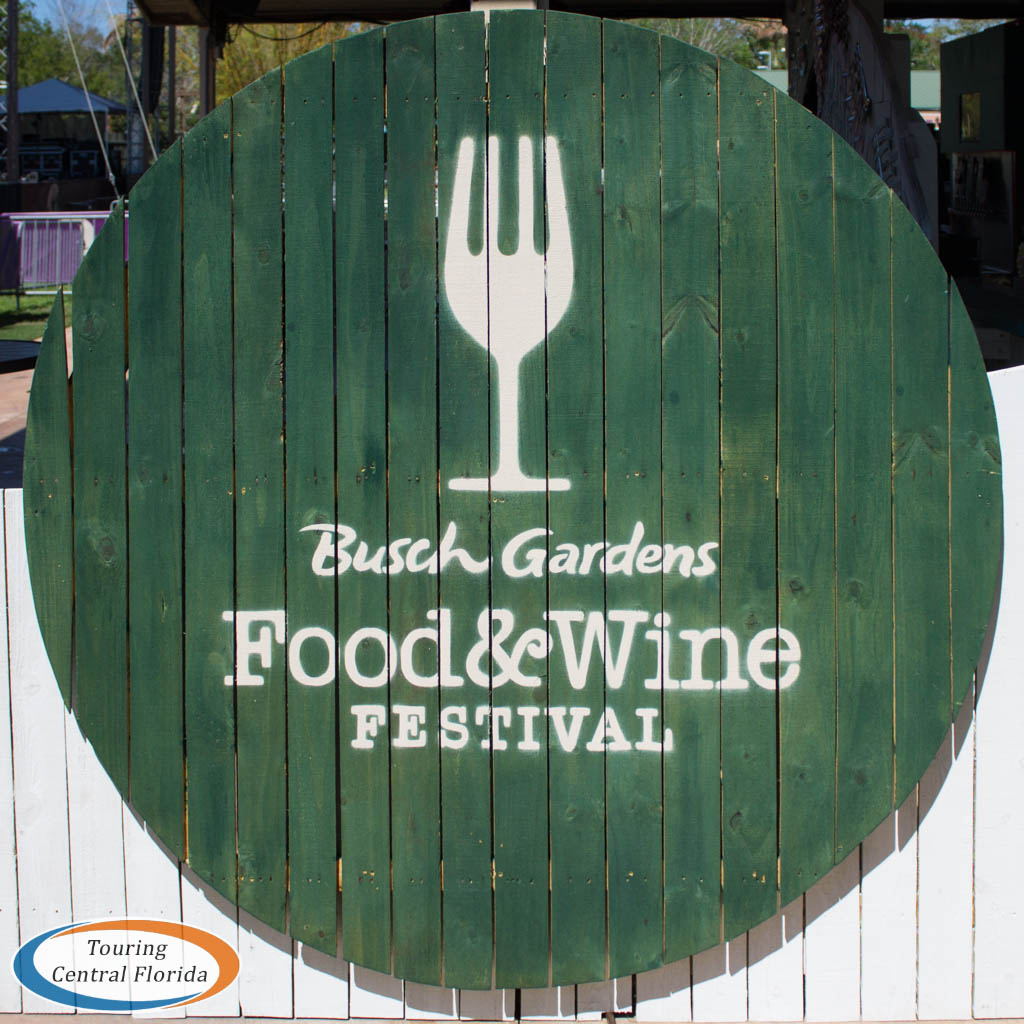 Don't miss our other Food & Wine guides:
---
Join in the conversation online by using #CorksAndCoasters. For the latest on Busch Gardens Tampa and other theme parks, attractions and more across the region, be sure to follow Touring Central Florida on twitter @TourCentralFL, @androckb, @Emmet_TCF, @JacobTouringCe1, and give our facebook page a like.