Check out the News & Notes for October 2020, with a look ahead at what's happening at Busch Gardens Tampa Bay, along with a review of some of the recent changes and news from the park.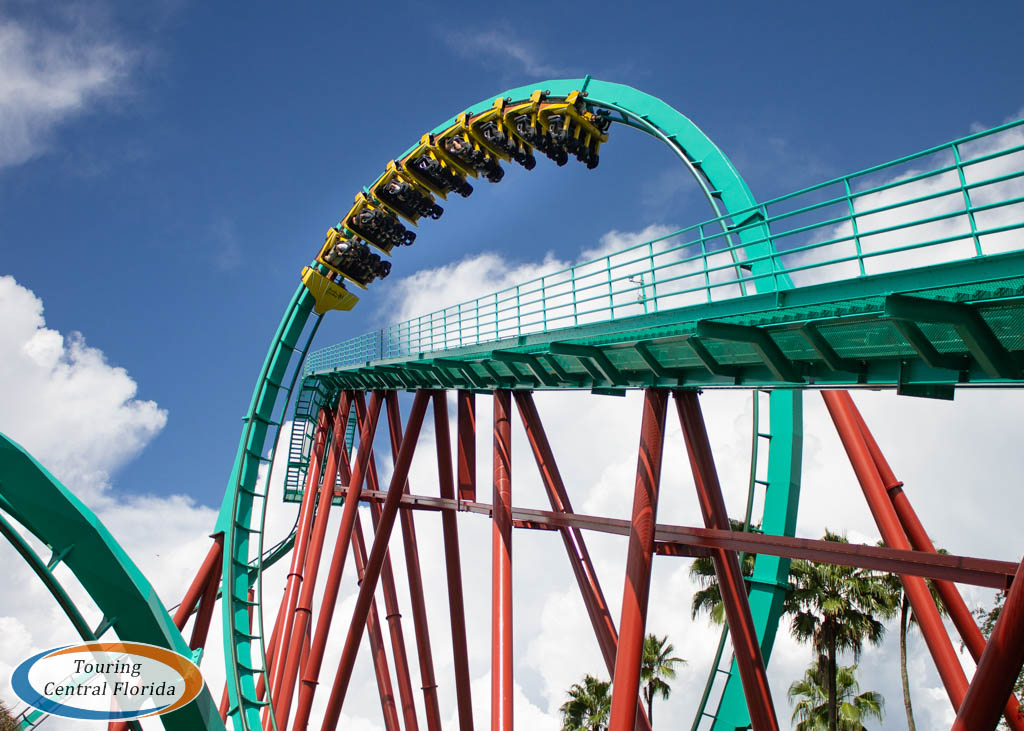 ---
Looking Ahead
Admission Offers: See our Busch Gardens Tampa Special Offers page for available sales on admission. Current offers include discounted single & multi-day tickets and the 2021 Fun Card with the rest of 2020 free.
Pass Member Offers: See our Busch Gardens Tampa Special Offers page for available pass member offers including free Bier Fest samples this month.
Special Events: Bier Fest, Sesame Street Kids' Weekends, and Howl-O-Scream are both running on weekends this month. For more on these events, see the article below.
Scheduled Refurbishments & Closures: Phoenix remains closed indefinitely, as it has since April of 2018. In addition to that, the following attractions are also closed and do not have a reopening date scheduled:
Congo River Rapids
Cookie Monster Canopy Crawl
Cookie Monster Cloud Bounce
Elmo's Treehouse Trek
Stanley Falls Flume
Skyride
Slimey's Sahara Sand
Telly's Jungle Jam
Treetop Trails
Ubanga Banga Bumper Cars
Wild Surge
---
Bier Fest Adds Fridays
Bier Fest 2020 kicked off in mid-September at Busch Gardens Tampa, and Fridays from 2 to 6 p.m. have now been added to the event's schedule. Saturdays & Sundays will see the festival continue to run from 12 to 6 p.m. A few select Bier Fest booths remain open during Howl-O-Scream.
The event runs on weekends through November 15 and features not only brews but other adult beverages and a selection of food items as well. Along with new sampler lanyards that are available for sale, those guests with leftover punches on their 2020 Food & Wine Festival lanyards can also use those at Bier Fest.
Before you enjoy Bier Fest, be sure to check out our huge guide with menus, prices, a look at some of the items available, and some tips that could help you save some money!
Annual pass members can get a free Bier Fest sample each weekend in October – see our Busch Gardens Tampa Special Offers page for details.
---
Howl-O-Scream Kicks Off
Tampa Bay's premier Halloween themed event, Howl-O-Scream, returned on September 25 and will run on Friday, Saturday, and Sunday evenings through November 1, 2020. It will run from 7 p.m. to midnight on Fridays & Saturdays, and 7 p.m. to 11 p.m. on Sundays. Howl-O-Scream is a separately ticketed event and is not included in any annual pass or daytime admission.
This year's event has been modified to allow it to fall within recommended safety guidelines, which means only outdoor scare zones and no haunted houses. Fiends also returns this season but has moved to the stage on Gwazi Field to allow outdoor seating with plenty of space for guests.
See what we thought about Howl-O-Scream 2020 in our recent article.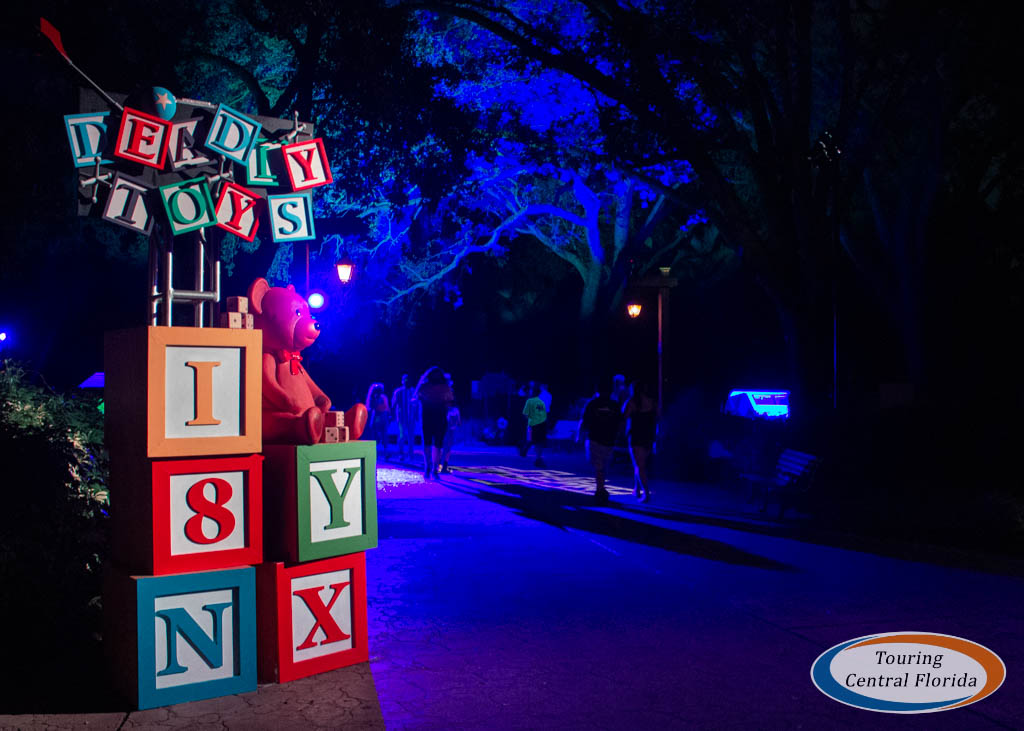 ---
Sesame Street Kids' Weekends
On Saturday & Sunday afternoons this month, Sesame Street Kids' Weekends return to Busch Gardens Tampa with trick-or-treating, a special Halloween themed show, and more. The event will run from noon to 3 p.m. each weekend, and access is included in any park admission. See more details on the event and its offerings in our recent article.
---
Walking Around
Crowds on the weekends, especially Saturdays, continue to rise with the special events being added at Busch Gardens Tampa. Reports of long lines to park and enter the gates have been reported on Saturday mornings, with some guests frustrated at the wait times just to get in. To avoid waiting longer than necessary, arrive early (parking lots open at about 9:30) or wait until the afternoon. Try not to arrive between 10 a.m. and 1 p.m. on weekends, which is when most guests show up.
While crowds have certainly increased on weekends, weekdays remain fairly quiet at Busch Gardens Tampa. Lower crowds, however, also mean more closures during the week. Congo River Rapids recently went from weekend-only operation to being closed entirely. Sesame Street Safari of Fun now closes at 3 p.m. on weekdays. Dining options are also reduced on weekdays –  Zagora Cafe has only been open on weekends, and even Zambia Smokehouse has only been open Fridays through Mondays from what we've heard.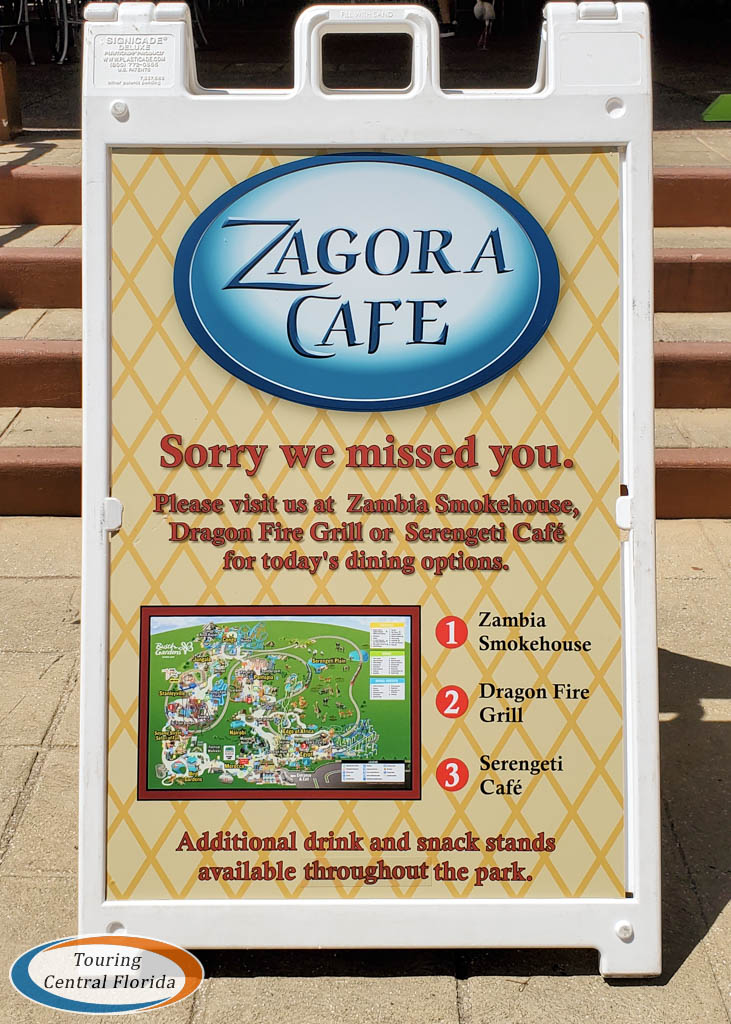 Since Howl-O-Scream is all scare zones this year, even more set pieces and props are part of the event. You'll see lots of them along the pathways during the day, though some anything particularly gruesome is covered or hidden behind the scenes until Howl-O-Scream starts on event nights.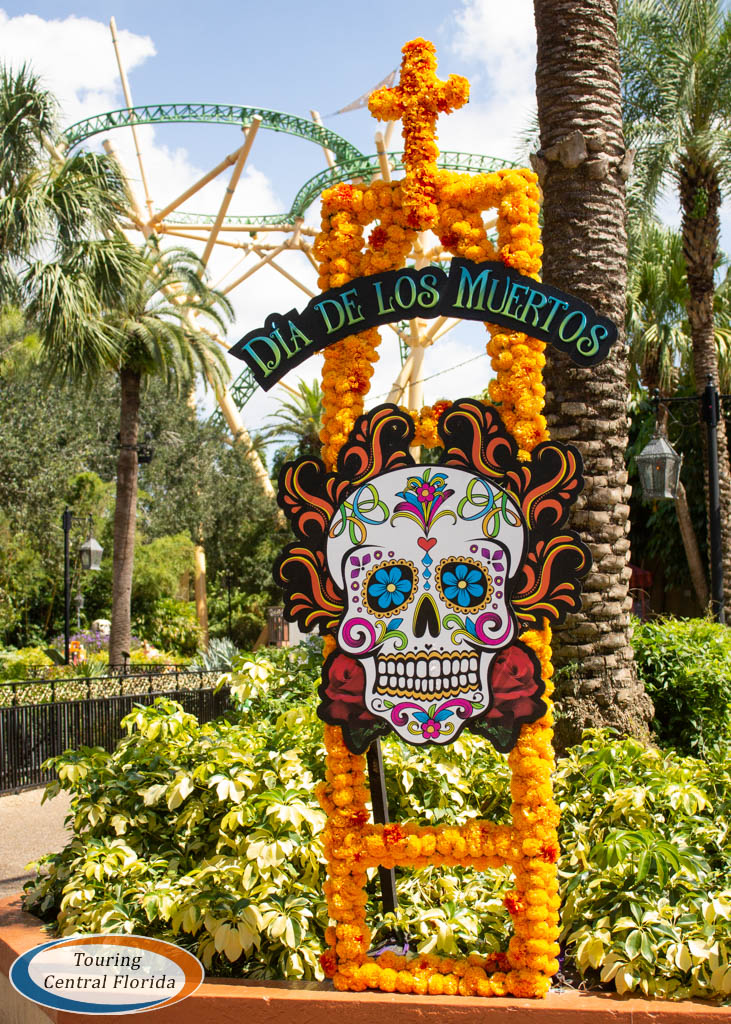 The carousel in Pantopia recently had its annual refurbishment. Normally, work walls are erected around the ride during its refurbishment, but this year the park chose not to do so, allowing for some interesting views. The carousel has since reopened.
While we didn't see it listed on the park's daily schedule or any signage, a pianist is now performing on at least some afternoons inside Dragon Fire Grill in Pantopia.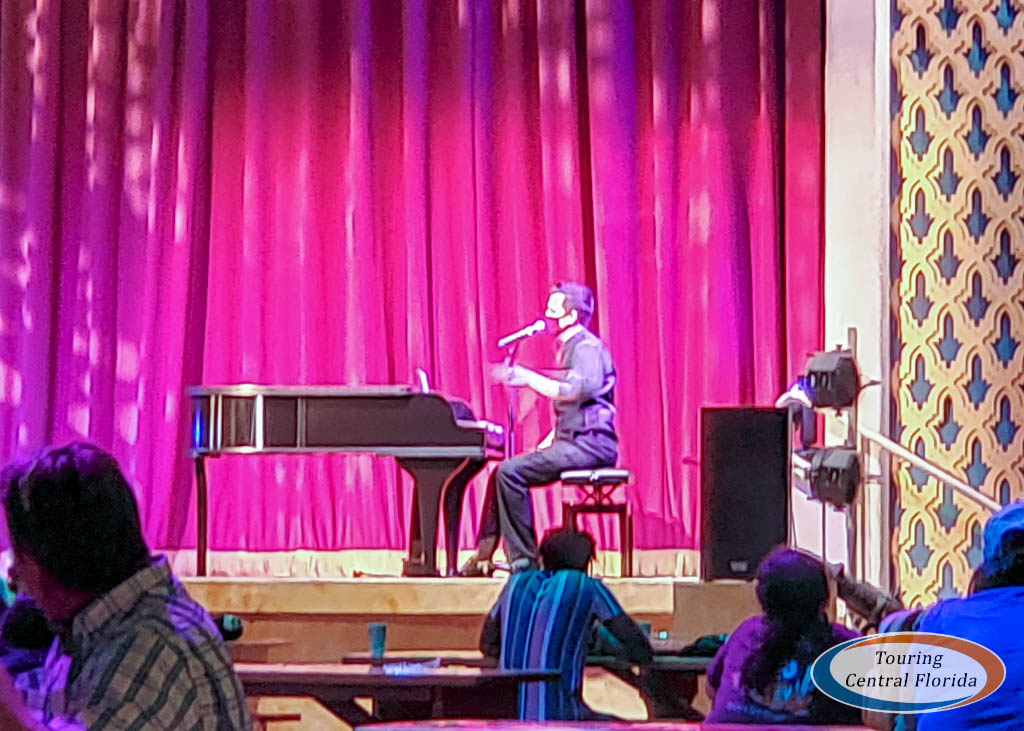 We heard Kangaloom recently reopened, allowing guests once again to visit kangaroos & wallabies in the Bird Gardens section of the park. Be sure to wash your hands after visiting the habitat – something that's always been recommended but is even more important now.
Several more animal tours have also returned to the park. In addition to the Serengeti Safari that returned over the summer, in recent weeks Busch Gardens has again been offering their Elephant Insider Tour, Aldabra Tortoise Insider Tour, and Sloth Encounter for booking. The Serengeti Safari is only able to be booked in person at the park, but the other three can be booked online in advance on the park's website.
UPDATE: Just in time for the second weekend of the month, the Penguin Insider Tour is also being offered again.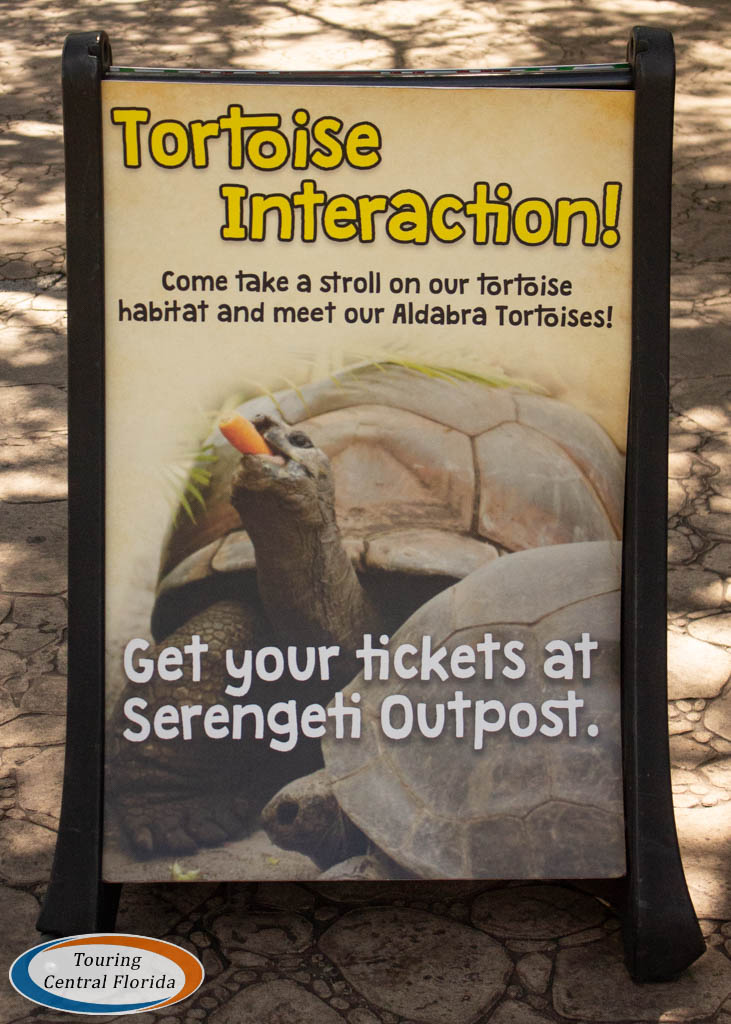 Something interesting has appeared in an employee parking lot recently – several large pieces and crates for what could be a new attraction at the park. Codenamed "Project Jethro" and rumored to be an S&S Screamin' Swing (like Finnegan's Flyer at sister park Busch Gardens Williamsburg), the new ride is supposed to go in the former Rhino Rally station area in the Nairobi section of the park. While permits for the project were filed and the large pink objects could be the huge air tanks for the attraction, the park has not officially announced anything about it.
---
For the latest on Busch Gardens Tampa and other theme parks, attractions, and more across the region, be sure to follow Touring Central Florida on twitter @androckb & @TourCentralFL, and like our Facebook page.