Bier Fest has returned to Busch Gardens Tampa Bay and is scheduled to continue on weekends through November 15, 2020. The festival area and cabins selling a variety of food & beverage items will be open each Saturday & Sunday from noon until 6 p.m. Beginning September 25, Bier Fest will also run on Fridays from 2 to 6 p.m. "A Taste of Bier Fest" has also been added to select Thursday nights; see full details in the Bier Fest Basics section below.
The park is continuing with its enhanced safety guidelines, including physical distancing and requiring face coverings for all employees and guests ages 2 and above. In addition to your admission, be sure to make a free reservation online before your visit, and be prepared for a mandatory temperature check along with the normal security check before entering the park.
In the interest of full disclosure, a few of the items reviewed were obtained by using a sampler lanyard we received from the park as a media outlet. However, we visited the event multiple times using our own admission, and most items reviewed were obtained by using the free sample vouchers as part of the pass member rewards or through a sampler lanyard we purchased. As always, all opinions shared are our own based on our experiences.
Let this article be your guide to Bier Fest 2020 at Busch Gardens Tampa with a look at everything it has to offer, including full menus with prices, reviews of items we tried, and more. This article was last updated on November 13, 2020.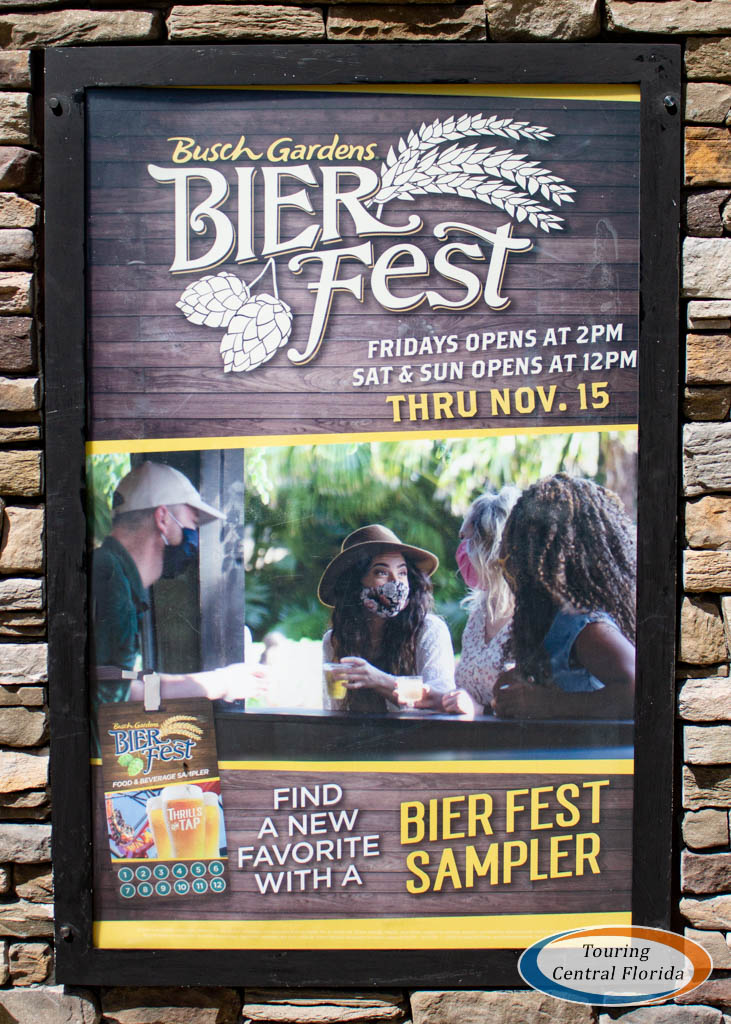 ---
Bier Fest Basics
This is the third year for the beer festival at Busch Gardens Tampa and will mark its longest run with a total of 10 weekends. Access to the Bier Fest area is included with any admission into the park, with food & beverage items available for purchase.
You'll find all of the Bier Fest locations detailed below around the Garden Gate area in the Bird Gardens section of the park. From the front gate, head towards the left past Zagora Cafe and Iron Gwazi to get to the festival area. The booths are scheduled to be open from noon until 6 p.m. each Saturday & Sunday, and beginning September 25, on Fridays from 2 p.m. to 6 p.m. Select booths will also be open during Howl-O-Scream on Friday, Saturday & Sunday evenings.
NEW: On October 9, Busch Gardens announced "A Taste of Bier Fest" would happen on two Thursday evenings – October 15 & 22 from 5 to 8 p.m. each night. During those evening hours, Bier Fest locations along the Festival Walkway (booths number 1 – 8), Xcursions (number 16), and the Bourbon & Tequila Tasting will be open. All other Bier Fest location will be unavailable. In addition, Cheetah Hunt, Cobra's Curse, and Montu will be open – other attractions & areas of the park will close at 5 p.m. Access to the event is included with any annual pass or daytime admission. A specially priced ticket ($24.99) is available for guests who only want to access the event from 5 to 8 p.m. See more details on the park's website.




There is no paper map or guide available this season, but the park has shared a digital version of a guide with map on their website. Download it to your mobile device or see the map boards around the festival area to help keep yourself oriented.
UPDATE: After the first weekend, booths #2 and #3 swapped locations on the Festival Walkway. Map boards around the Bier Fest area have been updated to show the change, but the digital guide still has the old layout. Here's the updated map as seen at the park: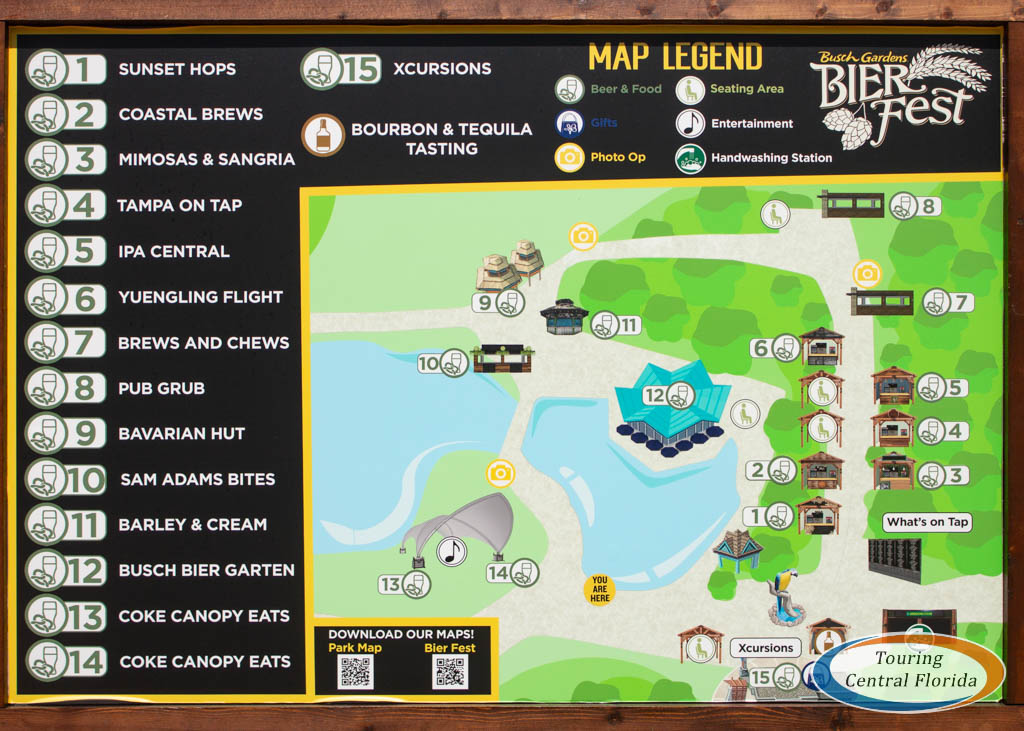 If the beer part of Bier Fest is what brought you in, check out the "What's on Tap" board next to the Festival Walkway entrance for the listing of available brews. While not expected to change week to week, this is the best spot at a glance to find a particular beer you may be interested in.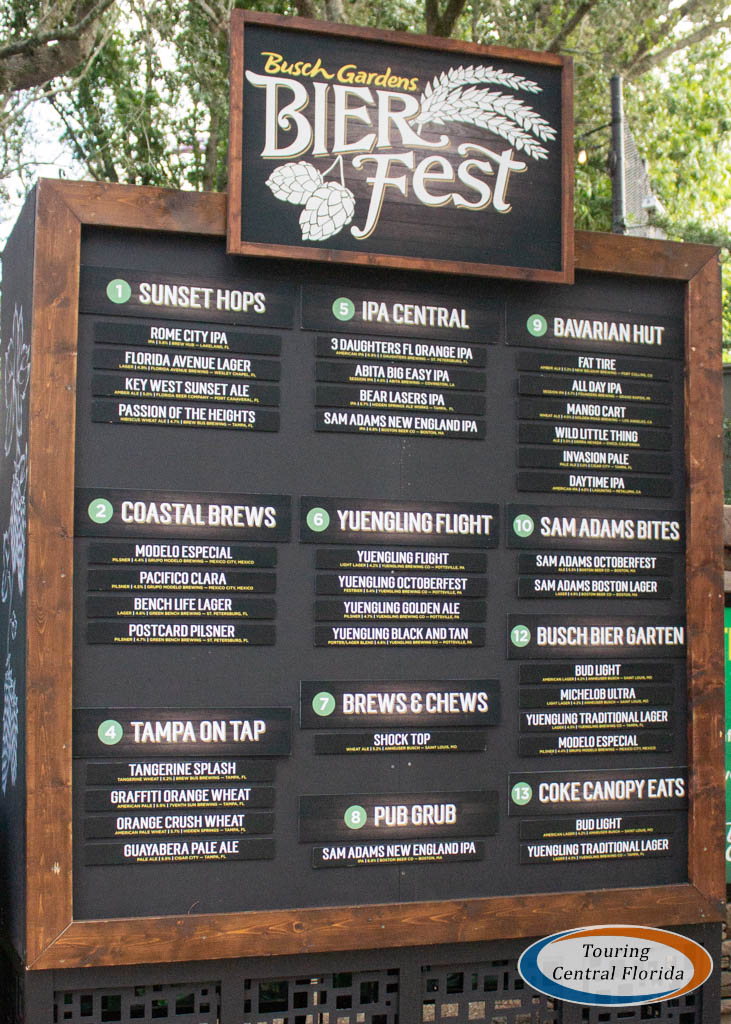 A handy guide to different types of beer is available in the digital guide.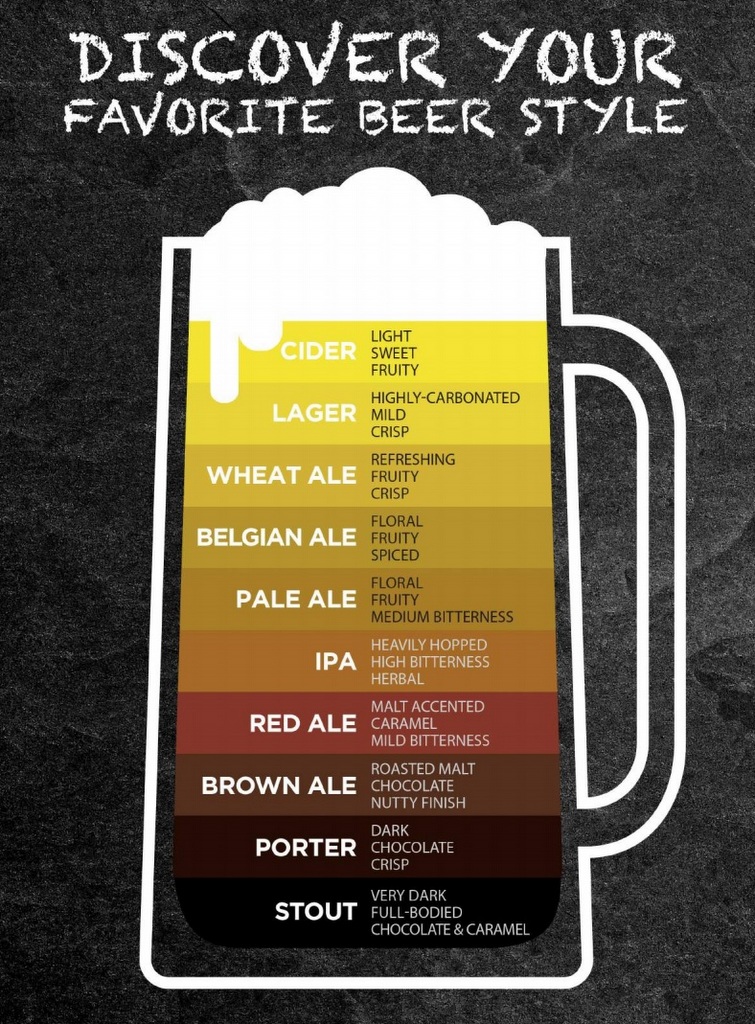 Keep an eye out for signage and markers on the ground designating entrances & exits for each of the booths and six-foot spans to keep socially distant from other guests. There are regular tables with chairs and standing high top tables throughout the Bier Fest area. If you can't find a table in the main festival area, head past The Coke Canopy towards the kangaroo habitat for some more spots to sit and relax.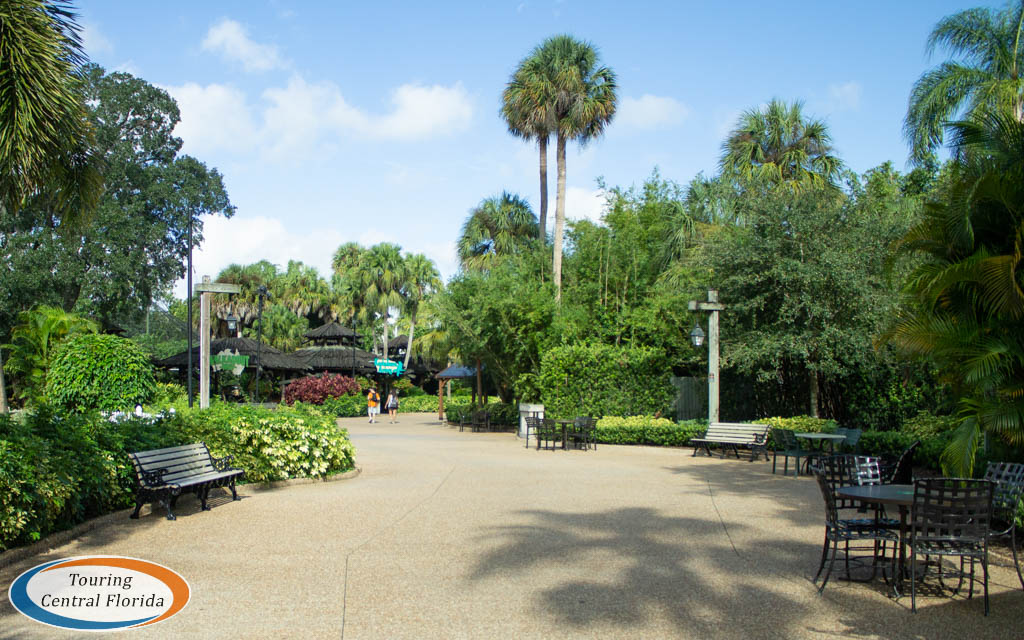 Please drink responsibly and remember to keep your distance from other guests while enjoying Bier Fest and the rest of your visit to Busch Gardens Tampa. When not eating or drinking, don't forget to keep your face covering over your mouth and nose as a courtesy to all of the other guests and hard-working ambassadors!
---
Pass Member Perks
Busch Gardens Tampa annual pass members get several special benefits at Bier Fest 2020, including their regular discount on single items or sampler lanyards, a voucher for three free samples, and an option to buy an exclusive sampler lanyard with three extra punches.
Pass members can get one voucher for three free samples for use during the event in September. Pass members should stop by the self-service kiosks in Zone A outside the gates and scan their pass to redeem. Look under Pass Member Rewards and be sure to choose the option for Busch Gardens Bier Fest. If you're having trouble at the kiosks, stop by the ticket booths or guest relations inside the park for assistance, but expect the lines to be long on weekend mornings. The offer can only be redeemed once per pass, and the voucher is valid for three food and/or beverage samples from any of the Bier Fest locations through September 27.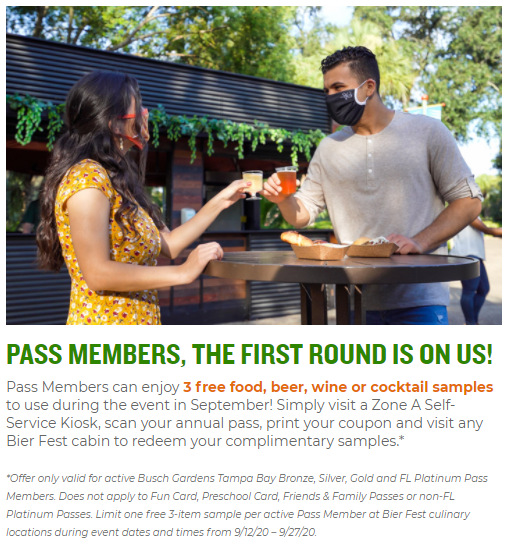 There is an exclusive sampler lanyard available to annual pass members to purchase for Bier Fest. It's for 15 items at the price of a 12 item lanyard (no further discount applies, however). Pass members can also opt to get their regular discount on the 5, 8, or 12 item sampler lanyards. See more details on the Bier Fest 2020 Sampler Lanyards in the next section.
For those not wanting to purchase a sampler lanyard, standard pass member discounts apply when purchasing food & beverage at Bier Fest 2020. Since pass discounts apply to most culinary and merchandise purchases at the park, it never hurts to ask for it anywhere in the park.
---
Sampler Lanyards
For Bier Fest 2020, Busch Gardens Tampa is offering sampler lanyards as an option for guests to use at the food & beverage cabins. Paying upfront for a sampler lanyard for a set number of items can be both a convenience and cost savings. A sampler lanyard can be used by one guest or shared among multiple people and can be used all in one day or across multiple event days. They are only valid at the Bier Fest locations and expire at the end of the event on November 15.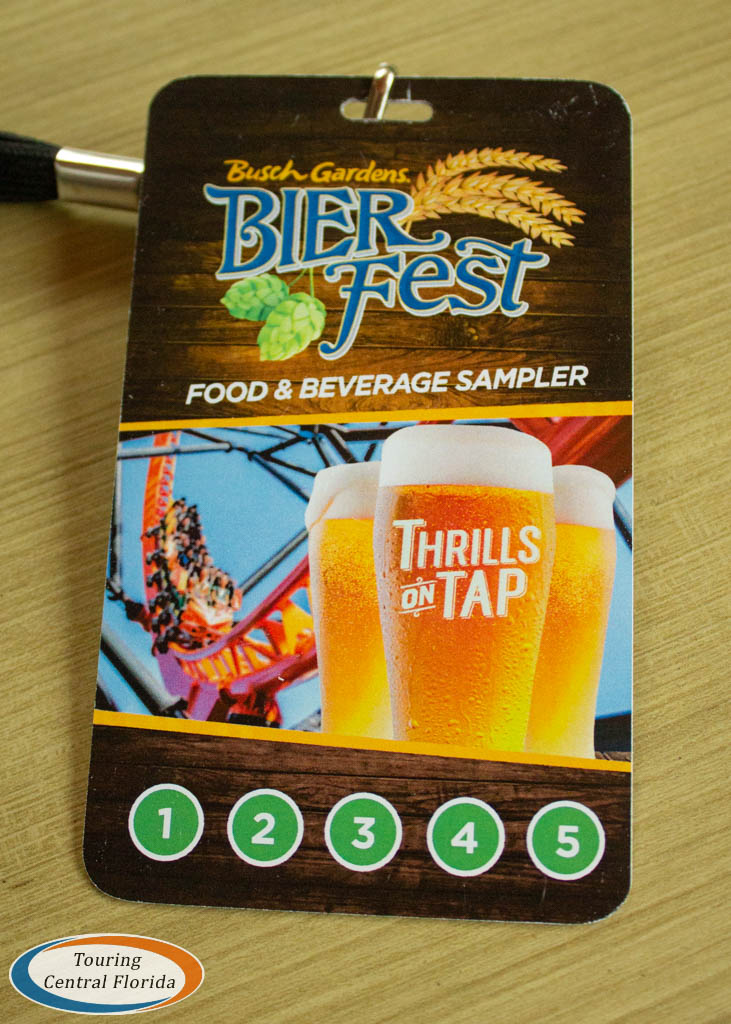 There are a total of four Bier Fest 2020 Sampler Lanyard options – three that are available to any guests, and one exclusive to annual pass members. They are:
5-Item Sampler Lanyard – $32.99 + tax
8-Item Sampler Lanyard – $44.99 + tax
12-Item Sampler Lanyard – $59.99 + tax
Pass Member Exclusive 15-Item Sampler Lanyard – $59.99 + tax
Annual pass members can use their discount on the 5, 8, or 12-item lanyards (discount amount ranges between 10 and 20 percent based on the annual pass type). There is no discount on the pass member exclusive 15-item sampler lanyard.
Whether or not getting a sampler lanyard is a good deal depends on how many items you plan on eating or drinking and the a la carte pricing of those items. If you plan on visiting multiple times and stick to using the punches on higher-priced food items (they range from $4.99 to $7.99 each), it can be a great value.
The larger the lanyard size, the lower per cost each item becomes. Not including tax, a 5-item sampler lanyard with no pass member discount breaks down to $6.60 per item; the pass member exclusive 15-item sampler brings the per-item price down to $4.
Another factor to consider – drinks using the sampler lanyard are served as a smaller size than if you purchase them a la carte. Generally, using a sampler lanyard will get you a 7-ounce pour for the various adult beverages. Paying out of pocket will get you the full size of the beverage – generally 12 ounces for the mixed drinks, 16 ounces for the frozen floats, and 20 ounces for draught beer.
If you have unused punches from a 2020 Food & Wine Festival sampler lanyard, you'll be able to use them at Bier Fest.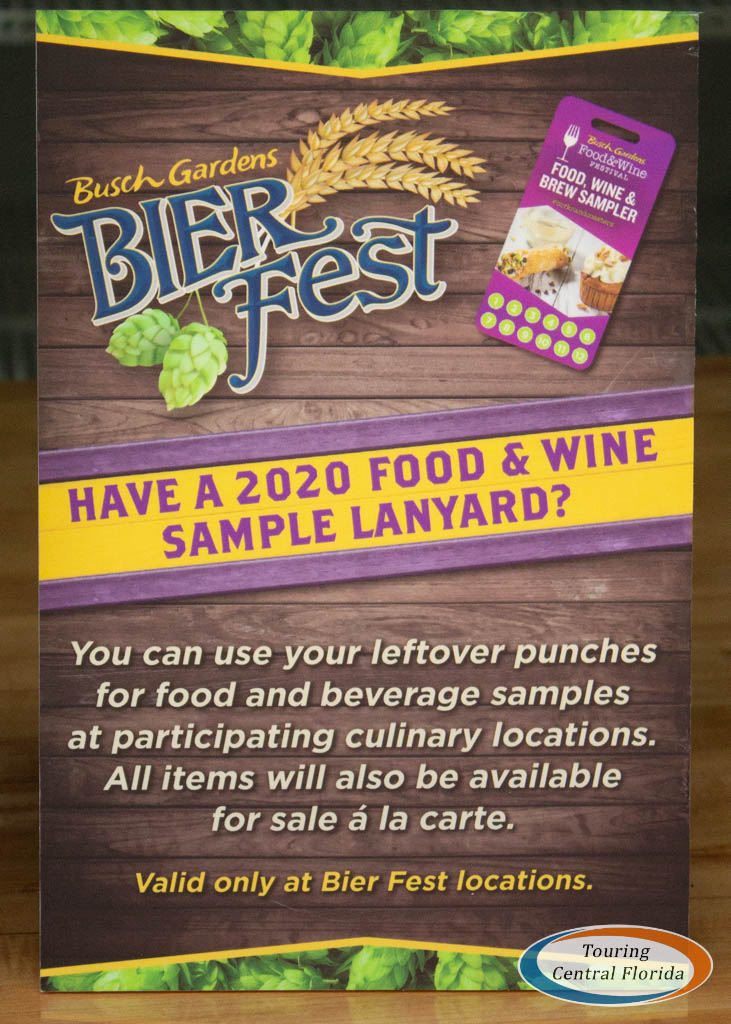 ---
Beverages & Bites
There are a total of 16 locations serving a variety of drinks and food items. All are located around the Garden Gate area of the Bird Gardens section of the park. The locations are a mix of permanent locations (like those inside Garden Gate Cafe and Xcursions gift shop) and pop up "cabins" used for special events like these.
The first six cabins along the Festival Walkway are all about drinks, with the remaining locations serving up a mix of food & beverages. Each item on the menu can be purchased a la carte or by redeeming one punch per item on a sampler lanyard. Remember, for food items the serving size is the same whether purchasing a la carte or using a sampler lanyard punch; drink sizes are smaller when using a sampler lanyard punch versus paying a la carte. If you're a pass member and paying out of pocket, be sure to ask for your discount each time.
#1 Sunset Hops
The first cabin you'll encounter when entering the Festival Walkway is Sunset Hops, serving up options from four different Florida breweries.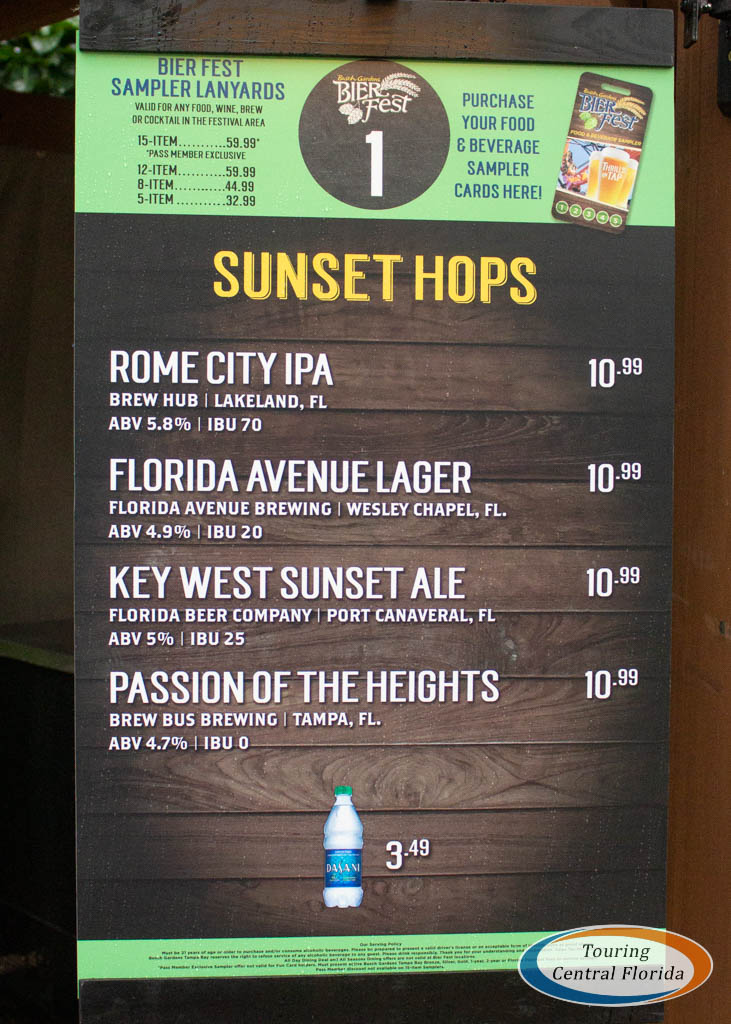 #2 Coastal Brews
Two local beers and two Mexican brews make up the menu at this cabin.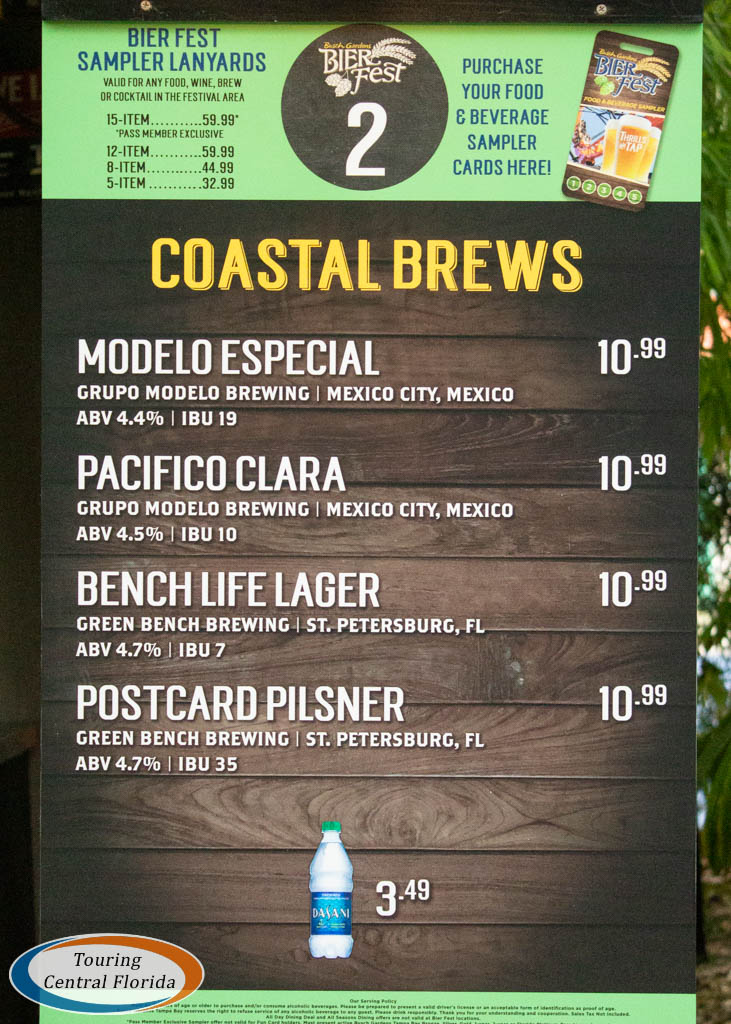 #3 Mimosas & Sangria
Not everyone loves beer, and that's ok! This cabin features red or white sangria and a tropical mimosa.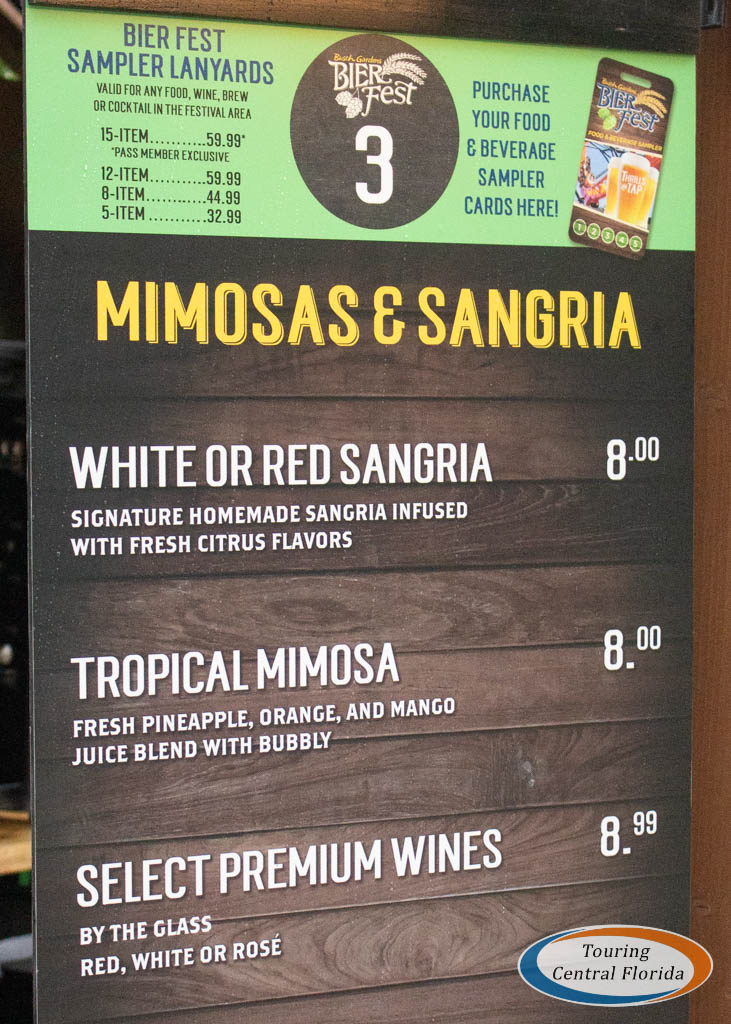 On opening day I sampled both sangrias and the mimosa from this booth. The mimosa was light and refreshing, and the red sangria was fruity and sweet. The white sangria wasn't as flavorful or sweet as the red variety.
You can also get wine by the glass at this cabin – check the booth for the varieties available. Paying out of pocket for the wine ($8.99) should get you about a 5 oz. pour. Using a sampler lanyard punch lanyard will get a smaller size.




#4 Tampa on Tap
This cabin features four beers brewed right here in Tampa.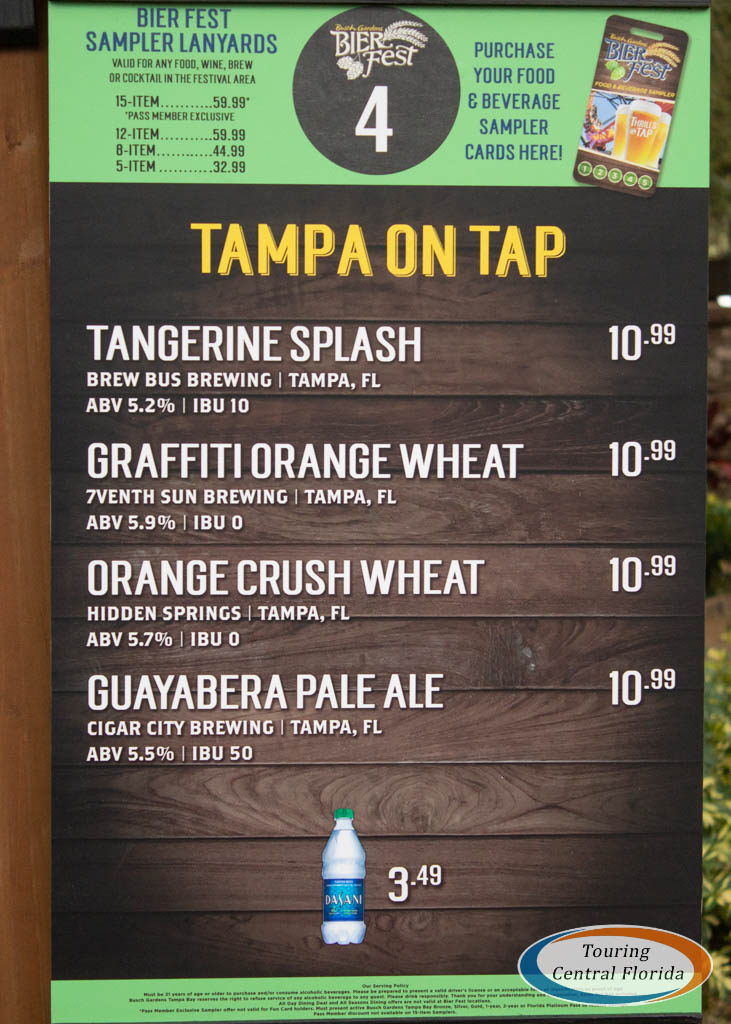 #5 IPA Central
As the name suggests, this cabin serves several IPAs, including two from the Tampa Bay area.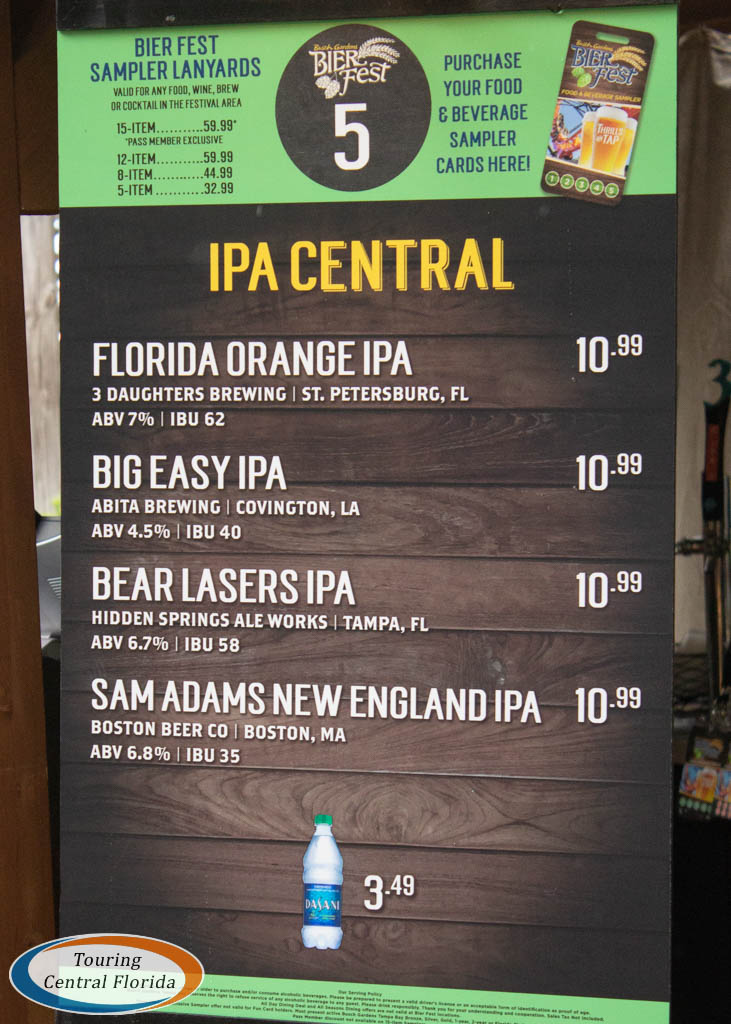 #6 Yuengling Flight
The last of the beverage only cabins, Yuengling Flight offers up four of the company's brews.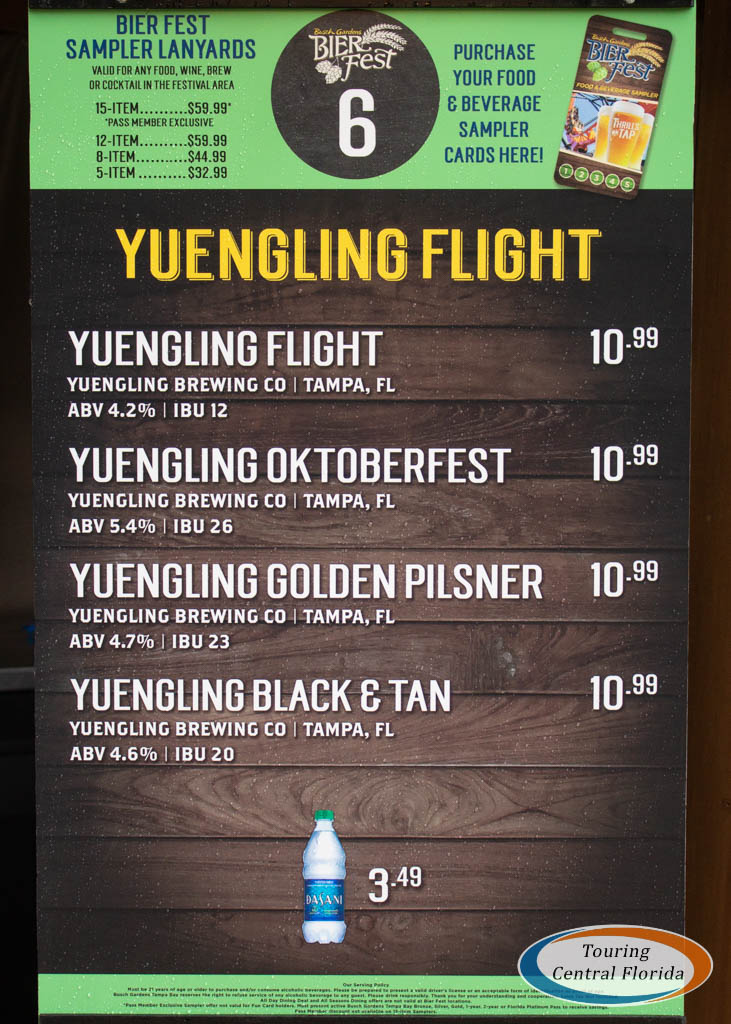 No, the "flight" isn't referring to multiple samples but instead to Yuengling's new light beer. There's a Yuengling brewery located just one block north of Busch Gardens, so at least it was a short "flight" over.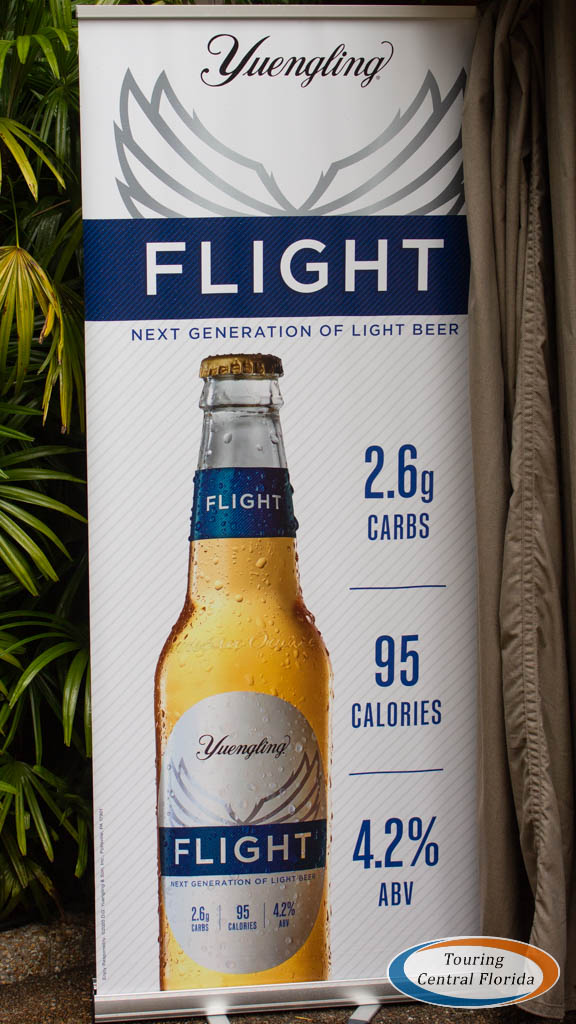 #7 Brews & Chews
Next on the Festival Walkway, you'll find the first cabin offering food along with beverage options.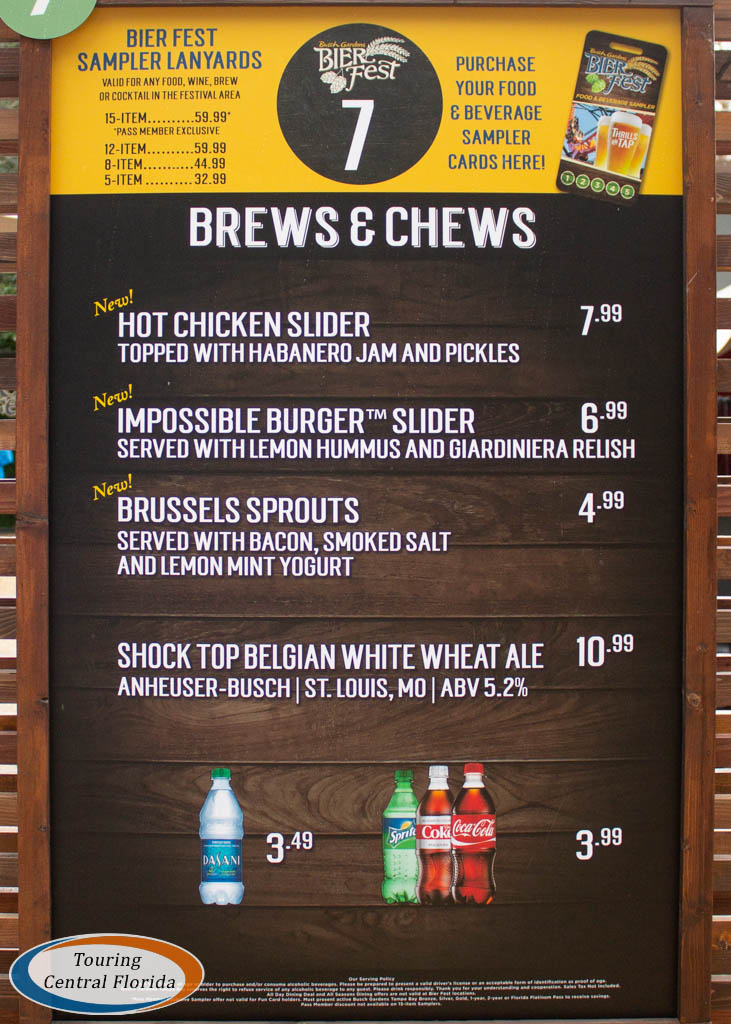 A friend got the Hot Chicken Slider and said the heat is definitely there from the habanero pepper, but there was also a bit of a sweet side to help balance. If you're not a fan of spicy dishes, this one probably isn't for you.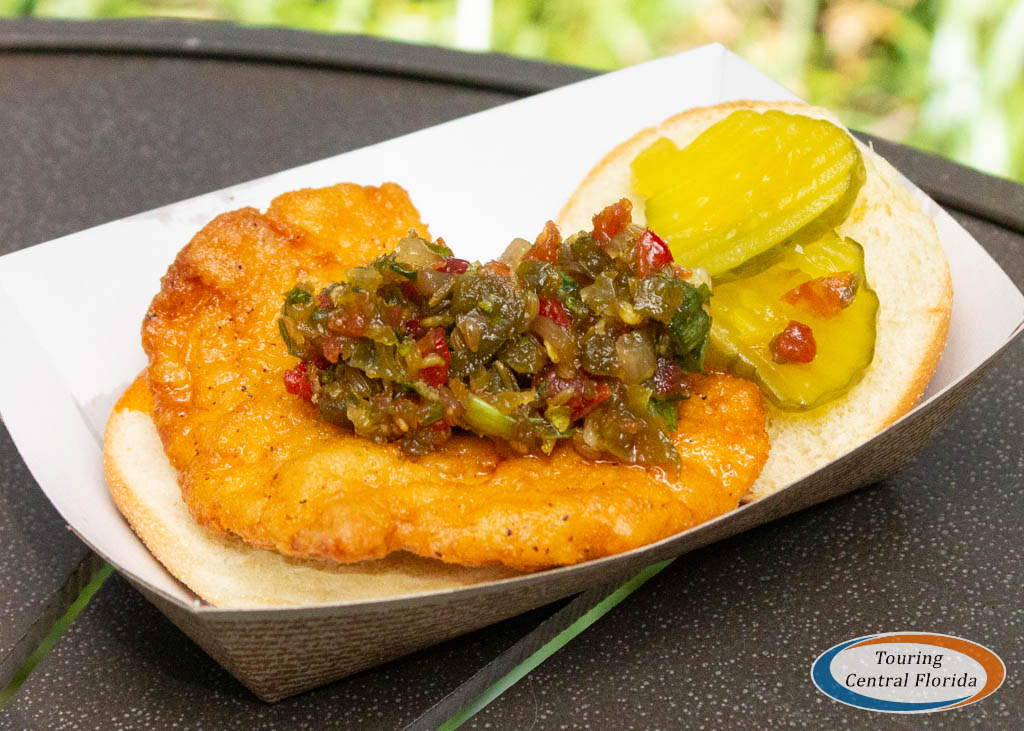 I tried the Brussels Sprouts from this booth, but unfortunately, it was neither visually appealing nor flavorful. Some of the sprouts were mushy while others were quite hard, and while possibly more of a personal taste, the yogurt sauce was also unappealing to my palate.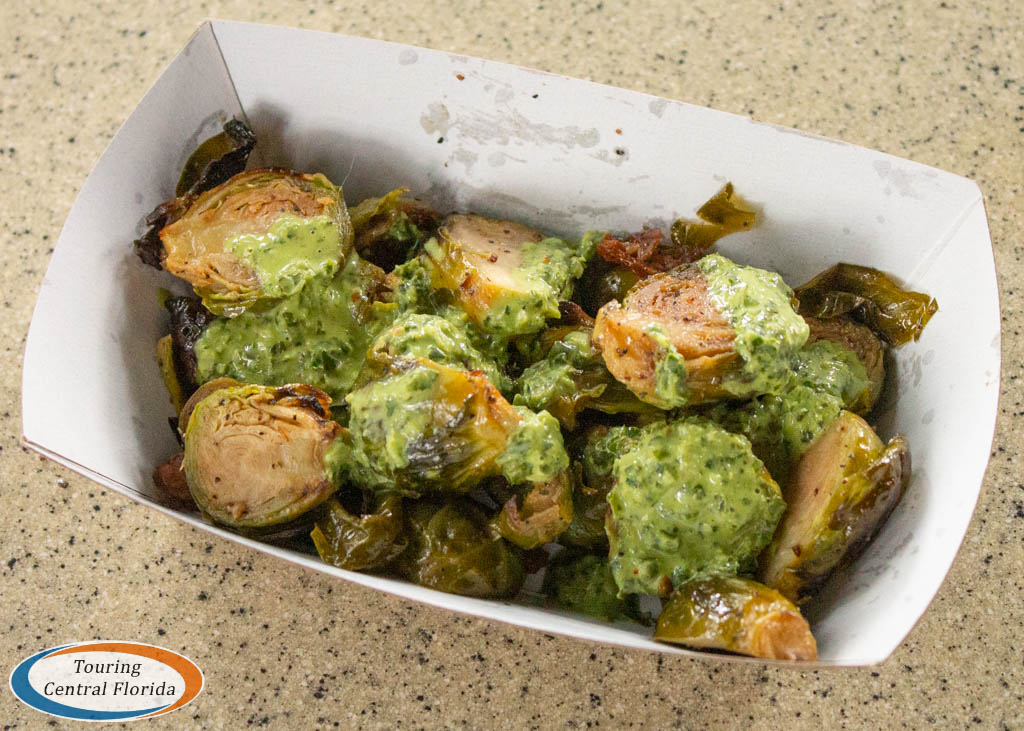 If this was your first food choice at Bier Fest you might be worried about what's ahead, but based on everything else we saw (and more importantly tasted), the Brussels Sprouts were the only thing that was a miss for us.
#8 Pub Grub
Tucked all the way at the back of the Festival Walkway is Pub Grub.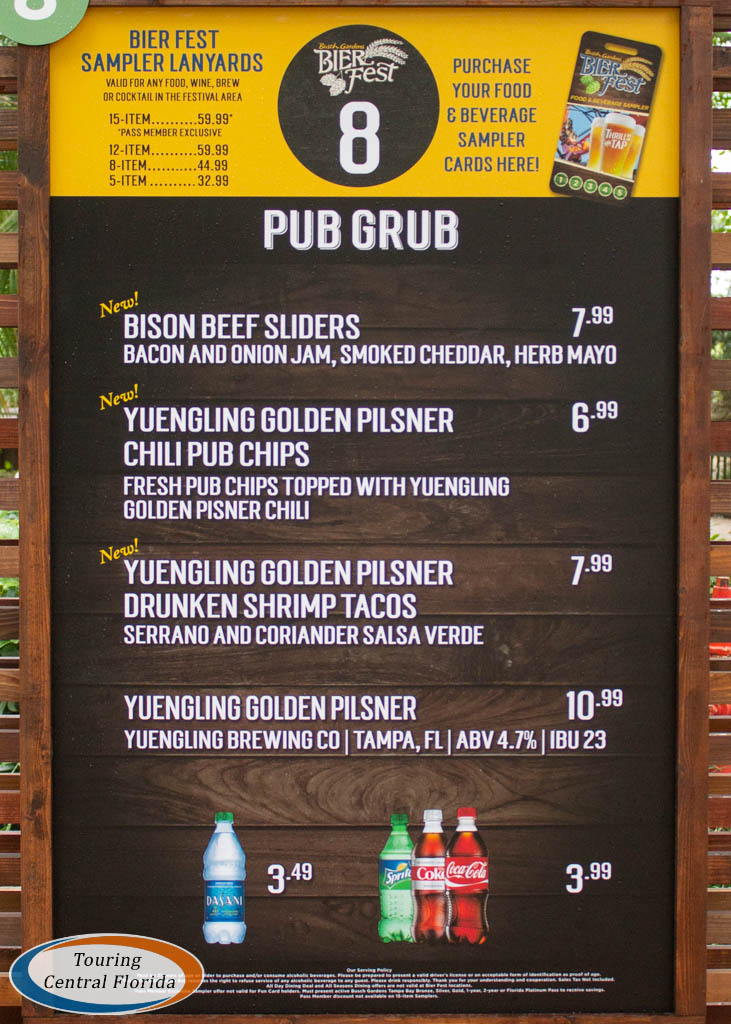 Of all the dishes tried so far, the Bison Beef Slider was my favorite. The patty was tender and juicy, and the jam & mayo on top added even more savory taste with just a bit of sweetness for a great balance. If you only get one food item at the festival, make it this one.
I ordered this again on a subsequent visit and the flavors were just as great, though the patty was cooked a little more well done. While not as juicy the second time, it was still fairly tender.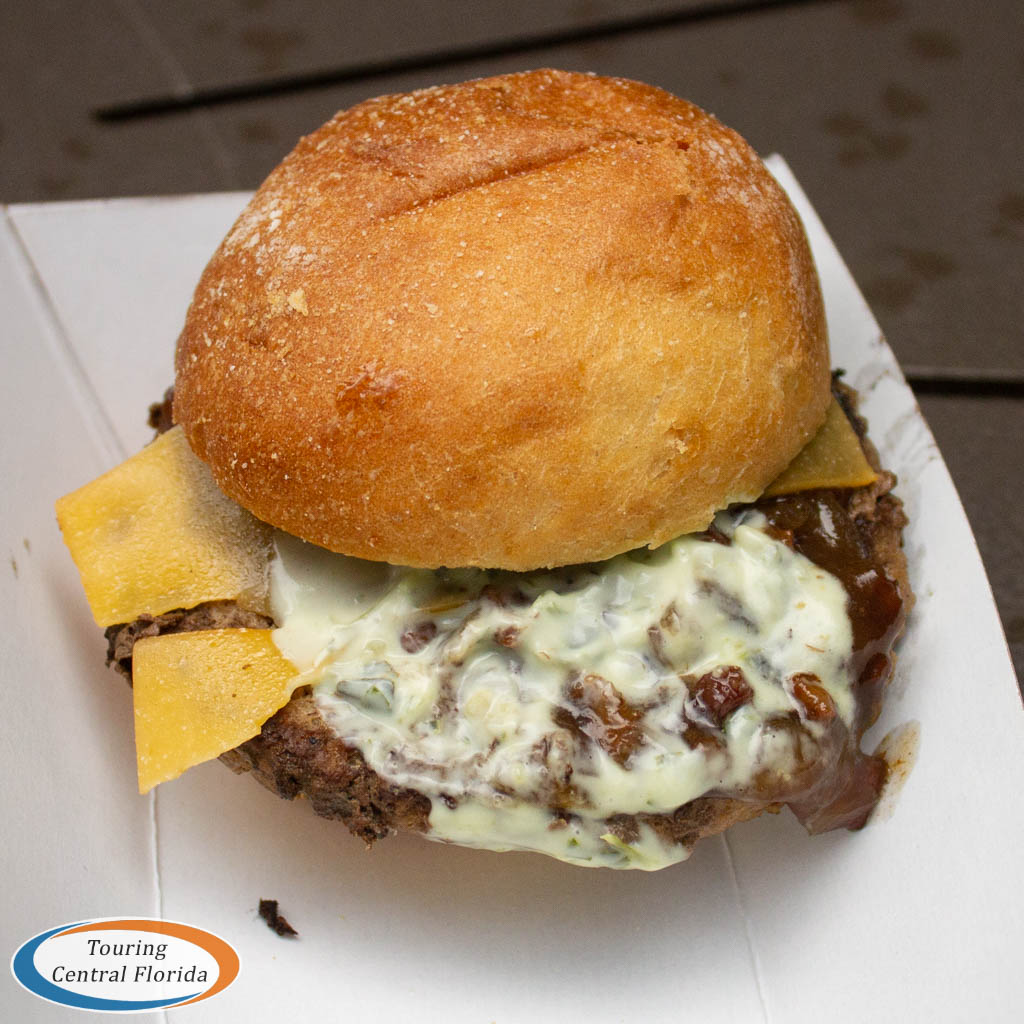 The Drunken Shrimp Tacos is served as a duo of mini soft tacos, and the shrimp had a good flavor to them. They are messy though, so make sure you have a napkin or two handy.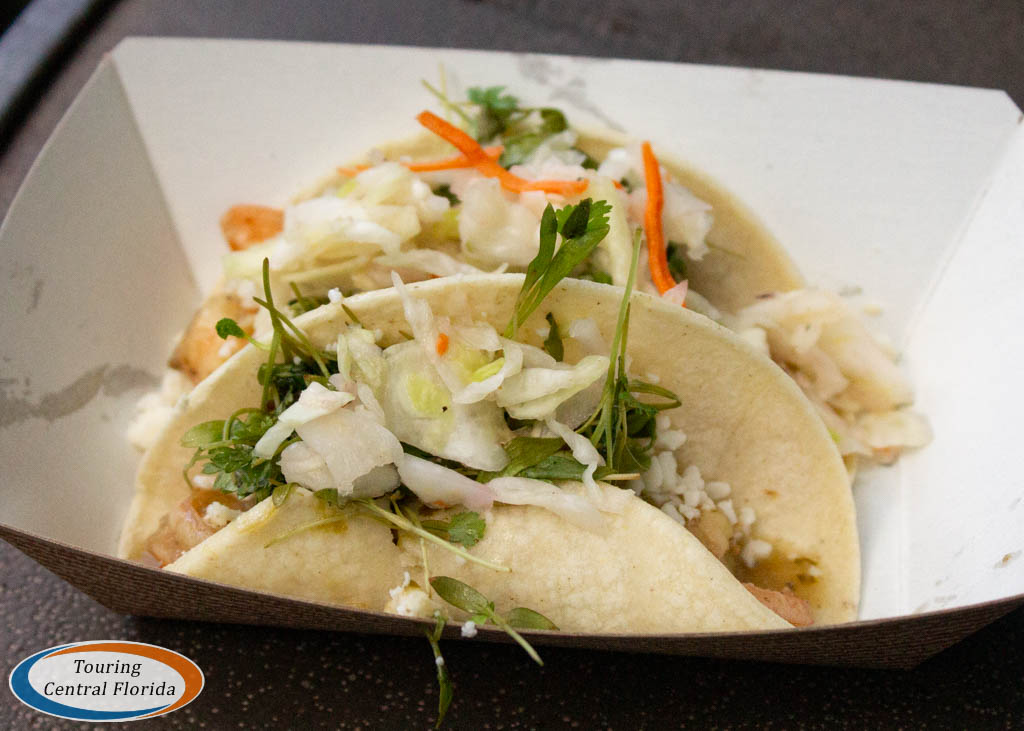 #9 Bavarian Hut
If you continue clockwise around Garden Gate following the path towards the higher numbered booths, you'll pass one of the Bier Fest photo ops and come out near three more cabins, the first of which is Bavarian Hut featuring soft pretzel sticks and several brews.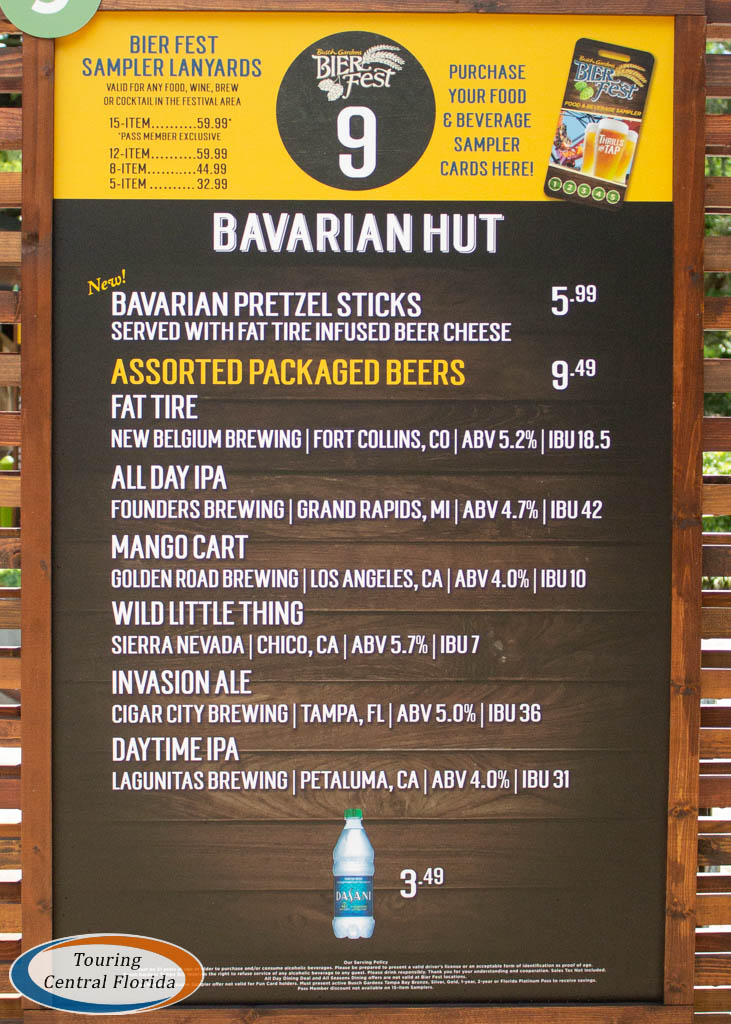 We haven't sampled the pretzel sticks this season yet, but the menu item looks very similar to what they've offered at Bier Fest in the past. Two warm soft pretzel sticks with a cup of warm beer cheese.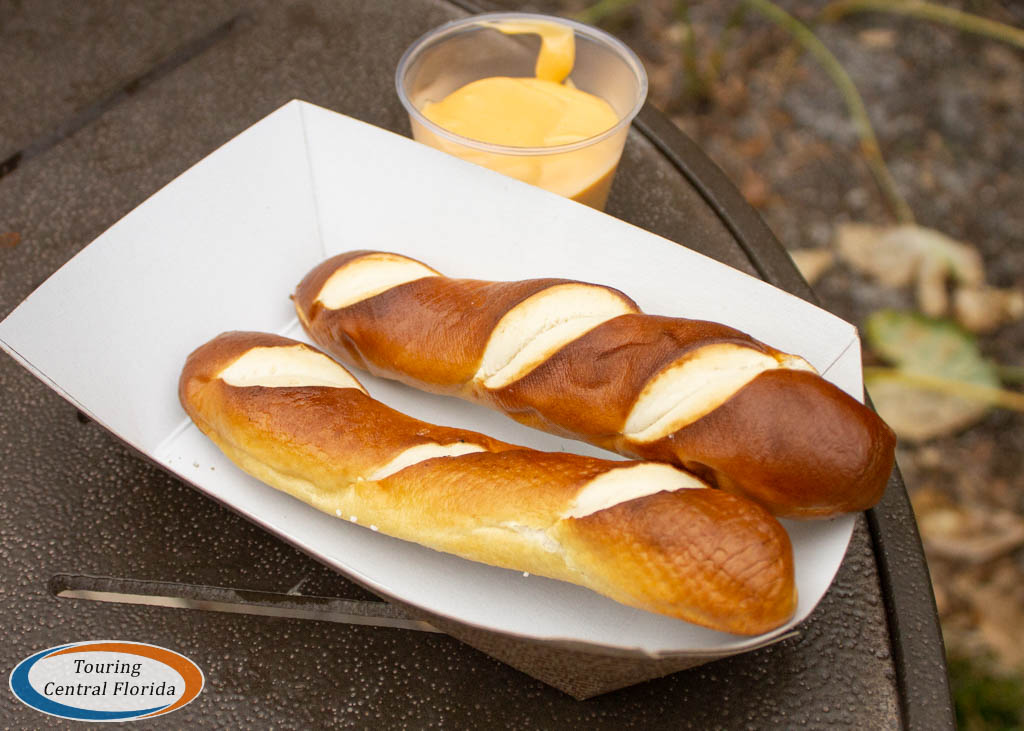 #10 Sam Adams Bites
You can have your Sam Adams in a glass or as a featured ingredient in a dish from cabin #10. An additional beer from a local brewery is also on the menu here.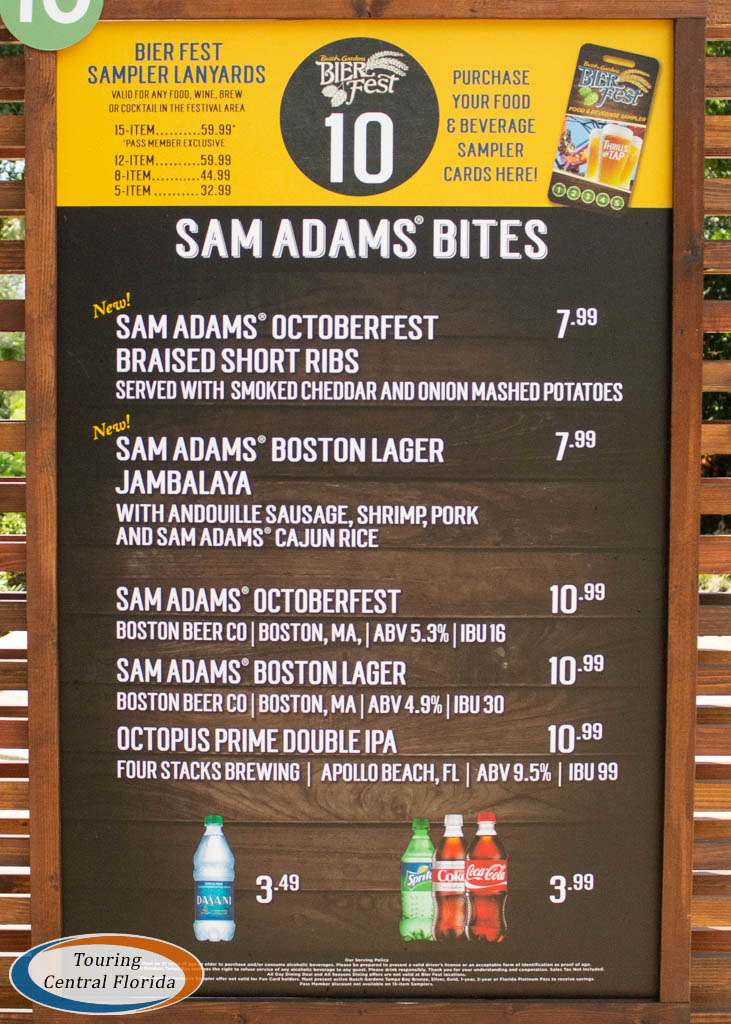 The Sam Adams Octoberfest Braised Short Ribs dish I received had a nice helping of mashed potatoes but was rather light on the braised short ribs. A little more meat would have made this dish a better value. The overall flavors were good but didn't wow me like some of the other dishes available around the festival. I didn't pick up much of a cheese flavor from the potatoes, either.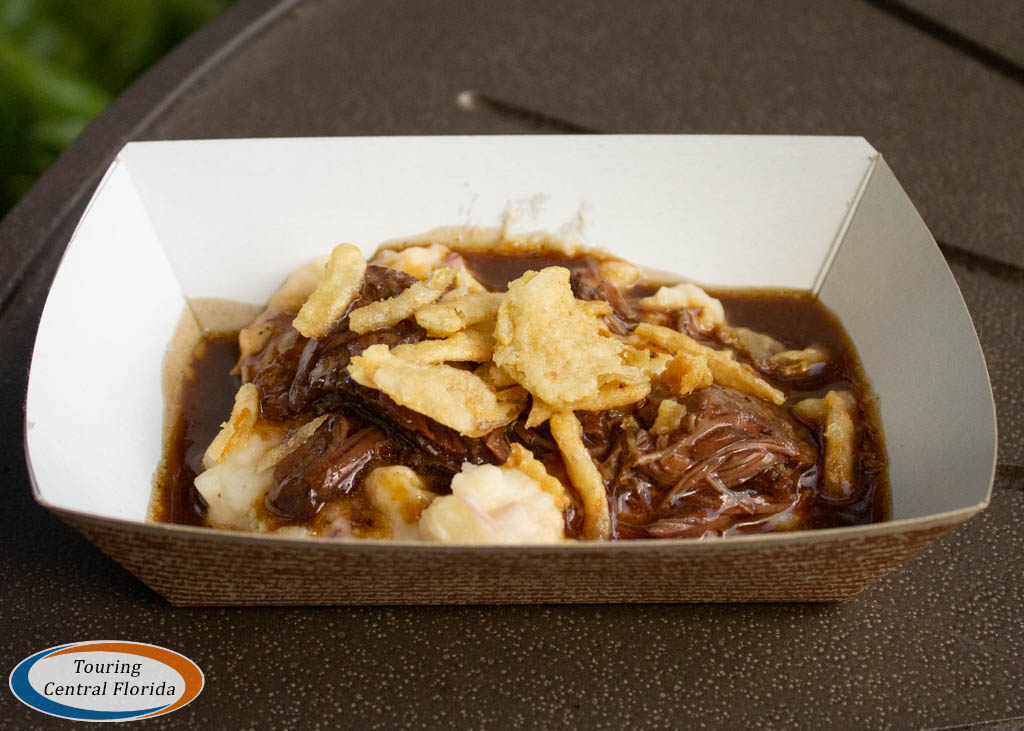 #11 Barley & Cream
Adult versions of floats and ice cream are the menu options at Barley & Cream.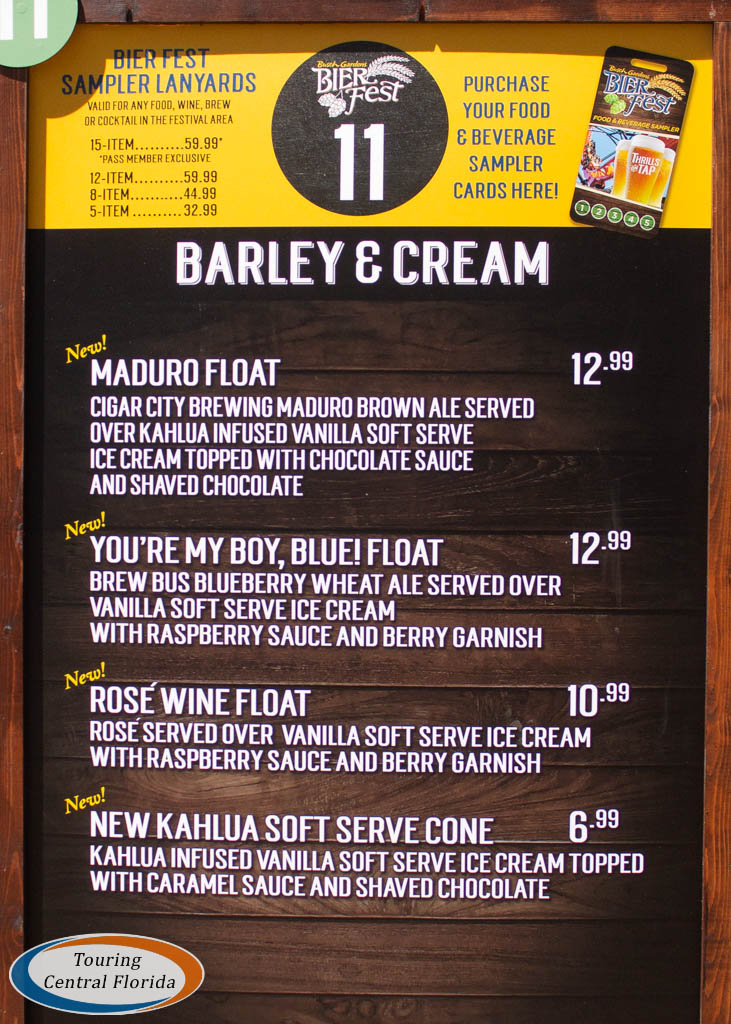 #12 Busch Bier Garten
Head inside Garden Gate Cafe – also sporting the temporary Busch Bier Garten name – if you need to cool off and for more festival food & drink.
The menu features several new festival dishes, draught beers, and frozen cocktails. You can also get a drink from the full service bar or purchase a fountain soda here.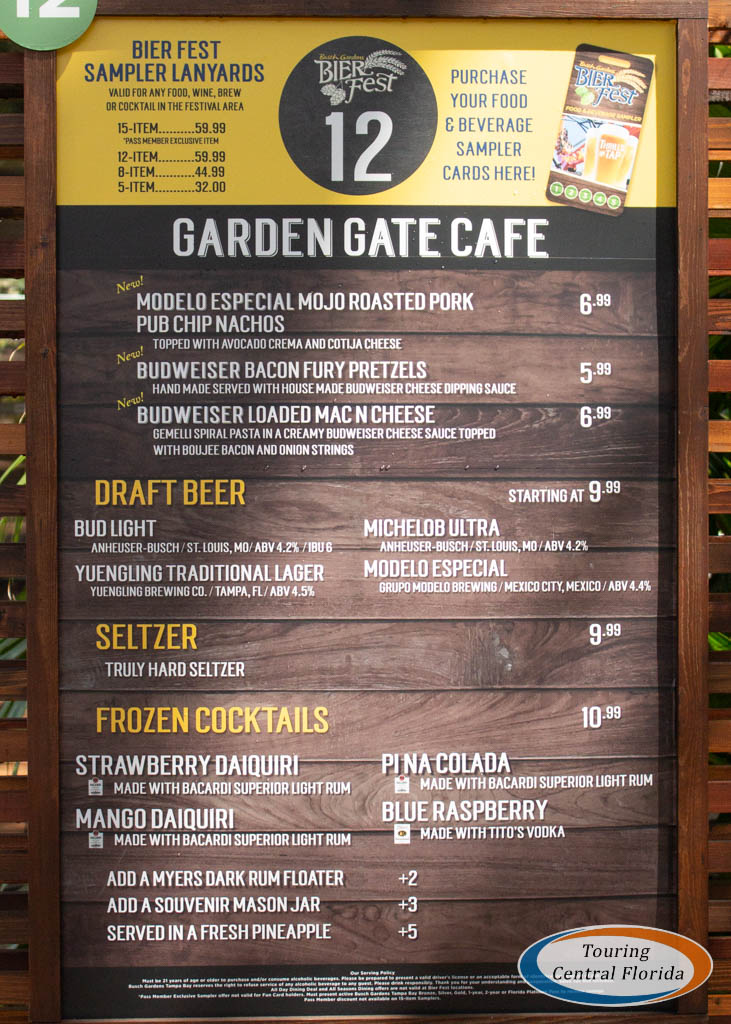 A second soft pretzel option at Bier Fest, the Budweiser Bacon Fury Pretzel may look familiar to regular visitors to the park. You can find the "full version" of the Bacon Pretzel Fury at Twisted Tails in Pantopia along with other fresh-made soft pretzel options and a variety of dipping sauces.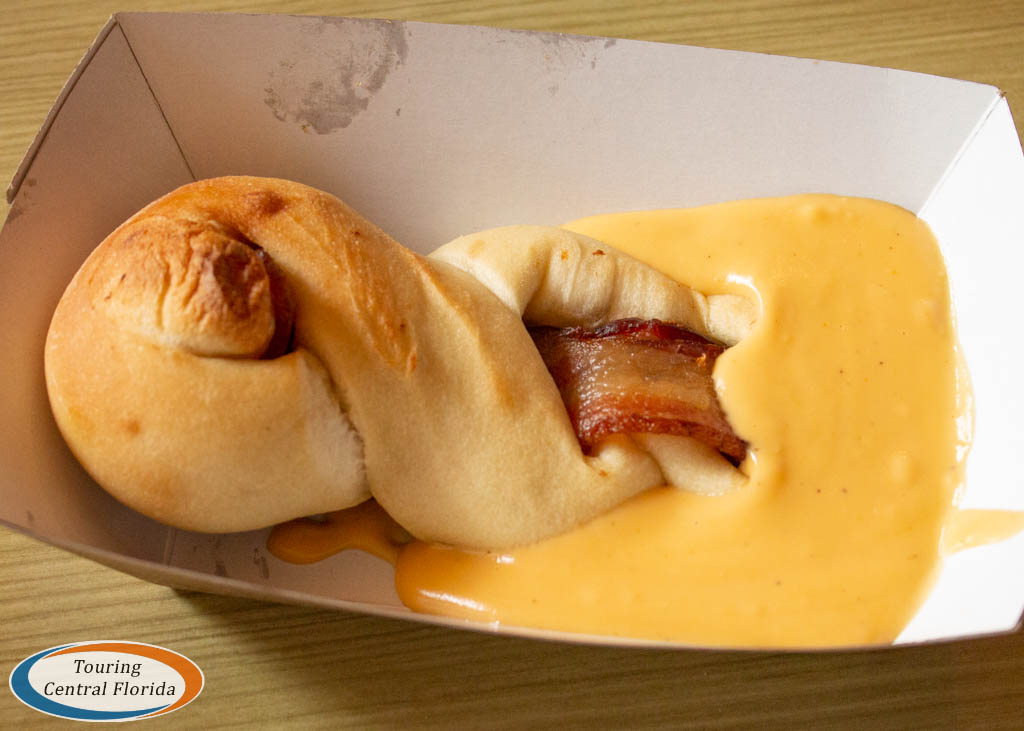 The Budweiser Loaded Mac-N-Cheese is a rich choice filled with cheese sauce and bacon goodness. This dish is easily shareable between two people as it's a fair amount of pasta. Along with the bacon crumbles you can mix into the mac & cheese, you also get two little strips of "boujee" bacon on top. The candied bacon has a rich sweet flavor with some afterburn from the spice in the coating. UPDATE: The portion size for this dish seems to have been reduced slightly since the first weekend and is only being served with one strip of "boujee" bacon instead of two.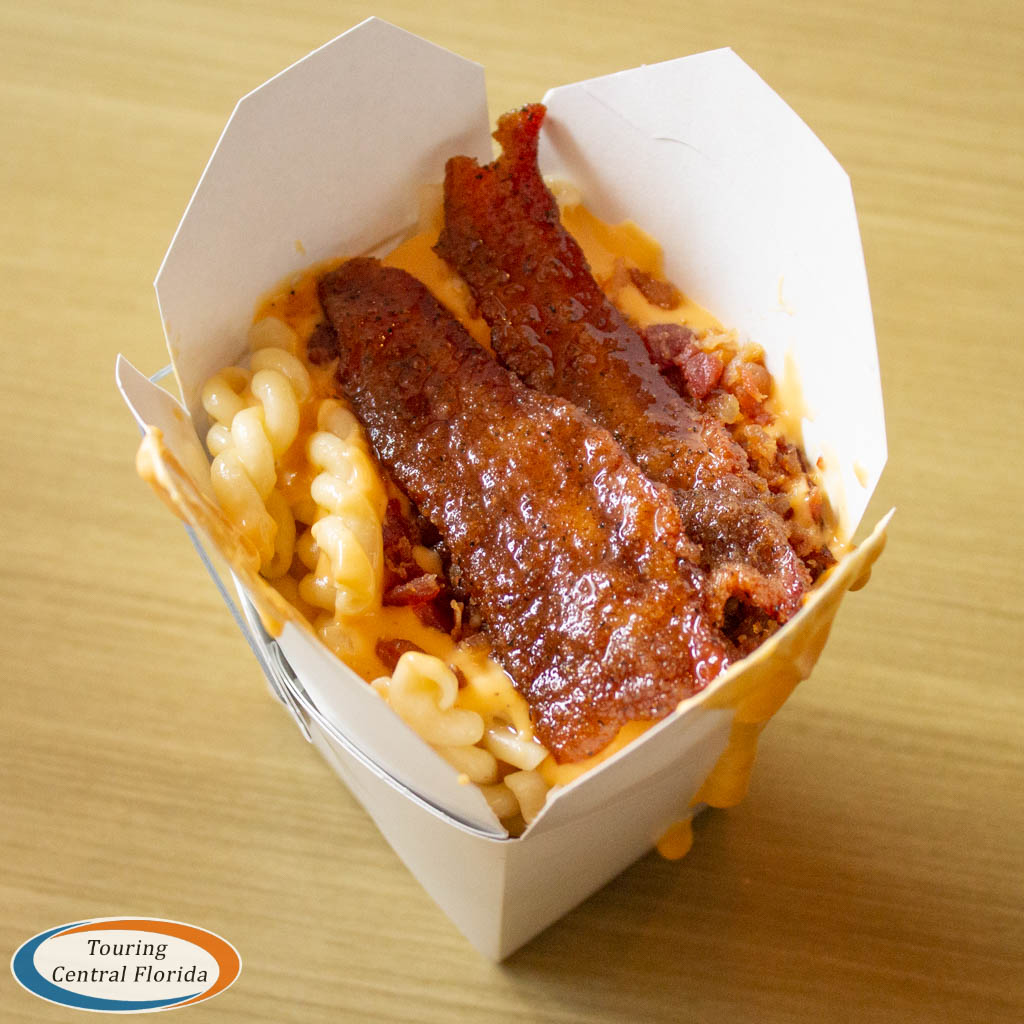 #13 Coke Canopy Eats (Left)
NOTE: This location is no longer available as the park makes the transition to Christmas Town.
Under the new Coke Canopy, there are two Bier Fest locations.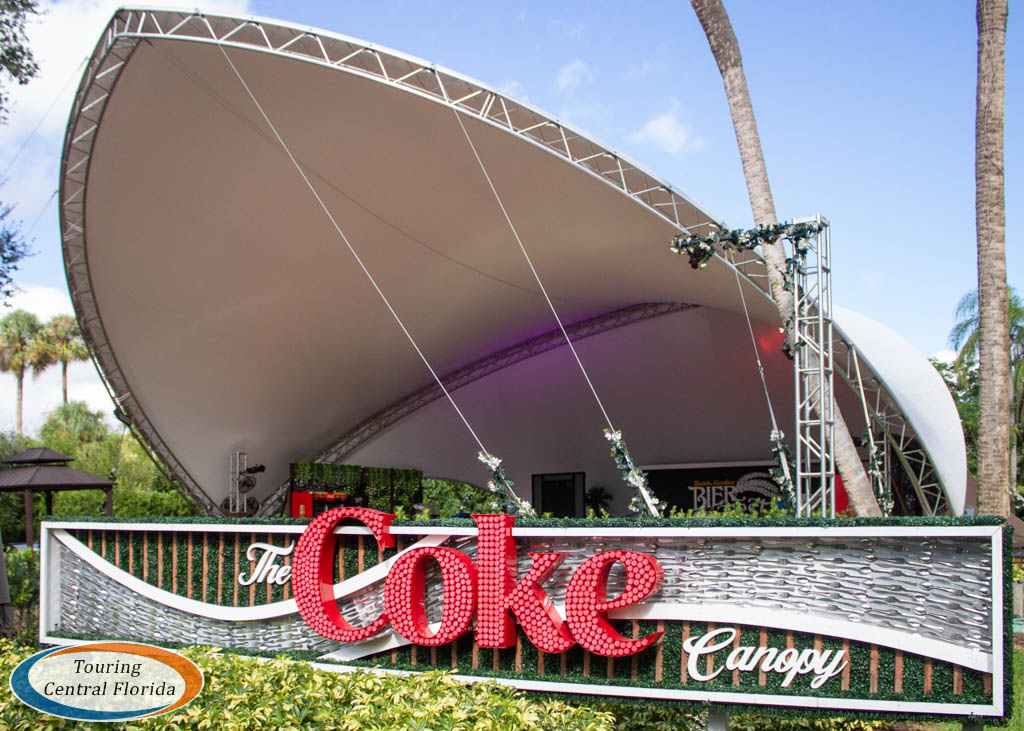 On the left side is the menu and bar for location #13 featuring a couple of hot dog options, bottled beer, and a pre-mixed margarita. Since the drink options are the same at either location, if that's all you're interested in, pick whichever line is shorter.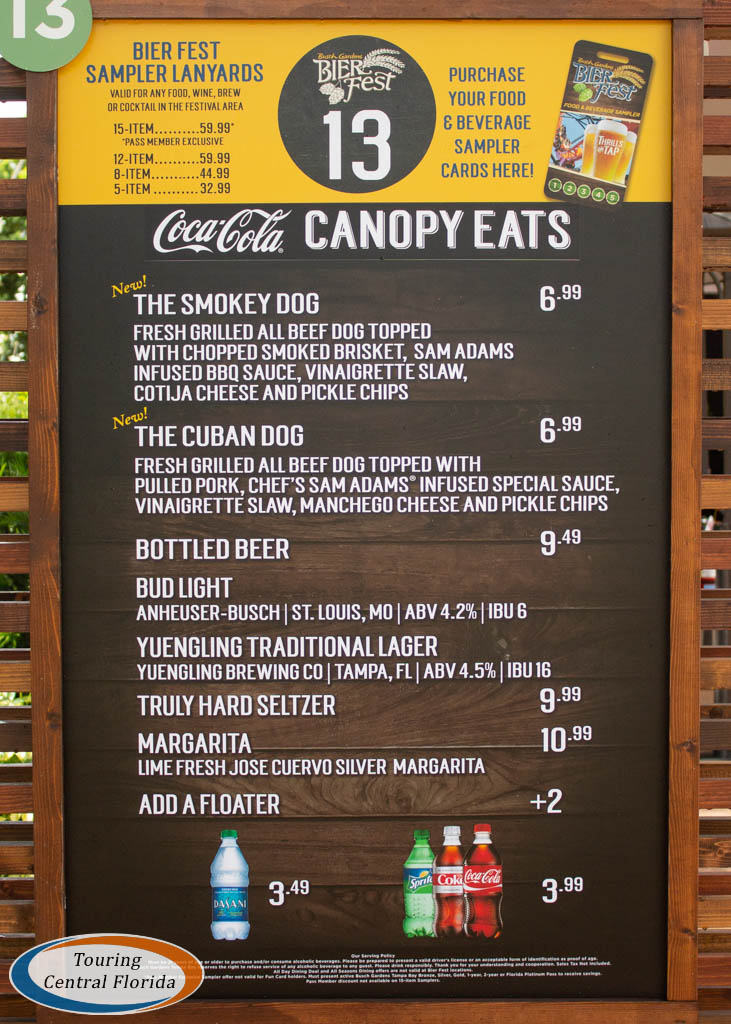 I tried The Smokey Dog along with a margarita (sampler lanyard size). The dog is messy, but chock full of toppings with lots of flavor. There's no real easy way to eat this one – just be prepared for some of the toppings to fall off, maybe with a fork on standby to pick them up. The margarita was about what you would expect from a pre-mixed cocktail with a decent flavor. True margarita fans though may be better off sticking to a fresh-made version.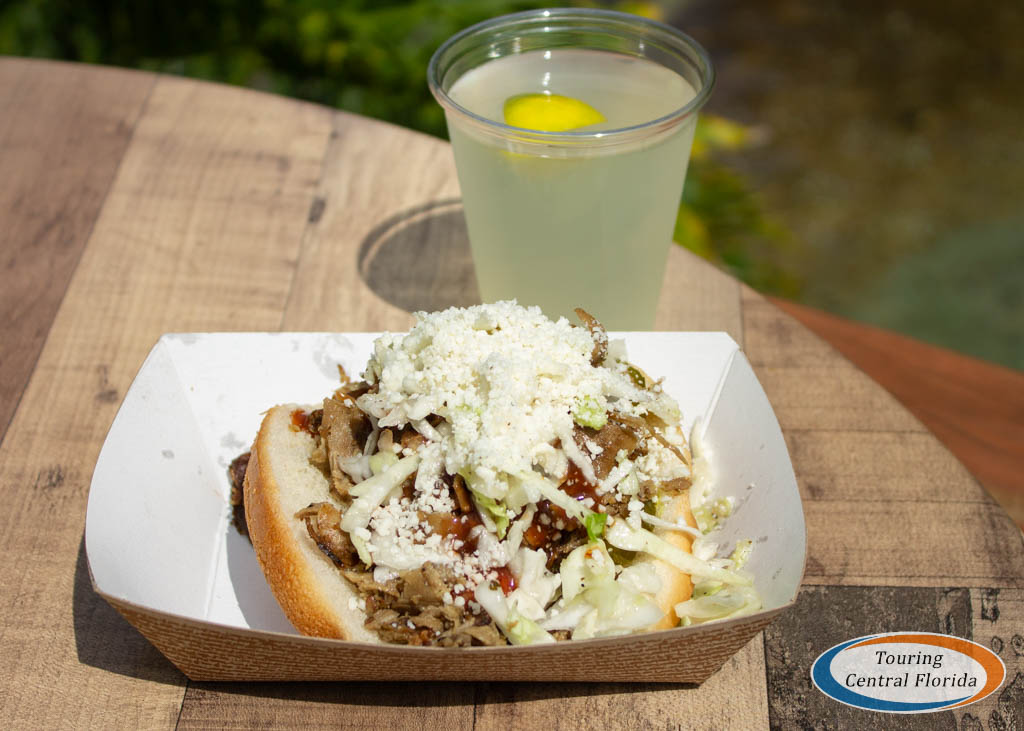 #14 Coke Canopy Eats (Right)
NOTE: This location is no longer available as the park makes the transition to Christmas Town.
On the right side under the canopy is the second cabin here. This spot serves up different dishes but the same drink options as the other bar under the canopy.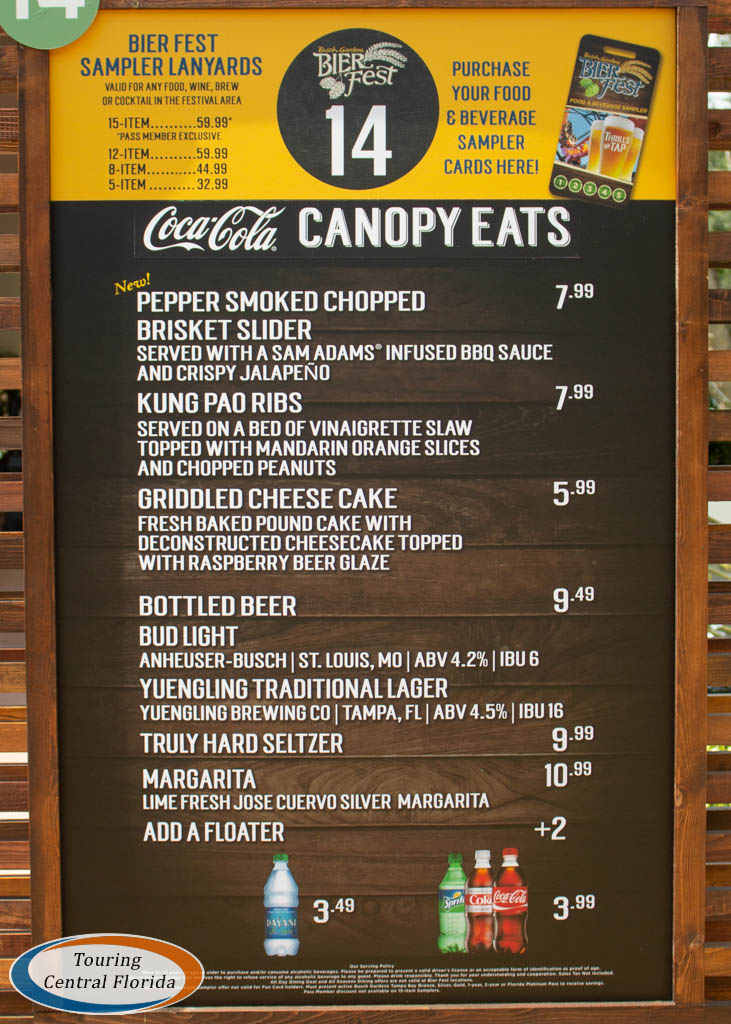 Three words: Griddled Cheese Cake. This is perhaps the most popular item Busch Gardens has offered at any of their culinary festivals in recent years. If you missed enjoying it during the shortened Food & Wine Festival this spring, now is your chance!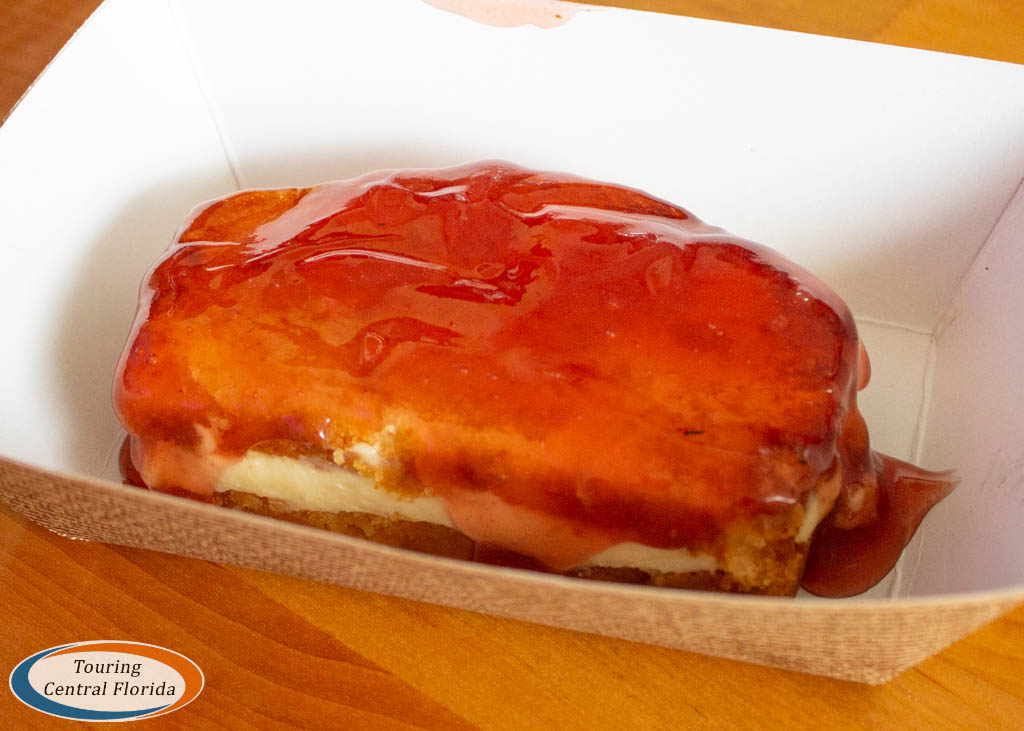 The Pepper Smoked Chopped Brisket Slider is a decent-sized portion with good flavor. I felt the serving of brisket I got was a bit on the dry side, but it didn't kill it for me. The crispy jalapenos on top pack a spicy punch – just ask them to leave them off when preparing your slider if you don't want the heat.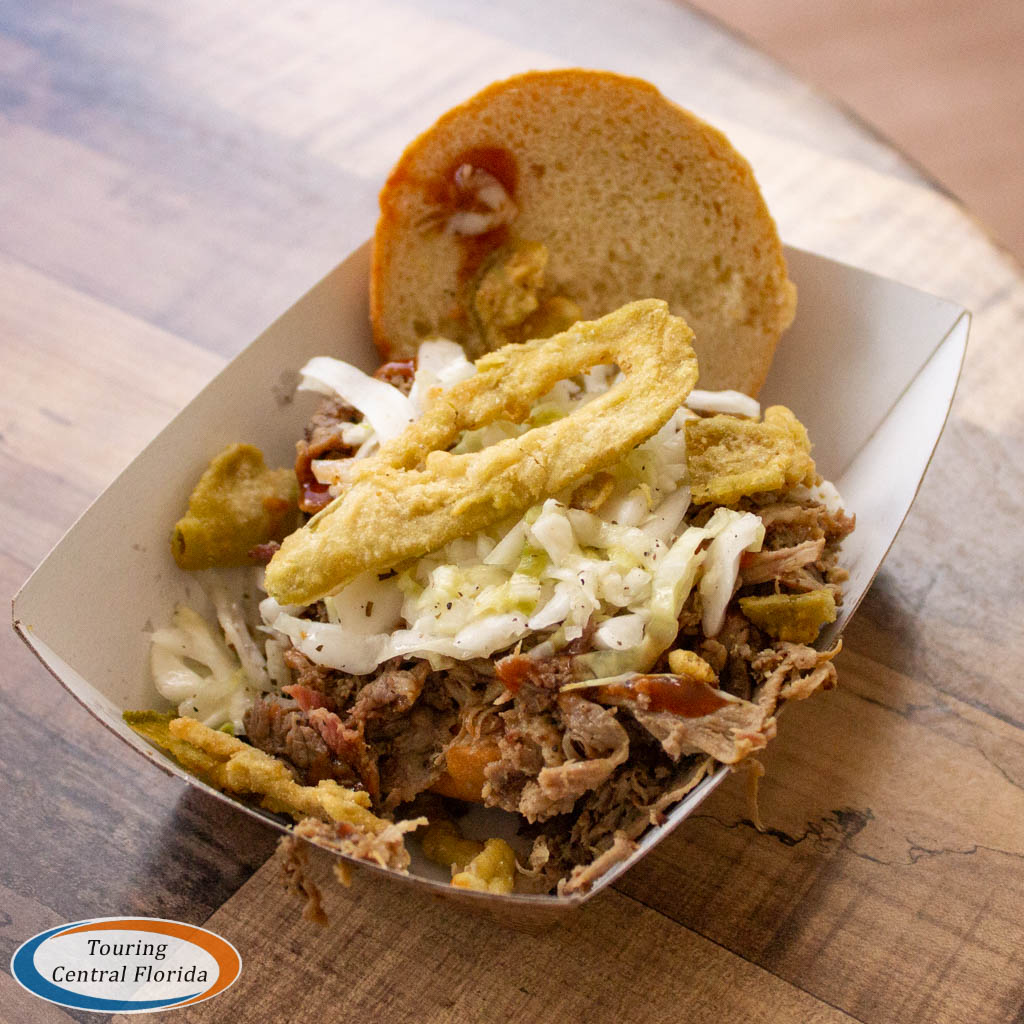 Haven't tried the Kung Pao Ribs yet, but here's a look at the dish: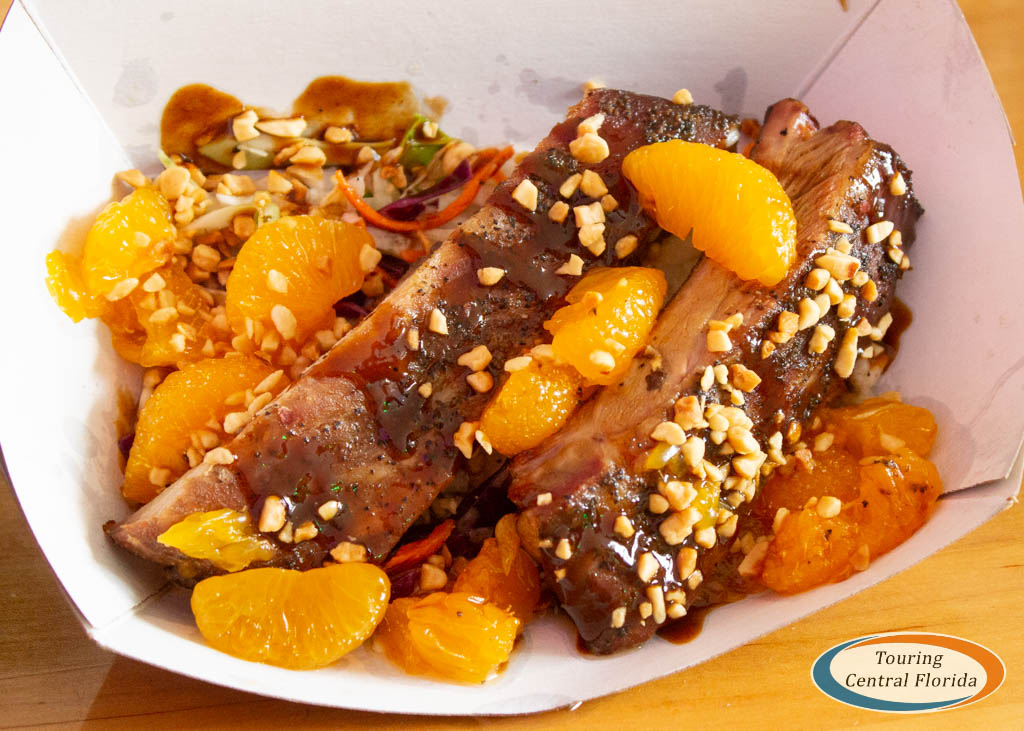 #15 Xcursions Gourmet Cupcakes
NOTE: This location is no longer available as the park makes the transition to Christmas Town. They do however continue to feature cupcakes here with a holiday theme.
Inside of the Xcursions gift shop is the last of the "regular" Bier Fest 2020 locations, and it offers up a variety of gourmet cupcakes along with some adult beverages. Sampler lanyards work here for the beverages and for the 2-pack of cupcakes, but not the 4-pack.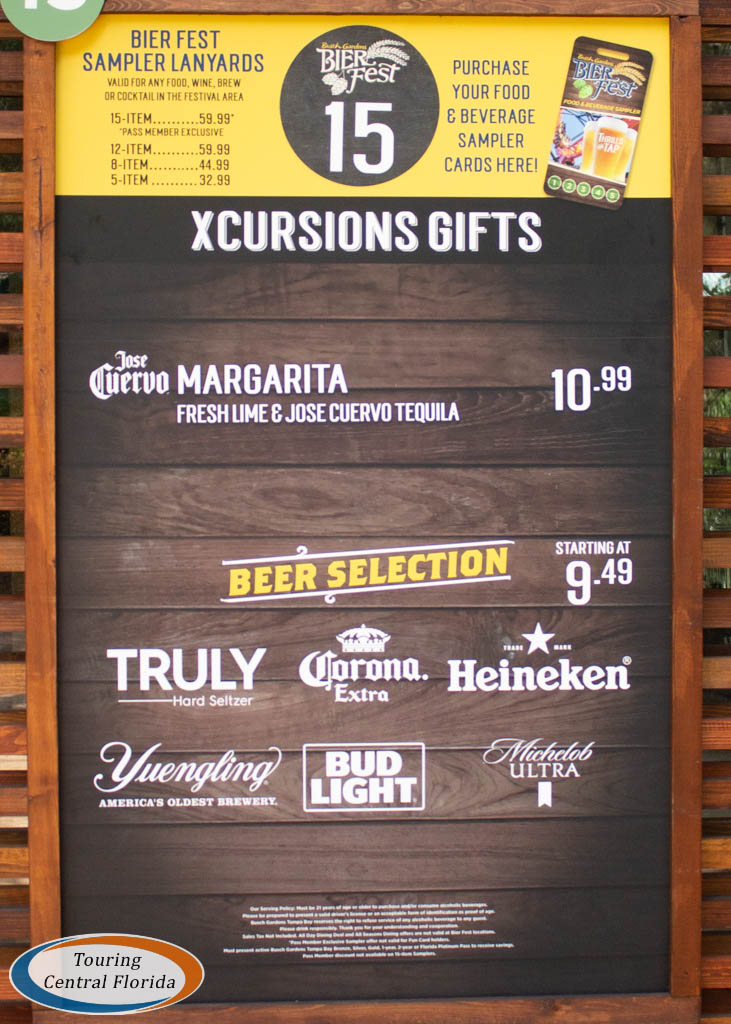 There are four varieties of cupcakes, each with a beer theme (and ingredients). Don't worry, they're not soaked in beer or anything, so they're fine for kids to enjoy as well.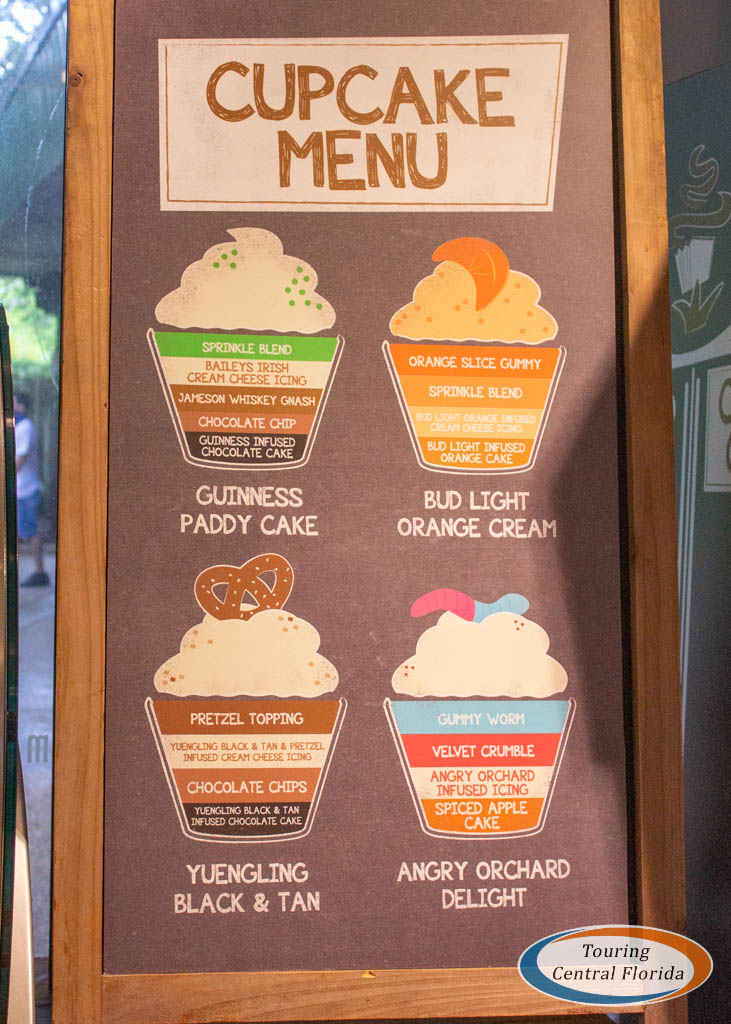 You can grab a two-pack of cupcakes of a single flavor for $5.99, or for $9.99 you can get a four-pack of cupcakes that has one of each flavor available. The cupcakes are pre-packaged in plastic containers for an easy grab-and-go treat.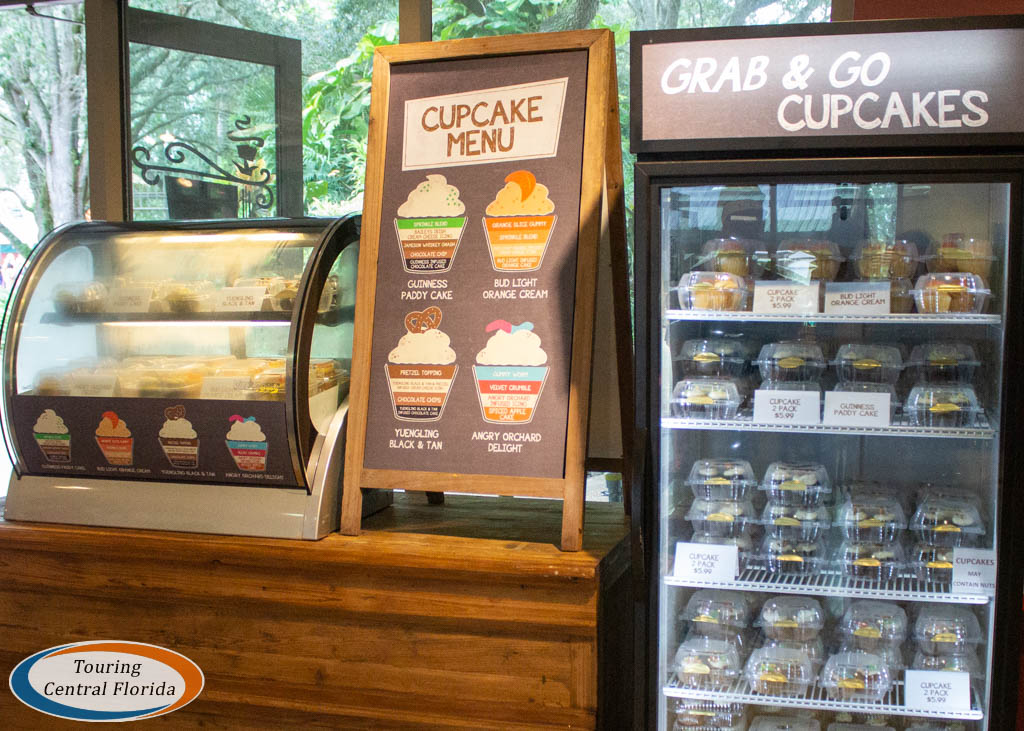 We tried the Bud Light Orange Cream Cupcakes. They have a fairly strong citrus taste which is reminiscent of an orange creamsicle in cupcake form. The cupcakes aren't very large, so they make a great little treat to end your visit to Bier Fest.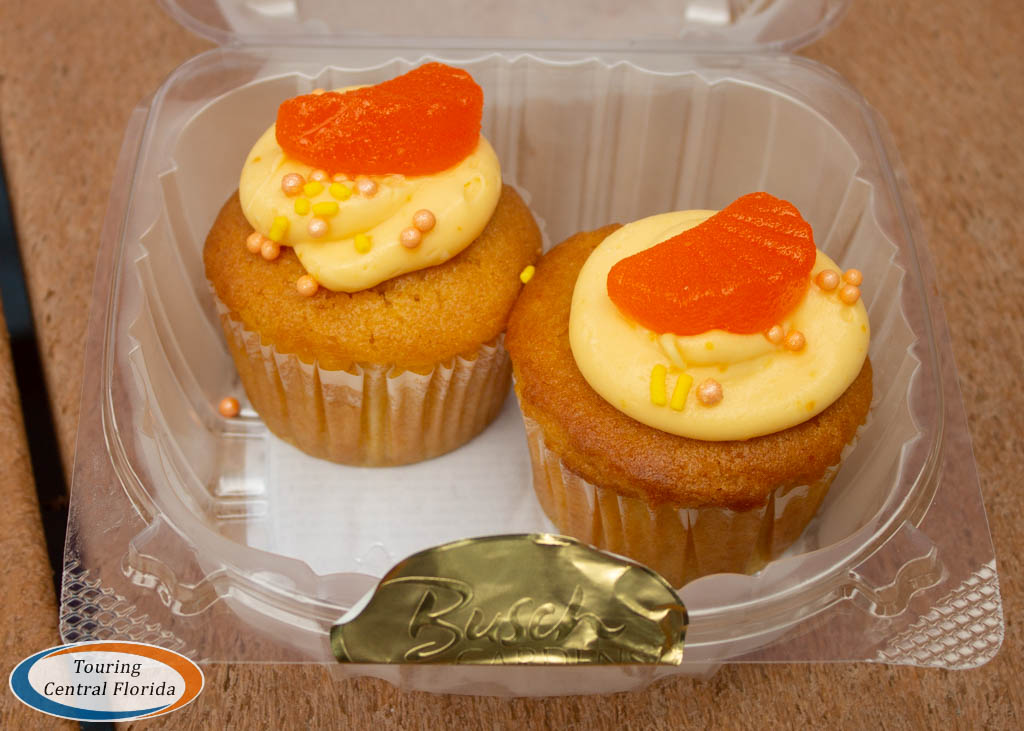 We also tried the Guinness Paddy Cake variety. If you like chocolate and cream cheese icing, this one is for you. In the middle of the cupcake is a chunk of chocolate, and you can definitely taste the Irish Cream flavor in the icing.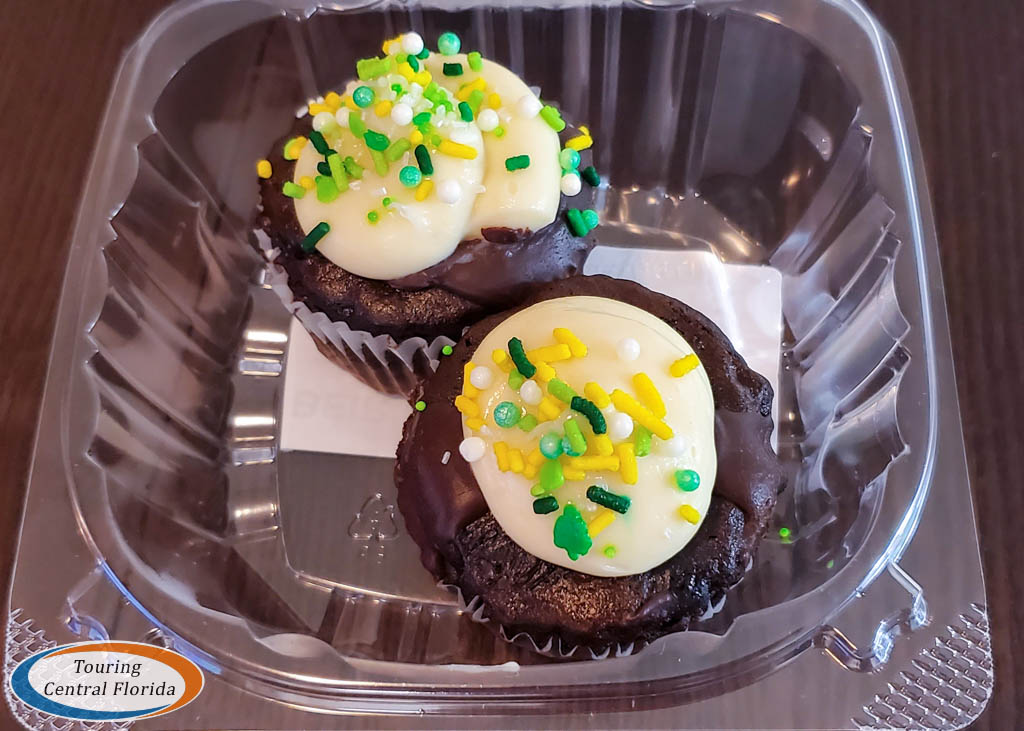 While not numbered, the 16th Bier Fest location is the popular tasting booth just outside of Xcursions, featuring bourbon and tequila. NOTE: This location may not be available as the park makes the transition to Christmas Town; it is expected to become a whiskey tasting for the holiday season.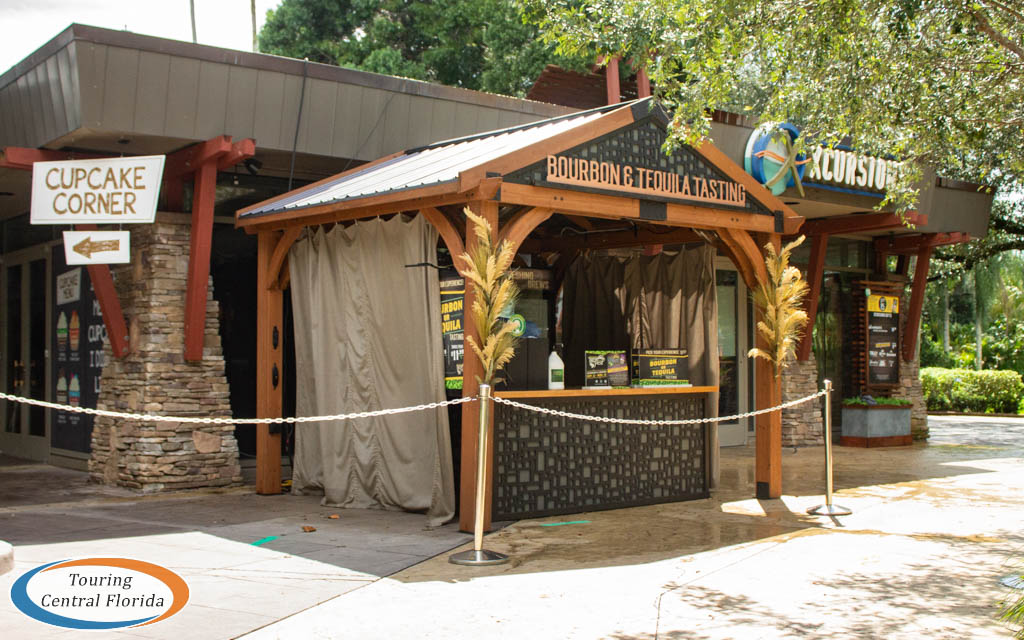 Choosing either the bourbon or tequila tasting, you'll get four 1/2 ounce pours of different varieties for $19.99. You also have the option of purchasing a one-ounce pour of any single variety for $11.99. Pass member discounts do apply.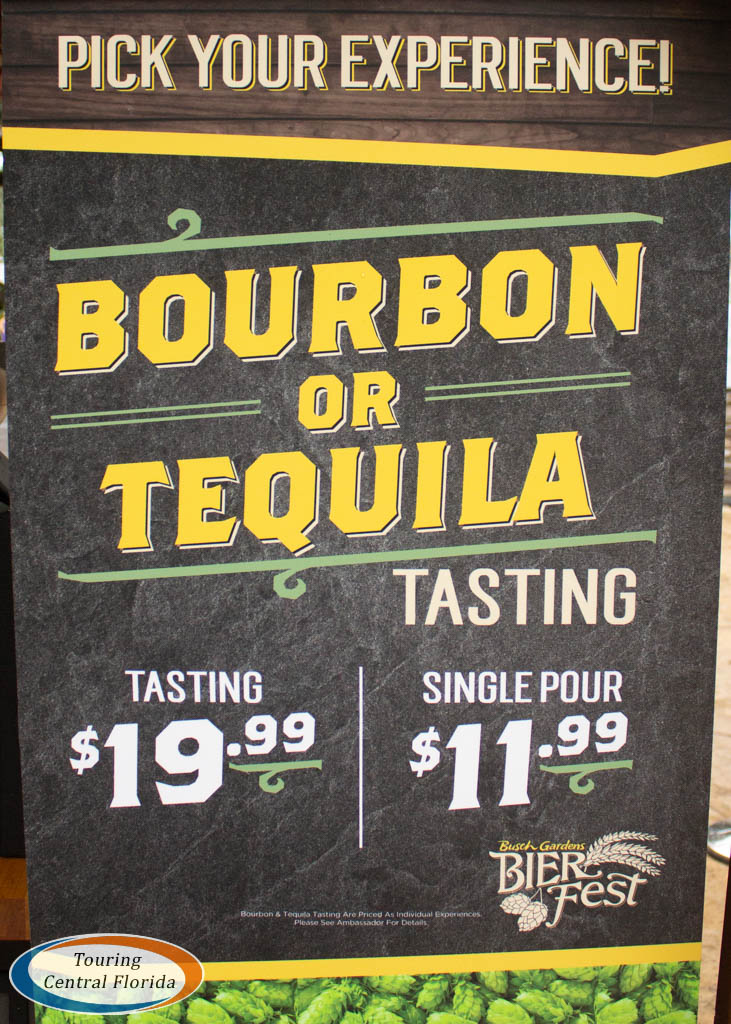 Here are the four bourbons being sampled: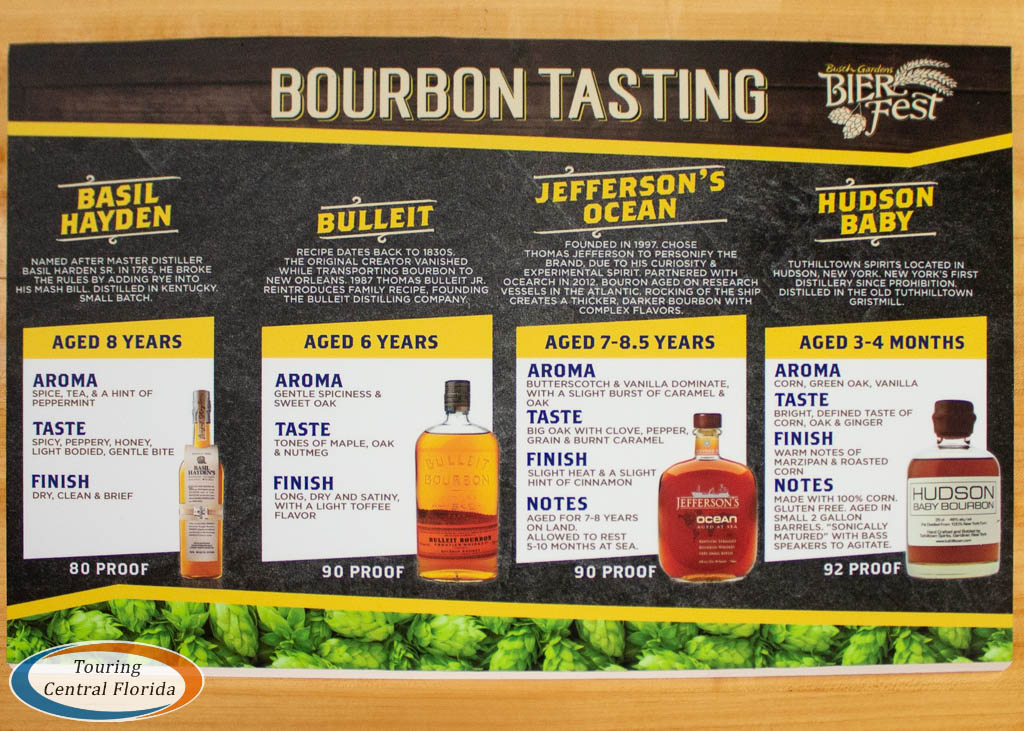 And here are the four tequilas offered: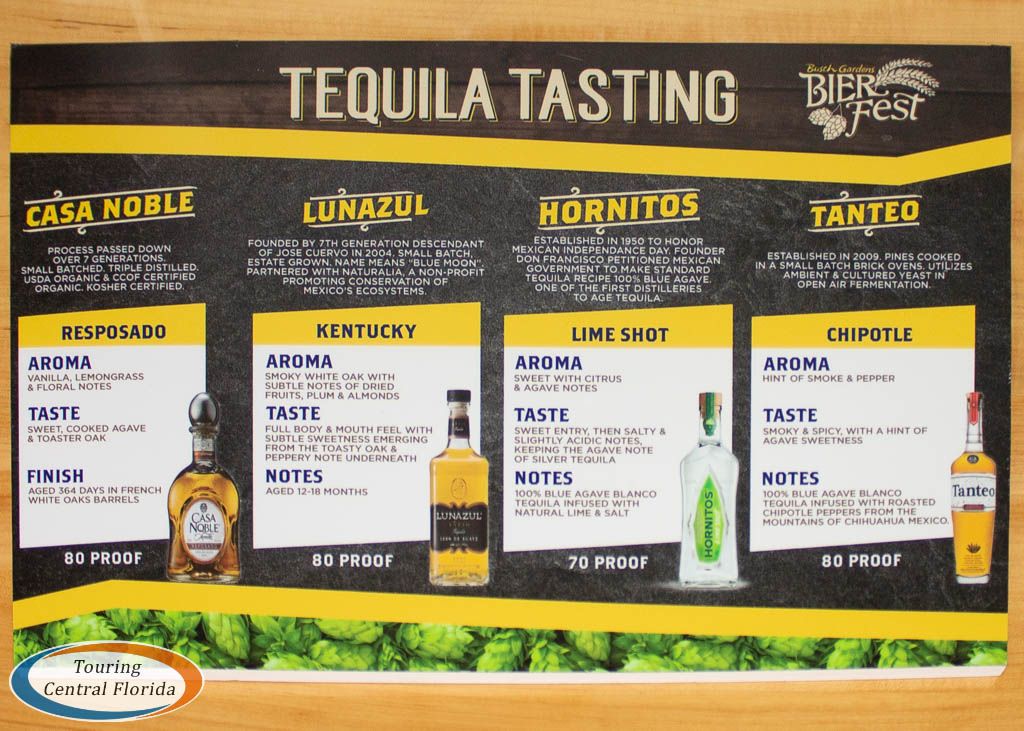 ---
Entertainment & More
Look for some entertainment on stage at the new Coke Canopy, which is also home to a duo of "cabins" selling food & beverage (see menu listings above). The schedule for acts here is 1:30, 3, and 5 p.m. on event days, but that is weather permitting. NOTE: This location is no longer available as the park makes the transition to Christmas Town.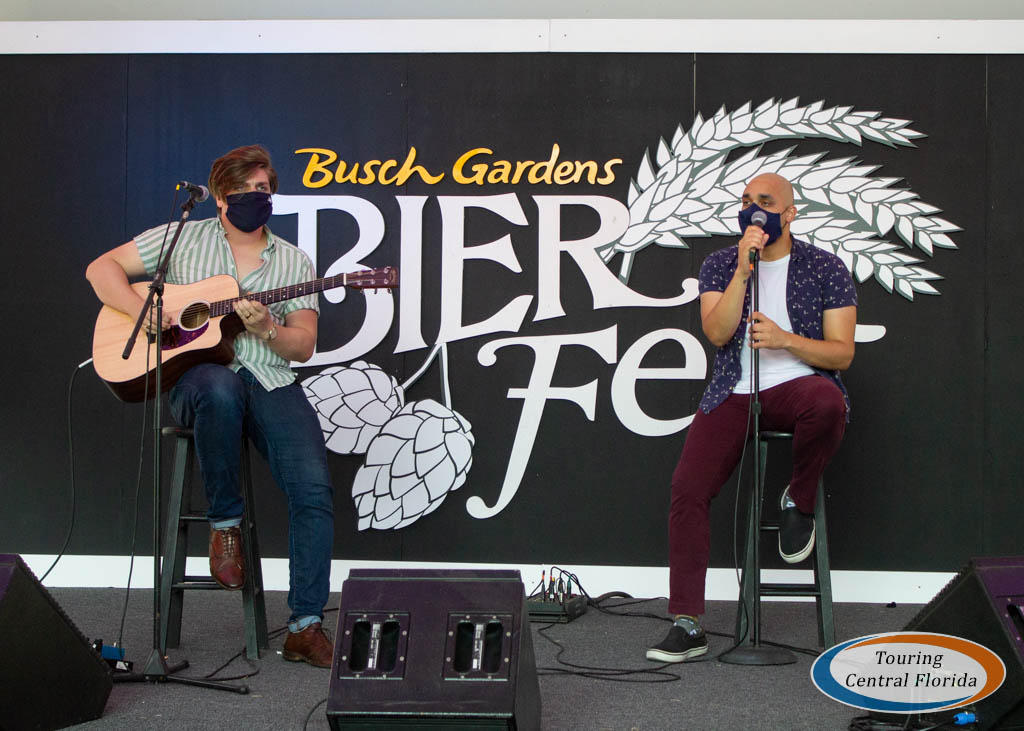 If you're looking for a Bier Fest or beer-themed souvenir, head into Xcursions for a variety of apparel and novelty items in addition to their regular selection of merchandise (and the selection of cupcakes & drinks detailed in the section above).
Scattered around the Bier Fest area are several backdrops that make for great photo ops.
Along with those bigger pieces of artwork, don't miss the details on the booths themselves! With various beer-related theming all around, it's worth a look even if you aren't indulging in the food & drink on your visit.
---
If You Go…
Bier Fest 2020 at Busch Gardens Tampa Bay
Weekends through November 15
Fridays – 2 p.m. until 6 p.m. (starting September 25)
Saturdays & Sundays – Noon until 6 p.m.
Select booths & items also available during Howl-O-Scream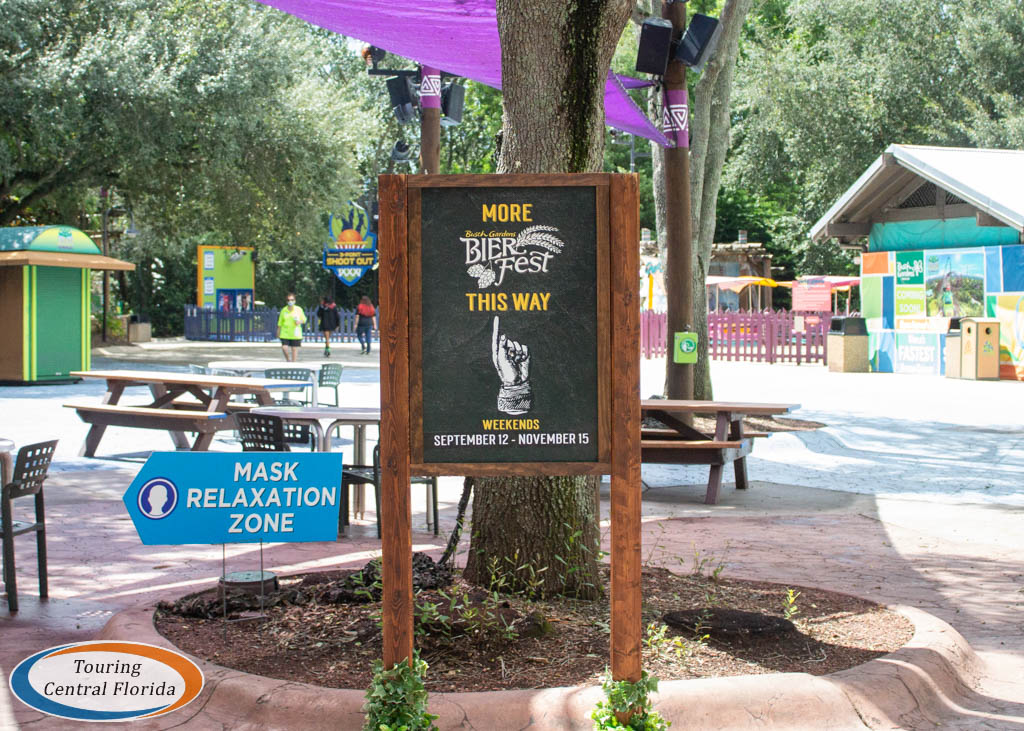 While we strive for accuracy, please note that items, offerings, portion sizes, pricing, etc. may change at any time. Touring Central Florida is not responsible for errors; please confirm all information with the park directly.
---
Join in the conversation online with #ThrillsOnTap. For the latest on Busch Gardens Tampa and other theme parks, attractions, and more across the region, be sure to follow Touring Central Florida on twitter @androckb & @TourCentralFL, and like our Facebook page.