Howl-O-Scream has returned to Busch Gardens Tampa Bay on weekends through November 1. The separately ticketed event offers open-air scare zones and the favorite Fiends show on an outdoor stage. Along with the special event offerings, most major roller coasters and rides are also open for guests to enjoy, and select Bier Fest booths remain open until late.
Safety for both guests and the scare actors is the park's top priority. Everyone must wear proper face coverings at all times unless actively eating, drinking, or in a designated face-covering relaxation zone. Guests are also reminded to maintain at least six feet of distance between themselves and other parties at all times. Just as during the day, all guests must go through temperature checks and security screening, and are encouraged to frequently wash their hands and use hand sanitizer.
In the interest of full disclosure, Touring Central Florida was invited to cover Howl-O-Scream 2020 by Busch Gardens and received complimentary admission to the event. We also visited under our own admission during the day to get additional pictures of Howl-O-Scream props and scare zones. As always, all opinions shared in this article are our own.
Please note – this article does contain some spoilers. While I don't reveal every detail about this year's Howl-O-Scream at Busch Gardens Tampa, if you prefer not to know too much before your visit, stop reading after the Howl-O-Scream Basics section and check out our recent article with short descriptions of the 10 announced scare zones.
Article last updated on October 17, 2020, with some of the changes & additions since the first weekend!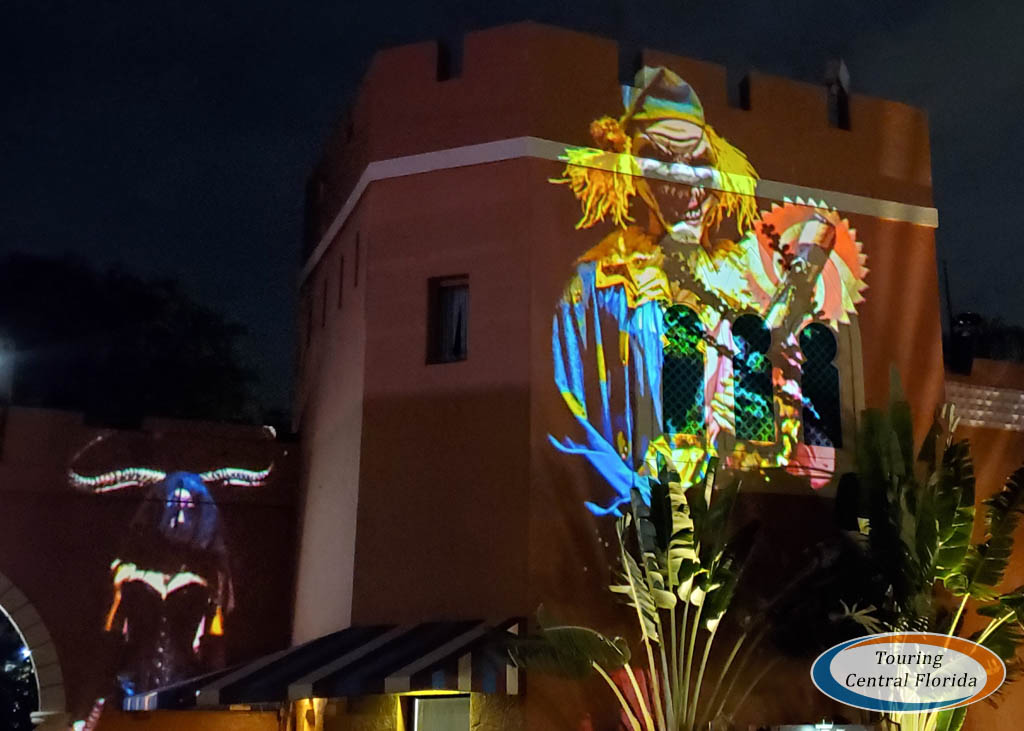 ---
Howl-O-Scream Basics
Howl-O-Scream 2020 at Busch Gardens Tampa runs on Friday, Saturday, and Sunday evenings through November 1, with hours on Fridays & Saturdays from 7 p.m. to midnight, and 7 p.m. to 11 p.m. on Sundays. Howl-O-Scream is a separately ticketed event not included in any daytime admission or annual pass to Busch Gardens. Your Howl-O-Scream ticket grants you admission into the park beginning at 5 p.m. There is no re-entry on a Howl-O-Scream ticket, so make sure you have everything you need before coming in the gates.
NEW: Thursday, October 29 has been added to the event's calendar with hours of 7 to 11 p.m.
Purchasing your ticket in advance is the best bet, as capacity to the event is limited and it's possible some nights may sell out. The price varies depending on the night you choose and ranges from $29.99 and up plus tax and service fee when purchased in advance. Pass members can save an additional $5 on the advanced purchase price. Full gate price if purchased at the park on the night of your visit will cost $89.99 + tax.




You can purchase tickets on the Howl-O-Scream website, or if you'll be at the park prior to your visit, you can avoid the service fee by buying at the ticket windows or guest services. Just keep in mind pricing is subject to change and the advance purchase price is not available after 6 p.m. the day of the event.
There are no paper maps being handed out this year, either during regular park hours or for Howl-O-Scream. There are two map boards at the entrance to the park showing the Howl-O-Scream layout and a digital version is shared below. Your best bet is to save the image below or snap a picture of the map board on your way in to keep it handy so you don't miss anything.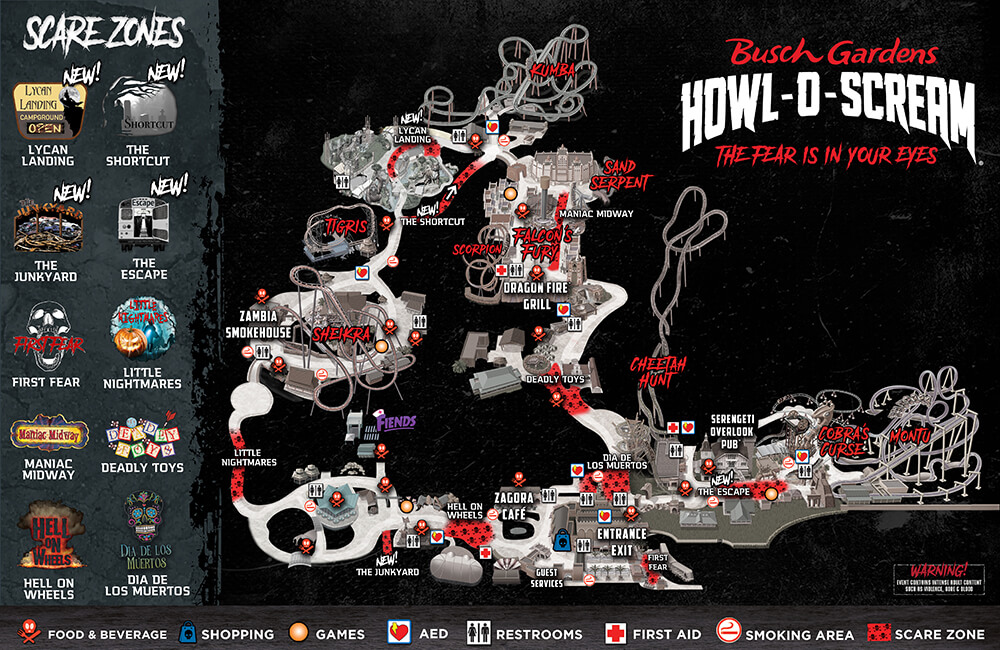 The only "Evil Upgrade" available for Howl-O-Scream 2020 is Quick Queue for the rides. Most major rides are open including the roller coasters, Falcon's Fury, and even the carousel in Pantopia. Sesame Street, animal habitats, and Congo River Rapids are not open during the event. Pricing for Quick Queue varies depending on the night selected. If you're looking to hit all the rides and the Howl-O-Scream offerings in one night, you'll probably want to invest in Quick Queue for your visit.
NEW: Beginning the second weekend, Fiends is now offering a VIP Seating package that includes a spot in a special section in the front and center seating area and one beverage (cocktail, soda, or bottled water) from the Fiends Bar. Price is $19.99 per person and can be reserved online ahead of your visit. Pass member discount of 10% does apply.
Busch Gardens is also offering an overnight package combining a hotel stay and admission into Howl-O-Scream for one night. It requires a minimum of two adults and includes a stay at a partner hotel in the area. It does not include daytime admission to Busch Gardens, but guests can certainly purchase that separately.
Note: Below this point are more specific details on this year's Howl-O-Scream at Busch Gardens Tampa, including some spoilers. If you prefer a spoiler-free look at the 10 announced scare zones, see our recent article.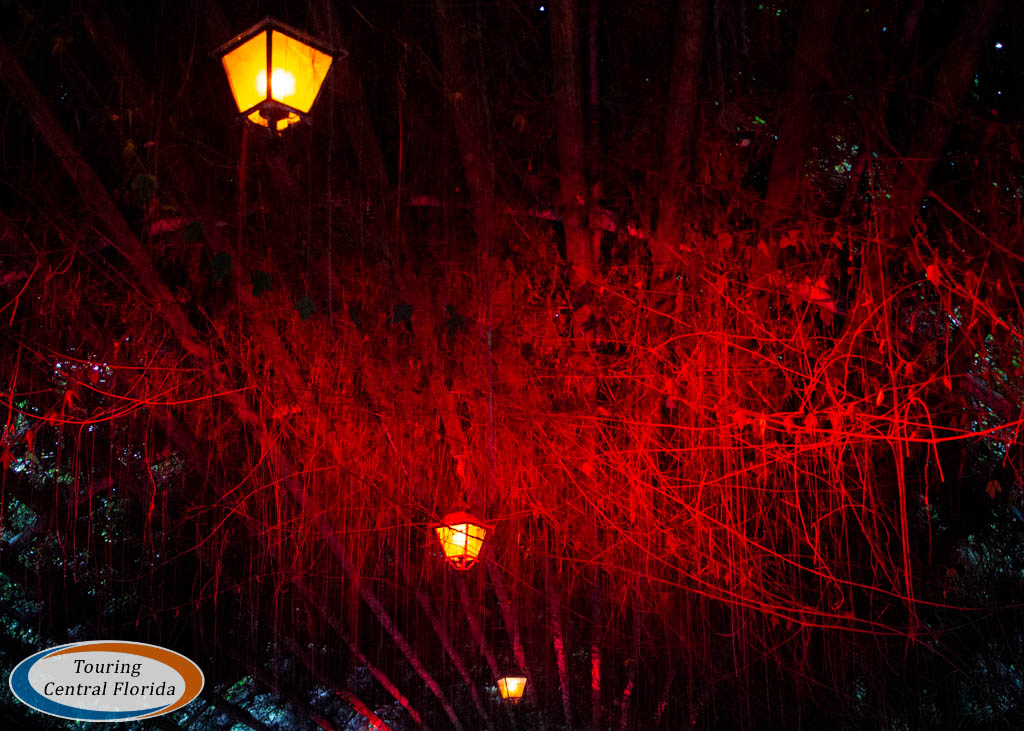 ---
Scare Zones
Busch Gardens is advertising a total of 10 scare zones – but there are actually 11! There are four new scare zones this year, and two of those are one-way experiences creating more of an outdoor haunted house feeling than a traditional scare zone.
The list below is not in a rated or ranked order, but instead looks at the four new scare zones first, followed by the returning scare zones (and bonus eleventh zone). Along with a look at what each scare zone offers, I also share my thoughts on each from my recent visit on opening weekend.
The Junkyard
Arguably the "premier" scare zone at Howl-O-Scream 2020, The Junkyard is set up as a one-way experience surrounding the backside of Xcursions gift shop in the Bird Gardens area of the park. The scare zone actually combines the entrance and exit areas of the former Motel Hell haunted house. It is littered with a variety of discarded items, including a number of props and signs from past Howl-O-Scream houses and scare zones.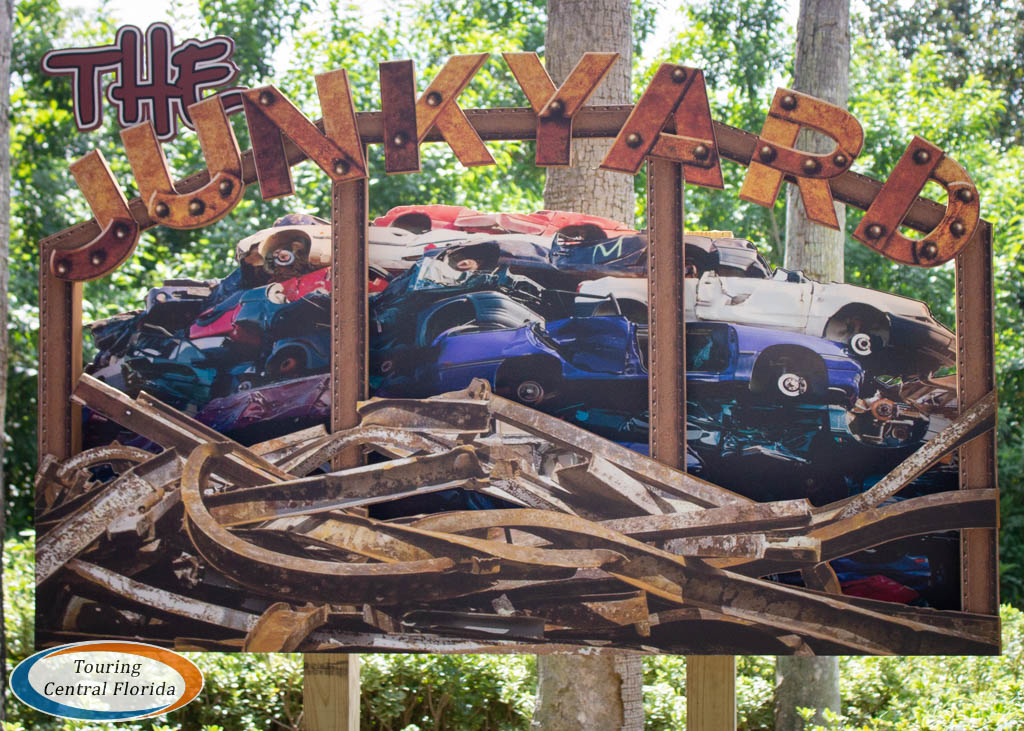 Since it's a one-way experience and guests are pulsed through to maintain social distancing, a queue is set up outside of The Junkyard. Markers on the ground denote six feet intervals, so remember to give yourself space from the party ahead of you when lining up. The queue may look long but generally moves at a steady pace unless you catch it during a scare actor shift change, in which case you may stop moving for a couple of minutes.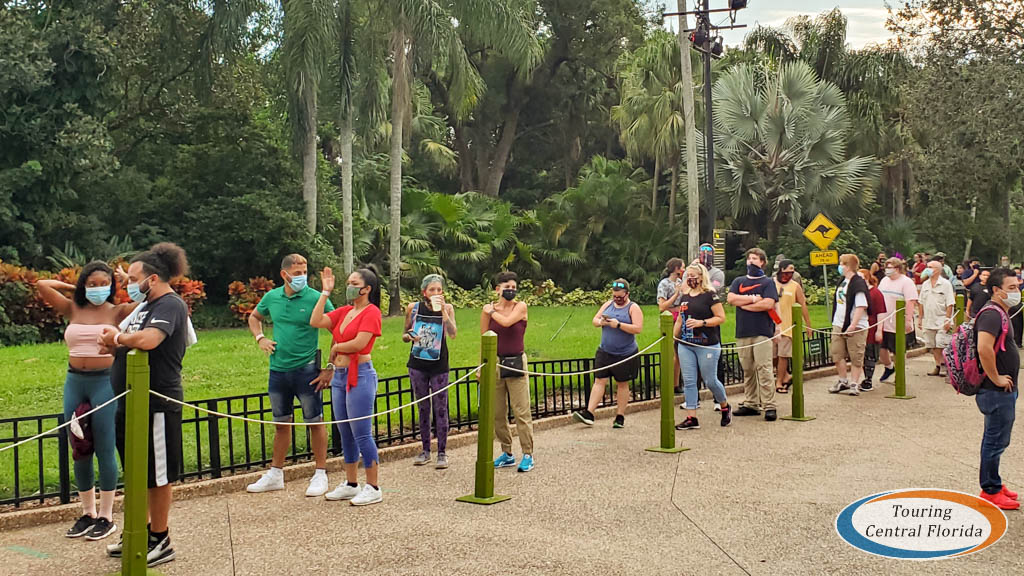 Given its proximity to Festival Field, avoid visiting The Junkyard right after Fiends lets out when many guests will jump in line. I went through at about 10 p.m. as the second performance of Fiends was starting and only had to wait behind a few groups of guests, less than two minutes total. It was the closest thing to a traditional haunted house at this year's event and had a large number of scare actors from beginning to end. Seeing old props and signs from past events was a bonus.




The Shortcut
The other one-way scare zone, The Shortcut is located on the Jungala bypass between Stanleyville and Congo sections of the park. It uses the Skyride's Stanleyville station as the queue, routing guests through the regular queue then around the turnaround where gondolas normally travel when the ride is open.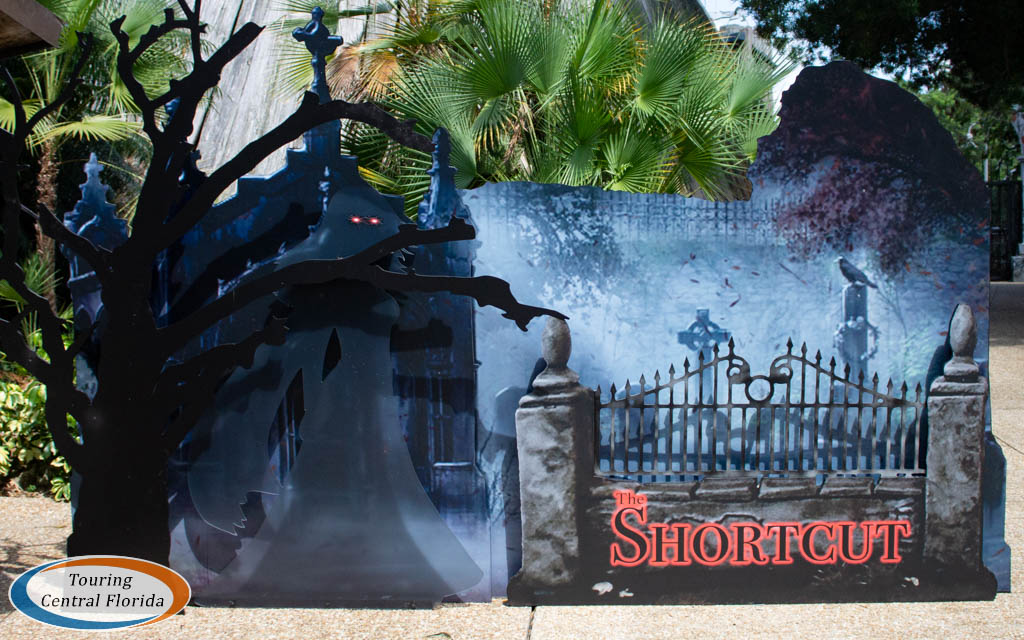 The set up is you're using the cemetery as a short cut – but that quickly turns into a bad idea with ghouls crawling out from their graves to try and stop you. There are lots of props in this scare zone, including a hearse, burnt-out chapel, and other statuary. Fans of Death Water Bayou will recognize the casket prop early in the zone.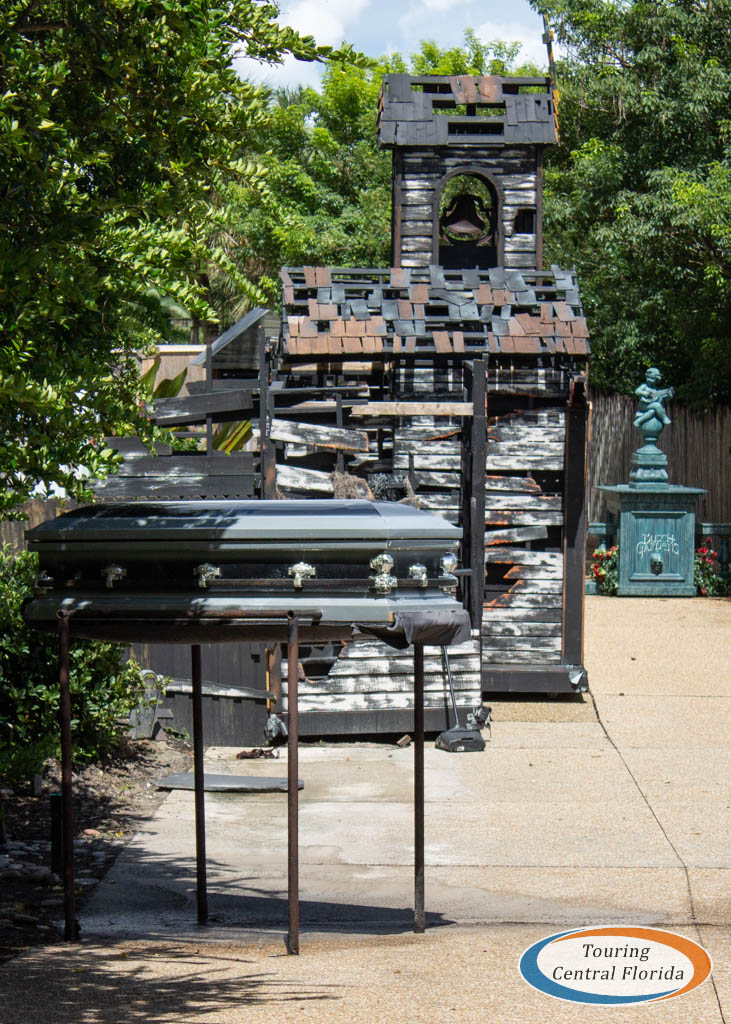 It lived up to its name – it felt very short. It was also exceptionally dark, so much so that little of the detail of the set pieces could be enjoyed once the sun sets. The minimal length and narrow path don't really allow scare actors to get creative like in many of the other scare zones. If you're short on time and have to decide between waiting in line for The Junkyard or The Shortcut, I would definitely choose The Junkyard.
Lycan Landing
There's a full moon at this campground and that means you're likely in for some trouble. Using wooden picket fence sections as temporary barriers, guests must zig-zag through the Jungala plaza and encounter both Lycans and other menacing creatures.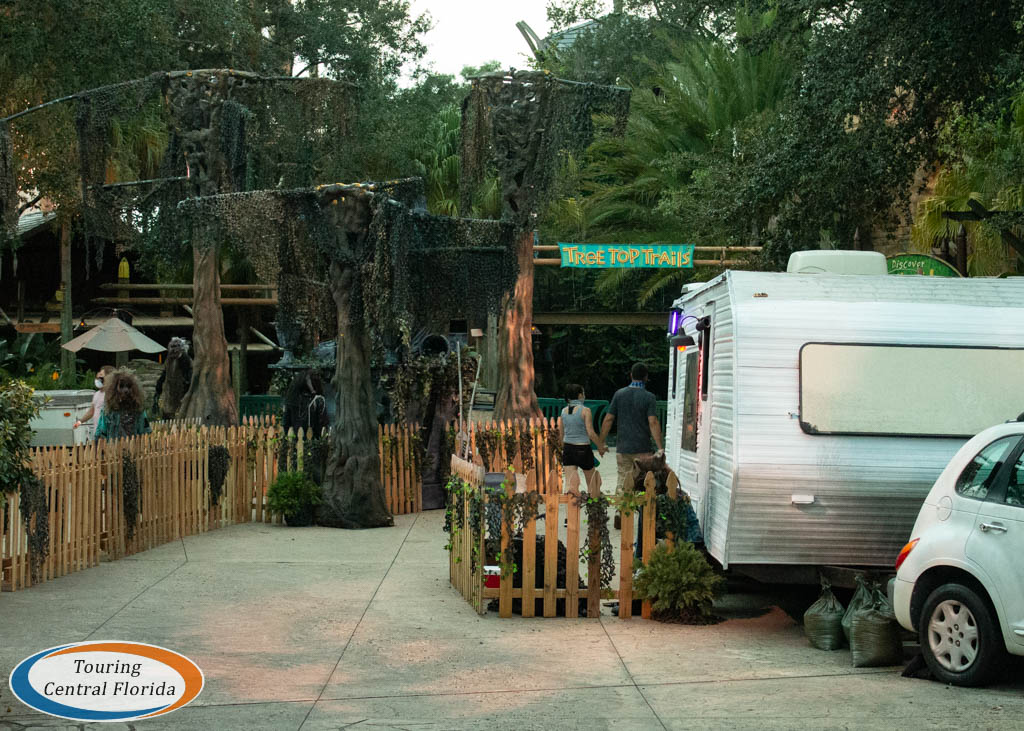 I enjoyed the subtle change of the signage from the daytime when it shows the campground as closed…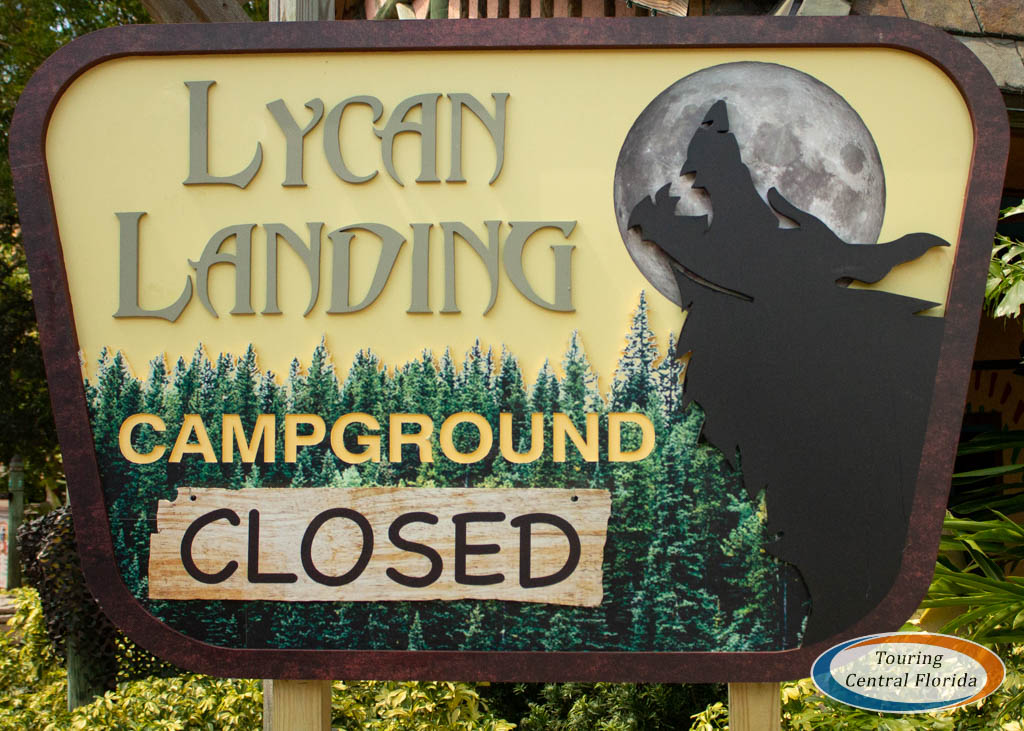 … to the night time where the campground is open, but with a bit of a warning: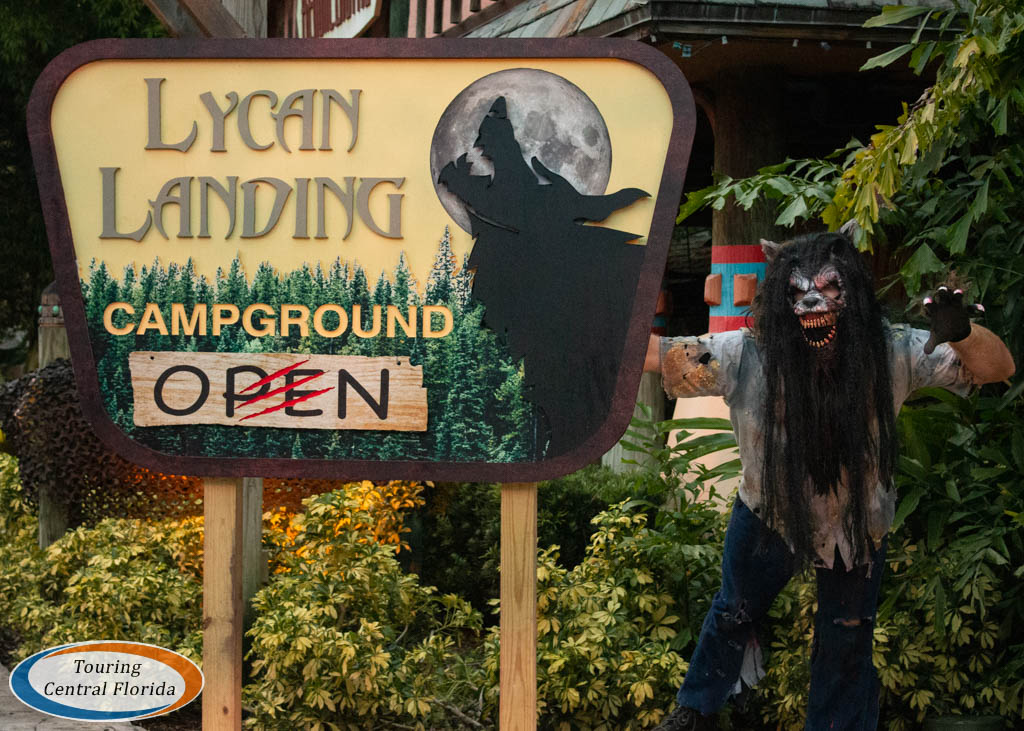 The Escape
The last of the new scare zones at Howl-O-Scream 2020, The Escape features a bus full of deranged inmates that have managed to break free and terrorize guests wandering past Serengeti Overlook between Cheetah Hunt and the Egypt section of the park.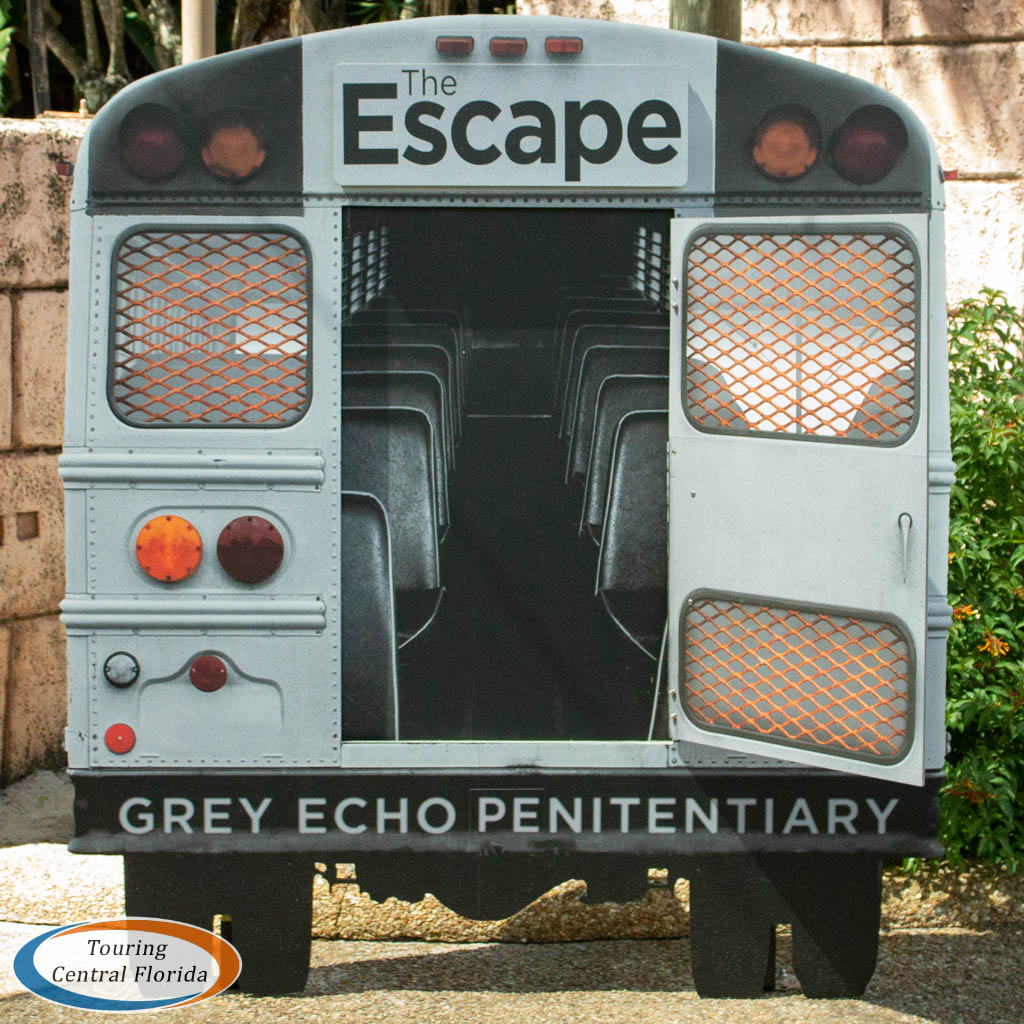 This was another high-energy scare zone with actors doing all sorts of crazy things to really add to their character's portrayal.
One particular scare actor stood out during my walkthrough, using his megaphone to riff a variety of creepy comments and even a few jokes about guests passing by, all very much in character for a deranged individual who just escaped a penitentiary. He managed to make me chuckle a little and feel uneasy about it at the same time – very effective.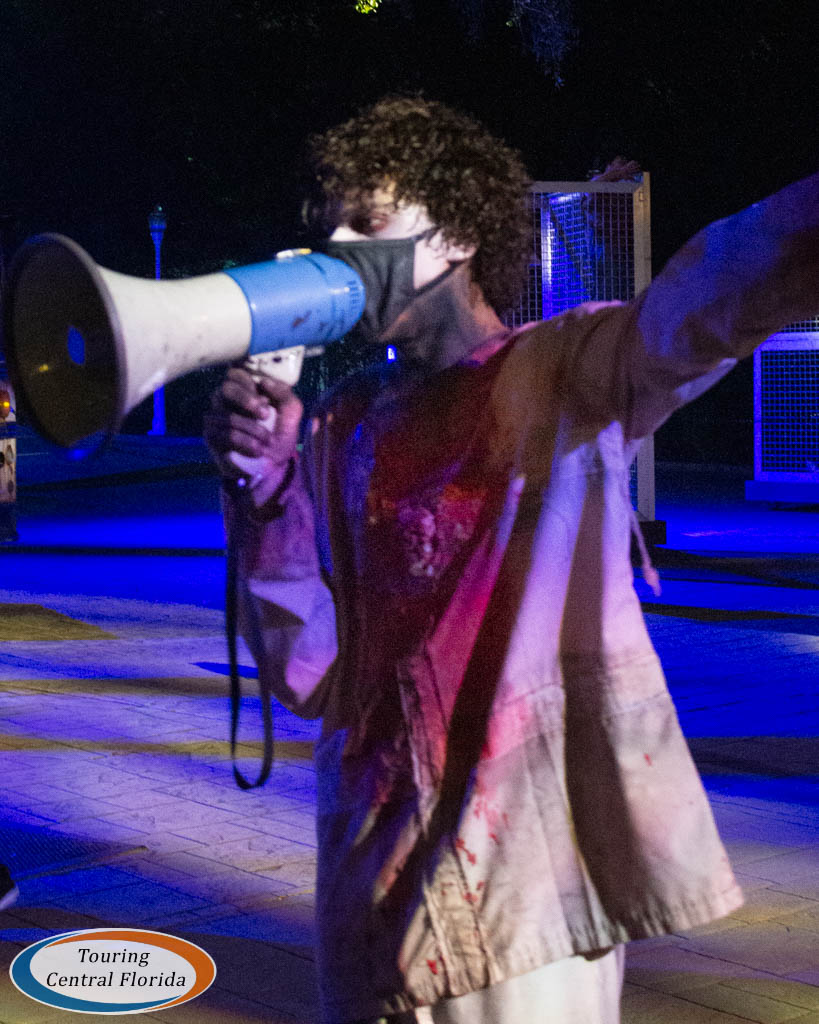 First Fear
Starting back at the entrance to the park and working clockwise through the returning scare zones, First Fear features former Howl-O-Scream icons and memorable characters from the event's past. You'll find actors around the entrance plaza and maybe even a few inside of the gates later in the evening. Many of the actors here will be willing to pose for a socially distant selfie.
Dia de los Muertos
Honoring those who have gone before us, Dia de los Muertos (or Day of the Dead) fills up the courtyards around the Moroccan Palace Theater near the front of the park.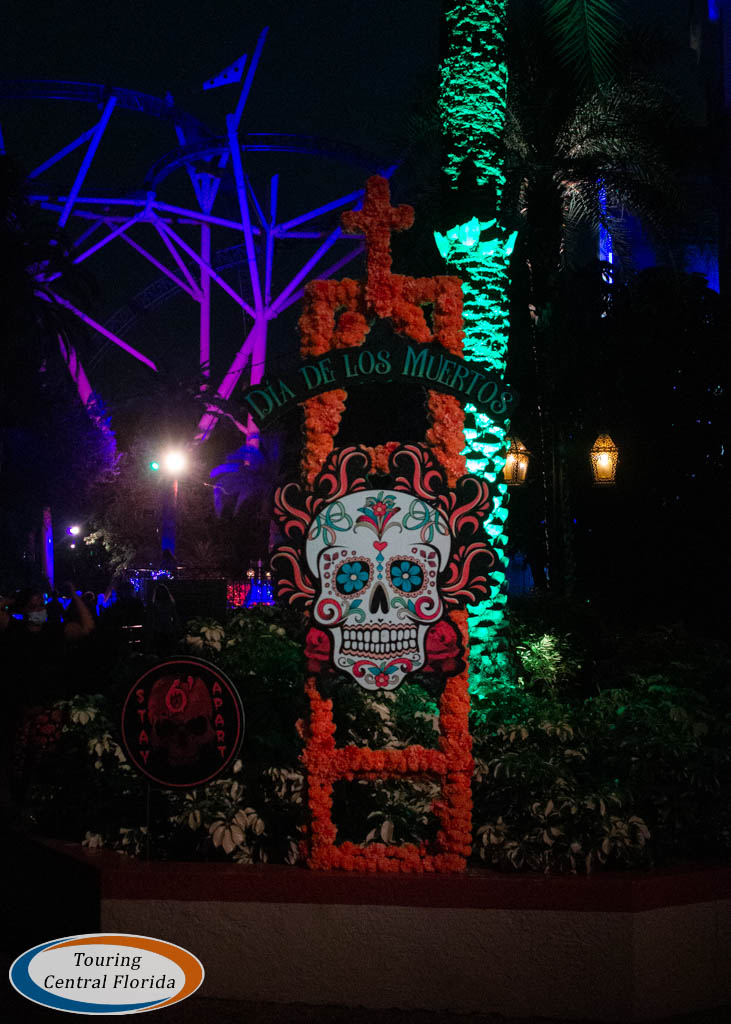 This is a scare zone in name only – there are no real scares to be found here. Instead, you'll find lively music, dancing, and a lot of picture-taking. There's also a special food & beverage tent set up here – see details further down in this article.
Deadly Toys
Along the pathway around the Nairobi train station, Deadly Toys sees child playthings come to life in a sinister way.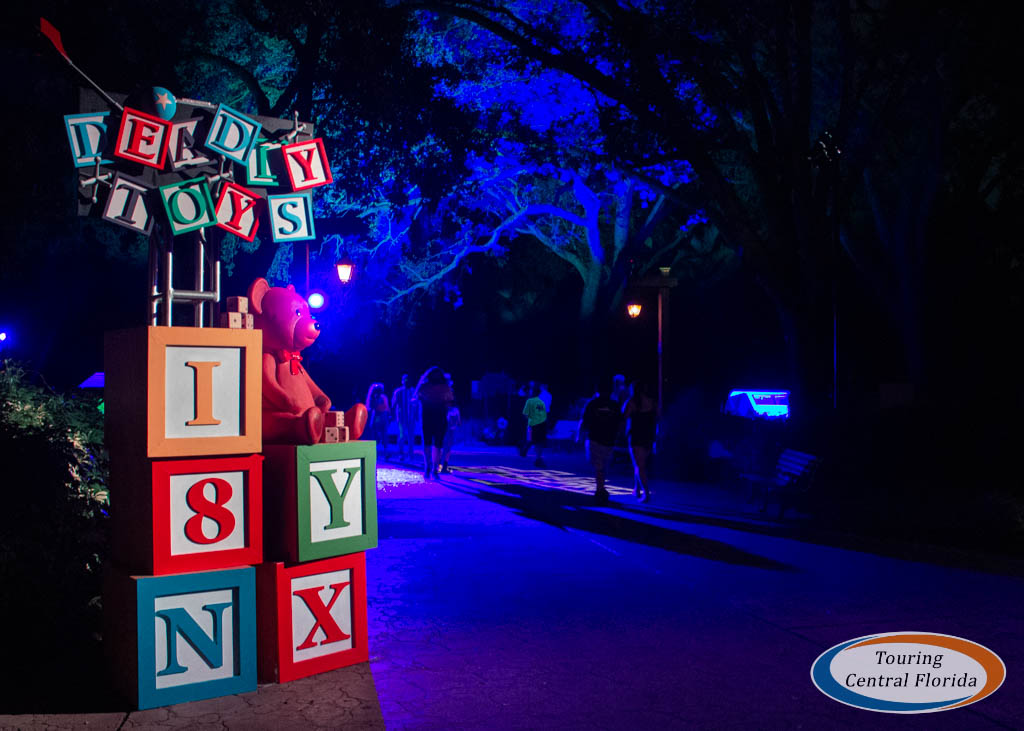 There is something inherently creepy about hearing nursery rhyme style music as a backdrop to a variety of menacing looking children and toys come-to-life. The scare zone is very dark but in this case, it works well – skip taking selfies here and enjoy the atmosphere instead.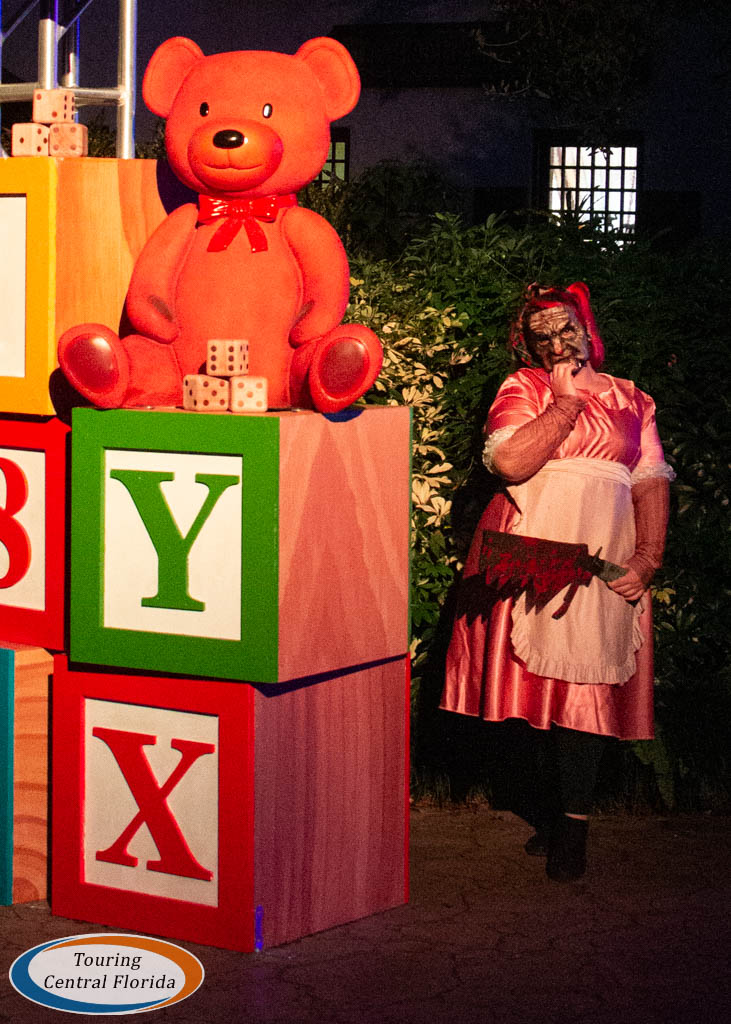 Maniac Midway
The worst of the circus has come to town in Pantopia and with it a number of creepy clowns unleashing their underhanded talents in Maniac Midway.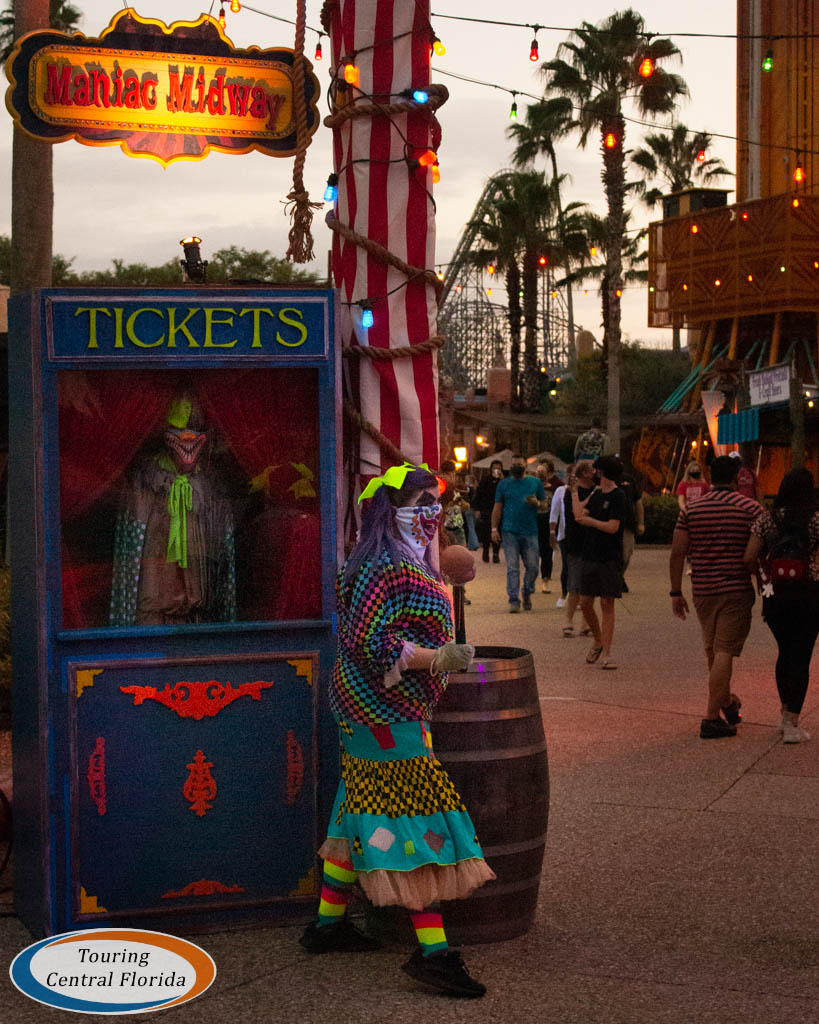 I found some of the highest energy scare actors of the night in this zone, all playing the maniacal clown character very well.
What has previously been an expansive scare zone across almost all of Pantopia has been reduced down to just one side of the area. This isn't necessarily a bad thing – it concentrates the scare actors and set pieces into one place, allowing for a more compact experience. Part of the problem of the whole area being a scare zone in the past meant it felt sparse in terms of scare actors. This set up also allows guests who particularly fear clowns to mostly avoid them by walking around Falcon's Fury on the side of Scorpion.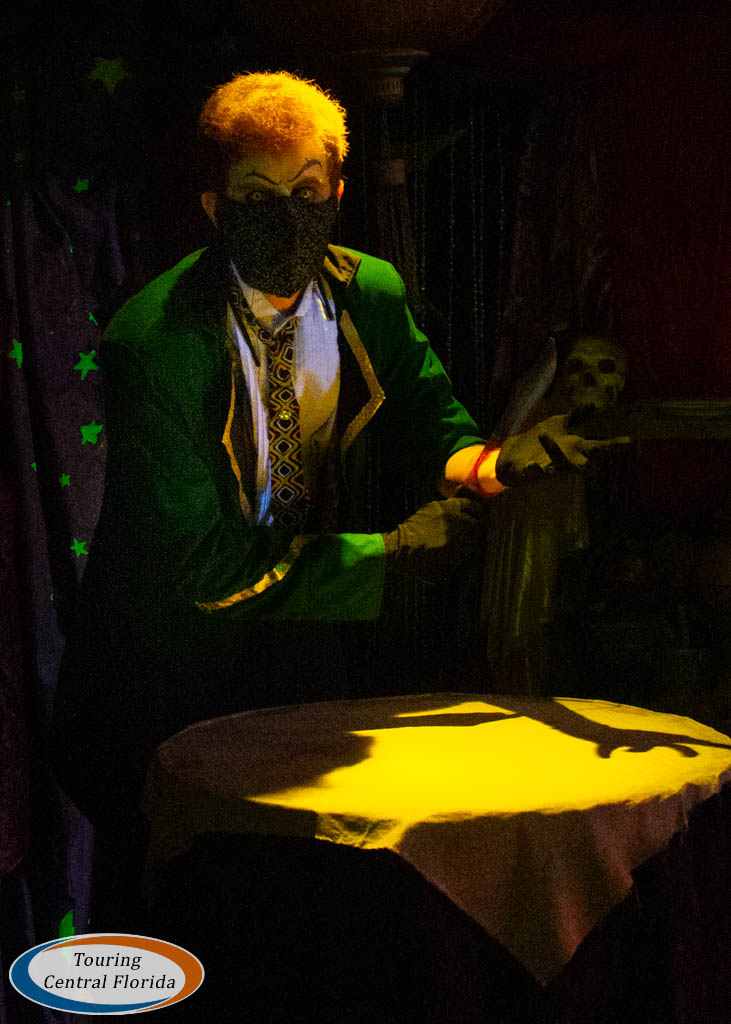 Little Nightmares
Stretching along the pathway outside of Sesame Street Safari of Fun, Little Nightmares returns to give a feeling of dread while walking down the trick-or-treat lane.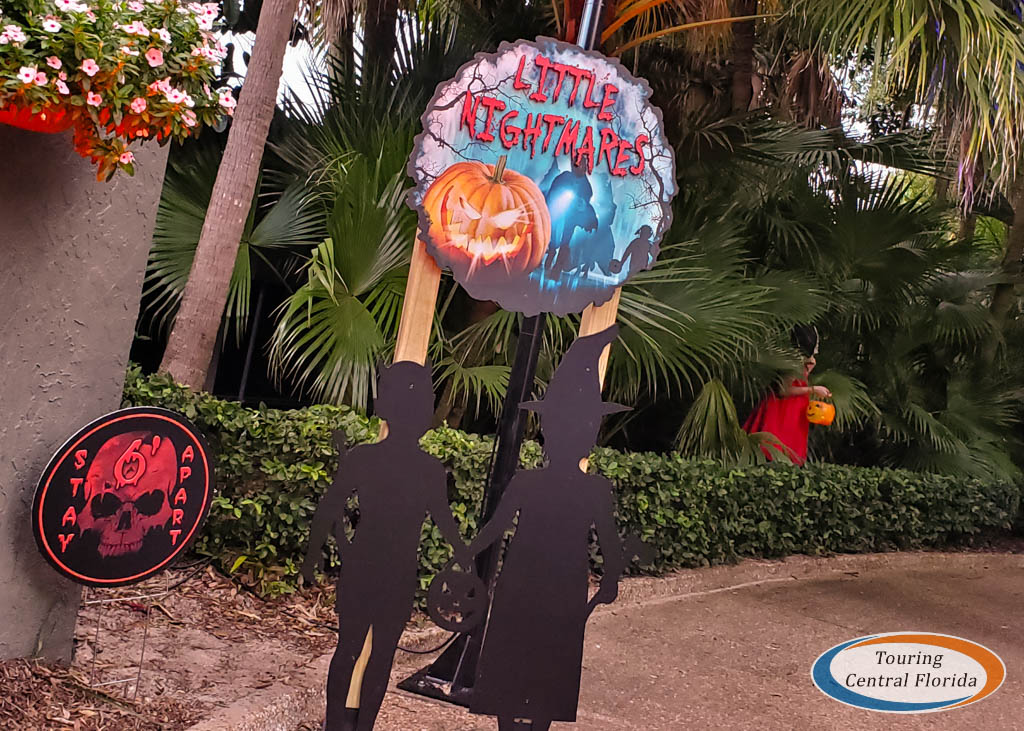 One of the better "jump scares" is also located in this scare zone, and actors here were especially taunting to guests walking by.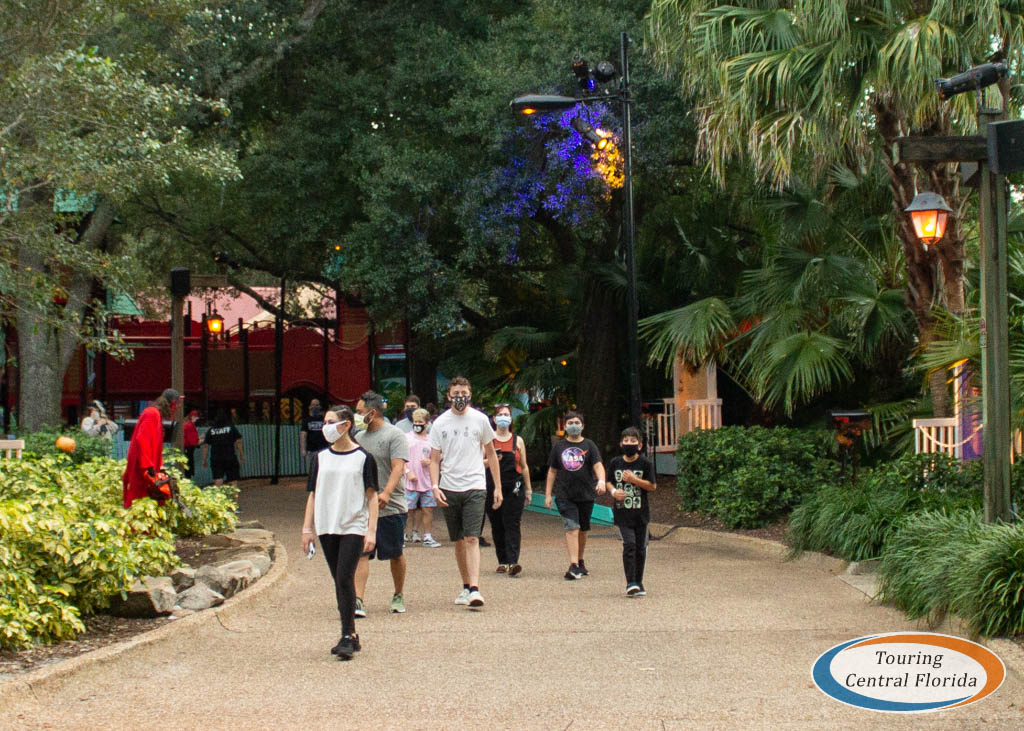 This is probably not the street you'd want to go trick-or-treating on.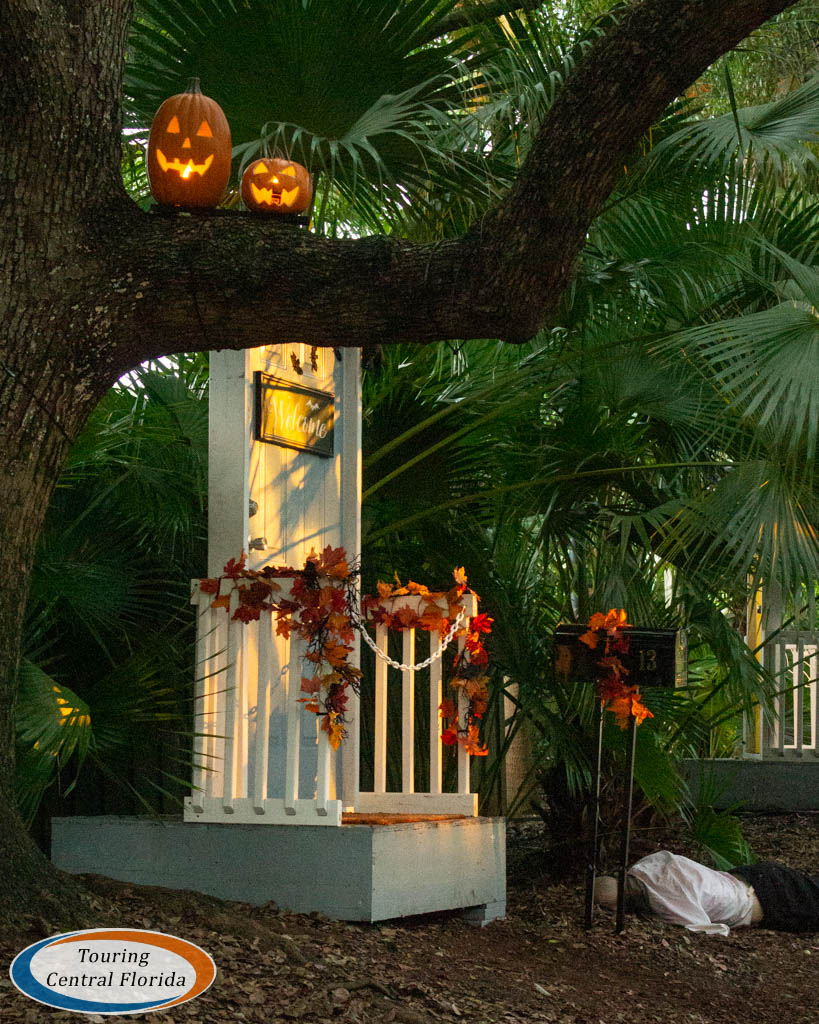 Hell on Wheels
Jokes about 2020 aside, Hell On Wheels brings a post-apocalyptic world alive in the Iron Gwazi plaza.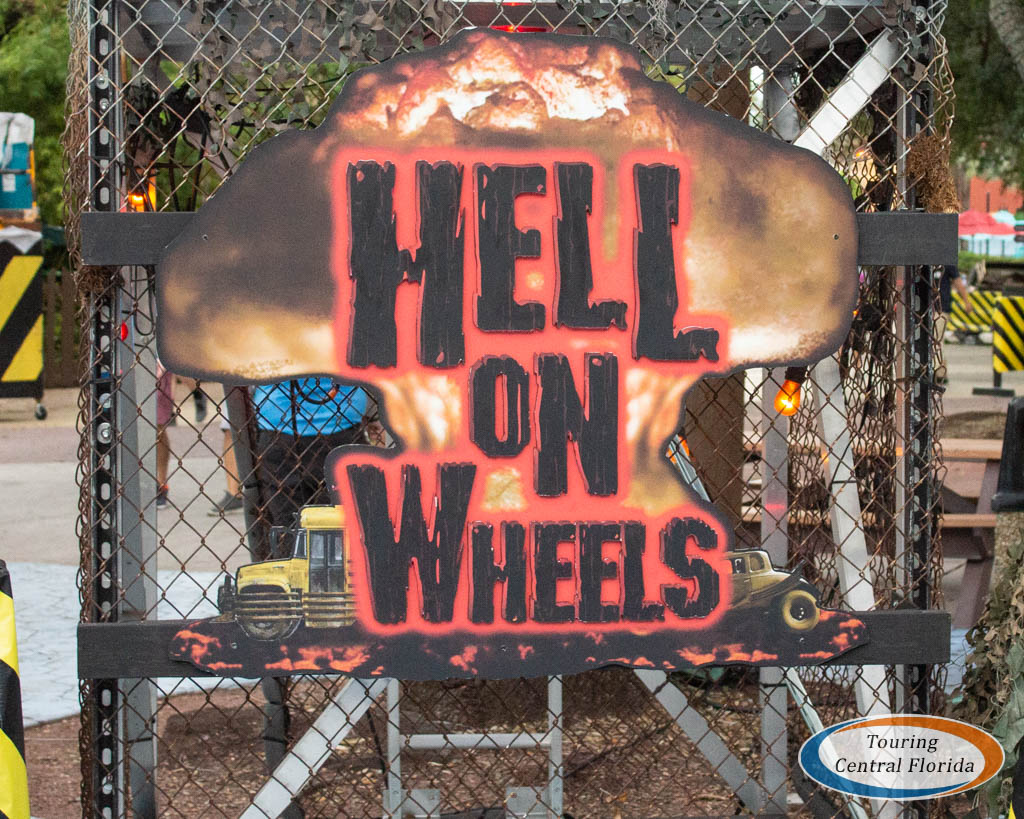 While not outright scary, Hell on Wheels is more unsettling and sets the mood for the event in that you don't fully know what to expect as creatures of all kinds have taken over the park.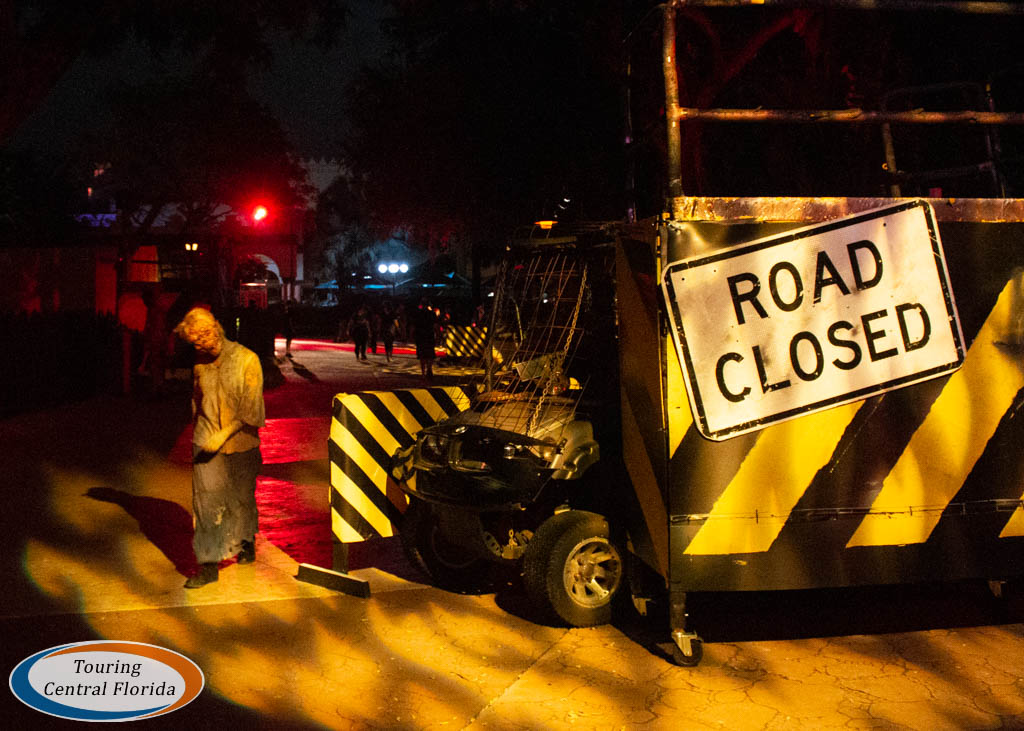 Camo Creeps
You won't find the eleventh zone the map, and that may just make it the best one for scares. Since it's not officially listed, there is no guarantee this one will be there, but between Sesame Street and Garden Gate Cafe, there's really no way of telling if there are creatures lurking in the bushes or not. Can you see where the scare actor is in this photo?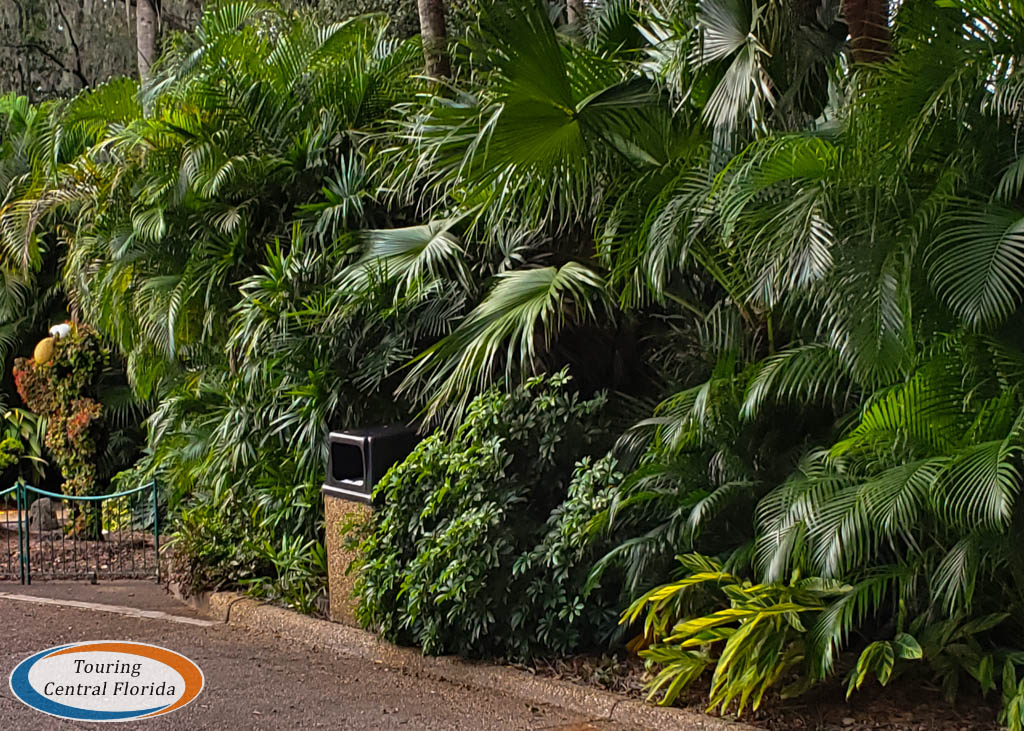 ---
Entertainment
Dr. Freakenstein, Igor, the Naughty Nurses, and a crew of dancing creatures are back for another installment of Fiends, the perennial favorite performance that is peak Howl-O-Scream fun.
This year's theme should come as no surprise – staying socially distant but still trying to have fun. Dr. Freakenstein carries his bottle of "Pure-Hell" around, spraying anyone who dares get too close.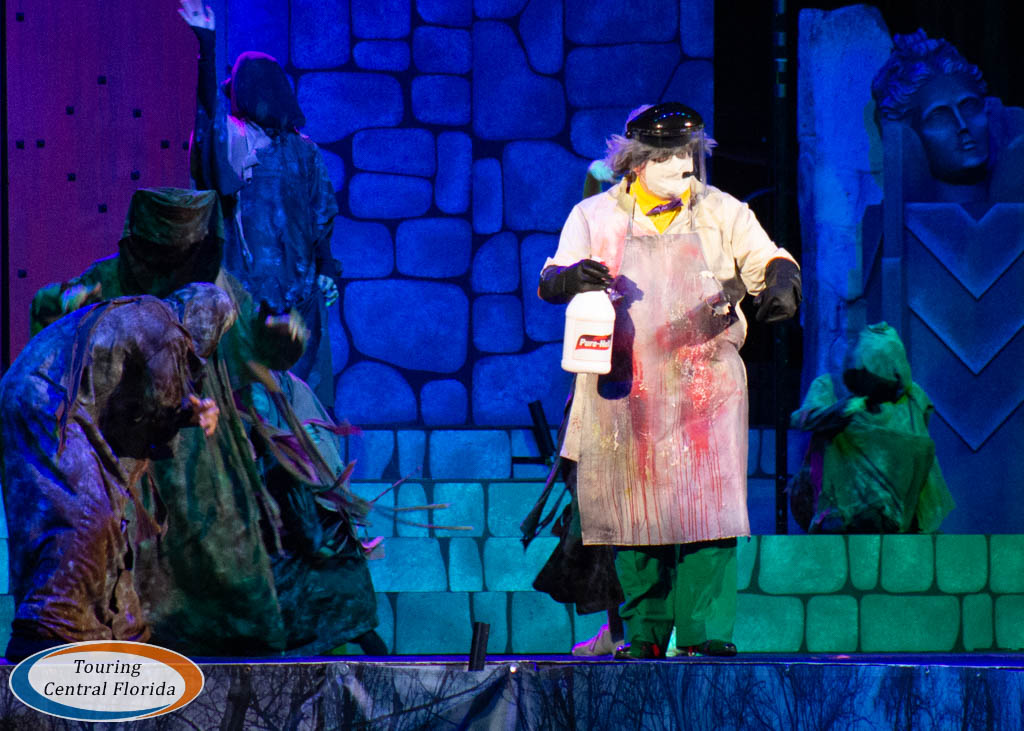 If you're easily offended, this isn't the performance for you. The show is full of corny jokes, suggestive posing, innuendo, and high energy dancing that repeat guests have come to expect. And that includes plenty of stage time for the Naughty Nurses.
Despite the modified storyline, the show's premise is the same as past seasons – monster guests arrive for a party and each introduces themself with a dance number. Some of the songs have changed, and while a completely subjective preference, I found some of the choices to be a little odd for the vibe of the show. Still, the incredibly talented cast does a great job not only dancing but with their comedic timing and line delivery as well.
NEW: A band called the Rolling Bones plays nightly inside of Dragon Fire Grill at 7, 8, and 9 p.m.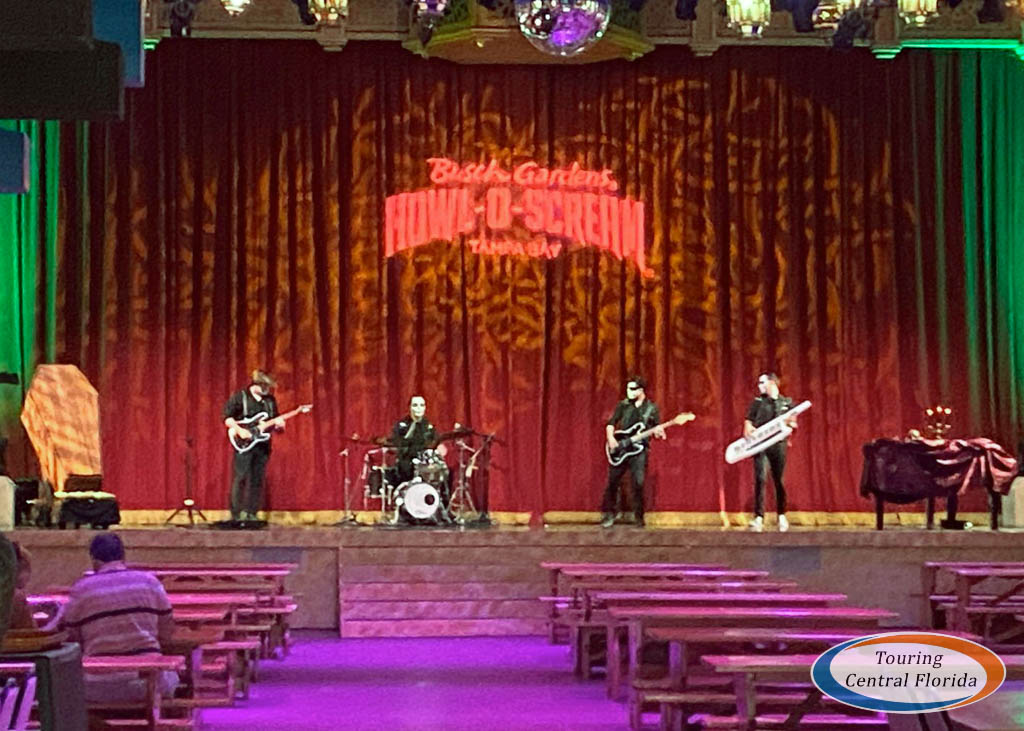 You won't find any traditional photo-ops with Howl-O-Scream scare actors or naughty nurses, but you may be able to take socially distanced selfies throughout the event, especially in the First Fear and Dia de los Muertos zones. There are also a couple of good backdrops for photo taking in the Day of the Dead area.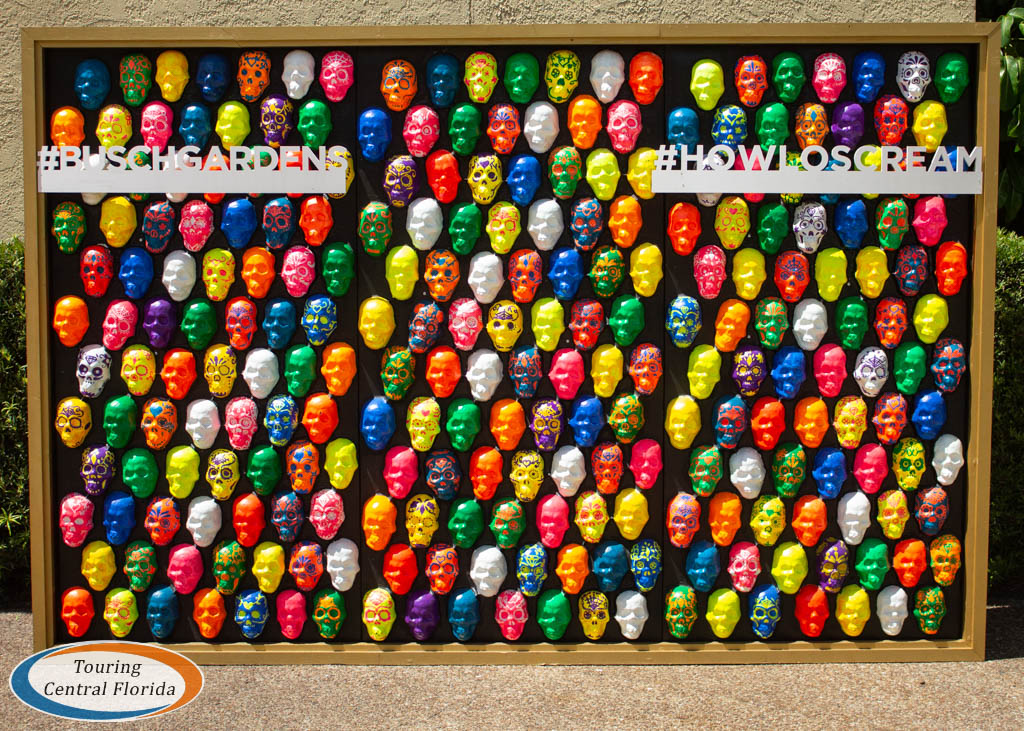 NEW: Some additional photo op backdrops have been added since opening weekend, including near Zagora Cafe, in the Hell on Wheels scare zone, and in the Stanleyville plaza.
There aren't any rules against taking pictures in other zones (except no use of flash), but be respectful of other guests who are looking for scares and not photo ops. Also, understand that not all scare actors will be willing to stop and pose for you.
---
Shopping
There is no Shop of Horrors at this year's Howl-O-Scream, but you'll still be able to find some event merchandise in a couple of gift shops around the park.
Emporium, the gift shop just inside park gates, has the widest selection of items. Look for the 2020 event shirt featuring the 10 scare zones instead of haunted houses, and other apparel carrying the Howl-O-Scream name and this year's tagline "The Fear Is In Your Eyes."
Further back in Emporium I found another display with more Halloween themed items, including face coverings and large plush figures.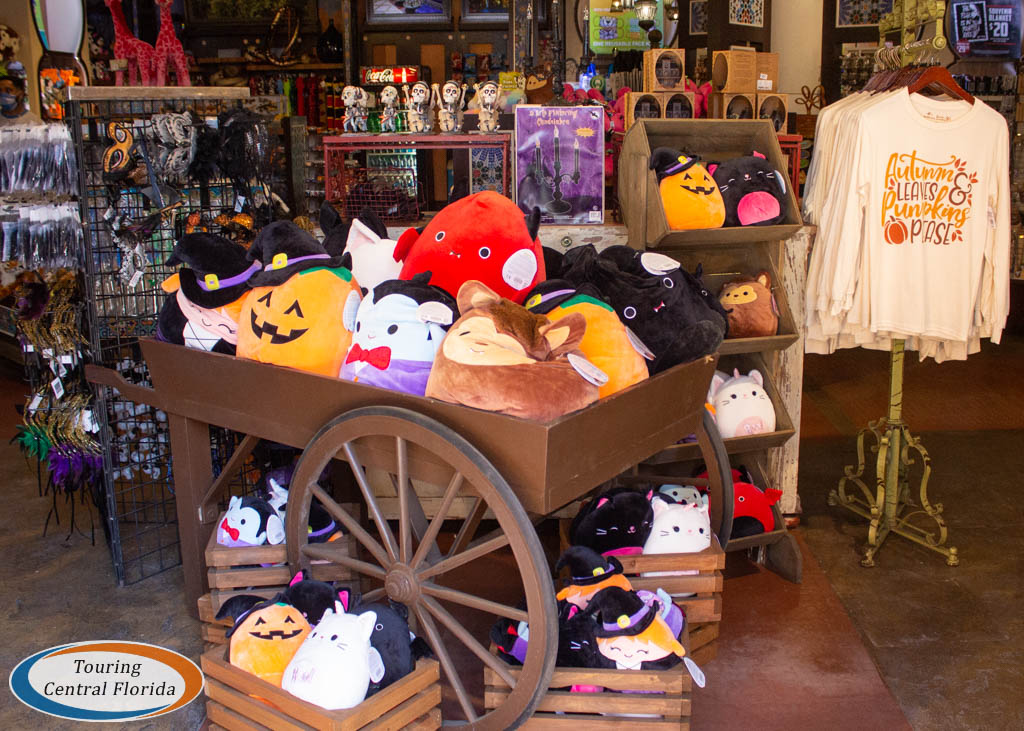 Xcursions features many of the same Howl-O-Scream items. There's also a bar set up inside the gift shop there, too (see the section below for details).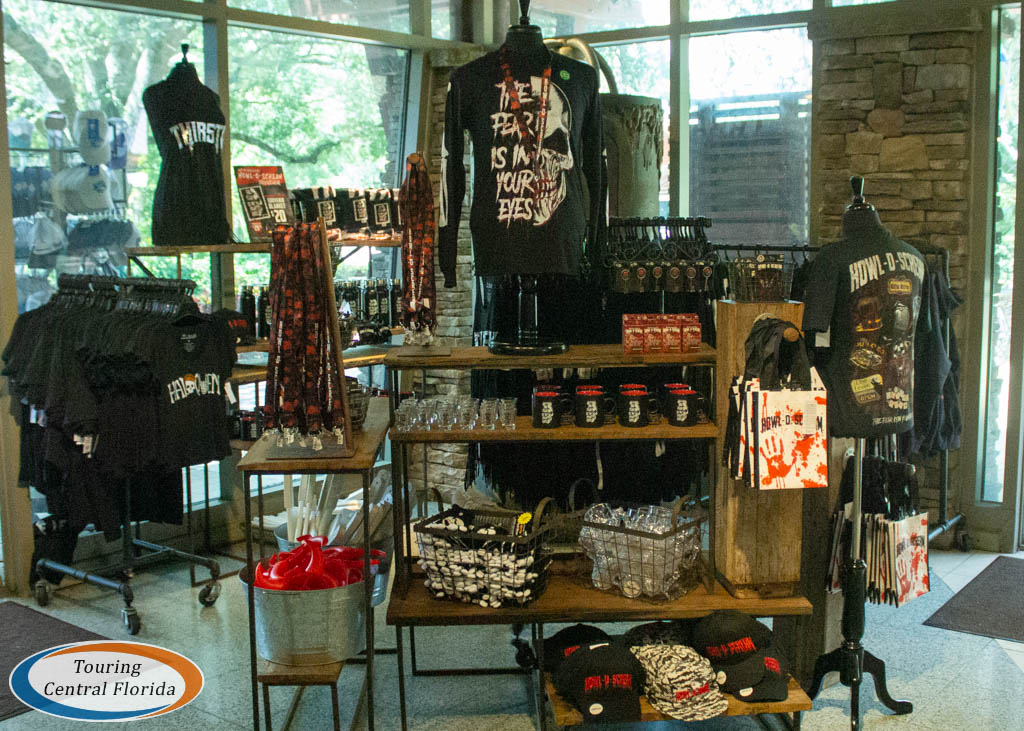 NEW: The Howl-O-Scream themed face coverings that were originally given away as a free perk to Platinum pass members on opening weekend are now available to all guests for $5 each. They are available at several of the gift shops while supplies last.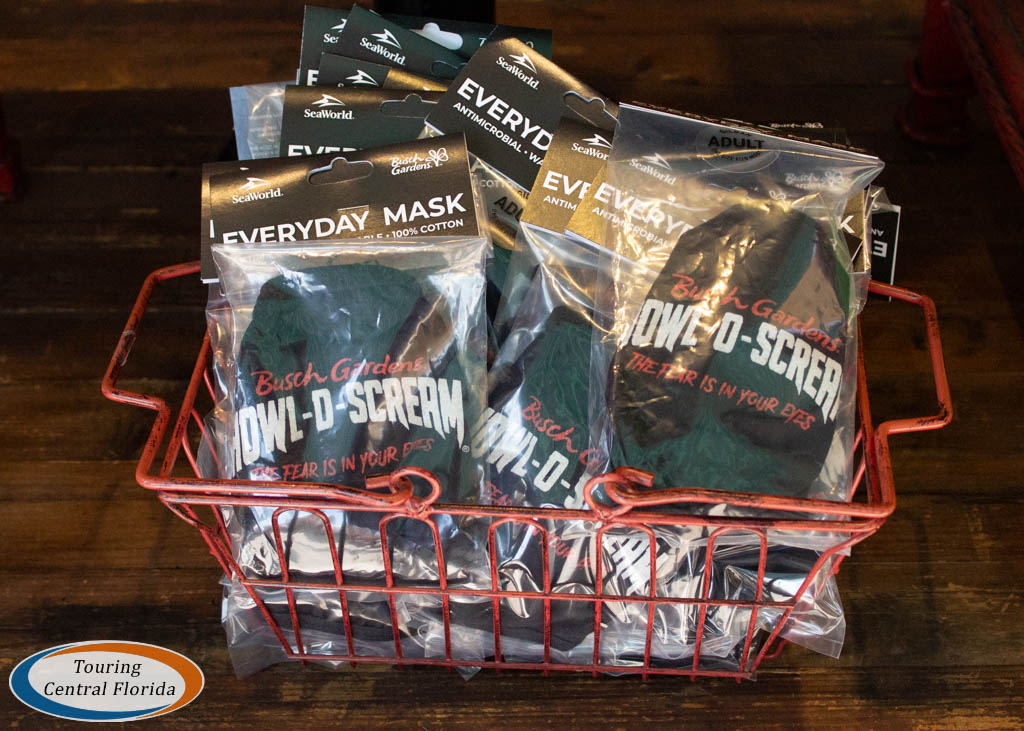 NEW: Also since opening weekend, several of the Mold-A-Rama machines around the park have switched to a Howl-O-Scream theme. We found a total of four – two in the Dia de los Muertos zone, one at the entrance to The Junkyard, and one on the path into Pantopia on the Congo/Jungala side. Each machine features a different design, and the plastic injection creations are $4 apiece.
---
Food & Drinks
In addition to regular restaurant & concession offerings, guests visiting Howl-O-Scream 2020 can also enjoy some of Bier Fest. All Bier Fest locations are available until 6 p.m. each event evening, and a few select spots remain open until late. Those locations include Pub Grub, Garden Gate Cafe, the two booths under Coke Canopy, the bar inside Xcursions, and the Bourbon & Tequila Tasting experience.
Be sure to check out our huge Bier Fest 2020 guide with full menus, pricing, reviews of items we've tried, and some money-saving tips.
At Dia de los Muertos, look for the food & beverage stand set up to the side of the theater near Cheetah Run. This location offers some Mexican-inspired dishes and beverages including the event's featured drinks.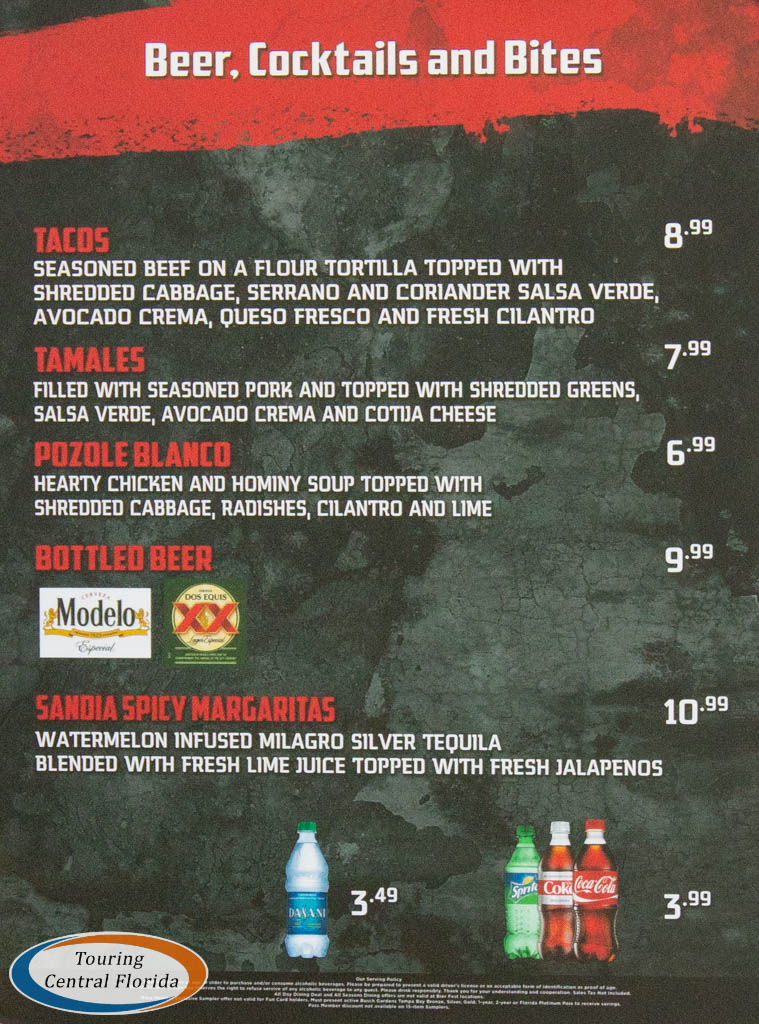 You'll also find several regular bars and concession stands around the park open during Howl-O-Scream, serving both adult beverages and snacks. Look for traditional bars inside Serengeti Overlook, Dragon Fire Grill, Garden Gate, and at the Flume Overlook in Stanleyville. There are also pop up bars inside Xcursions, Cheetah Gifts, and Kariba Marketplace.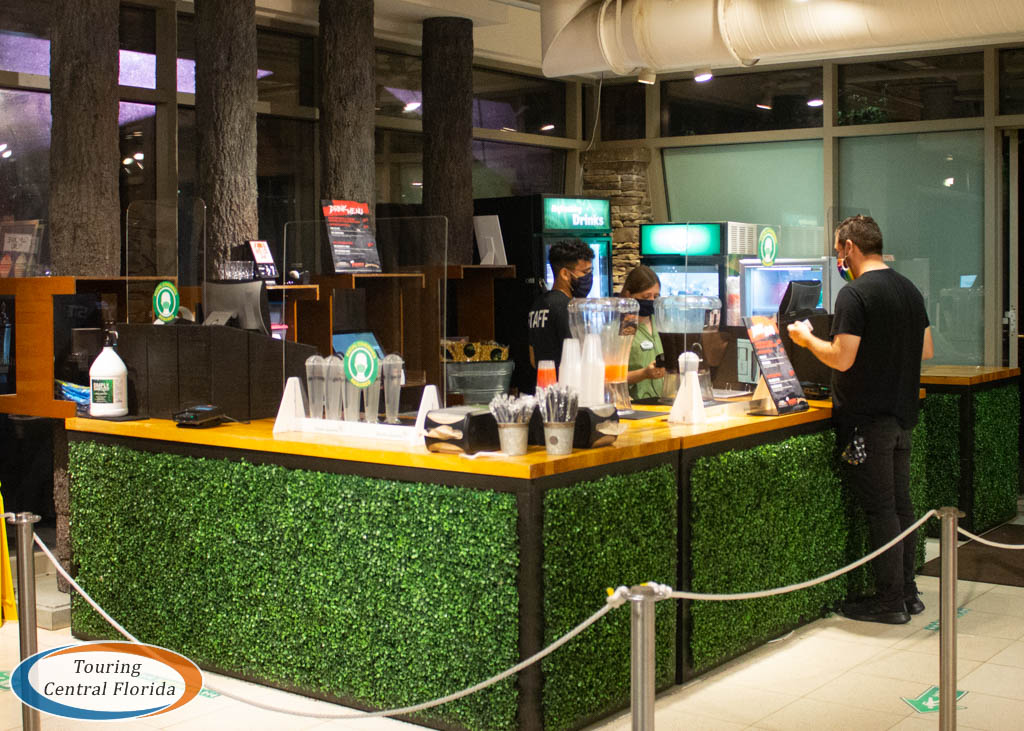 Out on Festival Field, check out the Fiends Pavilion Bar for drinks & snacks before the show.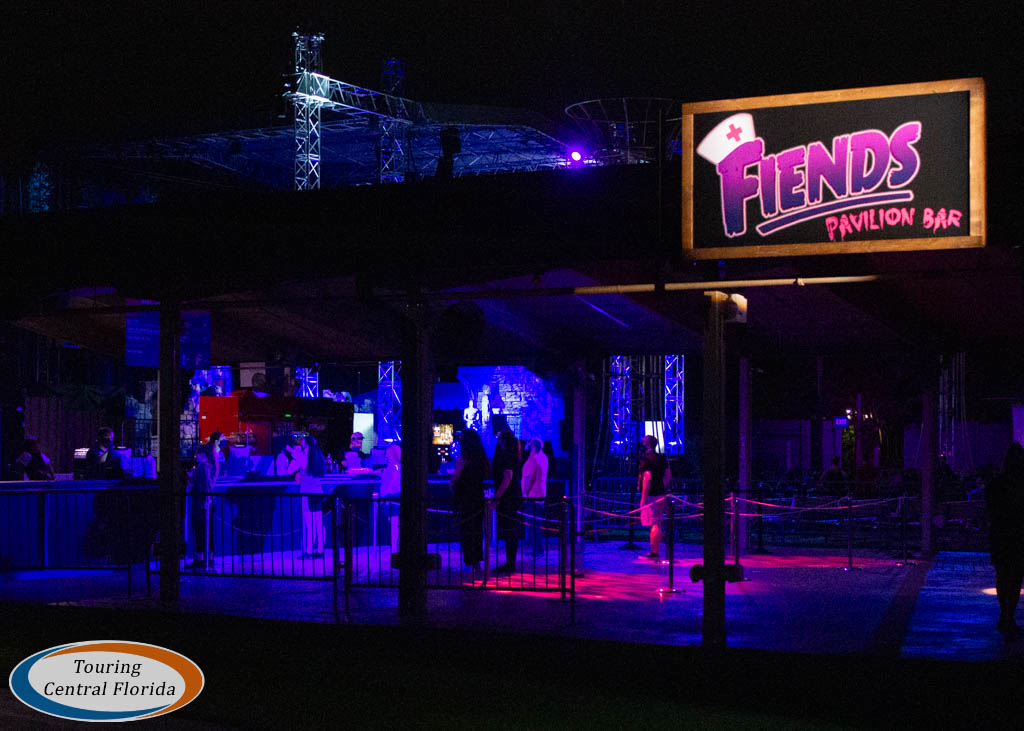 NEW: An additional concession location has popped up in the Cheetah Hunt plaza.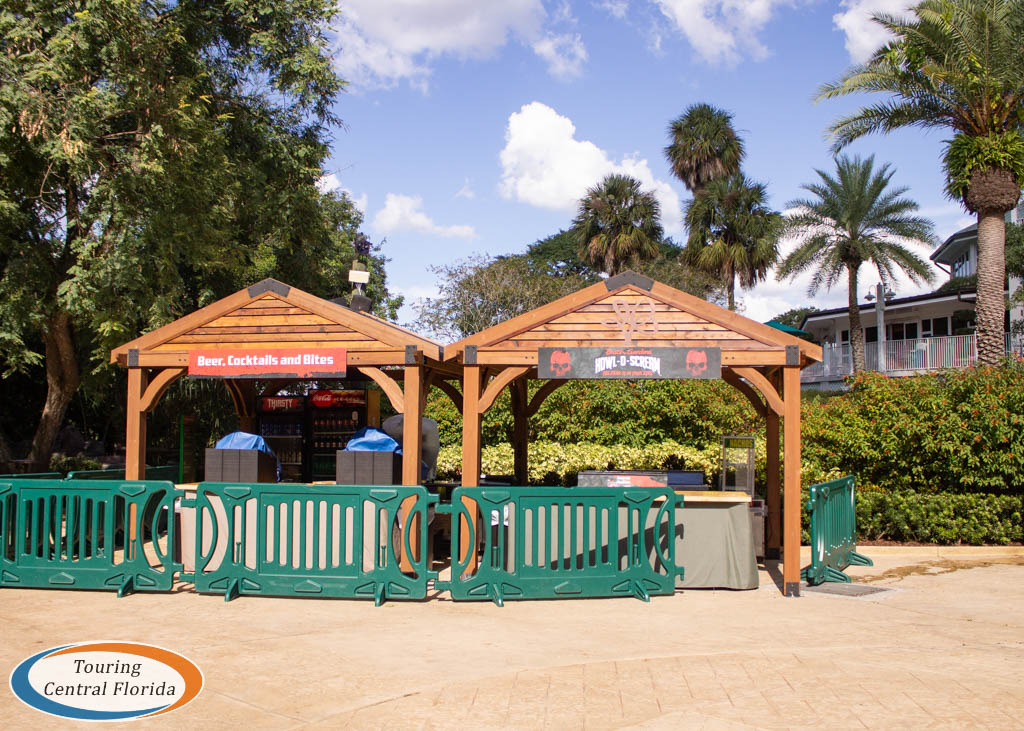 The location features several drink and snack options.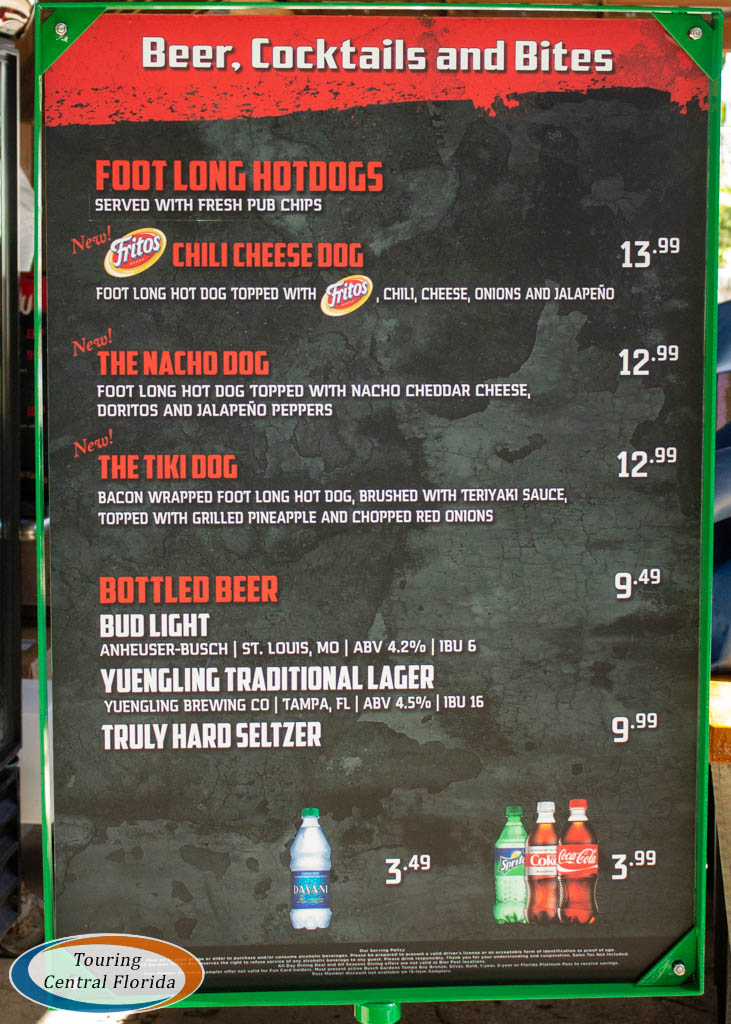 At many of the bar locations, you'll find the event's two specialty drinks – The Escape & The Junkyard. The Escape features a mix of rum, blue curacao, and cranberry juice. The Junkyard is a take on a Long Island with gin, rum, tequila, vodka, and fruit juices. Two varieties of Jell-O Syringe Shots are also available at many locations, The Naughty Shot made with Smirnoff Vodka and The Freaken Shot made with Jose Cuervo Tequila.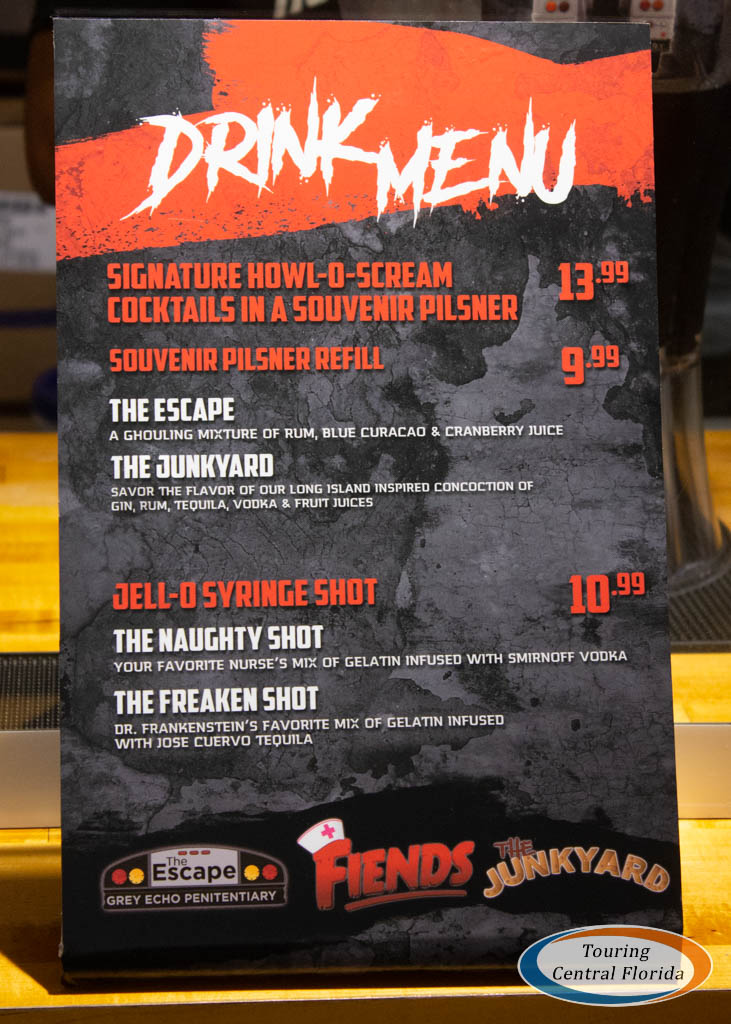 ---
If You Go…
Howl-O-Scream 2020 at Busch Gardens Tampa Bay
Friday, Saturday, and Sunday evenings through November 1
7 p.m. to midnight on Fridays & Saturdays
7 p.m. to 11 p.m. on Sundays
The big question: is Howl-O-Scream 2020 worth it? The answer of course will vary from person to person. If you go expecting the same experience as past seasons with haunted houses and in-your-face-scares, then you may be disappointed. If you go with an open mind and understand the limitations of this year's event and want to have a night of spooky fun at the park, you'll likely enjoy yourself. Most reviews I've seen online and from friends who knew what to expect have been positive.
If you want to hit all of the Howl-O-Scream offerings and the rides, be sure to arrive for 5 p.m. and make the most of your time until the event starts by hitting a few of the coasters. You may also want to consider purchasing Quick Queue for the rides – wait times peaked at about 90 minutes for Cheetah Hunt and 45 for Falcon's Fury during my visit.
The park has certainly made the effort to keep guests and scare actors safe. At each scare zone, there was at least one ambassador on each side reminding guests to wear their face coverings properly. Signs remind guests to stay six feet apart and a safety message regularly plays on the public address system about proper face cover wearing and social distancing. I also saw at least one Tampa police officer (usually a pair) in each scare zone, plus park security and other ambassadors throughout the event to help keep everyone safe.
Still, it comes down to guests actually following those posted rules. On my visit on the first Sunday night, crowds overall were moderate and a large majority of guests wore their face coverings properly from what I witnessed. Maintaining six feet of distance between parties isn't always possible on the pathways in some spots, but I never felt sandwiched in with other guests at any point through the scare zones.
In the queue lines for rides and scare zones, however, is a different story. While waiting for The Shortcut, I did my best to leave space between myself and the party in front of me, but the party behind me did not provide the same courtesy, with one of the guests actually bumping into me at one point. It would be nice to see an ambassador assigned to walk the queues and remind groups to stay apart.
I would recommend visiting on a Friday or Sunday to avoid the typically busier Saturday nights. The two weekends before Halloween will likely be the busiest overall, so keep that in mind as well when deciding when to go. See our Busch Gardens Tampa Crowd Calendar page for our estimates on crowd levels for Howl-O-Scream and the park during the day.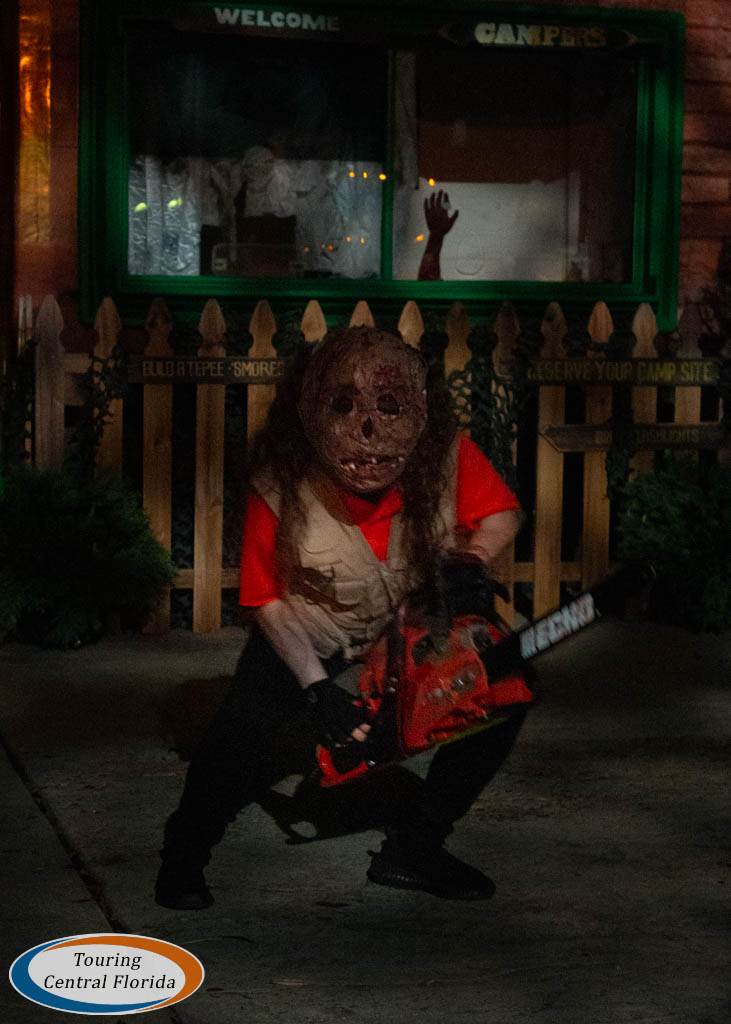 ---
Join in the conversation online with #HowlOScream and #TheFearIsInYourEyes. For the latest on Howl-O-Scream 2020, Busch Gardens Tampa, and other theme parks, attractions, and more across the region, be sure to follow Touring Central Florida on twitter @androckb & @TourCentralFL, and like our Facebook page.