From the hottest Latin entertainment to the coolest attractions and animal adventures, these will be two unforgettable weekends at SeaWorld. Don't let the sound, spice, and spirit of this special event pass you by! Viva La Musica at SeaWorld Orlando will take place Saturdays and Sundays May 15-23 from noon to park close.
The fun includes:
Live Music – Dance to red-hot local entertainment featuring salsa, bachata, reggaetón, and more with plenty of open spaces for guests to groove and move.
Fresh & Festive Food & Beverage Selections – Discover authentic cuisine inspired by the colorful flavors of the Caribbean, Spain, and Central & South America. Celebrate Latin tradition with chef-curated dishes such as seafood paella, Bacalaitos, and Mojo Roasted Pork.
Shopping and More – Shop our pop-up market of authentic gifts by local artisans.





Event Map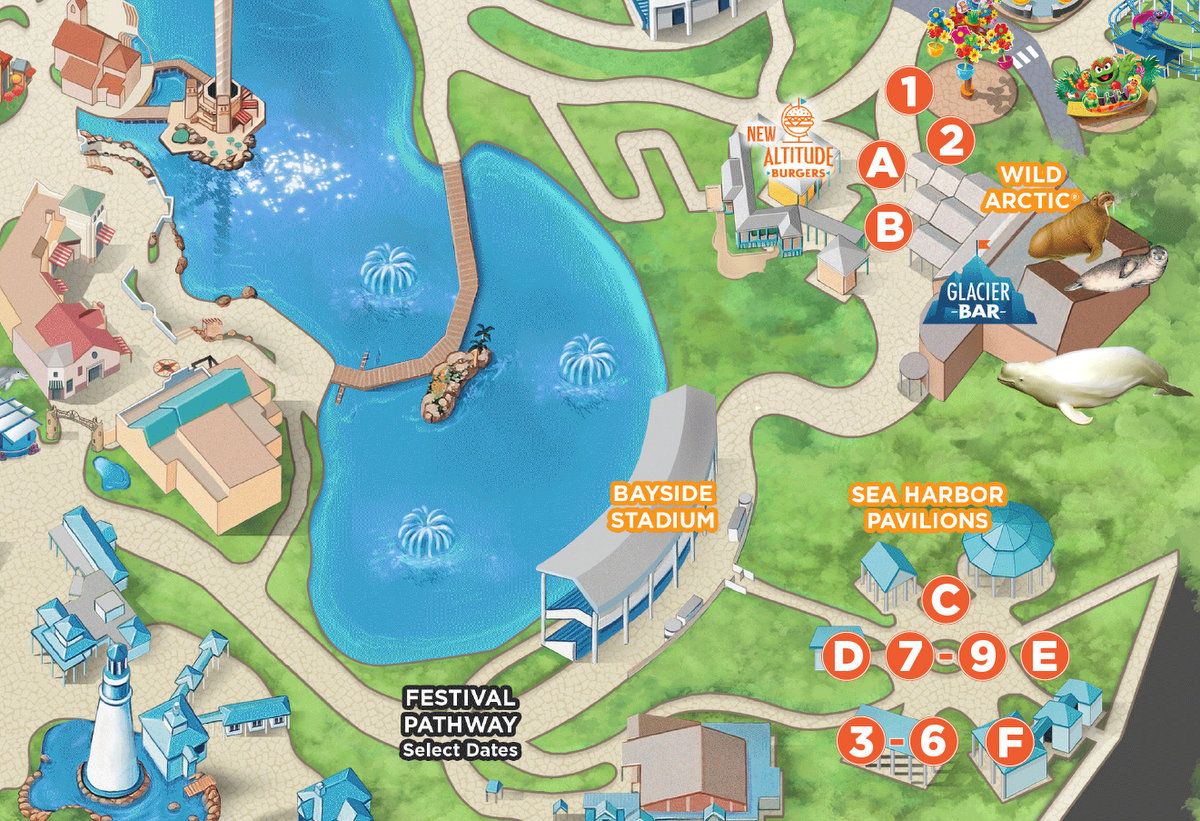 Red-Hot Entertainment
A – Fiesta Zone: Be there as the Wild Arctic Plaza comes to life! We have a DJ, stilt walkers, and live bands ready to get this full-blown fiesta going.
B – Live Music: You can't help but dance when you listen to this red-hot local entertainment featuring salsa, bachata, reggaetón, and more.
C – Live Music and Dancing Zone: Make your way to the Sea Harbor Pavilions for more non-stop revelry. Hear live and DJ music, see towering stilt walkers, and more!
D – Kids Maraca Making Craft: Get ready to enjoy hands-on fun and show how creative you are by making your very own musical maraca at this specially chosen craft activity for children!
E – Dance Class with Rosita: Follow along, kids! Learn a simple dance step to festive Latin music, and then get a physically distanced photo with Rosita to remember the fun.
F – Event Shopping: Explore local crafts and artisan creations that capture the spirit of Viva la Música and find the perfect souvenir to bring home.




Fiery Flavors
1 – Skewers
Rum BBQ Chicken Skewers with Mango Salsa
Beef Skewers with Homemade Chimichurri
Yuca Fries with Onion Escabeche, Mojo Sauce
Churros
Frozen Sangria
Corona Seltzers
Corona Refrescas
Modelo Especial Cheladas
2 – Sliders
Cubano Sliders – Smoked ham, mojo roast pork, Swiss cheese, pickle, & mustard
Pan con Bistec Sliders – Shaved, Marinated and Grilled Steak, Caramelized Onions & Melted Jack Cheese
Choripan – Grilled Chorizo Link, Chimichurri on Soft Baguette
Crispy Tostones – Mojo Sauce
Dulce de Leche Empanadas – Stuffed with caramel and queso, caramel drizzle
Frozen Barrilitos Strawberry Hibiscus and Mango Lime
Corona Seltzers
Corona Refrescas
Modelo Especial Cheladas
3 – Meal Platters
Adobo Braised Chicken – Served with choice of 2 Sides: Black Beans and Rice, Plantains, Yellow Rice with Grandules, Tostones
Braised Ropa Vieja – Served with choice of 2 Sides: Black Beans and Rice, Plantains, Yellow Rice with Grandules, Tostones
Mojo Roasted Pork – Served with choice of 2 Sides: Black Beans and Rice, Plantains, Yellow Rice with Grandules, Tostones
Chicharrons and Plantain Chips
4 – Paella
Seafood Paella – Mussels, Clams, Shrimps, Chorizo on the bed of flavorful Saffron rice
Veggie Paella – Earthy and Floral vegetables with Saffron rice
5 – Bacalaitos




6 – Empanadas
Beef and Cheese Empanadas
Chicken and Cheese Empanadas
Spinach and Artichoke Empanadas
Bunuelos – Sweet fried dough
7 – Corona Bar
Lime Mojito – Corona Hard Seltzer Tropical Lime, Flor de Cana Rum, Lime Juice
Cherry Margarita – Corona Hard Seltzer Cherry, Milagro Reposado Tequila, Lime Juice
Sundown Sangria – Corona Hard Seltzer Mango, Red Wine, Paul Mason Brandy, Pineapple and Orange
Pineapple Passion – Corona Refresca Passionfruit Lime, Malibu Coconut Rum, Pineapple Juice, Ginger Beer
Guava Shores – Corona Refresca Guava Lime, Milagro Tequila, Sour and Lime Juice
8 – Margarita Bar
Frozen Watermelon Margarita
Frozen Mango Margarita
Traditional Margarita
Strawberry Margarita
Cutwater Margarita Pops
9 – Cocktail Bar
Cuba Libra – Flor de Caña Rum and Coke
Mojito – Flor de Caña Rum, Lime, Soda Water and Mint
Tequila Sunrise – Milagro Tequila, Orange Juice and Grenadine
Mango Passion Corona Rita – Corona, Milagro Tequila, Mango, Passion Fruit and Lime
Blueberry Lime Corona Rita – Corona, Milagro Tequila, Blue Curacao, Blueberry and Lime
Visit https://seaworld.com/orlando/events/viva-la-musica/ for more event information.




Best Way to Play
The best way to enjoy Viva La Música at SeaWorld Orlando is with an Annual Pass, with great benefit options including free parking, free guest tickets, and more. Passes start as low as $12 per month, plus tax.
Safety
SeaWorld Orlando is committed to the health and safety of our guests, employees, and the animals in our care. The park has worked diligently with state and local health officials, outside consultants, and attraction industry leaders to enhance our already strict health, safety, and cleanliness standards. These protocols and guidelines will be modified based on evolving industry standards and methodologies, public health, and governmental directives, and advancing scientific knowledge on the transmissibility of COVID-19. SeaWorld Orlando is excited to continue to provide our guests with fun, inspiring, and memorable experiences, while addressing important health and safety needs during this time. For detailed information about the measures that guests can expect when visiting the resort, including key operational changes, visit Seaworld.com/orlando/park-info/park-safety.




---
For the latest on SeaWorld Orlando and other theme parks, attractions, and more across the region, follow Touring Central Florida on Twitter @androckb & @TourCentralFL, and like our Facebook page.