Welcome to our Busch Gardens Tampa Crowd Calendar page, with a monthly look at estimated crowd levels, park hours, and general tips on crowds throughout the year.
Our crowd calendar for Busch Gardens Tampa is meant as a guide and is only an estimate of anticipated crowd levels. The calendar does not take into account weather, which can have an impact on attendance since most of the attractions at Busch Gardens Tampa are outdoors. Please verify operating hours directly with the park before you visit, as they can change without notice.




---
General Crowd Info
In general, Saturdays are the busiest day of the week at Busch Gardens Tampa. Sundays, holiday weeks, and event days also tend to draw in larger crowds than weekdays through the rest of the year. On those days, avoid arriving at the park between 10 a.m. and 1 p.m. Instead, arrive earlier (lots open about 30 minutes prior to park opening) or come in the early afternoon and you won't spend as much time waiting in line to enter.
Mid-week visits, regardless of the season, typically will have lower crowds compared to the surrounding weekends. The summer season, spring break, and the weeks around Christmas are generally the busiest times of the year. Weekdays in winter, late spring, and fall typically have the lowest crowds.
Because most of the attractions at Busch Gardens Tampa are outdoors, a day with extended inclement weather will often reduce crowd levels. It's worth keeping an eye on the weather in the days leading up to your visit – a few rainy days in a row will often mean the following day (especially if it's a Saturday) could end up being busier than normal as guests who put off their visit all come on the same fair weather day.




---
December 2022 Crowd Calendar
The Busch Gardens Tampa Bay crowd calendar will be returning to Touring Central Florida! After taking a hiatus since early 2022, the crowd estimate calendar is back!
Expect crowds to be lighter on weekdays early in the month, with heavier crowds on the weekends as it gets closer to Christmas. The week between Christmas & New Year's is typically the busiest stretch of the entire year. It will be crowded that week, and you should expect lines to park your car, get into the park, and everywhere inside. It can still be a fun time if you have the right expectations and avoid arriving at the same time as everyone else – get there early (parking will open 30 minutes or more before the park), eat meals at off-peak times, and get Quick Queue if you plan on trying to get on all the rides in one day.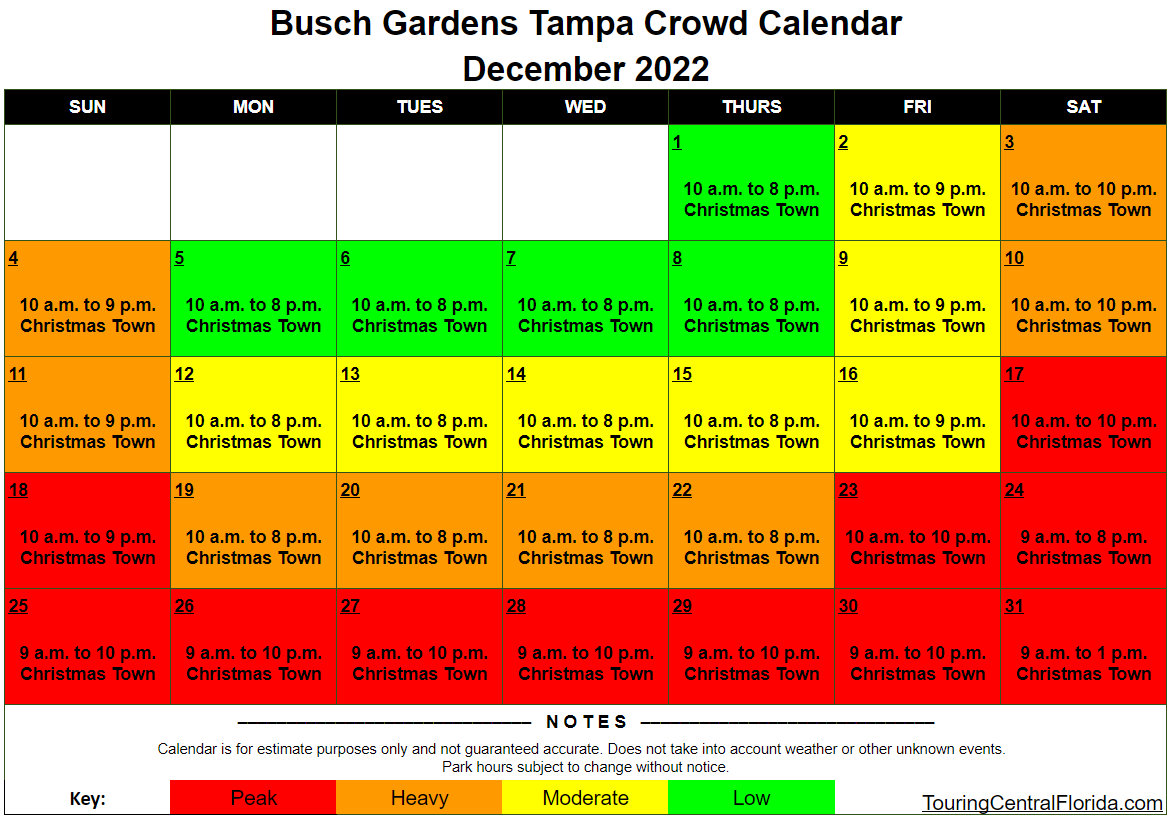 See scheduled attraction closures on the park's website.
---
See more news on Busch Gardens Tampa in our recent articles! For even more coverage on Busch Gardens Tampa and other theme parks, attractions, and more across the region, follow Touring Central Florida on Twitter @TourCentralFL, and like our Facebook page.