Welcome to our Busch Gardens Tampa Crowd Calendar page, with a monthly look at estimated crowd levels, park hours, and general tips on crowds throughout the year.
Our crowd calendar for Busch Gardens Tampa is meant as a guide and is only an estimate of anticipated crowd levels. The calendar does not take into account weather, which can have an impact on attendance since most of the attractions at Busch Gardens Tampa are outdoors. Please verify operating hours directly with the park before you visit, as they can change without notice.
See the latest on Busch Gardens Tampa in our recent articles!




---
General Crowd Info
In general, Saturdays are the busiest day of the week at Busch Gardens Tampa. Sundays, holiday weeks, and event days also tend to draw in larger crowds than weekdays through the rest of the year. On those days, avoid arriving at the park between 10 a.m. and 1 p.m. Instead, arrive earlier (lots open about 30 minutes prior to park opening) or come in the early afternoon and you won't waste as much time waiting in line to enter.
Mid-week visits, regardless of the season, typically will have the lowest crowds compared to the surrounding weekends. The summer season along with spring break and the weeks around Christmas are generally the busiest times of the year. Weekdays in winter, late spring, and fall typically have the lowest crowds.
Because most of the attractions at Busch Gardens Tampa are outdoors, a day with extended inclement weather will often reduce crowd levels. It's worth keeping an eye on the weather in the days leading up to your visit – a few rainy days in a row will often mean the following day (especially if it's a Saturday) could end up being busier than normal as guests who put off their visit all come on the same fair weather day.
All of the above still applies even under the present circumstances, though predicting exactly how busy each day will be is a little more difficult as there isn't as much crowd history to compare. Overall, crowd levels in the park are lower compared to an average day for the same time last year. However, due to reduced capacity, attraction closures, social distancing, and increased cleaning on attractions, wait times have not always been much lower.




---
September 2021 Crowd Calendar
Summer Nights wraps up over Labor Day Weekend, with Bier Fest continuing on Fridays through Sundays throughout the month. Howl-O-Scream, the separately tickets horror-filled event, takes place in the evenings on Fridays through Sundays beginning September 10. Weekday crowds will return to fairly low levels as summer vacations end and schools across the country go back into session. Expect Labor Day Weekend and Saturdays to be the busiest days this month, with Mondays through Thursdays being fairly quiet.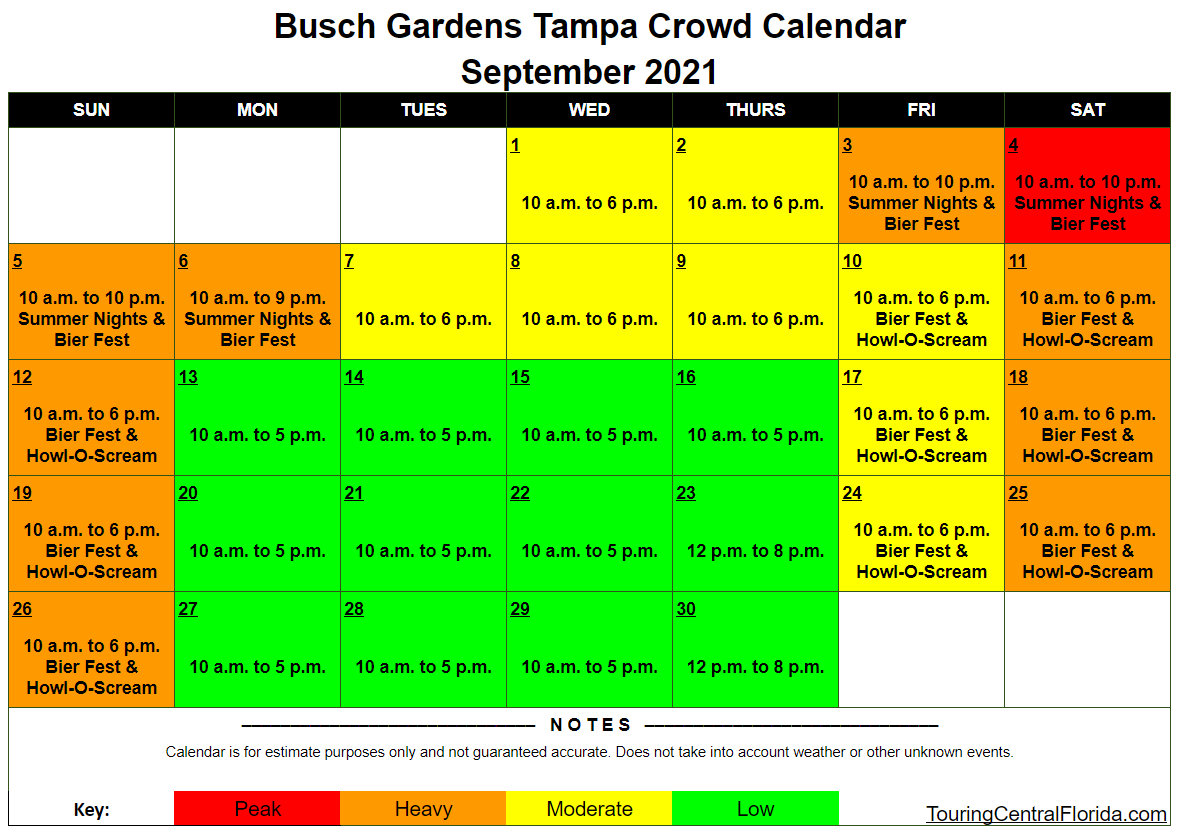 As of August 27, 2021, here are the attractions listed as temporarily closed on the park's website:
Cookie Monster Canopy Crawl
Cookie Monster Cloud Bounce
Elmo's Treehouse Trek
Lory Landing
Skyride
Slimey's Sahara Sand
Telly's Jungle Jam
Treetop Trails (including water play area)
Wild Surge
As mentioned above, Summer Nights wraps up on Labor Day and Howl-O-Scream starts the following weekend. On Howl-O-Scream event days, expect to see an increase in crowds after 5 p.m. as the first guests begin to arrive. See the estimated crowds for Howl-O-Scream at Busch Gardens Tampa for September below.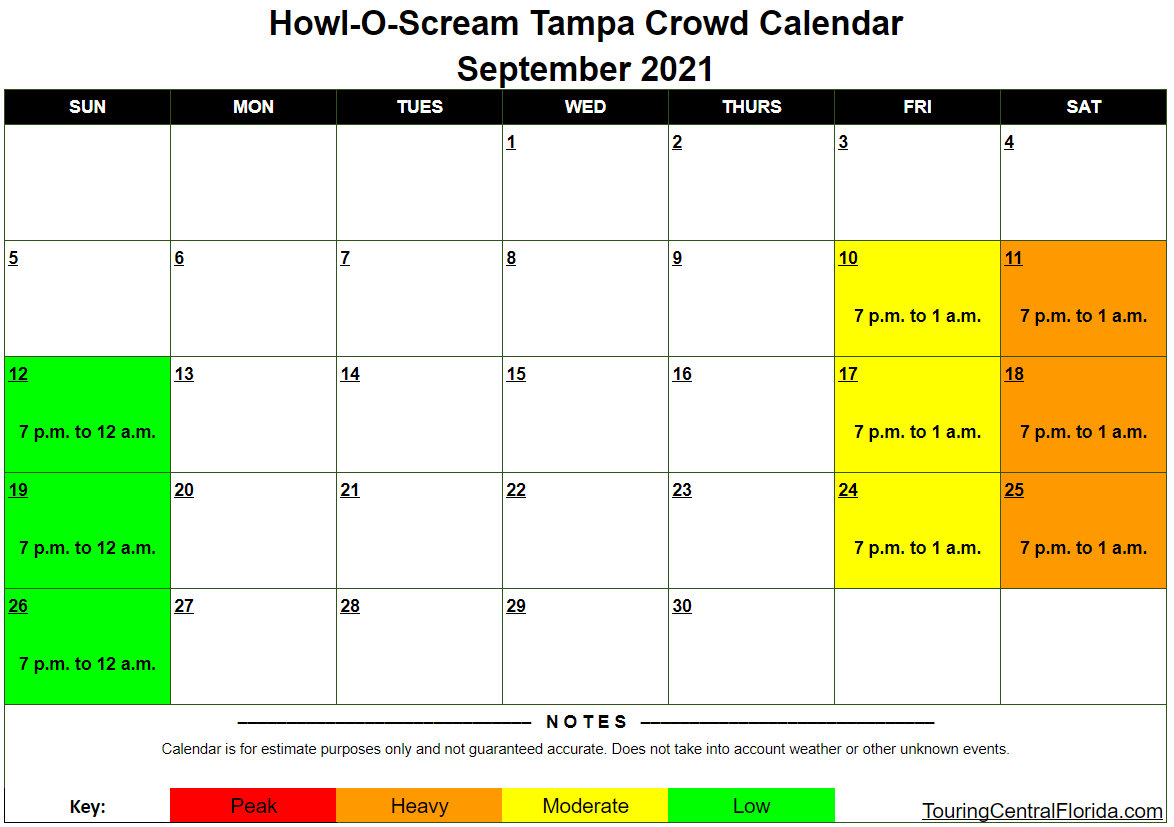 ---
October 2021 Crowd Calendar
Look for the October 2021 Busch Gardens Tampa and Howl-O-Scream Tampa crowd calendars soon. You can expect weekdays to be relatively low crowds with Columbus Day and Fridays mid-month to be a bit higher than the rest of the week. Saturdays will be the busiest day of the week, with Saturdays mid-month being the busiest with Howl-O-Scream crowds at their highest.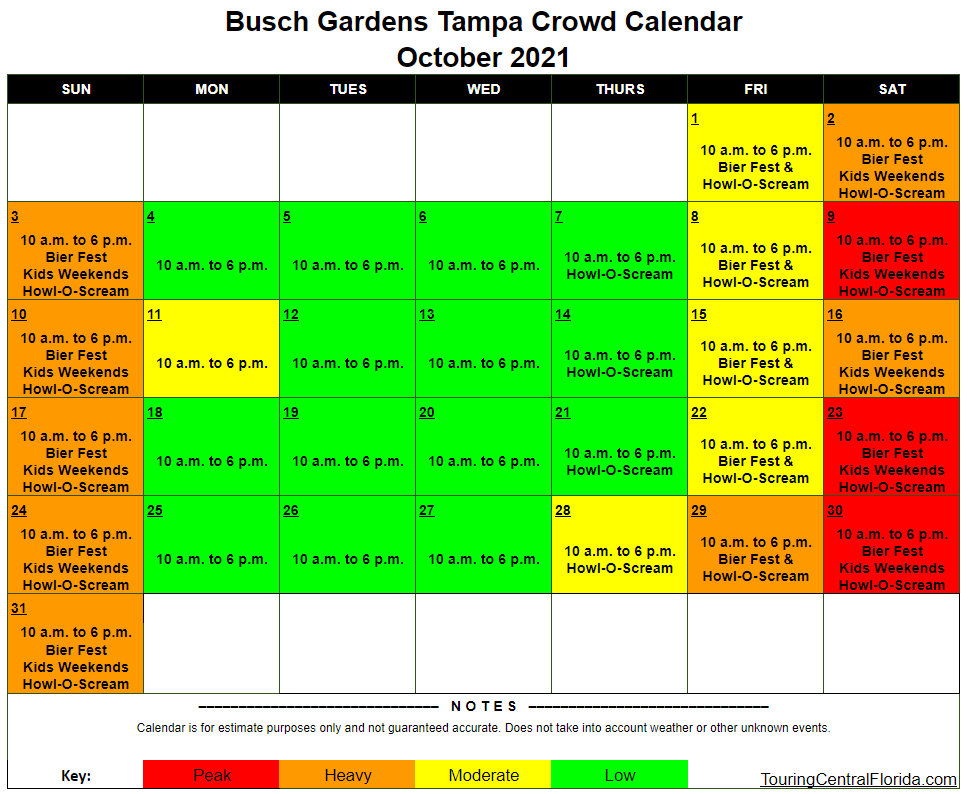 And here's the Howl-O-Scream Crowd Calendar for October: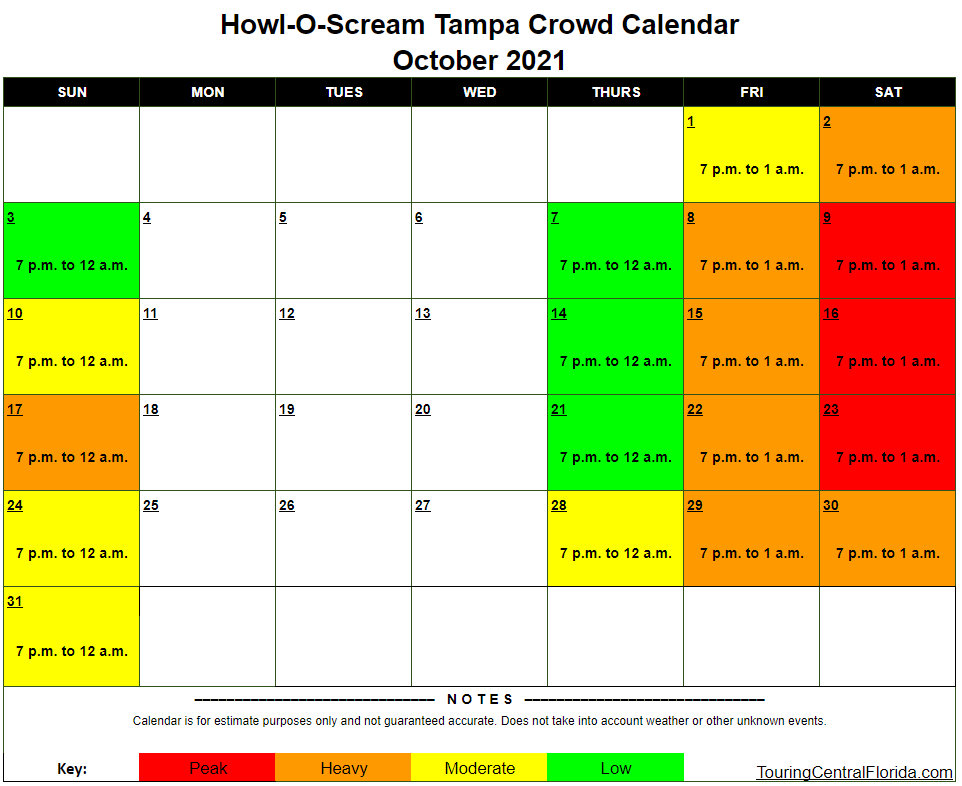 ---
See more news on Busch Gardens Tampa in our recent articles! For even more coverage on Busch Gardens Tampa and other theme parks, attractions, and more across the region, follow Touring Central Florida on Twitter @TourCentralFL, and like our Facebook page.