Welcome to our Busch Gardens Tampa Crowd Calendar page, with a monthly look at estimated crowd levels, park hours, and general tips on crowds throughout the year.
Our crowd calendar for Busch Gardens Tampa is meant as a guide and is only an estimate of anticipated crowd levels. The calendar does not take into account weather, which can have an impact on attendance since most of the attractions at Busch Gardens Tampa are outdoors. Please verify operating hours directly with the park before you visit, as they can change without notice.



---
General Crowd Info
In general, Saturdays are the busiest day of the week at Busch Gardens Tampa. Sundays, holiday weeks and event days also tend to draw in larger crowds than weekdays through the rest of the year.
Mid-week visits, regardless of the season, typically will have the lowest crowds compared to the surrounding weekends. Summer season along with Spring break and the weeks around Christmas are generally the busiest times of the year; weekdays in winter, late spring and fall typically have the lowest crowds.
Because most of the attractions at Busch Gardens Tampa are outdoors, a day with extended inclement weather will often reduce crowd levels. It's worth keeping an eye on the weather in the days leading up to your visit – a few rainy days in a row will often mean the following day (especially if it's a Saturday) could end up being busier than normal as guests who put off their visit all come on the same fair weather day.
---
"We would not have been able to see everything at the parks in the few days we visited without Bill's help"
– Liz E. from Pennsylvania
Book your Private VIP Guided Tour with Touring Central Florida today!
---
January 2020 Crowd Calendar
Christmas Town comes to a close and the holiday crowds die down after the first weekend, leaving relatively light attendance days for most of the rest of the month. Martin Luther King Jr. Weekend (January 18-20) will see more moderate attendance as vacationers take a long weekend and local schools have off that Monday in observance.
The Real Music, Real Masters series kicks off January 7 and runs Tuesdays through Sundays into March. While this will have some impact on crowds in the park in the late morning/early afternoon on those days, most of the concert attendees won't be in line for the rides during their visit.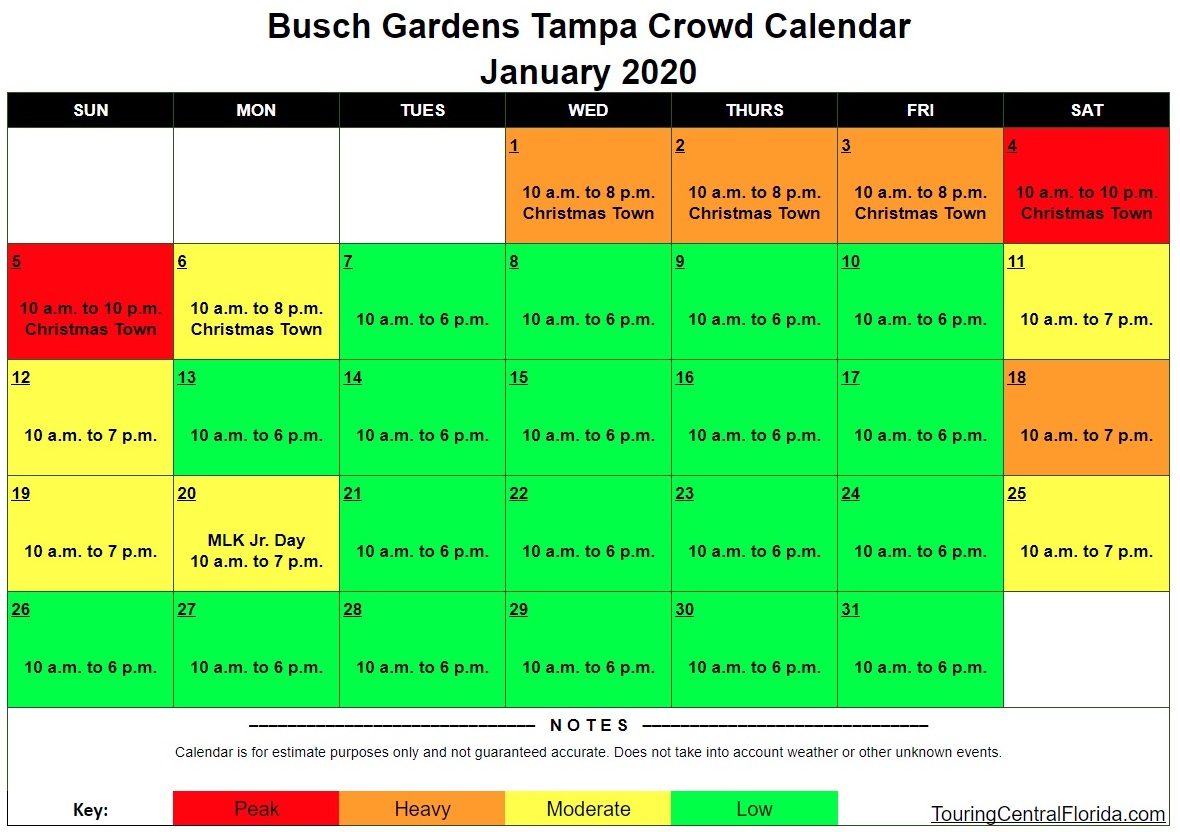 ---
February 2020 Crowd Calendar
Coming soon!
---
For the latest on Busch Gardens Tampa and other theme parks, attractions and more across the region, be sure to follow Touring Central Florida on twitter @androckb, @JacobTouringCe1, @TourCentralFL, and give our facebook page a like.