Looking for our 2020 Busch Gardens Tampa Bier Fest Guide? Click here!
---
Busch Gardens Tampa Bay's newest event, Bier Fest, returned for its second season this past weekend. The beer focused festival brings dozens of brews to the park over four weekends, along with a variety of culinary options, entertainment and more. Below is our in-depth look at the event, including what to expect when you visit, a look at the menus with pricing, and our review of the items we tried!
While we attended the first day of Busch Gardens Bier Fest 2019 using our own paid admission, we did receive an invitation to the media kickoff event and sampler lanyards which we used on the items reviewed within this article. As always, all opinions in the article are our own.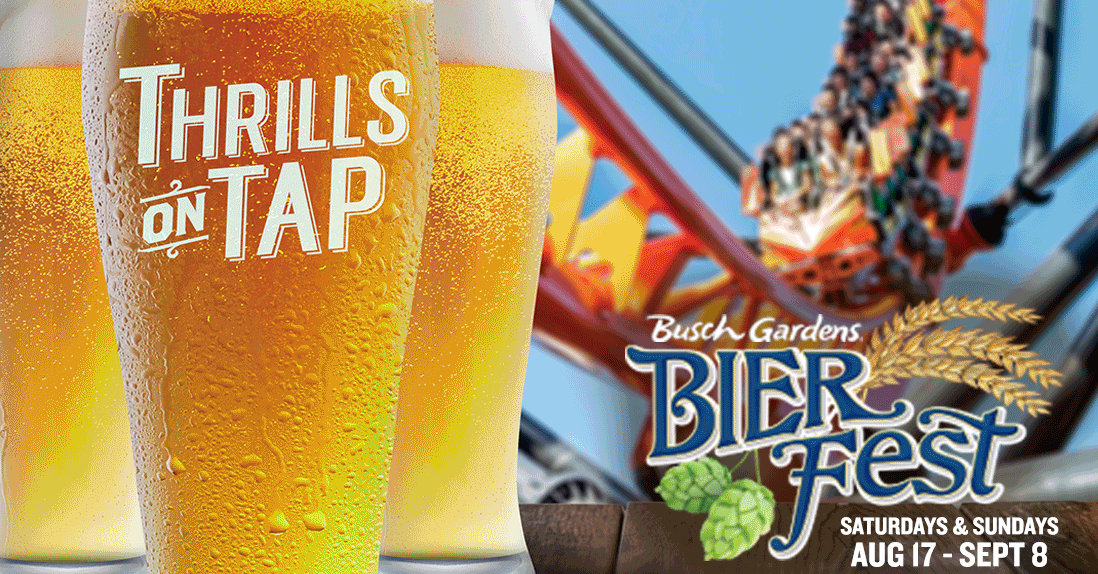 ---
Bier Fest Basics
Bier Fest at Busch Gardens Tampa runs on Saturdays and Sundays through September 8th, plus Labor Day Monday. You'll find all of the Bier Fest activities in the Bird Gardens section of the park surrounding Garden Gate Cafe (renamed Bier Garten for the event). The beer and food booths open at noon; the Welcome Center opens earlier for sampler lanyard purchases and general festival information.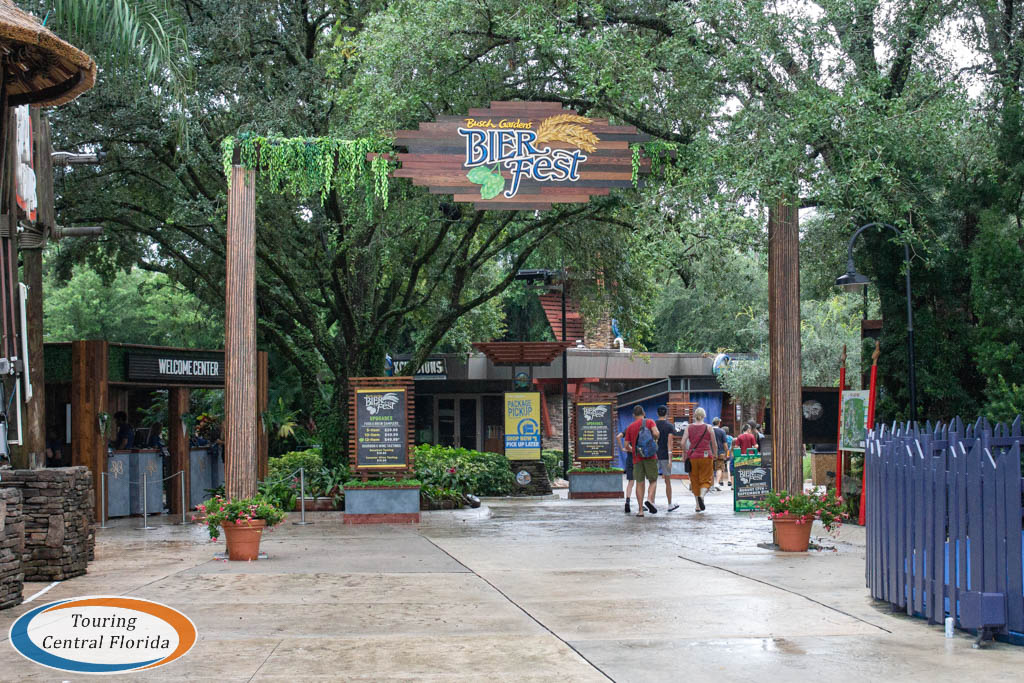 Each of the beverage and food booths has some detailed theming and a beer fest inspired name, like Go for the Grain and Right on Stein. Also, keep an eye out for some great photo ops as you enter the park and around the festival area. For pass members and guests with PhotoKey, we saw a couple of park photographers making the rounds in the Bier Fest area on opening day, so keep an eye out for them as well.
There is no paper guide available this year. Instead, the park is advertising a digital guide that guests can download to their mobile device. You can download the Busch Gardens 2019 Bier Fest Digital Guide via their website at BuschGardens.com/Cheers. Look for several map boards around the festival area to keep yourself oriented if you prefer not to use the digital guide.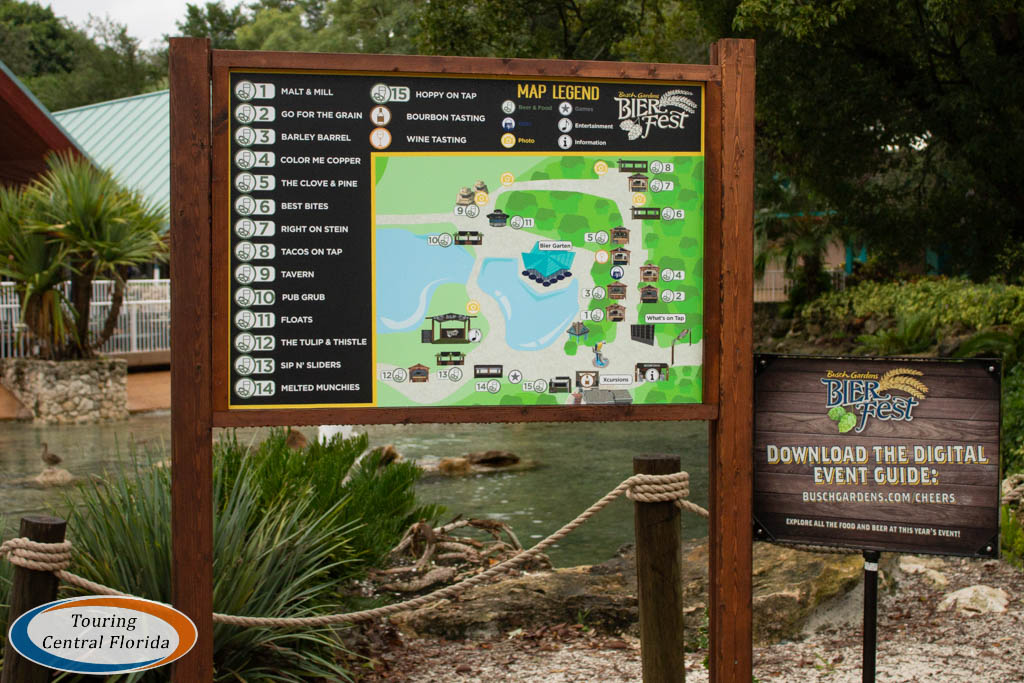 ---
Sampler Lanyards
If you're familiar with Busch Gardens Tampa's spring culinary event, the Food & Wine Festival, then you're probably already familiar with the sampler lanyard option, available for purchase at the Bier Fest Welcome Center or any of the festival booths.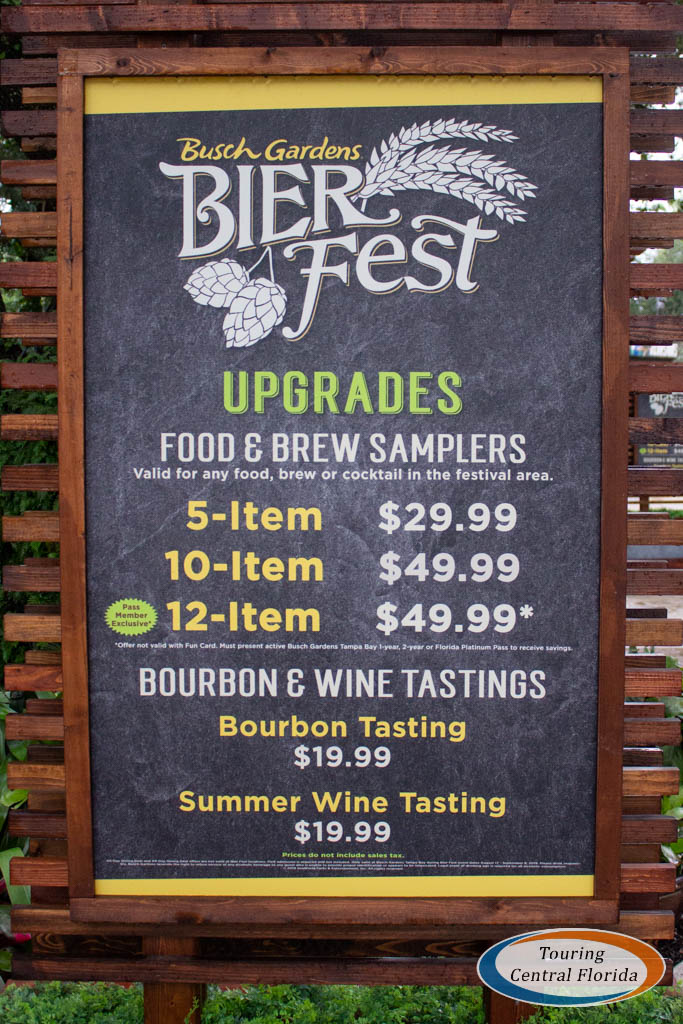 There are two sampler lanyard options available to all guests: a five item sampler for $29.99, or a 10 item sampler for $49.99. Pass members can get their discount the five or 10 item sampler, or get an exclusive 12 item sampler for the price of a 10 item sampler, though no further discount applies.


If you're planning on sampling the food items, a sampler lanyard is a must. Dishes range from $5.99 to $7.99 each, with a majority at $6.99, so even a 5 item sampler will most likely save you at least a few dollars. Samplers can be used on any Bier Fest day, so if you don't finish it all on your first visit, just come back and enjoy again before the event ends on September 8.
Pass members can also get one free Bier Fest item during the event. Redeem your voucher for the free item from the self-service kiosks before entering the park by scanning your annual pass and selecting the Bier Fest offer. Applies to Bronze, Silver, Gold & Florida Platinum Annual Pass Members only. Not valid for Fun Card, Preschool Card, Friends & Family Pass, or non-Florida Platinum Pass.
UPDATE: Just in time for Labor Day weekend, this offer has been changed to allow eligible pass members to get one free sample voucher PER EVENT DAY! Redeem at the self-service kiosks at the front of the park.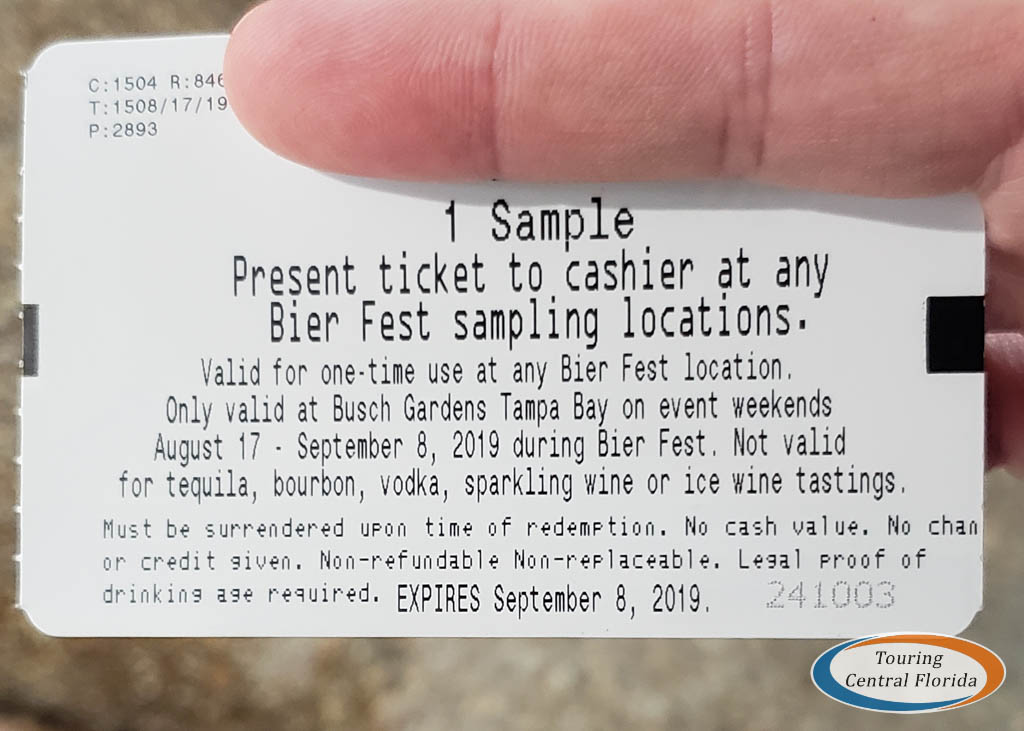 Also, don't forget you can still get two free beers per day throughout 2019. Guests 21 and over can stop at either Garden Gate Cafe or Kettle Corn in Pantopia and receive two 7 ounce cups per day. As of this past weekend, choices for the free beer were Bud Light or Yuengling Golden Pilsner. If you're not a beer drinker, you can request a purple lemonade instead.
---
Beverages & Bites
There are a total 15 stands – plus Bier Garten (Garden Gate Cafe) – offering a variety of beers, wines, mixed drinks and special snacks available only during Bier Fest on weekends. The listings below include the menus as of the first day of the event, including pricing and reviews of items we tried.
Not sure where to start when selecting a brew? Check out the large "What's On Tap" board adjacent to the Festival Walkway entrance that lists all of the available brews and wines at each of the beer cabins. Look for additional options at the other cabins as well.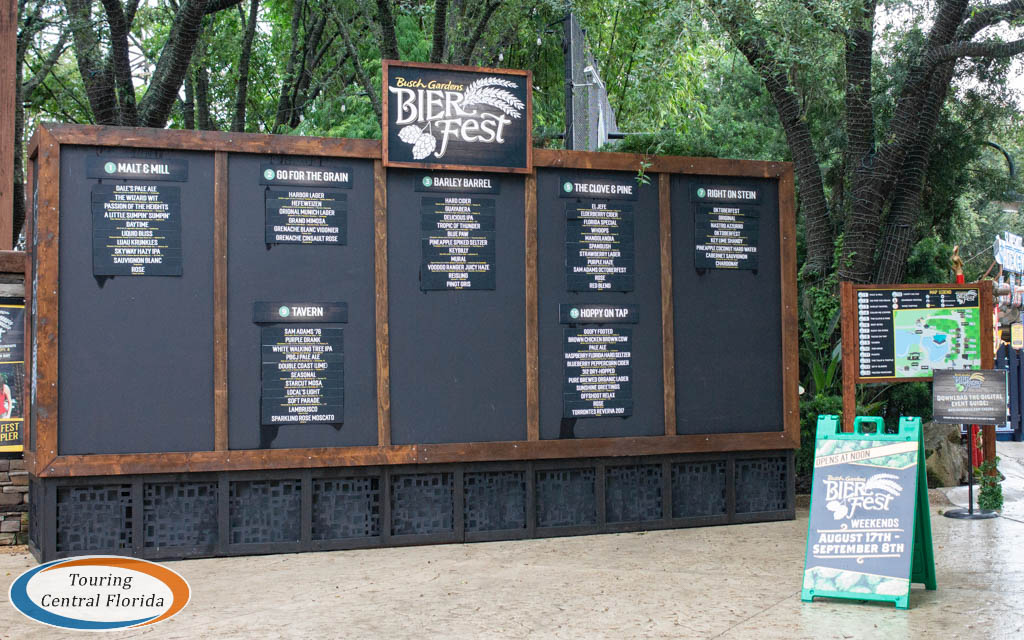 Part of this year's digital guide for Bier Fest is a visual of the different types of beer, from light and refreshing ciders to dark and full-bodied stouts.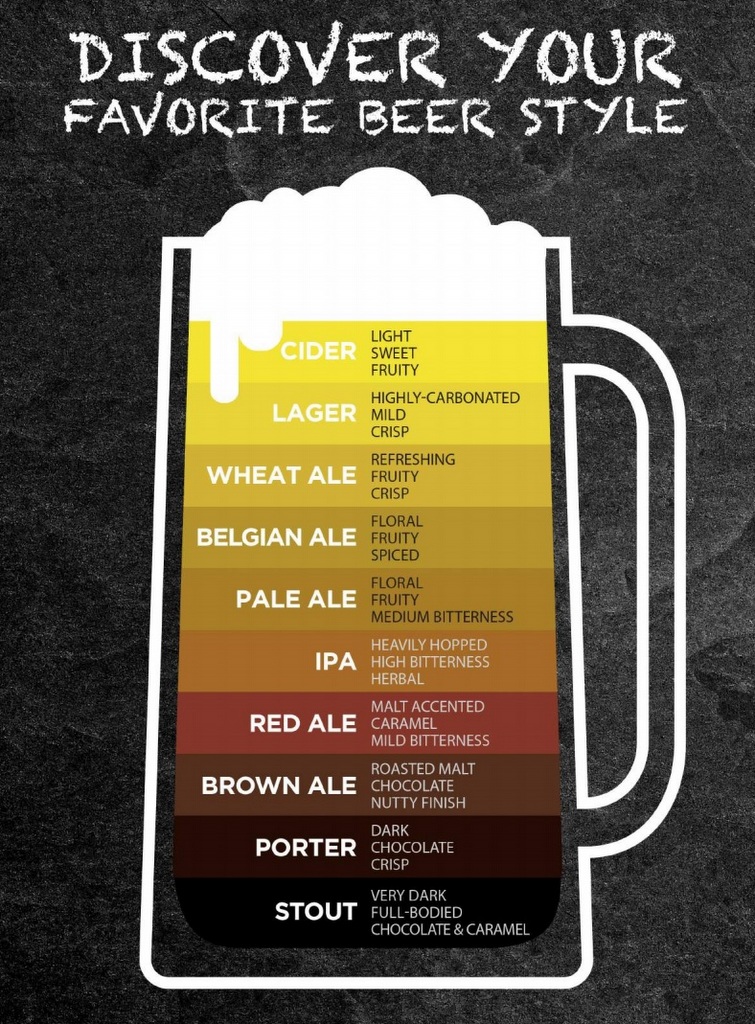 Unlike during the first Bier Fest season, it doesn't appear beers will rotate during the event this year. However, it's still possible that select brews will run out each weekend, so be sure to try any you are particularly interested in earlier in the day and keep an eye on the menu boards for any changes as the festival progresses.
Beers at each location are listed in more detail, including the type of beer, alcohol by volume (ABV) and brewer. There are two sizes of cups at each location. If you use the sampler lanyard, you'll receive a 7 ounce cup. If you pay the full a la carte price of $9.49 9.99 for a craft brew (the same cost at all of the beer stands), you'll receive the "full size" option – either a 20 ounce cup if it's on tap, or the full can if it comes that way. We did hear from a few Bier Fest guests that some stands would allow you to get the full size option for two sampler lanyard punches, but no guarantee they'll continue to allow that.
If you're not a beer drinker, don't worry, there are other adult beverage options as well. Each of the beer stands also feature two wines, and there are three cabins with a selection of other mixed & frozen drinks available.
Along with all of the locations serving drinks, there are also five spots to sample special food options available only during Bier Fest. From classic German fare to seasonal flavors, there are 17 dishes that like the beers can be purchased individually or as a punch on a sampler lanyard. Many of the sampler size portions are easily shareable, making it a great way to try a number of the dishes when you visit.
UPDATE: For Labor Day weekend, the menu boards have been updated to show a price increase for beers. Domestic beers are now $9.49 (up from $8.99) and craft beers, which make up the majority of Bier Fest offerings, are now $9.99 (up from $9.49. Sampler lanyard pricing and other items appear to have remained the same. The images for menus below will still show the original pricing.
Malt & Mill (#1)
The first booth at Bier Fest 2019 is located just inside the festival walkway gates and features a number of craft beers and a pair of wines.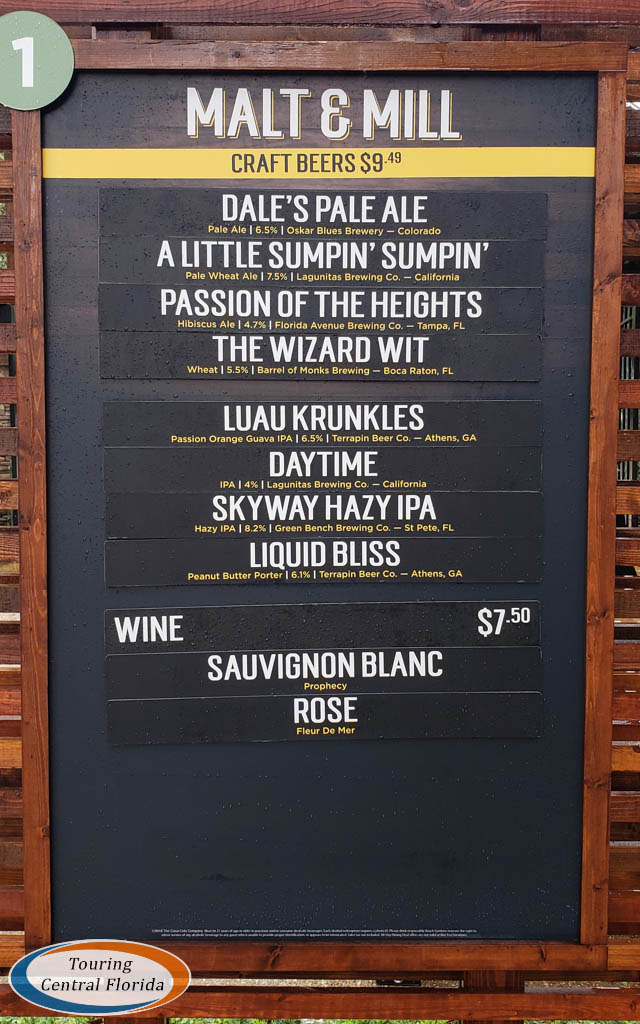 Go for the Grain (#2)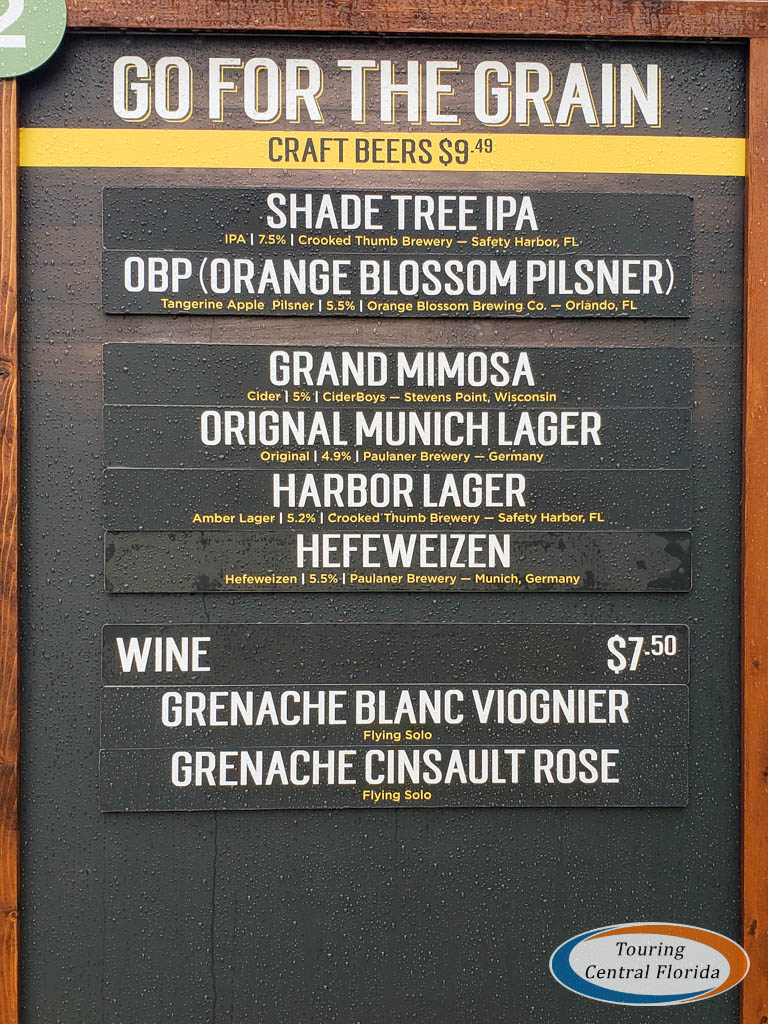 Barley Barrel (#3)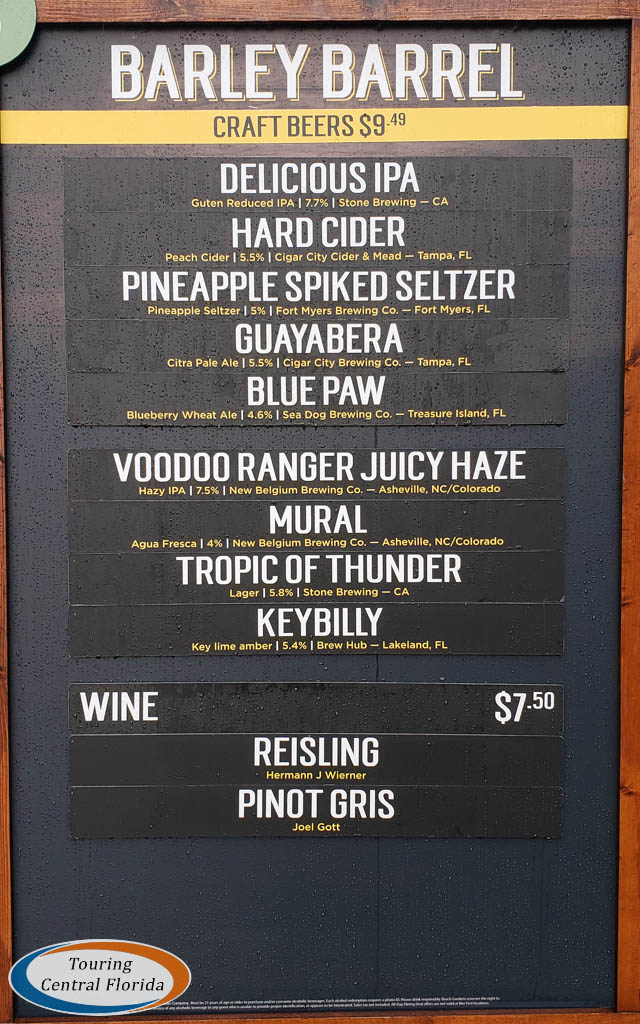 Color Me Copper (#4)
One of three stands offering options other than beer, Color Me Copper has two mixed and two frozen drinks available.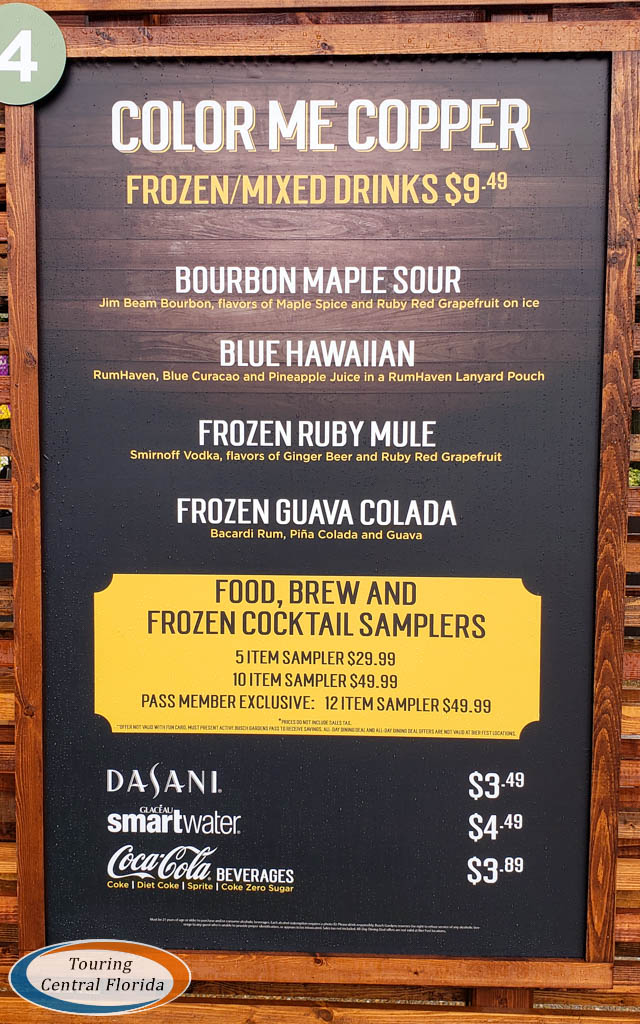 We tried the Bourbon Maple Sour. To be fair, we aren't normally bourbon drinkers, so this was something different we wanted to give a shot. The drink has a strong maple and oak flavor which stayed on the tongue for awhile after drinking it. This isn't necessarily a bad thing for those who appreciate those notes, but for us it was a little stronger than anticipated.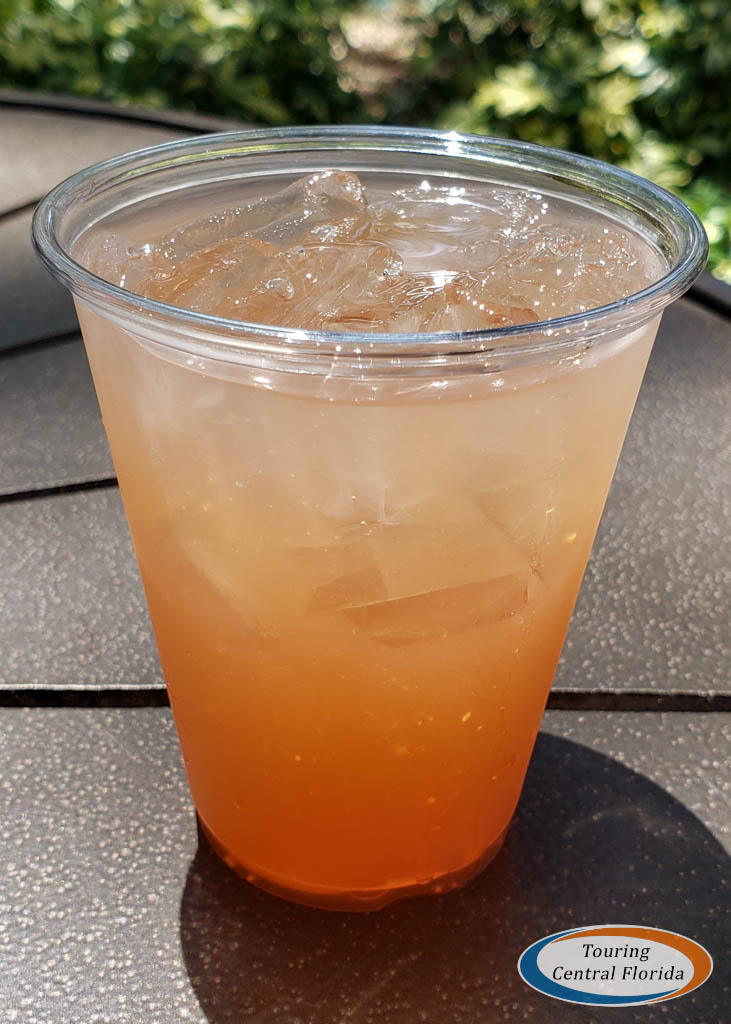 The Clove & Pine (#5)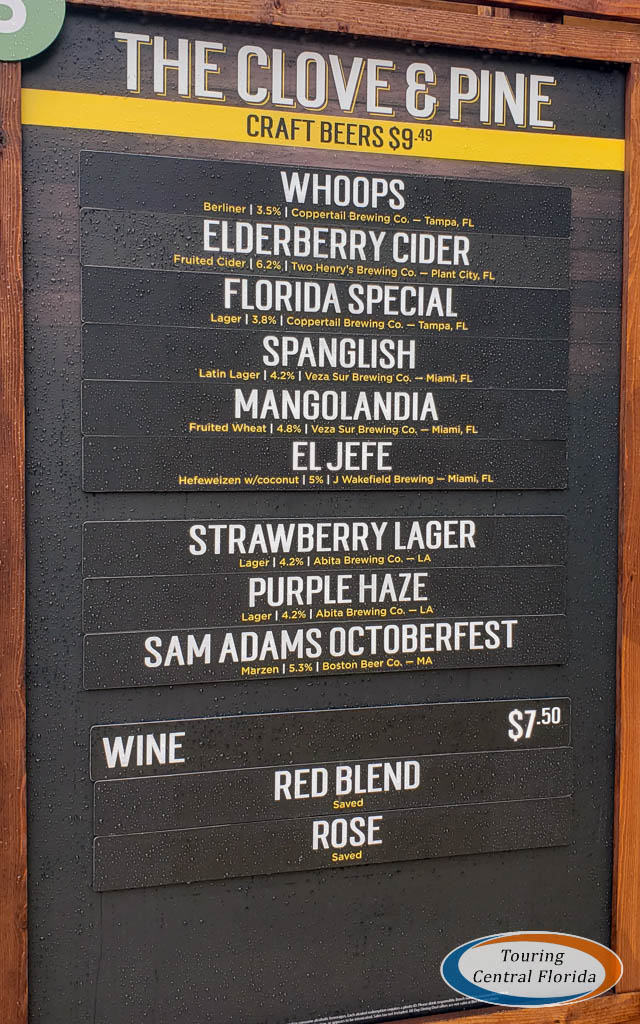 Best Bites (#6)
This cabin features two returning items, and a variation of a third from last season's Bier Fest. The Reuben Croquettes and Deep Fried Cheese Curds were both on the menu last year. Mac & Cheese Bites are also back, though with bacon instead of featuring a truffle flavor. You choose your dipping sauce with each dish – Basil Parmesan Mayo, Sweet & Hot Mustard, or Maple-Bacon Honey Mustard.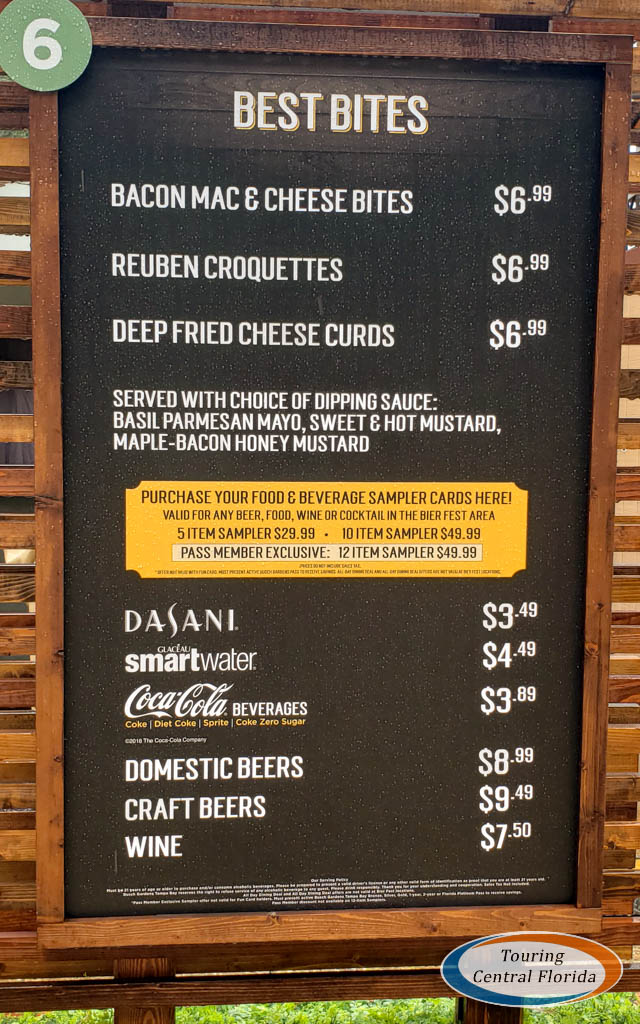 No surprise, both the Mac & Cheese Bites and Cheese Curds were delicious. We'd give the edge to the Cheese Curds if you're only planning to try one of the two, but either way you can't go wrong. A friendly ambassador suggested the Basil Parmesan Mayo for the Mac & Cheese Bites, and we decided to try the Maple-Bacon Honey Mustard with the Cheese Curds. Both added some excellent flavors – the mayo more savory, the mustard more sweet.
Right on Stein (#7)
Two different Oktoberfest varieties are on the menu at this cabin – one from Germany and the other much closer to home. A red and white wine round out the options at Right on Stein.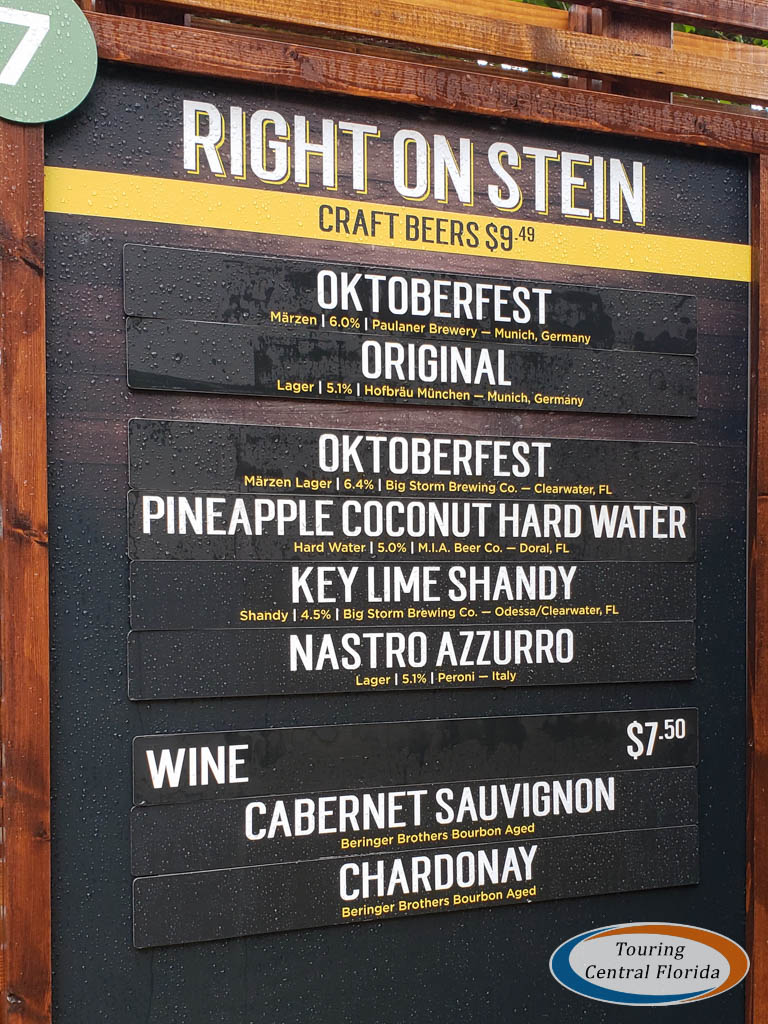 Tacos on Tap (#8)
Four tasty tacos await at this cabin, including a vegetarian option.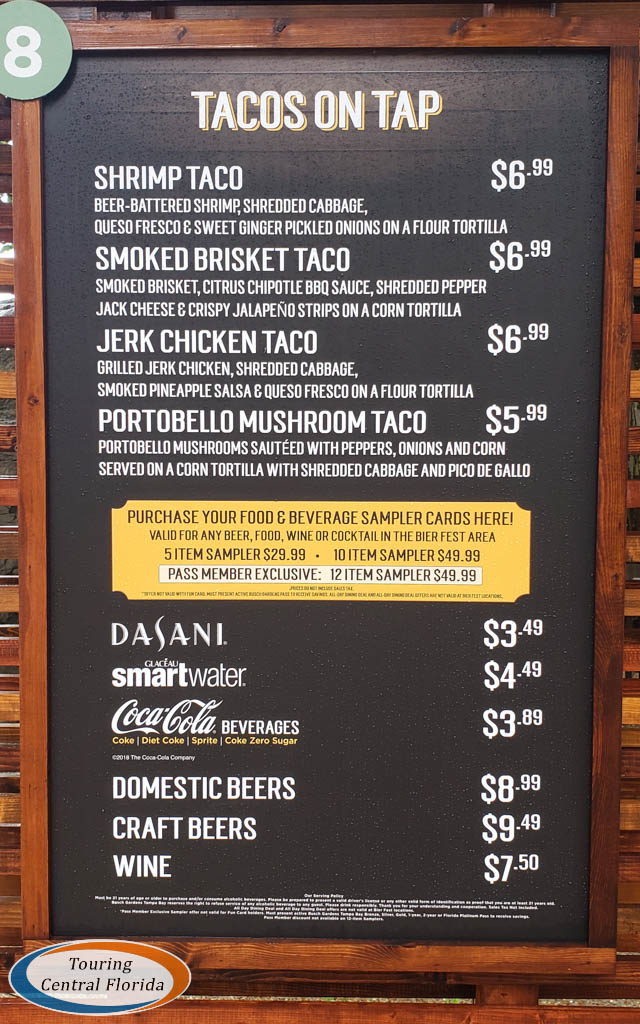 We tried two of the dishes – the Smoked Brisket Taco and Shrimp Taco. The brisket taco was flavorful, with both sweet and spicy notes. The shrimp taco had a nice balance of flavors in the fresh toppings.
Tavern (#9)
Exiting the Festival Walkway area behind Garden Gate Cafe, the next stop is Tavern, located inside the small building that was most recently the 60th Celebration Store during the Food & Wine Festival earlier this year.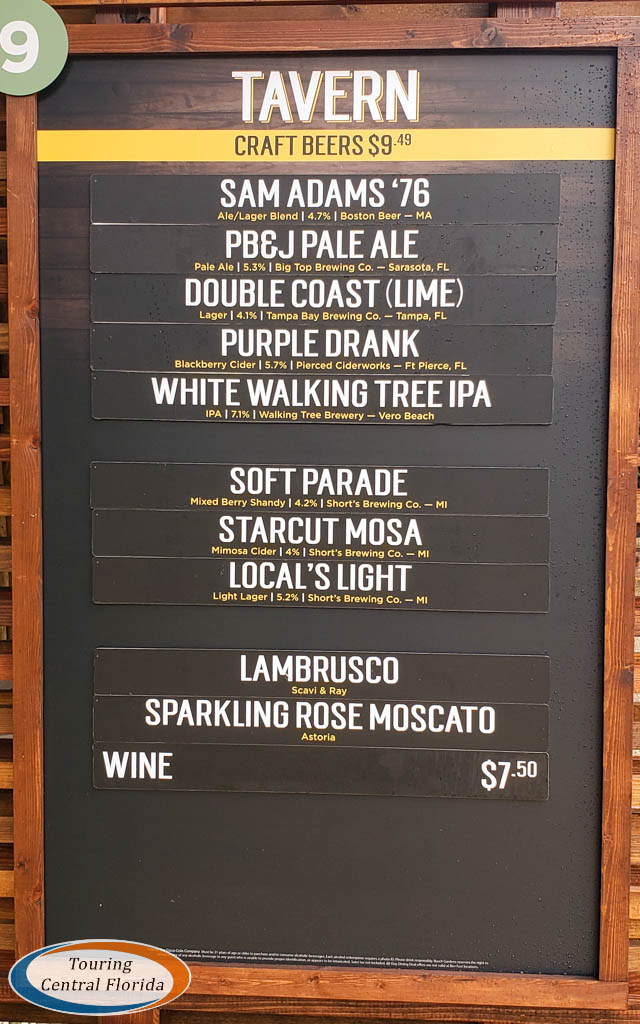 Along with the brews and wines on the menu above, check out the artwork inside showing schematics of some old patents related to the beer making process.
Pub Grub (#10)
Returning from last year, the Deep Fried Pretzel Sticks are a solid pub style snack. Wings and a sweeter option in the fries round out the food choices.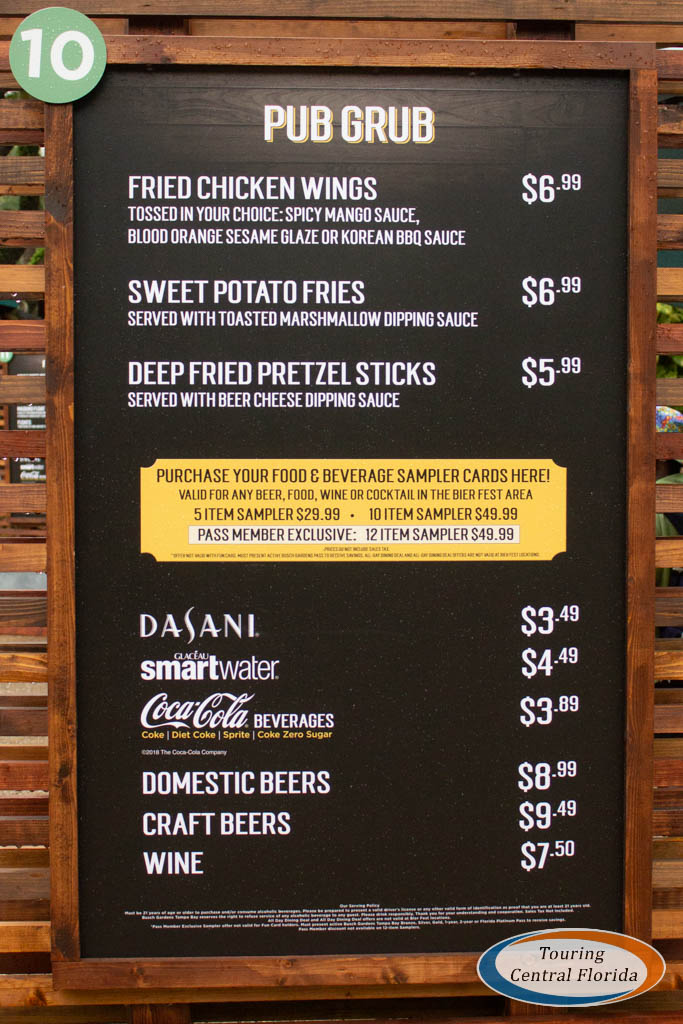 We tried the Fried Chicken Wings with Korean BBQ Sauce and really enjoyed them. They were fried to perfection with a crispy skin, and the sauce was a great non-spicy option with the taste of fresh ginger and soy sauce.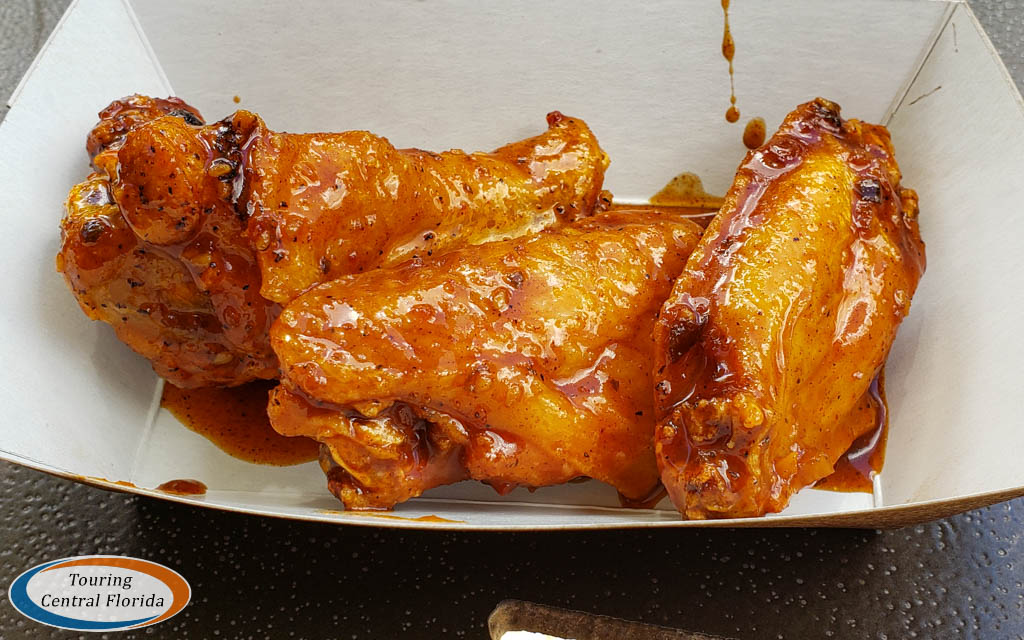 Floats (#11)
Located in the former Bird Gardens Refreshments stand just outside of Garden Gate Cafe, the simply titled Floats offers standard and adult versions of the classic ice cream and soda concoction.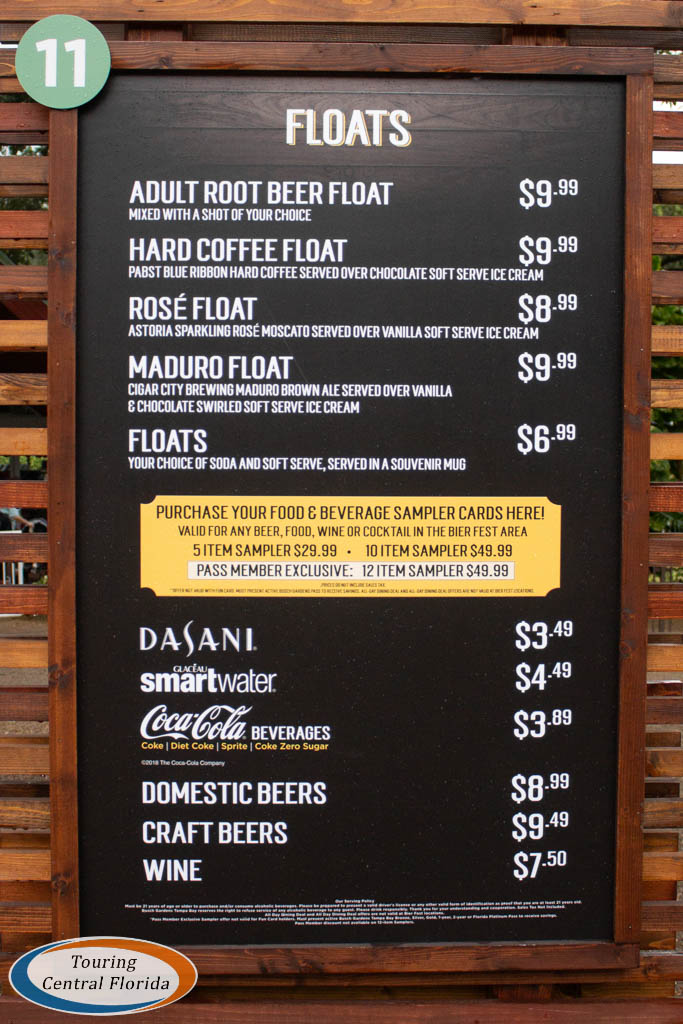 We tried the Hard Coffee Float on opening weekend, which had a great coffee flavor. There really wasn't a "beer taste" to it despite being made with a Pabst product, so even if you're not a beer drinker you can still enjoy this one.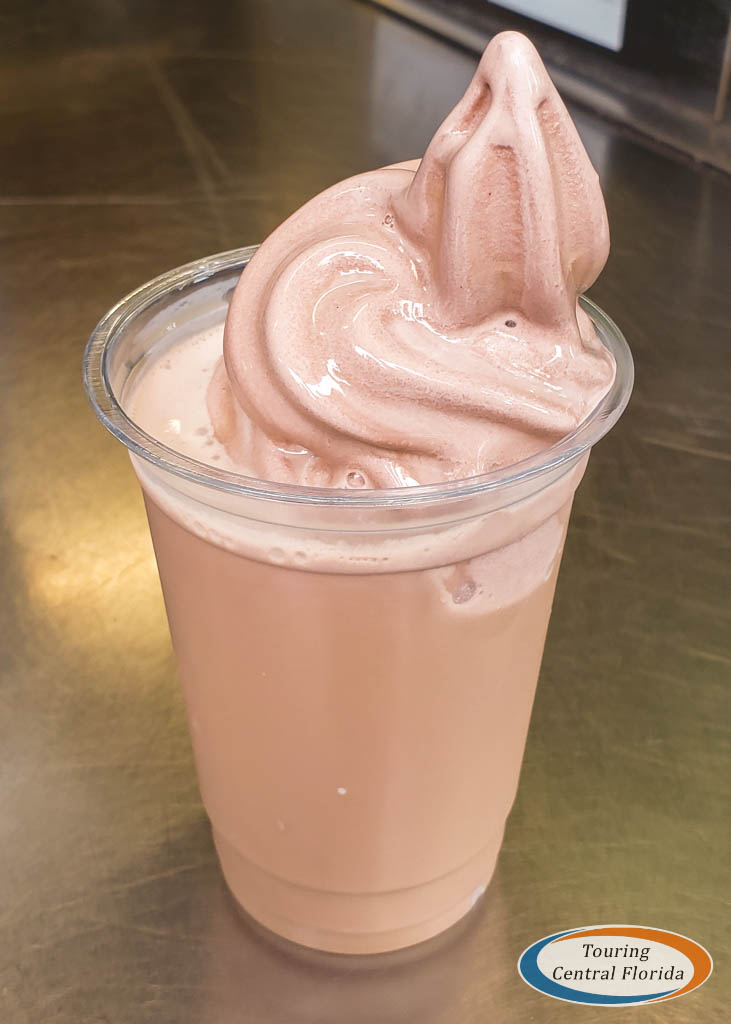 The Tulip & Thistle (#12)
One of the most popular stands last season (based on how long the lines were each time we passed by), The Tulip & Thistle returns with mixed and frozen drink options.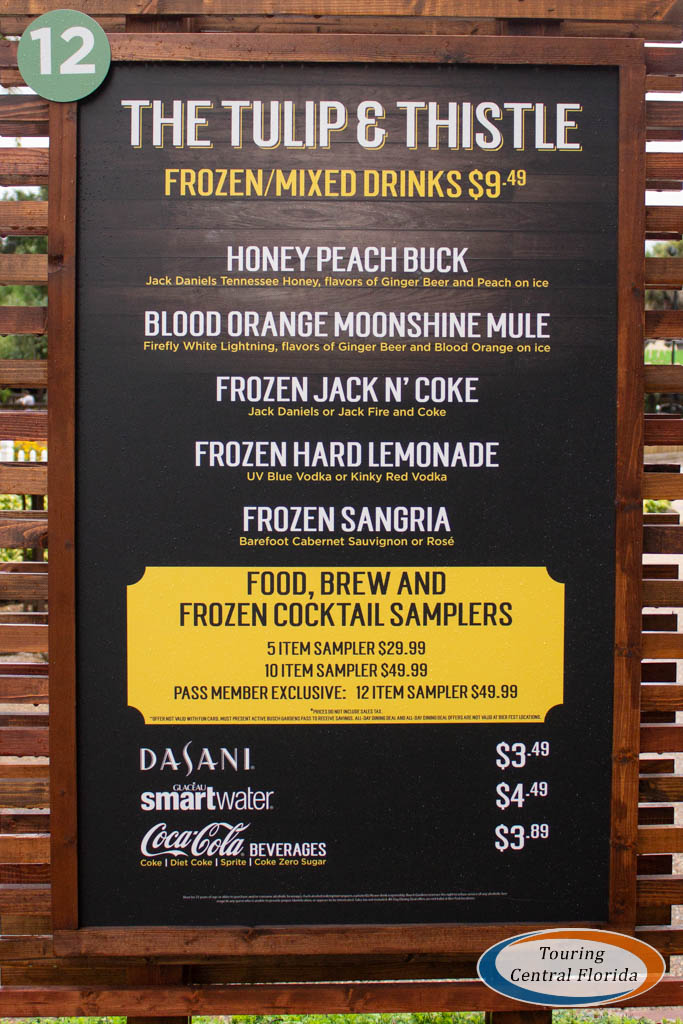 We tried a Frozen Hard Lemonade with UV Blue Vodka. The premixed drink takes on a green hue with the yellow and blue colors, and is incredibly sweet but definitely refreshing on a hot and humid afternoon.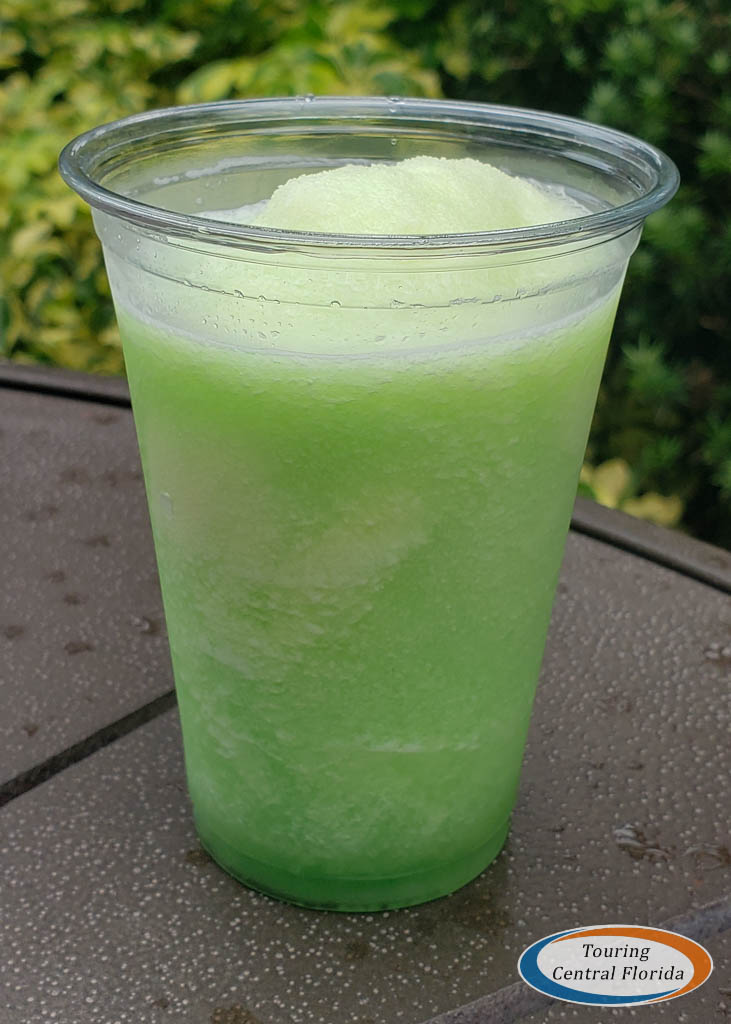 Sip N' Sliders (#13)
Three sliders and a dessert item make up the menu at Sip N' Sliders, located next to the Coca-Cola Stage across from Garden Gate Cafe.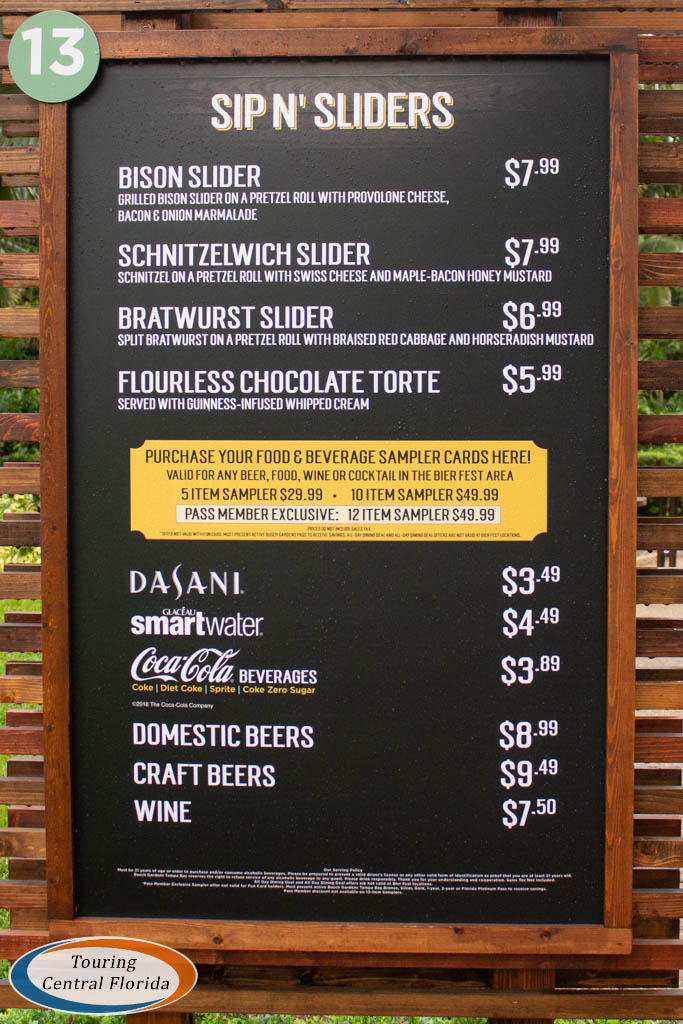 We tried a Bratwurst Slider, Bison Slider, and the Flourless Chocolate Torte. The Bratwurst Slider was tasty, with the sauage having a nice seasoned flavor. Be warned the horseradish mustard packs quite a kick, and we felt it was applied a little too heavily. Ask for a lighter spread or prepare to have the mustard overwhelm the other flavors.
The Bison Slider was equally delicious, and the meat was very tender and moist. A smaller slice of provolone on top might make it a little less awkward looking on the plate.
The torte has a very strong chocolate taste and is also very dense, taking on an almost fudge-like consistency. Even with it being a relatively small slice, it's definitely something you'll want to share. The accompanying whipped cream was great, though it didn't really have any beer notes that we could taste.
Melted Munchies (#14)
Located across from the Coca-Cola Stage, Melted Munchies serves up two savory sandwiches and one sweet treat.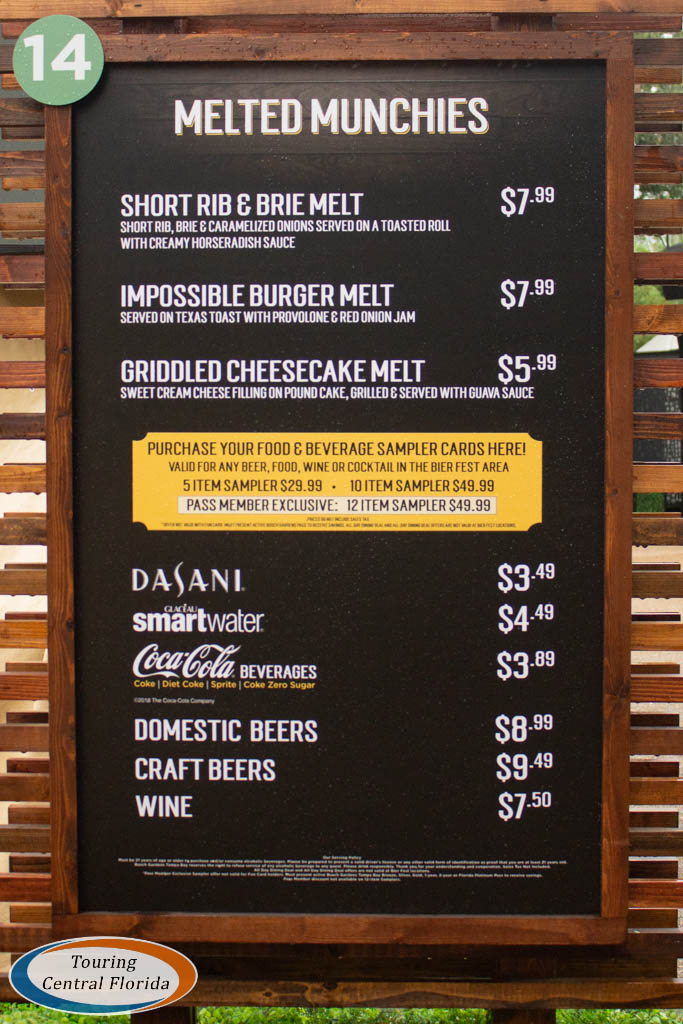 The Short Rib & Brie Melt is a hearty, shareable snack. The creamy cheese and meat sandwich is tasty, though the sauce seems to have been lost in the mix as we didn't notice the flavor.
Building on the fad that seems to be sweeping the nation, the Impossible Burger Melt is a good way to try the meatless patty if you haven't done so already. (Busch Gardens sells them full size in several of the park's restaurants.) Compared to a well-done beef burger, the Impossible variety does taste convincingly similar. We noted that if you didn't know it was meatless, you probably wouldn't be able to tell.
Hoppy on Tap (#15)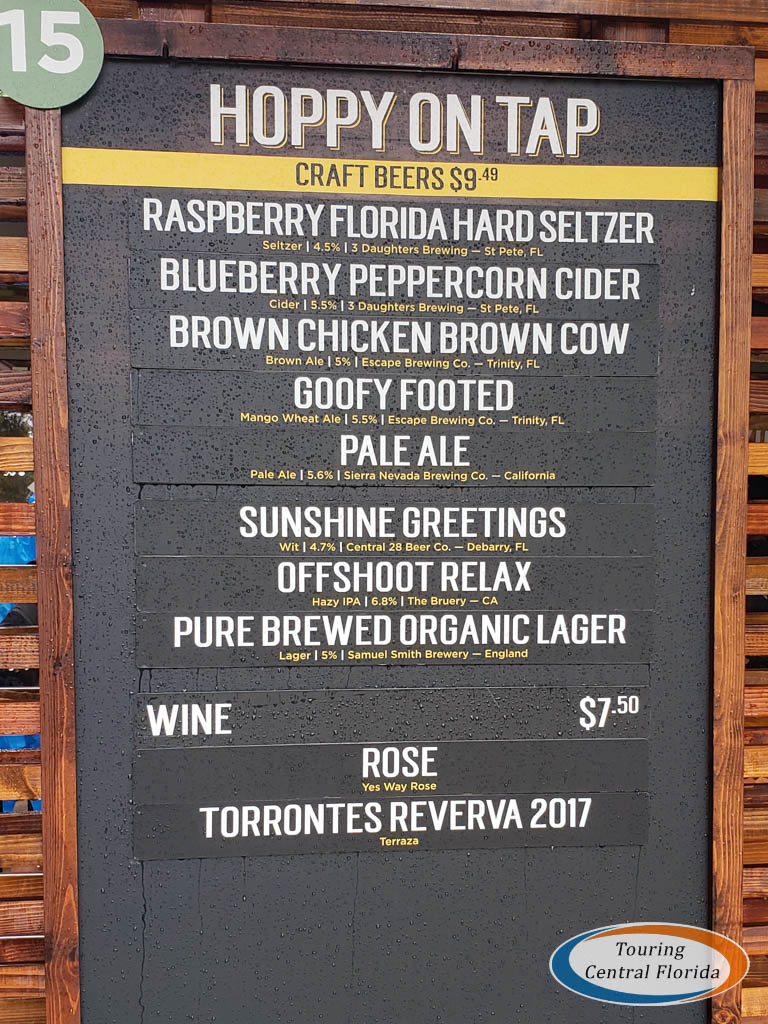 Bier Garten (Garden Gate Cafe)
In addition to the regular menu items (including flatbreads, snacks, beers and other drinks), Garden Gate Cafe is also listed in the digital Bier Fest guide as having an additional selection of brews available during the event.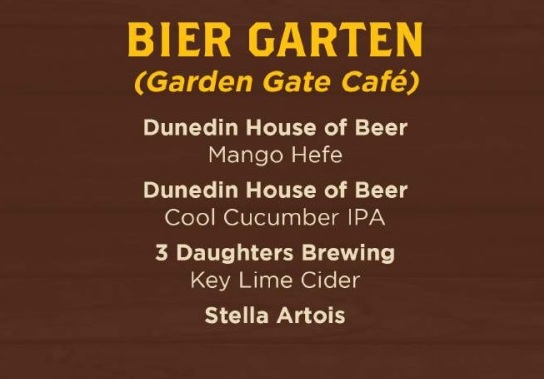 Busch Gardens has also brought back the popular bourbon and wine tastings to Bier Fest. The bourbon tasting is located just outside of Xcursions, and the wine tasting is along the Festival Walkway next to The Clove & Pine (#5). Each tasting costs $19.99; pass member discounts do apply.
---
Entertainment, Games & More
More than just beer and food, there are also several other things to see and do at Busch Gardens Tampa's Bier Fest. Each event day there is live entertainment scheduled to perform on the stage in the plaza near the lake outside of Bier Garten. Local duo Dana & Sharon performed on opening day, just as they did at last season's Bier Fest.
There are also a couple of games along the pathway across from the lagoon, including Big Pong & Bottle Bash.
You can pick up some beer related merchandise, too. Look for a small shop along the Festival Walkway near the wine tasting.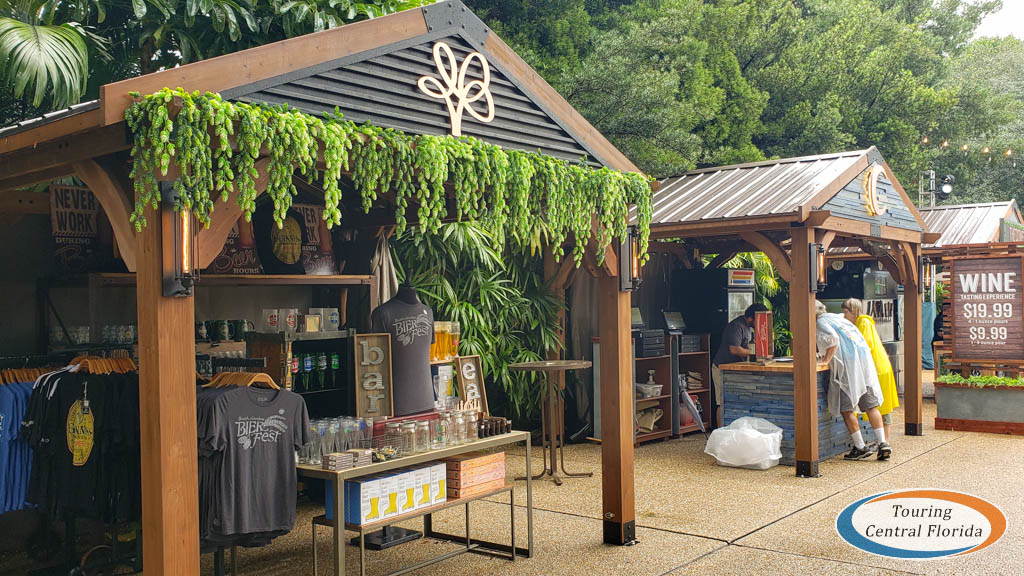 ---
If You Go…
Busch Gardens Bier Fest 2019 runs on weekends (plus Labor Day Monday) from noon until park close through September 8. Access to the festival area is included with any park admission, with food & drinks available for purchase.
Busch Gardens Tampa's Bier Fest 2019 is a solid addition to the park's lineup of special events throughout the year. It takes a set of weekends between the summer season and Howl-O-Scream that are traditionally a little slower and adds a reason for guests, especially pass members, to come out and enjoy the park. This second season builds on the success of the first.


Lessons were learned from the inaugural season, with a bigger focus on Florida craft brews and the addition of a pair of sweet culinary options. The best of last year's food items were brought back as well, with new items replacing those that weren't as popular. As is the case during the park's Food & Wine Festival, Busch Gardens once again proves they can serve more than just standard theme park fare with some amazing dishes available at Bier Fest.
Pricing for the drinks is again the biggest opportunity for Bier Fest at Busch Gardens. Of course, being at a theme park it should be expected the costs will be higher than a comparable event elsewhere. Since a sampler punch only gets you a 7 ounce pour for the brews, that ends up being a fair amount of money for a relatively small amount of beer. It does allow you to sample a number of beers you might not otherwise try, however, and could lead to finding some new favorites to enjoy. Paying out of pocket may be a better option if you're only planning on trying a few beers throughout the day – you basically get about three times the beer for twice the price going that route.
For official details on the brand new Busch Gardens Bier Fest, and to purchase sampler lanyards or other upgrades, visit the park's website.
While we strive for accuracy, please note that items, offerings, portion sizes, pricing, etc. may change at any time. Touring Central Florida is not responsible for errors; please confirm all information with the park directly.
---
Join in the conversation online with #ThrillsOnTap. For the latest on Busch Gardens Tampa and other theme parks, attractions and more across the region, be sure to follow Touring Central Florida on twitter @androckb, @JacobTouringCe1, @TourCentralFL, and give our facebook page a like.