Work continues on the former Gwazi structure at Busch Gardens Tampa Bay, as crews from Rocky Mountain Construction (RMC) transform it into a hybrid roller coaster set to open sometime in 2020.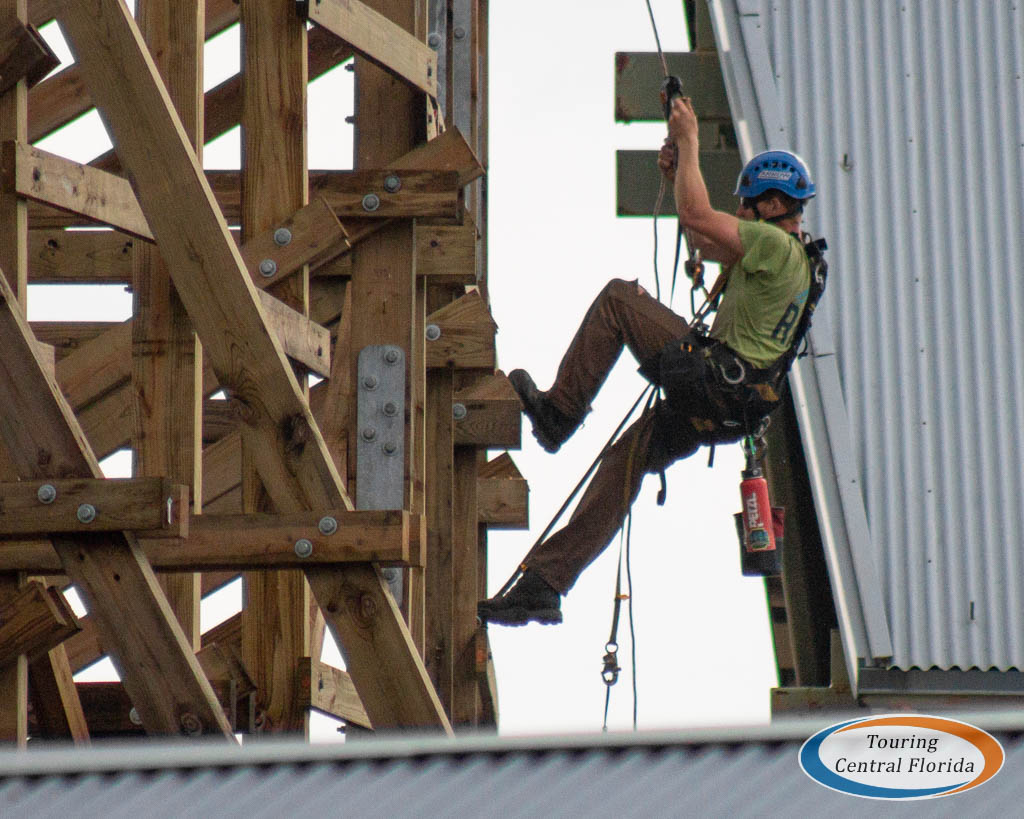 This past Monday, the first new track segments were installed. The park on Tuesday shared an up-close image of the progress made.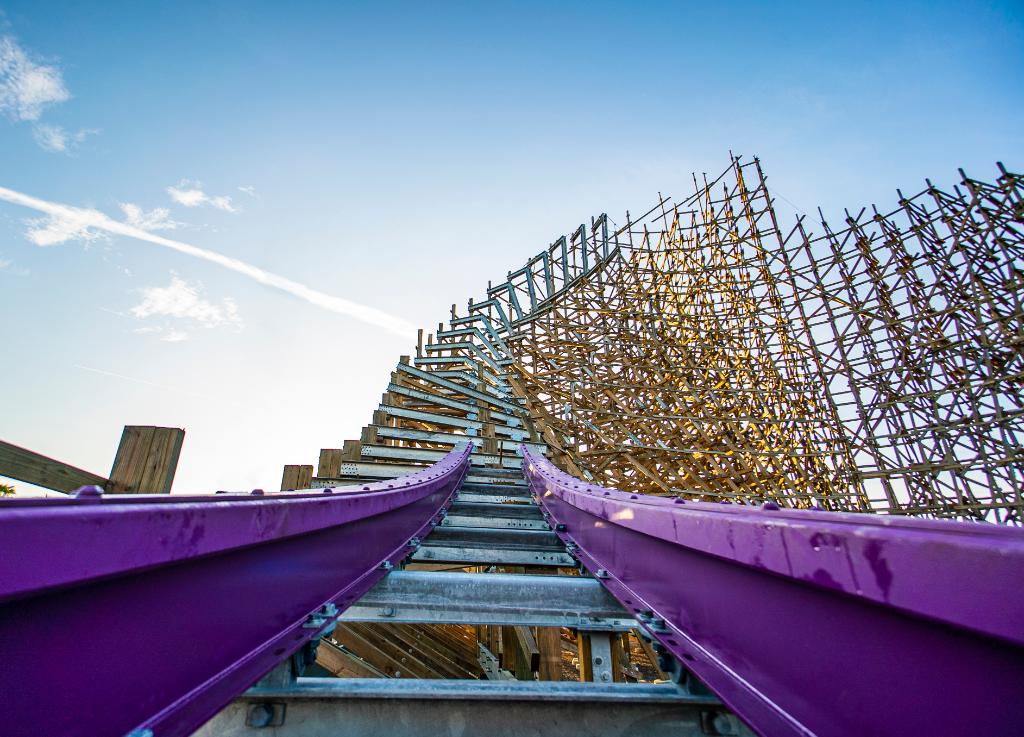 By Friday, several more track segments had been installed, moving up along the overbanked turn that has been built up.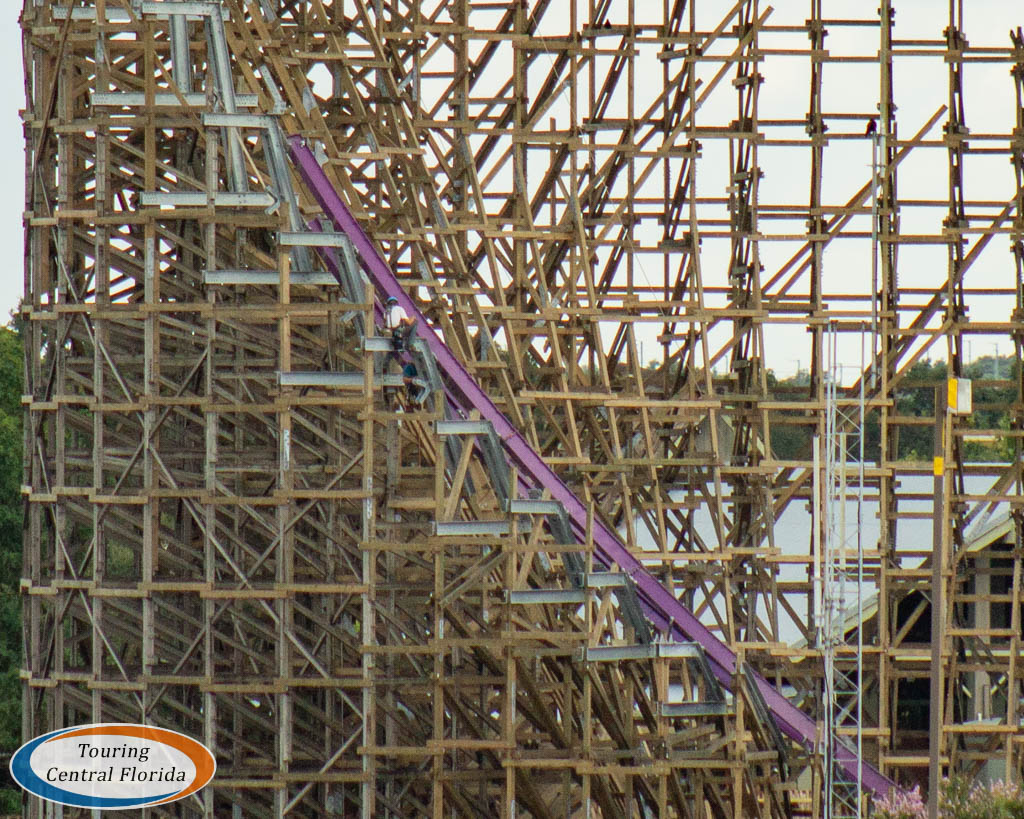 We caught RMC crews on Friday working on the top most pieces.
With better weather on Saturday, you can see just how much the purple track pops in the bright sun.
From a few spots in the park and along the Skyride, you can catch glimpses of the track from different angles.
Looking towards the interior of the coaster structure, several more installed segments of track are also visible.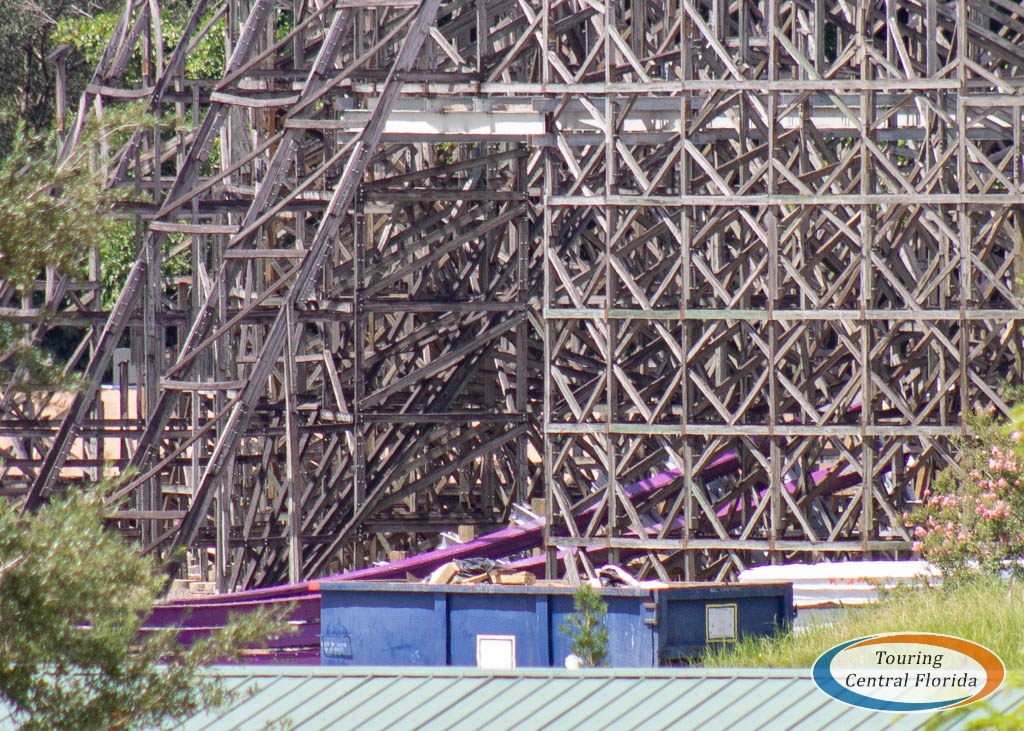 Back at the front of the park, work walls have extended out around the former entrance to the roller coaster.
This was expected, as permits were recently granted by the City of Tampa for the demolition and replacement of nine simulated thatched roof structures. This will likely include this entrance structure, the large roof over the station, and the other smaller huts along the queue.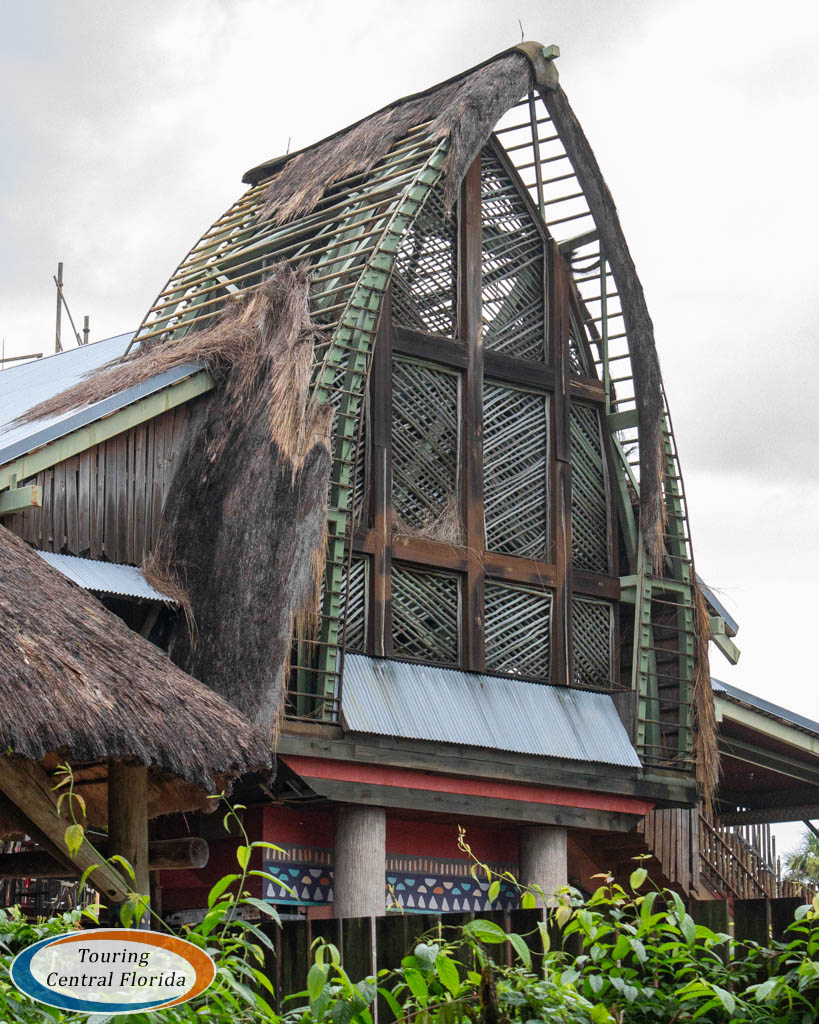 The queue itself has also seen some work in recent weeks. Crews had previously removed most of the wooden fencing in the queue earlier this summer. The pictures below are from our July construction update:
In recent weeks, it appears much of the wood has been cleaned and reinstalled. The metal railings have also been painted brown.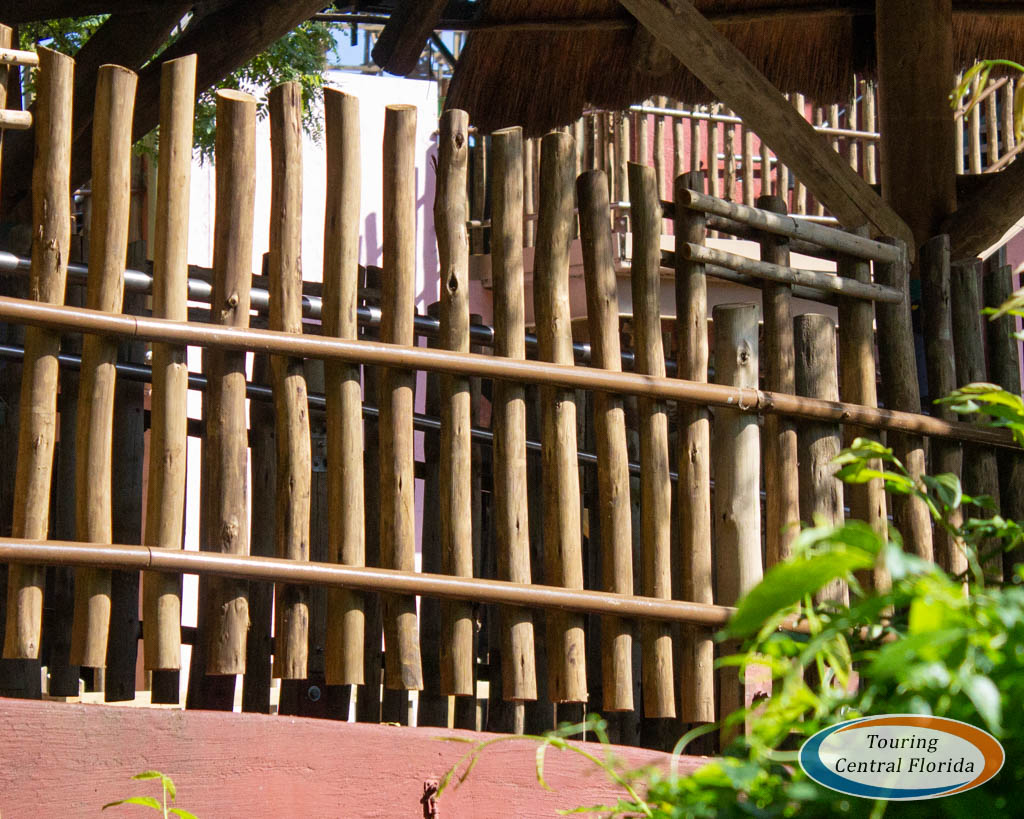 On Saturday morning when the park opened, RMC crews were busy installing brand new support sections just behind the station.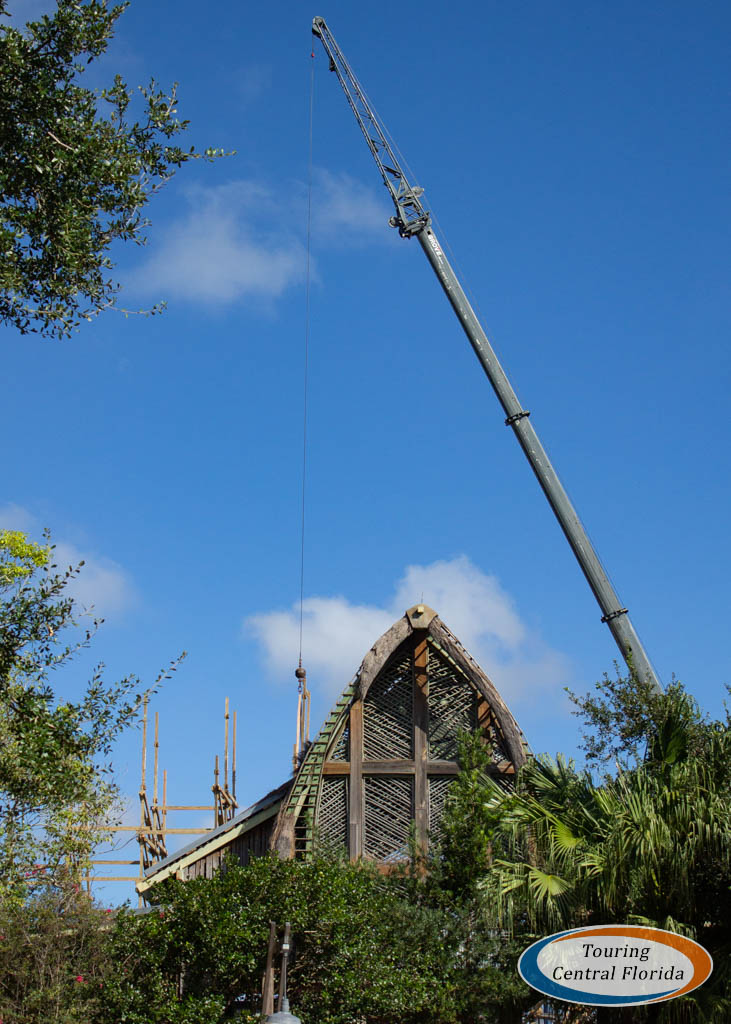 One of the perks of Busch Gardens Tampa being a year-round park is getting to see construction of new attractions up close. Watching crews literally building a new roller coaster piece by piece is awesome.
Lots of progress on Gwazi has been made in recent weeks with the addition of new supports and ledgers. Some shots from around the site:
See our previous updates on the 2020 project by clicking here.
For the latest on this and other projects at Busch Gardens Tampa Bay, be sure to check back on our site and follow along on our social media feeds (linked below). As always, all images for this update were taken from guest areas.



---
Join in the conversation on social media using #2020Rising, #RMCGwazi and #BGTProject2020. For the latest on Busch Gardens Tampa and other theme parks, attractions and more across the region, be sure to follow Touring Central Florida on twitter @androckb, @JacobTouringCe1, @TourCentralFL, and give our facebook page a like.