Check out the News & Notes for January and February 2019, with a look ahead at what's happening at Busch Gardens Tampa Bay, along with a review of some of the recent changes and news from the park. In this edition: Free beer returns to the park, Real Music kicks off, and a look at progress on both Gwazi and Tigris!
---
Looking Ahead
Current Admission Offers: The park is offering its BOGO Fun Card deal, where guests purchasing a Busch Gardens Tampa Fun Card for $104.99 (+ tax and service fee) get an Adventure Island Fun Card free. Florida resident children age 3 to 5 can also pick up a free Preschool Pass for visits to both Busch Gardens and Adventure Island. For more details on these offers, see our recent article.
Pass Member Instant Rewards: As a reminder, the monthly rewards program available for pass members the last several years ended in 2018. For information on other current offers available for pass holders, visit the Pass Member website.
Special Events: Real Music, Real Masters in underway now through March 16. See more details below. Sesame Street Safari of Fun will hold two Pirate Party Weekends on Saturdays & Sundays from February 2 – 10.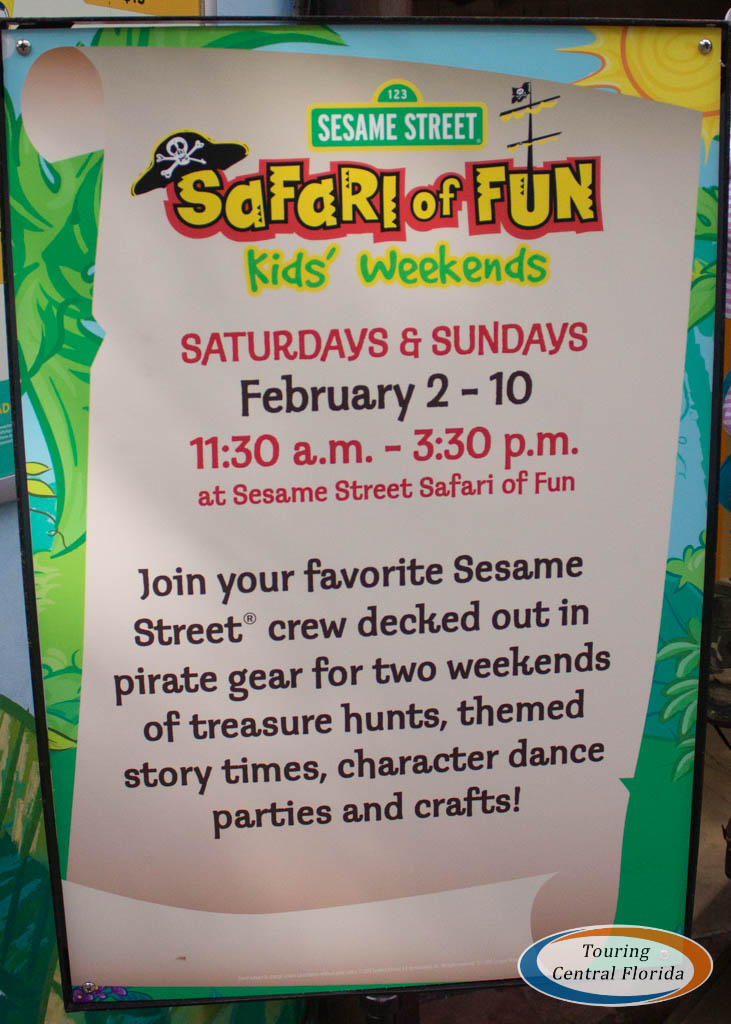 Scheduled Refurbishments & Closures: Phoenix and Jungle Flyers are closed until further notice. SheiKra is under refurbishment through January 18. Elmo's Safari-Go-Round goes down January 14 – 18. SandSerpent will be closed January 21 – 25. Kumba is scheduled for a nearly month long refurbishment January 28 – February 22. Big Bird's Whirly Birdie will be closed February 4 – 8. Falcon's Fury will have a short refurbishment February 25 – March 1. While these dates are taken directly from the park's website, they are subject to change.
---
Free Beer Returns
In celebration of the park's 60th anniversary this year, free beer is back for all guests of age throughout 2019. Guests can receive two samples of beer per day, available at either Garden Gate Cafe or Serengeti Overlook Pub.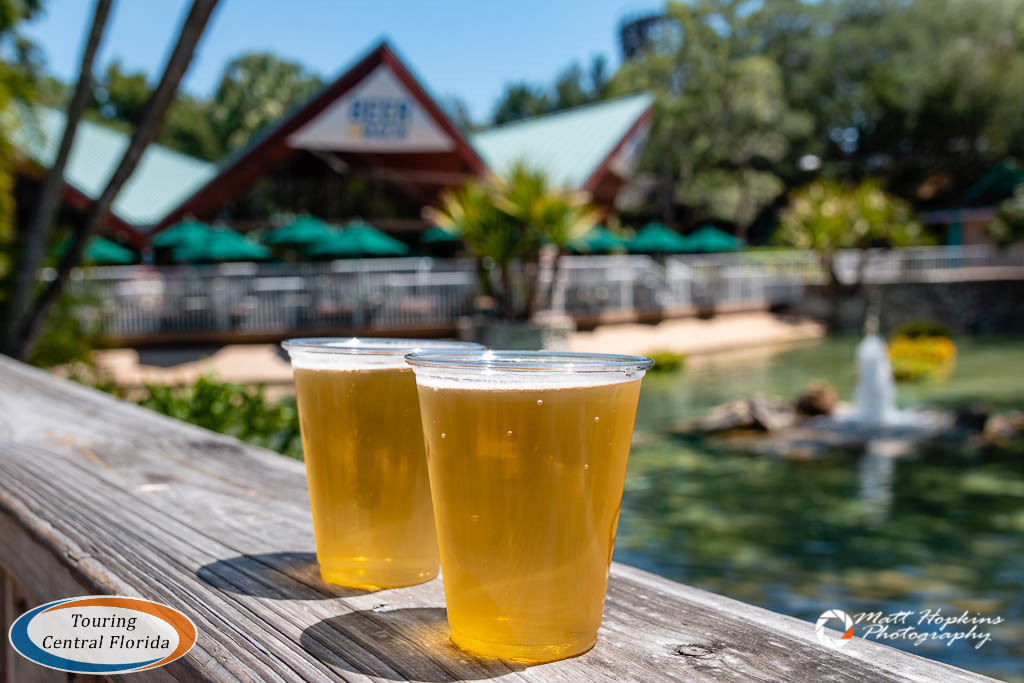 ---
Real Music, Real Masters 2019
The park's longest running concert series returns for 10 weeks this season, kicking off  last week (and ending in March with) Cirque Vertigo featuring the Wallenda Duo. Popular acts like Herman's Hermits featuring Peter Noone are also scheduled to perform. Performances take place twice daily from Monday through Saturday each week at Stanleyville Theater, and optional priority seating is available for a fee each show.
See the full line up and get more details in our recent article.
---
Gwazi Progress
Announced along with Tigris back in September 2018, the revamp of Gwazi is now underway as demolition work began this week on the former wooden roller coaster. Expected to open in 2020 as a hybrid coaster, Rocky Mountain Construction (RMC) is on site leading the project. It's unclear how much of the existing structure will be reused in the new coaster.
See more pictures in our recent update.
---
Tigris Progress
Opening this Spring, work on Tigris is moving along quickly, with much of the front tower already erected, and new track also being installed since the start of the year. See more in our latest update.
---
Walking Around
Guests arriving to the park via Busch Boulevard may notice a big change – the wall along the busy roadway on the edge of the park's property has been receiving a new paint scheme in the last several weeks. Gone are the muted colors and small geometric patterns. A mix of green with white stripes is appearing, with a slightly darker shade of green appearing more recently. It will be interesting to see what the final product looks like.
It seems like green is the theme this year, as it's the main color in a lot of the new 2019 branded merchandise now available in Emporium. We also spotted some new merchandise at Marrakesh Market, including hats, shirts and a photo board featuring cheetah information.
This new structure popped up recently in the Gwazi plaza, next to Gwazi Climb. It appears to be a new game, and we think it's one where guests simply hang for as long as they can to win a prize. The "Plinko" style game board that normally sits in this spot has moved down the pathway to the other side of Xcursions.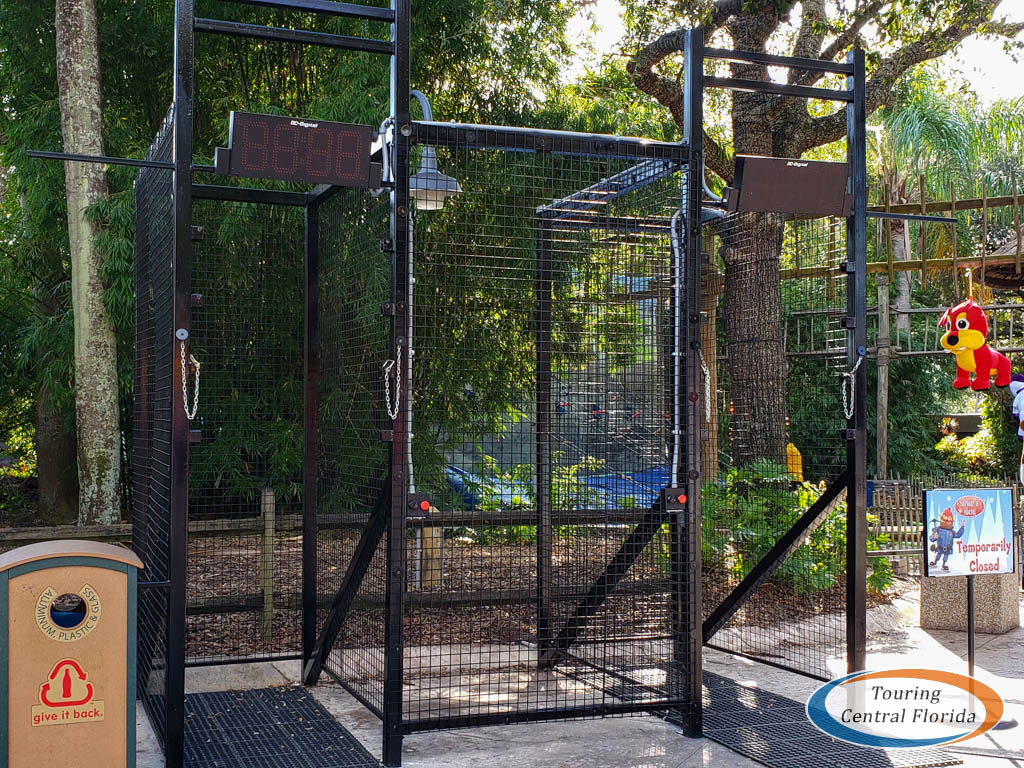 SheiKra is currently undergoing its annual maintenance, and is closed through January 18. The splashdown pool is completely drained, and you can see just how brutal the water and Florida sun is on the track in this area. We spotted crews painting along the brake run when we visited.
Opening Night Critters closed on December 31, 2018, and a new show is scheduled to open later this year. The new production is expected to be an animal based show like Opening Night Critters. In the meantime, Trainer Talk is being held a couple of times each day. The 15 minute session allows guests to see what it takes to train the animal actors to perform, and the methods used to do so.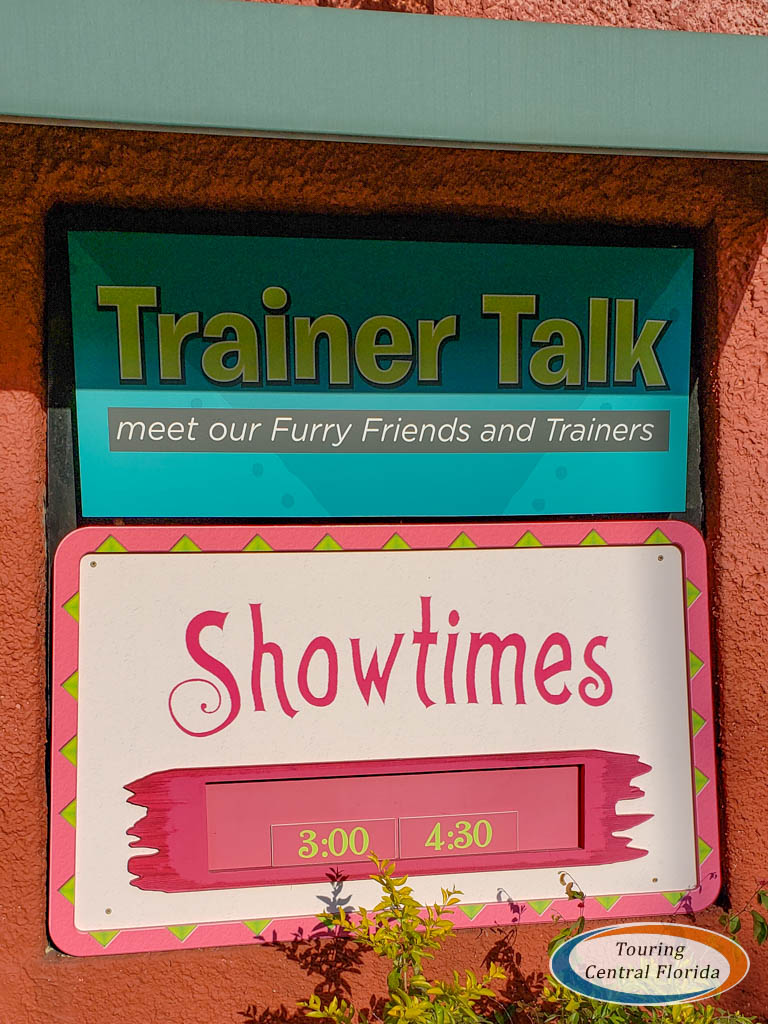 Also in Pantopia, Phoenix remains closed, missing the Fall season reopening the park advertised on a board in front of the ride earlier in 2018. The ride remains listed as closed until further notice on the park's website, but is scheduled for a refurbishment later in 2019. It appears the park still intends to reopen the attraction, though no timeline is available for when that might happen.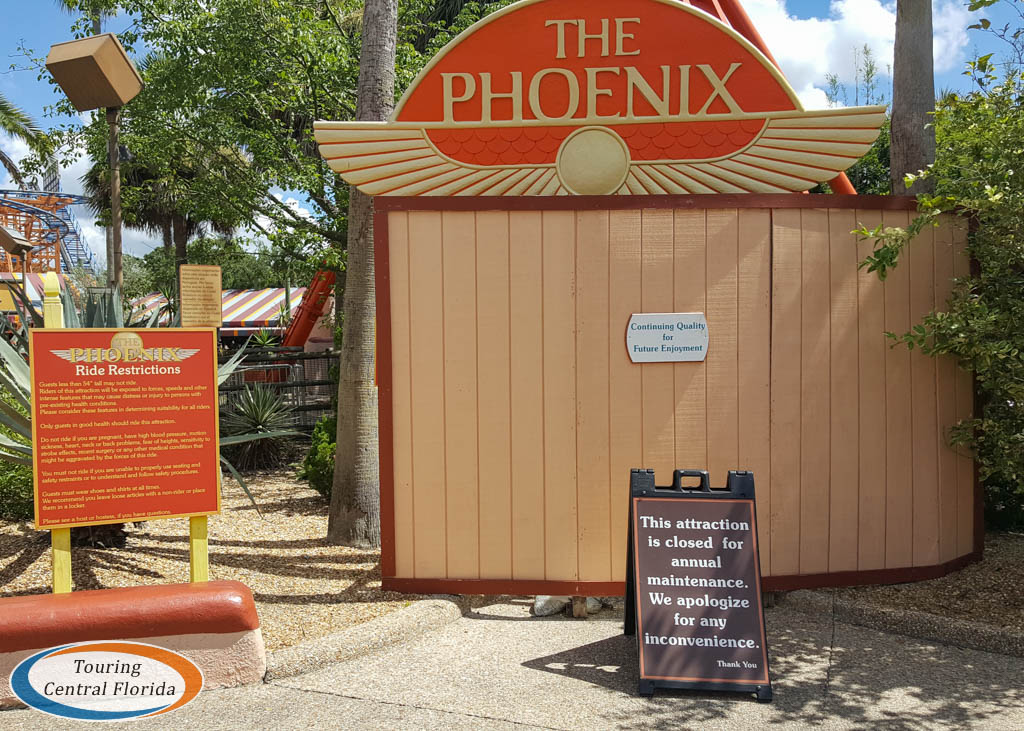 The several month refurbishment on Kenya Kanteen appears to be complete, as the construction walls are down and signage is back up at the culinary location. A new roof and a new coat of paint are visible on the outside, but the location was closed when we passed by this past Friday afternoon. Also spotted on top of the building, a fabric owl that moves in the breeze, in an effort to help scare off some of the white ibis and other birds that frequently harass guests dining here.
As a reminder, never feed the birds your food! Not only does it make them more aggressive, it can also hurt them.
---
For the latest on Busch Gardens Tampa Bay and other theme parks, attractions and more across the region, be sure to follow Touring Central Florida on twitter @TourCentralFL, @androckb, @Emmet_TCF, @JacobTouringCe1, and give our facebook page a like.