As the sun goes down, SeaWorld comes alive with the glow of Electric Ocean Remix, premiering July 24 on Fridays and Saturdays. Beginning August 16, Sundays are also being added to the event. Guests are invited to stay late on summer weekends to enjoy electrifying dance music and a brilliant evening of energy that sparks as the sun sets while maintaining safe physical distancing. The fun glows on with Light Up The Sky, a fireworks and pyrotechnic spectacular that brings the brilliance of the sea to the sky above for guests.
This event will be held on:
Fridays, Saturdays, and Sundays (as of August 16) through September 6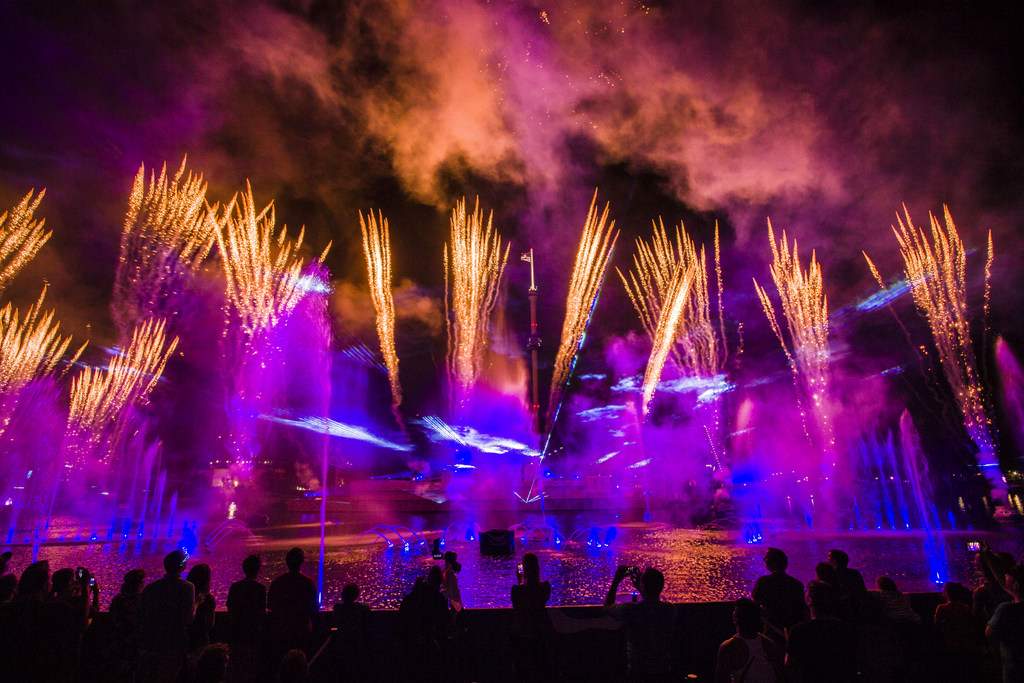 All guests with existing tickets, Fun Cards, or Annual Passes must make a reservation to visit in advance in order to manage park capacity and maintain physical distancing.  Requiring reservations allows the park to limit the number of guests on property each day, further enhancing the park's rigorous safety protocols.  Seaworld.com/orlando/tickets/reservations/
"We are thrilled to be able to bring Orlando's number one summer nighttime event, Electric Ocean, back to SeaWorld in a 'remix' that will keep all of our guests safe while allowing them to enjoy this electrifying event," said Park President Kyle Miller. "Safety is a top priority for our park team, and we've worked hard to modify elements of Electric Ocean while keeping all of the energy and excitement that our guests have come to love with the launch of Electric Ocean Remix."




Electrifying Entertainment:
Light Up the Sky – The evening will come to an amazing end when "Light Up the Sky" erupts across the park's lake. This new show will pay tribute to shows of summers past with a high-energy musical score, towering flames, and dazzling pyrotechnics. The best part of all, the fireworks can be enjoyed from anywhere around SeaWorld Lake, which will help everyone stay safe by maintaining physical distance.
Atmosphere Entertainment – As the sun goes down, the party amps up on our Waterfront, where a DJ will be mixing dance music for those waiting for the fireworks to begin. Guests will have designated areas to know where to stand for safe physical distancing from other guests, while still being able to enjoy the entertainment. Featuring dancers and high energy atmosphere acts, they will get the party started!
Sea Lions Tonite –The hilarious, off-the-wall, and full of surprises, Sea Lions Tonite is back and you're invited on this wild trip to SeaWorld as seen through the eyes of those sea lion superstars, Clyde and Seamore!
Additional details for Electric Ocean Remix at SeaWorld Orlando are available on the park's website: Seaworld.com/orlando/events/electric-ocean/
Other Summer Fun:
Taste of Seven Seas: SeaWorld Orlando's annual spring event, the Seven Seas Food Festival, resumes this summer in a modified format at SeaWorld Orlando for guests to enjoy select fan-favorite food options in a safe environment. Each week, guests can sample popular food and drink features from one of the Seven Seas Food Festival markets featuring international street food traditions, exclusively at SeaWorld's Lakeside Patio. The event runs on Fridays through Sundays until August 9. More info: www.seaworld.com/orlando/events/taste-of-seven-seas/
Flicks and Fireworks: Experience the fun, nostalgia, and magic of movies under the stars with SeaWorld's park-and-view drive-in movie theatre! In addition to locally sourced food trucks offering plenty of snack options, back by popular demand, the park's spectacular fireworks display "Light up the Sky" will be shown Friday and Saturday nights for both park guests and moviegoers to enjoy. This separately ticketed event will be available Fridays & Saturdays through September 5, plus Sunday, September 6. Check for weekend movies here: Seaworld.com/orlando/events/flicks-and-fireworks/
Craft Beer Festival: Scheduled to return on weekends beginning August 15. More information will be released in the coming weeks: seaworld.com/orlando/events/craft-beer-festival/
---
For the latest on SeaWorld Orlando and other theme parks, attractions, and more across the region, be sure to follow Touring Central Florida on twitter @androckb & @TourCentralFL, and like our Facebook page.