After the April Fools' Day announcement that a moon jellies interactive touch experience was coming to The Florida Aquarium, the wait is finally over—it's no joke. Starting today, you can reach out and touch nature with a two-finger touch on the bell of moon jellies.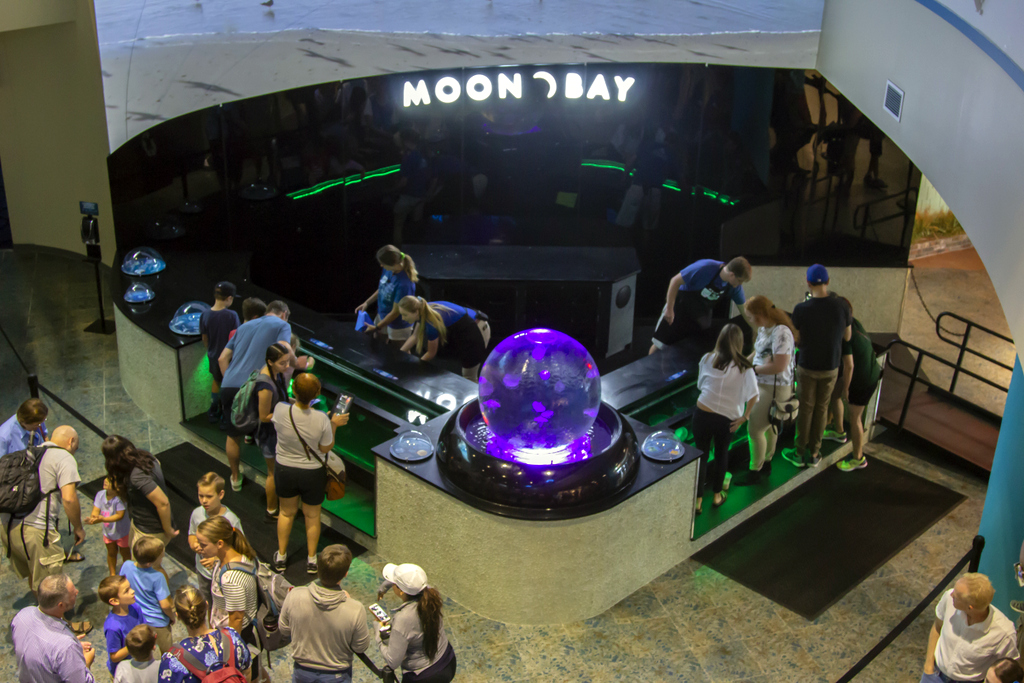 The new Moon Bay exhibit's grand opening on World Oceans Day is one of four places in the nation with this unique, family-friendly experience. Moon Bay allows for a close encounter with a hypnotically graceful ocean creature with surprising survival skills.
"We are excited to bring this fun, interactive opportunity to the Tampa Bay area. The Florida Aquarium is committed to going above and beyond to promote learning while inspiring our guests to support preserving our precious oceans. Touching a magnificent jelly is something they'll always remember," said Roger Germann President and CEO of The Florida Aquarium.
The Moon Bay exhibit, named after the "moon jellies," is a 1,200-gallon habitat with two touch pools located in the 1st floor lobby where visitors can touch the jellies. An acrylic sphere full of moon jellies and a digitally mapped projection display with impactful imagery of the natural environment, fun facts and jelly trivia round out the exhibit.


However, what about the fear of getting stung? While moon jellies do have stinging cells, they feed on brine shrimp, mysis shrimp, and krill. The Aquarium chose moon jellies because they have a short, fine fringe that sweeps food, and they are too tiny to inflict any pain. Any irritation caused by touching their tentacles is relatively mild, non-distinguishable and won't last. Aquarium staff will also teach visitors the proper way to touch a moon jelly, which is the two-finger touch on the top of its bell at the surface of the water, for no stinging risk.
It doesn't stop there. Guests can see the jellies naturally glow with changing colored lights, and just above the exhibit, you can journey through ocean waters by watching a digitally mapped projection wall.
There is just one catch. Please don't call them jellyfish! Technically, moon jellies (and all jellies) are not fish at all and are more closely related to coral. The proper term is moon jellies, and there are more than a dozen species worldwide from the Arctic to the Gulf of Mexico and are a great food source for endangered sea turtles.
Also, guests on World Oceans Day were able to show their love for the ocean, and find out how human activity impacts ocean life at the Aquarium. Guests of all ages participate enjoyed ocean-themed activities and explored different habitats along our exhibit path and learned ways people rely on the ocean, and how they can make a difference. Special animal enrichment with our residents throughout the day were a big hit with everyone. Guests also learned about ocean conservation issues at unique educational stations throughout The Florida Aquarium and were even able to take #WorldOceansDay selfies.



---
For the latest on theme parks, attractions and more across the region, be sure to follow Touring Central Florida on twitter @androckb, @JacobTouringCe1, @TourCentralFL, and give our facebook page a like.