There are a number of new additions coming to the various SeaWorld parks across the country in 2019, including new roller coasters, attractions, animal exhibits, water slides, and more. Back in August, the company announced a capital expenditures plans that would see $150 million per year adding a new attraction, show or event at each of the parks. With all of the 2019 additions announced so far, it's clear they are making a push to stay competitive in each market with new offerings.
Below is a round up of all the currently announced projects at SeaWorld, Busch Gardens and other properties in the SeaWorld Parks & Entertainment chain set to open in 2019.
---
SeaWorld Orlando – Sesame Street
Families will be able to walk down Sesame Street for the very first time as Sesame Street at SeaWorld Orlando brings the world famous street to park guests, connecting them to all of the fun, laughter and learning of Sesame Street. It will replace Shamu's Happy Harbor, and is scheduled to open in Spring 2019.
"We are excited to transport our guests into the colorful and creative world of Sesame Street through immersive theming, character interactions and interactive play," SeaWorld Orlando President Jim Dean said at the time of the announcement. "Sesame Street at SeaWorld Orlando is an amazing addition to our park, providing more unique and memorable experiences for the entire family."
Take a look at the progress being made on the project in our recent construction update.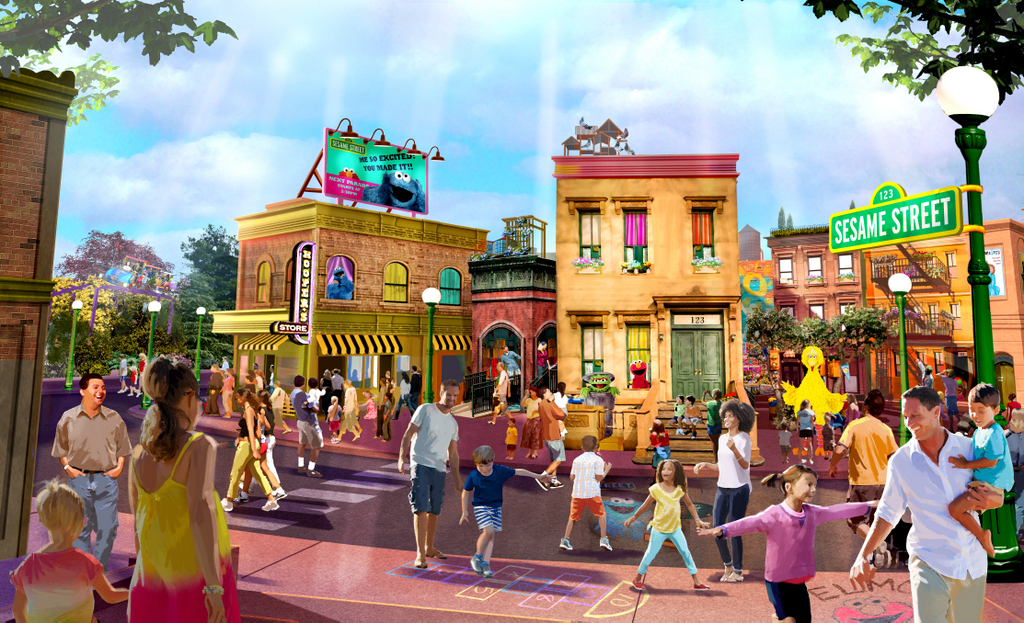 ---
Aquatica Orlando – KareKare Curl
In 2019, Aquatica will become the most thrilling waterpark in Florida with the opening of the new thrill slide KareKare Curl. Holding two passengers per raft, this new slide delivers a high-adrenaline, weightless adventure. With the addition of KareKare Curl Aquatica Orlando will become the thrill leader among Florida waterparks, with more high thrill rides than any other.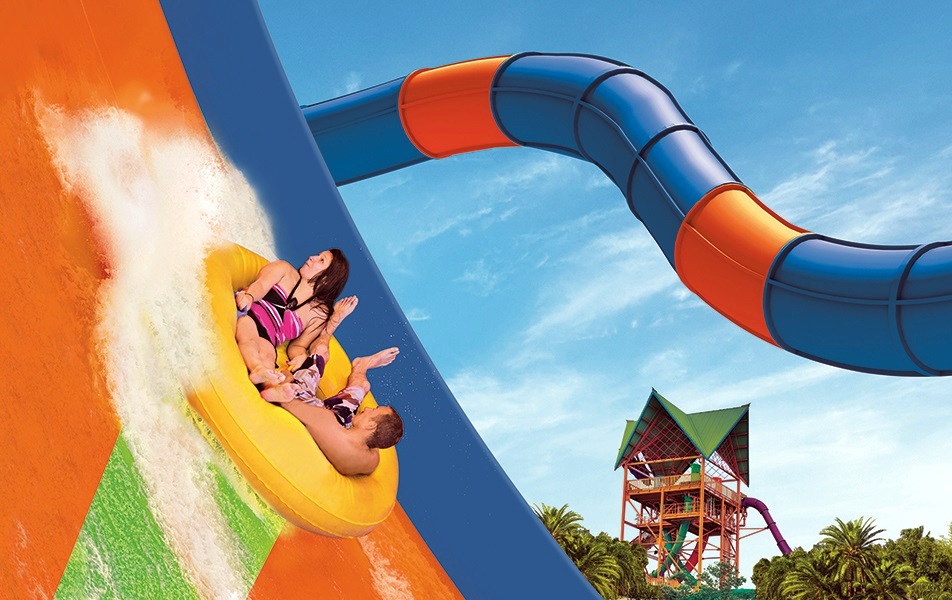 ---
Busch Gardens Tampa Bay – Tigris
An innovative experience, Tigris will catapult riders through an exhilarating array of looping twists with forward and backward motion, breath-taking drops, a 150-foot skyward surge, and an inverted heartline roll, all at more than 60 miles per hour. Tigris will race riders along more than 1,800 feet of steel track designed to mimic the awe-inspiring agility of the world's largest and most powerful cat –the tiger.
"Tigris will be a strong addition to our family of world-class thrill rides. With three intensely exciting launch points, this ride is unlike anything we have in our coaster collection," said Stewart Clark, president and general manager of Busch Gardens Tampa Bay. "This new attraction is a testament to our continuing investment in the park, and bringing new and innovative experiences to our guests."
The roller coaster is set to open in Spring 2019 on the former Tanganyika Tidal Wave plot in Stanleyville. Read more about Tigris and take a look at the construction site in our recent article.
---
Busch Gardens Williamsburg – Finnegan's Flyer
Riders will soar high and swing out over the cliffs of the Celtic coast on Finnegan's Flyer, a Screamin' Swing ride located in Busch Gardens Ireland village adjacent to Loch Ness Monster roller coaster. This breathtaking attraction features two pendulum-like arms, seating 32 riders that fly progressively higher with each swing. Finnegan's Flyer will reach a staggering height of more than 80 feet with a speed of 45 mph. Riders can take in beautiful views of the park while being thrilled on this captivating attraction. The dueling arms sway back-and-forth, the ground plummeting into view with each swing.
---
Water Country USA – Cutback Water Coaster
Cutback Water Coaster, the only RocketBLAST coaster on the East Coast and Virginia's first hybrid water coaster, is coming to Water Country USA. This revolutionary water propulsion ride will merge two unique technologies – a water jet propulsion system and exhilarating saucer feature. With the RocketBLAST technology, Cutback will drive bigger boats, at higher speeds, and move riders up longer, steeper inclines. Thrill-seekers will board a four-person raft, speed along an 856 ft. slide, jet through tunnels and slide onto the wide-open space of massive saucer-shaped features. The steep angles of the saucers provide a drop-and-dive sensation as riders race along the edges. Cutback Water Coaster features the latest in turbine technology and takes water propulsion coasters to a whole new level with heart-stopping turns, lightning-fast drops and thrilling speeds.
---
SeaWorld San Diego – Tidal Twister
The park will launch Tidal Twister, a dueling roller coaster, as its thrilling new attraction for 2019. The first of its kind in the world, this unique and horizontal ride is an exhilarating accelerating to 30 miles per hour, riders will twist and bank as if they are riding the tide along a tight figure-8 track that includes dynamic Zero-G roll at the center section. Two trains, holding 16 passengers each, load at opposite ends of the figure-8 and cross in the center with guests facing both forward and backward on the trains. A lower-height requirement of 48 inches makes this attraction a perfect ride for younger guests and families.
"There is no other coaster experience in the world like Tidal Twister," said Marilyn Hannes, SeaWorld San Diego's park president. "The two trains duel one another and guests will see the excitement on the faces of other riders. You'll almost feel like you can reach out and touch them. The tight turns, the inversion and the airtime hill will leave our guests wondering which way is up."
Tidal Twister, elevated 16 feet off the ground, will be located adjacent the Aquaria touch pool and aquarium in the northwest corner of the park, the perfect location to accentuate the new attraction's conservation element that focuses on sustainable aquaculture and coral reef protection.
---
SeaWorld San Antonio – Turtle Reef, Riptide Rescue, Sea Swinger
SeaWorld San Antonio will unveil Turtle Reef in Spring 2019, a fascinating habitat that will enable guests to get an up-close look at threatened and endangered sea turtles, plus learn about the threats the species face in the wild. The focal point will be a 126,000-gallon coral reef-themed environment, with a unique and natural bio filtration, featuring rescued and non-releasable green sea turtles, along with hundreds of multi-colored Caribbean fish.
Located between Shamu Stadium and Rio Loco river rapids ride, Turtle Reef also will feature SeaWorld's second underwater viewing area where guests can watch from a floor-to-ceiling, panoramic portal as turtles swim just inches away.
"Our guests not only will learn about amazing sea turtles but also how all of us can improve ocean health," said Chris Havel, SeaWorld San Antonio senior aquarist. "One big way is to keep plastics out of the aquatic environment. Thus, it's no coincidence that almost a decade ago SeaWorld started limiting plastics in its parks."
In conjunction with the opening of Turtle Reef, two new family rides will debut – Riptide Rescue, where guests can board a boat and set out on their own sea turtle rescue mission aboard this classic spinner ride, and Sea Swinger, a thrill ride that swings riders 180-degrees in both directions.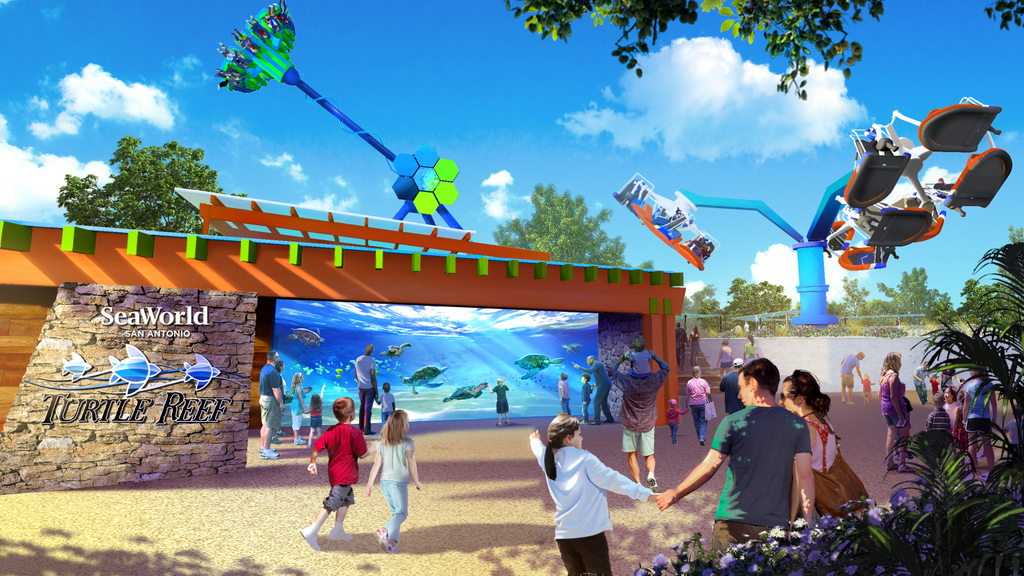 ---
Aquatica San Antonio – Ihu's Breakaway Falls
Premiering at Aquatica in 2019 will be Ihu's Breakaway Falls, a new, steep, one-of-a-kind, multi-drop tower slide, which is named after Ihu, Aquatica's colorful gecko, who searches for the biggest thrills, steepest hills and coolest spills in the waterpark.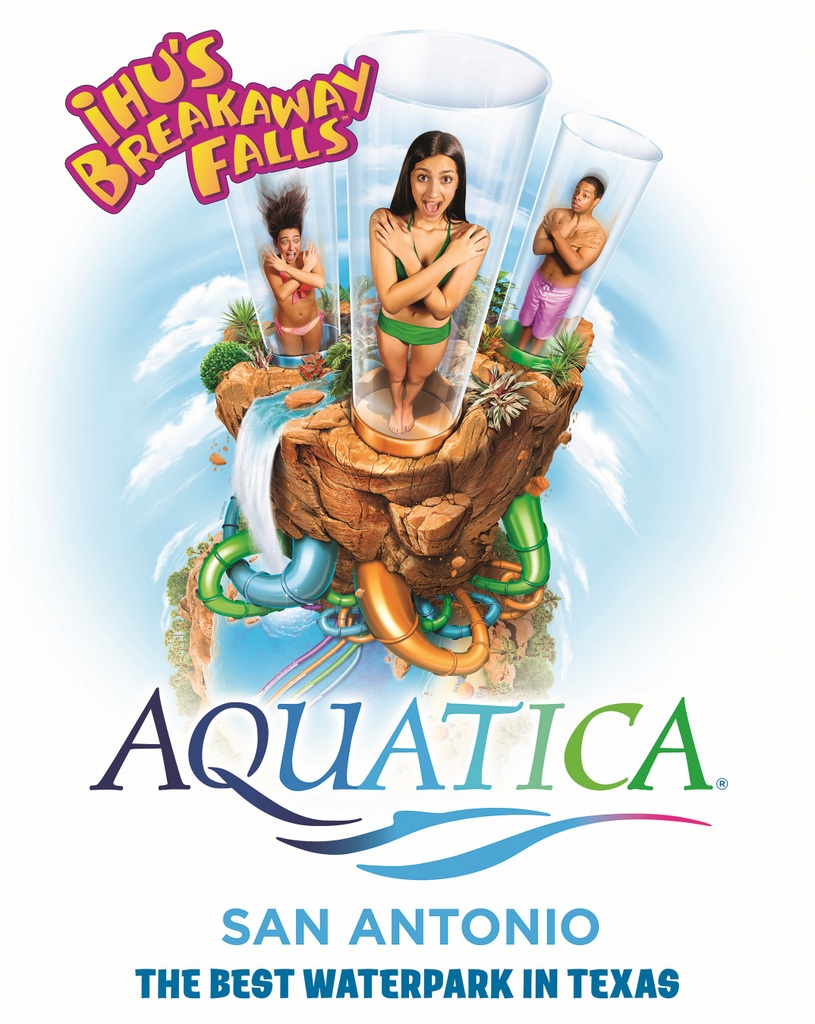 ---
For the latest on SeaWorld Orlando, Busch Gardens Tampa Bay and other theme parks, attractions and more across the region, be sure to follow Touring Central Florida on twitter @TourCentralFL, @androckb, @Emmet_TCF, @JacobTouringCe1, and give our facebook page a like.