The 4th Annual Busch Gardens Tampa Bay Food & Wine Festival is now underway, running each Saturday and Sunday from noon until close through April 29, 2018. The event combines over three dozen sample sized culinary creations, over 100 different wines and craft brews, and headline concerts and other entertainment. Access to the Food & Wine Festival area, including general seating for the concerts, is included with any annual pass, Fun Card, or daily admission.
Be sure to check out our other Food & Wine articles:
---
Sampler Lanyards
Available for purchase at the new Welcome Center or at any of the festival cabins, the Sampler Lanyards can save you money if you're planning on purchasing multiple items. The best part is the lanyards can be shared among your party, and are good throughout the duration of the festival, so no need to buy one for every person or feel you need to use all the punches in one visit.
There are three price points for the lanyards – $29.99 for a five-item lanyard, $39.99 for an eight-item lanyard, and $54.99 for a 12-item lanyard. Annual pass members can also get a special 15-item lanyard for the price of a 12-item lanyard. The 10% pass member discount also applies to the 5 and 8-item lanyards.
The lanyards are valid at every booth for every food and alcoholic beverage item, and the sizes for the food or beverage items are the same whether using a punch on the lanyard or paying out of pocket. How much you can save will vary depending on which lanyard you purchase and what items you choose, but even at $30 for the 5-item lanyard (that breaks down to $6 per item), with alcoholic drink prices starting at $7.99, you'll save at least $10 compared to paying out of pocket for five drinks.
---
Drink Guide
There are a total of 30 "cabins" or booths across the festival area, plus three special tasting bars where you can sample different wine, bourbon and tequila. Many of the cabins feature one or more wineries and breweries, and each of the food cabins also has a wine and beer pairing for menu select menu items. New this year is the VIP Bar, an exclusive spot for those holding VIP Seating packages, located on the back side of the Gwazi Field Bar.
Be sure to pick up a Festival Guide when you enter the park or from the new Festival Welcome Center located just outside the Gwazi Park gates. You can see a copy of the map below: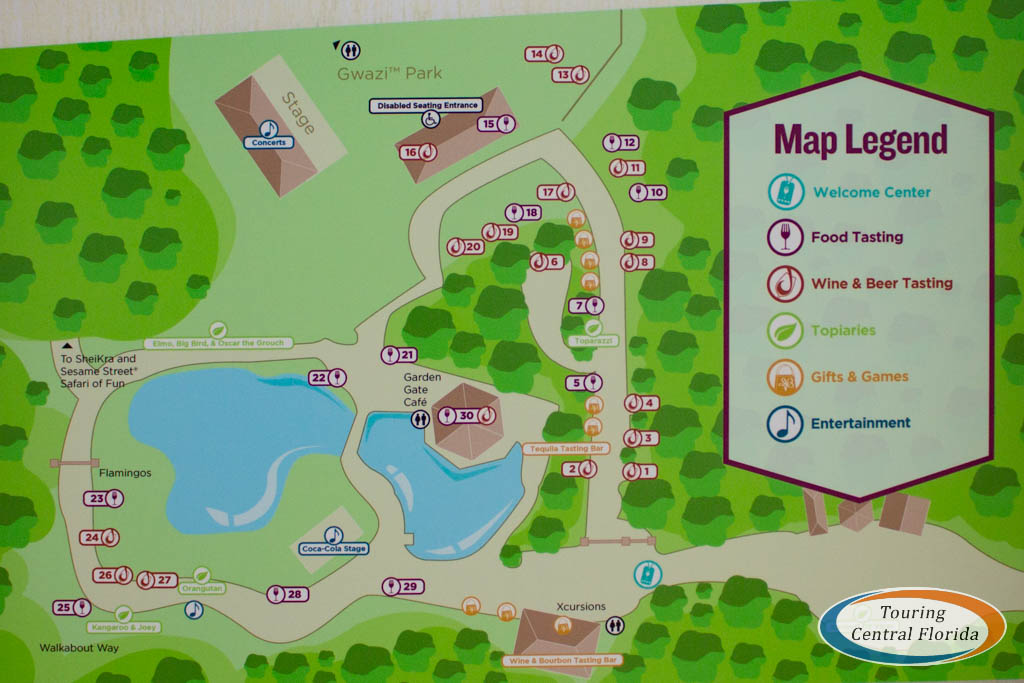 ---
Wine & Beer Cabins
There are a total of 16 cabins that feature just wine & craft beer selections. Each cabin has at least one winery and one brewer featured, and many have multiple companies represented at each booth. Pricing is standardized across all of the beverage cabins – you'll find wine available for $8.50 a glass, and the craft beers at $7.99 a glass. If you're using a Sampler Lanyard, it's one punch per drink.
Cabin #1
14 Hands, Eppa & Brew Bus Brewing
Cabin #2
Fleur de Mer, Maryhill, Astoria, Lobetia, & Coppertail Brewing Co.
Cabin #3
Sileni Estates, Astoria & New Belgium Brewing Co.
Cabin #4
Rutherford Ranch Winery, Kono Wines, Flint and Steel Wines, Murphy Goode Winery & Rekorderlig
Cabin #6
Alexander Valley Vineyards & Founders Brewing Co.
Cabin #8
J. Lohr Wines & Motorworks Brewing
Cabin #9
Terrazas De Los Andres, Green Bench Brewing Co. & Swamp Head Brewery
Cabin #11
Rutherford Ranch Winery, Kono Wines, Arinzano Hacienda & 3 Daughters Brewing
Cabin #13
Lobetia & Tampa Bay Brewing Co.
Cabin #14
Michael David Winery & Goose Island Beer Co.
Cabin #17
Josh Cellars & Cigar City Brewing
Cabin #19
Joel Gott Wines, Saved Wines, The Traveler Beer Co. & JDub's Brewing Co.
Cabin #20
K Cellars Estates & Funky Budda Brewery
Cabin #24
William Hill Estate Winery & Pair O' Dice Brewing Co.
Cabin #26
Kim Crawford Wines & Sweetwater Brewing Co.
Cabin #27
St. Supery Estate Vineyards, Pacific Rim, Trapiche, Banfi & Highland Brewing Co.
---
Gwazi Field Bar & VIP Bar (#16)
Located next to the concert area, the Gwazi Field Bar serves up a variety of drinks and light snacks. New this year, an exclusive VIP Bar for guests who have VIP Seating is also available.
Pricing is the same at both the regular and VIP bar. Just like the other booths, a Sampler Lanyard can be used for the alcoholic drinks, or you can pay out of pocket.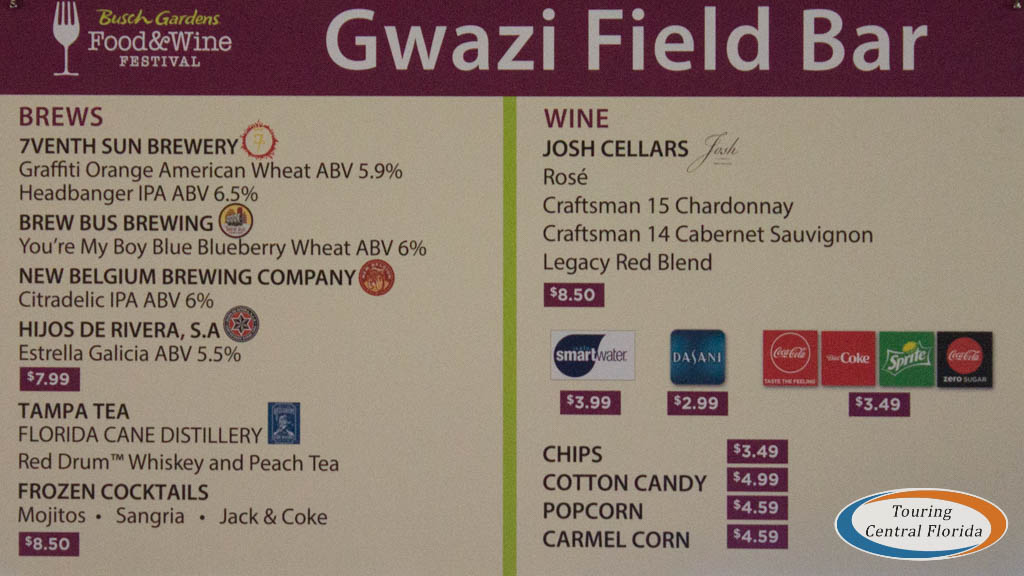 In addition to what is listed on the menu, there were also several other beers on tap.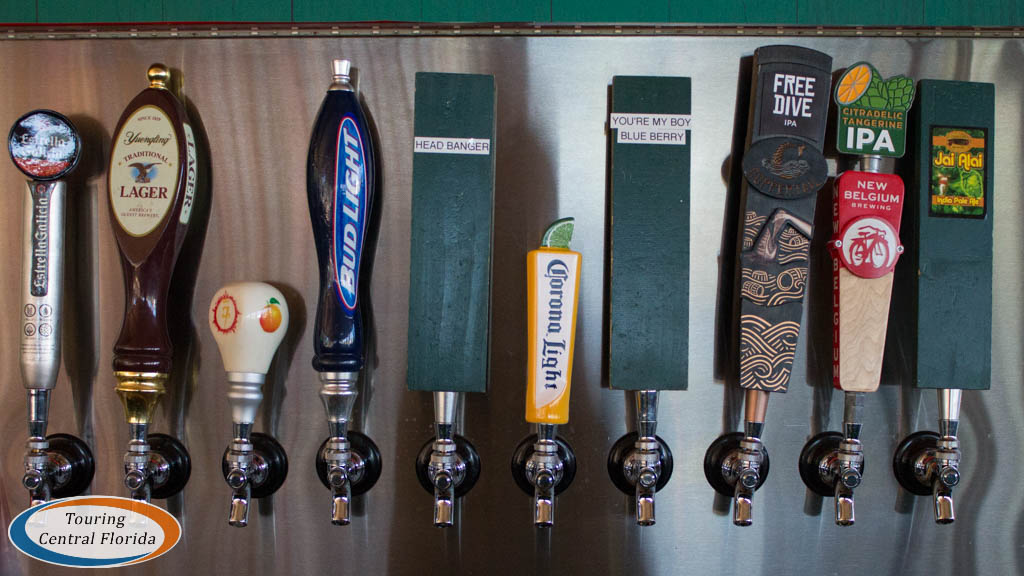 ---
Food Cabin Pairings & Cocktails
In addition to all of the delicious dishes at each of the 13 food cabins, you'll also find a special wine and beer that are suggested pairings with the menu items. Several of the cabins also feature frozen cocktails.
For complete menus, pricing, and reviews of items we tried, be sure to check out our Food Guide as well.
Southern Station (#05)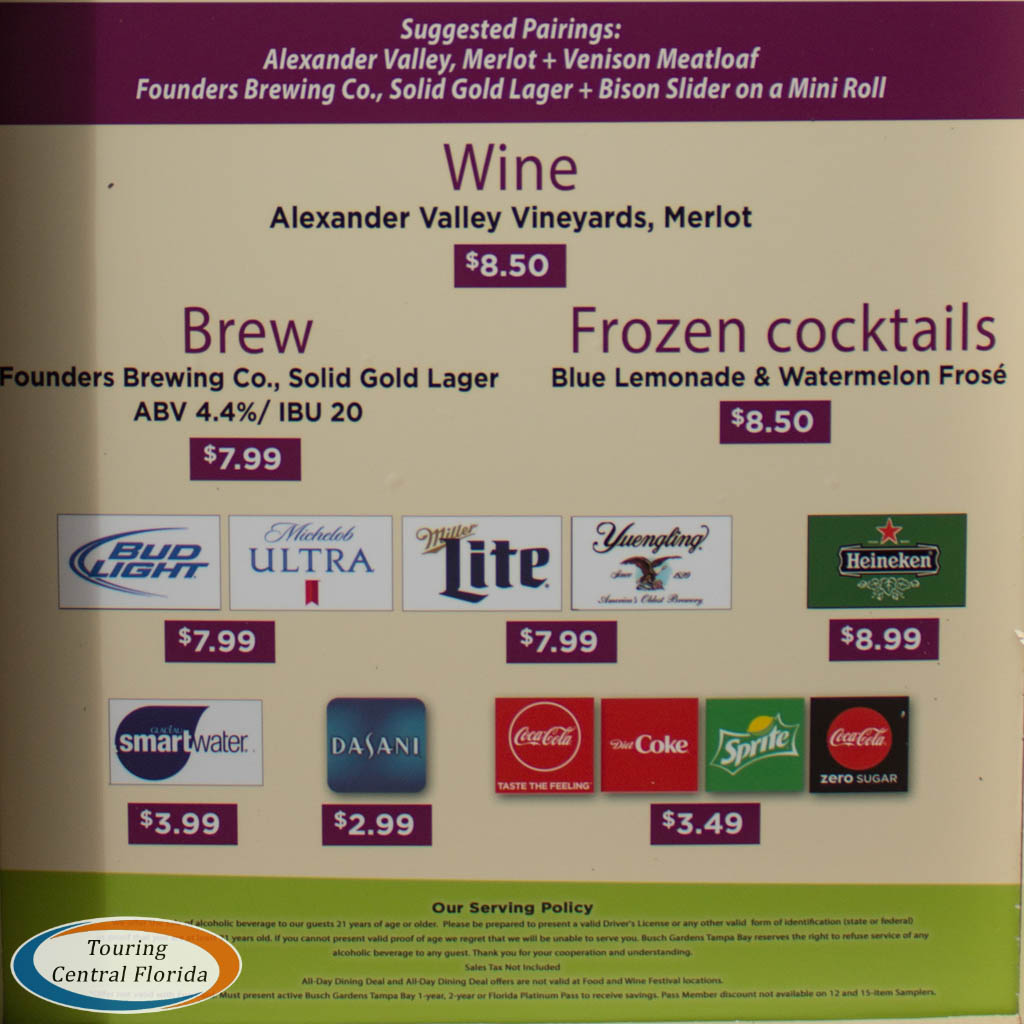 Light Fare Canteen (#7)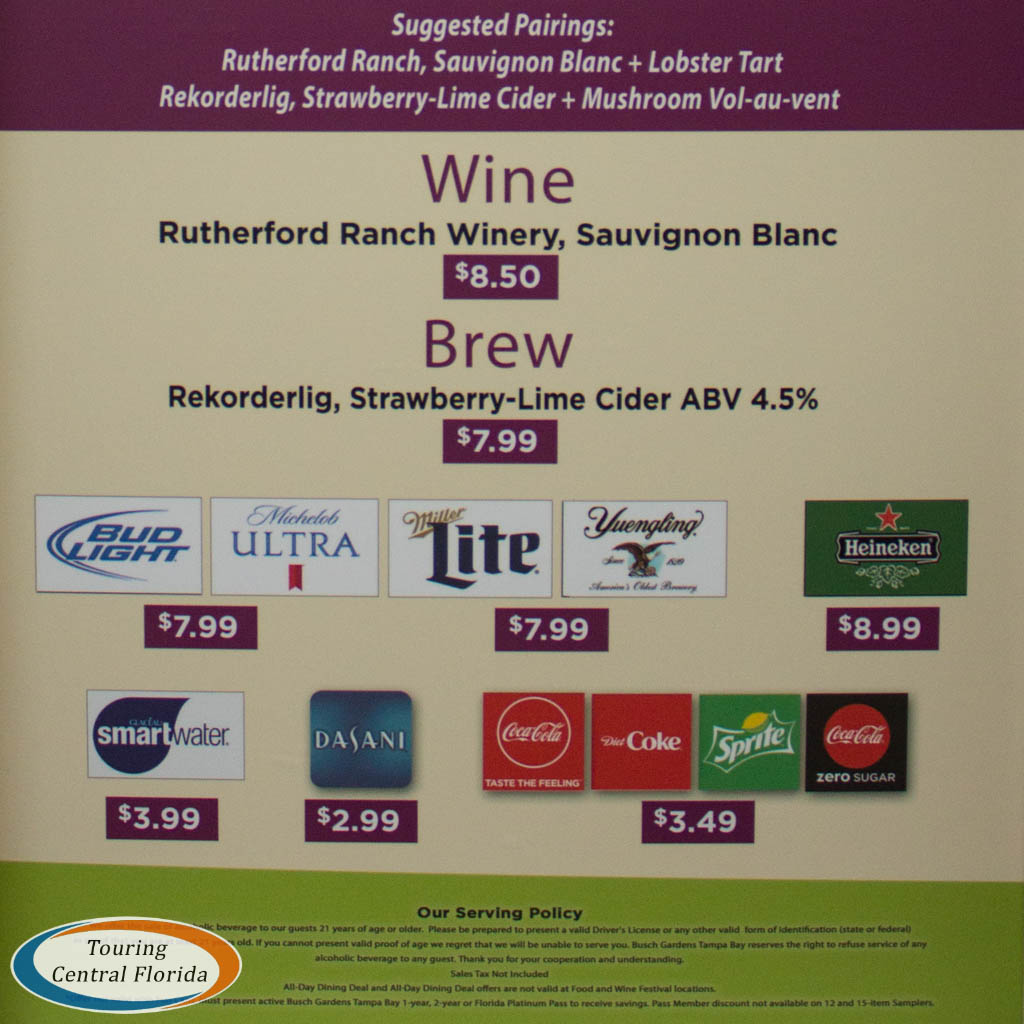 Gourmet Lodge (#10)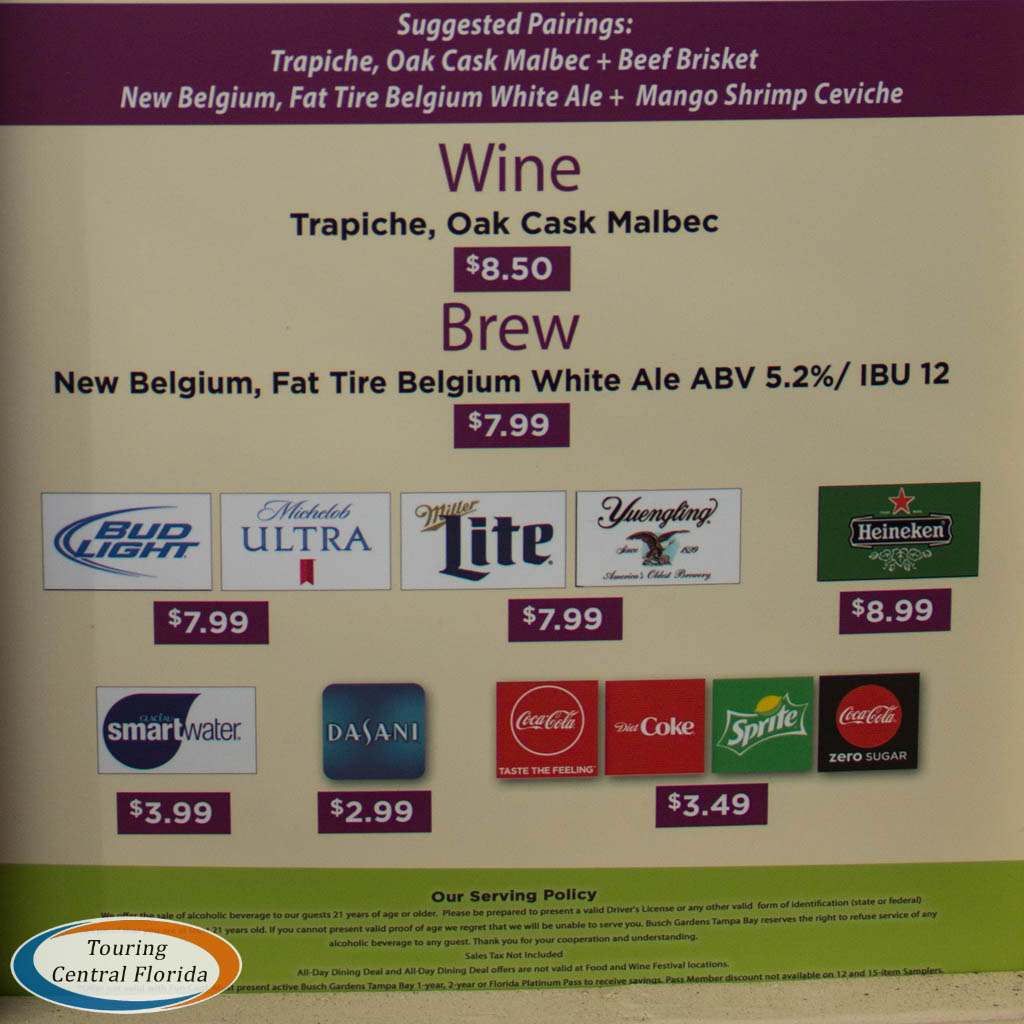 Chef's Plantation (#12)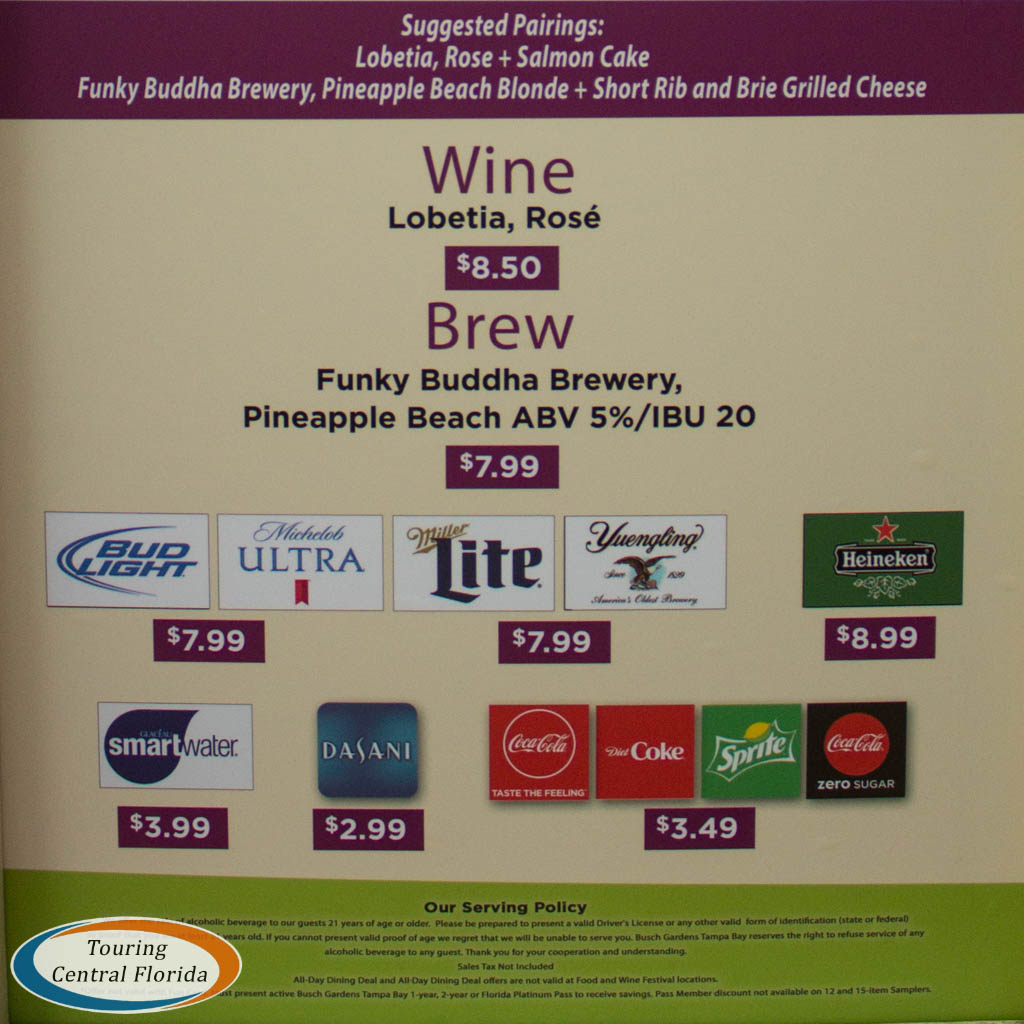 Tasty Taqueria (#15)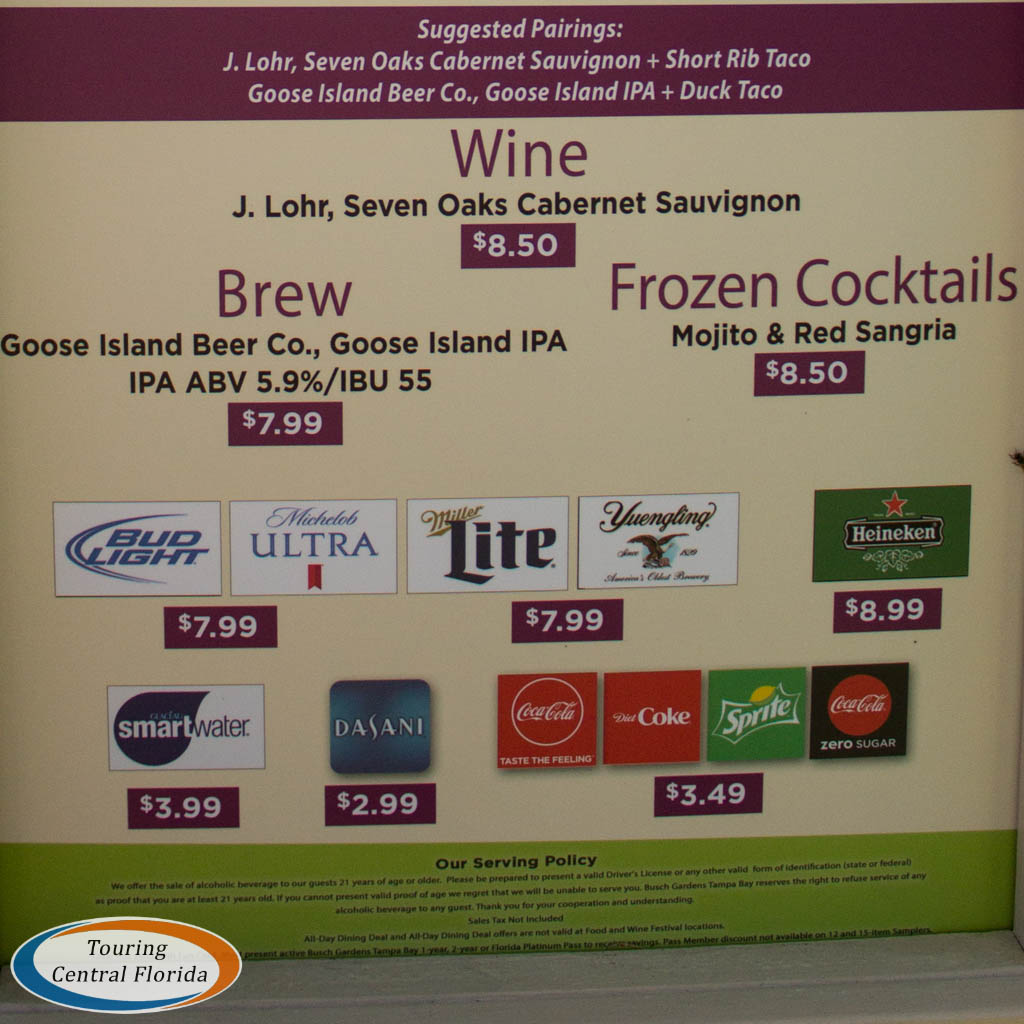 Comfort Kitchen (#18)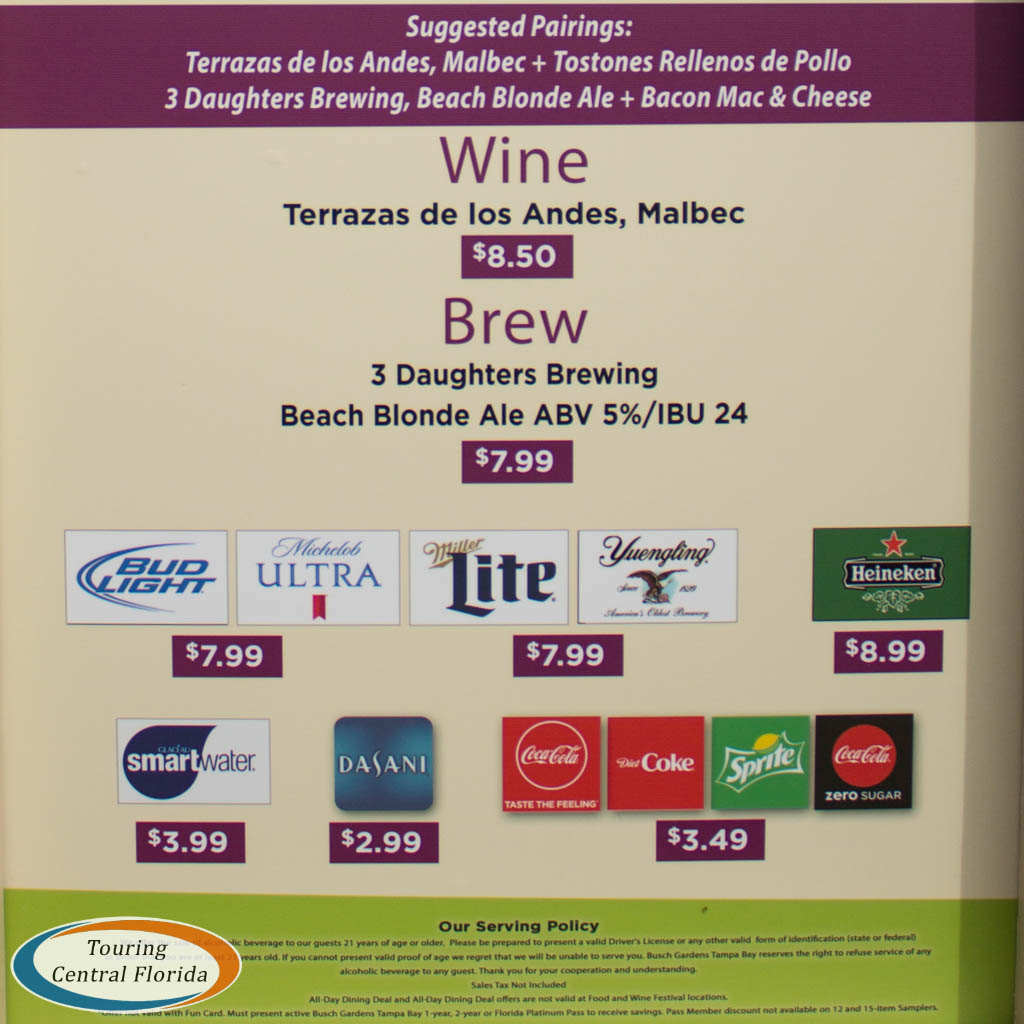 Savory Tavern (#21)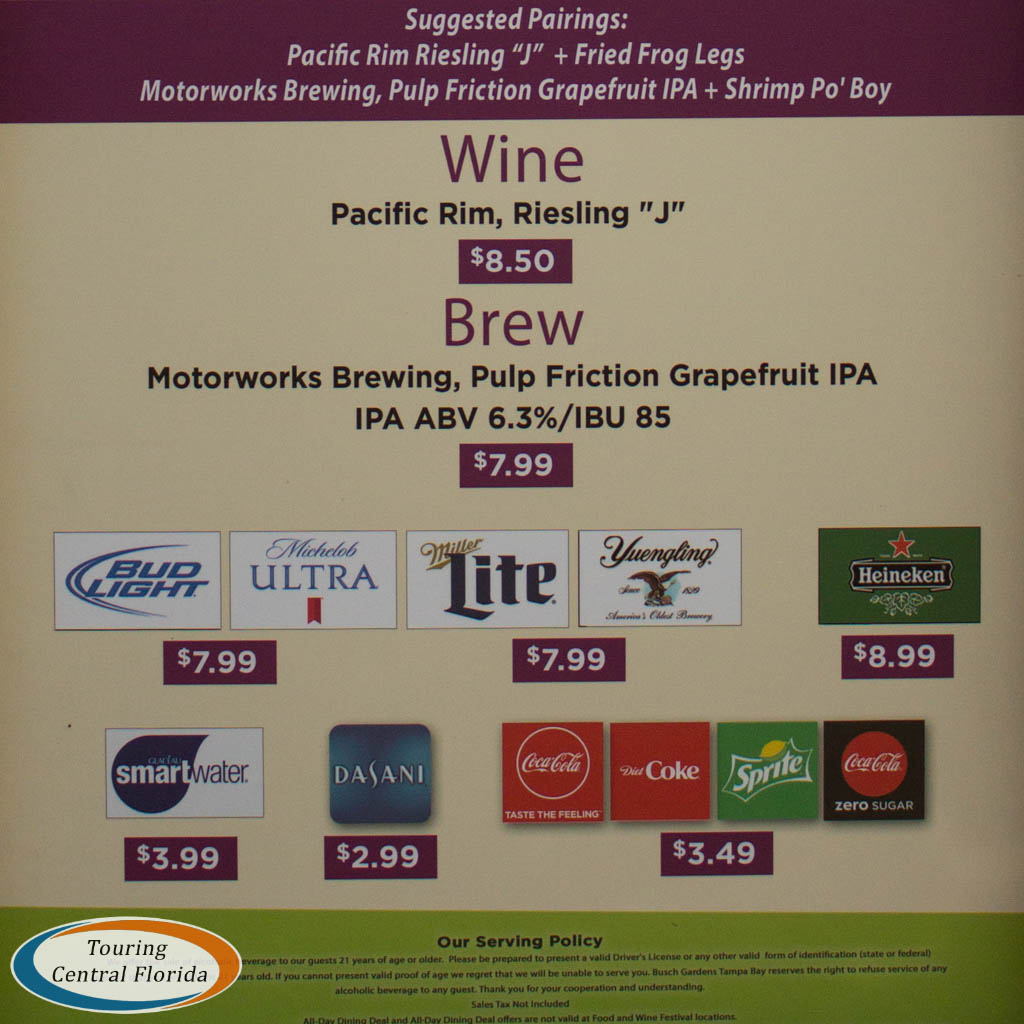 Coast to Coast Cookery (#22)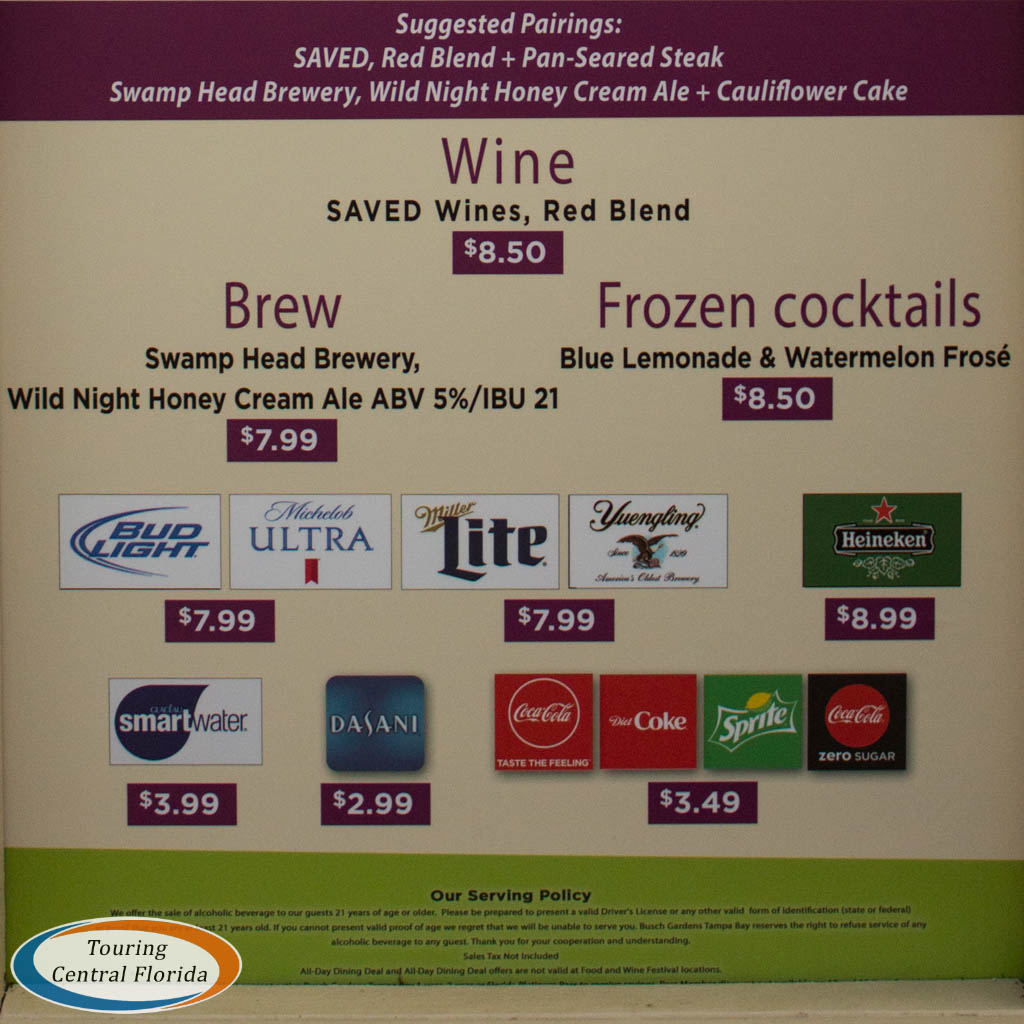 Artisan Eats (#23)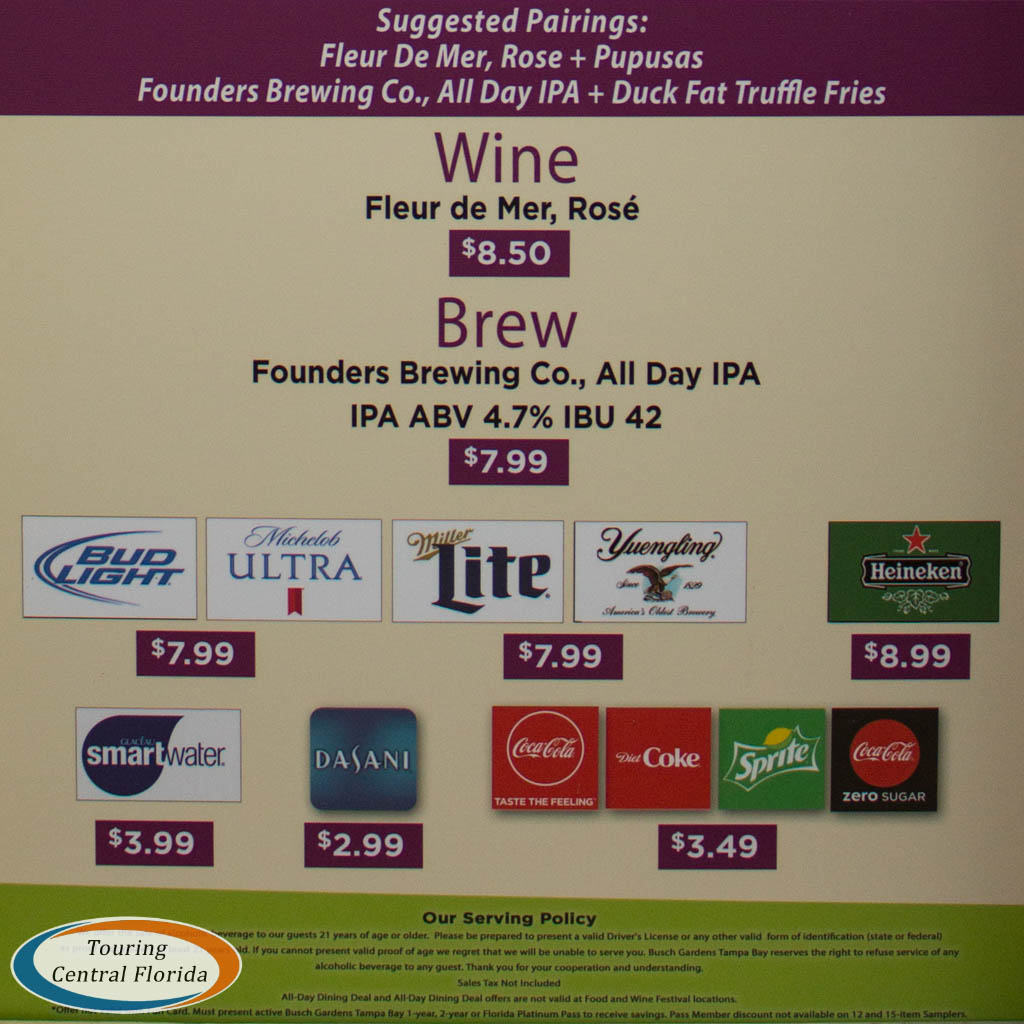 Field House Eatery (#25)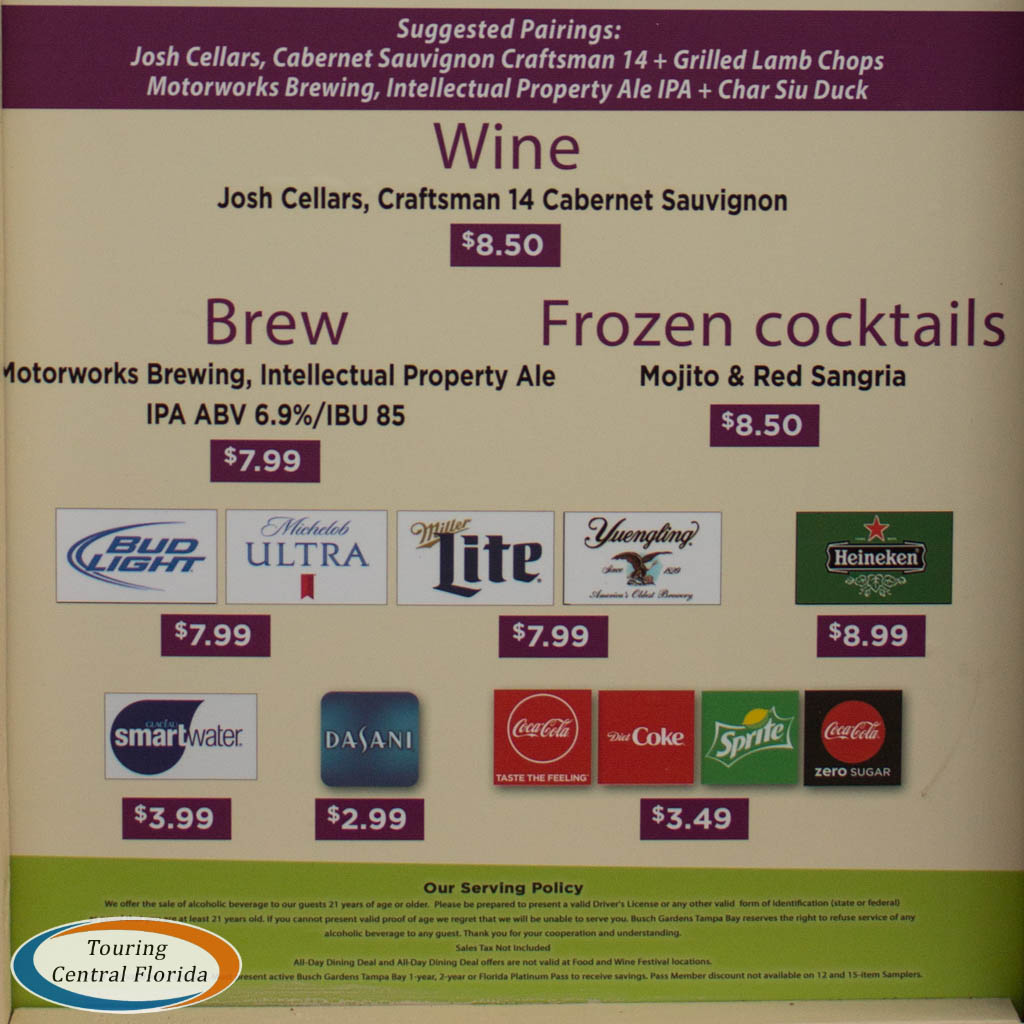 Coke Fusion (#28)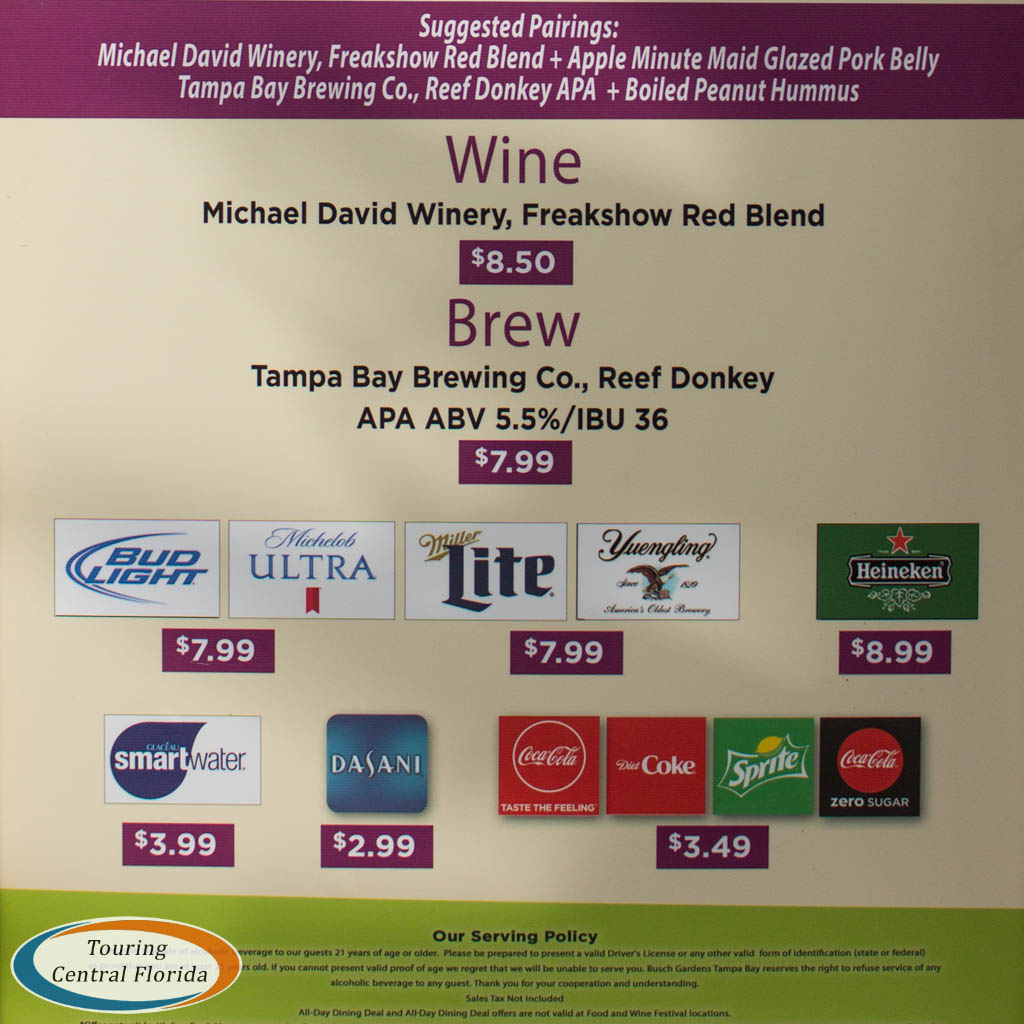 Cooking with Coke (#29)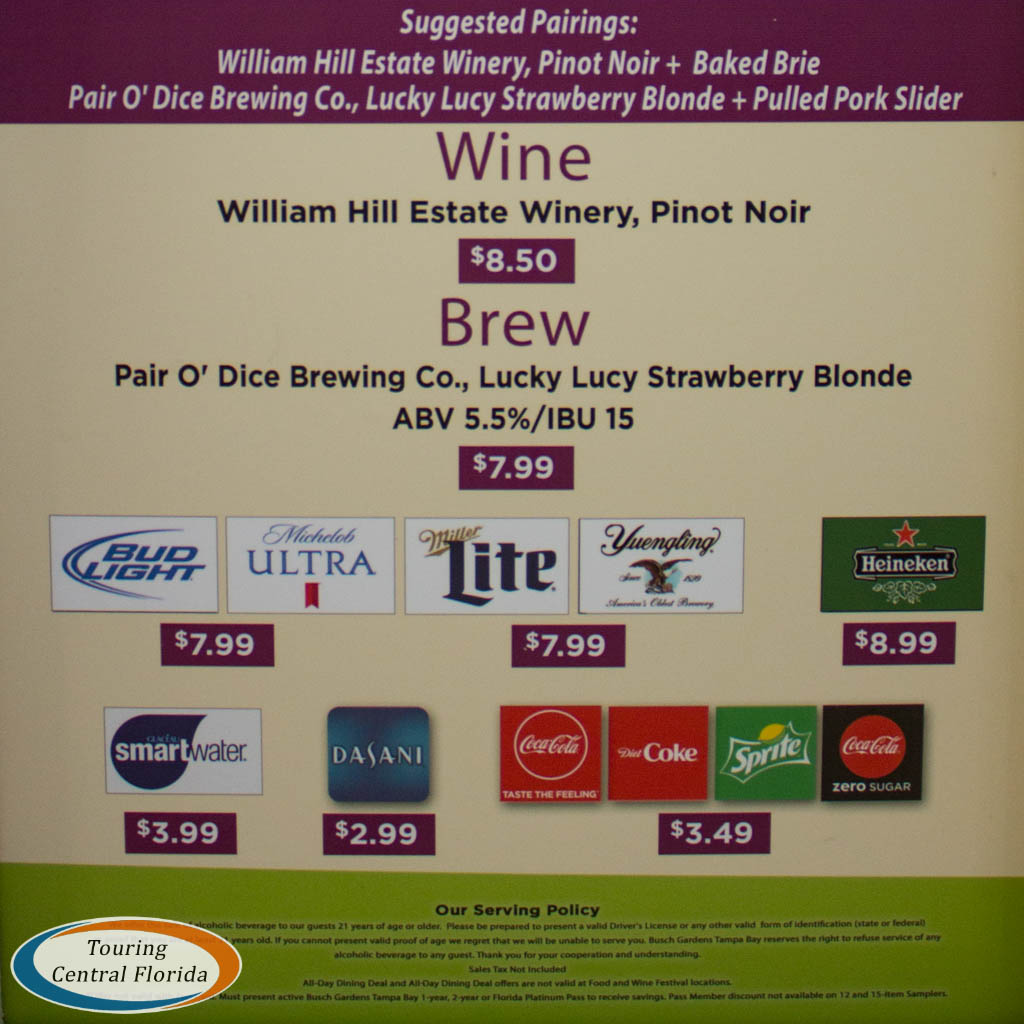 Garden Gate Cafe (#30)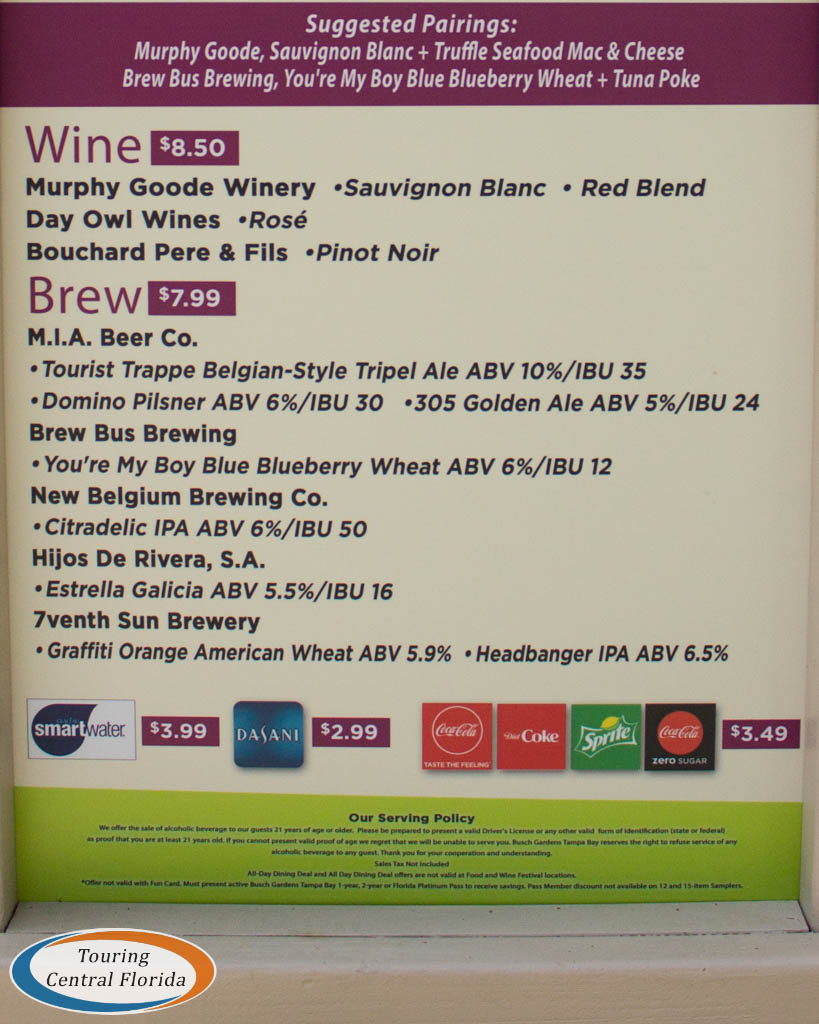 ---
Wine, Bourbon & Tequila Tastings
In addition to all the individual wine, beer and frozen cocktail options at the 30 different cabins, there are also three additional tasting options located near the Gwazi Park gates.
Located inside Xcursions gift shop, the wine tasting features five one-ounce pours of different Island Grove Wine Company products. You can also purchase them by the glass for $7.99.
Just outside Xcursions, the popular bourbon tasting returns, featuring four half-ounce pours and a souvenir shot glass for $24.99.
New this year is a tequila tasting, located just inside Gwazi Park next to cabin #2. For $24.99, you get four half-ounce pours and a souvenir shot glass. In addition, the booth offers a one-ounce single pour for $9.99
There are also combo package options available if you'd like to try more than one tasting.
---
Tips
Get a sampler lanyard. If you're planning on eating or drinking more than a handful of items, get a lanyard, especially if you'll be visiting multiple times during the festival. Stick to the higher price items, and you'll be saving a good chunk of change versus buying each item separately. Plus, no need to keep digging in your pocket or purse for money or a credit card at each booth.
Pace yourself. With so many alcoholic options readily available, it's easy to overindulge. Remember to drink plenty of water (especially if it's hot out) and enjoy some of the food options in between drinks. And most importantly – don't drink & drive!
See our other guides. For even more information and tips, check out our overall Festival Guide and our Food Guide with menus, prices, and reviews of items we've tried.
---
If You Go…
4th Annual Food & Wine Festival
at Busch Gardens Tampa Bay
Saturdays & Sundays from March 3 through April 29th
Noon to close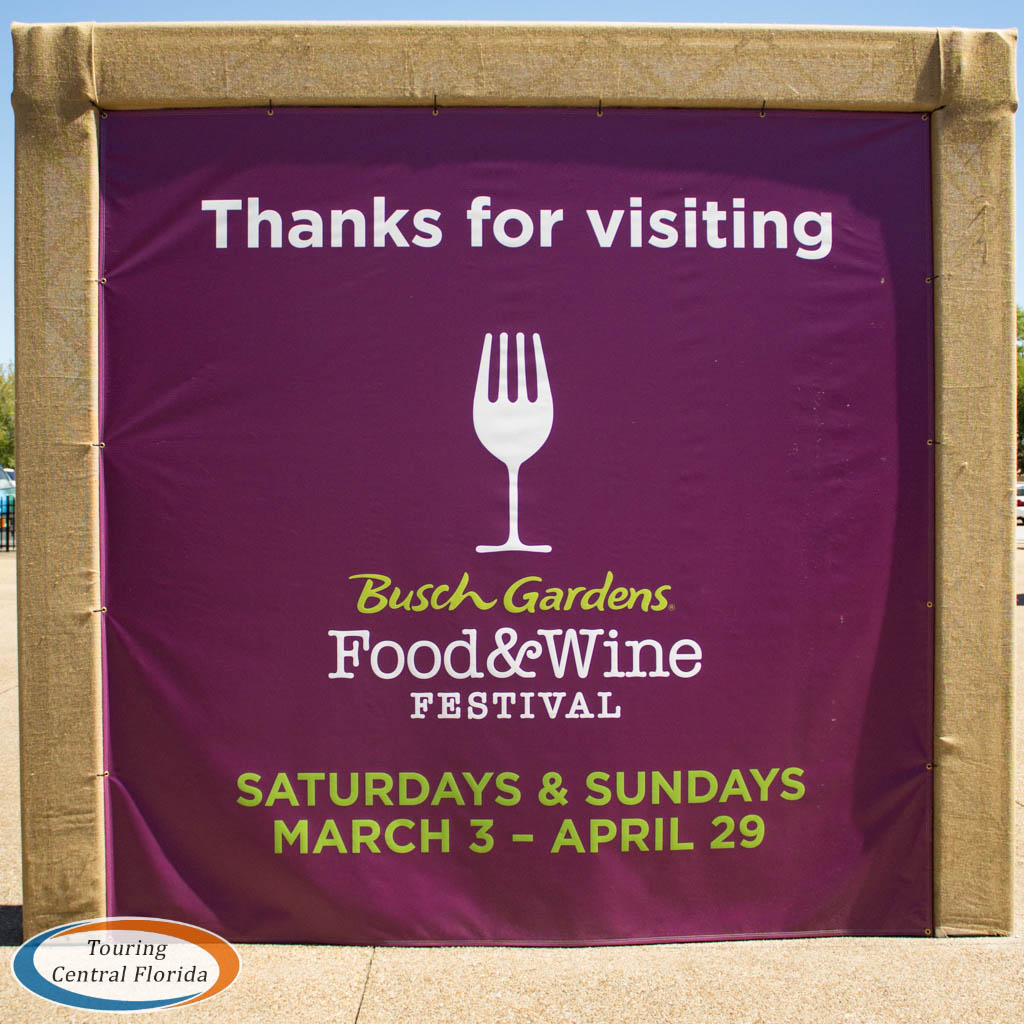 Don't miss our other Food & Wine guides and articles:
---
Join in on the conversation online with #CorksAndCoasters. For the latest on Busch Gardens Tampa and other theme parks, attractions, dining venues and more across the region, be sure to follow Touring Central Florida on twitter @TourCentralFL & @androckb, and give our facebook page a like.