With the 4th Annual Busch Gardens Tampa Bay Food & Wine Festival underway, it's time for a look at all the culinary creations available! There are over three dozen sampler size portions available at 13 cabins, including 16 new items this season. Whether you choose to purchase items as you go or get a Sampler Lanyard, check out our full guide below with prices, reviews of items we tried, and more.
In the interest of full disclosure, some of the items reviewed below were obtained using a Sampler Lanyard provided to Touring Central Florida by Busch Gardens Tampa Bay at the media preview event. As always, all opinions expressed are our own.
Be sure to check out our other Food & Wine articles:
---
Sampler Lanyards
Available for purchase at the new Welcome Center or at any of the festival cabins, the Sampler Lanyards can save you money if you're planning on purchasing multiple items. The best part is the lanyards can be shared among your party, and are good throughout the duration of the festival, so no need to buy one for every person or feel you need to use all the punches in one visit.
There are three price points for the lanyards – $29.99 for a five-item lanyard, $39.99 for an eight-item lanyard, and $54.99 for a 12-item lanyard. Annual pass members can also get a special 15-item lanyard for the price of a 12-item lanyard. The 10% pass member discount also applies to the 5 and 8-item lanyards.
The lanyards are valid at every booth for every food and alcoholic beverage item, and the sizes for the food or beverage items are the same whether using a punch on the lanyard or paying out of pocket. How much you can save will vary depending on which lanyard you purchase and what items you choose, but assuming you get a 12-item lanyard and stick to the most expensive food and beverage items, you can easily save over $30 compared to the full prices of menu items.
---
Cabins
This year, guests have 38 dishes to choose from, spread across 13 "cabins" in the festival area, which spans much of Bird Gardens and Gwazi Park. The cabins open at noon each Saturday and Sunday through April 29th. Access to the festival area is included in any daily admission, annual pass, or Fun Card.
Each cabin features three sample size items (with the exception of Garden Gate Cafe, which only offers two). Many cabins have two savory options and one sweet/dessert item. Prices for items range from $3.75 to $7.25, with many of the samples large enough to share between two people for a light snack. You can pay out of pocket (pass members get 10% off) or use your sampler lanyard at the cabins. Returning favorites like lamb chops, bacon mac & cheese and the griddled cheesecake sandwich meet new items like fried frog legs, char siu duck steam bun, and a whoopie pie with orange mello cream.
Below you'll find a complete listing of all items, including prices and reviews of items we've tried. Items marked (V) are vegetarian, and items marked (GF) are gluten free.
Be sure to check back to the guide in the coming weeks for additional reviews of items we try.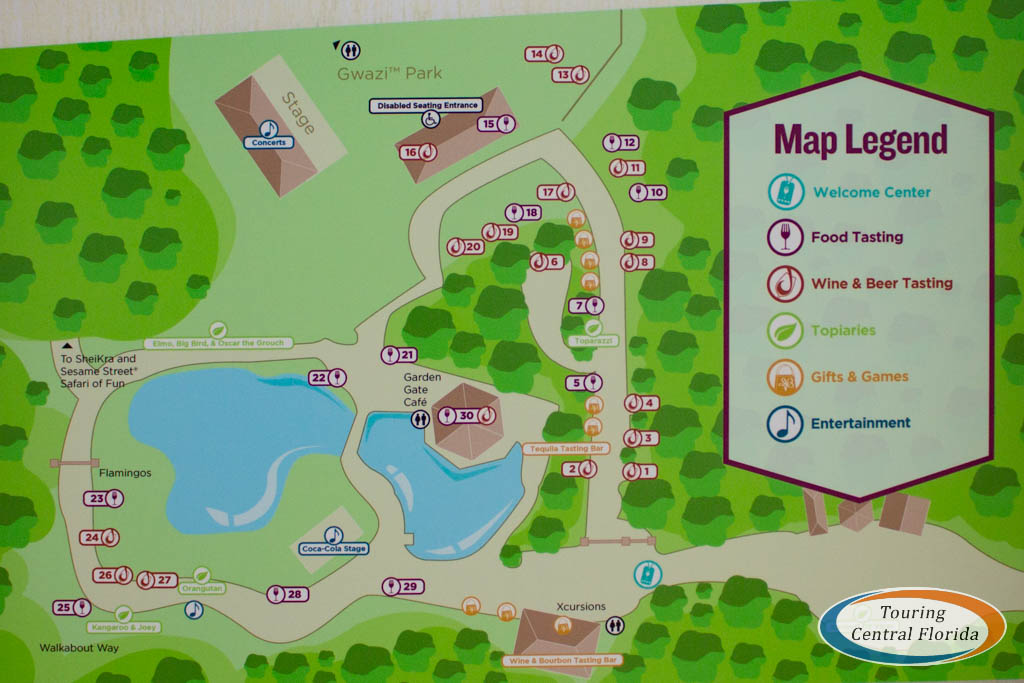 Southern Station (#5)
Southern Station is the first food cabin you'll encounter when walking through Gwazi Park. All three food items here return from last season.
Bison Slider – $7.00 – on a Mini Roll with Bacon, Pickle and Sriracha Ketchup
Venison Meatloaf – $5.75 – with Mashed Potatoes, Fresh English Peas, and Blackberry Demi-Glace
Banana Foster Panna Cotta – $3.75 – with Caramel Popcorn
---
Light Fare Canteen (#7)
Two new options join the Lobster Tart this year at Light Fare Canteen, including a gluten free and vegetarian dish.
(NEW) Antipasti – $7.25 – Roasted Tomatoes, Artisan Meats, Cheeses and Olives (GF)
(NEW) Mushroom Voul-au-vent – $5.25 – Medley of Mushrooms in a Flaky Pastry (V)
Lobster Tart – $6.75 – with Leeks and Swiss Cheese
---
Gourmet Lodge (#10)
The very popular Beef Brisket and Griddled Cheesecake Sandwich return this season to Gourmet Lodge.
Mango Shrimp Ceviche – $6.00 – with Sweet and Spicy Marinade (GF)
Beef Brisket – $7.00 – on Spiced Corn Waffle with Amberbock BBQ Sauce
Griddled Cheesecake Sandwich – $5.50 – with Raspberry Drizzle (V)
The Beef Brisket (pictured below from last season) remains a favorite for good reason. The portion size is fair, and the sauce and corn waffle help set it apart from the park's (also very good) brisket available at Zambia Smokehouse.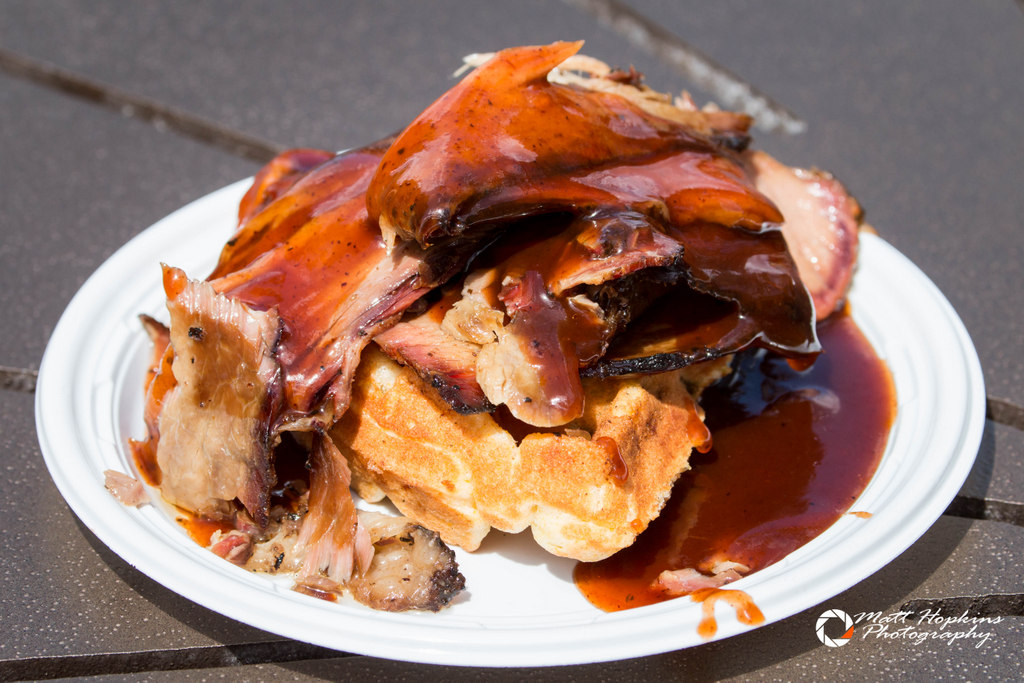 ---
Chef's Plantation (#12)
(NEW) Short Rib and Brie Grilled Cheese – $6.00 – on House-Made Brioche
Salmon Cake – $6.75 – with Lemon Aioli
Gochujang Ribs – $6.25 – in Korean BBQ Sauce
---
Tasty Taqueria (#15)
Located under one end of the pavilion on Gwazi Field, Tasty Taqueria offers up three different taco dishes.
Duck Taco – $6.75 – with Asian Sweet Chili Sauce on a Corn Tortilla
Short Rib Taco – $6.75 – with a BBQ Demi-Glace and Onion Straws on a Corn Tortilla (GF)
Portobello Mushroom Taco – $5.25 – Balsamic-glazed and Roasted, paired with Corn on a Corn Tortilla (V, GF)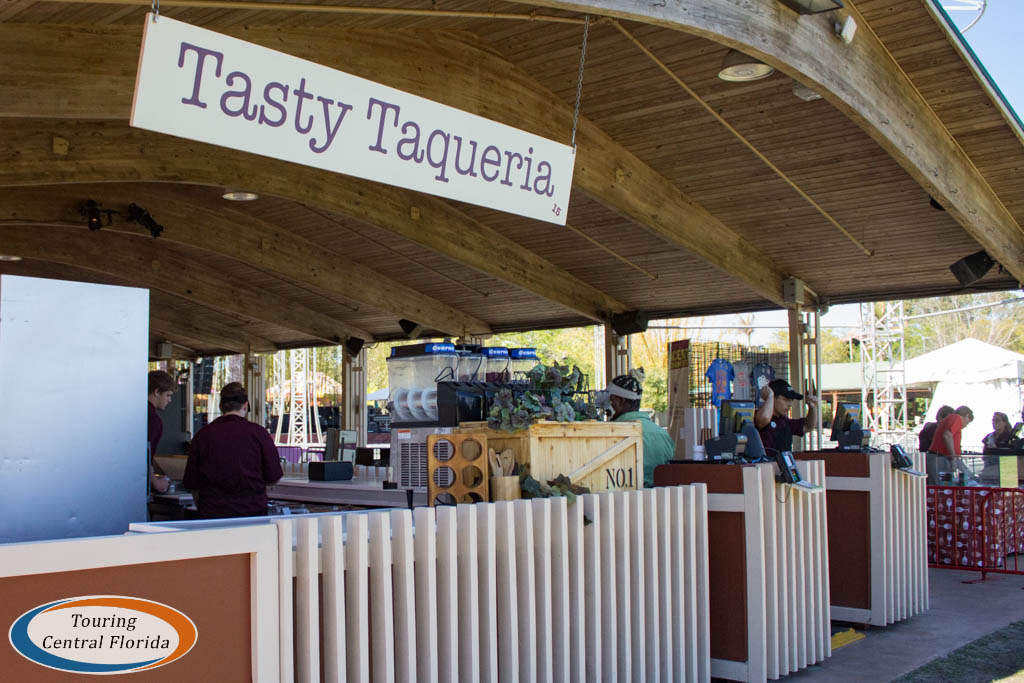 ---
Comfort Kitchen (#18)
The popular Bacon Mac & Cheese, which has been offered since the festival started, returns to Comfort Kitchen.
(NEW) Tostones Rellenos de Pollo – $5.50 – Fried Plantain Cups filled with Stewed Chicken
Bacon Mac & Cheese – $5.25
Cabernet Wine-filled Chocolate Truffles – $7.00 (V, GF)
Macaroni and cheese is the definition of comfort food. Add in a little bacon, and this simple dish gets even better. Unlike a number of dishes that combine a myriad of ingredients for a new taste, this is a safe choice. And it's oh-so-good. The Cabernet Wine-Filled Chocolate Truffles, three to an order, are a nice way to sample a bit of wine and a bit of sweet. One tip – eat carefully, as they tend to dribble when you bite into them! Both pictures below are from past seasons.
---
Savory Tavern (#21)
Three all new dishes come to Savory Tavern, which moves this season to the corner just outside Garden Gate Cafe. It's housed in the former Garden Gate Refreshment stand which has only been used for the Food & Wine festival for the past few seasons.
(NEW) Shrimp Po' Boy – $6.50
(NEW) Fried Frog Legs – $6.50 – with Bacon Corn Fritters and Cajun Remoulade
(NEW) Guava Empanada – $5.25 (V)
A miniature version of the whole sandwich, the Shrimp Po' Boy was delicious. The Fried Frog Legs were a little underwhelming – there wasn't much flavor in the batter, which was a bit soggy. The remoulade didn't have much flavor either. If you've never had frog legs before, think of it as a thinner chicken wing – the meat itself has a relatively mild flavor, and the consistency is somewhere between chicken and fish.
---
Coast to Coast Cookery (#22)
Just across from Savory Tavern, Coast to Coast Cookery too is in a new spot this season, featuring a new vegetarian Cauliflower Cake and returning favorite Flourless Chocolate Torte, which is both vegetarian and gluten free.
(NEW) Cauliflower Cake – $5.25 – with Sriracha Aioli (V)
Pan-Seared Steak – $7.00 – with Chimichurri & Roasted Poblano Hash (GF)
Flourless Chocolate Torte – $4.25 – with Raspberry Sauce (V, GF)
---
Artisan Eats (#23)
Following the numbers on the map will bring you around to Artisan Eats, located near the flamingo habitat in Bird Gardens. The popular Duck Fat Truffle Fries that debuted in the second season of the festival return, and are joined by two new dishes.
(NEW) Pupusas – $6.50 – with Curtido & Grilled Central American Pickled Shrimp
Duck Fat Truffle Fries – $5.25 – with Parmesan Truffle Aioli (GF)
(NEW) Smoked Trout – $4.50 – with Watermelon Radish Charred Herb Vinaigrette (GF)
The Pupusas with shrimp was a good dish, with flavors different than the usual for most diners. The Smoked Trout was also a solid dish, with an interesting blend of tastes between the fish and the accompanying greens. With a rich flavor of truffle, Parmesan and duck fat, the fries remain the highlight at this stand for us. The hearty dish is served as a decent portion, and is easily shareable.
---
Field House Eatery (#25)
Field House Eatery returns with Grilled Lamb Chops, and two new dishes.
(NEW) Char Siu Duck Steam Bun – $6.75
Grilled Lamb Chops – $7.00 – with Tabouleh & Tzatziki (GF)
(NEW) Habanero-infused Baklava – $4.50 – with Fresh Pomegranate (V)
A returning favorite, the Grilled Lamb Chops were large, cooked perfectly, and simply delicious when we tried them. This is one of those items that can either be amazing or disappointing based on the size of the chops and how well they are cooked. We recommend taking a look at how they are being served right before you order to decide, as the consistency here can vary weekend to weekend.
The Habanero-infused Baklava is our only miss so far this year. The spiciness of the habanero and cinnamon in the filling simply overwhelms the rest of the flavors, and is best likened to a Red Hot candy. If you enjoy really spicy & sweet items, you may enjoy this one, but we thought it was just too much.
---
Coke Fusion (#28)
Making the move from around the corner to the new Coke Plaza, Coke Fusion returns with its chocolate cupcake and two new items. Because this cabin (and its sister cabin below) are located right next to the Coca Cola Stage, when a band is performing it can be tough to communicate with the ambassadors, so keep that in mind. There is also a lack of tables and chairs in the immediate area.
(NEW) Boiled Peanut Hummus – $4.25 – with Coke Drizzle
(NEW) Minute-Maid Apple Glazed Pork Belly – $6.25 – with Kimchi Slaw
Coke-infused Chocolate Cupcake – $3.75 – topped with Pop Rocks (V)
One of our favorite items from last year, the Coke-infused Chocolate Cupcake makes a return, although it appears a bit smaller. (It actually started out larger last season, and shrunk in size a few weeks in as well). But the rich chocolate flavor, moist cake texture, and fun mouth feel of Pop Rocks remain, making this a must try item.
The new Apple Glazed Pork Belly is a good choice as well, with a lighter flavor and decent portion size. The texture of the meat is softer, and ours didn't have a crispy edge that is common with pork belly dishes.
---
Cooking with Coke (#29)
Along with the Coke Fusion cabin, Cooking with Coke also moves from its location last year around the corner to the new Coke Plaza.
Pulled Pork Slider – $5.25 – with Cherry Coke BBQ Sauce
Baked Brie – $5.25 – with Fanta Strawberry Coulis (V)
(NEW) Whoopie Pie – $3.75 – with Fanta Orange Mello Cream
The returning Pulled Pork Slider is again a tasty choice, although the sauce this year doesn't seem quite as sweet as last time. The huge Whoopie Pie is easily shareable between two (or more) and has a rich, sweet flavor both in the cake and the creamy center. Hopefully it doesn't shrink in size as the festival wears on like its cupcake cousin did last season. On the first weekend, they were trying a Candied Orange Peel topping as well, which you may or may not see in the coming weeks depending on how it was received.
---
Garden Gate Cafe (#30)
The last location on the Food & Wine tour is inside the Garden Gate Cafe, where you'll find two festival dishes.
(NEW) Truffle Seafood Mac & Cheese – $5.75 – with Shrimp, Scallops and Cod in a Creamy Gruyere Bechamel with White Truffle
Hawaiian-seasoned Tuna Poke – $7.25
The Truffle Seafood Mac & Cheese has a fresh flavor and a creamy sauce that isn't too heavy. With three shrimp, a scallop, and loads of cod, noodles and cheese sauce, the good size portion may be the best value at the festival.
---
Tips
Get a sampler lanyard. If you're planning on eating or drinking more than a handful of items, get a lanyard, especially if you'll be visiting multiple times during the festival. Stick to the higher price items, and you'll be saving a good chunk of change versus buying each item separately. Plus, no need to keep digging in your pocket or purse for money or a credit card at each booth.
Hit your must eats early. If there is an item to two you know you have to try, make sure to visit those cabins earlier in the day – for two reasons. First, when the festival area opens right at noon, crowds generally aren't as big, so you'll wait less in line. And secondly, since items are made fresh each day, it's not uncommon for some things to run out towards the end of the day, especially after the concerts.
Ask for the Allergy Guide. Located at each cabin should be an Allergy Guide, which will have information on each dish and what it contains, including common allergens. Just ask an ambassador for assistance.
---
If You Go…
4th Annual Food & Wine Festival
at Busch Gardens Tampa Bay
Saturdays & Sundays from March 3 through April 29th
Noon to close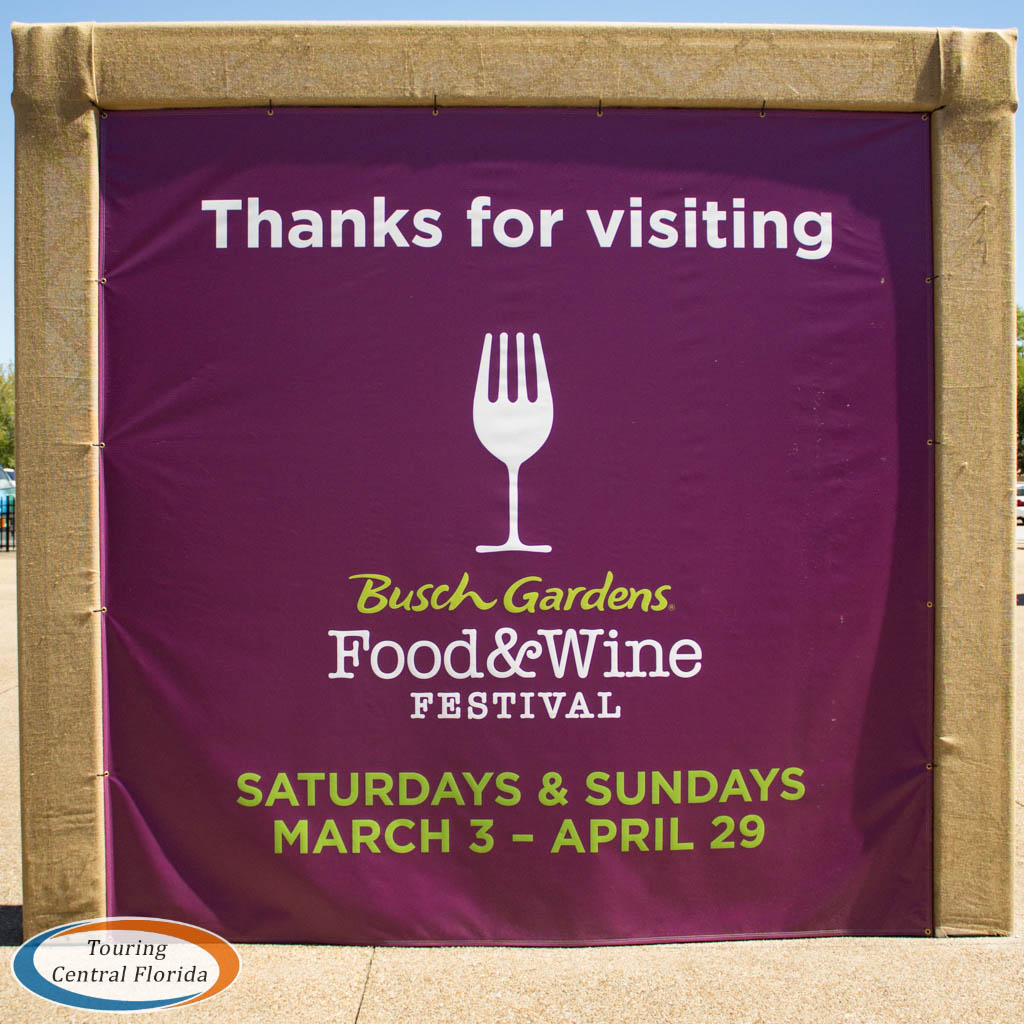 Don't miss our other Food & Wine guides and articles:
---
Join in on the conversation online with #CorksAndCoasters. For the latest on Busch Gardens Tampa and other theme parks, attractions, dining venues and more across the region, be sure to follow Touring Central Florida on twitter @TourCentralFL & @androckb, and give our facebook page a like.