Mardi Gras Weekends becomes the newest festival in the seasonal event scheduled at Busch Gardens Tampa Bay, running on select days through February 16, 2021. You'll find the Mardi Gras festivities in the Bird Gardens section each Friday, Saturday, and Sunday, plus Presidents Day and Fat Tuesday. Booths open at noon each event day, with the fun continuing until closing time each evening.
The park is continuing with its enhanced safety guidelines, including physical distancing and requiring face coverings for all employees and guests ages 2 and above. In addition to your admission, be sure to make a free reservation online before your visit, and be prepared for a mandatory temperature check along with the normal security check before entering the park.
In the interest of full disclosure, some of the items reviewed were obtained by using a sampler lanyard we received from the park as a media outlet. However, we visited the event using our own admission, some items reviewed were obtained by using the free sample vouchers as part of the pass member rewards, and others were purchased a la carte. As always, all opinions shared are our own based on our experiences.
Let this article be your guide to Mardi Gras Weekends 2021 at Busch Gardens Tampa with a look at everything it has to offer, including full menus with prices, reviews of items we tried, and more. While we've done our best to be as accurate as possible, all information and availability of items are subject to change without notice. This post was last updated on February 12, 2021.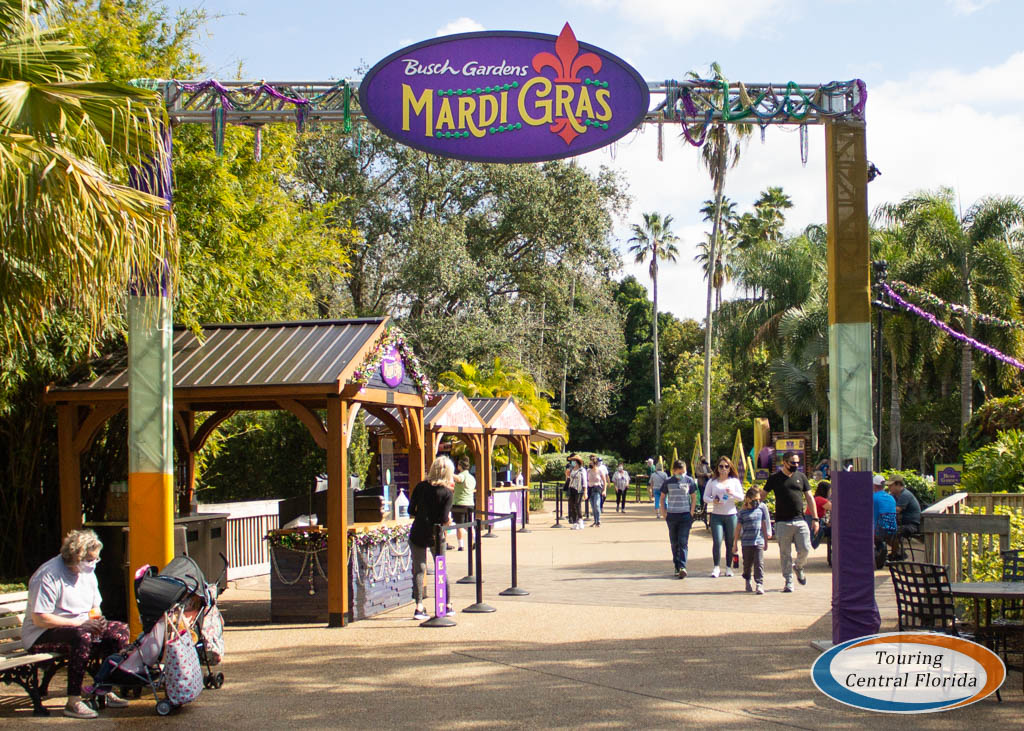 ---
Mardi Gras Weekends Basics
Running a total of five weekends, Mardi Gras at Busch Gardens Tampa brings some of the New Orleans seasonal flavors with food, beverages, and entertainment. Access to Mardi Gras Weekends is included in any admission, with food & beverage items available for purchase.
Mardi Gras Weekends 2021 had its beginning in 2020 when the park tested the new event for one weekend. Last year, the event was held in the courtyard around the Moroccan Palace Theater. This year, the event is expanded in just about every way with more food & beverage options, more decor, more entertainment, and more weekends to enjoy the festivities. It also has a new home in the Bird Gardens section around Garden Gate Cafe, where most of the special festivals at the park take place throughout the year. The booths are open from noon to close on each event day.
A map of the location available online and on a board near Xcursions points out the 10 special Mardi Gras Weekends locations.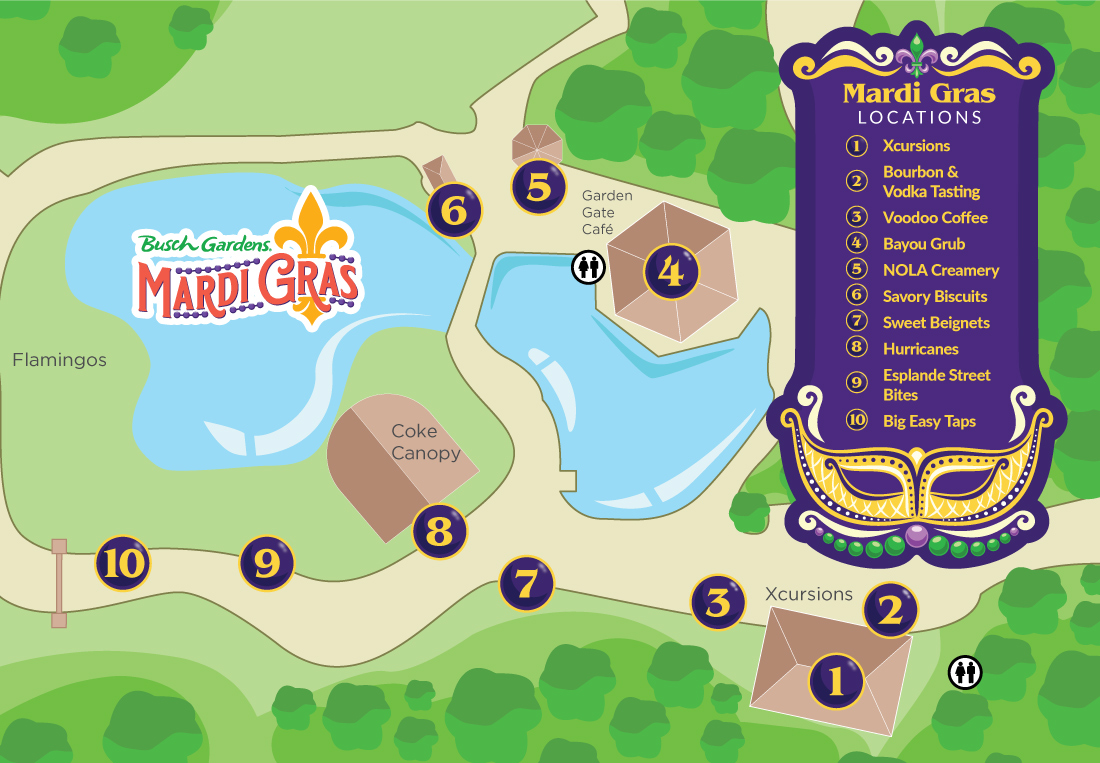 Keep an eye out for signage and markers on the ground designating entrances & exits for each of the booths and six-foot spans to keep socially distant from other guests. There are regular tables with chairs and standing high top tables throughout the Mardi Gras area.
Please drink responsibly and remember to keep your distance from other guests while enjoying Mardi Gras Weekends and the rest of your visit to Busch Gardens Tampa. When not eating or drinking, don't forget to keep your face covering over your mouth and nose as a courtesy to all of the other guests and hard-working ambassadors!




---
Pass Member Perks
Busch Gardens Tampa annual pass members get several special benefits at Mardi Gras Weekends 2021, including their regular discount on single items or sampler lanyards, free samples, and an option to buy an exclusive sampler lanyard with three extra punches.
Pass members have been able to get a voucher for one free sample each weekend so far. Pass members should log into their account online or stop by the self-service kiosks in Zone A outside the gates and scan their pass to redeem. Look under Pass Member Rewards and be sure to choose the option for Mardis Gras Weekends. If you're having trouble redeeming online or at the kiosks, stop by the ticket booths or guest relations inside the park for assistance, but expect the lines to be long on weekend mornings. There is no word if the benefit will continue through the festival, but it's certainly worth checking before your visit. This benefit was available only on weekends in January.
There is an exclusive sampler lanyard available to annual pass members to purchase for Mardi Gras Weekends. It's for 15 items at the price of a 12 item lanyard (no further discount applies, however). Pass members can also opt to get their regular discount on the 5, 8, or 12 item sampler lanyards. See more details on the Mardi Gras Weekends 2021 Sampler Lanyards in the next section.
For those not wanting to purchase a sampler lanyard, standard pass member discounts apply when purchasing food & beverage at Mardi Gras Weekends. Since pass discounts apply to most culinary and merchandise purchases at the park, it never hurts to ask for a discount anywhere in the park.
---
Sampler Lanyards
For Mardi Gras Weekends 2021, Busch Gardens Tampa is offering sampler lanyards as an option for guests to use at the food & beverage cabins. Paying upfront for a sampler lanyard for a set number of items can be both a convenience and cost savings. A sampler lanyard can be used by one guest or shared among multiple people and can be used all in one day or across multiple event days. They are only valid at the Mardi Gras Weekends locations and expire at the end of the event on February 16, 2021.
There are a total of three Mardi Gras Weekends 2021 Sampler Lanyard options – two that are available to any guests, and one exclusive to annual pass members. They are:
5-Item Sampler Lanyard – $34.99 + tax
10-Item Sampler Lanyard – $49.99 + tax
Pass Member Exclusive 12-Item Sampler Lanyard – $49.99 + tax
Annual pass members can use their discount on the 5 and 10-item lanyards (discount amount varies based on the annual pass type). There is no additional discount on the pass member exclusive 12-item sampler lanyard.
Whether or not getting a sampler lanyard is a good deal depends on how many items you plan on eating or drinking and the a la carte pricing of those items. If you plan on visiting multiple times and stick to using the punches on higher-priced food items (they range from $5.99 to $8.99 each), it can be a great value.
Another factor to consider – drinks are served as a smaller size using the sampler lanyard than if you purchase them a la carte. Generally, using a sampler lanyard will get you about a 7-ounce pour for the various adult beverages. Paying out of pocket will get you the full size of the beverage (based on the type of drink).




---
Beverages & Bites
There are a total of 10 locations serving a variety of drinks and food items as part of Mardi Gras Weekends 2021 at Busch Gardens Tampa. All are located around the Garden Gate area of the Bird Gardens section of the park. The locations are a mix of permanent locations (like those inside Garden Gate Cafe and Xcursions gift shop) and pop up "cabins" used for special events like these.
Each item on the menus can be purchased a la carte and most can be enjoyed by redeeming one punch per item on a sampler lanyard (see the menus and descriptions below for exceptions). Remember, for food items the serving size is the same whether purchasing a la carte or using a sampler lanyard punch; drink sizes are smaller when using a sampler lanyard punch versus paying a la carte. If you're a pass member and paying out of pocket, be sure to ask for your discount each time.
#1 Xcursions
The first of the Mardi Gras food & beverage locations is inside of the Xcursions gift shop.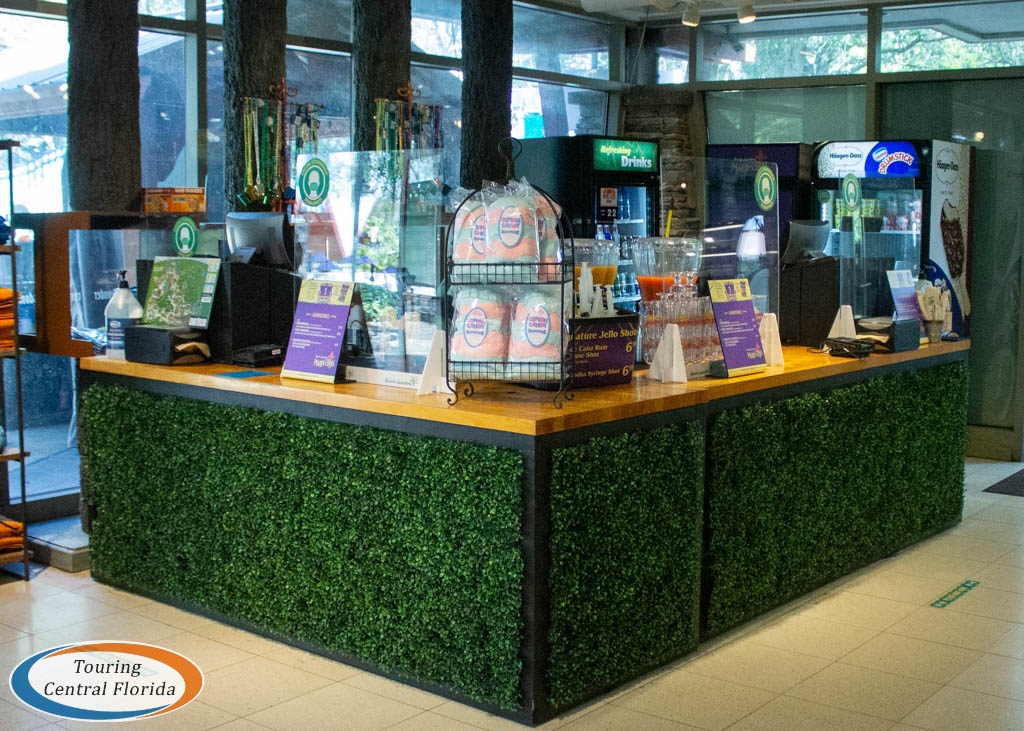 You can enjoy several adult beverages and cupcakes here. Sampler lanyards can not be used for the Jello Shots.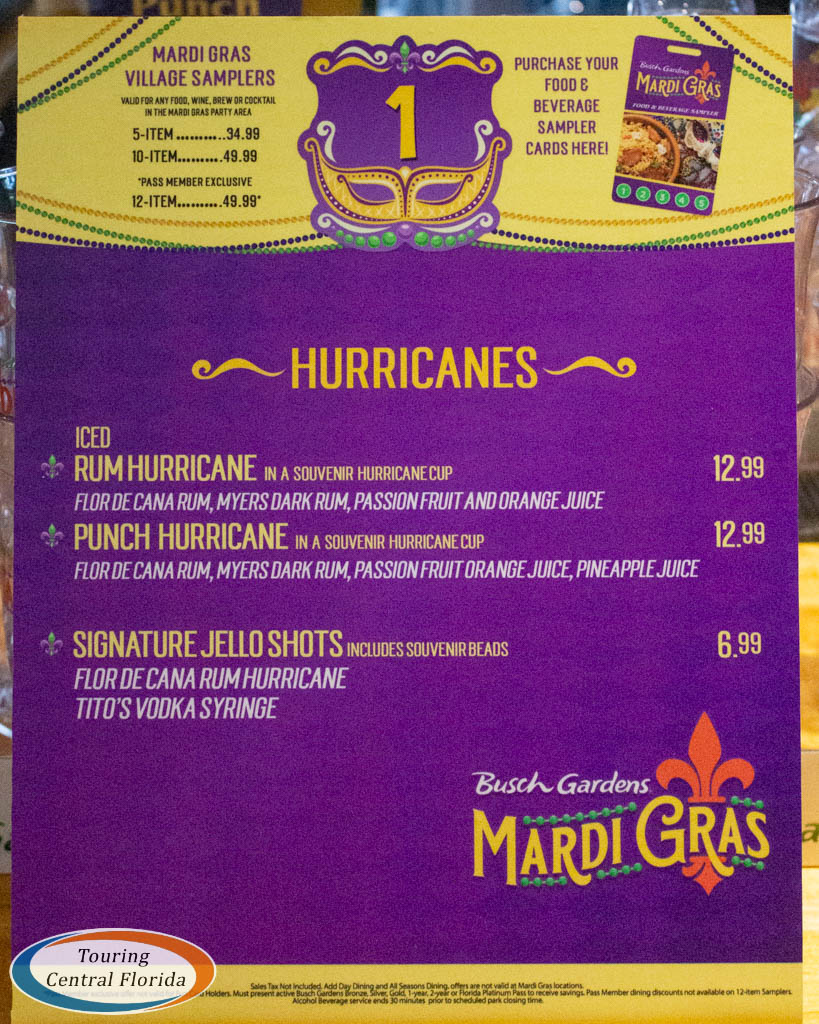 Here's a look at the souvenir hurricane glasses stacked up on the counter: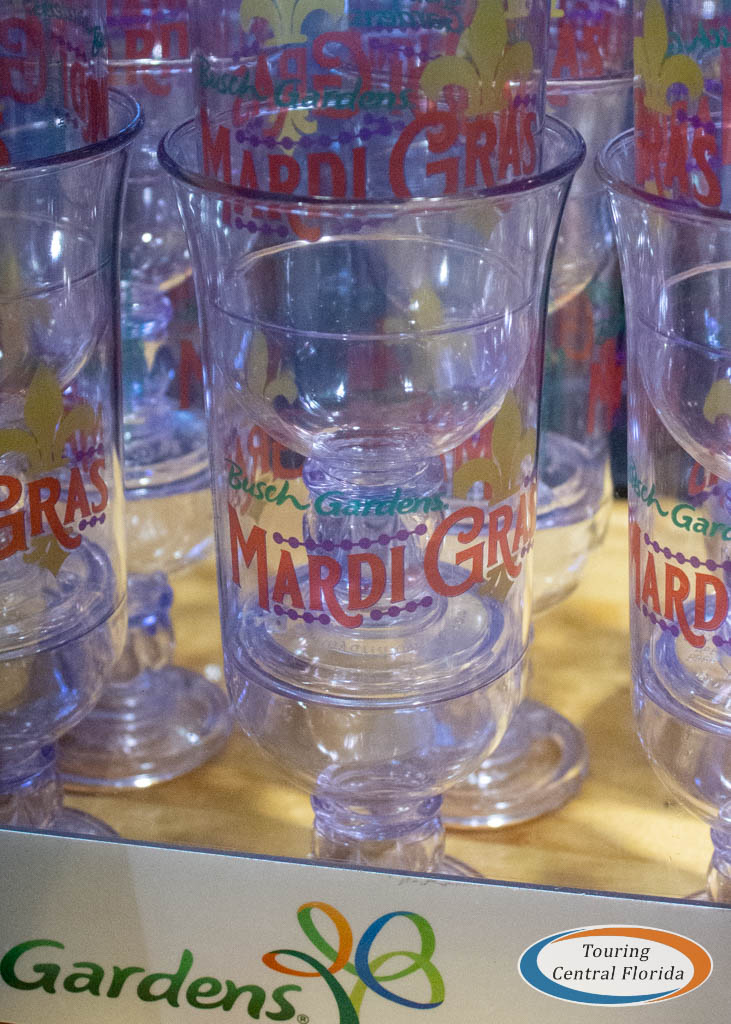 The cupcakes are available as a 2-pack for $5.99, or a 4-pack for $9.99. The sampler lanyards are not valid on the 4-pack of cupcakes but can be used for the 2-pack.
Here's a look at all five varieties of the Mardi Gras Weekends cupcakes. From left to right it's Banana Foster Bonanza; Bourbon Street Beauty; The King Cake; Chocolate, Coffee & Charm; and Margarita Madness.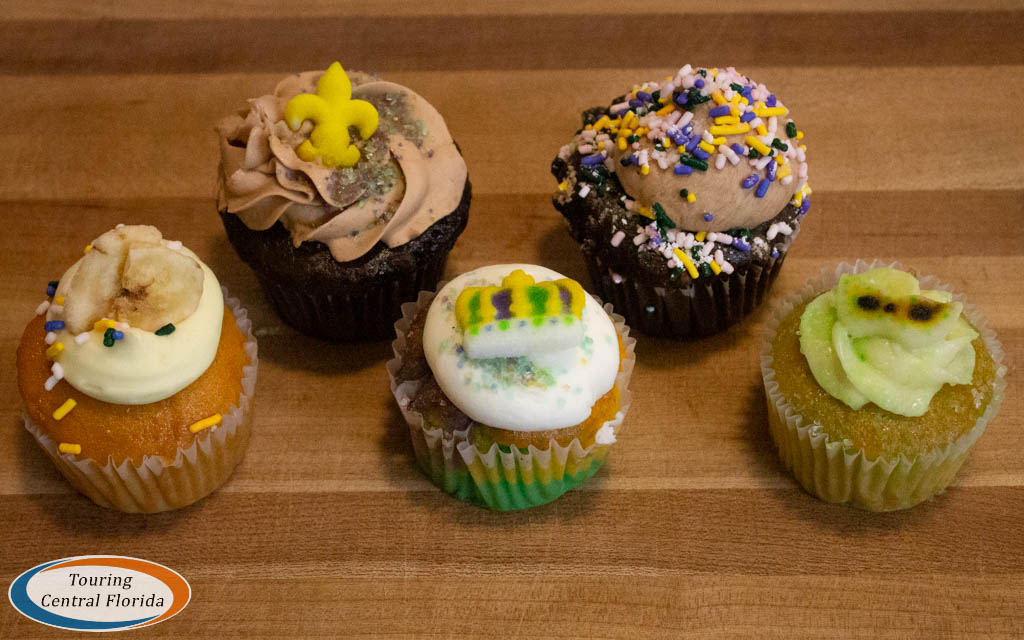 It may just have been our luck in what ones we grabbed, but the chocolate cupcake varieties were just a bit bigger than the other three. If you enjoy bananas, Banana Foster Bonzana is the cupcake for you. They had a strong, but not overwhelming, banana flavor, not too sweet. Bourbon Street Beauty was rich in chocolate flavor, both in cake and icing. The King Cake was arguably the safest choice in terms of flavor – the cake is multi-colored, but it all tastes like a standard vanilla cupcake; not a bad choice, just not as interesting with all the other varieties available. The Chocolate, Coffee & Charm variety was as advertised – a rich chocolate cake with sweet, coffee-infused icing on top. Margarita Madness cupcakes had a nice light citrus flavor and were perhaps the moistest of all the cakes.




#2 Bourbon & Vodka Tasting
As the name implies, this booth features tastings of bourbon and vodka. The booth is located in front of Xcursions.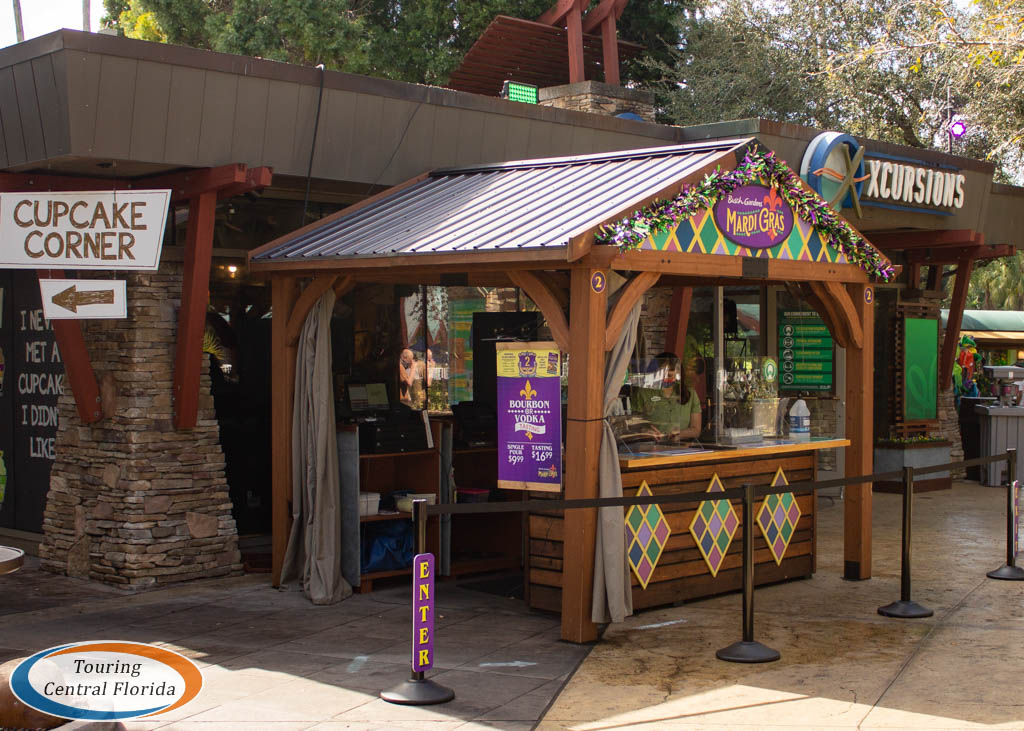 You can get a single pour for $9.99 or do a sampling of four of either liquor for $16.99.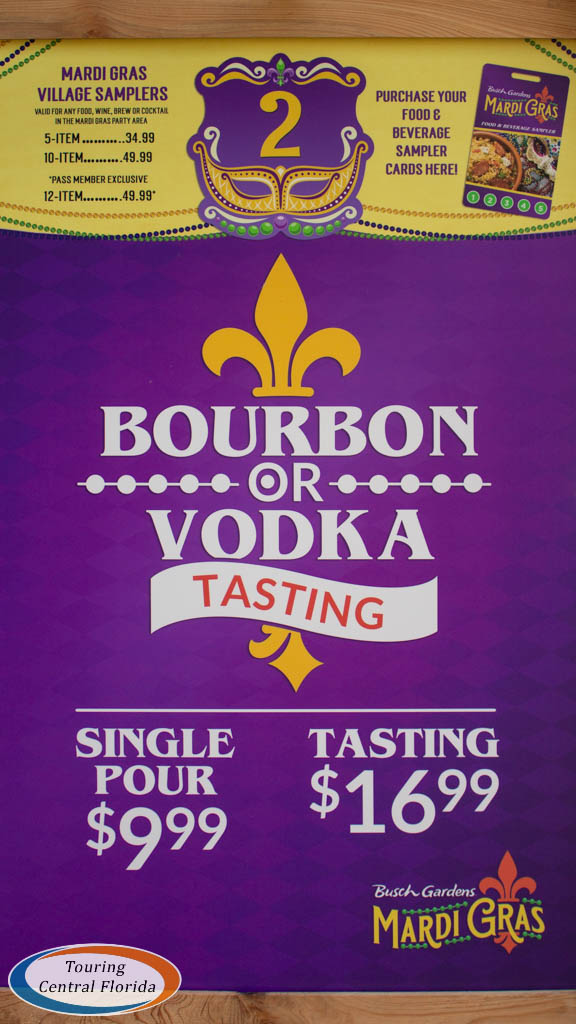 The bourbon tasting features four different distillers from across the south, including one from Florida.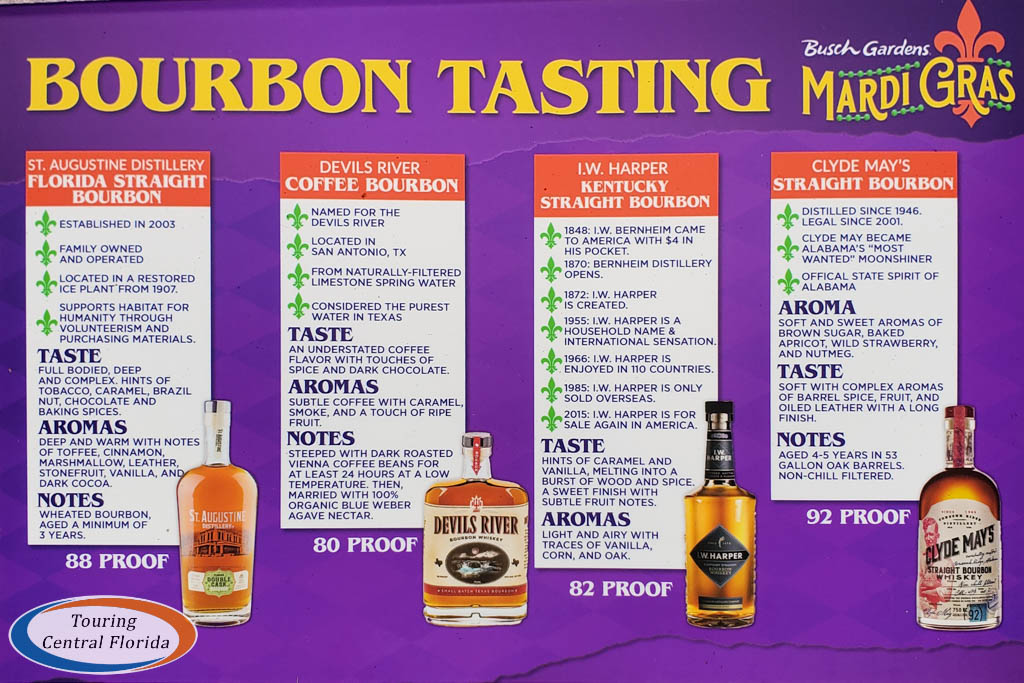 The vodka tasting features four different flavors, all from Tampa-based distiller Florida Cane.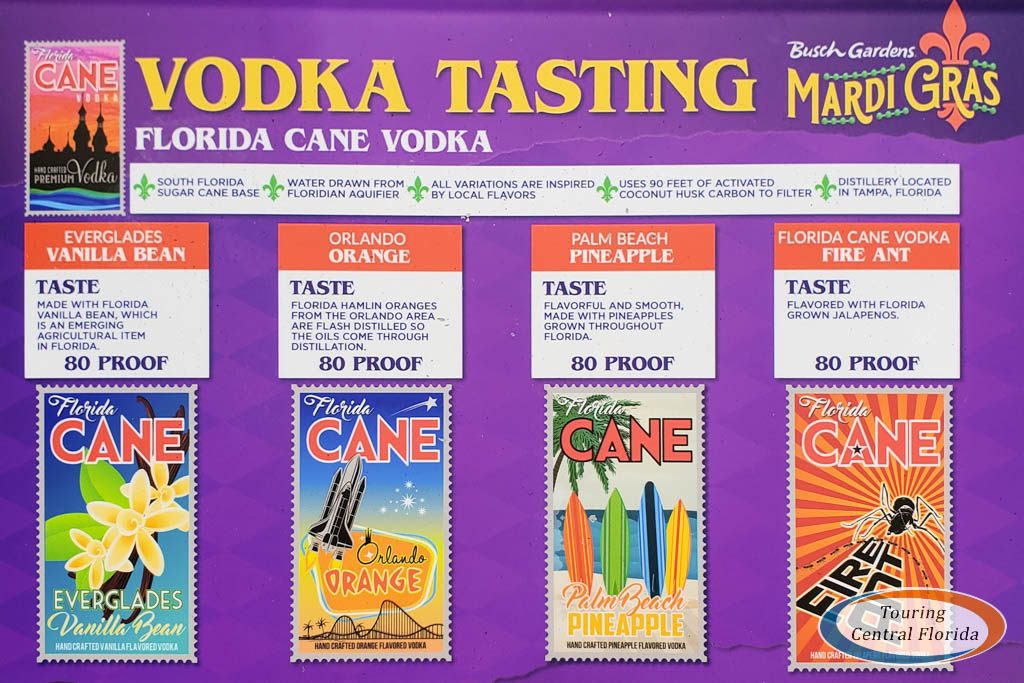 #3 Voodoo Coffee
Get your coffee and cupcakes at this booth located on the side of Xcursions. Hot or cold brews, a spicy hot chocolate, and more of the cupcakes also available inside of Xcursions (see booth #1 above).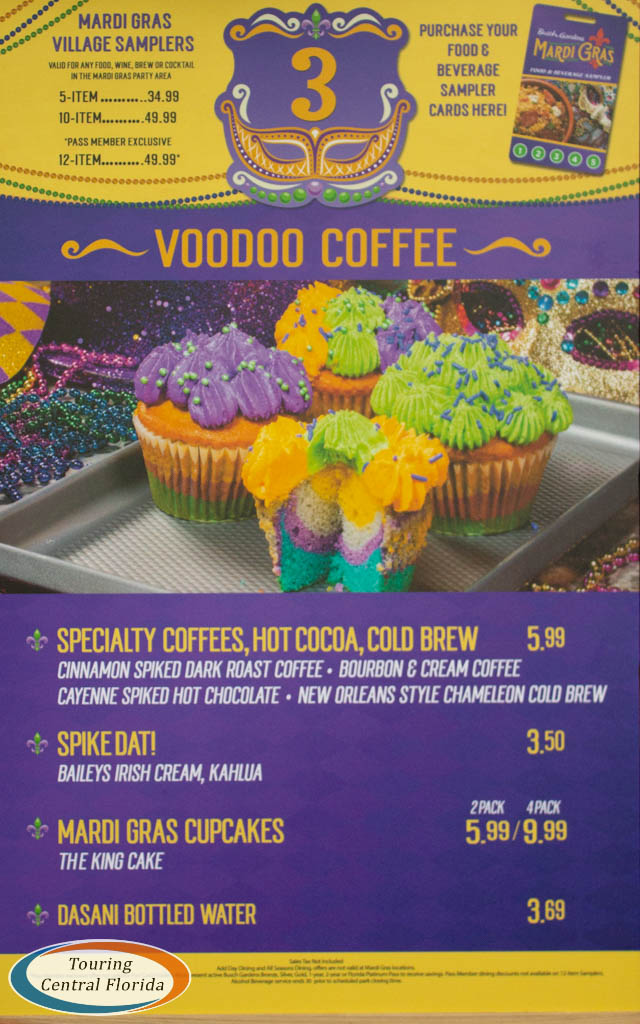 #4 Bayou Grub
Inside Garden Gate Cafe, Bayou Grub offers a few southern classics and several frozen cocktails.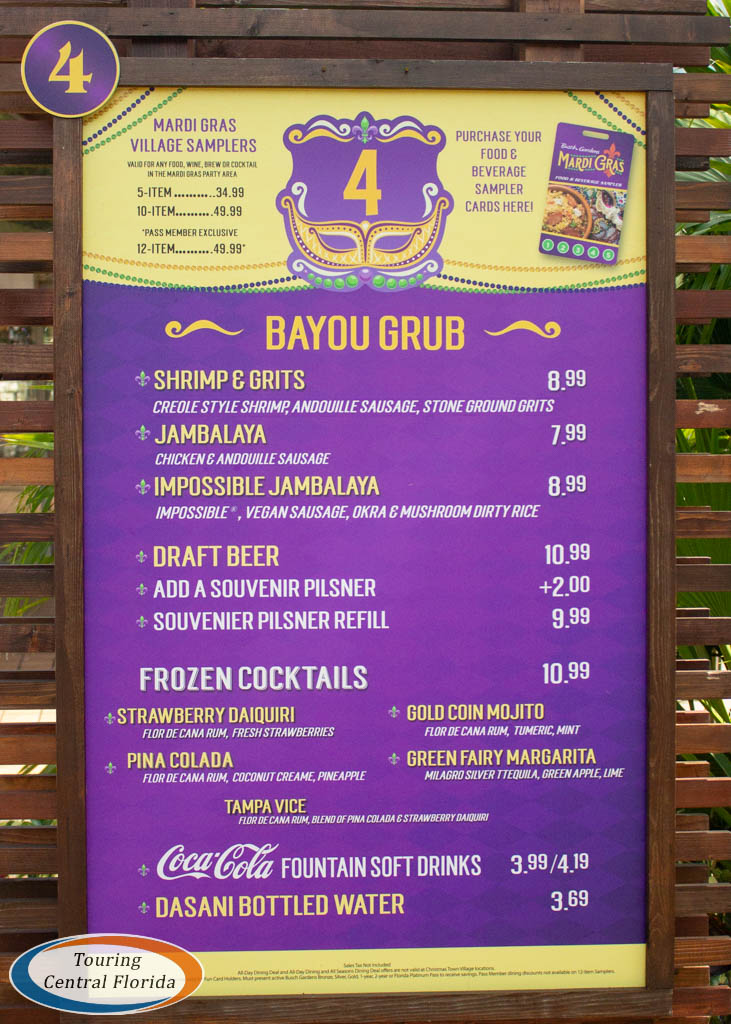 The pre-mixed frozen cocktails provide a colorful backdrop on the bar behind the counter.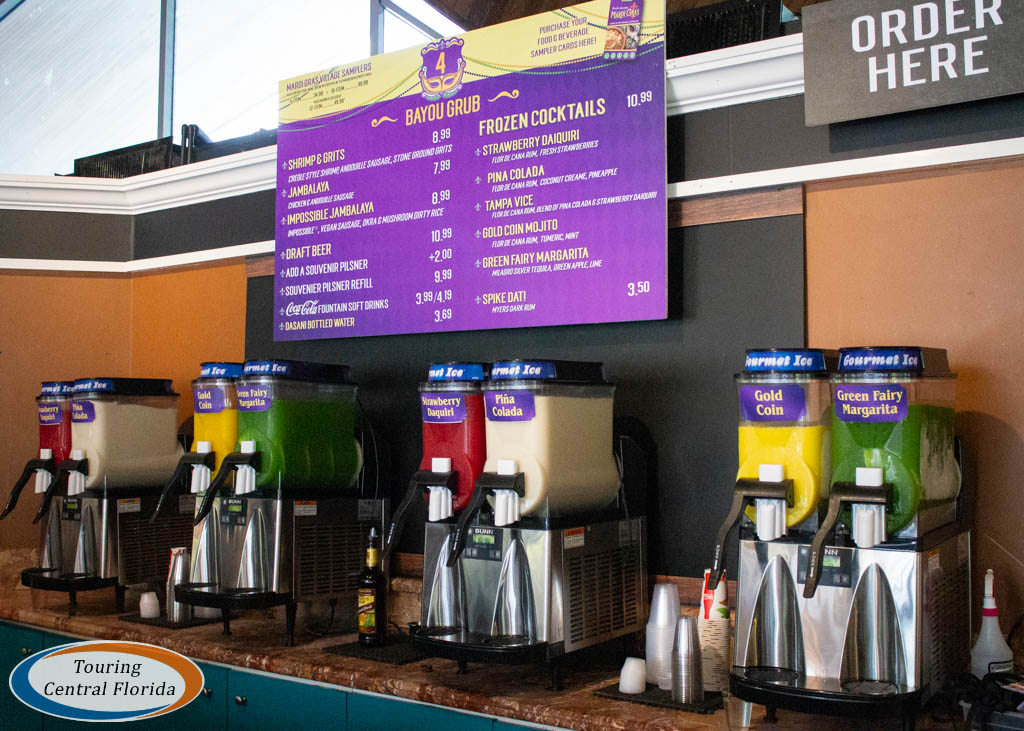 #5 NOLA Creamery
Ice cream! NOLA Creamery offers some adult versions of the frozen treat, plus a cookie right for any age.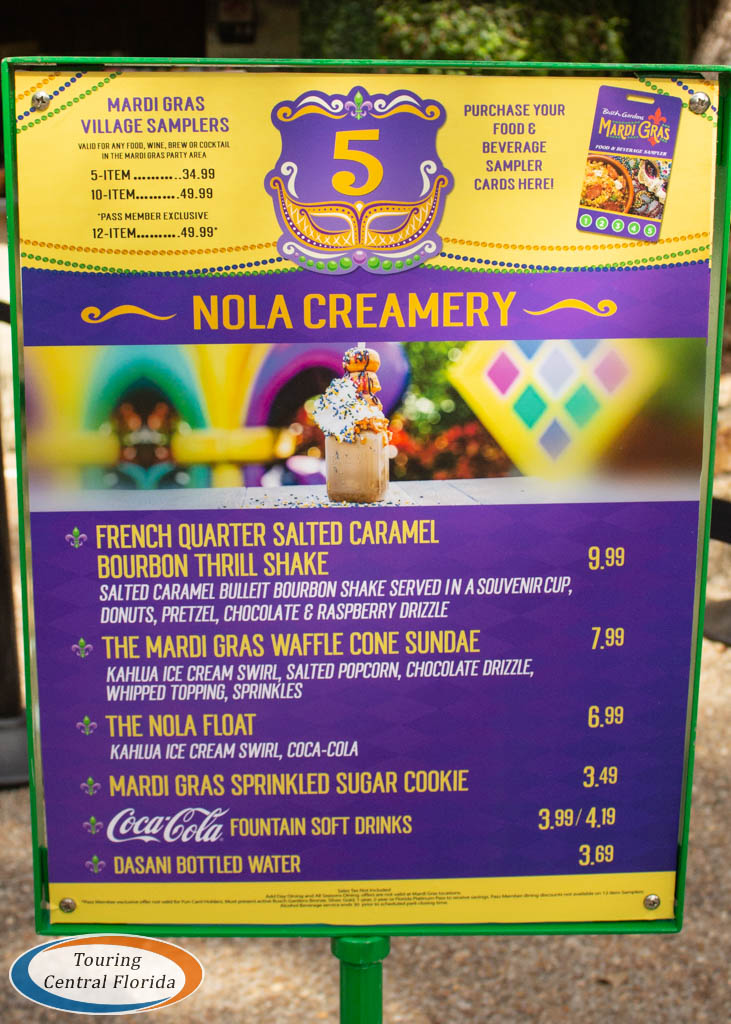 NOLA Creamery is located on the corner on the far side of Garden Gate Cafe (the side towards the flamingos).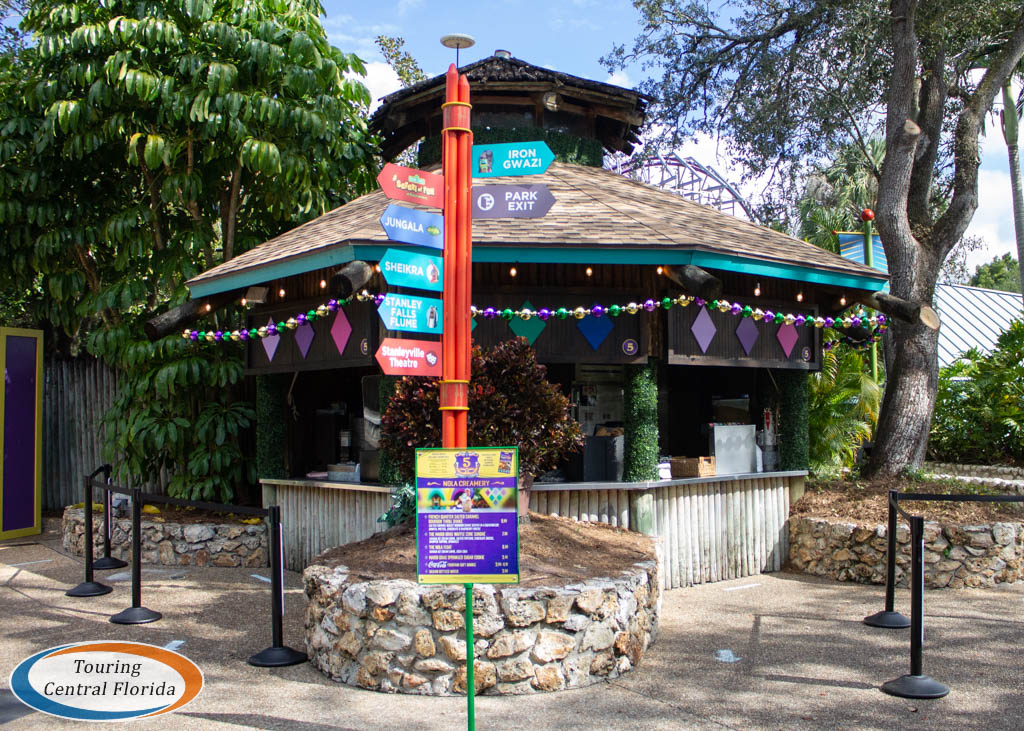 The full-size version of the French Quarter Salted Carmel Bourbon Thrill Shake comes with three mini-donuts stacked on top in a souvenir plastic mason jar. It is simply delicious, and a whole lot of sweet sugary caramel flavor, not to mention the added bonus of a little bourbon. The sampler size is of course smaller and not in a souvenir jar, but might be a more reasonable size if you plan on trying some other food & drinks.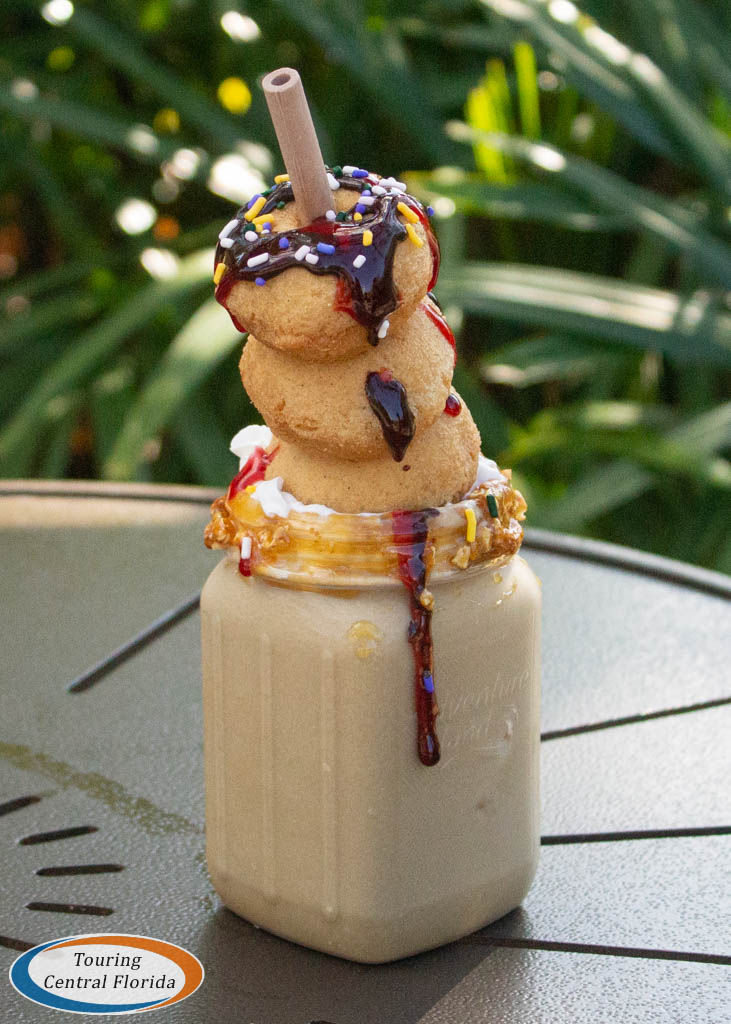 We also got a look at The Mardi Gras Waffle Cone Sundae, although we haven't indulged… yet.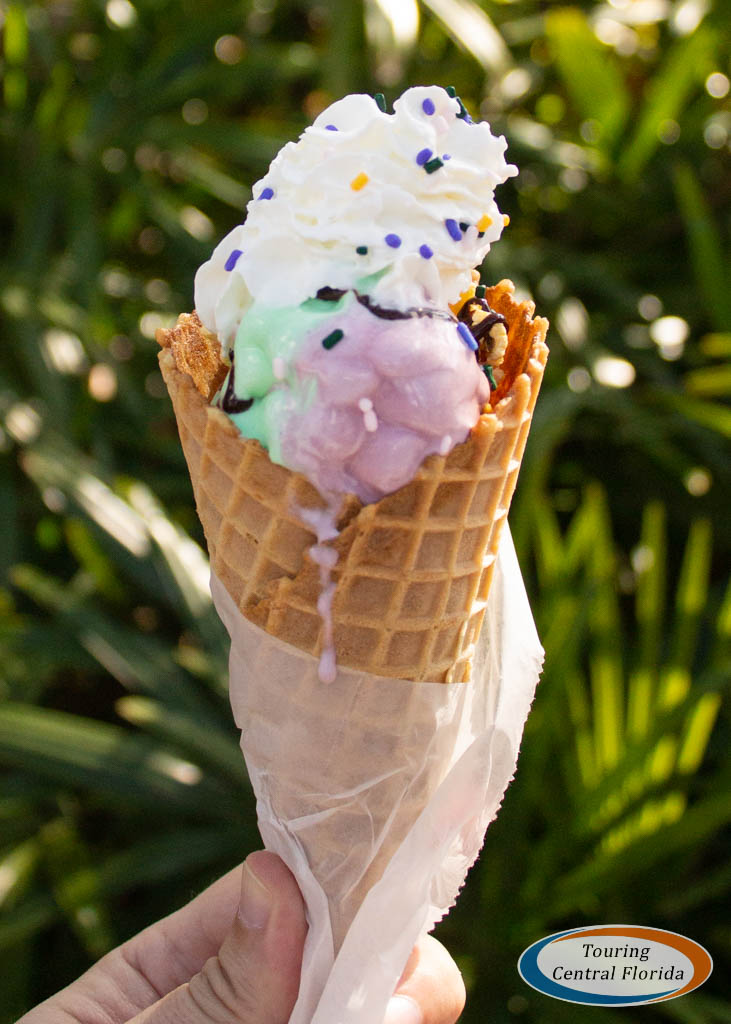 #6 Savory Biscuits
Just across from NOLA Creamery, it's all about classic New Orleans style dishes at Savory Biscuits, with three options to choose from. Each comes with its own biscuit, making them shareable between two people for a taste or as a hearty snack option for one.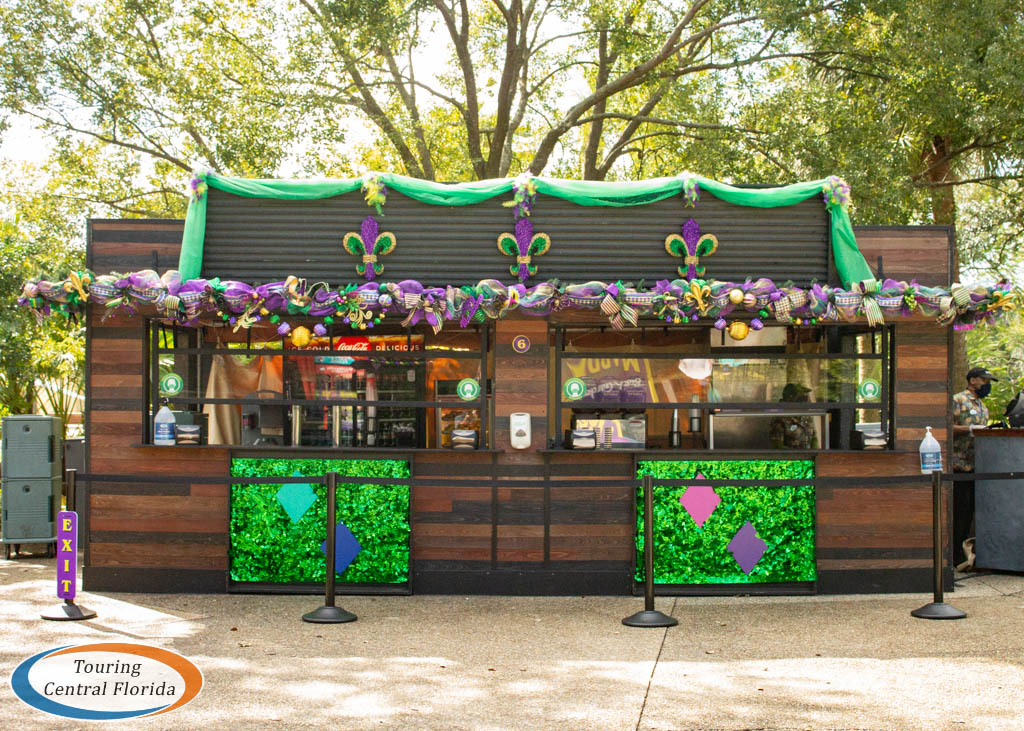 And here's the full menu: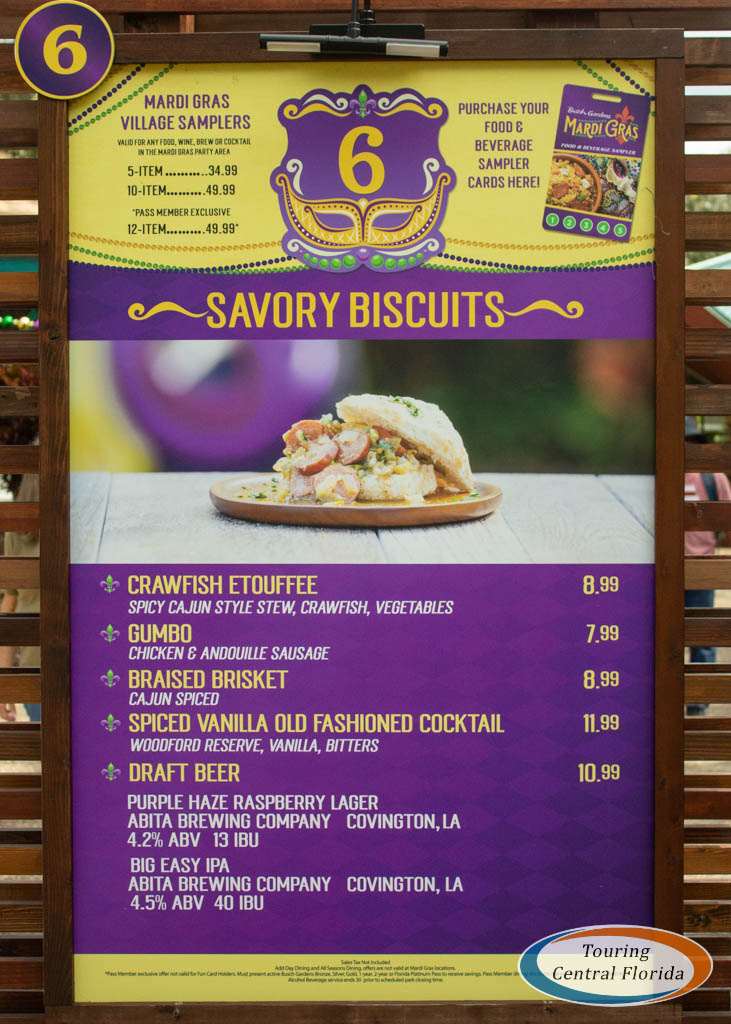 We sampled all three food items at this location. Our favorite was the Crawfish Etouffee, with a flavorful, creamy texture to the sauce. The Gumbo has a bit of spicy kick to it, but you can cut that down a bit by mixing in a forkful of the flaky biscuit that it comes with. The Braised Brisket was also good, but not especially flavorful for being advertised as having Cajun spices. A sauce would probably make it a little better, but still, not a bad dish by any means.
#7 Sweet Beignets
Back on the main pathway near Xcursions and across from the Garden Gate Cafe lagoon, Sweet Beignets serves up three varieties of the quintessential New Orleans Mardi Gras treat. Expecting this to be one of the most popular stops, there are two separate serving lines (one on each side) for when it gets busy.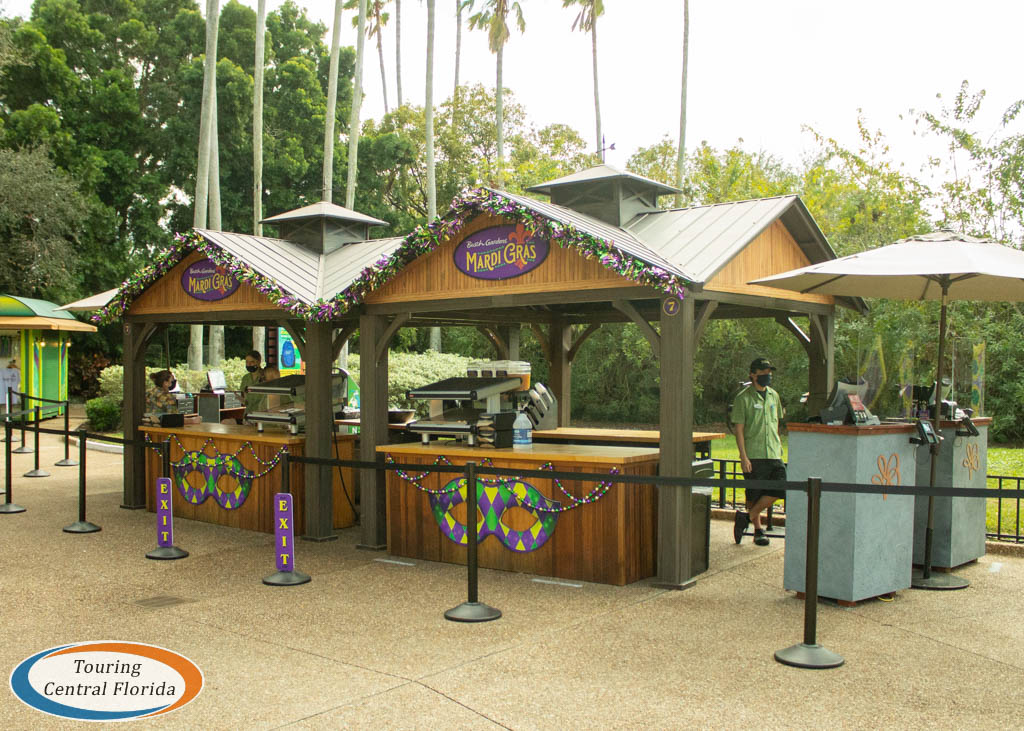 Your choices on the menu: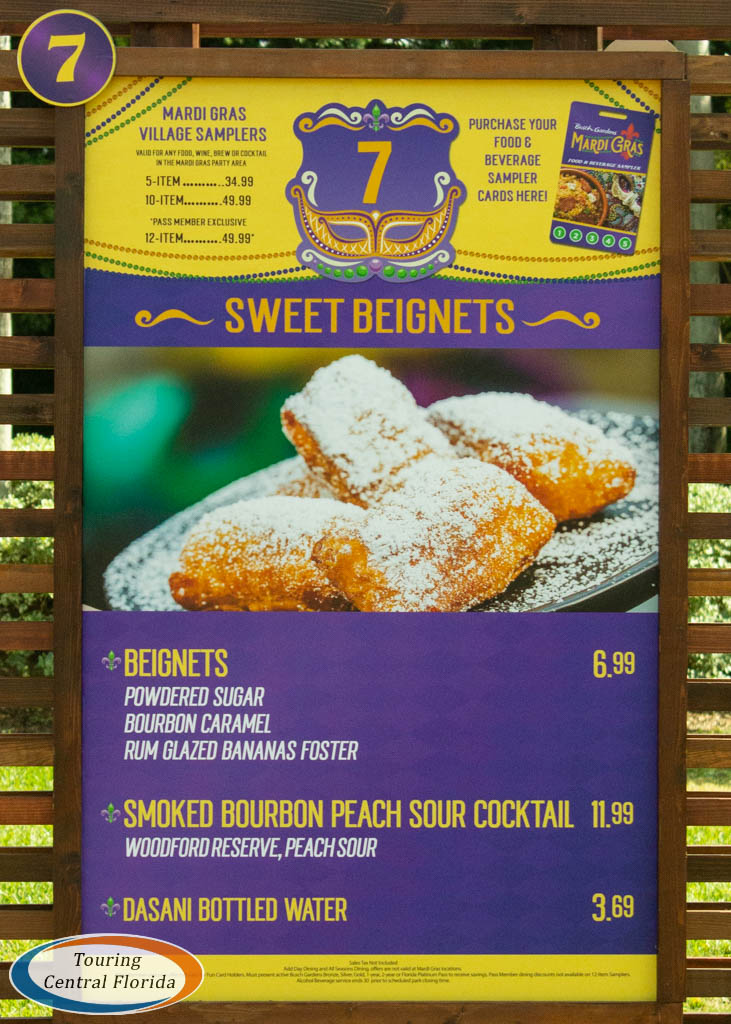 If you've never had a beignet, you're missing out. Warm and delicious, we tried the classic version with powdered sugar. Definitely a shareable treat!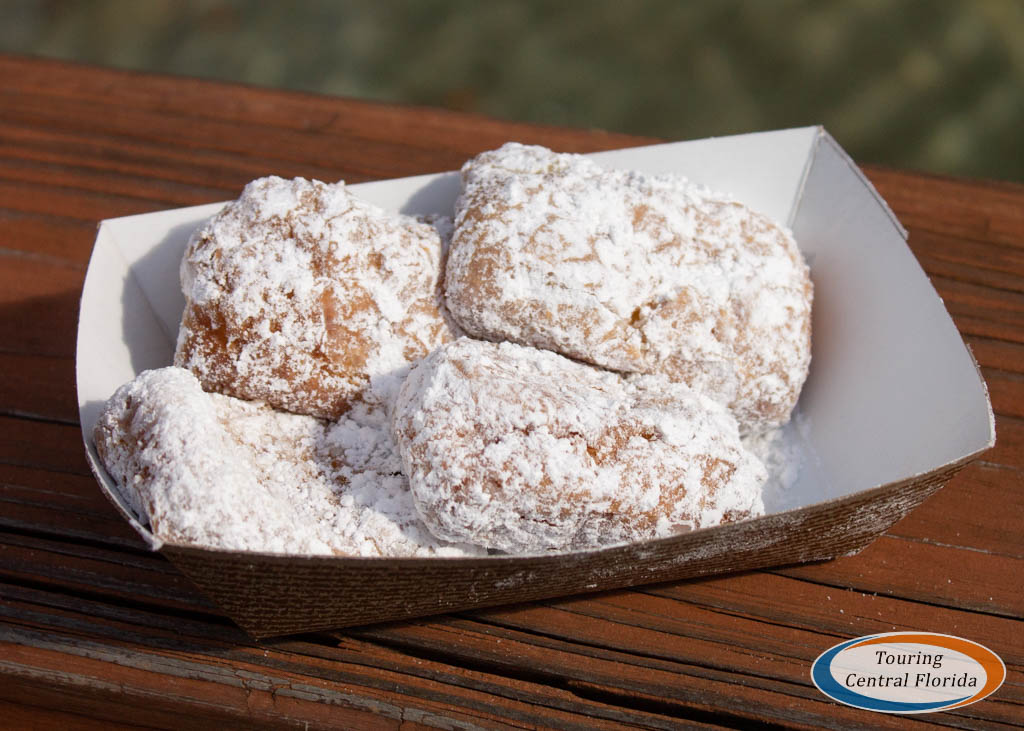 The classic beignets are good, but you also have the option of adding on some extra goodness. We chose to try the Bourbon Caramel Beignets on a subsequent visit and they are quite delicious. A rich sauce is poured on top of the classic variety, which also has the added benefit of keeping the powdered sugar from flying all over the place. This is a lot of sweet, though, but very much worth it in our opinion. We chose to eat using a fork, which keeps your fingers from getting covered in a sticky caramel glaze.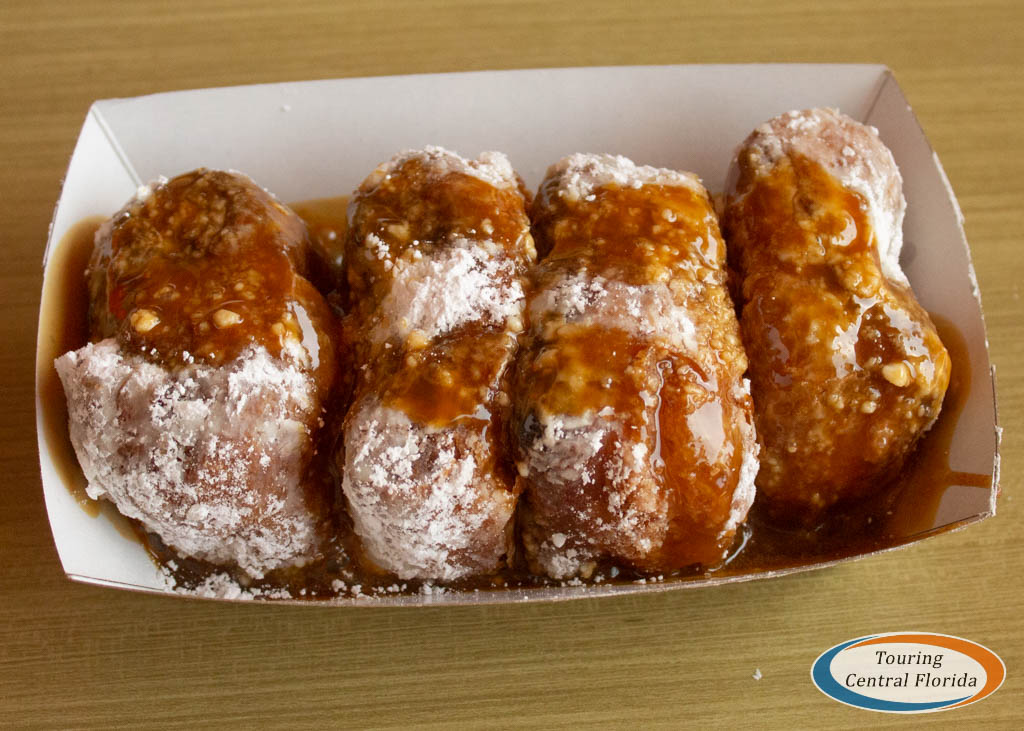 #8 Hurricanes
Just outside of the Coke Canopy, Hurricanes serves up – you guessed it – the popular cocktail of the same name. Sampler lanyards can not be used for the Jello Shots.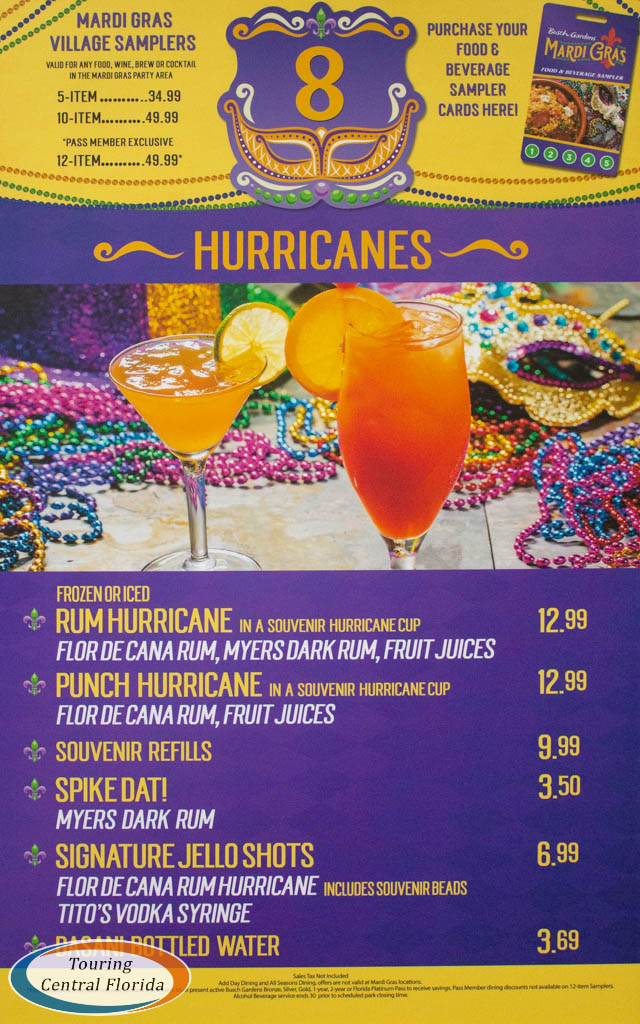 #9 Esplanade Street Bites
Moving further down the path toward the kangaroos, Esplanade Street Bites offers two versions of Po'boys, each served with a bag of Zapp's chips.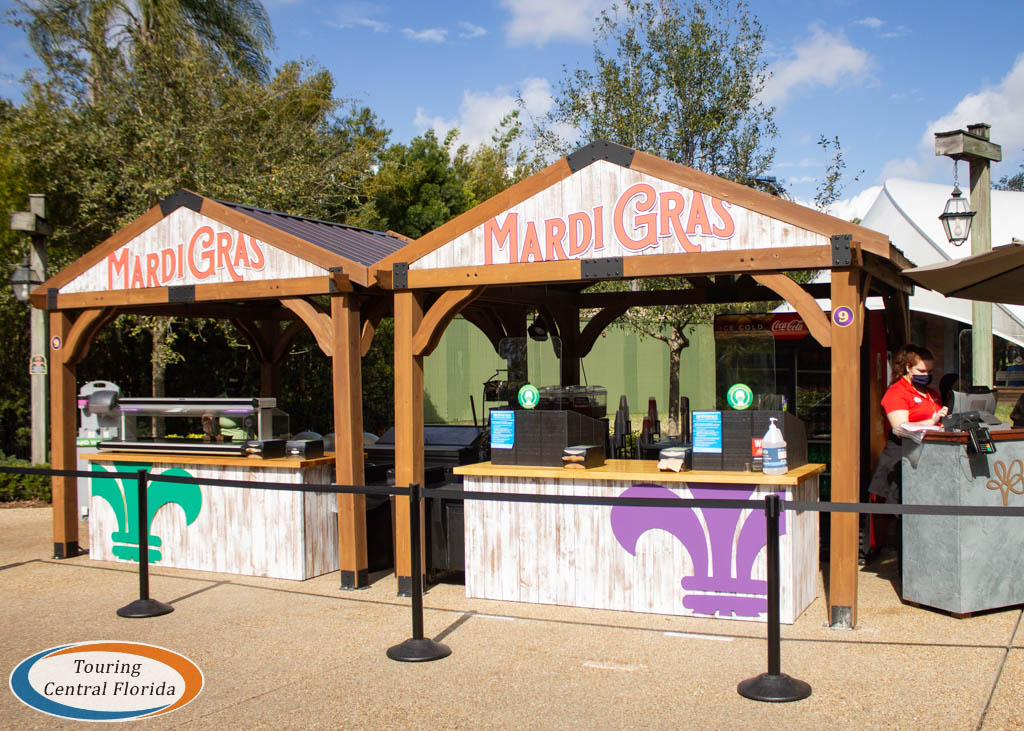 If you're not quite awake from riding roller coasters by the time lunch rolls around, then the Smoked Bloody Mary Cocktail might be something worth considering to get yourself going!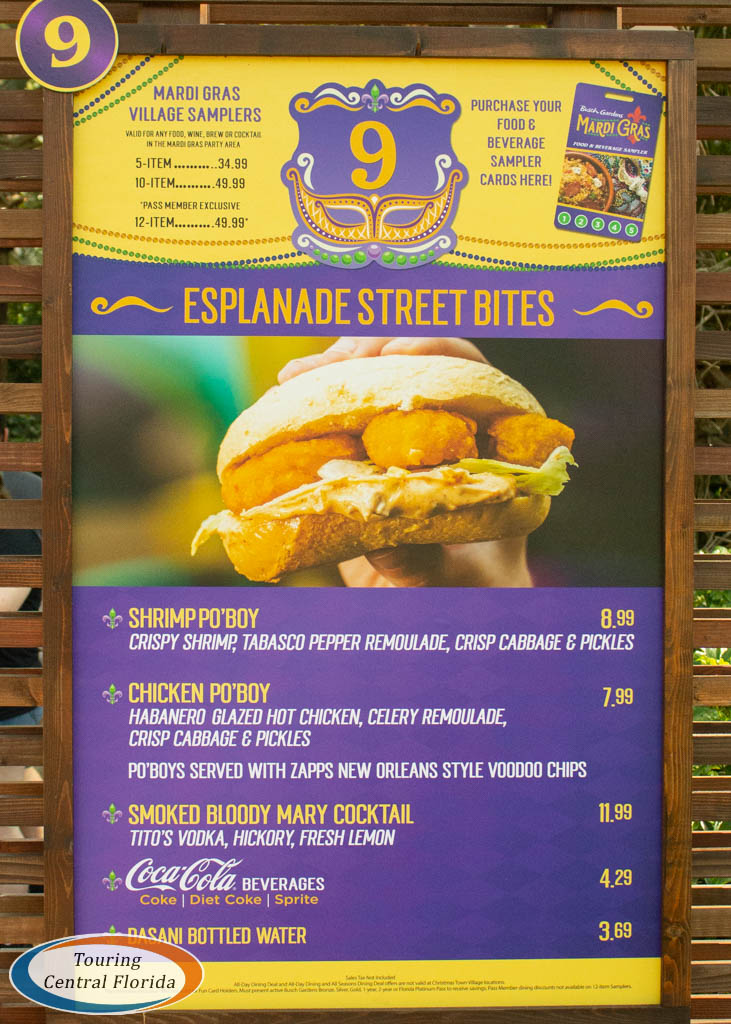 We tried both sandwiches and the bloody mary on our second event visit. We thought both sandwiches were good, though not spectacular. The remoulade on the shrimp po'boy had a bit of a kick, but nothing crazy. The fried shrimp were also unfortunately rather cold on our sandwich. A highlight was actually the Zapp's Voodoo Chips – thick, crispy kettle-style potato chips with lots of flavor. While the Tabasco pepper remoulade was relatively light on the spiciness factor, the bloody mary was comparatively on fire, so be forewarned. It will definitely wake up your senses!
#10 Big Easy Taps
Rounding out the Mardi Gras Weekends booths, Big Easy Taps offers up several brews from Louisiana and Mississippi. If paying a la carte, you can upgrade to a souvenir pilsner for $2 more.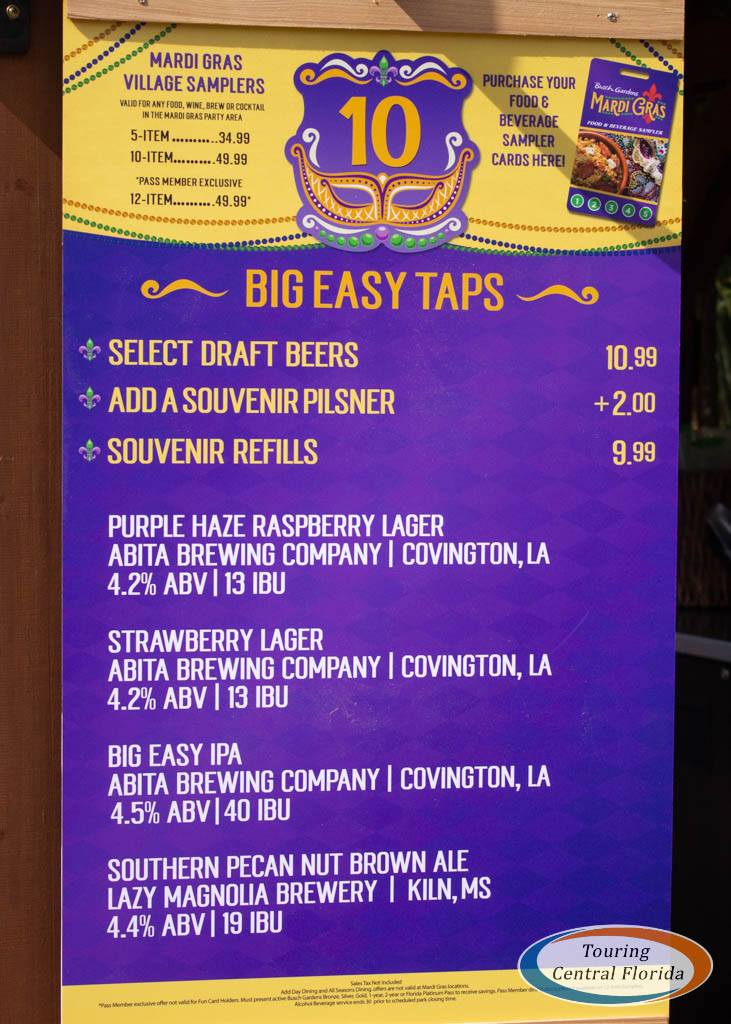 ---
Entertainment & More
The Mardi Gras feeling starts just west of Zagora Cafe, where the green and purple of Iron Gwazi is combined with classic New Orleans music on the speakers. The festival area itself is decorated with a variety of symbols and colors that remind you of Mardi Gras.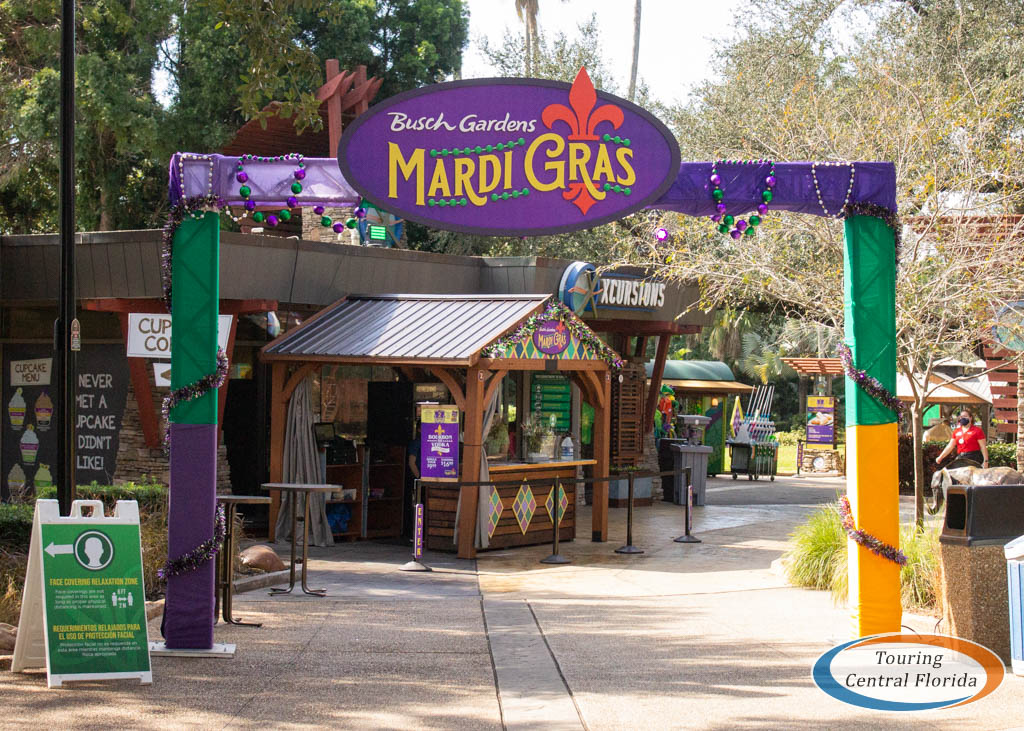 Keep your eye out for a small parade that travels from near Zagora Cafe down the path into the festival area and back. While times are not listed on the daily entertainment schedule, look for the parade several times each event day.
There are two musical acts as part of the event – the Mardi Gras Brass Band and the Mardi Gras Zydeco Band. Look for the brass band on the lawn with the large fleur-de-lis. Under the nearby Coke Canopy, the Mardi Gras Zydeco Band plays New Orleans jazz classics. Each group is scheduled to perform about 4 times per event day. Check the park's online entertainment schedule for specific times on the day you are visiting.
It wouldn't be Mardi Gras without beads, and you can get yours for free from the Bead Garden, located near booths 9 & 10 heading along the path towards the kangaroos. The garden is open at select times during the event.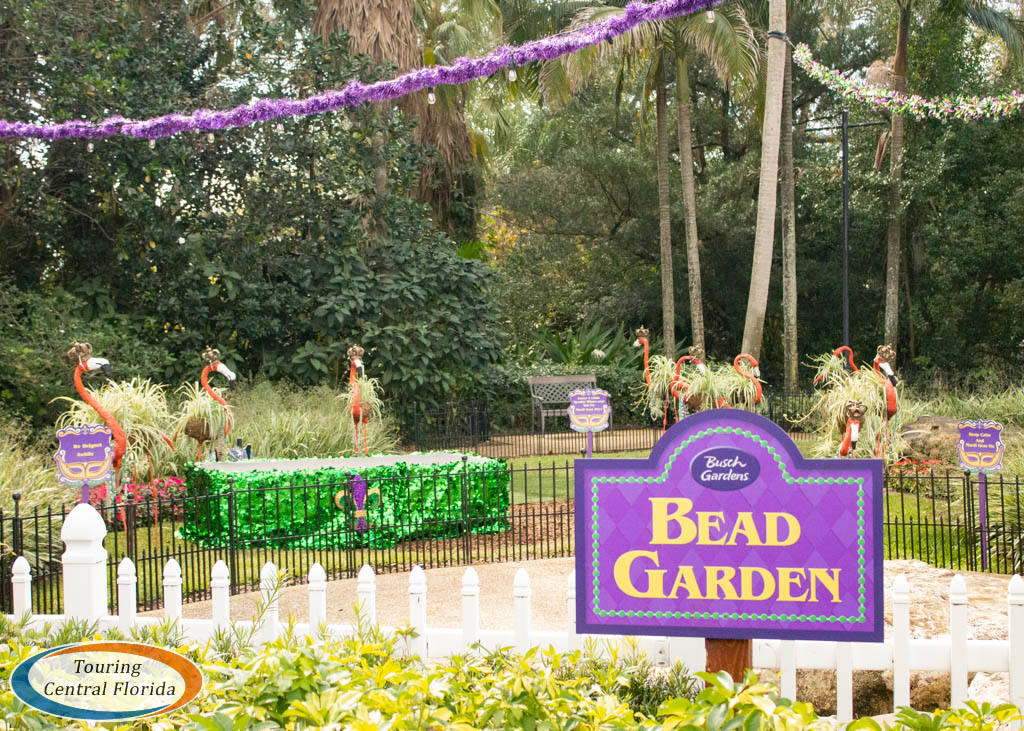 You can also choose to purchase beads and other fun Mardi Gras themed gear at a cart between booths 3 and 7 outside of Xcursions. There are more beads available for purchase inside Xcursions as well.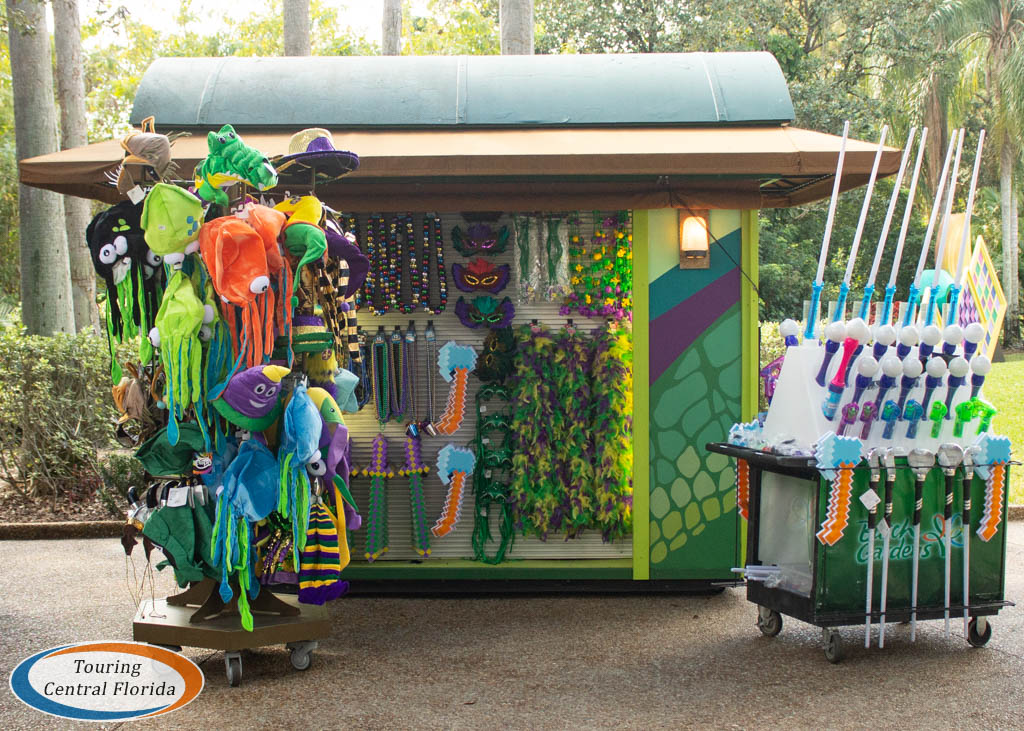 There are several photo ops set up to serve as backdrops for the perfect picture. One is located just inside the park gates, and the others are located around the Mardi Gras Weekends festival area.
---
If You Go…
Mardi Gras Weekends 2021 at Busch Gardens Tampa Bay
Fridays – Sundays through February 14
plus Presidents Day & Fat Tuesday (Feb 15-16)
Booths open from noon until park close
---
For the latest on Busch Gardens Tampa and other theme parks, attractions, and more across the region, be sure to follow Touring Central Florida on Twitter @androckb & @TourCentralFL, and like our Facebook page.