NOTE: You can always see the latest available deals from the park on our Busch Gardens Tampa Special Offers page!
---
Busch Gardens Tampa Bay has rolled out their Black Friday deals for 2020, kicking off their biggest sale of the year today, Friday, November 13! There are special offers available on everything from annual passes to single-day tickets, Quick Queue to summer camps!
The sale is currently scheduled to continue through Black Friday on November 27, 2020, but remember that the offers can change at any time, and some things like the tours will have limited availability. You can see the full details, terms, and conditions for each offer on the park's website.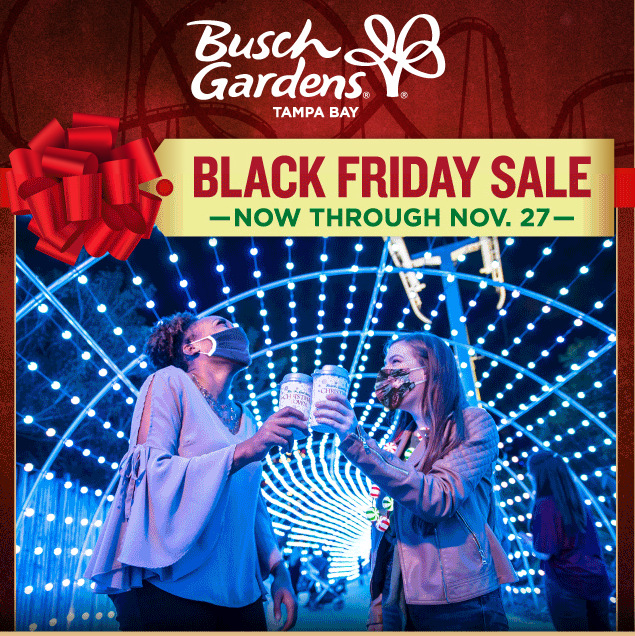 Read below for details on each of the Busch Gardens Tampa Black Friday 2020 deals:
3 Months Free on Annual Passes
All levels of Busch Gardens Tampa annual passes come with an extra three months for free during the Black Friday Sale. Passes start at $141, or $11.75 per month for Florida residents (+ tax and fees). Be sure to review the benefits that each pass level comes with – Bronze is the least expensive pass, but also comes with the fewest benefits. We always recommend at least one member of your family/party gets at least a Silver level pass so you have free parking, in-park discounts, and access to free tickets.
Guests can purchase a Busch Gardens Tampa Bay 2021 Fun Card and get the rest of 2020 for free! During the Black Friday Sale, it's only $79.99 (+ tax and fees), regularly $113.99! You also have the option of adding Adventure Island for another $20. Note: Fun Cards have several block out dates on admission in 2021, and do not come with any of the benefits that annual passes have.
40% to Over 60% Off Tickets
For guests looking to visit for a single-day or just a few days, the Busch Gardens Tampa Black Friday 2020 sale has savings on tickets ranging from 40 to over 60% off the regular prices. A single-day ticket is available for $63.99 (+ tax and fees), a savings of $50 off the gate price. A two-park ticket for Busch Gardens and SeaWorld Orlando is available for $72.99 (+ tax and fees). Additional add-on options for All-Day Dining and Quick-Queue are also available for the single-day ticket option.
Two important things to note about this deal: All visits must be completed by January 31, 2021, and there are block out dates on using the tickets from November 27 through November 30, and December 26 through January 3.
You can save up to 50% Off single-day Quick Queue on select dates through the Black Friday Sale. Sale is valid on the Regular Quick Queue, Quick Queue Unlimited, and Quick Queue Junior. Pricing varies by date selected, and some dates are not included in the 50% off sale (especially those around the holiday weeks in November and December).
Guests can save up to 50% on select animal tours on select dates. The discount applies to the Penguin Insider Tour, Elephant Insider Tour, and Aldabra Tortoise Insider on select dates, mostly through the end of November 2020. There are limited spaces available for each tour, so book as soon as possible to make sure you get your preferred date.
Both the annual and single-day digital PhotoKey packages are on sale for 50% off. These packages allow you to download digital versions of all your in-park photos from on-ride or PhotoKey photographers for either one day or one full year depending on which option you choose.
Buy One, Get One 50% Off All-Day Dining Deal
Buy one All-Day Dining Deal at regular price ($39.99) and get one at 50% off ($19.99) as part of the Busch Gardens Tampa Black Friday 2020 Sale! The deal allows one entree, side or dessert, and select non-alcoholic beverage per hour at participating restaurants.
Save up to $200 Off 2021 Summer Camps
Booking your 2021 Summer Camp spot at Busch Gardens Tampa early can save you up to $200! Day camp pricing starts at $239.99, and resident camps at $699.99. There are several different options based on grade level and interests.




All of these offers are available for a limited time on the park's website. Be sure to review all of the terms and conditions there before making your purchase, as offers can change at any time.
Don't forget, Touring Central Florida brings you all the latest deals on our regularly updated Busch Gardens Tampa Special Offers page! Bookmark that page and check back often for sales on tickets, passes, and in-park specials for guests and pass members!
---
For the latest on Busch Gardens Tampa and other theme parks, attractions, and more across the region, be sure to follow Touring Central Florida on Twitter @androckb & @TourCentralFL, and like our Facebook page.