We made our first trip back to Walt Disney World since the parks reopened to guests following their nearly four-month closure due to COVID-19. Looking to avoid crowds but get a bit of the Disney magic we've missed, we chose to spend a Monday at EPCOT.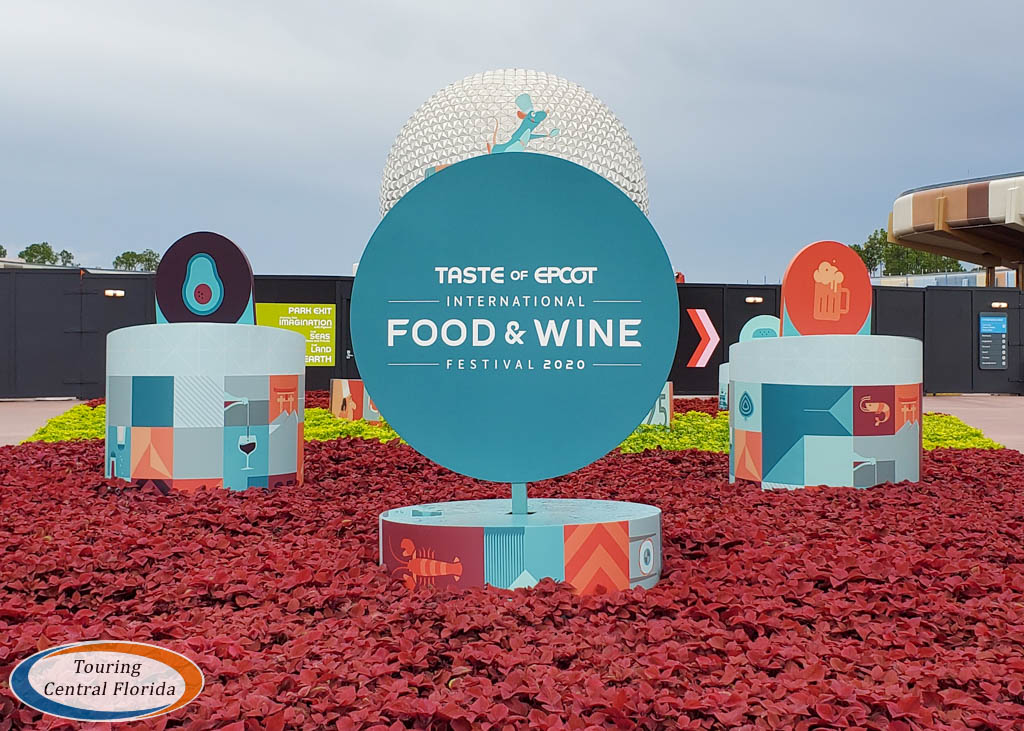 A modified version of their popular fall food & wine festival is currently underway each day. Called the Taste of EPCOT International Food & Wine Festival, a limited number of booths are open to guests around World Showcase offering a number of sweet & savory options. See the full menu listings for each location in our recent article.
Don't forget that all guests visiting a Walt Disney World park will need a free Park Pass reservation along with valid admission. Once you arrive, all guests need to go through a temperature check before entering, must wear appropriate face coverings, and must remain socially distant from other guests and cast members when possible.




We arrived just after noon on Monday and had no wait at the toll booths, temperature check, security, or front gate. The park is currently open from 11 a.m. to 9 p.m. daily, though will close at 7 p.m. after Labor Day.
Crews recently installed the retro-inspired pylons on top of the fountain in front of Spaceship Earth near EPCOT's entrance. They already look great and are much larger in person than photos can really show. Even though the fountain is still behind construction walls, the way the light refracts through them can already be seen and will be great fun for photographers when the project is complete.
While we did take time to enjoy Soarin and Test Track, our main focus for the day was to enjoy some time strolling around the park and sampling some items from the Taste of EPCOT International Food & Wine Festival booths.
A guest favorite is the Wild Mushroom Beef Filet Mignon ($8.25) from the Canada booth. This isn't exactly exotic eats, and you can get a whole meal centered around the filet in Le Cellier nearby (although expect to pay a lot more than out here). As a taste of what is one of our favorite steaks on property, the sample size portion here is decently sized for the price. While it will be cooked closer to well done than rare, it still retains its juiciness and tenderness.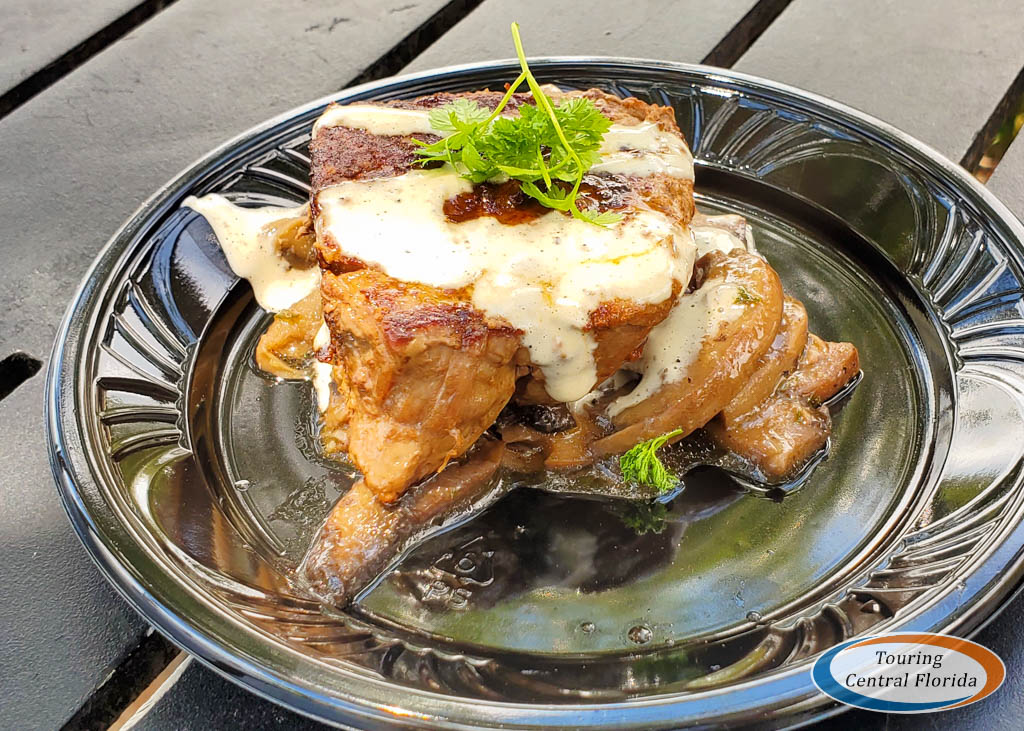 Near the Canada booth along the waterfront is The Citrus Blossom, where we grabbed the Orange Sunshine Wine Slushy ($6.75). If you enjoy the flavor of an orange creamsicle, you will most likely enjoy this version. There may have been wine mixed in, but it wasn't exactly noticeable over the strong creamsicle flavor. That's not necessarily a bad thing, just don't expect a buzz from the drink.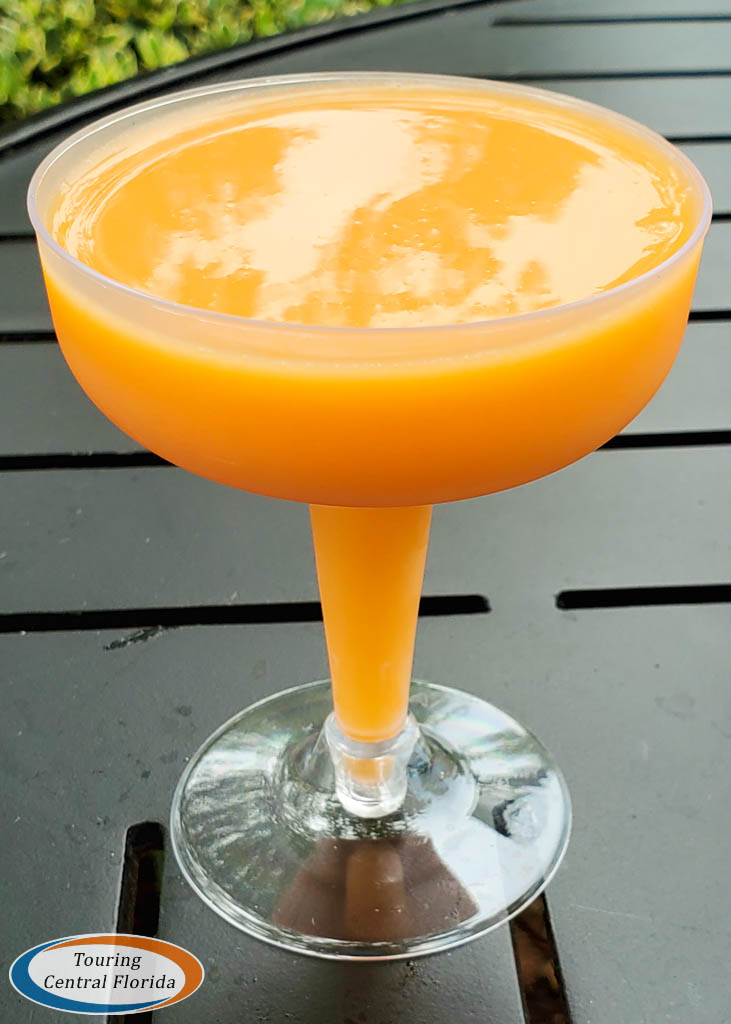 Between the Canada and UK pavilions, head into World ShowPlace for four of the festival's booths. Plenty of socially distanced tables, mostly hightops, are available in the airconditioned space.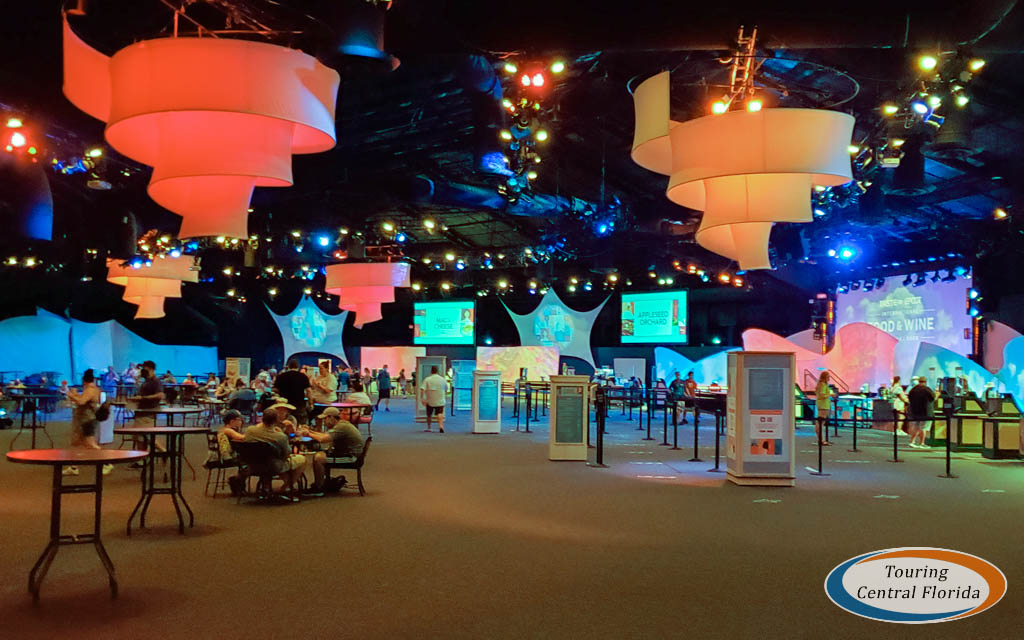 We actually stopped at three of the four booths here for some food and drink. We didn't grab any pictures from Desserts & Champagne, but we did pick up a Frozen S'mores with Whipped Cream Vodka ($11.00) and a Liquid Nitro Chocolate Cake Pop with Crushed M&M's ($4.00). The Frozen S'mores wasn't quite frozen and was more like very cold chocolate milk, but the vodka pour was a healthy one. The cake pop was delicious, with the liquid nitrogen dip a fun gimmick for this relatively inexpensive treat.
At Mac & Cheese, hosted by Boursin, we chose the Lobster Macaroni and Cheese ($6.50). It was a rich, creamy dish with a strong lobster flavor and several actual chunks of the crustacean.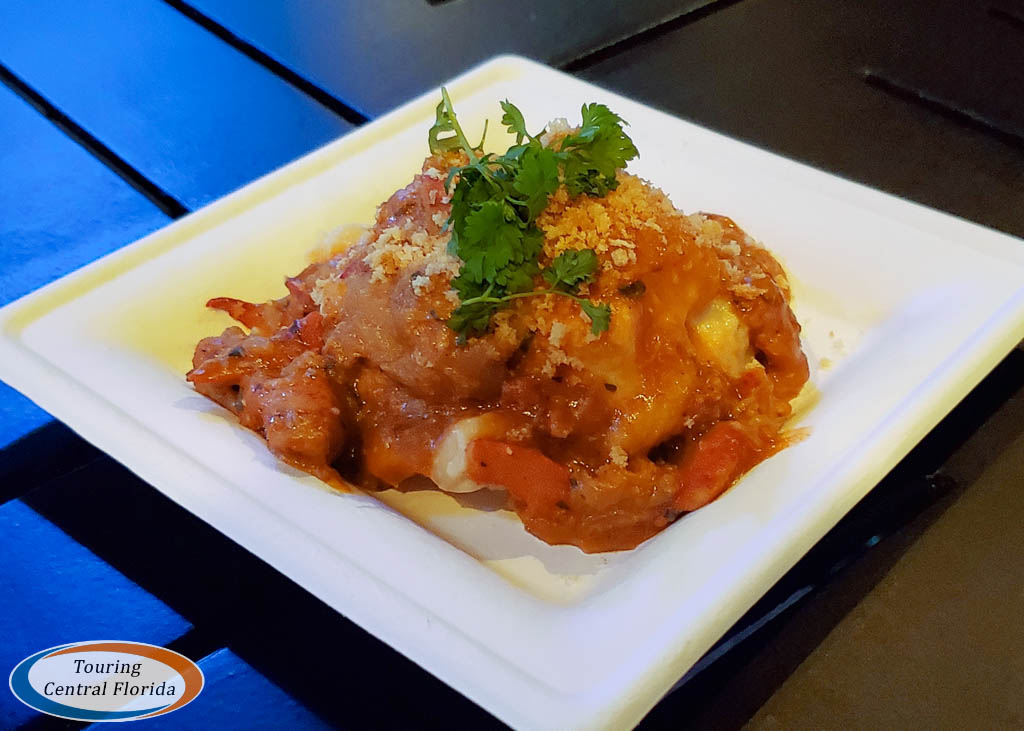 Another drink option is the non-alcoholic Frozen Apple Pie ($4.00) from Appleseed Orchard. The taste is great, and the crumbles topping adds both flavor and texture. At the bottom of the cup was a pile of gelatinized apple pie filling, which was too dense to easily break up and was frankly overpowering in terms of tartness.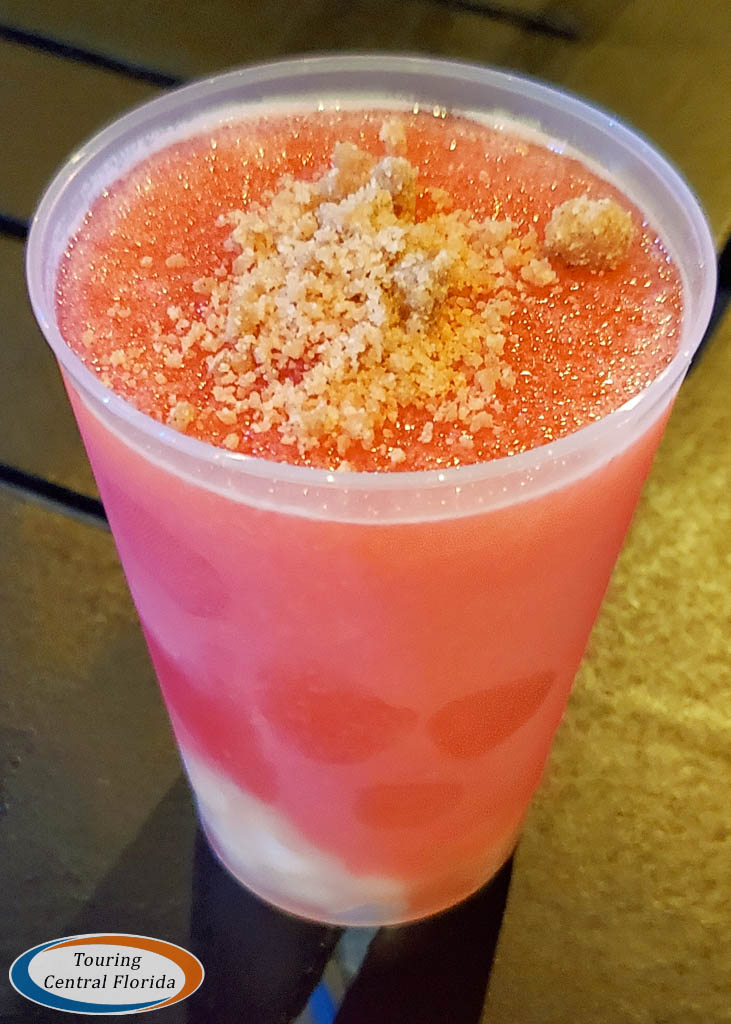 Crowds were perhaps the lowest we've ever seen at EPCOT, and keeping space between ourselves and other guests was not an issue. Face covering compliance was very good, though there were several occasions where we witnessed guests walking with their masks tucked below their nose or under their chin. Cast members generally did a good job in reminding those of guests that masks needed to be pulled all the way up and only taken off if they were eating or drinking while stationary and off to the side away from guests.
However, unlike some reports from when the parks first reopened claiming cast members were basically everywhere at all times to be able to enforce distancing and face coverings, we found plenty of spots around EPCOT where there were no cast members to be seen. A number of concessions, gift shops, and restaurants are all still closed. Still, overall we felt safe during our visit and appreciated that most guests were following the rules without needing constant reminding.




Character meet & greets are currently unavailable but guests can expect to see some of their favorites from a distance as they parade around World Showcase several times throughout the day, weather permitting.
Visiting EPCOT, or any of the Central Florida theme parks, isn't quite the same as before. However, with guests following the new guidelines and the parks doing their part to ensure a safe experience, it's still possible to have fun and enjoy a day with family or friends responsibly. It does require some work on everyone's part along with some patience and extra awareness, but the effort can certainly be worth it.
---
For more news on Walt Disney World and other theme parks, attractions, and more across the region, be sure to follow Touring Central Florida on twitter @androckb & @TourCentralFL, and like our Facebook page.