SeaWorld Parks & Entertainment (SEAS), which owns a dozen parks across the country including the SeaWorld & Busch Gardens properties, shut down or delayed the opening of all its locations due to coronavirus. Since the closure began, the company has not shared much information on what it means for guests, especially its large contingent of annual pass members. This article works to combine into one location all of the available details.
The information below is specific to the Florida parks (SeaWorld Orlando, Busch Gardens Tampa, Aquatica Orlando, and Adventure Island). While some of the details may also apply to other parks in the chain, this article was put together with a focus primarily on Florida.
All of the information gathered for this article has come from official sources including the park/company websites, company blog post on the closure, customer/guest service ambassadors (via online and phone), and park/company spokespersons. While we strive to give only the most accurate information available, there have already been changes to some answers/policies during the course of the closure, so please understand things may change from what is detailed below.
This article will be updated with any changes as they become available. Last update: May 7, 2020
---
When Will the Closure End?
The short answer is: to be determined.
The Florida theme parks, including those of SeaWorld, Busch Gardens, Disney & Universal all closed as of March 16, and as of now, none have announced an official reopening date. The SeaWorld & Busch Gardens parks continue to update their online calendars each week; as of May 7, the four Florida parks show as being closed through at least the end of May. (This follows earlier updates to the calendar that most recently showed the parks closed through May 15.)
These are all still subject to change until the company announces specific dates for reopening, so don't go making any concrete plans just yet.
---
Contacting Customer Service
One of the largest sources of frustration for pass members of the SeaWorld & Busch Gardens parks has been the lack of communication on what's happening and the inability to reach anyone in customer service. As you can imagine, customer service departments for just about any travel & leisure business are swamped with calls, emails, and messages from guests who need assistance with their bookings & accounts.
On April 29, an email was sent out to guests from the Interim CEO, Marc Swanson. It mostly restated what had already been released through previous communications like the company's blog post and social posts through the parks. You can read the entire email in our recent article.
Currently, the company's phone customer service department is operating Monday through Friday from 9 a.m. to 5 p.m. daily. There is limited operation of their call centers, and wait times can be high. The guest services department has been sending out this statement regarding its call center operations:
We apologize for this inconvenience. Due to the high volume of requests and interruptions COVID-19 has had on our operations, there may be a delay in receiving a response. All three of our call center operations are subject to governmental orders, limiting their ability to operate. Please know that you are a valued customer and we are working to address all concerns.
The main customer service number for all issues related to the closure is 407-794-0017. Guests can also use the regular SeaWorld Orlando line (407-545-5550) and Busch Gardens Tampa line (813-884-4386) but understand regardless of what line you come in on, calls are ultimately routed to the same department/ambassadors for service.
Pass members can also attempt reaching guest relations via the contact forms on the park websites or by email, though we've seen many reports of delays in getting responses using that method – if they are answered at all. The email listed on the company's blog post related to the closure is SEAGuestRelationsTeam@seaworld.com.




---
Annual Passes & Fun Cards
Unlike most other theme/amusement park chains, SeaWorld & Busch Gardens parks are not automatically suspending the monthly payment program for pass members (called EZ Pay) – whether in their initial commitment period or past their original 12-month contract.
New as of April 29, the company has stated they "will be announcing new benefits for all active Pass Members in the coming days." On May 4, they sent another email to pass members with some details, including that all eligible pass members would get a temporary one-tier membership upgrade. Additionally, extra perks like bring-a-friend tickets & special pass member events will also be held once the parks reopen. For full details, including several FAQs we reached out to get answers for, see our recent article. 
The company has stated that all annual passes and Fun Cards in good standing will receive an extension at least the length of the closure, however long that ends up being. For paid in full passes, this will be applied automatically at the end of their current pass once the length of the closure is determined, and no action is required on the part of the pass member. Likewise, for those in their initial commitment (first 12 months) of a pass using EZ Pay, no action is required to receive the extension at the end of the contract.
This leaves those on EZ Pay who are past their initial commitment – which includes a large number of members, some of whom have been paying a low monthly rate for years. Those pass members will need to contact the park to receive their extension. Whether you email or call, you'll want to provide the following details: first name, last name, barcode for each individual pass, plus the email address associated with your account. You may also want to include your home park (where you originally bought your pass) if you're sending your information via email.
As of May 4, the company updated its blog post to say that those EZ Pay pass member accounts will have their payments automatically waived for a period equivalent to the closure after the parks reopen. Whether that will happen immediately upon reopening or be based on something like what month the pass was originally purchased is not yet known.
If you are able to get through to customer service by phone, EZ Pay pass members who are past their original commitment period can suspend their payment for up to three months but are required to request the suspension of payment each month prior to their payment due date. Originally, those pass members were able to suspend their payments for up to three months at one time, but we've been told as of mid-April the policy has changed to allow only a one-month-at-a-time suspension. It's worth noting that if you suspend payment on your EZ Pay account, you will not be eligible for the extension of time on your pass for the month(s) you are not paying for or for the upgraded pass benefits announced on May 4. They are giving those who are on a deferred payment until May 17 to reinstate payments to receive the upgraded benefits.
The other option for EZ Pay pass members who are past their original commitment is to cancel their pass. Again this must be done through customer service, as there is no self-service option online. Before canceling your pass outright, however, remember that you won't benefit from the extension of time for the closure or the upgraded benefits, and when you are ready to return as an annual pass member, you won't have your (potentially) low locked-in rate from years ago. If you plan on continuing to visit the parks in the future and can afford to keep paying in the interim, your best bet will probably be to leave things as they are.
---
Annual Pass Add-Ons
For those annual pass members with additional products like All-Season Dining & Refills, Year-Round Quick Queue, and Annual PhotoKey, the company has stated they will all be extended at least the length of the closure. Hopefully this will be done automatically, but we have not yet received word how the extension on these products will be handled.
We're awaiting confirmation if this extension will also apply to the Brew Club that's available at SeaWorld Orlando & Busch Gardens Tampa.




---
Festival Lanyards
Both SeaWorld Orlando's Seven Seas Food Festival and Busch Gardens Tampa's Food & Wine Festival were interrupted by the closure. Given the length of the closure extending through at least the original ending dates of each of those festivals, it seems less and less likely they continue this season.
Those guests who have sampler lanyards with unused punches will be able to redeem those punches at remaining festivals being held at the parks later this year. For those with Busch Gardens Food & Wine lanyards, unused punches will be valid at Bier Fest and Christmas Town. Those with SeaWorld Food Festival lanyards will be able to redeem unused punches at the Craft Beer Festival and Christmas Celebration.
Currently, there is no word on refunds for those guests who will be unable to use their unused punches at one of those later festivals. The best bet would be to hold on to them and contact customer service once the parks reopen to see what options will be available at that point.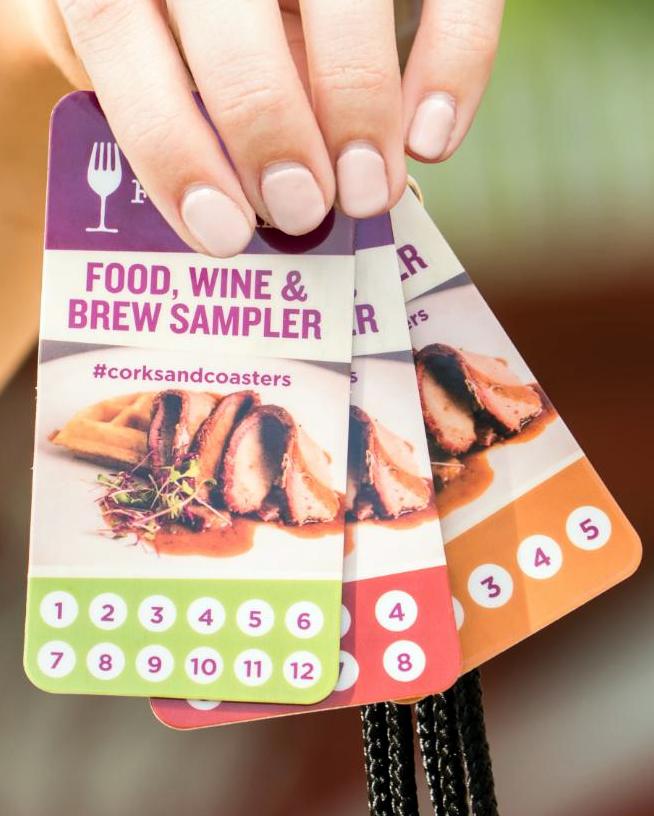 ---
Other Closure Related Information
The 2020 Preschool Card is still set to expire on December 31, 2020. We've been told this is due to it being a free product. Registration ended for the program earlier this year.
The 2020 SeaWorld/Aquatica Orlando Preschool Card had a deadline for first use by March 31. That deadline will be extended; a new date will be announced once the closure has ended. It's important to note the Busch Gardens/Adventure Island Preschool Card did not have a first visit requirement once registered.
Two running events have also been postponed due to the closure. The Furry Friends Fun Run at SeaWorld Orlando, originally scheduled for May 9, has been rescheduled to November 14, 2020. At Busch Gardens, the Run for the Fund on April 4 was postponed, but no new date has yet been set.
New as of 5/1/2020 – Jack Hanna Weekend at Busch Gardens Tampa has been removed from the schedule (originally May 30 & 31). The start dates for Electric Ocean at SeaWorld Orlando (May 22) and Summer Nights at Busch Gardens Tampa (May 29) have been changed to "To Be Determined."
For more information regarding other non-pass member related issues, including single-day tickets, vacation packages, pre-paid tours, Discovery Cove reservations, etc., see the company's official blog post. Generally, pre-paid items like tickets, tours & packages can be rebooked at no charge for a later date, based on availability.
Hopefully, SEAS will soon communicate further with their pass members as to exactly what will happen going forward. Once the parks are able to reopen, it seems likely that locals and pass members will make up a large part of the initial attendance as long-distance and foreign travel will be minimal to start. We'll bring any updates to this article, and you can also follow our social media channels (linked below) for all the latest.
---
For the latest on SeaWorld Orlando & Busch Gardens Tampa and other theme parks, attractions and more across the region, be sure to follow Touring Central Florida on twitter @androckb & @TourCentralFL, and like our facebook page.