At this past week's International Association of Amusement Parks and Attractions (IAAPA) Expo in Orlando, several manufacturers along with theme parks unveiled roller coaster cars and other ride vehicles that will debut on attractions opening in 2020.
One of the most anticipated reveals was for the lead car of Iron Gwazi, the hybrid roller coaster currently under construction at Busch Gardens Tampa Bay. Manufactured by Rocky Mountain Construction (RMC), Iron Gwazi will be 206 feet tall, feature a 91-degree drop, and reach top speeds of 76 miles per hour. The journey will include 3 inversions and 12 airtime moments as it races along more than 4,075 feet of purple steel track.
Touring Central Florida has been covering the construction of Iron Gwazi since the beginning; be sure to check out the latest updates here.
SeaWorld Orlando and Premier Rides revealed the car design for Ice Breaker, which will feature four launches, both backward and forward, culminating in a reverse launch into the steepest beyond vertical drop in Florida — a 93-foot tall spike with a 100-degree angle.
SeaWorld San Antonio will open Texas Stingray in 2020, which will be the tallest, fastest and longest wooden roller coaster in the state of Texas. This record-breaking coaster, which will reach a top speed of 55 mph, includes a breathtaking hundred-foot drop and a sensory-bending hundred-foot long tunnel. The lead car was revealed at the Great Coasters International (GCI) booth at the IAAPA Expo. 
Busch Gardens Williamsburg and Intamin unveiled the car for Pantheon, the fastest multi-launch coaster in the world coming to the park in spring 2020. Pantheon features four launches, reaching a top speed of 73 mph.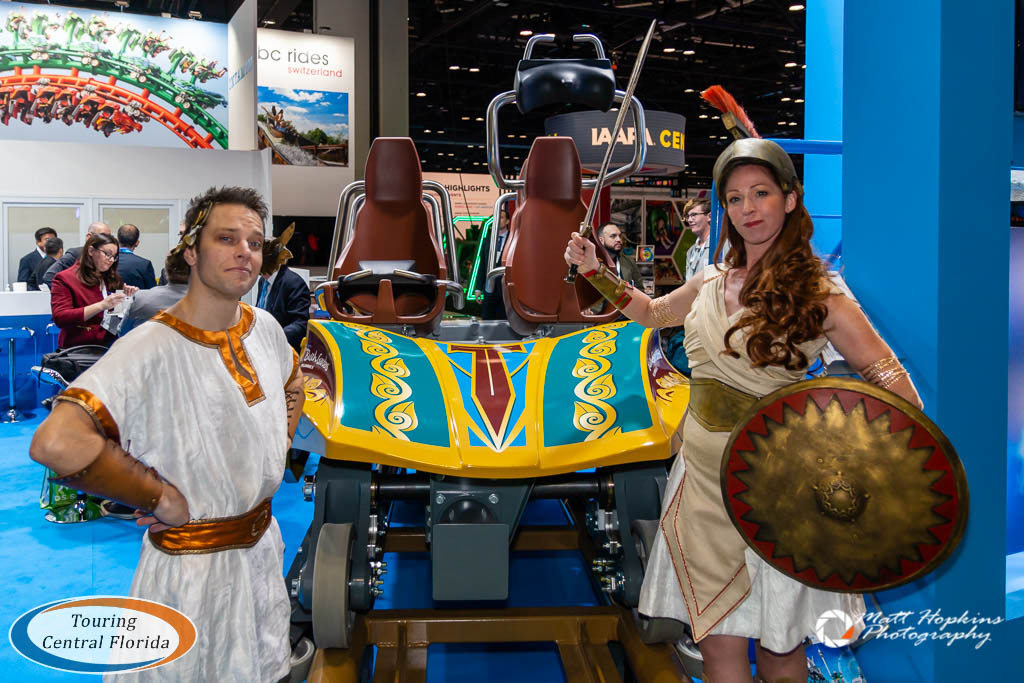 While we didn't get a reveal of a car for the new roller coaster coming to SeaWorld San Diego, the park and manufacturer Bolliger & Mabillard (better known to many as B&M) unveiled a new name at the IAAPA Expo – Emporer. Named for the Emporer Penguin, which can dive to depths of 1,800 feet, the new ride will be the tallest, fastest, and longest dive coaster in Calfornia.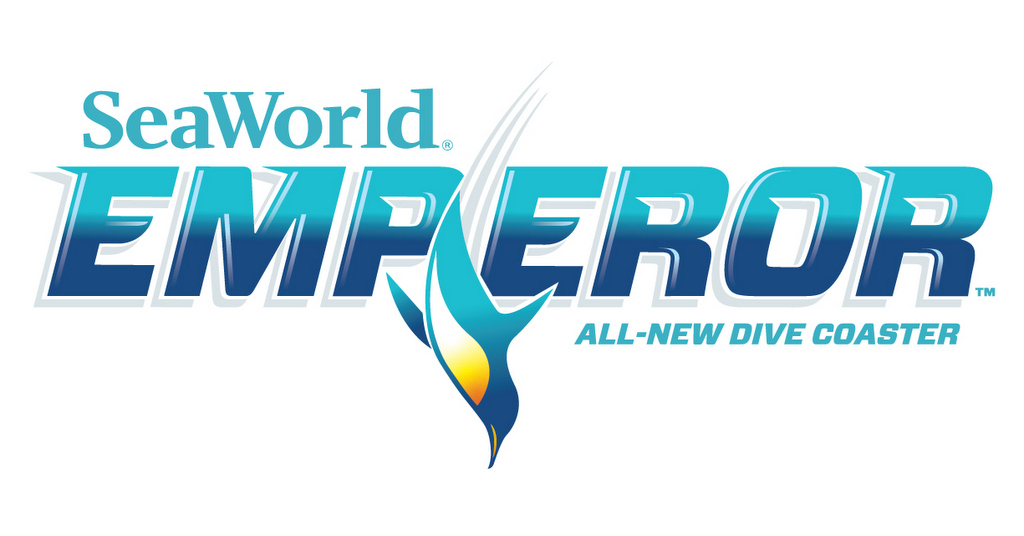 Climbing to 153 feet with feet dangling in the air, riders on Emperor will be suspended on a 45-degree angle at the crown of the ride before plunging down a 143-foot facedown vertical drop accelerating to more than 60 miles per hour! Riders will also experience inversions, barrel roll, Immelmann loop, hammerhead turn, and flat spin as they race along the nearly 2,500 feet of track. Each of the floorless ride cars will hold 18 riders in three, six-person rows. This is the first seating configuration of its kind in North America.


Also at the B&M booth was a car from Orion, which will debut at Kings Island in Ohio next year.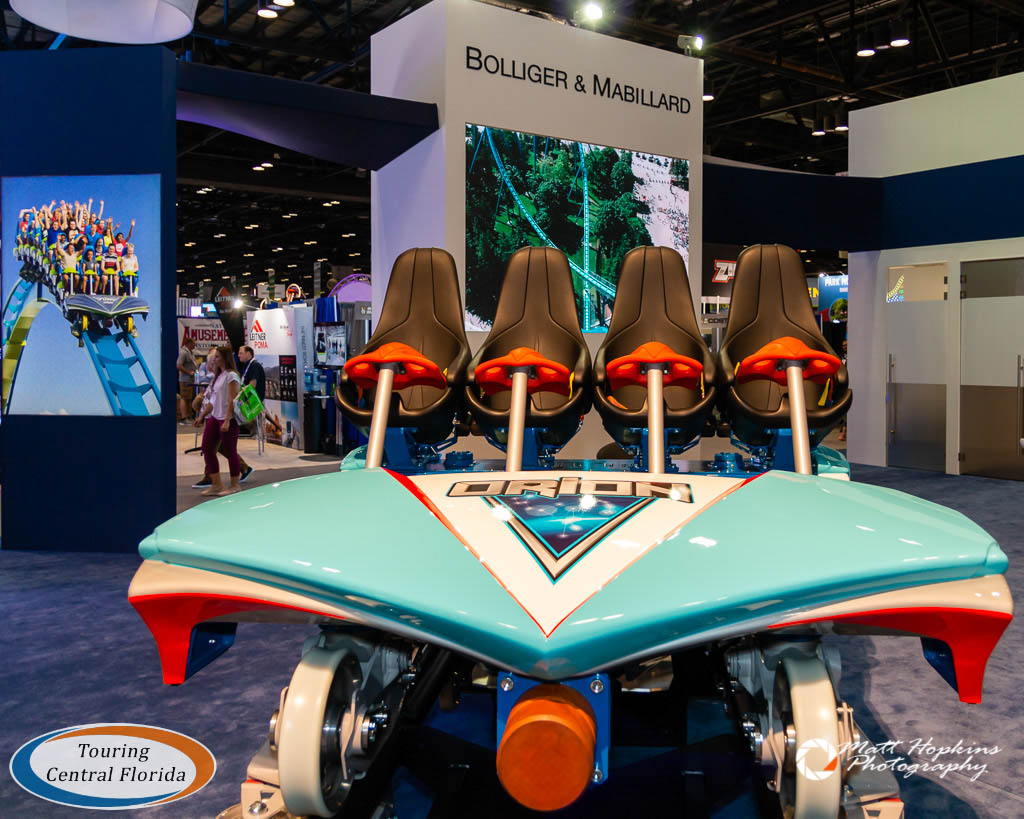 The first roller coaster at sea will debut in 2020 onboard the Carnival Mardi Gras. BOLT will feature 800 feet of track nearly 200 feet above sea level, and the all-electric ride vehicles will reach speeds up to 40 mph.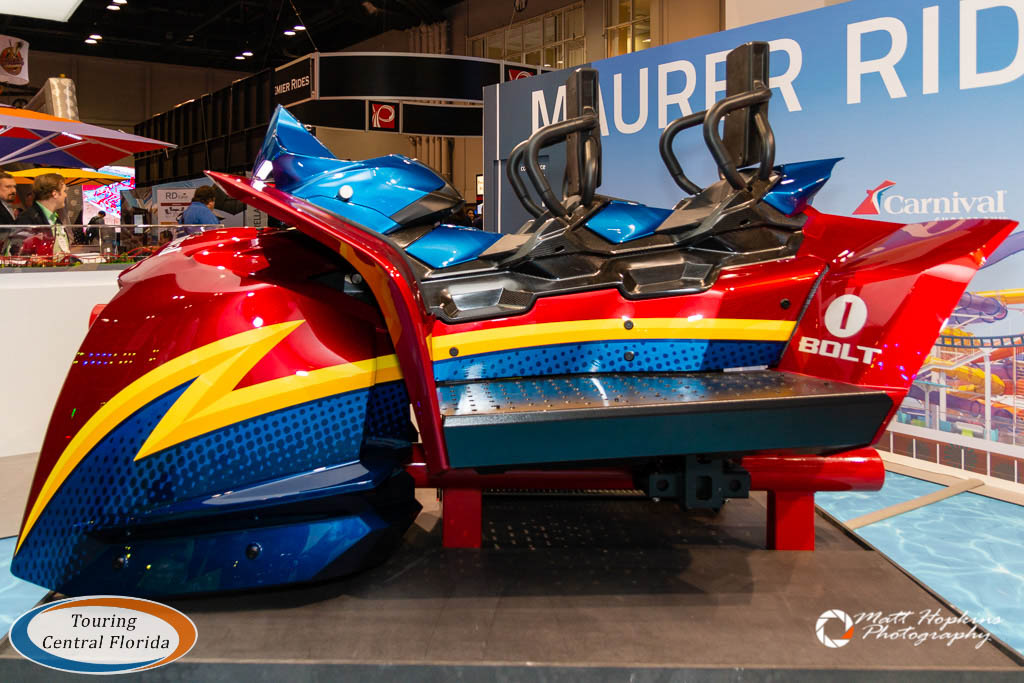 Attendees of the press conference at the IAAPA Expo were greeted by a surprise guest – Shaquille O'Neal, who serves as the cruise line's Chief Fun Officer. Carnival Cruise Line President Christine Duffy and Shaq were both on hand to debut the new coaster car at the Maurer booth.
---
Special thanks to photographer Matt Hopkins for many images in this article. Additional images provided by SeaWorld Parks & Entertainment and IAAPA.
For the latest on theme parks, attractions and more across the region, be sure to follow Touring Central Florida on twitter @androckb, @JacobTouringCe1, @TourCentralFL, and give our facebook page a like.