Iron Gwazi at Busch Gardens Tampa Bay continues to grow, with Rocky Mountain Construction (RMC) crews busy assembling the hybrid roller coaster set to open at the park in 2020. Since our last update, RMC and other crews have been busy across the site installing track, supports, and working on the station & queue.
Work on the massive lift hill structure recently began, with Busch Gardens sharing an image of the first section installed on Monday, October 14.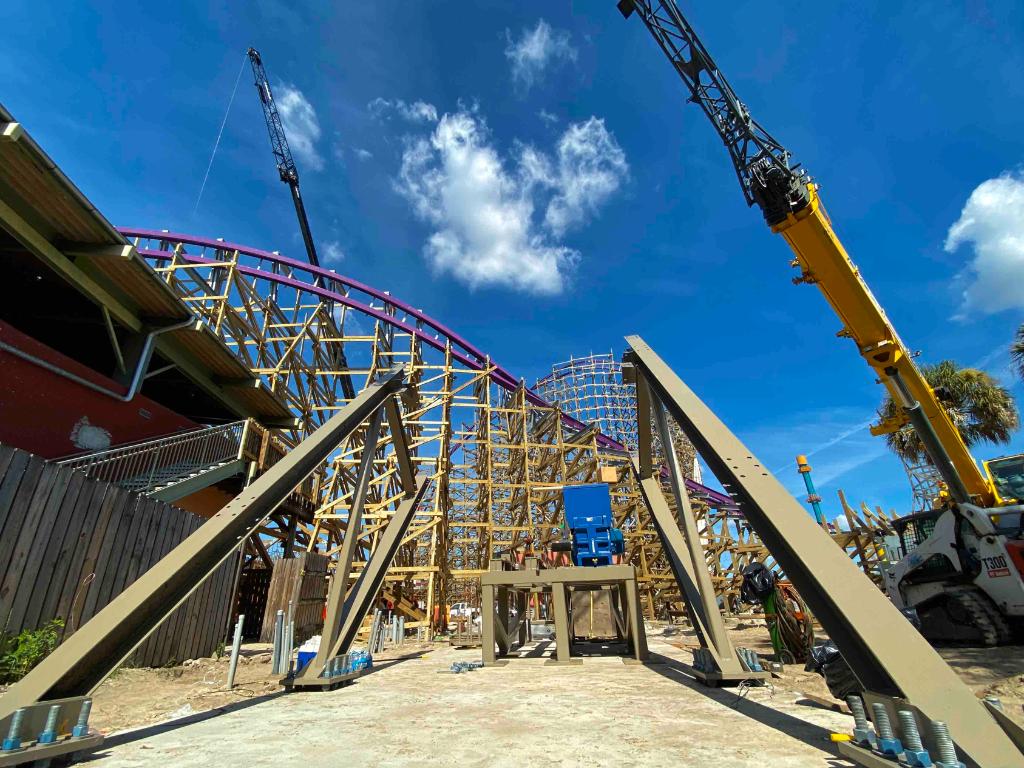 Since then, work has continued with one of the lift hill towers now visible above the construction site.
The new lift hill sections join track installed over the station area.
From different angles around the park, track and structure can be seen crisscrossing, inverting and diving. And there's still much more to come.
Back up front, we saw crews working on the station area. The first section of track coming off of the platform was recently installed, and crews today were doing a bit of demolition at the edge of the station.
The last couple of queue structures are getting their new faux thatched roofing. They join several other queue structures, station, entrance, and the Watering Hole in receiving new roofs.
Be sure to check back on the site and follow our social media channels (linked below) for the latest on Iron Gwazi at Busch Gardens Tampa Bay. As always, all photos in this update were taken from guest areas.
---
Thanks to photographer Matt Hopkins for several of the images used in this article.
Join in the conversation on social media using #IronGwazi, #2020Rising, #RMCGwazi and #BGTProject2020. For the latest on Busch Gardens Tampa and other theme parks, attractions and more across the region, be sure to follow Touring Central Florida on twitter @androckb, @JacobTouringCe1, @TourCentralFL, and give our facebook page a like.