Demolition work continues on Gwazi at Busch Gardens Tampa Bay as Rocky Mountain Construction (RMC) converts the former wooden beast into a hybrid roller coaster, set to open sometime in 2020. The yet unnamed coaster is expected to break three world records when it opens – see our recent article about the park's announcement for more details.
Since our last update, the park filed a case with the Federal Aviation Administration (FAA) for Gwazi's replacement, which was first reported by Coaster Kings earlier this week. The public filing doesn't have much detail, but does note the structure will have a maximum height of 210 feet.




On Wednesday, a bright sunny day revealed RMC is still busy with the demolition portion of the project. The large crane that has been all over the site was parked along the former Tiger side lift hill of Gwazi – or at least what's left of it at this point.
As you can see, a majority of the lift hill has been demolished, with just some of the support structure remaining around the top of where the lift hill stood.
The crane was being used to hoist up large sections of support structure that were being cut apart by crews today.
Over on the former Lion side lift hill, it's a different story so far. Gwazi's exit area and former gift shop have been walled off, and large banners have been added.
The lift hill itself remains largely intact. We recently saw a worker on the hill removing what looked to be electrical conduit. Based on some hanging wires and tubes that can be seen near the top of the hill, that's likely what was being done.
The rest of the structure, track and even the chain still look to be in place as of Wednesday.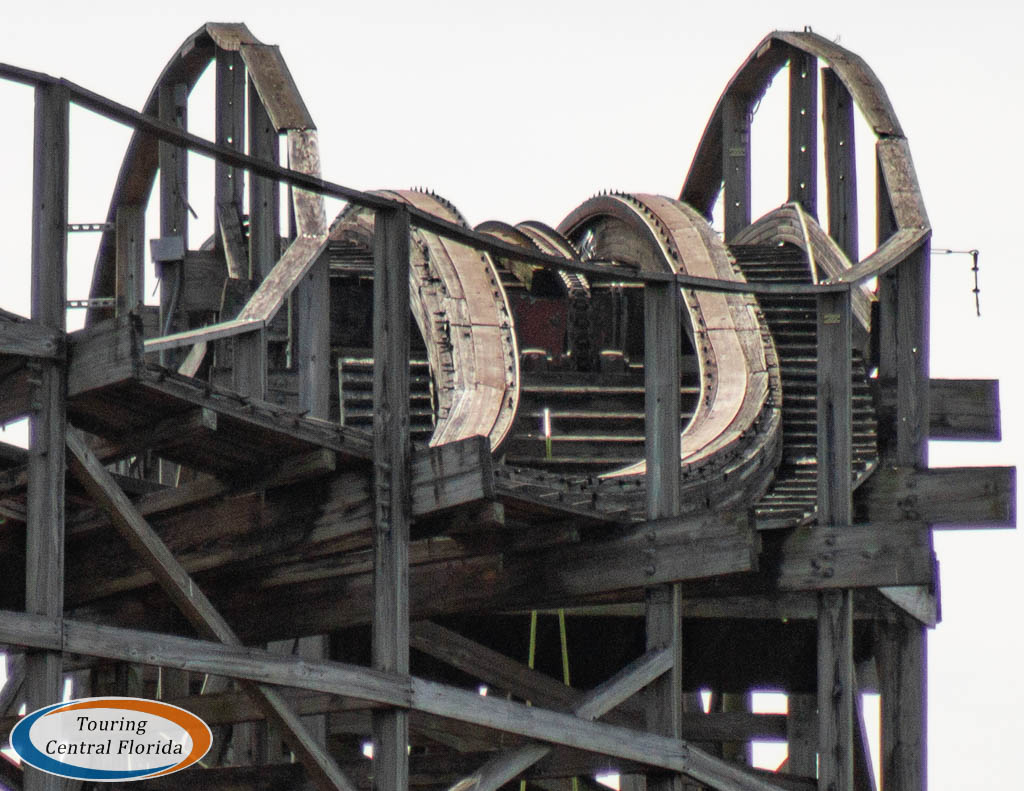 Elsewhere around the Gwazi site, recent progress can be seen from different angles, showing sections where the track has been removed but most of the structure remains. There are also a number of areas out of guest site (from the ground at least) where the structure has been removed right down to the footers.
Back out front around the station and queue area, work has started on those structures as well, with one of the roofs now removed.
Be sure to follow our social media channels (linked below) and check back to the site for more updates on Gwazi in the future. As always, all photos for this update were taken from guest areas within the park.
---
Join in the conversation online with #2020Rising, #BGTProject2020 and #RMCGwazi. For the latest on Busch Gardens Tampa and other theme parks, attractions and more across the region, be sure to follow Touring Central Florida on twitter @TourCentralFL, @androckb, @Emmet_TCF, @JacobTouringCe1, and give our facebook page a like.