Busch Gardens Tampa has introduced a brand new event to kick off the new year – Three Kings Celebration, taking place through January 6, 2018, beginning at 3 p.m. each day. The event combines Latin traditions and live entertainment honoring the traditions of the three wise men. Many of the offerings from Christmas Town, including the million twinkling lights, are also part of the the new Three Kings Celebration.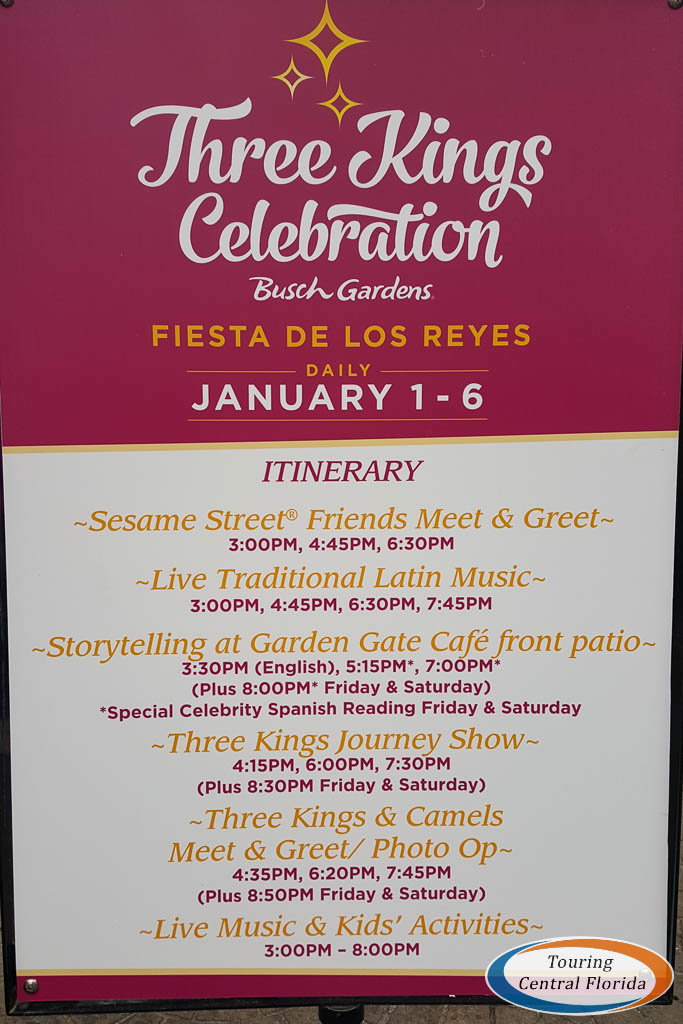 Most of the entertainment and other offerings that are part of Three Kings Celebration take place in the area around Garden Gate Cafe, also known as Three Kings Oasis during Christmas Town, located within the Bird Gardens section of the park. There are a number of banners and signage along the paths in the area.
Several times each evening, a special performance of the Three Kings Journey takes place on the elaborate outdoor stage in the area.
Immediately following the performances, a meet and greet with the Three Kings and their camels takes place across from the stage.
Additional live entertainment throughout the evening includes a quartet that sings traditional Latin carols and songs, both in Spanish and English; a violinist at the main Three Kings stage; and a storyteller on the terrace of the Garden Gate Cafe who tells the tale of the Three Kings in both Spanish and English.
Children can also enjoy an arts and crafts area just outside Garden Gate Cafe, where they can decorate their own grass box. Characters from Sesame Street Safari of Fun also visit the area for meet & greets.
In addition to the entertainment, Latin cuisine is also offered as part of Three Kings Celebration. Over near Cheetah Hunt, the full service Serengeti Overlook Restaurant is hosting a Three Kings Buffet, with a number of Latin dishes on the menu. Back in the Garden Gate Cafe, there are also a couple of special options on the menu for the celebration – beef empanadas ($6.99) and Coquito, a spiced eggnog ($9.49).
Much of the Christmas Town event remains available to guests through the Three Kings Celebration as well. The over one million lights around the park will remain lit each evening. Christmas Town Village, which includes a number of booths offering shopping and dining, opens each evening at 5 p.m. Several of the shows, including Christmas on Ice, also continue to run this week. Santa, along with Rudoph and Friends, have all returned to the North Pole, so they won't be available to meet guests.
---
If You Go…
Three Kings Celebration
at Busch Gardens Tampa
Daily through Jan 6, 2018
Beginning at 3 p.m.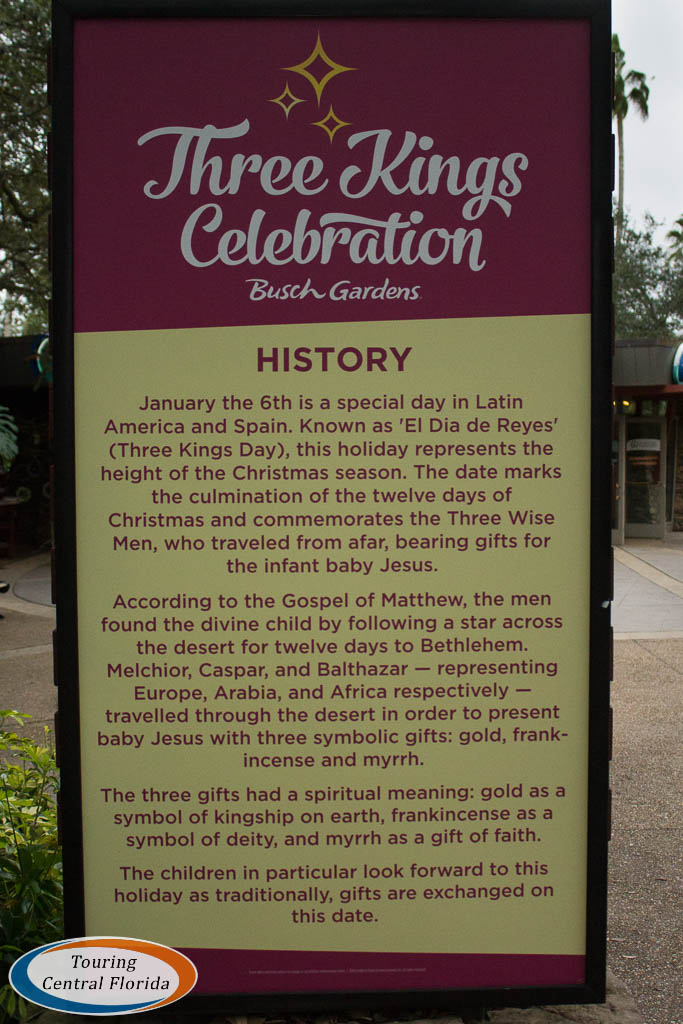 ---
For the latest on Busch Gardens Tampa and other theme parks, attractions, dining venues and more across the region, be sure to follow Touring Central Florida on twitter @TourCentralFL & @androckb, and give our facebook page a like.