SeaWorld Orlando revealed the first of 15 custom rafts for Infinity Falls at the IAAPA Attractions Expo 2017 held in Orlando this week. The new river rapids attraction opens Summer 2018. The 8-passenger raft features custom theming and decor resembling supplies found on real white-water rafting expeditions. The circular raft design puts riders face-to-face and allows friends and family to enjoy this exhilarating attraction together.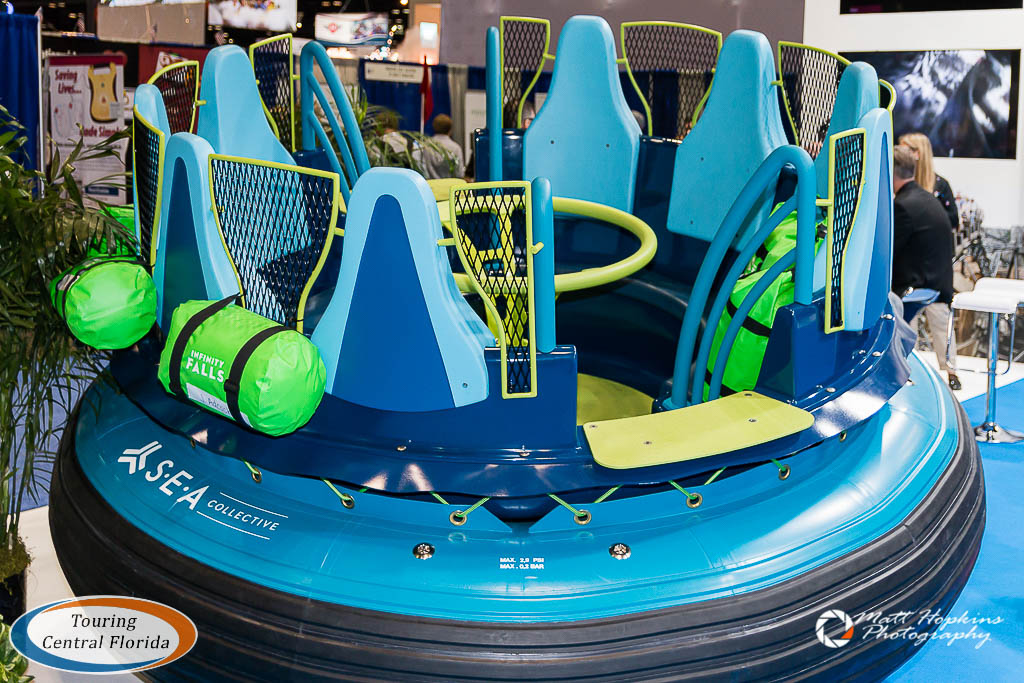 Aboard the raft, riders will embark on an adventure through a lush rain forest environment inspired by some of the world's most incredible freshwater ecosystems. The new attraction will feature the world's tallest drop on a river raft ride and allow visitors to experience the feel of exhilarating rapids. The ride will also feature an innovative elevator lift designed to transport the rafts to the top of the ride's 40-foot drop.
Infinity Falls will be the first attraction at SeaWorld to tell a story beyond the ocean and share a message of water conservation through the adventure of a white-water river expedition. This is just one example of the park's new "Park to Planet" initiative, a mission to help guests understand some of the challenges facing the planet and inspiring them to help.


The new attraction will be the centerpiece of a newly themed area designed to resemble the basecamp of explorers and scientists. After riding Infinity Falls, the entire family can explore the village and take part in interactive experiences that combine play with education to create a positive impact on freshwater ecosystems, reinforcing "Park to Planet" in real time. SeaWorld's Animal Ambassadors will also provide up-close encounters with animals native to South America.
---
For the latest on SeaWorld Orlando and other theme parks, attractions, dining venues and more across the region, be sure to follow Touring Central Florida on twitter @TourCentralFL & @androckb, and give our facebook page a like.