Halloween season is in full swing, and Howl-O-Scream 2017 at Busch Gardens Tampa Bay kicked off last Friday, September 22. The separate admission event runs on select nights through October 29, and features seven haunted houses, five scare zones, two shows, and much more.
We were invited to the opening night Media/VIP event, and received complimentary admission from the park; all opinions based on that visit are our own. It's also worth noting since it was opening night, there may be some changes before the second weekend based on operations and feedback, and that our opinion is based only on our individual experiences. That said, we felt it was the best opening night the event had in recent years, with most scare actors already settled into their roles and giving great performances.
---
There are two new haunted houses this year, joined by five returning ones. Getting the ax from last year is Zombie Mortuary, replaced by Demented Dimensions, and Circus of Superstition 3-D, replaced by Undead Arena: Live. The other five returning houses – Motel Hell, The Black Spot, Unearthed, Zombie Containment Unit 15, and Death Water Bayou are all in the same locations as last season.


In our opinion, Demented Dimensions is the best house in the lineup this year. While fans of Zombie Mortuary might go into it with a chip on their shoulder over its loss, a more objective approach should guarantee Demented Dimensions ends up at least in the top three for most guests. It does lack a cohesive theme as other houses have, but that's the fun of it – seemingly random dimensions that don't necessarily correspond to the room before or after it, but most of them effectively tell the story of what they are in the short time you pass through.
Most of the rooms have a huge amount of theming within them – it will certainly take several trips through to really appreciate it all. And it's worth pointing out Demented Dimensions is a long house. Like really, really long. You keep expecting to turn a corner and it to be over, and then there's still more to see. On the first night, scare actors were already pretty good at what they were doing, which will only improve as they learn what works and what doesn't.
Demented Dimensions also excels in its use of a varied number of effects and scare tactics. Even though its very long, the theming with different dimensions displayed in each room coupled with all of the different effects means it never feels stale. Your senses continue to be assaulted (in a good way) through the entirety of the house.
The other new house, Undead Arena: Live, definitely played second chair to Demented Dimensions in our opinion. For us, it was a bottom three house out of this season's lineup based on our run through on opening night. The facade (and the barker above taunting us as we entered) was better than the start of Demented Dimensions, but after that things went downhill. Unlike Demented Dimensions, and other houses like Death Water Bayou, Undead Arena: Live felt lacking in theming throughout much of the house.
Without giving away too much, as you enter the house a recording plays to choose a path, where apparently the idea is for your entire party to split up and each go through a different doorway. It's a bit of a confusing concept as normal protocol is to follow the person in front of you in a haunted house, not deviate and wander off. Most of our party went through one door, and one person took the direction of a scare actor and went through another. We ended up back together somewhere inside the house.
The concept has a lot of potential. If you go when we did near the end of the night and find it nearly empty, a small group could easily go in and split off individually and have a bit of an experience like Alone, the former up-charge house. The scare actors we encountered were enthusiastic and did a fine job, but it seemed like several more, along with better theming, could have made the house a lot better.
---
Three new scare zones join two returning ones this season at Howl-O-Scream 2017. In addition to the designated scare zones in the park, there is also a small scare zone at the entrance between the ticket booths, and several roaming hordes that pop up in other areas of the park throughout the night.
In our opinion, the best of the new scare zones was Class Deceased, located along the pathway leading into Nairobi from the Cheetah Hunt tower. The theming is good, but the scare actors here are what made it stand out. A mix of jump scares and some actors literally running up to you is what makes it stand out.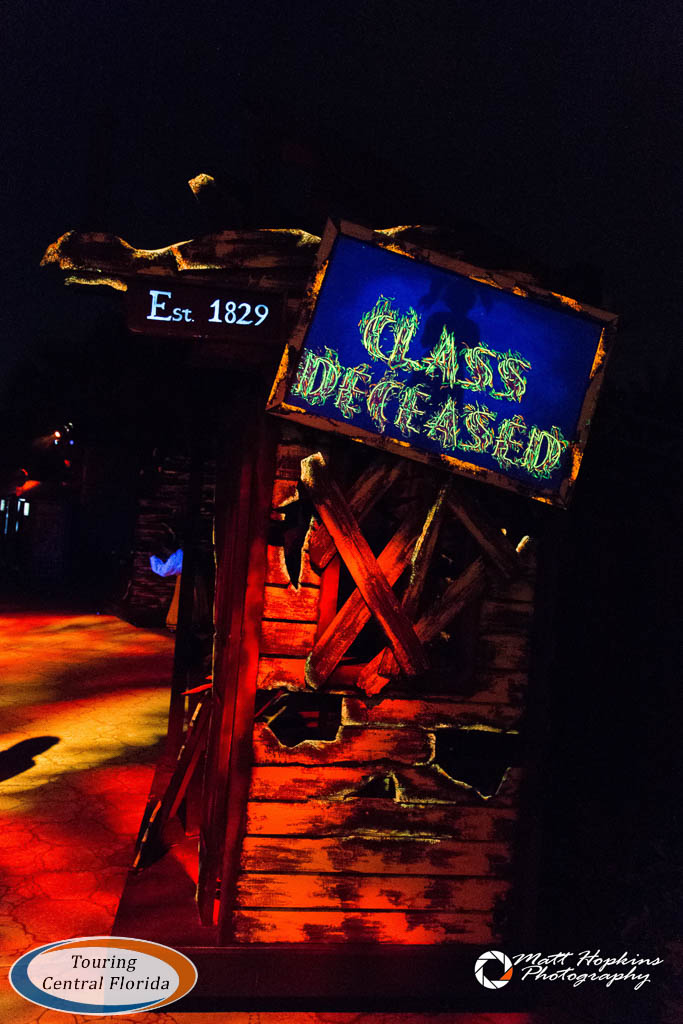 We also really enjoyed Wasteland, one of the two returning scare zones. The fact its along a relatively narrow walkway crowded with props gives it a bit of a claustrophobic feeling, and its packed full of a number of scare actors who like to get right in your face.
The Playground, the other returning scare zone, also gets high marks from us. The theming is minimal, so it's the scare actors who make it. The idea of being filled with children makes it unnerving, and we thought the actors did a great job when we walked through.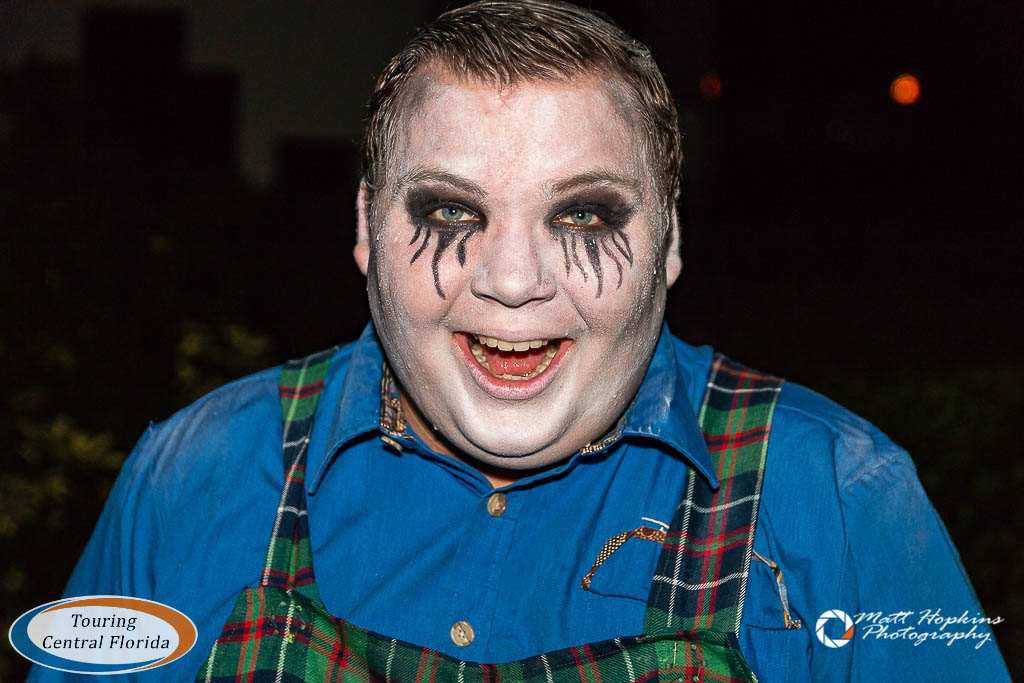 The winner of the night in terms of scare zone theming for us was Carnie Camp. The props and music alone make it downright creepy. But something was missing. It may have just been bad timing on our part, but there weren't too many scare actors around, and they didn't seem to have the heart of the other scare zone actors on opening night. (Although Matt's favorite photo of the evening came out of Carnie Camp!)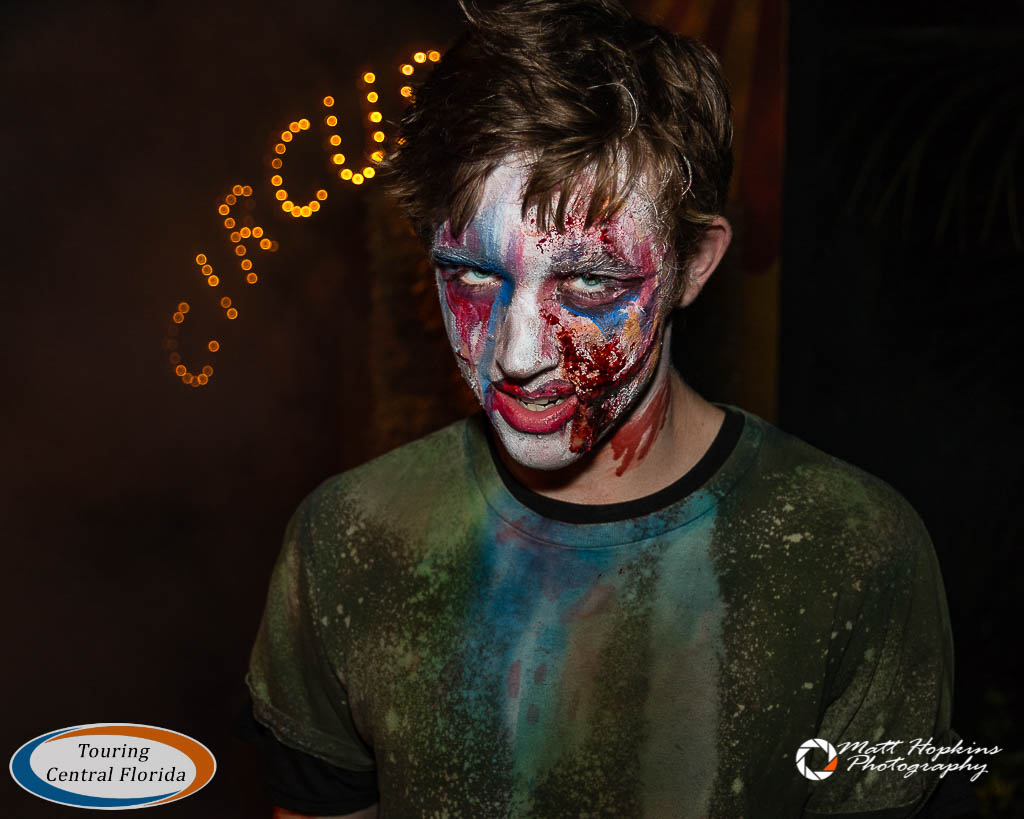 Meat Market is a well themed scare zone, and with some pretty good scare actors too. But in our opinion, it loses its impact because there are several drink, food and game booths mixed in with the scare actors. When I'm holding a drink in one hand, food in the other and just walked away from a booth, I don't particularly want to be bothered by a knife-wielding masked man. There's also few good places to stand out of the way, and no real place to sit to enjoy things like the grasshopper tacos.
---
For the first time in several seasons, Howl-O-Scream again has a second show. Mentalist Joshua Seth brings Inside Your Mind to Dragon Fire Grill, which is also the exclusive show during Fright Feast for those who purchase that Evil Upgrade. The Mentalettes join Seth on stage and in the audience as his assistants.
Inside Your Mind runs just over 20 minutes, and in that time Joshua Seth really does get inside your mind, and the minds of the people he selects to join him on stage. A few of the things he does are simplistic, which he freely admits to in explaining them, but others leave you scratching your head and wondering "how did he do that?" While its not a big production magic show (the entire performance takes place in front of the curtain with minimal props), Joshua Seth performs his craft well, and knows how to roll with the punches from the audience since its highly interactive.


The show mixes humor with a bit of creepiness, and fits well in the theme of Howl-O-Scream. Since the show feeds off the audience and the volunteers pulled from it, every performance will have a bit of a different feel. The one we caught on opening night was sparsely attended, so it didn't have quite the same effect I imagine a full house might have. That said, if you can fit it in your night of touring around Howl-O-Scream, it's worth a shot. And if you're doing Fright Feast (which I highly recommend, as its a great value), then you're already ahead of others who want to see and do everything they can at Howl-O-Scream.
Fiends has moved back to Castle Freakenstein, also known as Stanleyville Theater, after spending the last several seasons in Pantopia. While the core of the show hasn't really changed much, we felt it played better on the Stanleyville Theater stage, and the cast gave an all out performance at the show we caught at 11 p.m. It's fun, crude, and a little sexy – just what you'd expect from an adult oriented show known for its Naughty Nurses.
We look forward to hitting Howl-O-Scream again soon, and highly recommend it to anyone who is looking for a fun, exciting, and spooky night out to enjoy the Halloween season. One of the great things is because the event relies so heavily on scare actors, each night and even each time through a house or scare zone has the possibility of being a whole new experience.
---
Join in the conversation on social media by using #HowlOScream, #NowhereToHide, and #HOS17. For the latest on Howl-O-Scream 2017 at Busch Gardens Tampa and other theme parks, attractions, dining venues and more across the region, be sure to follow Touring Central Florida on twitter @TourCentralFL & @androckb, and give our facebook page a like.