A brand new airline is joining the industry and its inaugural market is Tampa Bay. Introducing itself as a "Seriously Nice" U.S. carrier from JetBlue founder David Neeleman, Breeze Airways recently unveiled its debut network, comprising 39 nonstop routes between 16 cities in the Southwest, Midwest, Southeast and Eastern US. The first flights operated between Tampa, Charleston, and Hartford, Conn., starting May 27, with remaining destinations to be added each week through July 2021.
"Tampa International Airport is proud and excited to be a part of this historic launch with Breeze Airways," TPA CEO Joe Lopano said. "Home to one of America's favorite airports known for excellent service and strong business partnerships, the Tampa Bay community is committed to supporting this innovative new airline."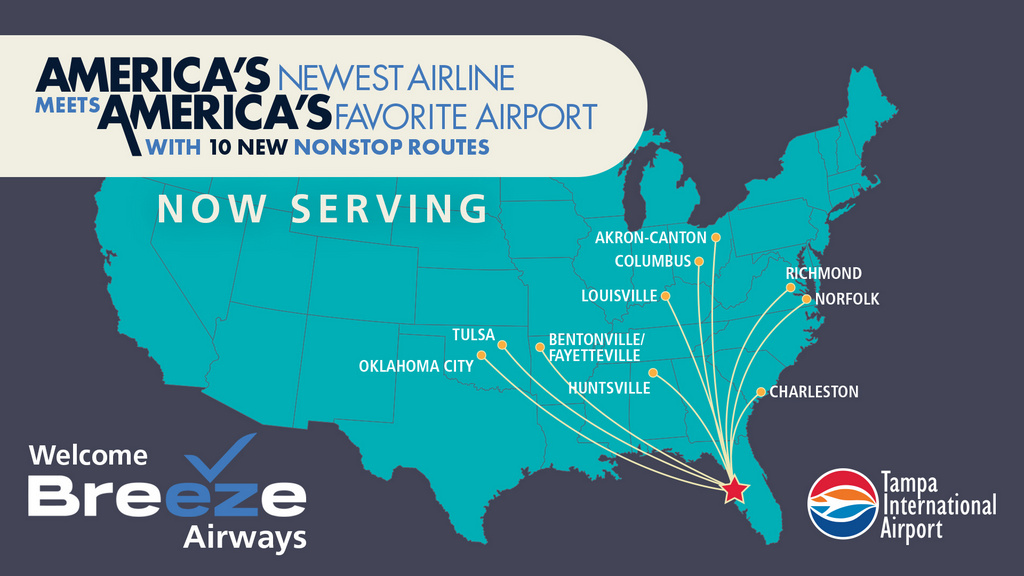 Breeze joins TPA's airline family at a time when the Tampa Bay market is experiencing rapid growth in its recovery from the pandemic and travelers are eager to return to the skies.
Breeze is Neeleman's fifth airline start-up, after JetBlue, Brazil's Azul, Canada's WestJet, and Utah-based Morris Air, which was later purchased by Southwest Airlines. Headquartered in Salt Lake City, Breeze will focus most flights from four markets: Tampa, Charleston, New Orleans, and Norfolk, Va.
Joined by an experienced team of industry veterans, Neeleman set out to build an airline that offers a great experience with low fares and high flexibility.
"Together, we created Breeze as a new airline merging technology with kindness," Neeleman said. "Breeze provides nonstop service between underserved routes across the U.S. at affordable fares. A staggering 95 percent of Breeze routes currently have no airline serving them nonstop. With seamless booking, no change or cancellation fees, up to 24-months of reusable flight credit and customized flight features delivered via a sleek and simple app, Breeze makes it easy to buy and easy to fly."
From Tampa Bay, Breeze will inaugurate service on 10 routes, most of which are currently not served: Charleston; Louisville; Oklahoma City; Tulsa; Norfolk; Bentonville/Fayetteville, Ark.; Akron/Canton, Ohio; Richmond, Va.; Columbus, Ohio; and Huntsville, Ala.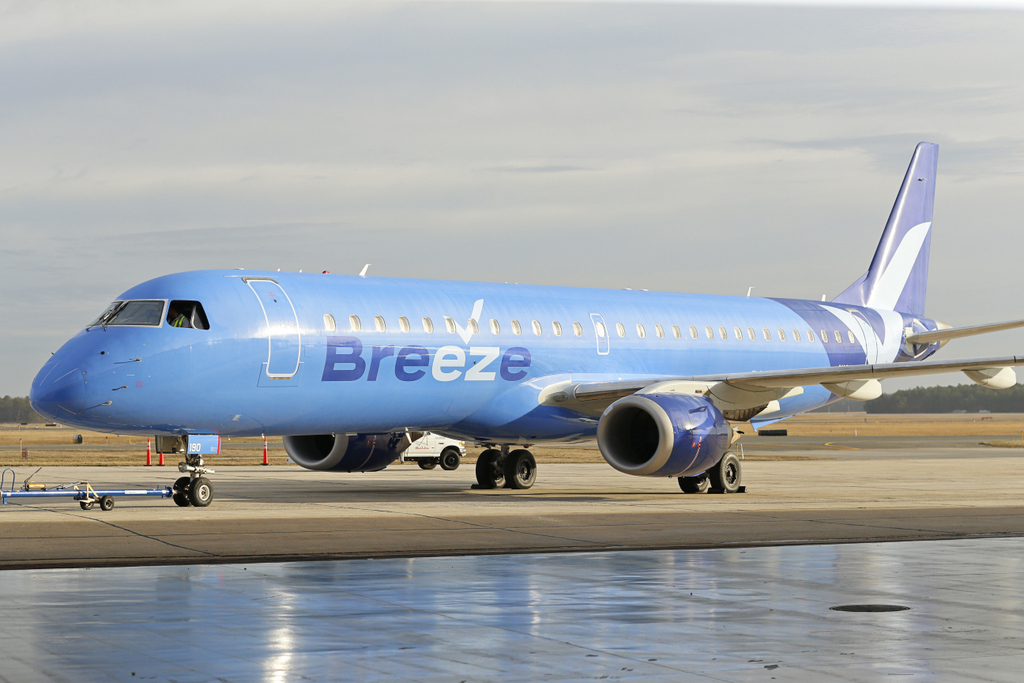 Breeze will operate 13 single-class Embraer aircraft this summer, flying routes with an average flight length of under two hours. The ten E190 jets will be configured to seat 108 guests while the three E195 aircraft will have 118 seats. Guests may choose from fares that include "Nice" regular seating, or "Nicer" seats with extra legroom. All Embraer aircraft will be a two-by-two seat configuration, so there are no middle seats.
Breeze also has ordered 60 brand new Airbus A220 aircraft that will be delivered one per month for five years, starting in October this year. The A220 routes, which will be announced this fall, all will be longer than two hours' flight time. The A220s will include a premium cabin, "Nicest," in a two-by-two configuration at the front of the plane. The remainder of the aircraft will feature a two-by-three seat configuration.
Breeze Airways' investment in our airport and region is the result of strong partnerships with our convention, tourism and economic development partners. Their support was vital in achieving this new service and TPA shares in their excitement about what this means for Tampa Bay.
"Breeze flyers will find a slice of paradise every time they touch down at TPA," said Santiago Corrada, President & CEO of Visit Tampa Bay. "As one of the hottest markets in the country, our tourism industry has made an amazing comeback and Breeze picked the perfect time to join the party."
Flights are now on sale at www.flybreeze.com and the Breeze app.
---
For news on theme parks, attractions, and more across the region, be sure to follow Touring Central Florida on Twitter @TourCentralFL, and like our Facebook page.