Most of the Orlando area water parks have reopened, just in time for spring break season and the increased crowds that are expected in the coming weeks. Volcano Bay at Universal Orlando, Blizzard Beach at Walt Disney World, and Island H2O Live! join SeaWorld's Aquatica for fun in the sun and water once again.
Universal's Volcano Bay – Universal Orlando Resort's innovative and incredibly-immersive water theme park – began welcoming guests again on Saturday, February 27 following its four-month seasonal closure.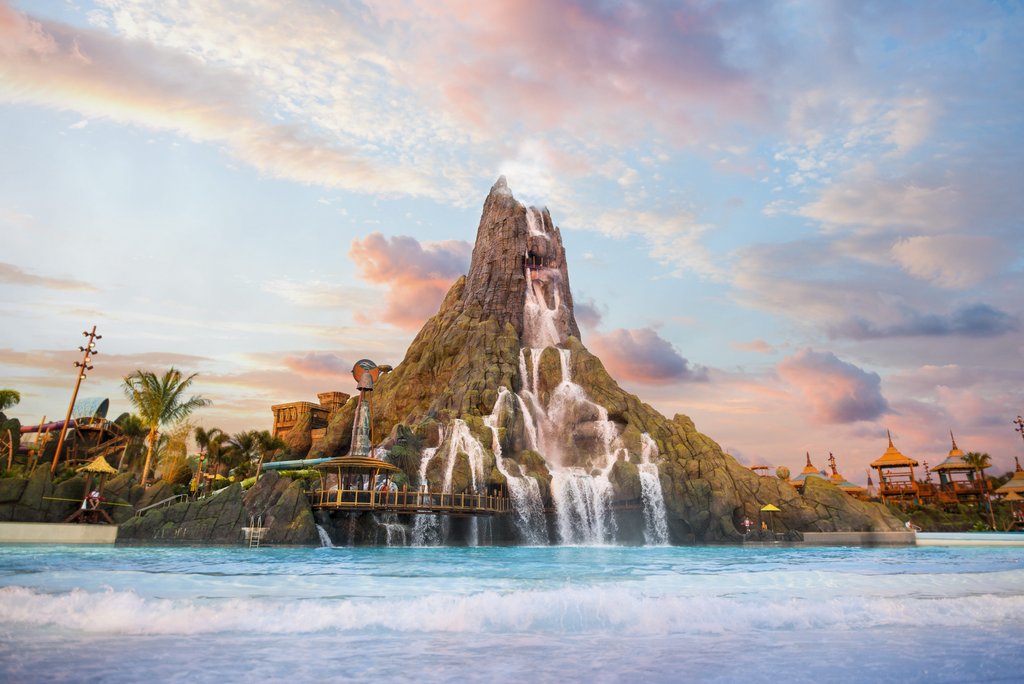 One of three amazing theme parks at Universal Orlando, Universal's Volcano Bay is a tropical oasis filled with experiences that offer everything from ultimate thrills to tranquil relaxation – all surrounding a massive 200-foot volcano nestled right in the center of the park. Upon entering the water theme park, guests are immediately transported to a one-of-a-kind paradise where they can relax on the sands of Waturi Beach, drift leisurely down Kopiko Wai Winding River, brave a 125-foot drop alongside the volcano on Ko'okiri Body Plunge, enjoy interactive "Tap to Play" experiences throughout the park with their innovative TapuTapu wearable, and so much more.
Volcano Bay's enhanced health and safety procedures reflect the guidelines that debuted last year with the reopening of Universal Orlando's theme parks. Key measures include temperature screenings for guests and team members, limiting capacity at the park and on attractions – including rivers and pools, enforcing social distancing, aggressive cleaning and disinfection procedures, and requiring face coverings inside restaurants, retail locations and when entering and exiting the park. Face coverings are not permitted on the slides and in the pools. For complete information on Universal Orlando's health and safety procedures, click here.




Over at Walt Disney World Resort, Blizzard Beach began welcoming guests again on March 7. From Summit Plummet with a nearly vertical 12-story drop to Tike's Peak polar-themed water play area for kids, the water park has a number of features the whole family can enjoy.
Disney's Blizzard Beach Water Park is operating in alignment with the health and safety protocols implemented throughout the Walt Disney World Resort, including reduced capacity, temperature screenings, physical distancing markings, and face coverings. Face coverings will be required for each guest age 2 and up, including but not limited to, at the park entrance and exit, retail areas, and food and beverage ordering areas. Face coverings will not be permitted while experiencing water slides or in the water. You may also remove your face covering while actively eating or drinking, but you must be stationary and maintain appropriate physical distancing.
At this time a park reservation is not required to visit a water park, however, reservation requirements are subject to change. Water parks are subject to rehabilitation, seasonal, weather, and capacity closures. For more information on Blizzard Beach, visit the park's website.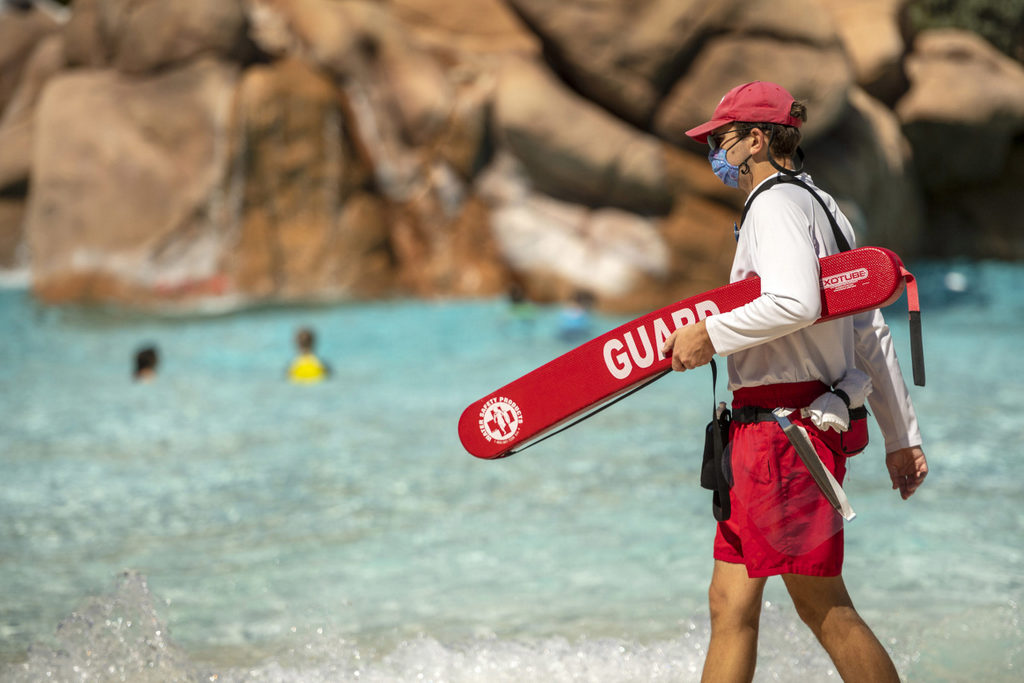 Typhoon Lagoon, Disney's other water park, remains closed at this time.




Orlando's newest water park Island H2O Live! reopened for the season on March 13. Located in Kissimmee, Island H2O Live! is the first of its kind and themed completely around social media. Streaming and posting your experience is all a part of the fun — simply sync up your wristband with the water park's app and make some waves!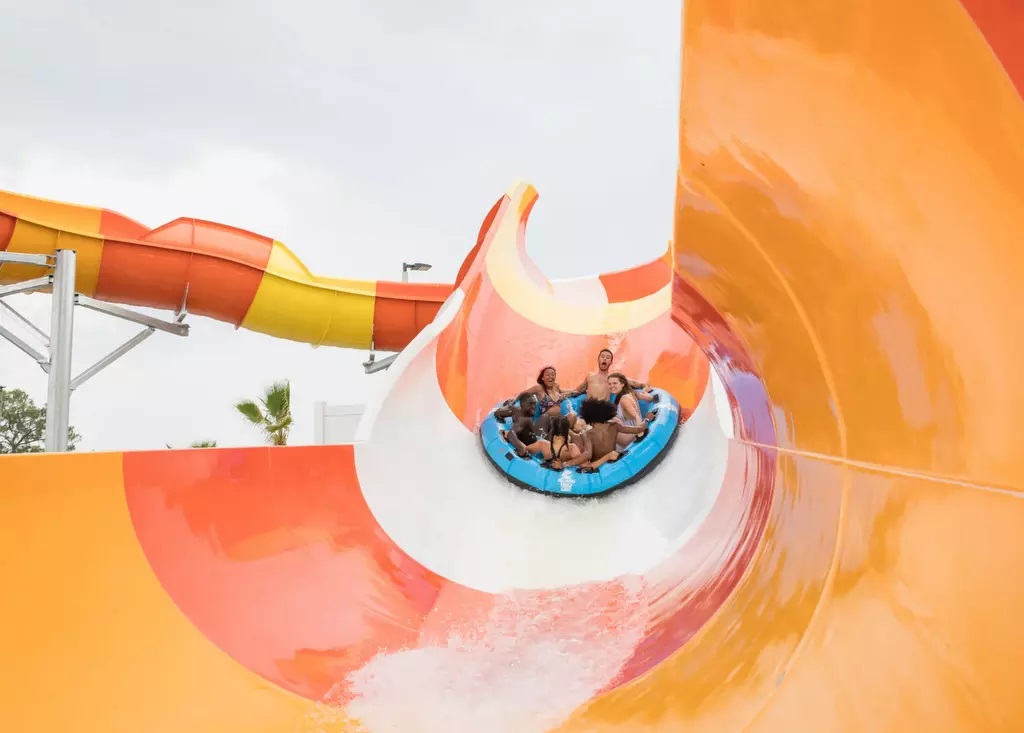 Reservations are not required, but admissions will stop if the park reaches 50% capacity. Guests are required to wear face coverings in the ticketing area and are recommended to wear them while in food service lines and the restrooms. Guests are reminded to maintain physical distancing between parties, and markers are available in some locations to serve as a reminder. To see all of the current safety guidelines, visit the park's site.




Of course, there's one major Orlando area water park that didn't have a seasonal closure and remains open – Aquatica. SeaWorld's water park has remained open all winter long (weather permitting) and continues to operate daily. Enhanced safety and health measures include temperature checks, physical distancing markers, and required face coverings in certain areas including while entering/exiting the park, in gift shops, and while in line at food & beverage outlets.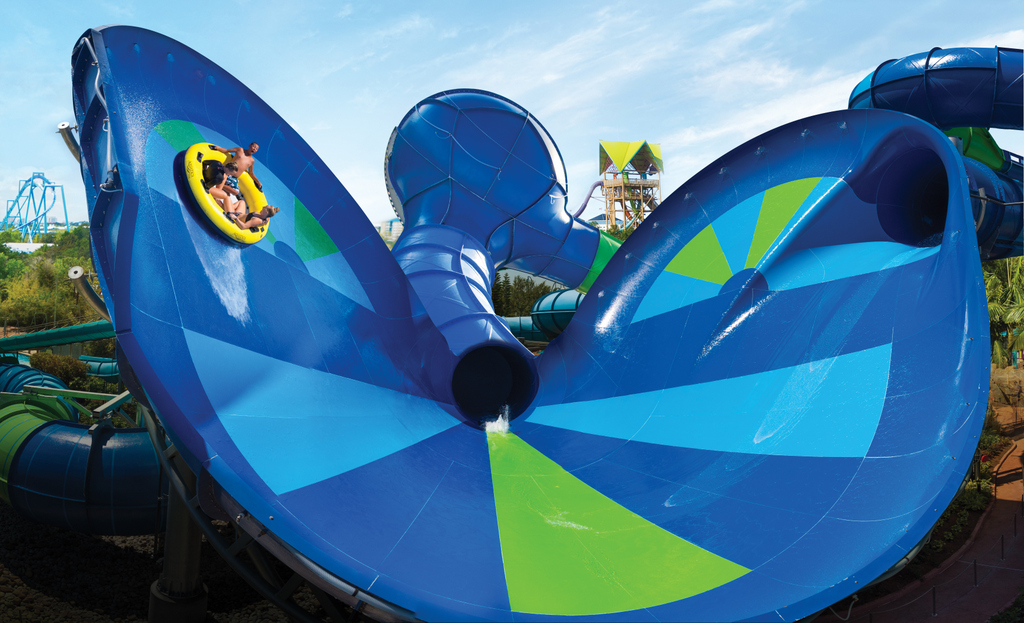 Unlike the other Orlando water parks, Aquatica requires a free reservation to visit (single-day ticket purchases and other select packages automatically include reservations). Recently, Aquatica has rolled out a new morning and afternoon reservation program on select days, allowing guests to choose when they want to visit to help spread out crowds. Options on those days include a 9 a.m. to 2 p.m. reservation or a 3 p.m. to 8 p.m. slot. Guests planning to stay the entire day should make reservations for both time periods. If capacity allows, those guests with only morning reservations will be allowed to stay past 2 p.m.
For more information and to make your free reservations at Aquatica Orlando, visit the park's website.




---
For more news on theme parks, attractions, and more across the region, be sure to follow Touring Central Florida on Twitter @androckb & @TourCentralFL, and like our Facebook page.