For the first time, scientists with the Coral Rescue Project and the Southeast Florida Coral Reef Restoration Hub have taken offspring from rescued corals, and successfully outplanted them on Florida's Coral Reef, bringing together two large collaborative projects focused on protecting and restoring Florida's coral populations
"This is a huge milestone," said Dr. Debborah Luke, Senior Vice President of Conservation at The Florida Aquarium. "This was always our goal when we partnered with scientists from around the state for the Coral Rescue Project and this gives us hope that we can continue to provide corals for reef restoration on Florida's Coral Reef for years to come."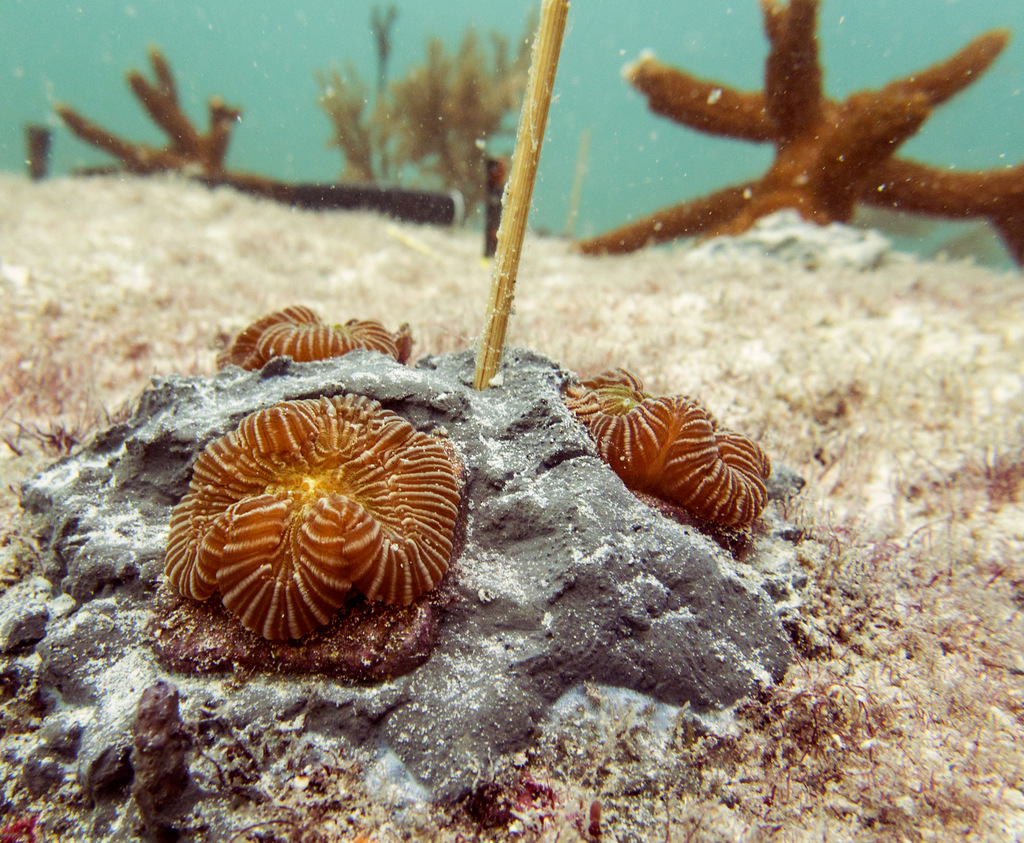 The Coral Rescue Project is a multi-agency effort led by Florida Fish and Wildlife Conservation Commission (FWC) and the National Oceanic and Atmospheric Administration (NOAA) Fisheries in response to the outbreak of stony coral tissue loss disease, which is affecting more than 20 species of reef-building coral.
As part of the project, boulder brain corals (Colpophyllia natans) were removed from Florida's Coral Reef in 2018 before they were exposed to the disease. Those corals then spawned in human care at The Florida Aquarium's Center for Conservation in Apollo Beach. After 14-months, the juvenile coral offspring were outplanted on Florida's Coral Reef near Key Biscayne by scientists at The University of Miami and FWC.




The outplanting work was conducted as part of the Southeast Florida Coral Reef Restoration Hub, which brings together universities and non-governmental organizations to produce and outplant thousands of corals across numerous reef sites in southeastern Florida. Many of these corals will be the result of coral spawning, or sexual reproduction.
"The Florida Aquarium was able to get boulder brain corals to spawn in 2019 and again in 2020 indicating that repeatable sexual reproduction is possible even when the corals are held outside of the ocean environment for extended periods of time," said Keri O'Neil, lead scientist with The Florida Aquarium's Coral Conservation Program. "Outplanting these juvenile corals completes the cycle and is a huge leap forward. Large collaborative projects like this will ultimately be necessary to restore Florida's Coral Reef, and serve as a model for other efforts in the Caribbean and worldwide."
The parent colonies were originally collected to preserve genetic coral diversity in response to the stony coral tissue loss disease outbreak that has been causing widespread coral mortality along Florida's Coral Reef – the world's third-largest barrier reef. In total, over 1900 corals were rescued and are being held at 22 holding facilities across the country, 18 of which are accredited by the Association of Zoos and Aquariums.
The 375 outplanted boulder brain corals will be monitored for growth, survivorship, and potential exposure to stony coral tissue loss disease.
Coral Rescue Project partners include FWC, NOAA Fisheries, the Association of Zoos and Aquariums, and 22 individual holding facilities. The Southeast Florida Coral Reef Restoration Hub is a partnership between The Florida Aquarium, the University of Miami Rosenstiel School, SECORE International, Nova Southeastern University, and the Frost Museum of Science.  Funding for the coral spawning and rearing was provided by the Paul G Allen Family Foundation and funding for the coral outplanting was provided by the National Fish and Wildlife Foundation.




---
For the latest on The Florida Aquarium in Tampa and theme parks, attractions, and more across the region, be sure to follow Touring Central Florida on Twitter @androckb & @TourCentralFL, and like our Facebook page.