SeaWorld Orlando's annual spring event, the Seven Seas Food Festival, resumes this summer in a modified format at SeaWorld Orlando for guests to enjoy select fan-favorite food options in a safe environment. Each week, guests can sample popular food and drink features from one of the Seven Seas Food Festival markets featuring international street food traditions, exclusively at SeaWorld's Lakeside Patio located near Mako.
The event will run Fridays through Sunday from July 17 through August 9, 2020. The Seven Seas market will be open from 11:30 A.M. until one hour before park closing on event days.
Guests who have a 2020 Seven Seas Food & Beverage Lanyard from the spring festival can redeem punches at all weekend market locations, and select culinary locations throughout the park. All menu items will also be available for purchase a la carte.




Weekend Markets
Each weekend will feature a different theme with several culinary options served at the market at SeaWorld Orlando's Lakeside Patio.
Gluten-Free     
Veg-Friendly     
 Vegan
July 17 – 19: Mexican Market
Taco Al Pastor 

Beef topped with Fresh Pineapple, Cilantro, Onion, and Fresh Green Salsa
Mexican Roasted Corn 

Roasted Corn with Mayo, Queso Fresco, Cilantro, Chili Powder, and Lime
Chalupas Tostada 

Pulled Chili Chicken, Green Salsa, Queso Fresco, and Cilantro on a Grilled Corn Tortilla
Dulce De Leche Empanada 

Filled with Caramel and Queso, Drizzled with Caramel Sauce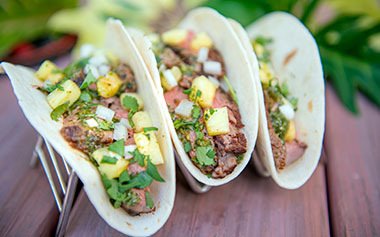 July 24 – 26: Italian Market
Palermo Fontina Cheese Meatballs
Homemade Meatballs Stuffed with Fontina Cheese and Fresh Herbs in Pomodoro Sauce
Penne Carbonara 

Egg, Pancetta, Peas, and Cheese in a Cream Sauce
Caprese Salad 

Drizzled with Balsamic Reduction and Olive Oil
Cannoli 

Filled with Italian Cream and Mascarpone Cheese, Dipped in Pistachios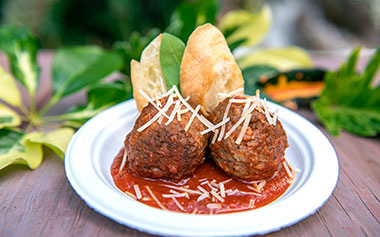 July 31 – August 2: North Atlantic Market
New England Lobster Roll
Served on a Buttered Roll
Cheddar Hush Puppies
Cornmeal Fritters Served with Smoked Bacon and Onion Relish
Fish and Chips
Served with Homemade Tartar Sauce
Blueberry Shortcake 

Topped with Fresh Whipped Cream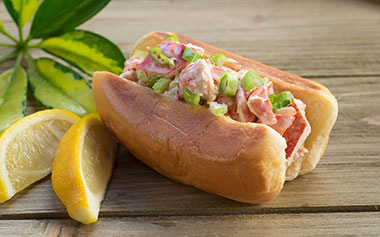 August 7 – 9 All-American Market
Tennessee Whiskey BBQ Chicken Wings
Crispy Wings Tossed in a Tennessee Whiskey BBQ Sauce
Chicken and Waffle
Drizzled with Maple Syrup and Sriracha
Brisket Nachos 

Topped with Queso Fresco, Cheddar Cheese, Jalapeños, and BBQ Crema
Spicy Watermelon Salad 

Tossed in a Sweet Thai Chili Sauce with Fresh Herbs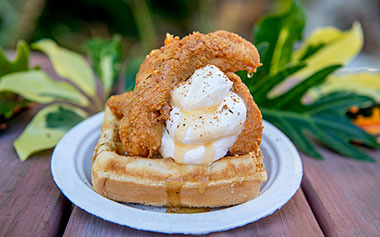 Menu items will be available while supplies last. New lanyard sales are not available. For more information on the event, see https://seaworld.com/orlando/events/taste-of-seven-seas/.
Safety​
SeaWorld Orlando is committed to the health and safety of our guests, employees, and the animals in our care. The park has worked diligently with state and local health officials, outside consultants, and attraction industry leaders to enhance our already strict health, safety and cleanliness standards. These protocols and guidelines will be modified based on evolving industry standards and methodologies, public health, and governmental directives, and advancing scientific knowledge on the transmissibility of COVID-19.
SeaWorld Orlando is excited to continue to provide our guests with fun, inspiring, and memorable experiences, while addressing important health and safety needs during this time. For detailed information about the measures that guests can expect when visiting the resort, including key operational changes, visit Seaworld.com/orlando/safety.
Best Way to Play
The best way to experience SeaWorld's Taste of Seven Seas Food Festival and special events like the upcoming Craft Beer Festival is with a SeaWorld Orlando Annual Pass or Fun Card. For a limited time, Florida residents can become a Pass Member for as low as $10.25 per month, with no down payment. Pass Members receive 12 months of unlimited visitation and park benefits and rewards including FREE parking*, in-park discounts, and much more. With a 2020 Fun Card, park-goers receive unlimited access to visit the park again and again through December 31, 2020¹. For more information, park hours and to purchase tickets, visit SeaWorldOrlando.com.
*Some restrictions apply
¹ Black-out dates apply
---
For the latest on SeaWorld Orlando and other theme parks, attractions, and more across the region, be sure to follow Touring Central Florida on twitter @androckb & @TourCentralFL, and like our Facebook page.