SeaWorld has announced a new event for one weekend only! Experience the fun, nostalgia, and magic of movies under the stars with SeaWorld's park-and-view drive-in movie theatre. In addition to locally sourced food trucks offering plenty of snack options, back by popular demand, the park's spectacular fireworks display "Light up the Sky" will be shown Friday (July 10) and Saturday (July 11) night for both park guests and moviegoers to enjoy. "Light up the Sky" will also take place Sunday (July 12) evening exclusively for those guests attending "Flicks & Fireworks."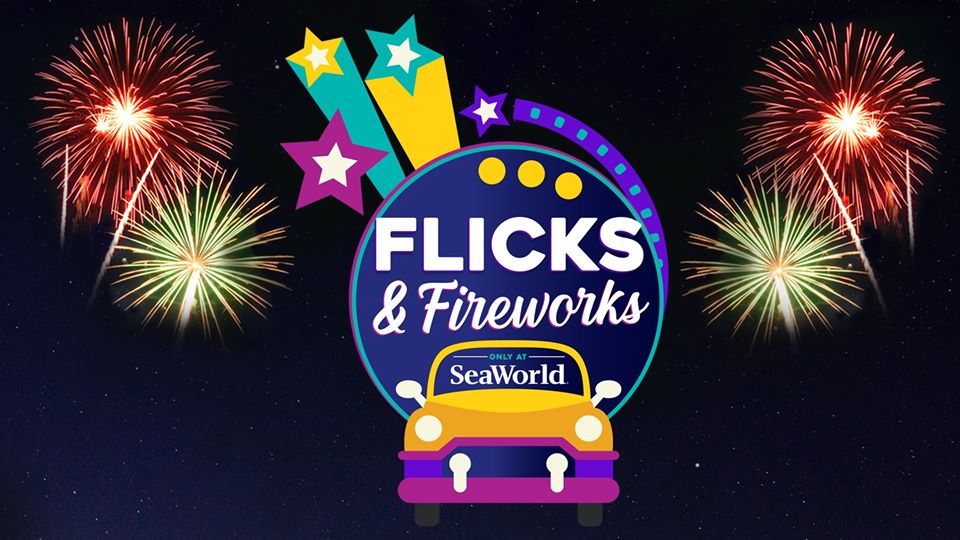 Reservations are available for booking now for festivities taking place July 10-12. Each evening, food truck service will begin at 7:45 p.m. with movies immediately following the 9:00 p.m. fireworks display.
Flicks include:
July 10: ​Shark Tale, rated PG
July 11:​ A Dog's Purpose, rated PG
July 12: Karate Kid, rated PG
Access to SeaWorld Orlando's "Flicks & Fireworks" requires a separate guest reservation in addition to the regular reservation required for park access via guest ticket or pass. "Flicks & Fireworks" is $50 per vehicle (SeaWorld Orlando Annual Pass members receive a 20 percent discount). Your "Flicks & Fireworks" reservation includes a reserved guest parking spot in an exclusive lot with access to locally sourced food trucks and perfect viewing of SeaWorld's fireworks display, all from the comfort of the guest's personal vehicle.  For guests who do not wish to visit SeaWorld during the day, Flicks & Fireworks is also available for purchase without park admission and requires a separate reservation.
Get more details and purchase here: https://seaworld.com/orlando/events/flicks-and-fireworks/




SeaWorld Orlando is committed to the health and safety of our guests, employees, and the animals in our care. The park has worked diligently with state and local health officials, outside consultants, and attraction industry leaders to enhance our already strict health, safety and cleanliness standards. These protocols and guidelines will be modified based on evolving industry standards and methodologies, public health, and governmental directives, and advancing scientific knowledge on the transmissibility of COVID-19. SeaWorld Orlando is excited to continue to provide our guests with fun, inspiring, and memorable experiences while addressing important health and safety needs during this time.
For detailed information about the measures that guests can expect when visiting the resort, including key operational changes, visit Seaworld.com/orlando/safety.
---
For the latest on SeaWorld Orlando and other theme parks, attractions, and more across the region, be sure to follow Touring Central Florida on twitter @androckb & @TourCentralFL, and like our Facebook page.