On Wednesday, June 24, the Central Florida Zoo & Botanical Gardens was presented with a check for $13,000 by former Sanford Mayor, Jeff Triplett, General Manager of Mayfair Country Club, Pete Sands, and Mayor of Longwood, Matt Morgan.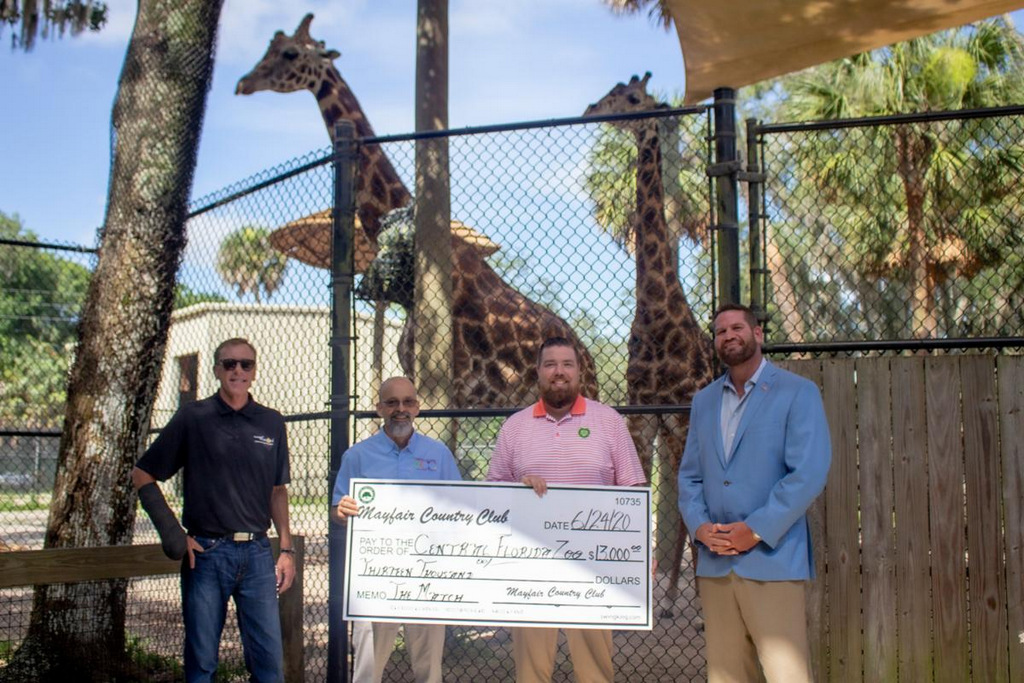 During the Zoo's closure, to help slow the spread of COVID-19 (coronavirus), Pete Sands of Mayfair Country Club challenged then-Sanford Mayor, Jeff Triplett to a 9-hole game of golf. The Match was promoted through social media and followers were asked to "vote" on who they thought would win, by making a donation to the Zoo. The event grew from there, and over the course of 6-weeks, individual and corporate sponsors joined in, with the City of Sanford, Mayfair Country Club, and the Sanford Chamber of Commerce, to help raise vital funds for the Central Florida Zoo & Botanical Gardens.
The donations received through The Match are significant, as it costs approximately $13,500 to feed all of the animals at the Zoo for a month. However, the total costs to operate the Zoo far exceed just feeding the animals, and are roughly $450,000 each month.




The Zoo's finances were hit hard by the two-month closure during the busy spring months. As a 501(c)3 non-profit organization, the Central Florida Zoo & Botanical Gardens relies on ticket sales, memberships, education programs, events, and donations—all of which were impacted by the COVID-19 pandemic.
Although the Zoo is now open to the public in a limited capacity, an estimated $1.5 million is needed to ensure the Zoo continues to be a part of the Central Florida community. To help bridge the gap, last week, the Zoo announced a new sustainability campaign to help raise much-needed funds for operations.
The There's No Zoo Without You campaign has reached its first milestone thanks to The Match donations, with $50,000 raised in the first week. In order to continue operations, the Zoo needs to raise $500,000 by the end of August. For more information visit www.centralfloridazoo.org/you.
---
For more news on theme parks, attractions, and more across the region, be sure to follow Touring Central Florida on twitter @androckb & @TourCentralFL, and like our Facebook page.