SeaWorld Orlando, along with its sister water parks and Busch Gardens in Tampa, will reopen to guests on Thursday, June 11. With the reopening comes a variety of new policies and procedures designed to keep guests, ambassadors, and the animals as safe as possible.
While the images and details below are from our preview at SeaWorld Orlando, the policies and procedures will be very similar at the sister parks in the area, including Busch Gardens Tampa, Aquatica Orlando, Discovery Cove, and Adventure Island Tampa. So what you see below in terms of signage should be very similar at whichever park you visit.




Even before you arrive, the changes will impact your visit. All of the parks now require a free reservation for the day of your visit – they can be obtained through each park's website. This will help make sure that if capacity limits are reached, guests don't make a drive out to the park only to be turned away. If you don't get a reservation online, you may be able to make one at the park, but we've been told this is being discouraged as you could be turned away due to capacity.
Guests who don't have parking included in a pass or ticket package are encouraged to pre-purchase online before arriving. This will help expedite entry and minimize contact at the toll booth between guests and ambassadors. As always, guests should follow the direction of parking attendants. When we arrived for the preview, we were directed to leave one parking space between cars to promote social distancing.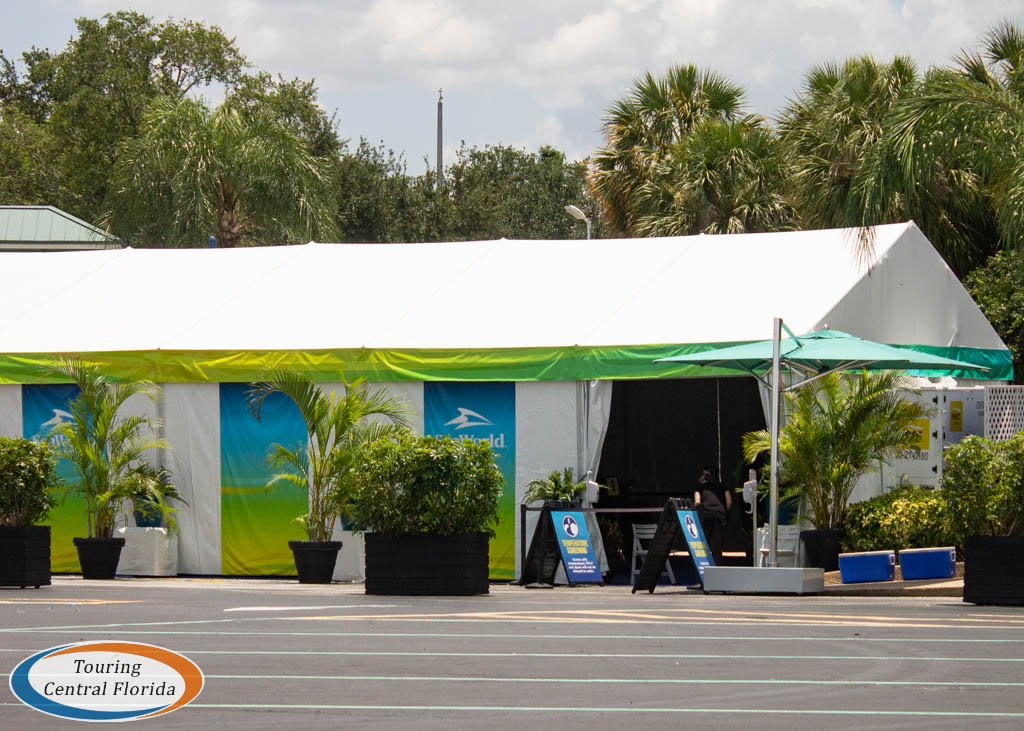 Before anything else, the first thing guests will do is have their temperature taken. This is done in a tent prior to security and is accomplished with a non-invasive infrared type thermometer. An ambassador takes your temperature – no contact – and as long as it reads less than 100.4 degrees Fahrenheit, you're good to go. If your temperature reads at or above 100.4, you will be directed to a secondary screening in a separate tent. An oral thermometer will be used for secondary screening to be as accurate as possible. Guests who register a temperature of 100.4 degrees or higher even after the secondary screening will not be permitted to enter the park.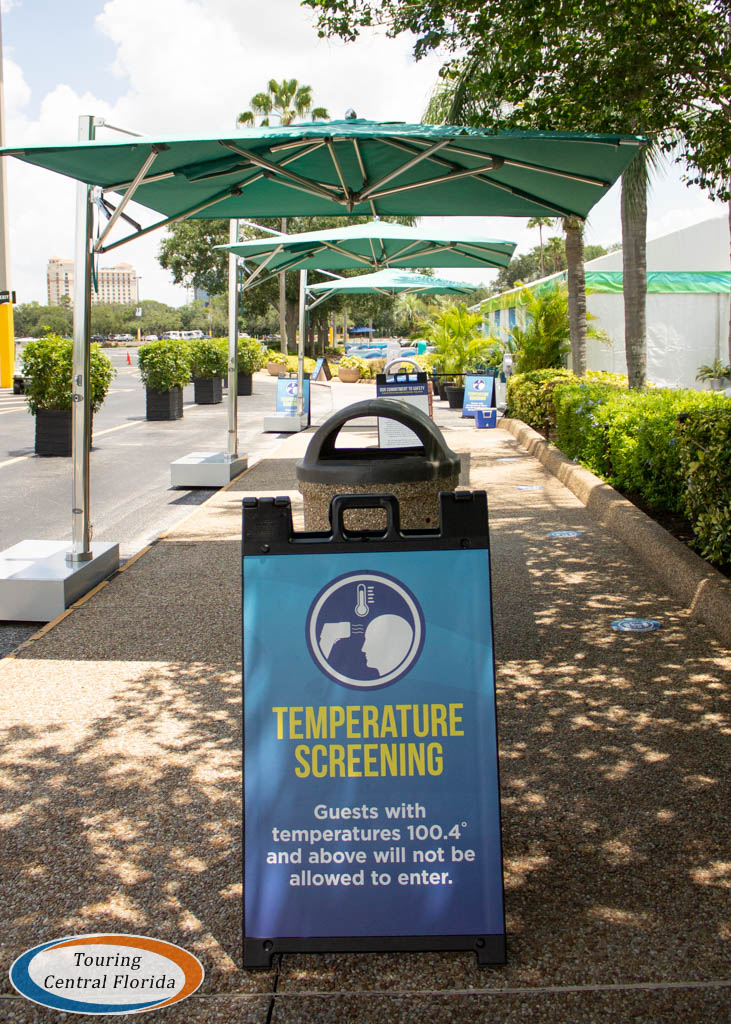 For those worrying about being in the hot sun before getting your temperature checked, fear not. The socially distanced queue for the temperature check stretches along the sidewalk on the edge of the parking lot and is at least partially shaded. Closer to the tent, umbrellas are also set up to provide additional shade. Inside the tent, cooler air is circulated.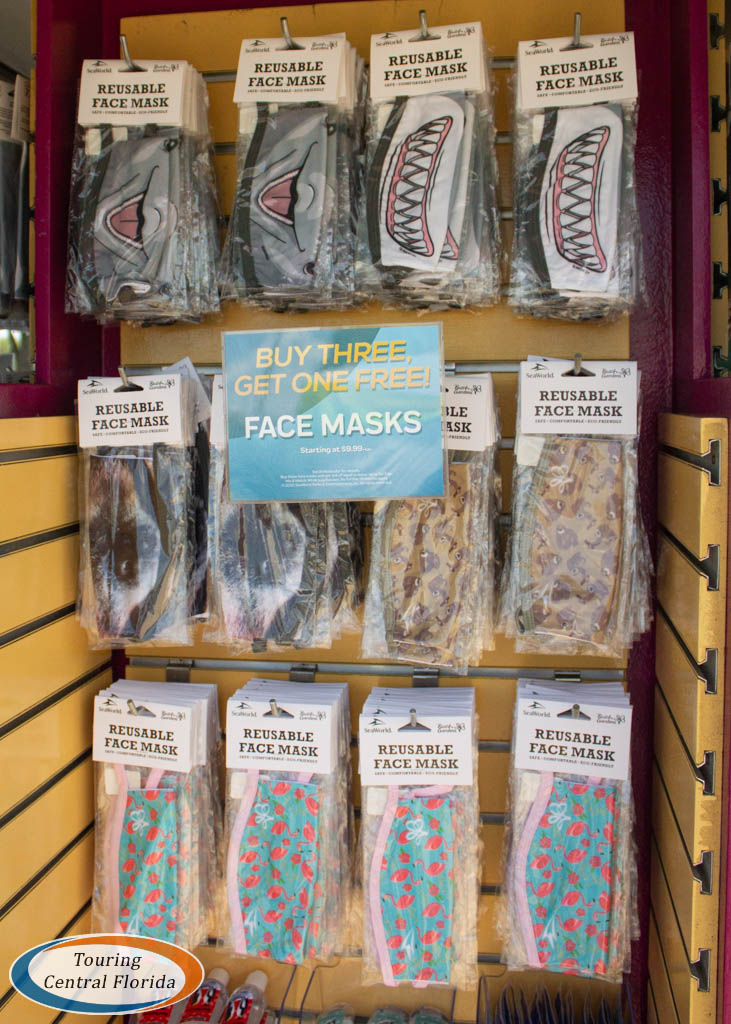 Between the temperature check and security area, a small kiosk offering face coverings, hand sanitizer, and disposable gloves is set up for guests. There are a variety of different mask designs, each with the SeaWorld and Busch Gardens logo on them. The masks come in adult and youth sizes and are priced at about $10 each. They are also currently on sale with a buy three, get one free offer.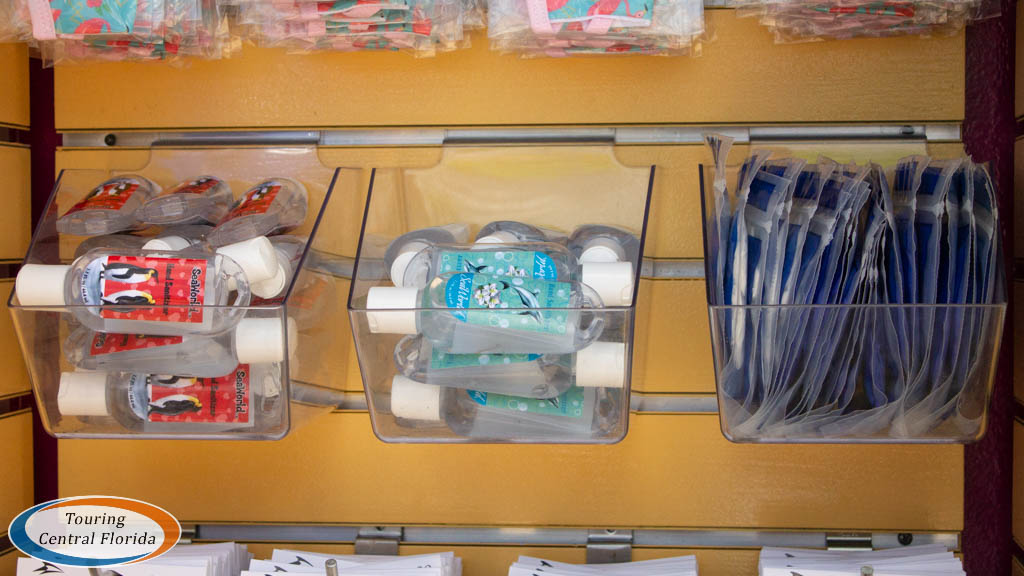 The hand sanitizer bottles are $3.49 each, and the little package with a pair of disposable gloves and a single-use packet of hand sanitizer is $2.99. While face coverings are required, and guests are encouraged to bring their own, these themed masks give guests an extra option at a reasonable cost. There are lots of hand sanitizing stations in the park and gloves are not required, but for those wishing to have their own of either, they are available.
Next, guests queue up for security. Both metal detectors and bag searches will be done, just as they were before the closure. At the bag check tables, plexiglass has been installed to provide an extra layer of protection for the ambassadors and guests.
Beyond the security check, there is plenty of signage and markers reminding guests to remain socially distant from other groups in the queues for the self-service kiosks, ticket booths, and entrance. At the turnstiles, plexiglass has been installed and ambassadors will scan your pass or ticket through the divider.
Once inside the park, with the limited daily capacity you likely will find it easier to maintain distance from other guests as many of the pathways around the park are wide. You'll need to be more aware in queues for attractions, around animal habitats where guests gather to view, and inside shops and restaurants. In those areas, markers on the ground and additional signage serve as reminders.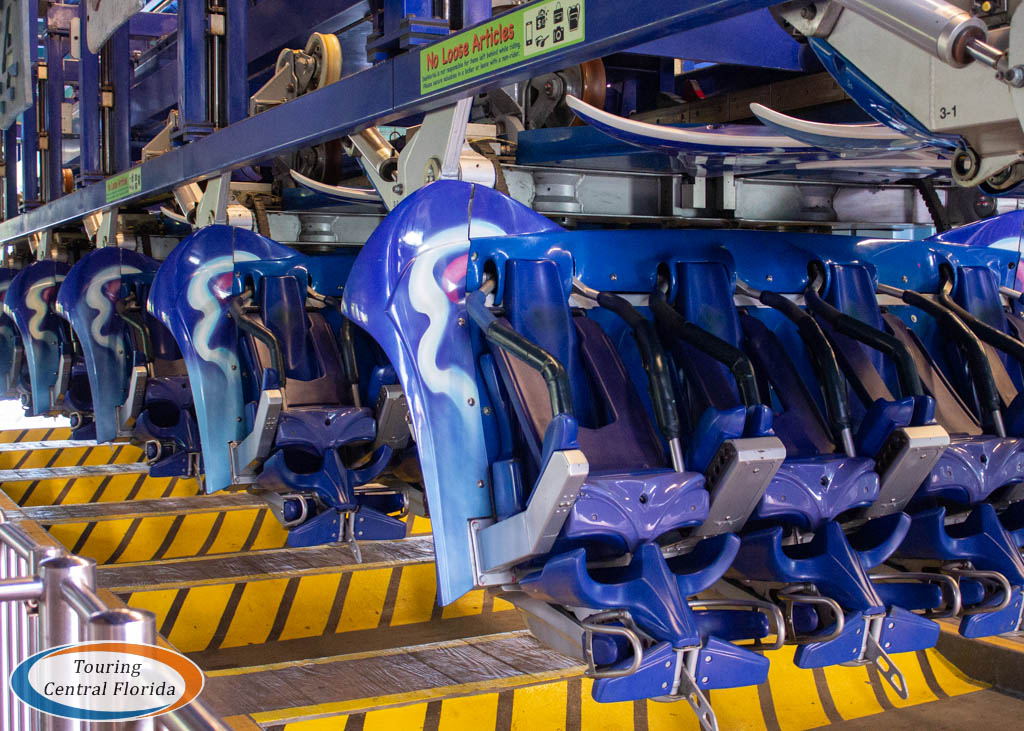 At attractions, keep your distance from the party in front of you as you move through the queues. Markers on the ground map out six-foot intervals. On rides, expect dispatches to take a bit longer as ambassadors sanitize ride vehicles between cycles. Also, on most attractions, there will be rows left empty to promote distancing. Separate parties will also generally be prohibited from riding in the same row.
In shops and restaurants, social distance is again the key theme. Look for more markers on the ground on where to stand in line, and even one-way directions for entrances and exits to minimize guests coming into contact with one another. Seating at restaurants will be spaced out, so be prepared to spend a few extra moments to find a table, especially at peak meal times.
Both in restaurants and shops, plexiglass dividers have been installed around the registers. Guests are encouraged to use credit/debit cards or contactless payment, though cash will still be accepted.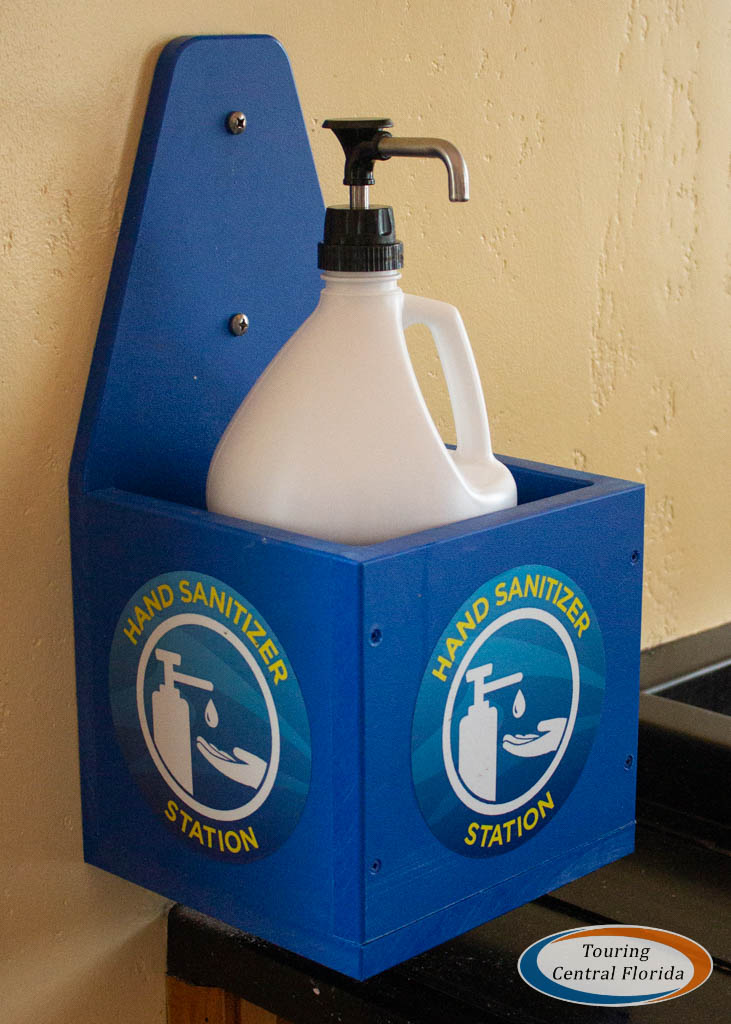 Expect to see hand sanitizing stations all around the park, especially at entrances and exits to rides, shops, restaurants, and theaters. Guests are encouraged to use these often, especially after touching surfaces or before eating. Don't forget that hand washing is even better than just using sanitizer – bathrooms around the park will get extra cleanings throughout the day by ambassadors as well.
There will be two "relaxation areas" at SeaWorld Orlando where guests may take off their masks so long as they remain properly distanced from other guests. Those areas are the lakeside patio across from the Mako area and in a spot between Wild Arctic and Sesame Street. Look for signage in those areas to direct you.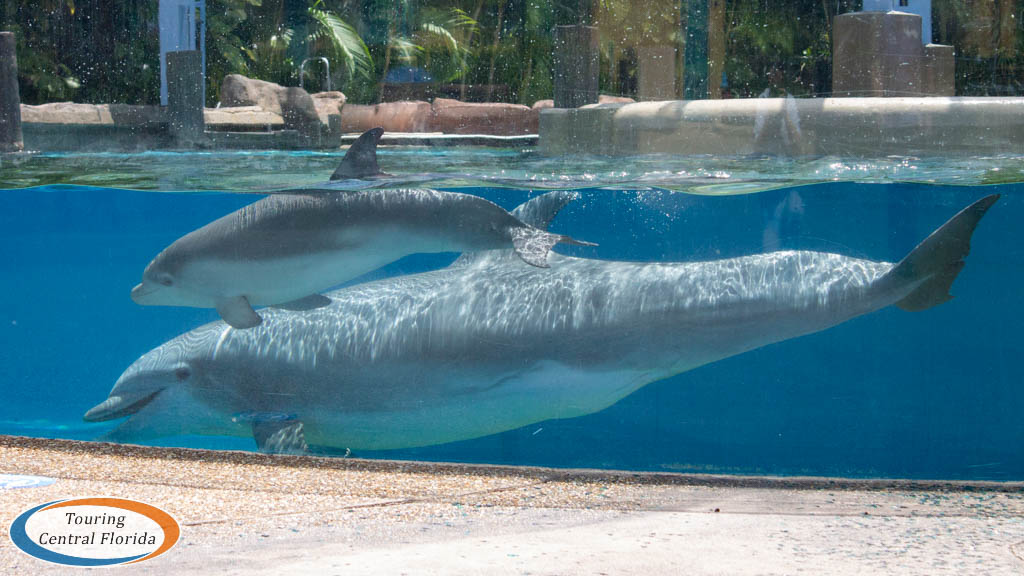 We visited just a few animal habitats during the preview, including the Dolphin Nursery where we caught a glimpse of the newest addition, Spark, along with its mother. We were told the animals are always very curious, and most have definitely noticed the lack of guests over the last few months. For guests visiting in the next few days, the animals will likely be extra inquisitive and interactive.
The safety of the animals, ambassadors, and guests is always the top priority. For that reason, not all attractions, shows, tours, etc. will be available as the parks reopen. Animal tours are currently on hold, and attractions like Sky Tower, Journey to Atlantis, and the Sesame Street Parade will be unavailable. The hope is to expand offerings as time goes on and it is safe for everyone to do so.




I spent about 90 minutes at the park during the preview, which as you read above had us both outside and inside at different points. I normally look to avoid spending too much time outside during the summer because it's generally uncomfortable for me. Wearing the mask, I didn't really feel it to be any worse than normal being outside in the hot summer sun.
Yes, it's hot and I was sweating – but even without the face covering, I would have felt the same. Just like any hot, sunny, summer day in Florida, if you are spending any extended period of time outside you need to wear sunscreen, keep hydrated, and know your limits. With the ability to stop in places for some shade or air conditioning, taking sips of water, and the ability to take your mask off while dining or in a relaxation area, for most guests, it will be a reasonable adjustment to make in order to be able to safely enjoy the parks again.
I strongly suggest testing out face coverings before going to the parks for short periods around your home – see what type of mask feels most comfortable to you, and get used to having it on for a while walking around outdoors. Most guests won't have any negative health effects from wearing a cloth mask, but of course, if you have any specific concerns about wearing one, reach out to your health professional for an honest discussion. Avoid scary memes online from dubious sources – only your own doctor can work with you to know what's best.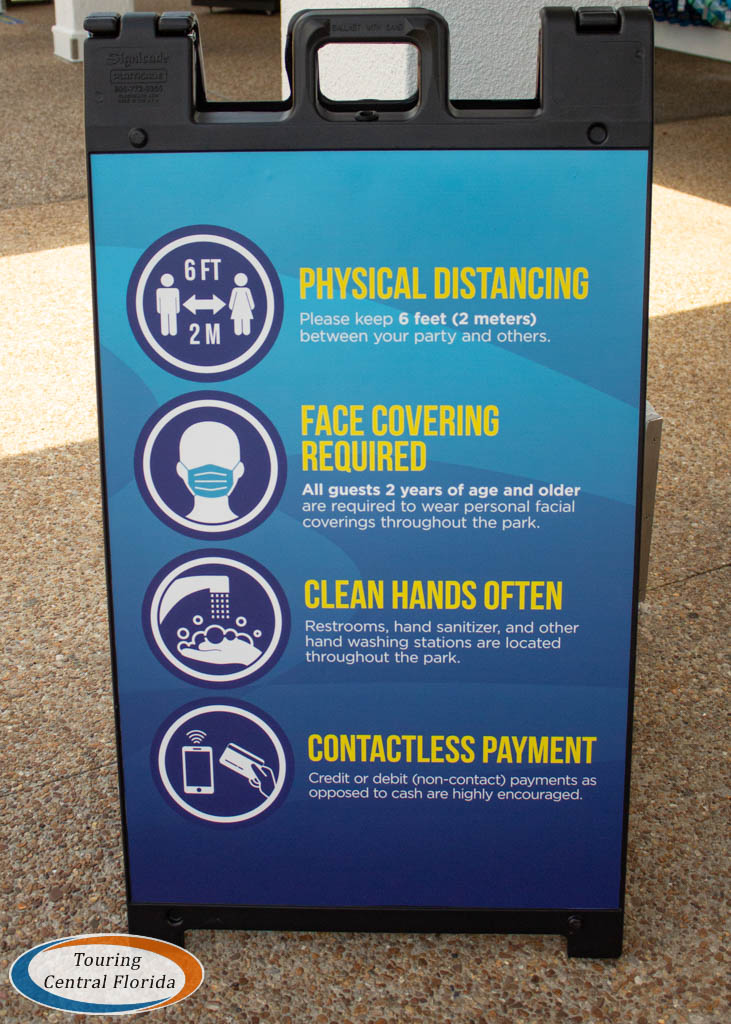 While this article is meant to be a general guide for the new guidelines at SeaWorld Orlando (and also a glimpse of what it will be like at Busch Gardens Tampa and the water parks), it certainly doesn't cover every last detail. If you have specific questions, reach out to the park's customer service team online or by phone, or ask ambassadors at the park for more information.
The biggest thing to remember is all of these guidelines are new for everyone – not only you, but all of your fellow guests and ambassadors, too. Be patient while everyone adjusts to these changes, and remember to keep a level head and use common sense. Do your best to follow the guidelines to keep yourself and everyone else safe, and don't hesitate to give constructive feedback to guest services after your visit.
---
For the latest on SeaWorld Orlando & Busch Gardens Tampa and other theme parks, attractions, and more across the region, be sure to follow Touring Central Florida on twitter @androckb & @TourCentralFL, and like our Facebook page.