The Florida Aquarium marked its 25th Anniversary today like most people do, with cake.  Those joining the festivities included the Aquarium's African penguins, Sheldon an endangered green sea turtle, an octopus, and otters.
The Florida Aquarium opened its doors March 31, 1995, in what was then the largely undeveloped Channel District on the edge of downtown Tampa. Since then, The Florida Aquarium has served more than 17 million visitors as a bedrock regional attraction, engaged nearly 1.8 million schoolchildren in educational programming and established itself as a world leader in saving wildlife and conservation.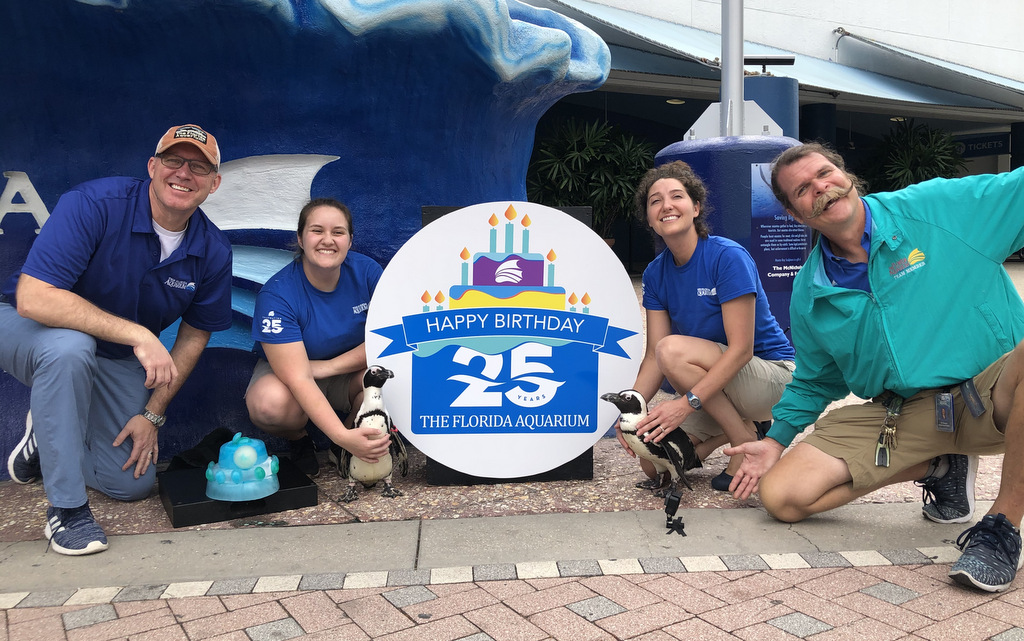 "The Florida Aquarium has served as a pillar of the community and catalyst for change over the past 25 years," said Roger Germann, President and CEO of The Florida Aquarium. "During this time, we've created meaningful memories and connections with guests of all ages and from locations across the globe through our engaging, world-class exhibit experiences,"
"Unfortunately, we mark this milestone anniversary in challenging times. Being temporarily closed to the public is certainly not how we envisioned celebrating our 25th anniversary, but we didn't want this historic day to pass by without taking a moment to thank the community for its longstanding support, thank our founders and civic and community leaders for their vision, and thank our staff and volunteers for their dedication since opening day."
The Florida Aquarium temporarily closed voluntarily earlier this month in response to the COVID-19 outbreak, as the aquarium does its part to ensure the well being of our community, state, and nation. Current plans are to reopen on May 11; however, the aquarium remains in constant contact with public health officials and is prepared to open when safe to do so.
The public worldwide can still stay connected to the aquarium, enjoy the animals and get an insider "behind the scenes" look through daily SEA-SPAN sessions aired live daily on Facebook at 10 a.m. EST. Archived sessions are available on-demand on The Florida Aquarium website and YouTube.
"More than ever, we appreciate the strong bond of community we have fostered since opening our doors," said Germann. "While we celebrate our silver anniversary in today's uncertain times, we know there's a silver lining ahead and are confident we will rise above the current challenges we all are facing and create another 25 years of lifetime memories, spark a love of science and nature, and protect and restore the blue planet we call home."
---
For the latest on The Florida Aquarium in Tampa and theme parks, attractions and more across the region, be sure to follow Touring Central Florida on twitter @androckb & @TourCentralFL, and like our facebook page.