Staying hydrated is important, and that's especially true when touring the Central Florida theme parks and attractions. Water is the easiest and best way to accomplish that, but like many people, we'd prefer a little flavor with our drinks. That's where Cirkul comes in, which bills itself as a new way to hydrate.
We want to be clear this is not a sponsored post. We have received no considerations from Cirkul for this article. We saw an ad for Cirkul on Instagram, started looking into the product, and ultimately decided to sign up for their trial offer. In the interest of full disclosure, if you choose to use our referral link available in this article to try Cirkul for yourself, we will receive credit towards a future order of their products.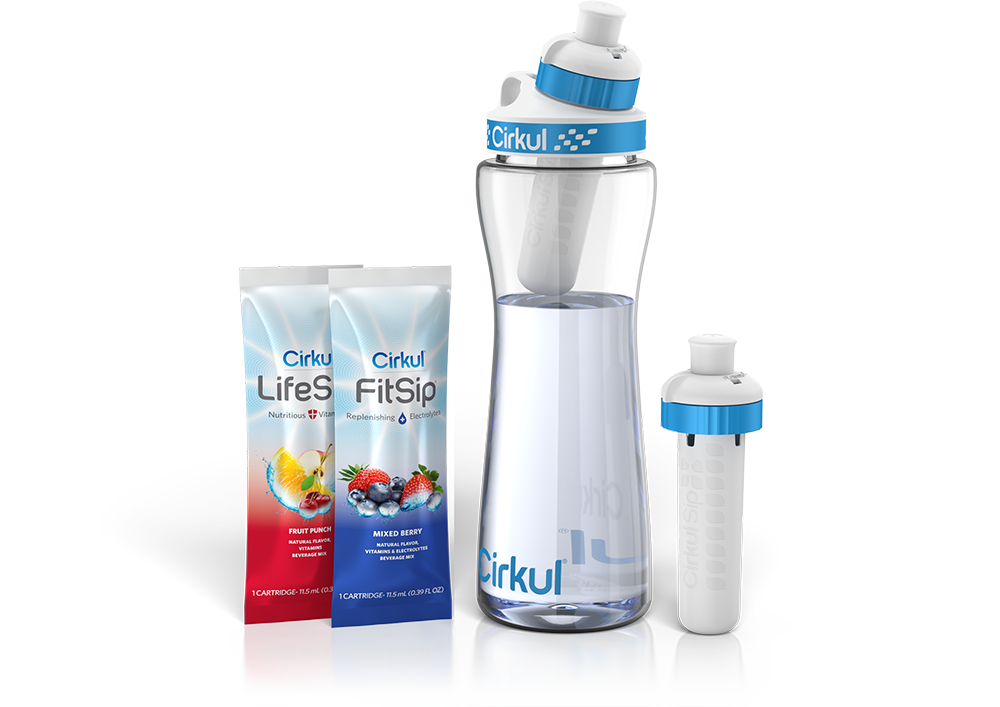 ---
Cirkul Basics
With a reusable bottle and adjustable flavor cartridges called Sips, Cirkul allows you to stay hydrated while enjoying some 40 different tastes with all-natural ingredients, no sugar, and no calories. You can go subscription-based where your flavor cartridges are automatically sent to you at a set interval or order as you need more along the way.
We found selecting a setting of four or five on the dial of the cartridge matched our tastes well, providing enough flavor with each sip and not being too overpowerful. With that setting, we normally get around six to seven full bottles of flavored water.
As mentioned earlier, we chose their trial offer to see if Cirkul would be a good fit for us. The trial offer includes one bottle and two "Sips," their flavor cartridges that get screwed directly on top of their reusable bottle. The trial offer is available for a $5 shipping fee to U.S. addresses.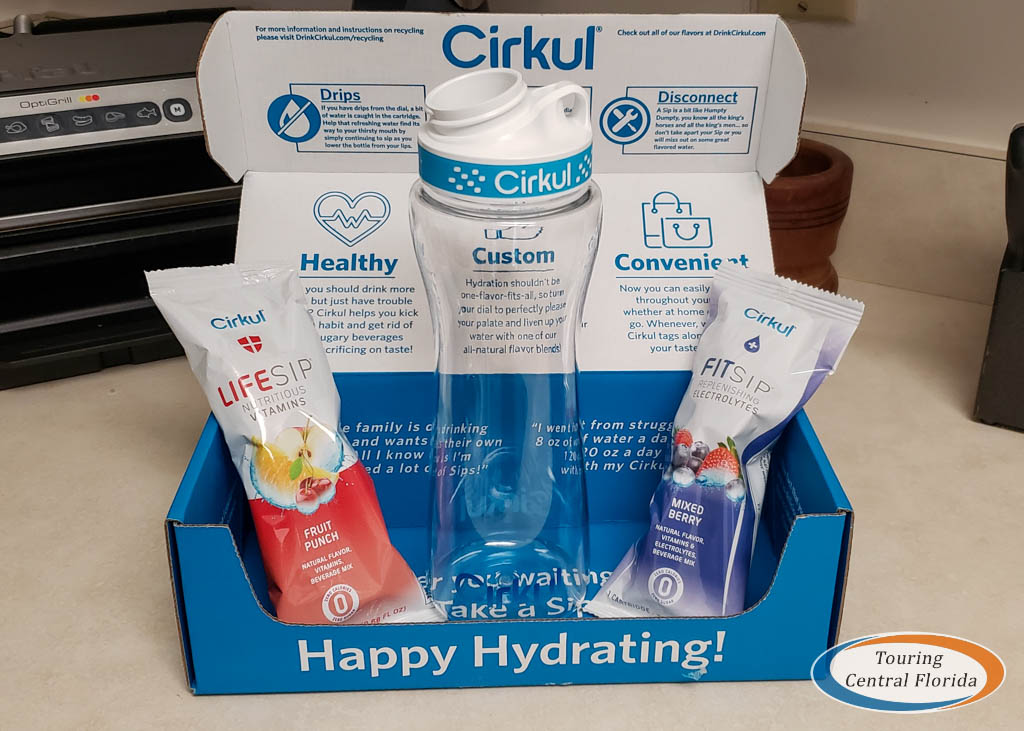 Since their facility is located in Tampa, shipping times to Central Florida for both the trial and subsequent orders are generally very quick. We normally receive our orders within one or two business days.
Use our referral link to get your trial offer and $5 off your first subscription order!



---
Cirkul at Theme Parks
We've taken our Cirkul bottle to Walt Disney World, Universal Orlando, SeaWorld Orlando, and Busch Gardens Tampa Bay in the first few months. It has been a great way to stay hydrated without spending a ton of money on drinks in the parks. Bottles of water and sodas range in cost between $3.50 and $4.50 at the parks – those purchases can add up quickly when it's 90-plus degrees under the Florida sun.
Eight flavor cartridges are about $27 shipped to your door, which breaks down to a little less than $3.40 each. If you get six Cirkul bottles out of each cartridge as we do, that makes each 22-ounce bottle work out to about 56 cents. Compare that to what you can spend on a beverage in a theme park, and you can see why we've found this to be a good option for our visits.
Of course, you can get free ice water at all the Florida theme parks, but they are typically smaller cups and depending on which park you're at, it's not always a convenient option. With the Cirkul bottle holding 22 ounces, it can mean less frequent stops to refill (or standing in line for another cup of water).
We noticed at Walt Disney World they are beginning to install water bottle refill stations at some of the fountains. We found those in a couple of spots in the new Star War's Galaxy's Edge at Hollywood Studios, as well as inside Cosmic Ray's in Tomorrowland at Magic Kingdom. There is also one inside Waterway Grill over at SeaWorld Orlando.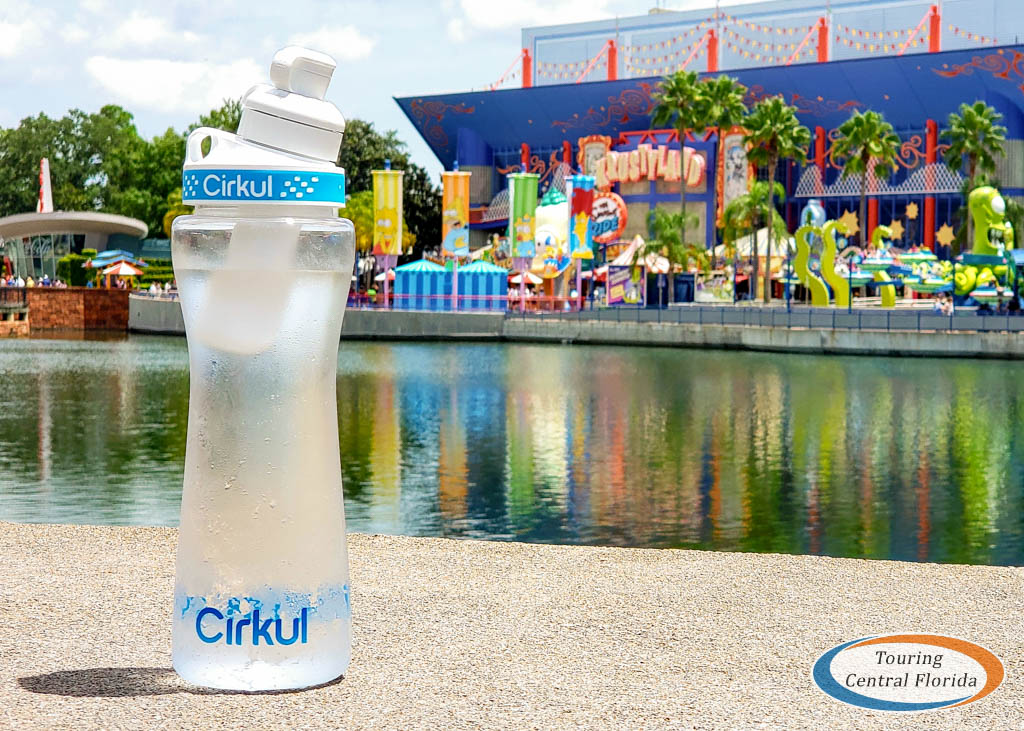 You can also refill at self-service fountain drink spots across the parks that offer a water option. However, it's worth noting you can't do that at Universal parks, where their Coca-Cola Freestyle machines require a cup with an activated RFID chip to work, even for plain water.
The Cirkul bottle is pretty easy to refill at most standard water fountains, too. We found you can get it nearly full by only unscrewing the Sip portion from the top and letting the water in that way.
Use our referral link to get your trial offer and $5 off your first subscription order!
---
Pros & Cons of Cirkul
After using Cirkul for several months ourselves, here's what we've found we like and dislike about the system. The pros heavily outweigh the handfull of relatively minor cons.
Pros
Easy to assemble and adjust flavoring to taste
Large number of flavor options
Easy to use website for ordering
Ability to use as a regular water bottle at any time or when a flavor cartridge runs out
No stirring or shaking involved
Same consistent flavor versus adding your own drops/powder
Cuts down on single-use plastic waste
There is still some waste with Cirkul, but far less than using multiple single-use bottles of water and adding in another flavoring option. A good portion of the Sip is recyclable including the cap portion and cylinder; only the foil pouch inside needs to be disposed of as regular trash.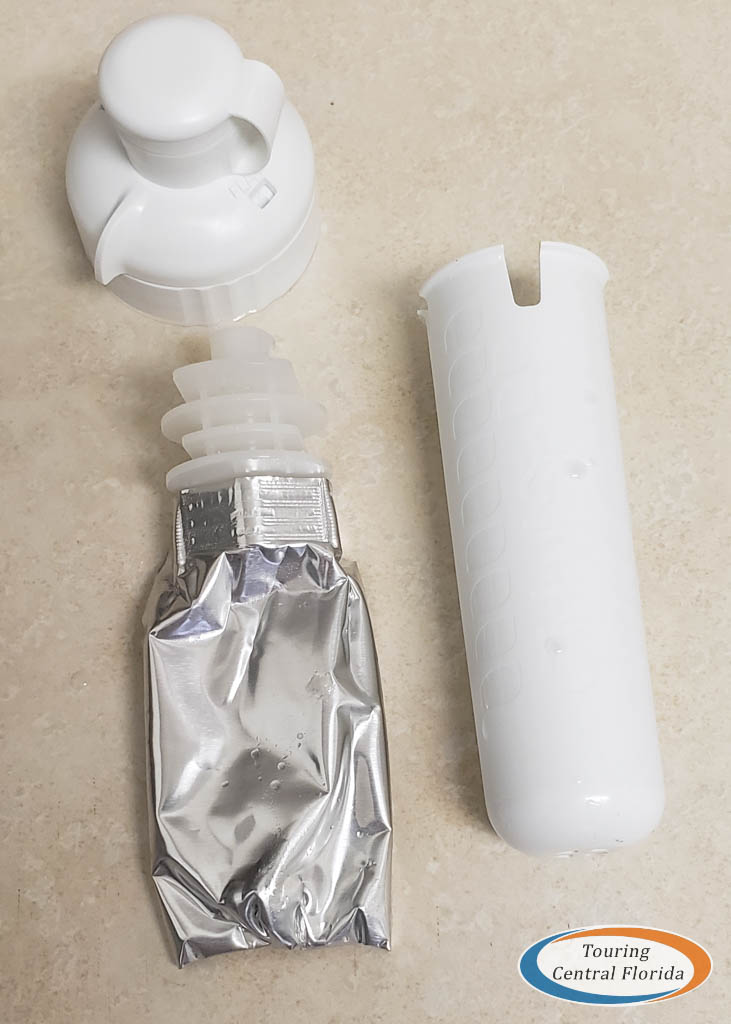 Cons
Can leak/dribble a bit if you don't keep sipping as you finish drinking and tilt the bottle back down
Some flavors do have a minor aftertaste, though far less than most other powder/drop options
The cap can occasionally be hard to open; a lip or notch would be helpful to make it easier
Use our referral link to get your trial offer and $5 off your first subscription order!
---
Tips & Observations
A few more notes from our use of Cirkul over the last several months:
When you're walking around with the bottle, we suggest closing the flavor cartridge dial to zero. If the bottle bounces around, it may force some of the flavoring up to the top and can result in a powerful first sip when you drink again.
Get a carabiner to carry the bottle around when you're out at the parks, hiking, etc. Clipping it on to your backpack or belt makes it easily accessible and keeps it hands-free when you're not drinking.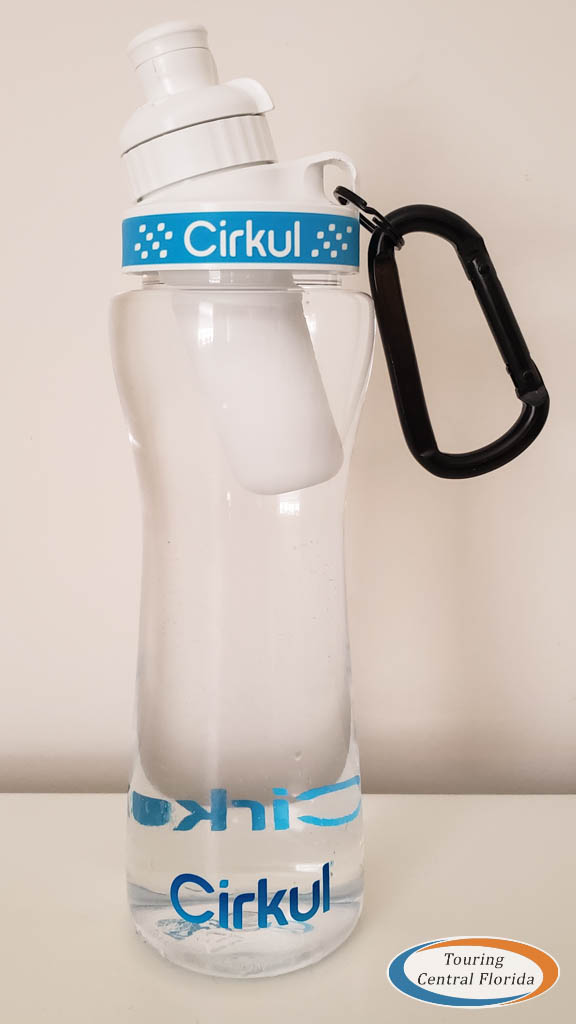 We've enjoyed most of the flavors we've tried so far, including mixed berry, peach tea, raspberry tea, strawberry watermelon, and regular watermelon. We found the fruit punch flavor to taste a lot like a cough drop, which we didn't like. If you like iced coffee flavors, vanilla was the best, caramel was good, and mocha was just alright.
As the Sip flavor starts to diminish, slowly dial up the flavor as you notice it fading to keep a consistent level. Once you hit ten and the flavor fades, you know you've got as much out of it as you can.
Use our referral link to get your trial offer and $5 off your first subscription order!



---
Thanks to Matt from Matt Hopkins Photography for providing his views on Cirkul and images for this article.
For the latest on theme parks, attractions, and more across the region, be sure to follow Touring Central Florida on twitter @androckb & @TourCentralFL and like our Facebook page.