Tampa International Airport and developer VanTrust Real Estate on Thursday broke ground on the new SkyCenter One office – the first commercial office building linked to the Airport by train.
The nine-story office building will be located in a prime spot in the new SkyCenter development, with an elevated pedestrian walkway connecting the adjacent atrium to the SkyConnect train station at the Rental Car Center. Other amenities of the 270,000 square-foot building will include a conference center, fitness center, café and access to multipurpose trails that will eventually join with Tampa Bay's regional trail network.
"This will be a class A office building with unrivaled connectivity to the Airport as well as downtown Tampa and St. Petersburg," said Airport CEO Joe Lopano. "This really is a perfect location for a wide range of companies."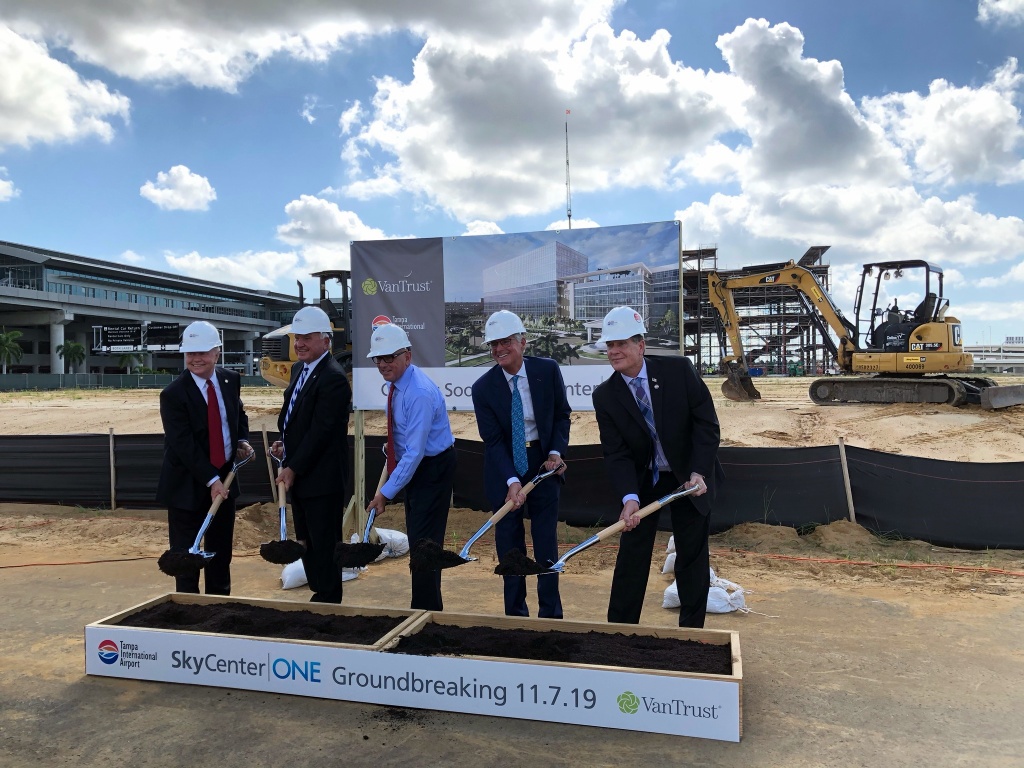 The building is also being built with sustainability in mind. The developer and contractor are working towards a LEED Platinum Certification, the highest-ranking issued by the U.S. Green Building Council.
Construction should be completed in 2021. VanTrust, which is based in Kansas City with offices in Jacksonville, will design, build and manage the office building and adjacent parking garage.
"We are tremendously excited to break ground on this world-class office project located in the heart of the Westshore District," said VanTrust Real Estate Executive Vice President John Carey. "SkyCenter One will provide exceptional office space with spectacular views of both Tampa Bay and downtown Tampa and include amenities unmatched in the region."
The Hillsborough County Aviation Authority will occupy three floors – a move that allows the Airport to relocate its current offices to make way for new express curbsides for passengers without checked luggage.
The building and curbsides are part of a three-phase Master Plan that will allow the Airport to accommodate 34 million passengers annually. TPA served a record 22.2 million passengers in FY2019.


The building will serve as the primary home for the Authority's employees and the nerve centers for all airport operations and has been hardened against severe weather.
VanTrust has contracted with design-builder J.E. Dunn for the construction of the office building and HOK for the design.
---
For the latest on theme parks, attractions and more across the region, be sure to follow Touring Central Florida on twitter @androckb, @JacobTouringCe1, @TourCentralFL, and give our facebook page a like.