The Florida Strawberry Festival announced today its theme for the 85th annual event – "Our Perfect Vision!"
"We're seeing 20/20," said President Paul Davis. "Be on the lookout for some world-famous headline entertainment, incredible new food items and vendors at this year's festival!"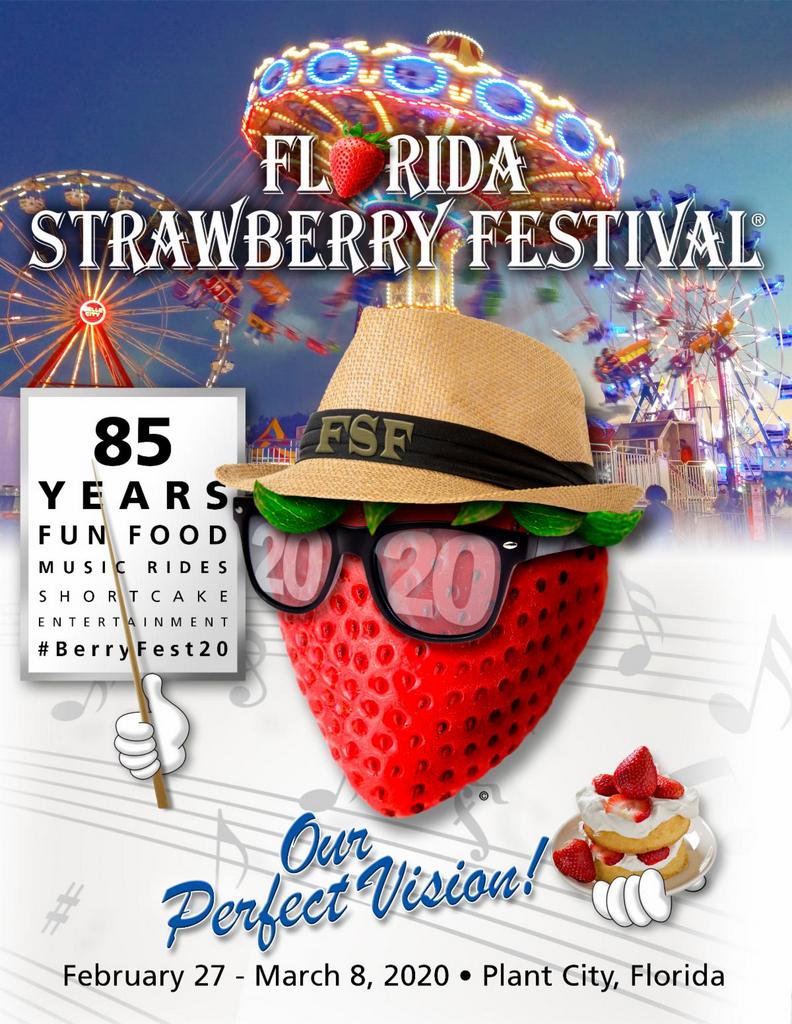 A new theme is created for the festival each year to offer guests a glimpse of the experience they can expect at the 11-day event. It also unifies vendors, FFA chapters, organizations, corporate partners and exhibitors who create parade floats and displays throughout the celebration.
The festival's strawberry character featured in this year's theme artwork is an intricate part of the event's branding and advertising efforts. In this theme's artwork, the iconic Mr. Berry wears a fedora, 2020 sunglasses and carries a plate of strawberry shortcake. The theme centralizes around the Festival's "Perfect Vision" for fun which includes rides, food, entertainment, shortcake and much more.
"The future looks bright," said Davis. "We look forward to seeing our guests and hope they will enjoy all the 2020 Florida Strawberry Festival has to offer. It's sure to be eye-catching!"


About the Florida Strawberry Festival
The Florida Strawberry Festival is an 11-day community event celebrating the strawberry harvest of Eastern Hillsborough County. Each year, over 500,000 visitors enjoy the festival's headline entertainment, youth livestock shows, exhibits of commerce and, of course, its strawberry shortcake. The 2020 Florida Strawberry Festival will take place February 27- March 8 in Plant City, Fla. For more information, visit www.flstrawberryfestival.com, Facebook, Instagram and Twitter (#berryfest20).
---
For the latest on theme parks, attractions and more across the region, be sure to follow Touring Central Florida on twitter @TourCentralFL, @androckb, @JacobTouringCe1, and give our facebook page a like.