The Howl-O-Scream social media accounts roared back to life over the last few days and started teasing what we'll see for this year's event, the 20th anniversary at Busch Gardens Tampa Bay. Along with those first teases, we now have ticket information, the first two houses, and other details about Howl-O-Scream 2019!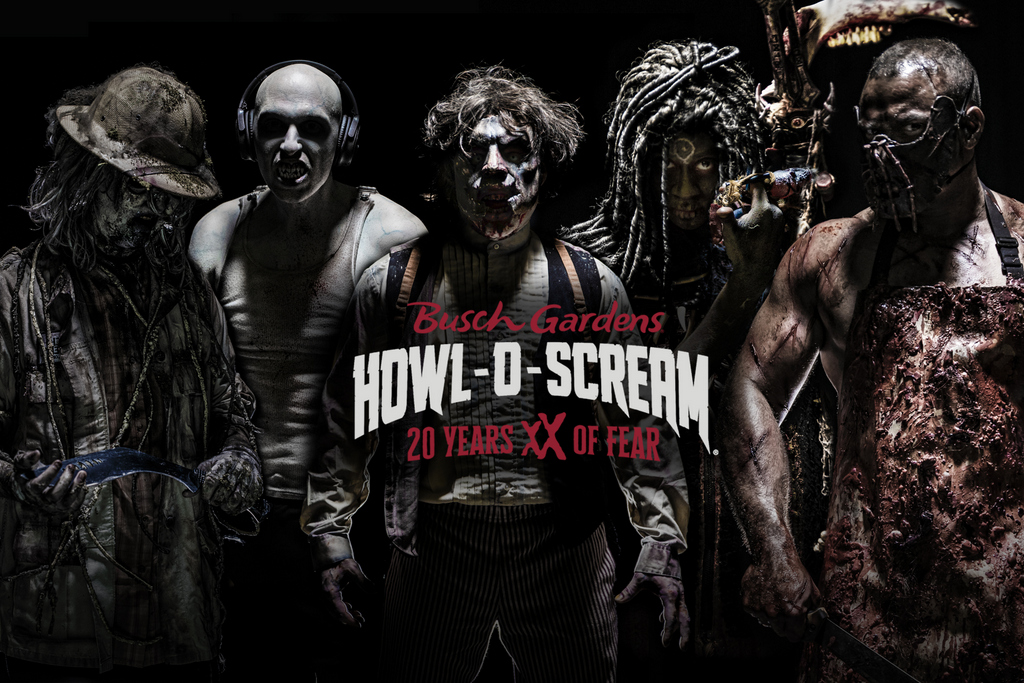 ---
Dates & Tickets
Howl-O-Scream 2019 will run a total of 22 select nights beginning on September 20 and going through November 2. That's every Friday & Saturday night, plus some Thursday and Sunday dates as the event progresses. The dates are:
• September 20, 21, 27 and 28
• October 4-6, 10-13, 17-20, 24-27, 31
• November 1-2
Single-Night Tickets and an Unlimited Admission Ticket are now on sale. There is also an All Howl-O-Scream Front Line Fear upgrade available. Additional upgrades, tours and packages will likely go on sale at a later day.



Florida Platinum Annual Pass Members will receive free admission to Howl-O-Scream on opening weekend, September 20 & 21, 2019. When the park rolled out the new pass structure this past fall, the benefit was no longer listed. However, the park has decided to continue the perk this season.
As part of the Sinister Sale running through July 21, 2019, Single-Night Tickets are available for $24.99 to $29.99 each. The $24.99 tickets are only valid on any one Thursday, Friday or Sunday event night, and the $29.99 tickets are good for any single event night, including Saturdays.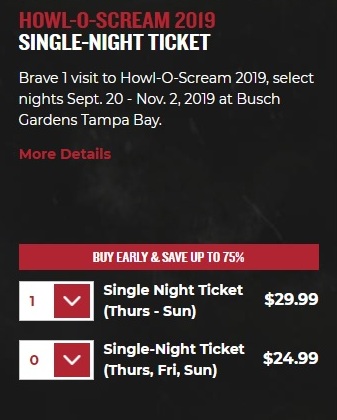 Pass members can log in and save an additional $5 per single-night ticket. Be sure to log in to your account and then visit the Howl-O-Scream ticket page to get your discount.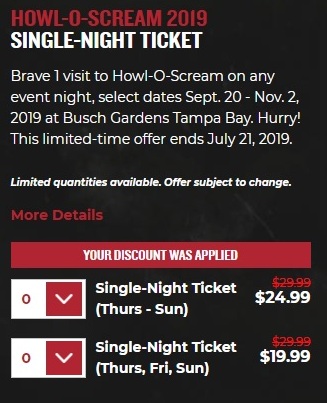 There is also an offer for groups of 15 or more to get the same lower single-night ticket pricing that pass members have access to.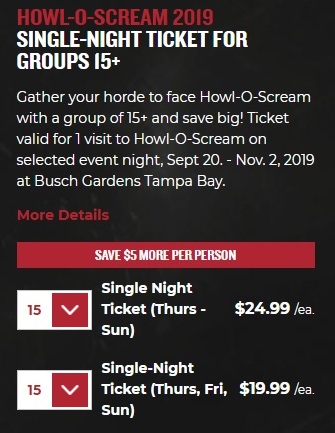 The All Howl-O-Scream Ticket grants the person admission on all 22 nights of the event, and the sale price is currently only $59.99. That's equivalent to the price of three visits or less compared to the single-night ticket sale. There is no extra discount for pass members on the All Howl-O-Scream Ticket since it is already so heavily discounted.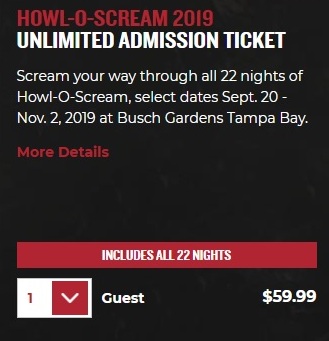 Rounding out the current available options on sale for Howl-O-Scream 2019, the All Howl-O-Scream Front Line Fear upgrade is available for $99.99. This upgrade allows for use of the Quick Queue line at most major attractions during Howl-O-Scream, and front-of-the-line access to each house once per night for all 22 nights of the event. Again, no pass member discount available on this specially discounted offering.

To take advantage of the Sinister Sale pricing, purchase your tickets on Howl-O-Scream's website. If you're a pass member, be sure to log in to your account and then go to the Howl-O-Scream ticket page to see your discount on the single-night tickets.
---
Houses
Two returning houses were posted with today's update on the Howl-O-Scream website: Simon's Slaughterhouse & The Black Spot.
Simon's Slaughterhouse debuted at Howl-O-Scream 2018 in the pavilion on Gwazi Field.
By merely walking into the house, you have agreed to play Simon's sick and twisted games. Simon's Slaughterhouse takes screams to the extreme. Enter this horrifying realm at your own risk.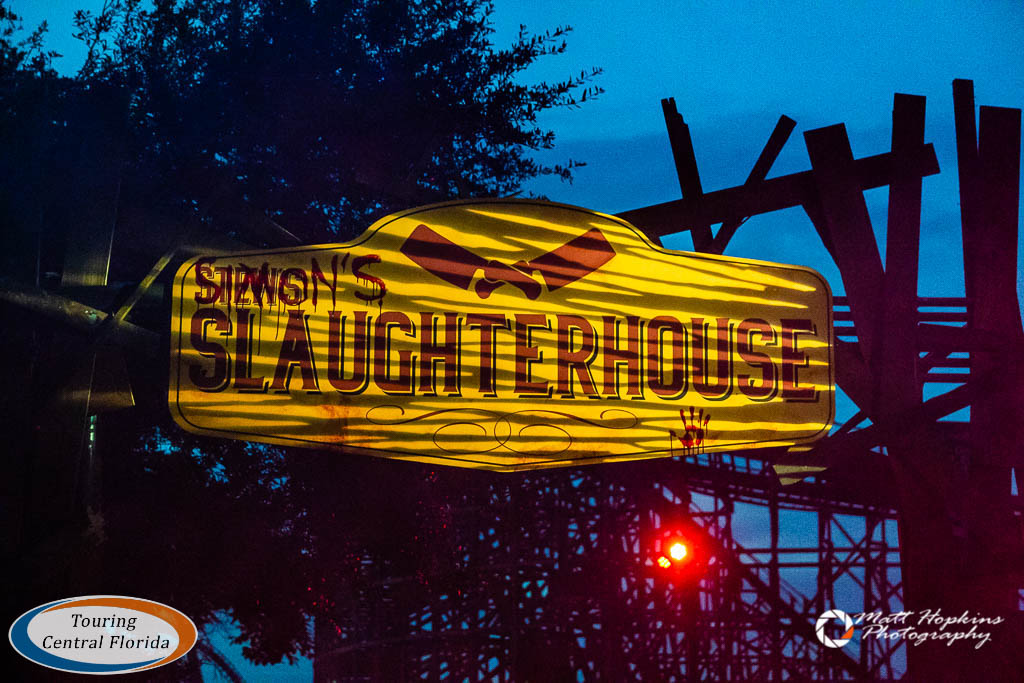 Black Spot returns for its fourth season, located behind the brand new Tigris roller coaster that opened earlier this year.
When Saw Tooth Silas, an infamous pirate, decides that one should no longer exist, he marks them for death. Victims are then sent to The Black Spot, where they meet their horrifying end. The trick lies within the dimly-lit corners of the mysterious hideaway, holding the secret to escape… or demise.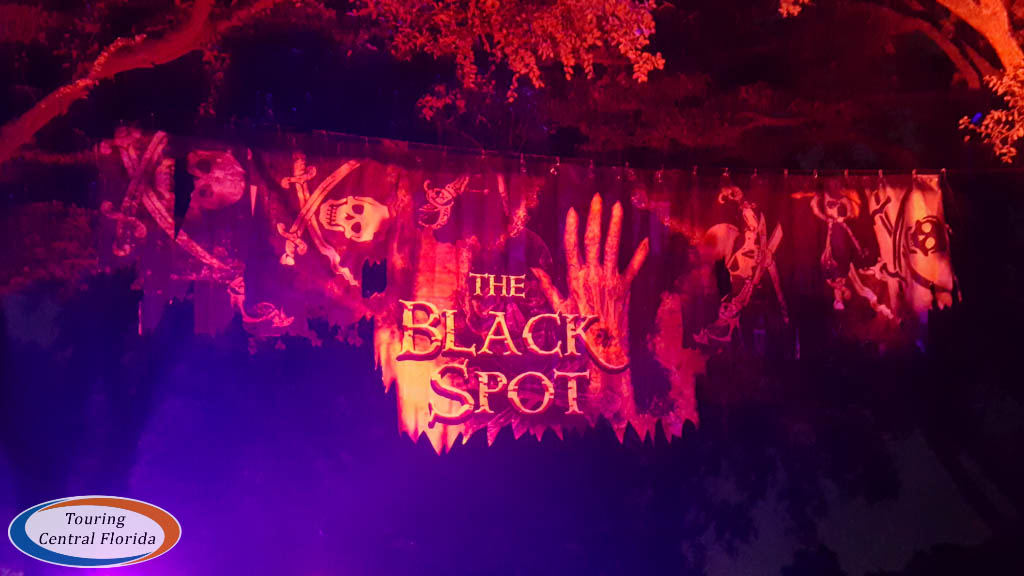 We don't know for sure how many houses in total there will be this season, but our sources are saying to expect a total of six with one of them being new. Since Gwazi is currently under construction as it becomes the world's steepest and fastest hybrid roller coaster, it would seem likely Unearthed is getting buried this year and a new house will have to be located elsewhere.
The most likely location for a new house would be the warehouse behind the Pantopia Theater, which wasn't used last season, but was previously home to Demented Dimensions & Zombie Mortuary in previous years.
---
Returning Icons
Along with today's ticket and house announcements, Howl-O-Scream began teasing yesterday the theme for this year's event: 20 Years of Fear. We saw three former icons in teaser videos yesterday, and two more today (at least so far).
Dr. Livingsdoom, I presume? Howl-O-Scream's first season in 2000 saw its icon in Dr. Livingsdoom, a mad scientist who served as tour guide for the event.
it all started 20 years ago… pic.twitter.com/kKRDCMIW2q

— Howl-O-Scream (@howloscream) July 10, 2019
In 2012, Trickster reigned as the icon at Dark Side of the Gardens.
take a step to the dark side with us. pic.twitter.com/2hvqN6gOt1

— Howl-O-Scream (@howloscream) July 10, 2019
First appearing with The 13 in 2013, but taking on a quasi-icon roll the past two seasons, The Butcher returns as the third icon tease by Howl-O-Scream.
there's nowhere to hide. pic.twitter.com/DPvjFp1afP

— Howl-O-Scream (@howloscream) July 10, 2019
Two more icons showed up to the party today with the release of the Sinister Sale. Playing music so loud your ears would bleed, The Death Jockey served as the icon at Howl-O-Scream 2007. The other icon making her return today is the Voodoo Queen, one of The 13 from 2013 and arguably that season's lead Howl-O-Scream icon with her house Death Water Bayou.
you've waited, and now it's here… but only until july 21. take advantage of the best deal of the season here: https://t.co/PiP89iBbgi pic.twitter.com/Oq98RDKIZ8

— Howl-O-Scream (@howloscream) July 11, 2019
Be sure to check back to our website and follow our social media feeds (linked below) for more information on Howl-O-Scream 2019 as details are released!



---
Join in the conversation online using #20YearsOfFear and #HowlOScream. For the latest on Howl-O-Scream at Busch Gardens Tampa and other theme parks, attractions and more across the region, be sure to follow Touring Central Florida on twitter @androckb, @JacobTouringCe1, @TourCentralFL, and give our facebook page a like.