Park guests have more to love at Busch Gardens Tampa Bay as the park gears up for its 60th Anniversary Celebration, kicking off on March 1 with a concert and fireworks event. Originally opening on March 31, 1959, Busch Gardens has come a long way from the simple brewery tour and bird garden it once was to feature a world-class zoo, seasonal events and an impressive roller coaster collection, including the latest addition, Tigris.
Hearts will race on Florida's tallest launch coaster when Tigris opens this spring. The park recently celebrated the completion of the track for the attraction, which will launch guests forward and backward during the ride, reaching speeds over 60 miles per hour. In addition to launches and twists, a dramatic heartline roll at Tigris's top height of 150 feet will give riders a unique view of Busch Gardens.
See the latest from the construction site in our recent article detailing our hard hat tour experience.
Beyond Tigris, the park is offering more experiences for guests to enjoy this spring as a part of the 60th Anniversary Celebration.
–  At the 60th Anniversary Celebration Kickoff on March 1, guests can enjoy the "Women Rock" performance from the Florida Orchestra, a tribute to the women who changed rock 'n' roll forever, ending in a dazzling fireworks display. The field opens at 5:30 p.m. for the 7:00 p.m. concert and 8:30 p.m. fireworks presentation.
Touring Central Florida was the first to report on this concert back at the beginning of January.
According to her website, singer @shaynasteele is scheduled to appear with @FlaOrchestra at #BuschGardens #Tampa on Friday, March 1, 2019 at 7 p.m.

The park is scheduled to be open until 9 p.m. that night, later than any Friday in the weeks before or after. pic.twitter.com/z4d3FhxMIP

— Bill @ Touring Central Florida (@androckb) January 9, 2019
– Along with the concert and fireworks that evening, we've also been told to expect an announcement on #BGTProject2020, the replacement for Gwazi. While not yet confirmed by the park, Rocky Mountain Construction has been working on the former wooden roller coaster since late last year, removing significant portions of the track and supports so far.
– Also beginning on March 1, park guests will be able to engage in the all-new Pin Trading program at Busch Gardens Tampa Bay. Launching with over 150 collectible pins, the new Pin Trading program offers pocket-sized souvenirs inspired by fan-favorite animals, attractions, events and more at merchandise locations throughout the park. Guests can trade their purchased pins with park ambassadors to collect exclusive series not sold in stores. Limited and special edition pins will also be made available throughout the year.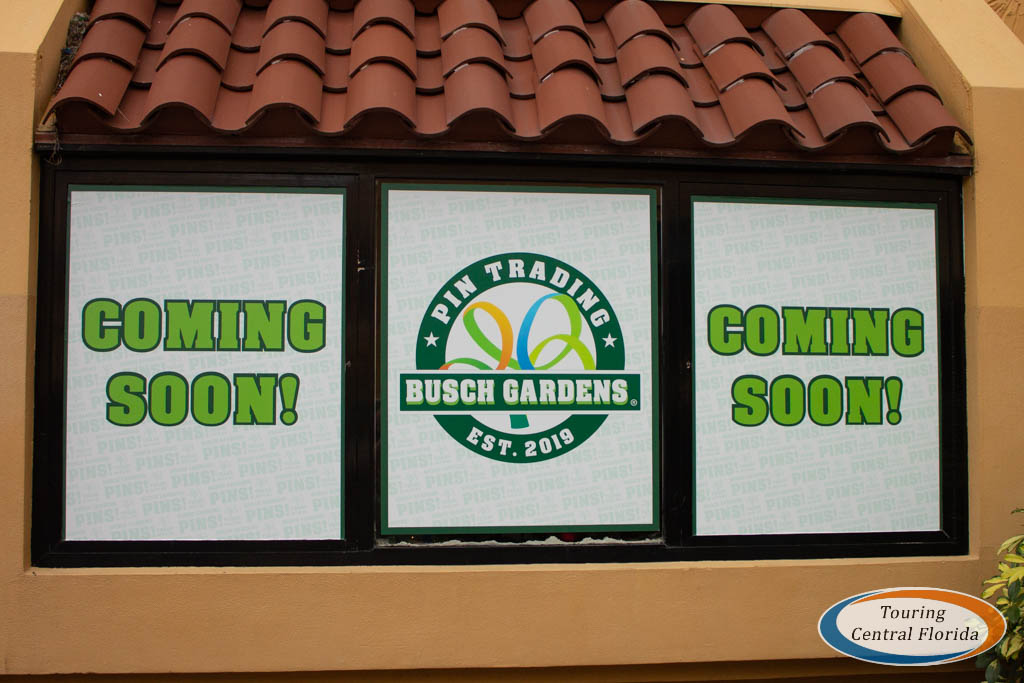 – Beginning March 16, the 5th Annual Food & Wine Festival not only features a world-class concert line-up but will also highlight the park's history with an anniversary themed culinary cabin, featuring flavors inspired by treats and snacks once featured at Busch Gardens.
– 2019 is still the #YearofBeer for all adult park guests. With a nostalgic nod to the park's roots, guests age 21 and older can enjoy two complimentary beer samples each day of 2019 at Serengeti Outlook Pub and Restaurant and Garden Gate Café. Valid identification is required for age verification.
Best Way to Play
To fully enjoy all that the 60th Anniversary Celebration has to offer, guests can select from multiple annual admission products that provide value and benefits all year:
– Pay for Day, play ALL YEAR at 2 parks– For a limited time, guests can buy a 2019 Busch Gardens Fun Card and get an Adventure Island Fun Card free! Block out dates apply.
– MORE VALUE, MORE OPTIONS WITH ANNUAL PASS – Pick your way to play in 2019 with a Busch Gardens Annual Pass, starting at $10.99 a month for Florida Residents. Guests can select from four pass levels for the benefits they want most – including FREE parking, discounts on merchandise and food, as well as animal encounters – to gear up for a calendar full of special events plus EXCLUSIVE pass member ride time for the opening of Tigris: an exciting new attraction coming in 2019. Add more parks – Get a 4-park pass to Busch Gardens, Adventure Island, SeaWorld and Aquatica, starting at just $15.99 a month.
– FREE Preschool Card- Kids 5 and younger can enjoy FREE admission to Busch Gardens Tampa Bay and Adventure Island throughout all of 2019 with the Preschool Card. There's never been a cooler time to be a kid! Florida residents only, other conditions apply, visit BuschGardensTampa.com to register.
---
For the latest on Busch Gardens Tampa and other theme parks, attractions and more across the region, be sure to follow Touring Central Florida on twitter @TourCentralFL, @androckb, @Emmet_TCF, @JacobTouringCe1, and give our facebook page a like.