The holiday season is now in full swing, and Christmas Town at Busch Gardens Tampa Bay is running daily through the end of the year. Over a million lights, special entertainment, holiday themed culinary options, and much more await guests who visit Christmas Town 2018. The park opens at 10 a.m. daily, and closing times range from 7 to 10 p.m., with a special 1 a.m. closing time December 31st to ring in the New Year.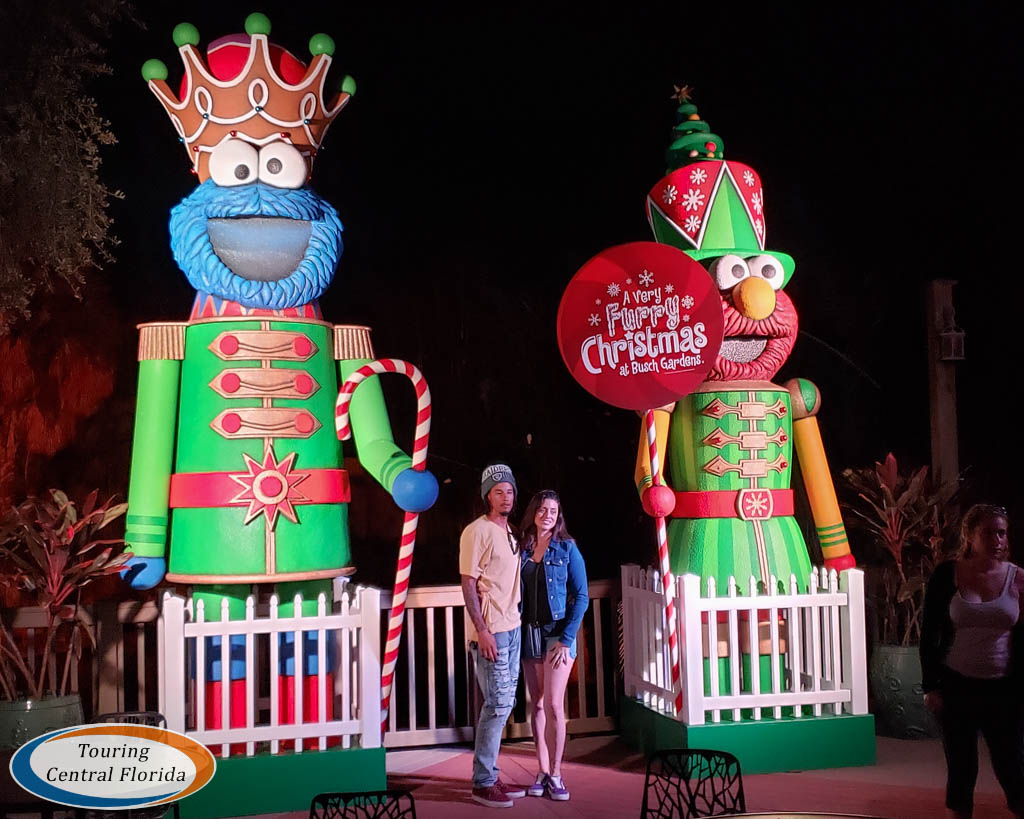 ---
What's New
We recently stopped by to check out what's new for Christmas Town 2018 at Busch Gardens Tampa. While there are many returning favorites in lights, decor and shows, there are also several new things at this year's event.
ADDED 12/14/2018: In response to a number of guest complaints of confusion surrounding just how much of the special Christmas Town offerings are available on what days and times, the park added this calendar and additional information to their website last week regarding the Christmas Town Village cabins: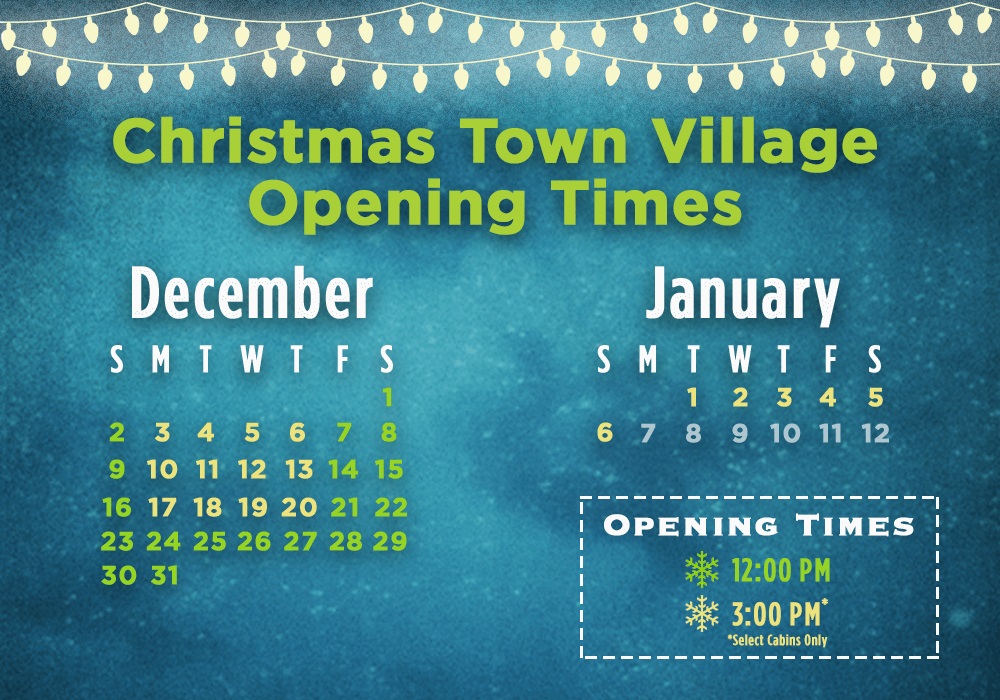 In addition to the above calendar, the park also clarified that Santa's House is open daily, but the full meet and greet experience with Rudolph & Friends is only available on dates with 10 p.m. closings. On other days of the event, Rudolph is available for photos inside Painted Camel Bazaar in the afternoon/evening.
Due to the upcoming construction on Gwazi, Christmas Town Village has mostly moved out of the events walkway and Gwazi Field area. You'll find most of the booths and other offerings from the village stretched out in front of Gwazi and heading down to the lake around Garden Gate Cafe. See below for menus and more details on what's available.
Between Stanleyville and Congo, a brand new light tunnel was installed that dances to holiday tunes. It's on the same path that Camp D.O.A. was during Howl-O-Scream, between the exit of the Skyride in Stanleyville and Jungala Market.
This new light tunnel means that Jungala is closed in the evening, so if you're planning on seeing the tigers or enjoying the play area in Tree Top Trails, you'll want to do it before the sun starts to set.
UPDATE 12/2/2018: As of the third weekend, Jungala was open in the evening, and a few lights and decorations were put up in the area. Tiger Trail was closed, but the Tree Top Trails area looked to be open when we passed through. It appears this is only the case on weekends, and Jungala continues to close at 5 p.m. on weekdays.
In Pantopia, guests can check out the new Christmas Is… show inside Dragon Fire Grill. The show features contemporary music and celebrates the traditions of Christmas.
Near Garden Gate Cafe, we found a small shop open in the Poinsettia Parkway area featuring customized shirts available to purchase. You can choose from several different designs and then add in your family name make it your own.
Around Penguin Point, we saw a lot of new decorations, including penguin figurines and large arches.
Keep an eye out for some new photo ops around the park, like this one across from Cheetah Run.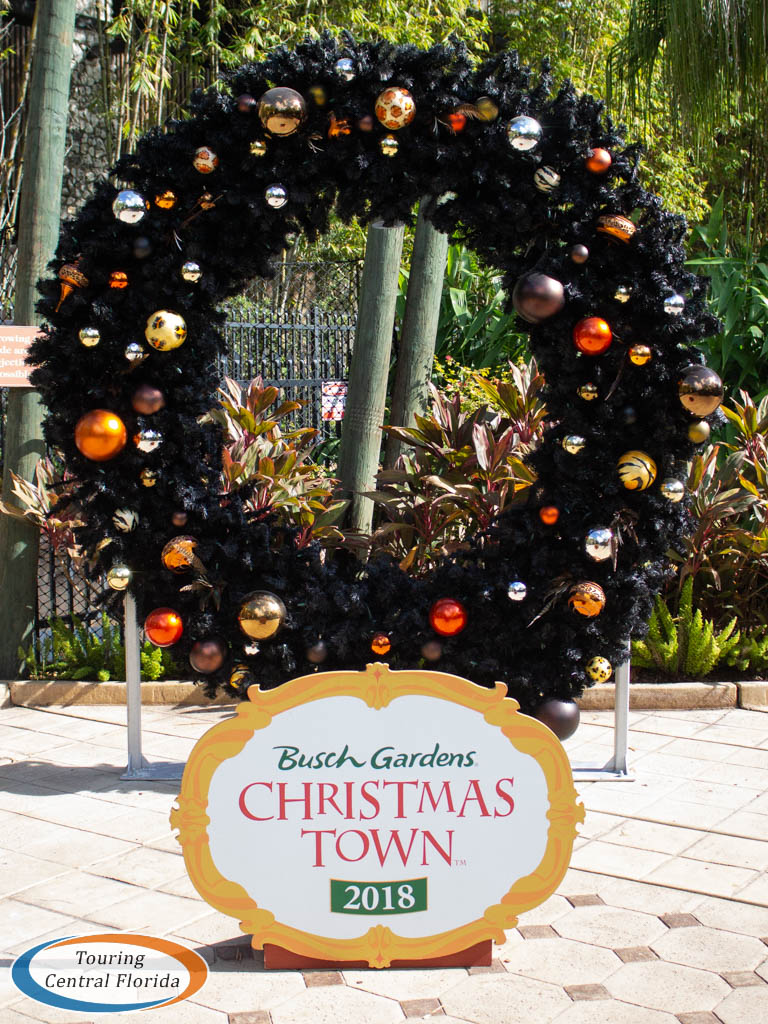 Also keep an eye out for the two largest trees at Christmas Town 2018 – they moved for this season's festivities. The large tree that used to be outside of Cheetah Hunt on the path across from Cheetah Run has moved outside the park's entrance, and has some new "coaster tree" ornaments, too.
The huge tree with dancing lights that had been in Jungala moves to the terrace of Serengeti Overlook this season, where it becomes part of the the Carol of the Bells light show.
While not new to Christmas Town 2018, Jingle Bell Express is located in a new spot this year. Look for it in the pavilion at the back of the Sesame Street Safari of Fun area. We didn't see it listed on the map or times guide, and it's incorrectly listed as being in Christmas Town Village on the park's website.
Be sure to leave yourself a few minutes at the end of your visit to enjoy the projection mapping around the entrance area as you exit the park. There are several different scenes that rotate, so don't rush out the gate!
---
Christmas Town Menus
Along with all of the lights, decor and holiday themed shows, guests can also indulge on some Christmas cheer in the form of special food and beverage items at booths set up around the park. You'll find the majority of those booths in Christmas Town Village, which is along the main pathway in front of Gwazi and stretching down to the Garden Gate area.
The most popular stand of the night on our recent visit was Cocoa & Cookies, which is the first booth you'll hit if coming from the front gate past Zagora Cafe. While there are several specialty cocoa options available at this booth, it's worth noting you can also get the regular hot cocoa at several other booths around the park. We found that not every booth that offers hot cocoa lists it on the menu, so look for the refillable mug on the counter to see if they serve it there. Pricing for the regular cocoa is the same at all locations.
A bit further in the Gwazi courtyard, you'll find several other stands offering a variety of sweet and savory options.
Also in this area, you'll find two booths featuring tastings of wine and whiskey. At the sparkling wine booth, you get 4 1-ounce pours for about $20. Twenty dollars will also get your choice of four of the six whiskeys at that booth, with each pour being about half an ounce.
A portion of the old event pathway is open, creating a small courtyard under the lights. Here there are two booths with adult drinks available. We also just missed a harpist performing when we visited, so keep an eye out when you stop by for some live entertainment.
Heading down towards Garden Gate, you'll find one booth serving more adult drinks (and hot cocoa) tucked in the corner near the Three Kings stage, and across the bridge is Poinsettia Tavern with a couple of savory options.
Moving around the park, at the North Pole near the Nairobi train station you'll find one booth serving up turkey legs and pulled pork sandwiches.
In Pantopia, look for Gleaming Confections behind the caorusel in the Rudolph & Friends area.
The Serengeti Overlook Restaurant is offering Brunch with Santa on weekends, and includes a visit from the big man himself a photo. For more details and to see the menu, visit the park's website.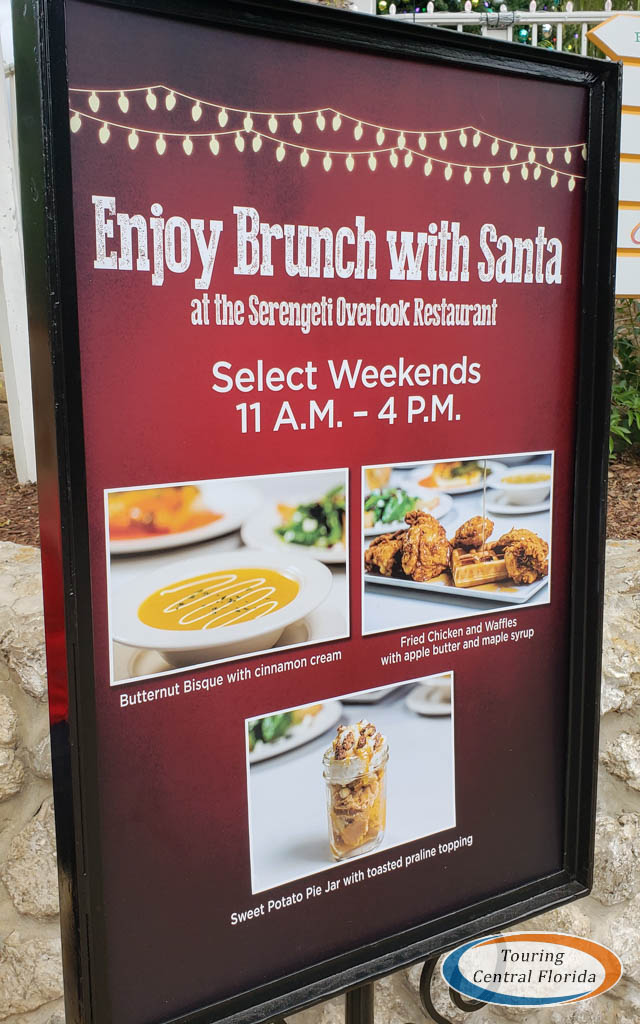 UPDATE 12/8/2018: It appears Brunch with Santa is out, and it's now Dine with Santa. Some of the more breakfast type items are out, but several new options are in; see the menu below. Brunch with Santa was originally listed as 10 a.m. to 3 p.m. (and still appears as such on the back of the daily times), then changed to 11 a.m. to 4 p.m. The new Dine with Santa is listed on the signs outside Serengeti Overlook and on the park's website as beginning at noon, with no specific end time.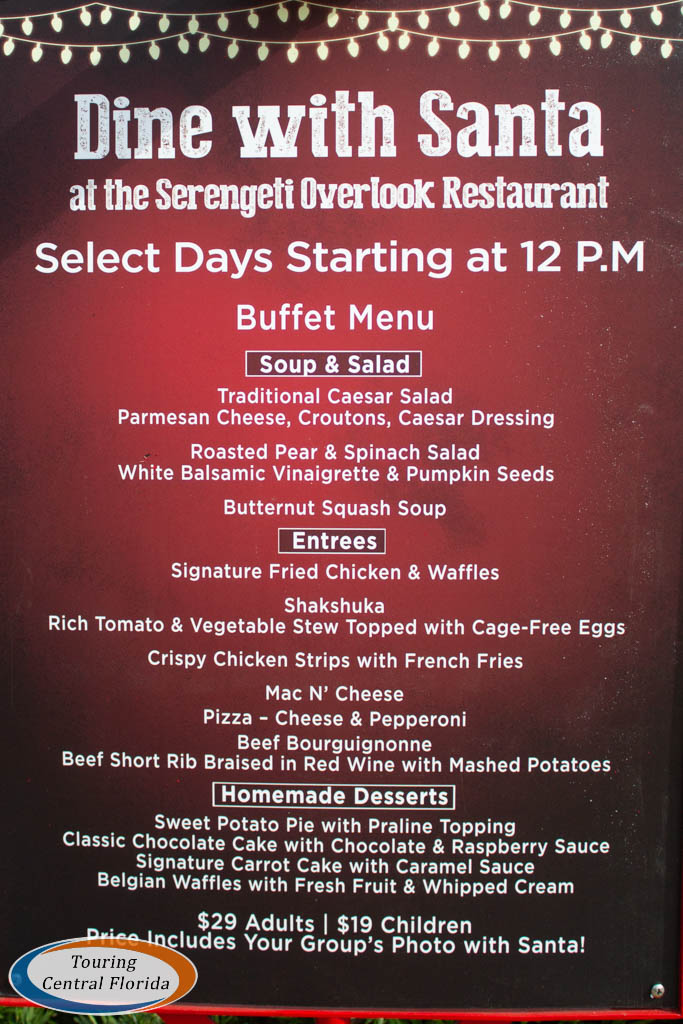 ---
If You Go…
Christmas Town 2018 at Busch Gardens Tampa Bay
Daily through December 31, 2018
Included in any admission (day ticket, Fun Card, or annual pass)
---
Join in the conversation on social media with #DeckTheGardens. For the latest on Busch Gardens Tampa Bay and other theme parks, attractions and more across the region, be sure to follow Touring Central Florida on twitter @TourCentralFL,  @androckb, @Emmet_TCF, @JacobTouringCe1, and give our facebook page a like.