The International Association of Amusement Parks and and Attractions (IAAPA) inducted 11 global attractions industry pioneers into the IAAPA Hall of Fame during the Kickoff Event for IAAPA Attractions Expo 2018. The IAAPA Hall of Fame honors individuals whose work and accomplishments have made significant and lasting contributions to the global attractions industry. These awards are the highest and most prestigious honors bestowed on an individual.
Eleven inductions of industry leaders took place in commemoration of IAAPA's 100th anniversary in 2018, and they join the ranks of honored industry legends in the IAAPA Hall of Fame. Special Hall of Fame inductions also took place this year during Asian Attractions Expo 2018 in Hong Kong, China, and Euro Attractions Show 2018 in Amsterdam, Netherlands, honoring pioneers in their geographic regions.
"In celebration of IAAPA's centennial anniversary, we are honoring some of the finest and most esteemed leaders in the history of the IAAPA Hall of Fame," said Jack Morey, 2018 chairman of the IAAPA Hall of Fame and Archives Committee and executive vice president of Morey's Piers. "These pioneers, inventors, visionaries, and innovators each made lasting impacts on the global attractions industry we know today, as well as the association. We honor these exceptional individuals for their hard work, dedication, and leadership as we welcome them into the IAAPA Hall of Fame."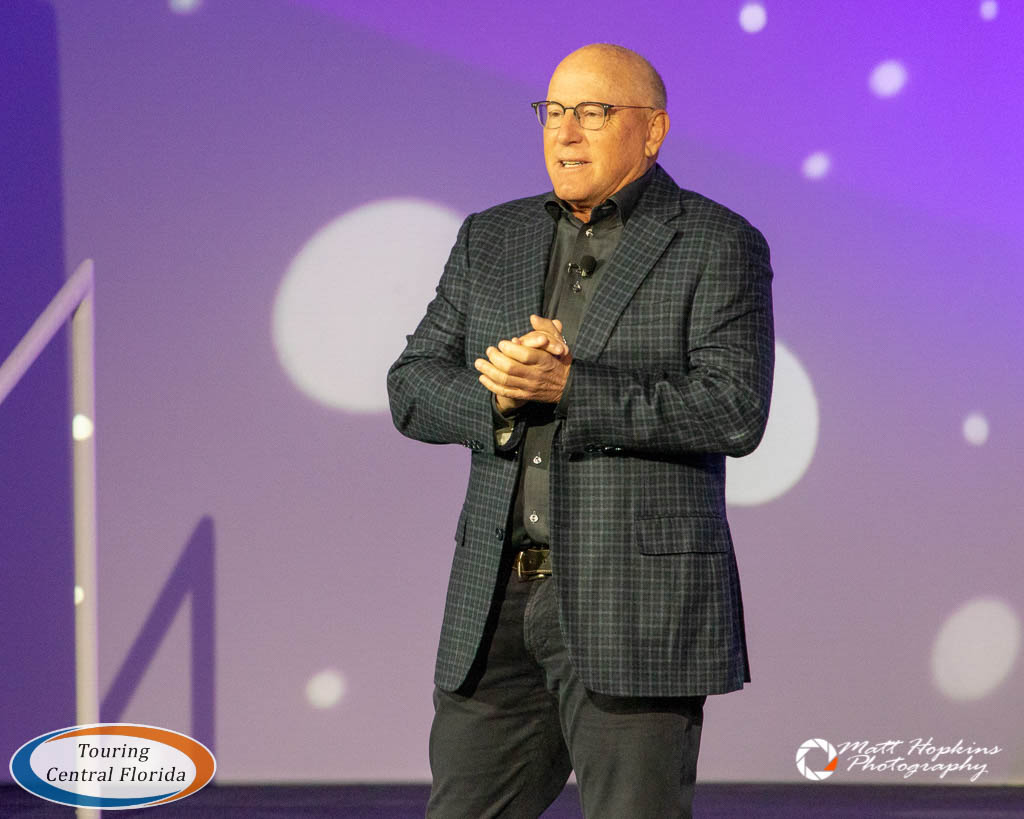 The 2018 inductees are:
Edward Joy Morris, Morris Chute Company, United States (1860-1929)
Edward Joy Morris was the industry's first large-scale manufacturer of attractions. Unlike most manufacturers who focused on a single attraction, the Morris Chute Company, based in Philadelphia, Pennsylvania, built a range of rides so Morris could outfit an entire amusement park. This groundbreaker's patented "Shoot the Chute" and "Figure 8 Toboggan Slide" attractions were wildly popular as was his carousel, which introduced a variety of animals in addition to more traditional horses. The stylization and unique carvings made Morris's carousels rare, magical, and legendary.
Irving Rosenthal, Coney Island, Palisades Amusement Park, United States (1895-1973)
From selling shovels and pails to beachgoers at age nine to building the iconic "Cyclone" roller coaster, Irving Rosenthal's Coney Island career was only the beginning for this creative entrepreneur. For more than 60 years, he set new standards for marketing, licensing, cleanliness, and maintenance. He helped make Palisades Amusement Park in Bergen County, New Jersey, one of the most famous parks in the world, and by importing European rides for his amusement park, Rosenthal helped globalize the attractions industry.
Alfred R. Hodge, National Association of Amusement Parks / IAAPA, United States (1881-1946)
Appointed the first secretary of the National Association of Amusement Parks, the forerunner of IAAPA in 1920, Alfred R. Hodge guided the organization through the Great Depression and World War II. Between 1912 and 1946, he increased member services and established a foundation that laid the groundwork for IAAPA's sustained success for 100 years. Hodge maintained the longest tenure of any IAAPA staff leader.
Levitt Luzern Custer, Custer Specialty Co., United States (1888-1962)
Receiving his first of 20 patents at age 24, Levitt Luzern Custer invented a small battery powered automobile that could traverse almost any terrain. The "Custer Park Car" was an immediate sensation in the global attractions industry and led to the development of the "Water Cycle," the first paddle boat ride, and the "Bubble Bounce." Custer's influence remains in every go-kart, turnpike, and paddle boat ride to the delight of thrill seekers to this day.
Dr. Harry Wegeforth, Zoological Society of San Diego, United States (1882-1941)
In 1916, Dr. Harry Wegeforth created the San Diego Zoo on a whim not realizing it would become one of the leading zoological institutions in the world. He traveled around the globe to build the Zoo's animal and plant collections. To facilitate the free exchange of information and sharing of animals between organizations, he also founded the National Association of Zoological Executives, which became AAZPA and later the Association of Zoos and Aquariums (AZA). Today, Wegeforth's San Diego Zoo is world renowned not only for its parks, but also for its network of global conservation organizations that bring back species from the brink of extinction.
Frank Hrubetz and Lee Eyerly, Eyerly Aircraft Company, United States, (1906-1987) and (1892-1963)
Frank Hrubetz and Lee Eyerly, of Eyerly Aircraft, designed and built innovative rides like the "Octopus," "Round-Up," "Paratrooper," and the "Roll-O-Plane" that have delighted guests for decades. Building more than 2,000 rides, they became the second largest builder of rides in the United States. Hundreds of Eyerly rides continue to operate, and their original designs are still built by other suppliers to entertain thrill seeking guests around the world.

Phil Dexter, Big Surf Waterpark, United States (1927-2014)
Phil Dexter became fascinated with the ocean's surf while working in San Diego in the 1960s. As a construction engineer, his obsession led him to invent the wave pool we know today. After building two functioning prototypes, he obtained a patent and built a wave pool at Big Surf Waterpark in Tempe, Arizona, which he also managed. Dexter, a curious pioneer, brought the ocean's waves to the desert and numerous other water parks around the globe.

Marcelo Periales, Neverland, Argentina (1955-2013)
For more than 35 years, Marcelo Periales has been linked to the world of family entertainment. A natural entrepreneur, he created the first family entertainment center (FEC) in Brazil in 1989, and grew it into an international, award-winning business. He persevered through dramatic economic shifts and used those moments to retool and reinvent his business. He founded the Argentinian Association of Parks and Attractions and served on IAAPA's Board of Directors, the Global Alliance Task Force, and the Latin American Association of Parks and Attractions. As an industry trailblazer, he helped create the attractions industry in Latin America.
Gary Story, Premier Parks / Six Flags Entertainment, United States (1955-2013)
During his 40-year career, Gary Story went from street sweeper to co-founder of Premier Parks and president/chief operating officer of Six Flags Entertainment. When industry safety was in the spotlight following high-profile incidents in 1999, Story was a leading champion for voluntary safety reporting and brought science to the G-Force safety debate, which effectively ended the brain injury controversy. As a mentor to many industry leaders, Story's passionate contributions set a high bar and continue to influence the industry today.
Alexander "Al" Weber, Jr., Paramount Parks, Palace Entertainment, Six Flags Entertainment, Apex Parks Group, United States (1952-2016)
Alexander "Al" Weber Jr.'s "guest-first" philosophy propelled him into key leadership roles spanning over four decades at Paramount Parks, Palace Entertainment, Six Flags Entertainment, and Apex Parks Group. He sought opportunities others overlooked with his keen sense of the business and zeal for creating innovative new guest experiences. He deftly fostered the development of record-breaking attraction concepts, recognized the need for family entertainment centers (FECs) and smaller regional parks in the out-of-home entertainment space, and was a non-stop advocate for excellence. He shared his passion and expertise openly, and in doing so, inspired his colleagues and future industry leaders across the globe.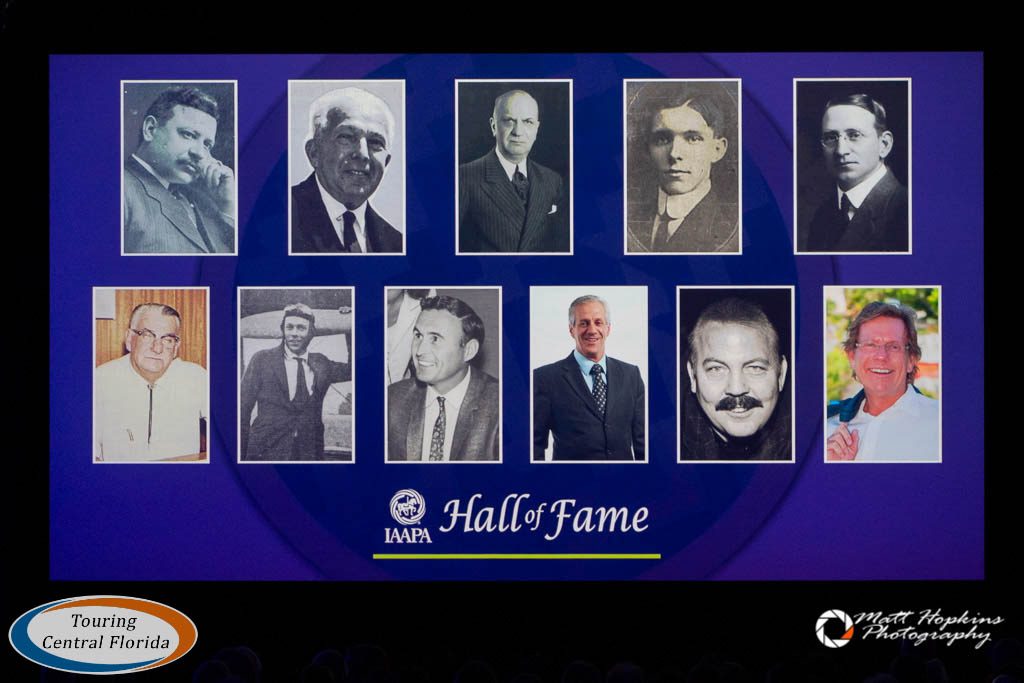 Several of the inductees family members were in attendance and accepted the award on their behalf.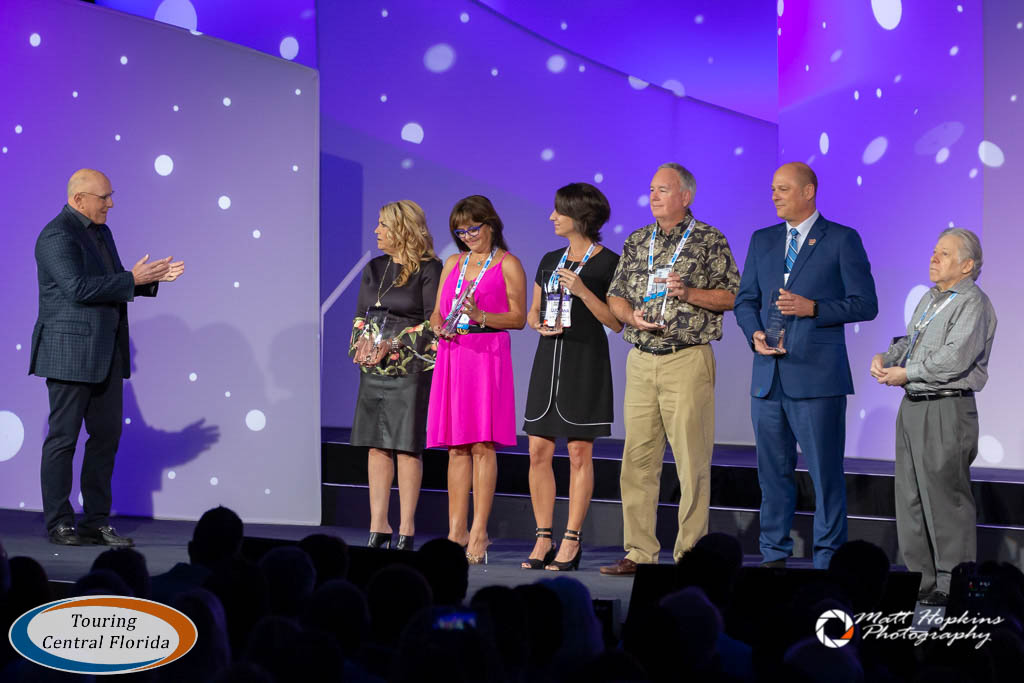 About IAAPA Hall of Fame
The IAAPA Hall of Fame was established in 1990 to honor legends and pioneers for their significant and lasting contributions to the growth and development of the global attractions industry. Over the past 28 years, dozens of industry pioneers from around the world have been inducted to the IAAPA Hall of Fame including Walt Disney (The Walt Disney Company); Milton Hershey (Hersheypark); Dick Knoebel (Knoebels Amusement Resort); Bo Kinntorph (Liseberg); Will Koch (Holiday World & Splashin' Safari); Jack Lindquist (Disneyland); Franz Mack (Mack Rides/Europa-Park); Bob Rogers (BRC Imagination Arts); Jay Stein (Universal Studios Florida); Geoffrey Thompson (Blackpool Pleasure Beach); Tom Williams (Universal Parks & Resorts); Antonio Zamperla (Zamperla); Philippe de Villiers (Puy du Fou); Henri and Pamela Landwirth (Give Kids The World); and Richard M. Sherman (Iconic Disney Songwriter).
---
For the latest on theme parks, attractions and more across the region, be sure to follow Touring Central Florida on twitter @TourCentralFL, @androckb, @Emmet_TCF, @JacobTouringCe1, and give our facebook page a like.