The Florida Aquarium has signed another historic Memorandum of Understanding (MOU) with the Acuario Nacional de Cuba (National Aquarium of Cuba) which focuses on coral reef protection and restoration. The partnership, which started in 2015, is the only official agreement between the Acuario Nacional de Cuba and any aquarium or AZA (Association of Zoos and Aquariums) institute in the United States.
The ratification of the MOU was signed in Havana, Cuba at the 11th Annual MarCuba Conference on Marine Sciences by The Florida Aquarium President and CEO Roger Germann and Acuario Nacional de Cuba Director Maria de los Angeles Serrano Jerez.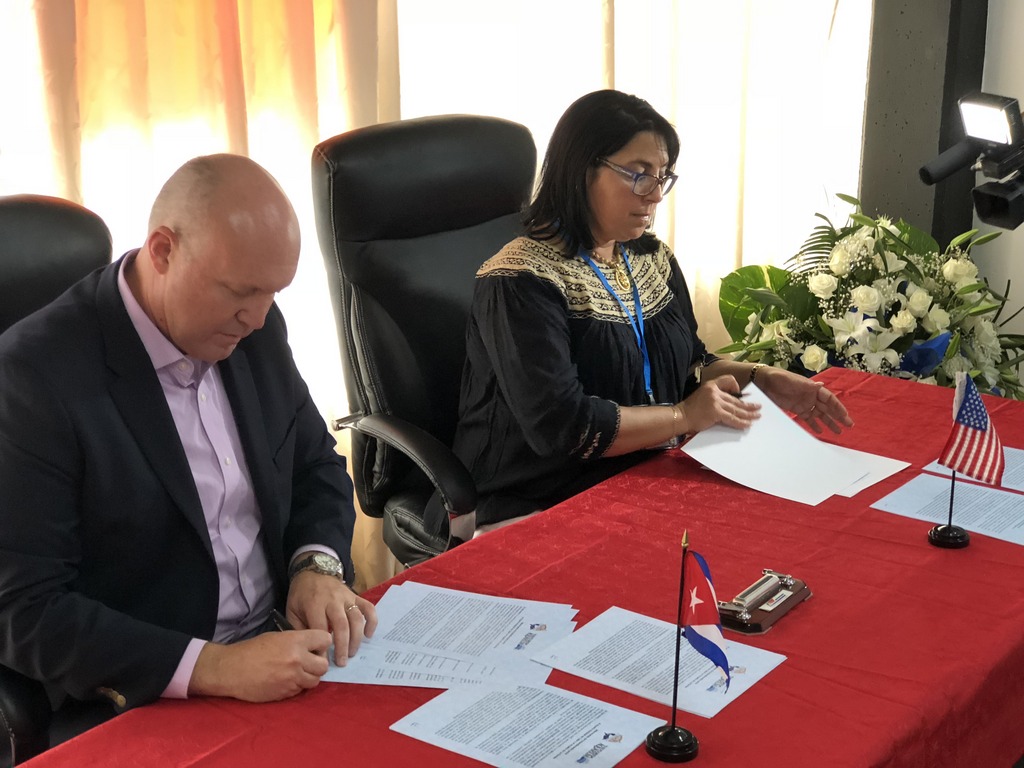 "Our two countries share the same oceans, coral reefs and animals, and through our continued partnership, we will focus our collective efforts on protecting and restoring these critically important ecosystems," Germann said. "The coral reefs in Cuba and Florida are very similar; however, the Cuban reefs are healthier than ours. There is much we can learn from our colleagues that will benefit our reefs which support Florida's tourism industry and our quality of life. In return, as a leader in coral propagation and restoration, there is much we will share with them to ensure their reefs continue to thrive."
"This collaboration will last many years and we hope to see our collective efforts reflected in healthy coral reefs in both countries.  Along the way we hope that Cuban and American citizens can learn more from each other and grow their knowledge about the sea," Serrano Jerez added.
The renewed MOU will be in effect for the next five years and will allow researchers from both organizations to continue addressing the most critical environmental issues affecting the Gulf of Mexico and Western Caribbean Ocean, especially in the area of coral reef research and restoration.
Under the initial MOU, The Florida Aquarium helped establish a coral nursery in Cuba.  It's located off the island nation's westernmost point—the coast of Cuba's Guanahacabibes Peninsula National Park. Similar to what The Florida Aquarium has done in the Florida Keys, the nursery in Cuba is made up of coral trees which are structures primarily constructed of plastic pipes with hanging fragments of healthy coral that are anchored to the sea floor.  The coral trees help scientists reproduce coral quickly and efficiently to restore coral reefs.
Coral reefs are among the most biologically diverse marine ecosystems on Earth and are crucial to maintain the health of our oceans. Unfortunately, many coral species are extremely threatened. The Florida Aquarium scientists will use the knowledge from this partnership to continue making strides to reproduce corals off the coast of Florida and at The Florida Aquarium's Center for Conservation in Apollo Beach.
---
For the latest on theme parks, attractions and more across the region, be sure to follow Touring Central Florida on twitter @TourCentralFL, @androckb, @Emmet_TCF, @JacobTouringCe1, and give our facebook page a like.