As of October 4, 2018, Busch Gardens Tampa Bay and SeaWorld Orlando have new annual pass programs available for guests. Responding to guest demand for more value and choices, SeaWorld and Busch Gardens created the new Annual Pass program with more flexibility for guests to pick the pass with the benefits they want most, such as unlimited admission, parking, free guest tickets, in park discounts and more. The annual passes do not require a down payment and for a limited time introductory prices start as low as $9.99 per month for Florida residents.
"We have dropped the price of an annual pass by as much as 30 percent," said SeaWorld Orlando President Mark Pauls, "We have made it easier and more affordable for our guests to experience all of the excitement of SeaWorld [and Busch Gardens]."
The new tiered annual pass program includes Bronze, Silver, Gold and Platinum:
BRONZE PASS | Flexibility equals savings. While some blockout dates apply, guests save on parking, dining, and more.
SILVER PASS | Membership made easy. Unlimited admission, free parking, one free guest ticket, and extra benefits.
GOLD PASS | Big savings, best value. Save more with free preferred parking, two free guest tickets, bigger discounts, plus valuable extras like a free animal encounter, free annual PhotoKey and more.
PLATINUM PASS | The ultimate way to play and save. Add unlimited admission to 11 SeaWorld and Busch Gardens Parks nationwide, free ride-again privileges, reserved show seating and more.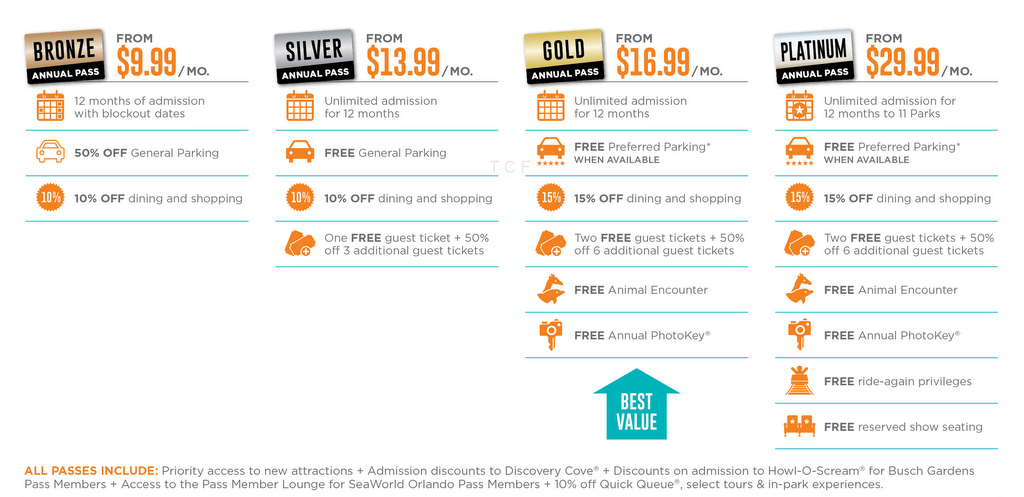 Introductory pricing is available until the end of November 2018, at which time it is expected the pricing will increase. The parks have not said what the new "regular" price for annual passes will be at that point.
---
Notable Changes
With the new annual pass program comes several changes, and that can cause some confusion and questions. When purchasing or upgrading to a new pass, the first choice is deciding on a level from the chart above, and then adding on additional parks if desired.
Current pass members (those who purchased prior to October 4, 2018) may choose to upgrade to one of the new pass options, or stay with what they currently have until their current pass expires. Pass members who are part of the EZPay program can continue with their current pass level indefinitely, so long as no payments are missed and no changes are made to the passes.
Any pass holder who purchased before October 4, 2018 (with the exception of Fun Cards or Platinum Passes) will now receive benefits at the new Silver Pass level unless an upgrade is made.
Fun Cards are not currently being offered at either park. Also not offered under the new annual pass program is a combination of SeaWorld Orlando and Busch Gardens Tampa Bay only – to get those two parks, guests must also add the two water parks (Aquatica Orlando and Adventure Island Tampa) for a "Florida Parks Pass" for $5 more a month ($60 total if paid in full).
The parks have set up fairly extensive Frequently Asked Questions pages to answer common inquiries about the new pass options and what it means for current pass holders. You can see the FAQs for Busch Gardens Tampa Bay and SeaWorld Orlando for more information. If your question isn't answered there, you should reach out to the parks directly for the most up to date, official answer.
---
For the latest on SeaWorld Orlando, Busch Gardens Tampa Bay and other theme parks, attractions and more across the region, be sure to follow Touring Central Florida on twitter @TourCentralFL, @androckb, @Emmet_TCF, @JacobTouringCe1, and give our facebook page a like.