Recently, Emmet and I stopped by Disney Springs at Walt Disney World Resort to check out the new restaurant Chicken Guy!, located on the first floor of Planet Hollywood opposite the Coca-Cola Store. The new quick service restaurant features fresh chicken tenders served up with 22 different sauces to choose from. Chicken Guy! is a collaboration between celebrity chef Guy Fieri and restaurateur Robert Earl.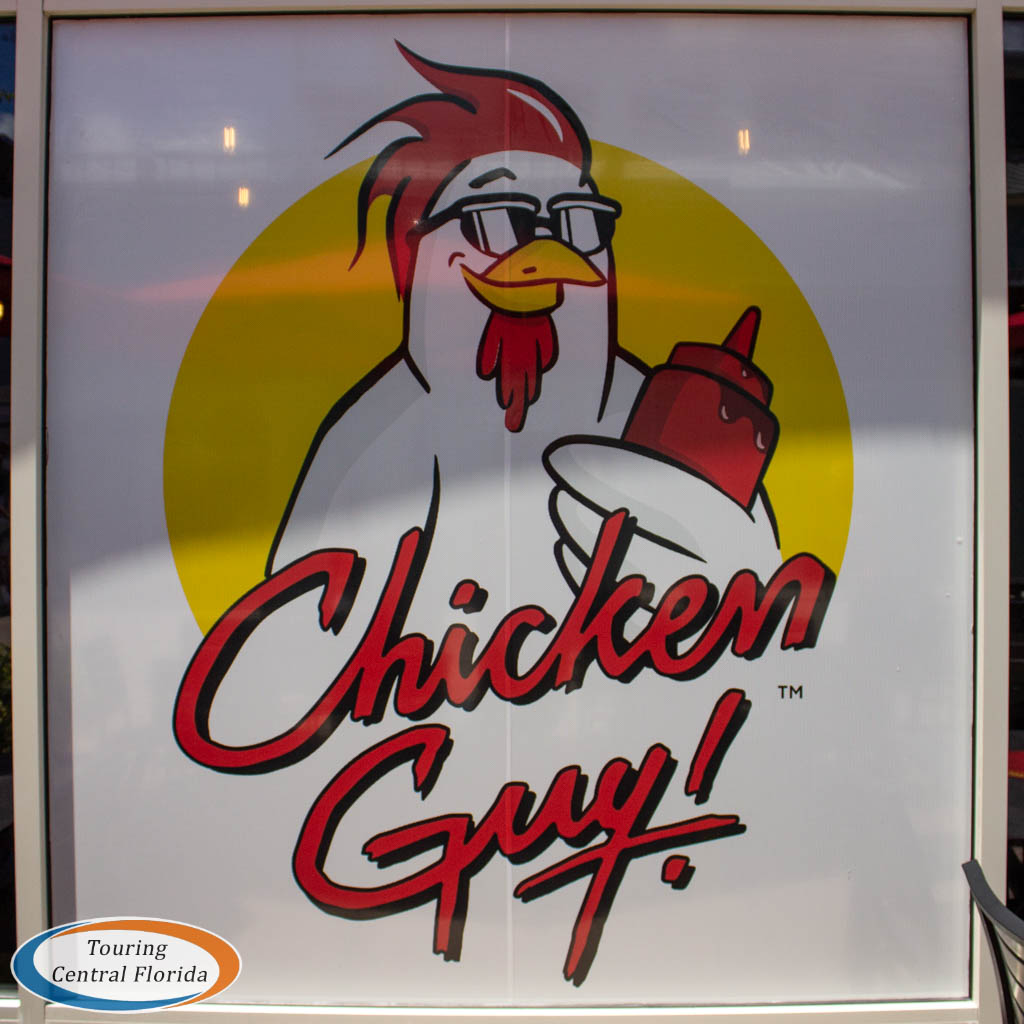 Being a brand new experience, it hasn't been uncommon to see a queue outside Chicken Guy! during much of the day. The line does move fairly quickly, as the staff inside cranks out orders at a healthy pace. One thing you'll first notice at Chicken Guy! – there isn't a ton of seating inside. While there were several large shade umbrellas outside, we've heard in the last week they've been removed, making lunch seating even tougher to come by since few will want to sit in the hot Florida sun to enjoy a meal.
Inside, the queue is one switchback in front of the counter, where you first place your order then head past the crew making it. You can choose to hold your pager near the end of the counter and pick it up yourself, or take it to an available table and have a Chicken Guy! employee deliver it to you.
Part of the novelty of Chicken Guy! – besides the relative value in a freshly prepared quick-service meal – is the choice of sauces. Each entree you order comes with two sauces from the 22 available – and you may find a "Sauce Slinger" walking around while you dine who will gladly give you extra if you need it or let you try a different one if you aren't in love with your first choices.
On our visit, we chose the Bourbon Brown Sugar BBQ sandwich ($6.99) and an order of three Crispy Fried Chicken Tenders ($5.99). Both of us chose to roll the entrees into a combo deal for $11.49 + tax, which add in an order of fries ($2.99) and a fountain beverage ($2.99). With the combo, you save between 48¢ and $1.48 + tax depending on what your choose as your entree.
We both found the chicken to have a flavorful coating and moist on the inside, despite the appearance of the tenders on the outside looking like they might be dry. The sandwich was filling, with the Bourbon Brown Sugar BBQ Sauce providing a sweet and savory flavor. The rest of the toppings mix – cheese, pickles, slaw and kettle chips – rounded out the sandwich with a unique blend of flavors and textures. The fries too were crispy and fresh, lightly dusted with the signature seasoning and not overly salty.
Overall, Chicken Guy! delivers on the hype it has built up in terms of quality and value. Being able to get a sandwich (or tenders), fries, and a drink for about $12 and have it taste awesome is great choice to have at Disney. We found the spot well staffed on a Tuesday afternoon, with quick, friendly service from everyone we encountered. One thing we wish they had was more indoor seating; while the patio seating in the evening and during the cooler months may be desirable for some, the hot Florida afternoons make the outdoor tables much less desirable.
The spot at Disney Springs is meant to be the flagship location of the new venture, so even if you aren't going to make it to Walt Disney World anytime soon, keep an eye out for a Chicken Guy! closer to your home in the future.
---
If You Go…
Chicken Guy! at Disney Springs
Located on the ground floor of Planet Hollywood
Open Daily at 11 a.m.
Full Menu
---
For the latest on the Walt Disney World Resort and other theme parks, attractions and more across the region, be sure to follow Touring Central Florida on twitter @TourCentralFL, @androckb, @Emmet_TCF, @JacobTouringCe1, and give our facebook page a like.