It may be the height of summer, but that only means one thing to some folks – haunt season is fast approaching. Howl-O-Scream 2018 at Busch Gardens Tampa Bay will run 19 select nights starting September 21. And to kick off the countdown to haunt season, Howl-O-Scream has announced a Sinister Sale, with huge discounts for those willing to buy early.
This year's Howl-O-Scream will run a total of 19 nights, kicking off with Freaky Preview Weekend on Friday and Saturday September 21 & 22, 2018. Florida Platinum Pass Members receive free admission that first weekend, just as in the past. Howl-O-Scream 2018 then continues on weekends through October 28, with Thursday through Sunday operation the final three weekends.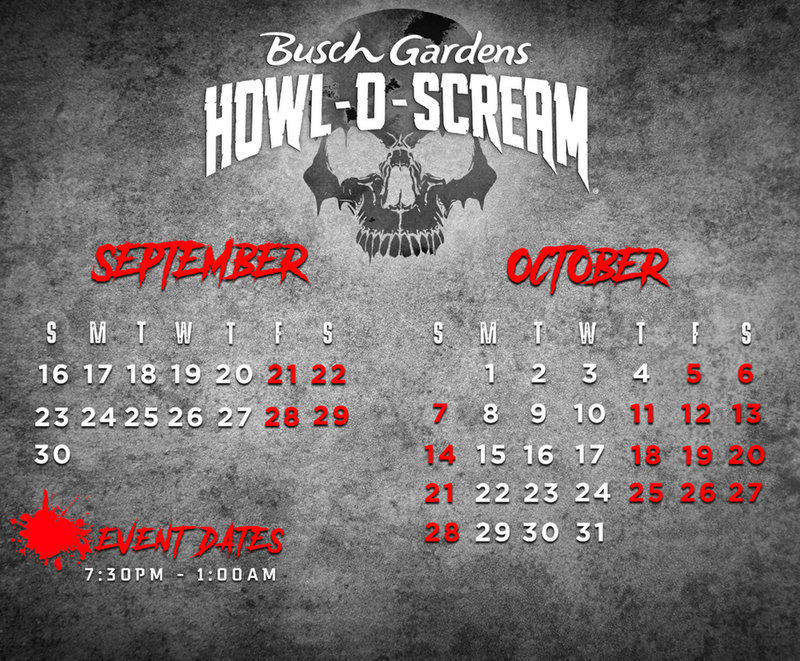 Announced Wednesday, a limited time Sinister Sale allows guests to take advantage of huge discounts on admission to Howl-O-Scream, with single night tickets priced at just $24.99. Annual pass members or groups of 15 or more can get single night tickets for just $19.99, an additional $5 savings. Those single night tickets can be used any of the 19 event nights, so no need to know exactly when you can visit to take advantage of the discount. Quantities are limited – the Sinister Sale is currently scheduled to end July 8, but it's subject to change.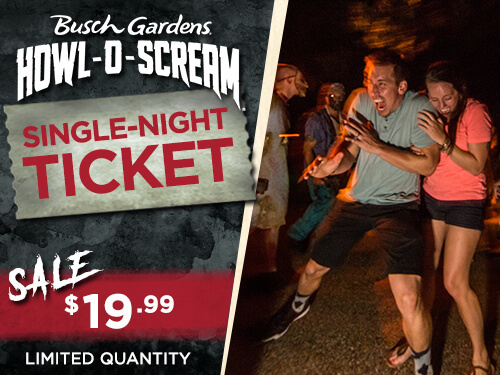 For those who want to visit multiple nights (or every night!), then the Unlimited Scream Ticket may be the right option. It's available for $99.99, and includes admission to all 19 nights of Howl-O-Scream 2018. A brand new upgrade option is available as well, an all season Front Line Fear Extreme pass. The pass allows front-of-the-line access to all of the houses and the major attractions each event night. That's available for $99.99.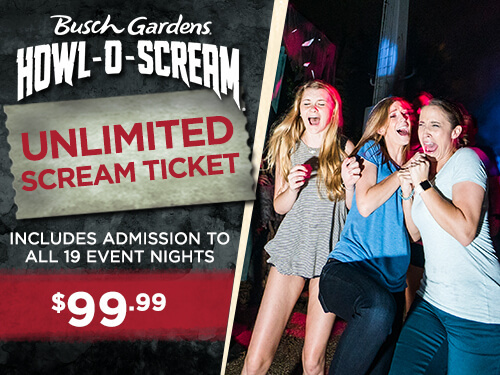 As of right now, those are the only ticket and upgrade options available for purchase. Additional ticket options, packages, upgrades, tours and add-ons will be released at a later date.
Details on what's in store for Howl-O-Scream 2018 at Busch Gardens Tampa have been scarce so far. The only confirmation we have is that Zombie Containment Unit 15 will not be returning to the haunted house lineup this year.
Get official details and purchase your tickets on the Howl-O-Scream 2018 site.
---
For the latest on Howl-O-Scream 2018 at Busch Gardens Tampa Bay and other theme parks, attractions and more across the region, be sure to follow Touring Central Florida on twitter @TourCentralFL, @androckb, @Emmet_TCF, @JacobTouringCe1, and give our facebook page a like.