The Florida Aquarium, along with 19 other accredited aquariums, has been nominated by a panel of experts for USA Today's 10Best Readers' Choice 2018 awards. The Florida Aquarium is the only aquarium representing Florida in the Best Aquariums category—VOTE HERE.
The nominees represent the best aquariums in the country and are recognized for their fun and educational setting, high quality exhibits and visitor interactions, and the vital role they play in animal conservation by taking part in rescue efforts and advocating for the health of our oceans.
Vote every day for The Florida Aquarium until voting ends on Monday, April 30 at midnight EDT. The 10 best winners will be announced on Friday, May 4.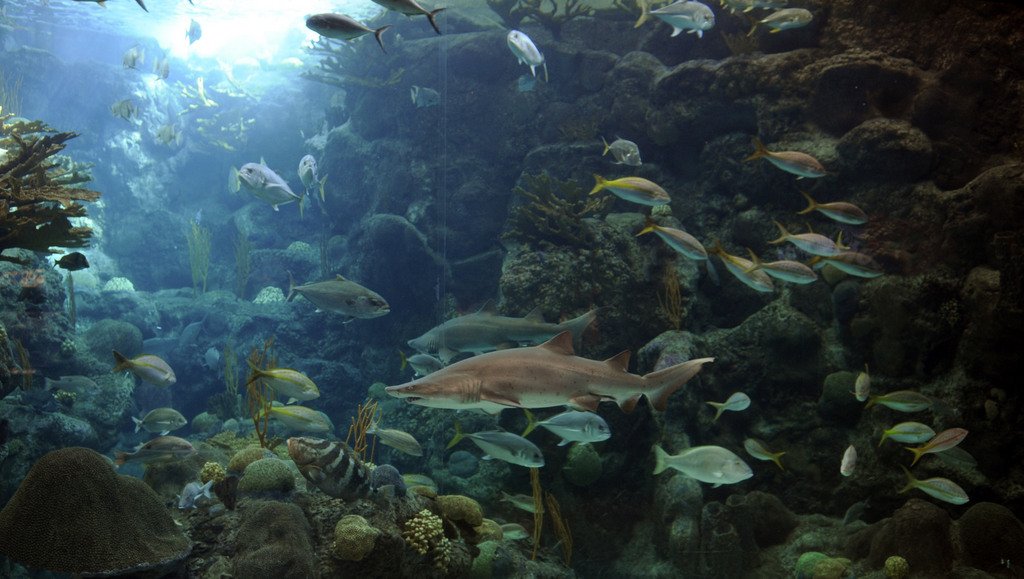 April 15 – 21: National Volunteer Appreciation Week
With over 300 active volunteers, The Florida Aquarium volunteers play a very important role in furthering the Aquarium's mission and supporting its operations. Volunteers help every day to educate Aquarium guests, maintain animal habitats, care for the animals, promote and facilitate Aquarium events, and share the Aquarium's mission with the community.
Volunteers will be showered with appreciation during Volunteer Appreciation Week by participating in a variety of special events including a sunset cruise on the Aquarium's 72-ft catamaran, the Bay Spirit II, enjoying an exclusive Volunteers, Friends & Family event at the Aquarium, special presentations from Aquarium senior staff, and more.
There is a saying that "Volunteers don't necessarily have the time, they have the heart" and this is absolutely true of the fantastic volunteers at The Florida Aquarium. Thank you for all you do!
To become a volunteer, contact Chelsea Gomez at cgomez@flaquarium.org.
April 28: Great American Cleanup
In honor of the Great American Cleanup, The Florida Aquarium will host a clean-up at the USF Park on The Tampa Riverwalk the morning of April 28.
Registration starts at 8:30 a.m. in front of the Aquarium Manta Ray statue, and the clean-up group will leave promptly at 9 a.m. to walk over to the Riverwalk. The clean-up will mainly be at the USF Park between the Platt Street and Brorein Street bridges and will wrap up around 11 a.m.
Please be sure to wear sunscreen, shoes you don't mind getting dirty, and to bring a reusable water bottle. Aquarium Volunteer Services will provide fabric gloves, grabbers and trash bags.
Participants under age 18 must have a parent or guardian accompany them.
Please contact Chelsea Gomez at cgomez@flaquarium.org to sign up.
April 28: SeaGrapes
Join The Florida Aquarium for its 17th annual SeaGrapes Wine & Food Festival fundraising event, presented by Amalie Oil, on Saturday, April 28 from 8-11 p.m. VIP ticketholder entry will begin at 7 p.m. for early access to the food and drinks, as well as a special VIP area with exclusive food and drink options. New this year, a sunset cruise will be offered as an add-on to any ticket. 100 percent of the proceeds from tickets purchased support The Florida Aquarium's mission to entertain, educate and inspire stewardship of our natural environment. The boat cruise will depart at 6:45 p.m. and arrive at the Aquarium at 8 p.m.
Immerse yourself in a wine and food festival unlike any other. Enjoy fantastic wine and sample delicious food while strolling among more than 7,000 animals and plants, all while supporting a great cause. There will be 50+ types of wine available to sample and more than 25 different local restaurant partners in attendance. The festive atmosphere will be complemented by a variety of live entertainment throughout the Aquarium and a silent auction.
Dress is cocktail attire.
General admission tickets are $125, VIP tickets are $250, and an add-on sunset cruise for any ticket is $75. For more information about the event call 813-273-4000 or visit flaquarium.org/seagrapes.

NEW Picnic Packages
The Florida Aquarium is excited to announce a new option for families or companies to treat their employees right here at the Aquarium with a Picnic Package. The new, all-inclusive picnic package includes admission to the Aquarium, three different lunch buffet options and a private indoor or outdoor space for two hours for your lunch service.
Additional options include a private Wild Dolphin Cruise aboard the Bay Spirit II, animal encounters for your group and souvenir cups.
The picnic starts at $45 per adult and $33 per child.
To review menu options and to book your picnic, contact a Sales Representative at 813-273-4000 x 4288 or sales@flaquarium.org.
Coming up in May
Sunday, May 6 – Gasp Your Beads Cleanup with NAUI Green Diver Initiative
Saturday and Sunday, May 12 and 13 – Mother's Day Promotion
Saturday, May 19 – Endangered Species Day
---
For the latest on The Florida Aquarium and other attractions, theme parks and more across the region, be sure to follow Touring Central Florida on twitter @TourCentralFL & @androckb, and give our facebook page a like.