The Florida Aquarium, in partnership with the Tampa Police Department (TPD) and the City of Tampa, is proud to announce it is officially named a Safe Place – a designated safe space for victims of hate crimes and harassment.  The announcement comes on Zero Discrimination Day, an annual worldwide event that promotes diversity.
Organizations like the United Nations actively promote Zero Discrimination Day with various activities to celebrate everyone's right to live a full life with dignity regardless of age, gender, sexuality, nationality, ethnicity, skin color, height, weight, profession, education and beliefs.
The mission of the TPD Safe Place Initiative is to provide the community with easily accessible safety information and safe places throughout the city they can turn to if they are the victims of hate crimes.
"Life is vibrant and unique, and The Florida Aquarium is strongly committed to fostering and celebrating our planet's diversity. Providing a safe refuge for community members across our diverse Tampa Bay region and beyond, we will always stand on the side of inclusion and justice," said Roger Germann, president and CEO of The Florida Aquarium. "We're honored to be designated as a Safe Place by the Tampa Police Department as everyone is always welcome at The Florida Aquarium."
The Florida Aquarium now displays the TPD Safe Place symbol on its entrance doors. The hope is that victims will recognize the TPD Safe Place symbol of safety that indicates The Florida Aquarium is willing to assist and protect these victims. To make this concept effective, the TPD provided free training to Aquarium staff on how to assist victims of attempted crime or harassment, including instructing staff to direct individuals to The Aquarium's Police officer on duty (during regular business hours) or calling 911 and providing victims a "Safe Place" to remain while waiting for police assistance.
The Florida Aquarium, the City of Tampa and the TPD are committed to the safety of all residents and visitors regardless of race, color, ancestry, ethnicity, religion, sexual orientation, national origin, age or disability.  As such, The Florida Aquarium is proud to be a designated Safe Place.
For more info on TPD's Safe Place: https://www.tampagov.net/police/safe-place.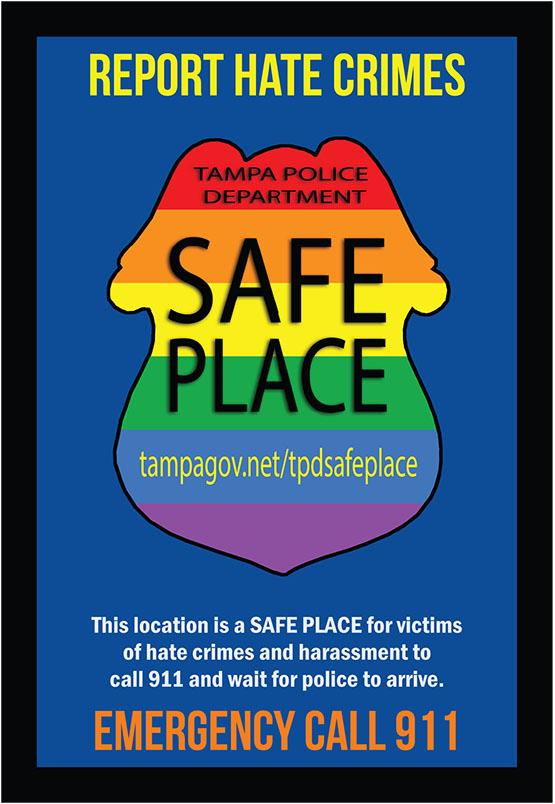 ---
For the latest on theme parks, attractions, dining venues and more across the region, be sure to follow Touring Central Florida on twitter @TourCentralFL & @androckb, and give our facebook page a like.