Following an exciting, record year full of new unforgettable natural connections, signature animal encounters, and entertaining seasonal events, Tampa's Lowry Park Zoo is now excited to announce the zoo's most thrilling expansion to date with the launch of Roaring Springs – a wild, new water adventure, presented by Pinch A Penny.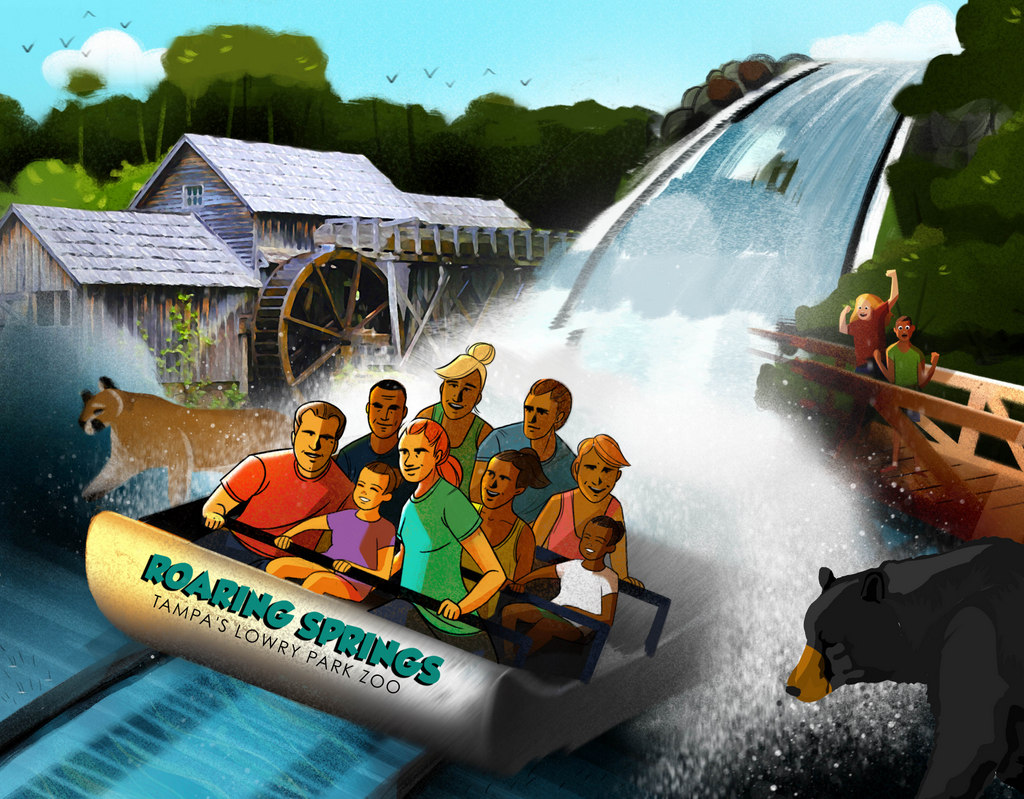 Roaring Springs will allow guests of all ages to discover a hidden part of Florida full of unexpected adventure and thrills. Explorers will board a boat and gently drift along a crystal-clear spring surrounded by native landscape and wildlife. The journey takes a sudden turn when the elevation drops. Guests will feel a rush of adrenaline as they experience a 3-story splashdown. The less adventurous can also revel in a rip-roaring splash on the Canopy Walk overseeing the attraction.
Roaring Springs will replace the former flume ride with a bigger and better water ride adventure for families to enjoy – a welcome and refreshing escape for the entire family from the Florida heat. The attraction is also the Zoo's largest expansion in ten years.
The journey continues as guests get back to nature and see a hidden part of Florida that remains untouched – a Florida that requires no filter. The area will combine old Florida charm with a nod to the original Florida cracker way of life. Explorers will catch a glimpse of black bears, alligators, panthers, Key deer and other native species as they trek along the winding Florida Trail. Along with the water ride, the Zoo's Florida region will receive new, fresh upgrades expanding the Zoo's capacity to provide vital care, rescue and rehabilitation to threatened native wildlife throughout the state.
"Part of our mission is to create exceptional, personalized experiences that connect people with wildlife and each other in fun, immersive ways," said the Zoo's CEO, Joe Couceiro. "Roaring Springs will provide a thrill for guests while the future expansion of the Florida Region improves the Zoo's capacity to care and protect Florida Wildlife. With these enhancements, the evolution of the Zoo continues and I am proud to lead the Zoo into the future."
In addition to Roaring Springs, in 2018 the Zoo will also feature various fun seasonal events as well as new up-close animal encounters and signature behind the scenes experiences.
---
We recently stopped by the zoo and saw the progress on Roaring Springs. The former log flume ride is completely gone, and the boardwalk through that area has been removed as part of the project.
Most of the work so far has been demolition and site preparation, with the first footers emerging in the past few weeks.
---
For the latest on theme parks, attractions, dining venues and more across the region, be sure to follow Touring Central Florida on twitter @TourCentralFL & @androckb, and give our facebook page a like.